Operations Management Course in Singapore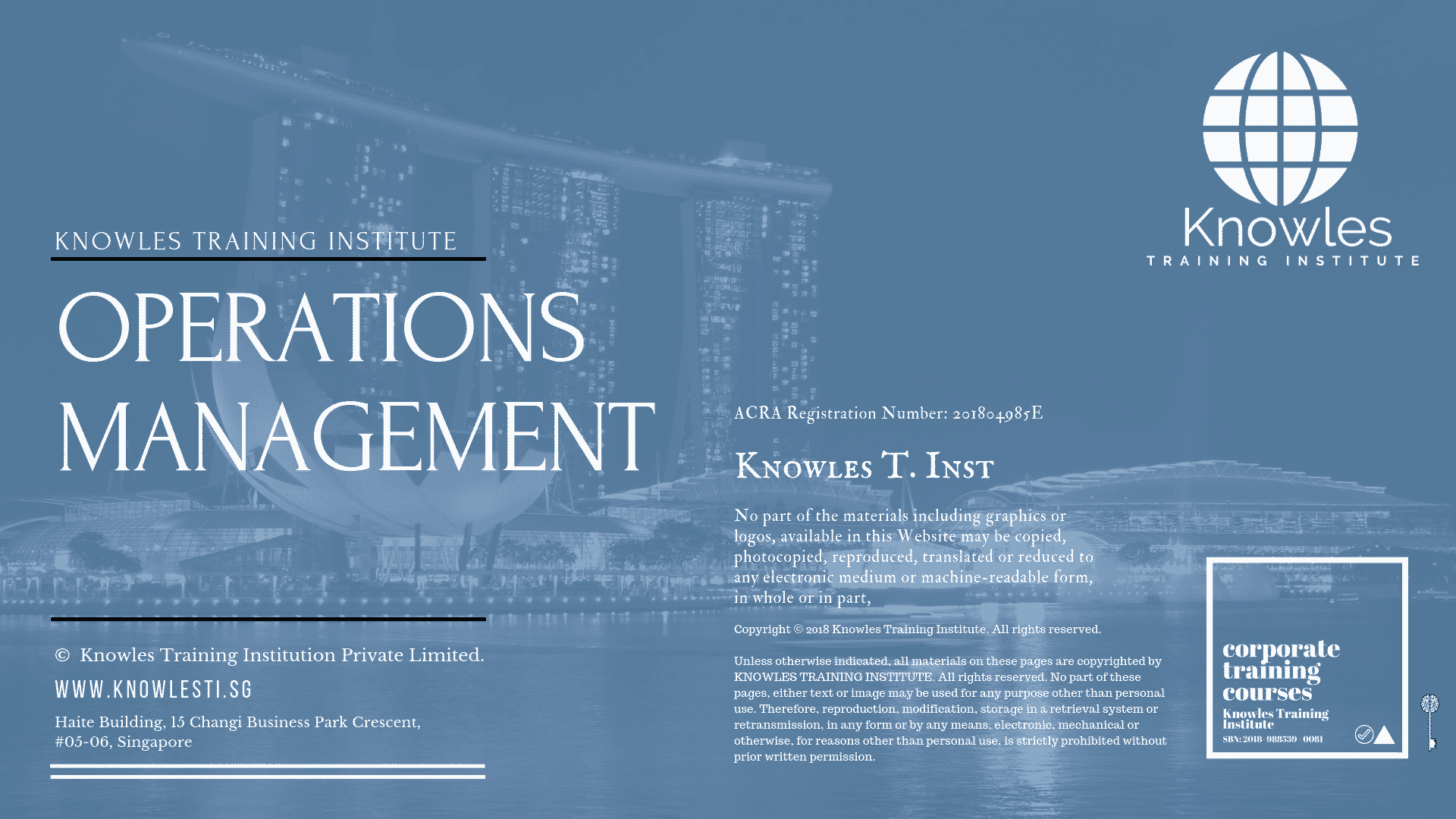 About This Operations Management Training Course
Operations Management Course in Singapore
The whole process of production with the highest efficiency is what operations management is all about. This area of management values efficiency above all else in order to produce products and services in high quantity without compromising quality. Operations management is usually a hands-on area involved with planning and redesigning.
Who Should Attend This Operations Management  Workshop
This Operations Management workshop is ideal for anyone who would like to gain a strong grasp and improve their Operations Management.
All Staff Within An Organisation
Group Size For This Operations Management Training Program
The ideal group size for this Operations Management course is:
Course Duration For This Operations Management  Skills Course
The duration of this Operations Management workshop is 2 full days. Knowles Training Institute will also be able to contextualised this workshop according to different durations; 3 full days, 1 day, half day, 90 minutes and 60 minutes.
Operations Management Course Benefits
Below is the list of course benefits of our Operations Management course
Gain competitive advantage through effective operations management and application of proper tools and techniques
Understand how operations in an organization are configured and know how they work
Identify and understand an operations system with some known standard configurations
Make an assessment of the complexity of an operations system and understand how to work even with its complexity
Compute cycle times for operations and estimate capacity of the system in the company
Understand the various components of a supply chain and the need to configure them appropriately
Identify methods for reducing bullwhip effect which is a distribution channel phenomenon in which forecasts yield supply chain inefficiencies in supply chains
Understand and relate the concept of Lean Management to one's own business situation
Use specific tools and techniques to analyze quality problems and ensure that the products and services provided by the company are high-quality
Monitor a process using control charts and properly manage processes effectively
Learn to analyze and improve business processes in services or in manufacturing
Identify key elements of process analysis, the main point of the analysisand, if possible, the organizational format for exploring the main idea
Operations Management Course Objectives
Below is the list of course objectives of our Operations Management course
Learn about operations management and effectively lead your team using skills an operations manager need
Familiarize with the major operational problems and issues that confront managers
Provide with language, concepts, insights and tools to deal with issues
Analyze different key operational dimensions such as capacity management, flow time management, supply chain management, and quality management
Discuss developments such as lean operations, just-in-time operations, and time-based competition
Understand the role of OM in a firm and to develop abilities to structure and solve operations related problems
Empower you with skills to address important aspects of business operations including capacity, productivity, quality, and supply chain
Increase productivity and deliver higher quality standards to clients
Break down operations into processes which can then be improved to maximize profits and efficiency
Learn and practice the use of decision-making frameworks and techniques applicable at all levels
Learn the key components of productivity
Develop strategies for decreasing inputs while increasing outputs, thereby boosting productivity wherever you see the need to
Course Content For This Operations Management Training Course
Below is the list of course content of our Operations Management training course
Discuss the Four Dimensions of Operational Performance which are cost dimension, variety, quality, and timeliness
Process Analysisis used to help fully understand the current condition of any process
Discuss the types of process arrangements and their functions in a business context
Little's lawstates that the long-term average number of customers in a stable system L is equal to the long-term average effective arrival rate, λ, multiplied by the average time a customer spends in the system, W
Process capacity is useful, to calculate a comprehensible numberand planned utilizationmeasures the time your resources spend working that can be billed to a client
Productivity is the effectiveness of productive effort, especially in industry, as measured in terms of the rate of output per unit of input
Inventory and Supply Chain Management is the managementof the flow of goods and services, involves the movement and storage of raw materials, of work-in-process inventory, and of finished goods from point of origin to point of consumption
Quality Managementis focused not only on product and service quality, but also on the means to achieve it
Manufacturingis the production of merchandise for use or sale using labor and machines, tools, chemical and biological processing, or formulation
Transportis the movement of humans, animals and goods from one location to another
Supply is a stock of a resource from which a person or place can be provided with the necessary amount of that resource
Service is a system supplying a public need such as transport, communications, or utilities such as electricity and water
Operations Management Value Added Materials
Each participant will receive the following materials for the Operations Management course
Operations Management Learner's Guide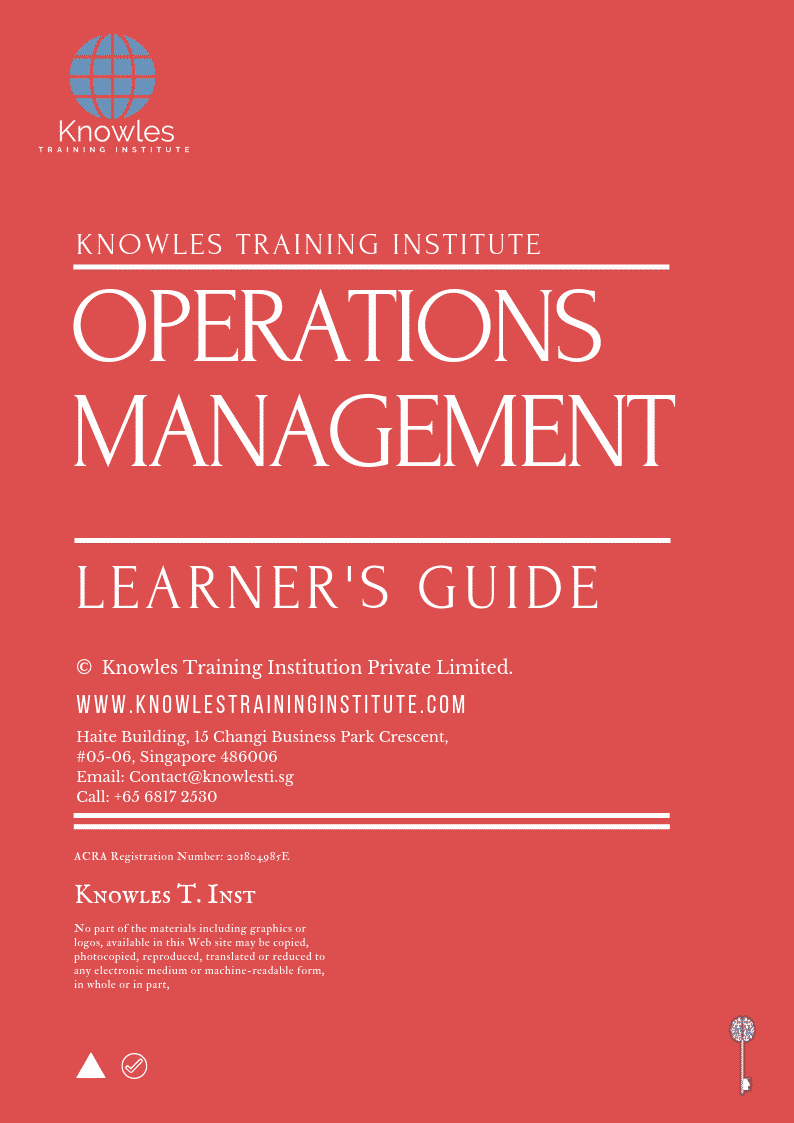 Operations Management Key Takeaways Notes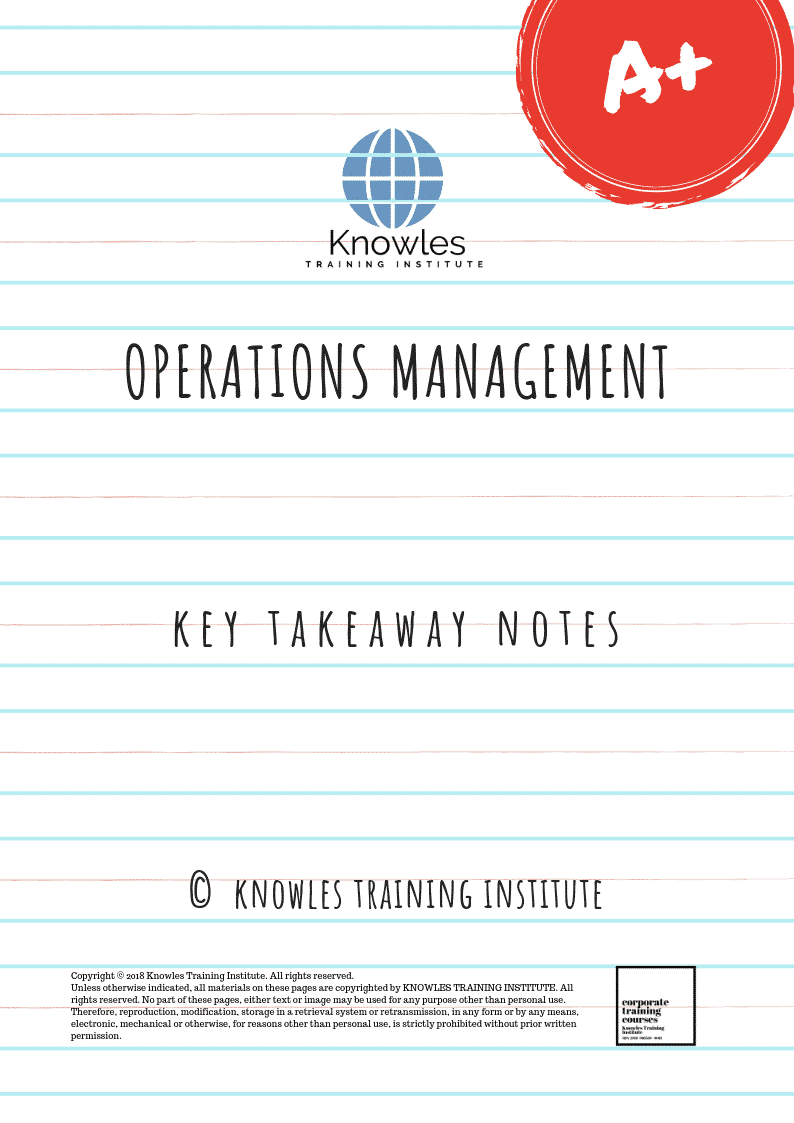 Operations Management Essentials Ebook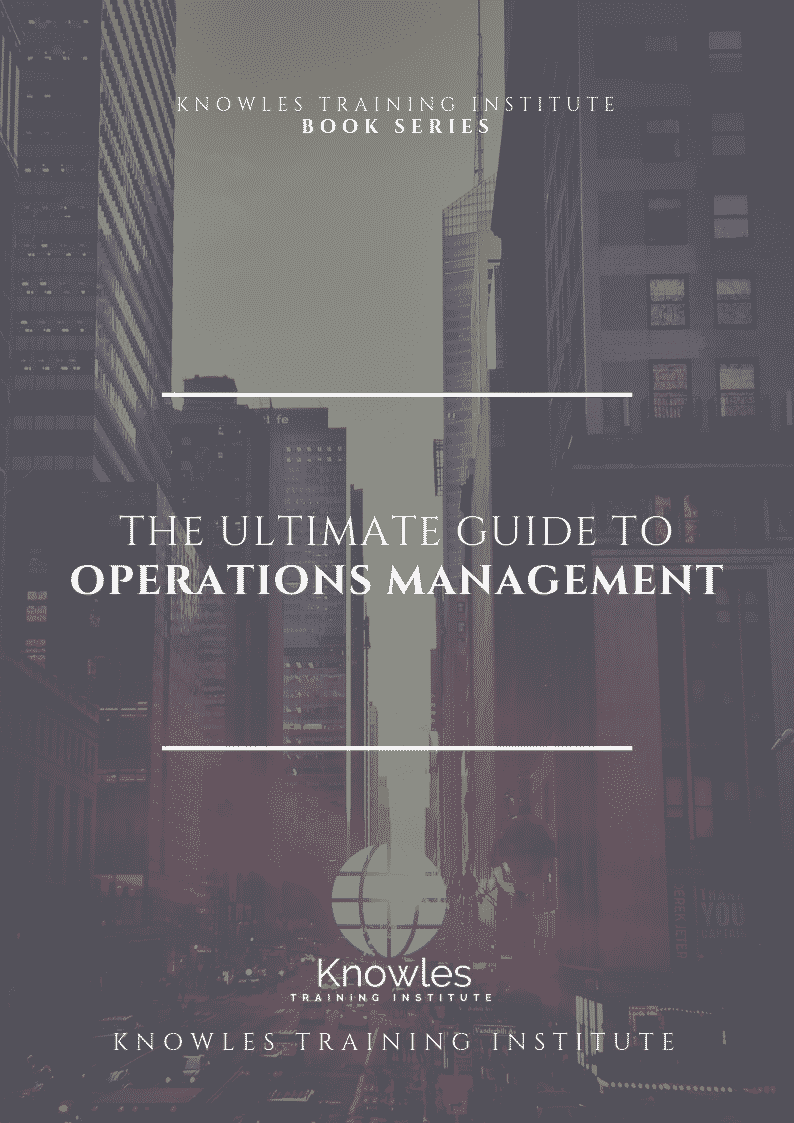 Operations Management Course Handouts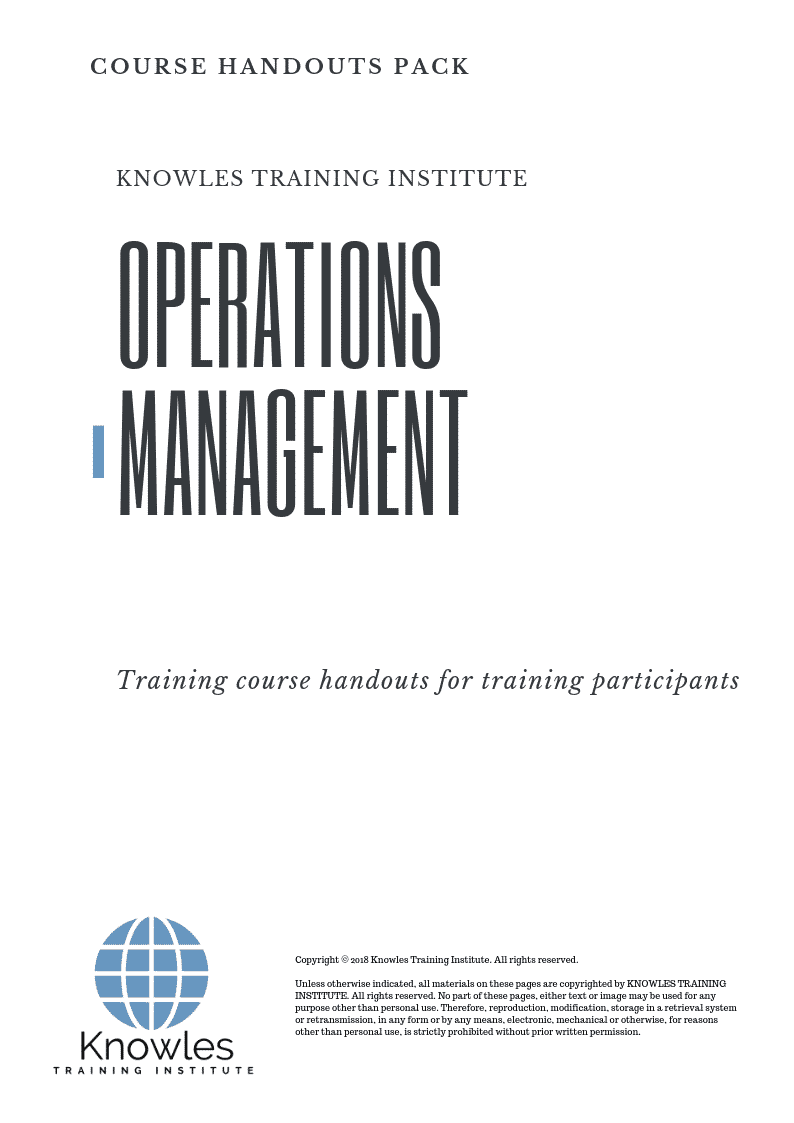 Operations Management 30-Day Action Plan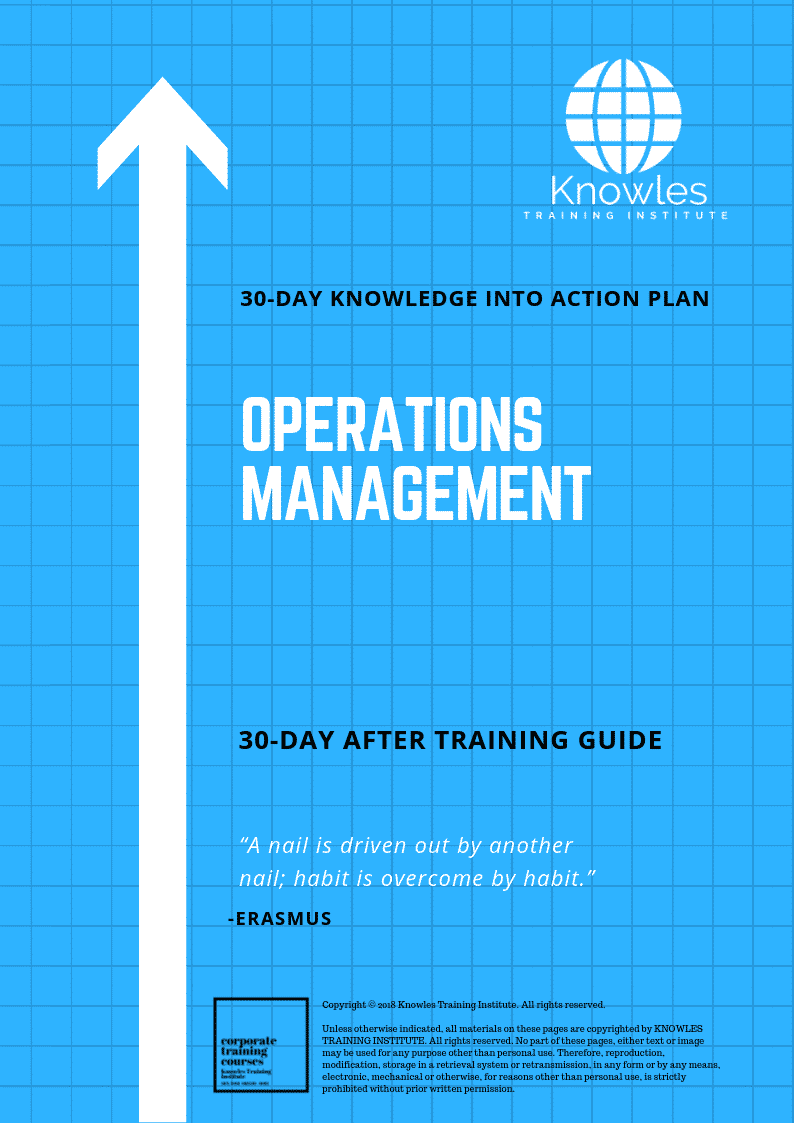 Operations Management MindMaps Pack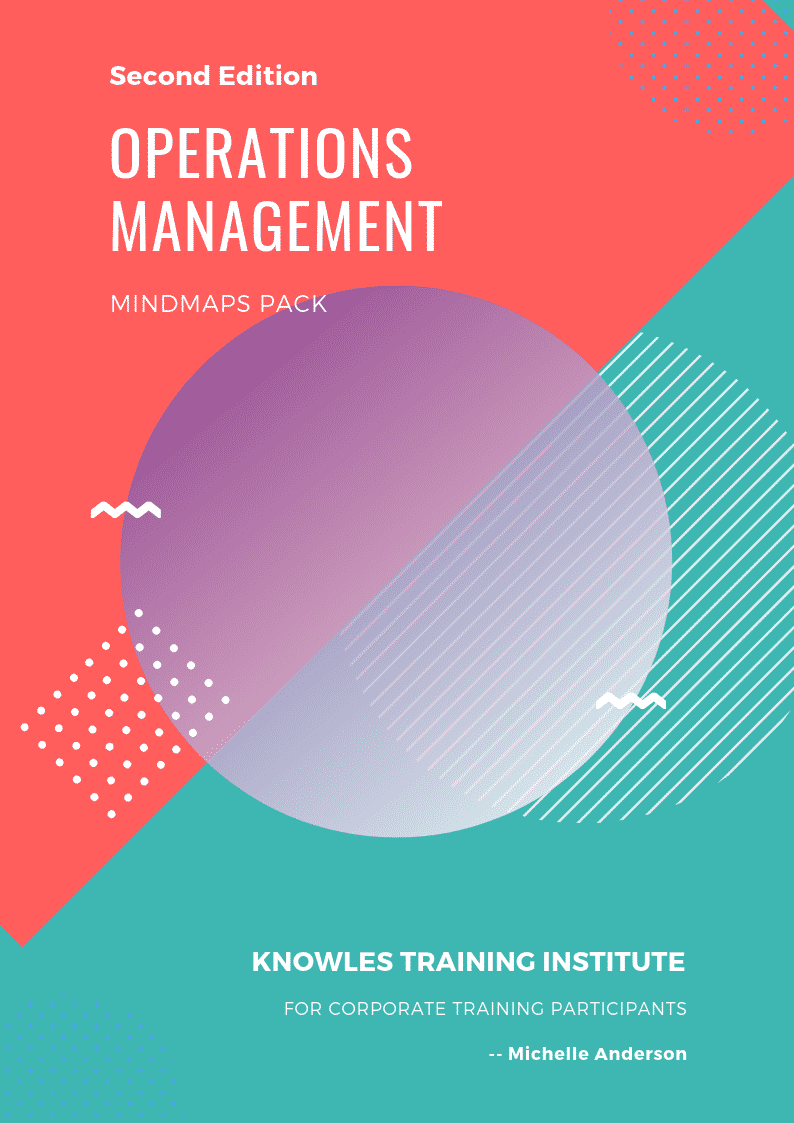 Operations Management PPT Slides Used During Course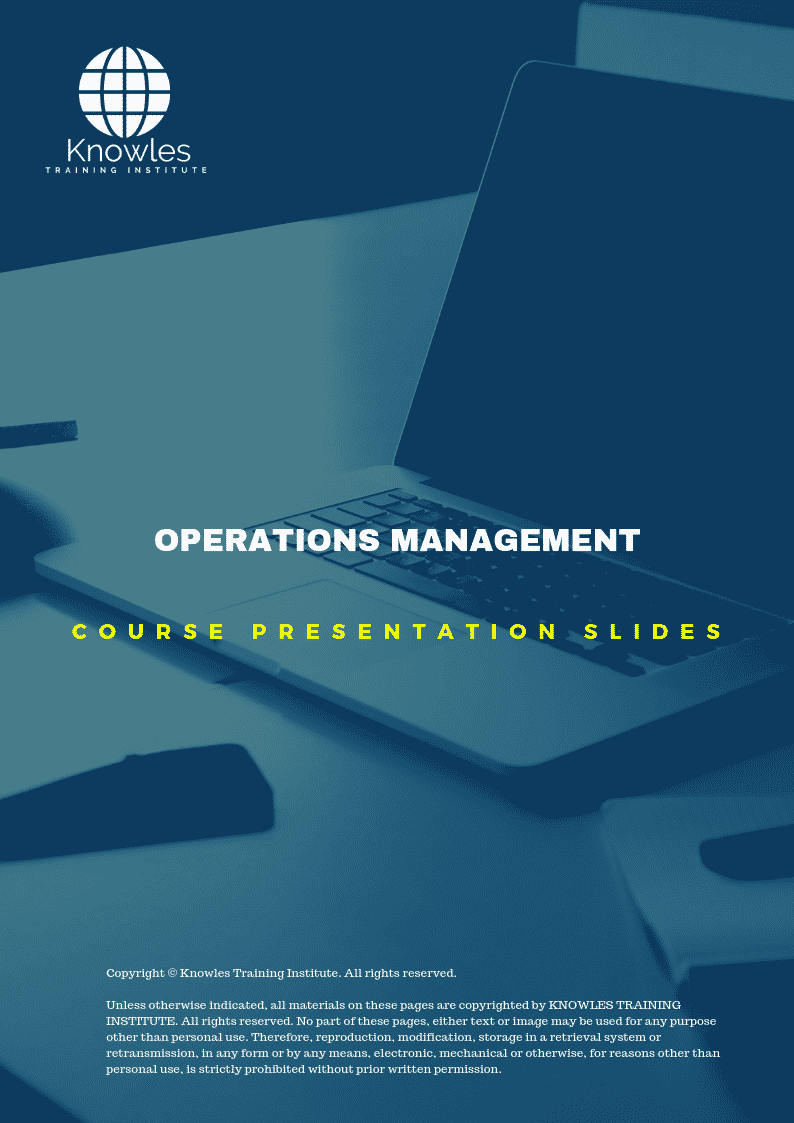 Operations Management Long-Term Memory Flashcards Pack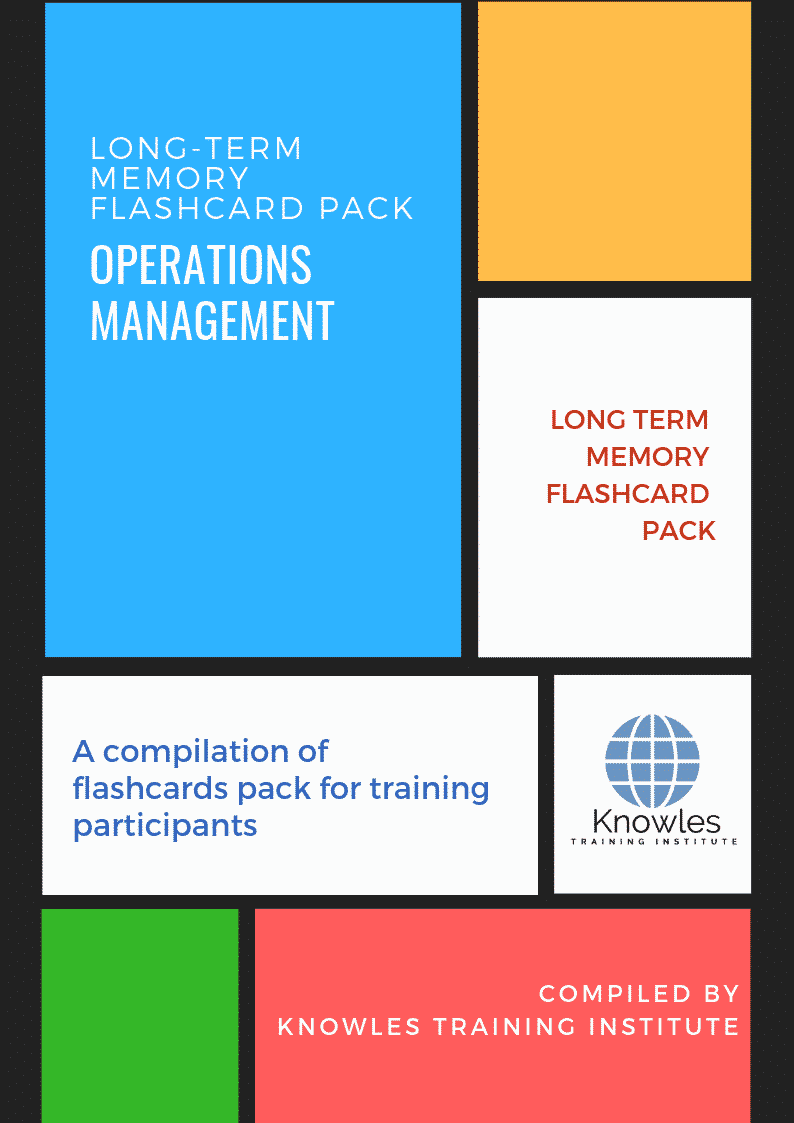 Operations Management E-Learning Course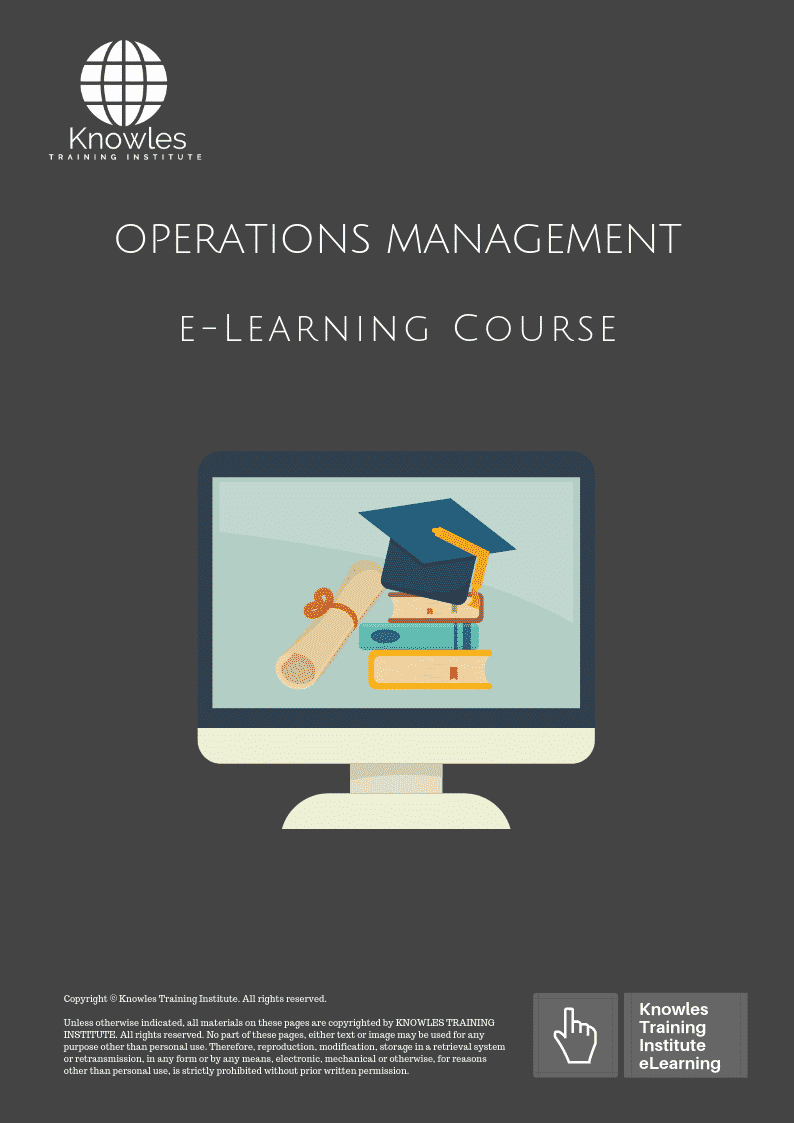 Operations Management Online Video Course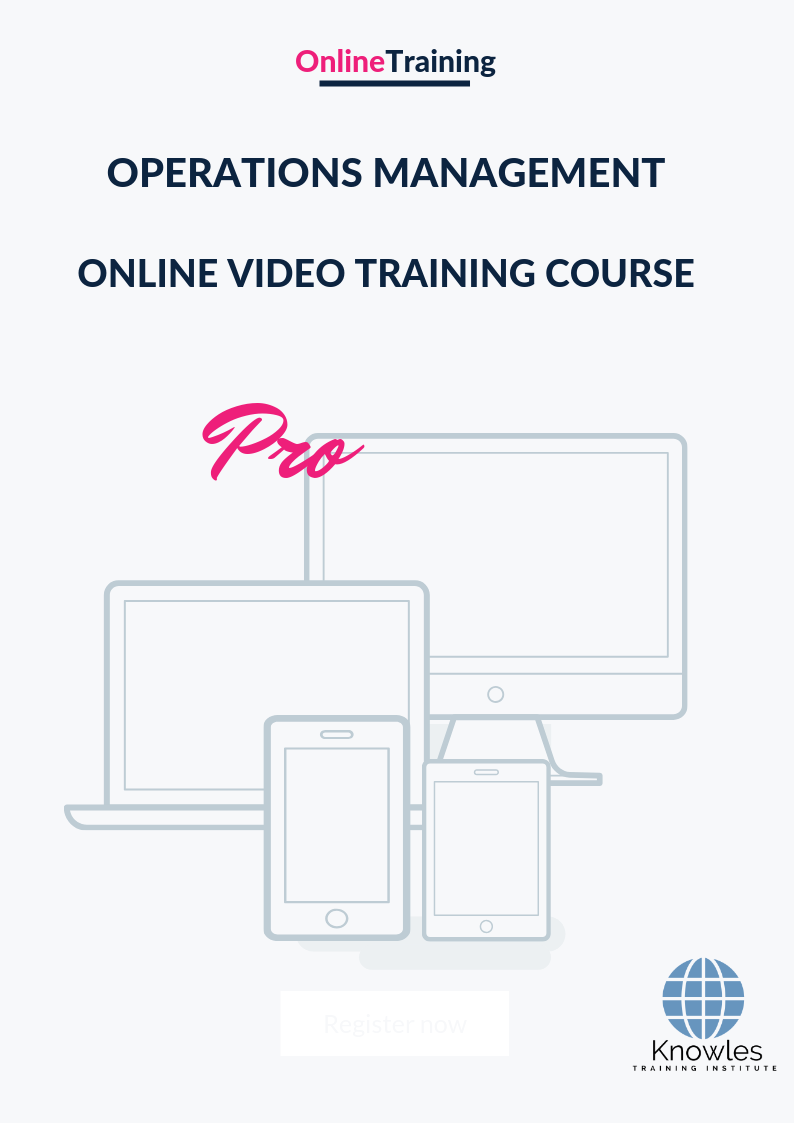 Operations Management Essentials Audiobook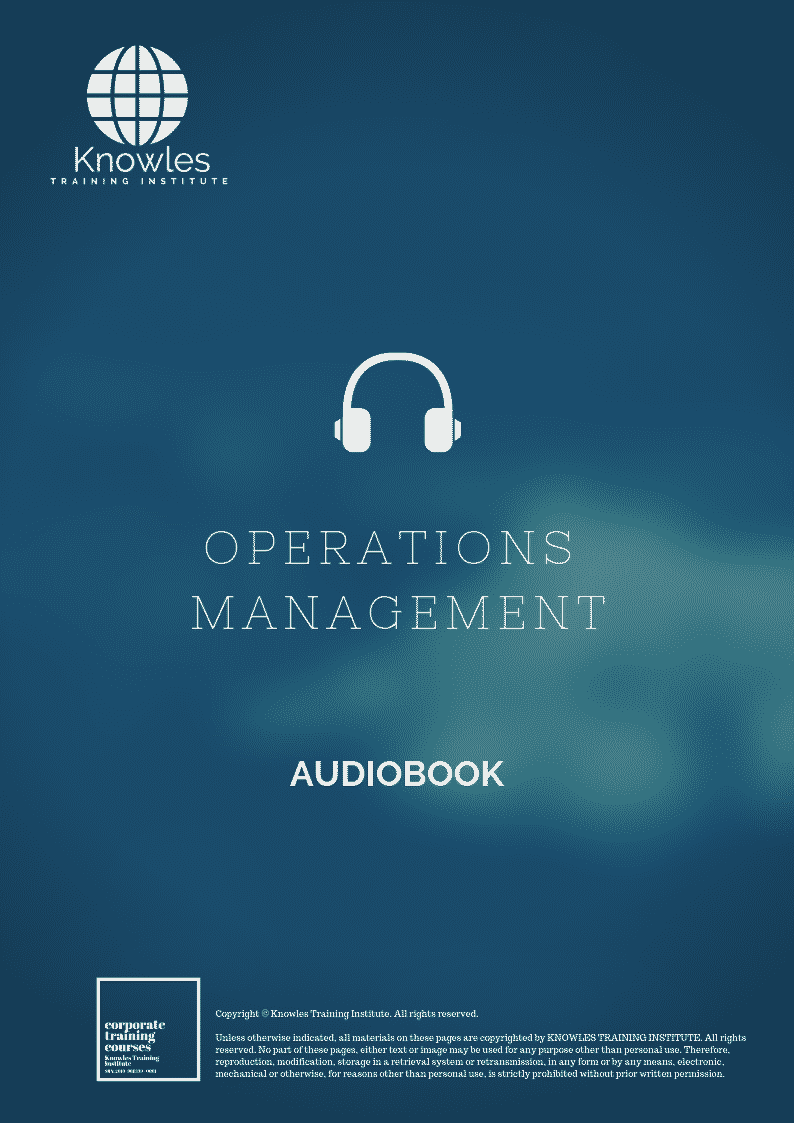 Operations Management Infographics Pack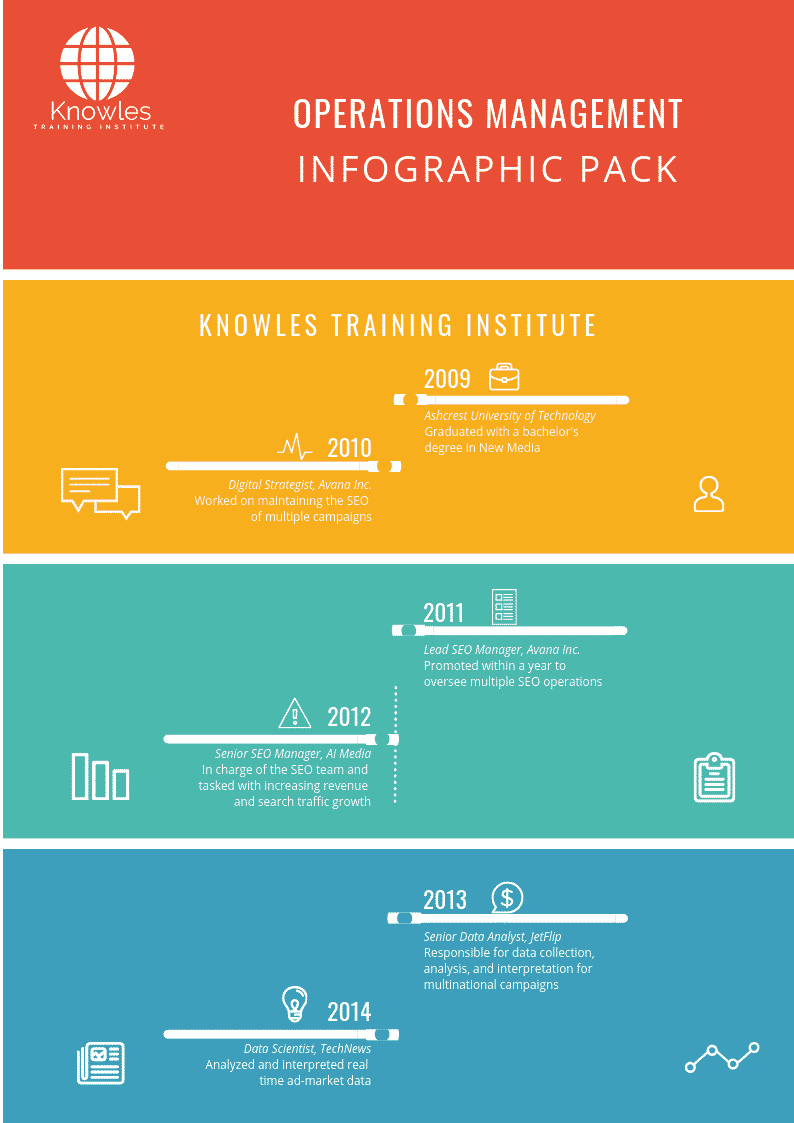 Operations Management Certification
Each course participant will receive a certification of training completion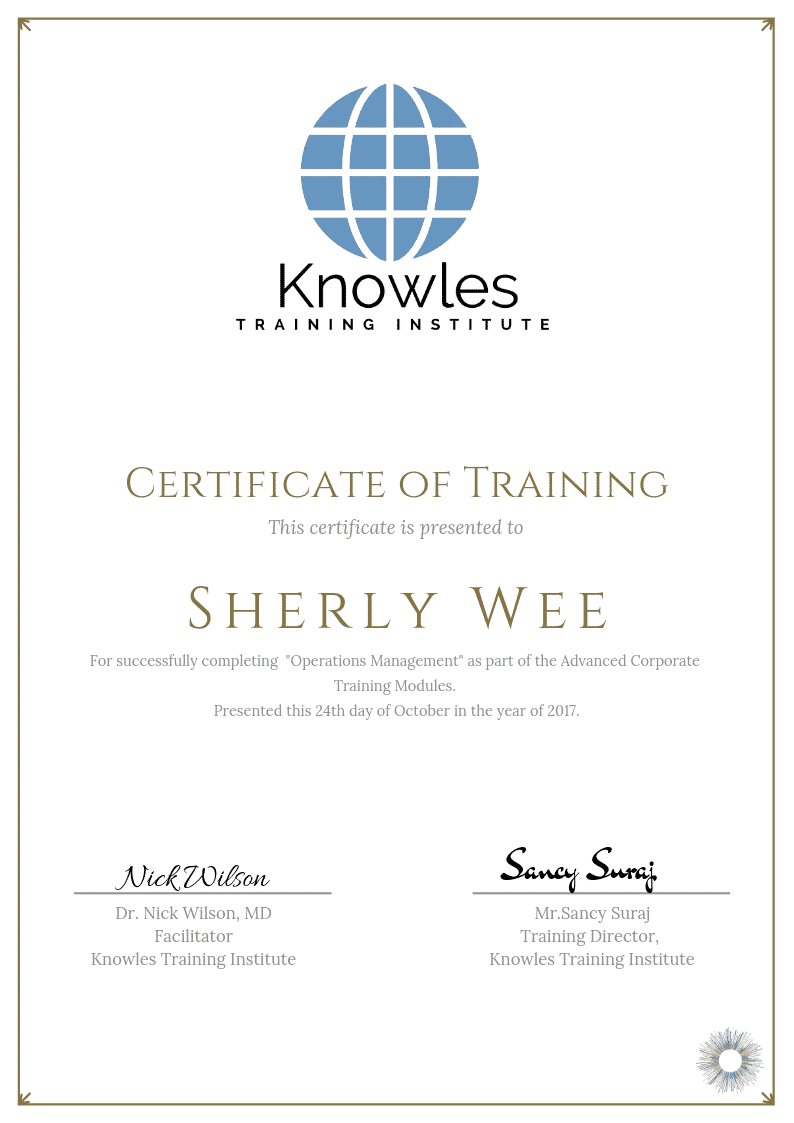 There are 3 pricing options available for this Operations Management training course. Course participants not in Singapore may choose to sign up for our online Operations Management training course.
2-Full Day Course
Learner's Guide
Course Handouts
—
—
—
—
—
—
—
—
—
—
Premium 2-Full Day Course
Learner's Guide
Course Handouts
PPT Slides Used During Training Course
Long-Term Memory Flashcards Guide TM
1 Year Access to Online Training Video Course (*Worth S$589.97)
Contact Your Trainer: 90-Day Post Course Help (*Worth S$89.97)
Key Learning Takeaway Notes (*Worth S$18.97)
Audio Book (*Worth S$18.97)
eBook (*Worth S$14.97)
Course Infographics Pack (*Worth S$11.97)
Course Mind Maps (*Worth S$8.97)
30-Day Action Plan
Course Discounts, Fundings & Subsidies
We have the following  discounts, fundings & subsidies for this Operations Management training course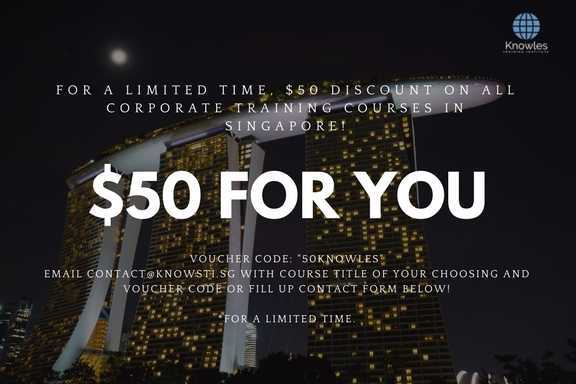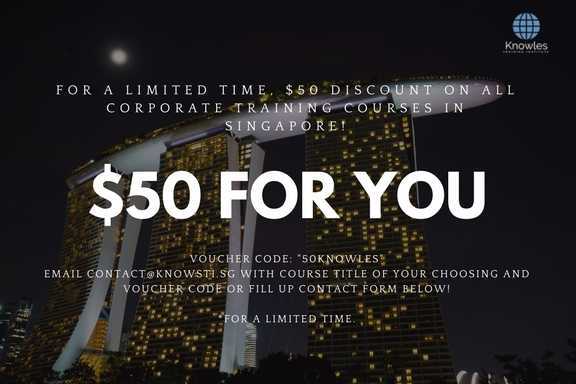 Our Trainers are Subject Matter Experts
UpcomingOperations Management Training Course Schedule
Contact us for the latest Operations Management course schedules:
Phone: +65 6817 2530
Email: contact@knowlesti.com
Message:
Download Operations Management Course Brochure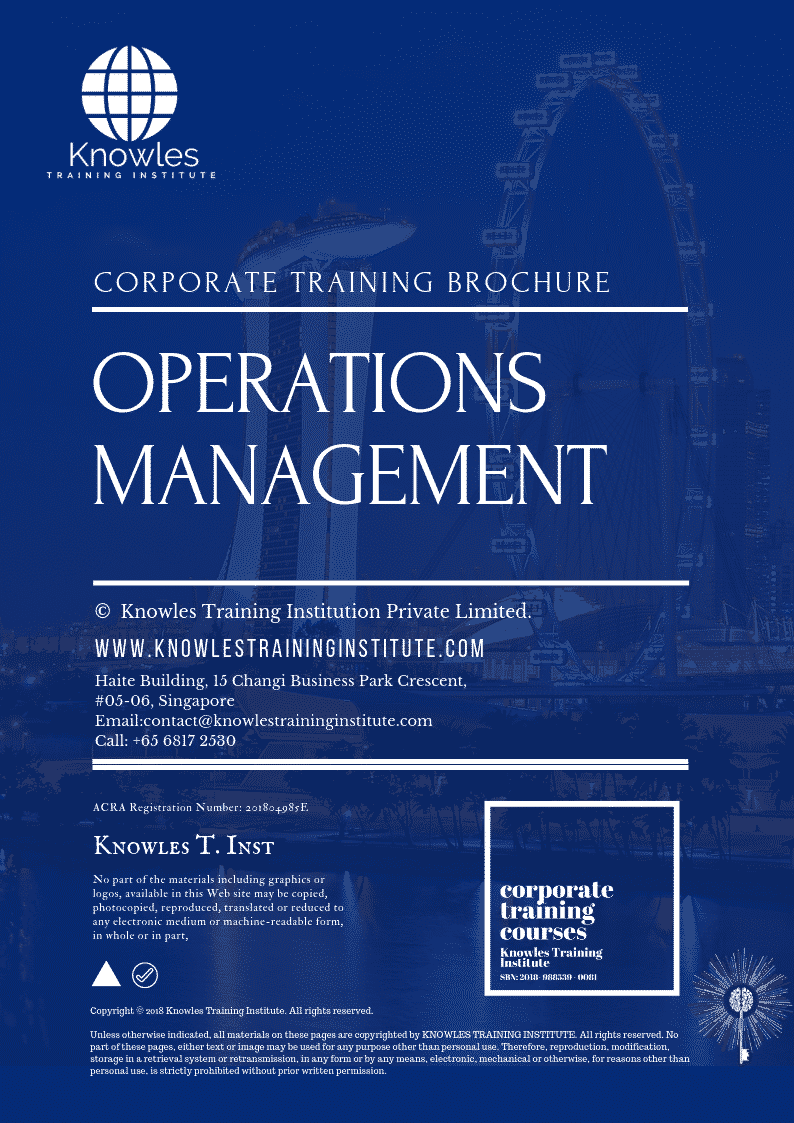 Request for this Operations Management course brochure. Fill up the short information below and we will send it to you right away!
KTI Training Methodology ™
Why Register For This Training Course?
Post Training Support: A vast majority of training does not have any effect beyond 120 days. To work, training has to have a strong pre- and post-training component. Post-training reinforcement helps individuals to recall the understanding and ask questions.

Blended Learning: Learning does not occur in the classroom. Virtually everybody prefers distinct ways of learning. Successful learning should have a multi-channel, multi-modal strategy.

We Understand The Industry: We've got a profound comprehension of the business, business design, challenges, strategy and the that our participants are in and have designed the courseware to cater to their professional needs.

Course Content: Knowles Training Institute's material is relevant, of high quality and provide specific learning results. Participants will leave the training course feeling as they have gained a strong understanding and will also be in a position to execute what they have learned sensibly.

Course Development — The workshop modules follow a systematic and logical arrangement. This structure helps to ensure that the course material allows the facilitators to deliver the course in a logical arrangement. Consider the subjects as building bricks into learning, our facilitators slowly build towards a comprehensive picture of this entire topic.

Fill up the form and we will get back to you in less than 1 working day.
Alternatively, give us a call to have one of our training consultants contact you. Our corporate training courses can be contextualised to meet your organisation's training needs. Leverage on our large pool of professional trainers and consultants for your organisation's training needs.
Office Address: Knowles Training Institute, 138 Robinson Road, #28-03, Oxley Tower, Singapore 068906
Office Phone: +65 6935 7406
Email: contact@knowlesti.sg
We Guarantee 100% Privacy. We Respect Your Privacy. Your Information Will Never Be Shared.
Register Now
Register For This Operations Management Course Now!
Operations Management course, workshop, training, class, seminar, talk, program, programme, activity, lecture. Operations Management courses, workshops, classes, seminars, talks, programs, programmes, activities, lectures in Singapore. Operations Management improvement tips, Operations Management techniques, improve Operations Management, improve Operations Management games, Operations Management improvement exercises, improve Operations Management power, how to have good Operations Management, how to have good Operations Management in studying, how to build up your Operations Management, how to improve Operations Management how to improve Operations Management course in Singapore. Enhance, boost, build up, enlarge, heighten Operations Management course in Singapore. Increase, intensify, raise, reinforce, strengthen Operations Management. Upgrade, amplify, boom, elevate, exaggerate, magnify, grow, gain Operations Management. Develop Operations Management, multiple, power up, beef up, bolster, establish, extend Operations Management. Invigorate, restore, step up, toughen, empower, fortify, regenerate Operations Management. Rejuvenate, renew, escalate, expand, maximize Operations Management. Powerful, mighty, impressive, competent, great, excellent, exceptional Operations Management in Singapore. Superb Operations Management. Super, superior, strong, solid, active Operations Management training courses and workshops in Singapore. Operations Management enhancement, booster, building up, enlargement, heightening, increment, strengthening, amplification. Operations Management magnification, growth, development, power, empowerment, regeneration. Operations Management rejuvenation, development, escalation, expansion. Operations Management maximization, power training courses & workshops in Singapore.