Change Management Training Course in Singapore

Change Management Training Course Singapore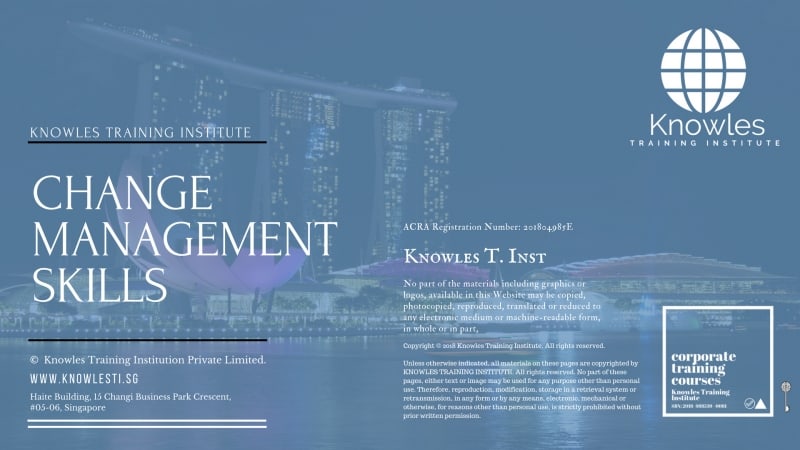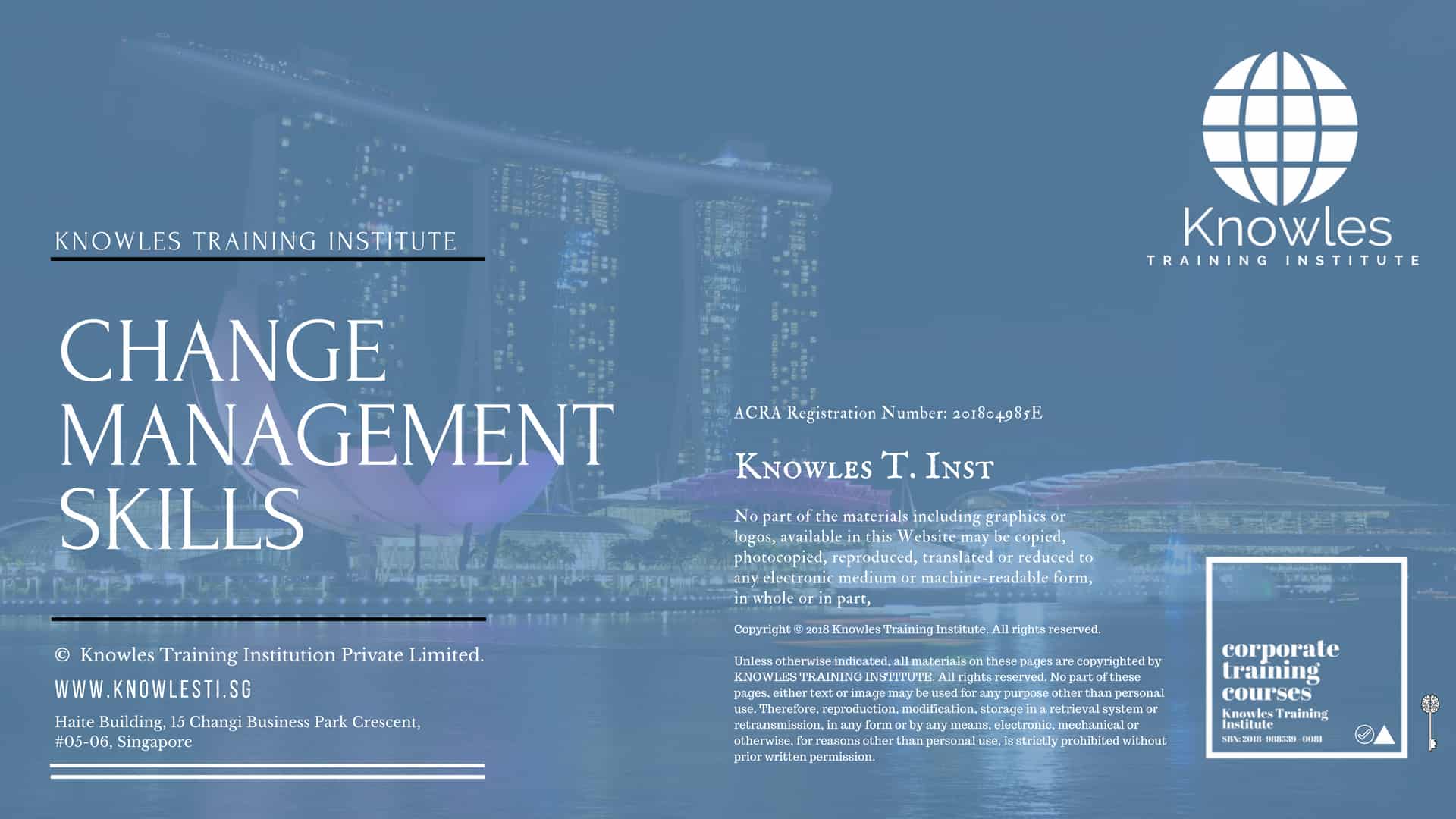 About This Change Management Training Course in Singapore
Change Management Skills Course in Singapore
Change management is the process employed in every organization undertaking a new project, implementing a set of policies, or purposely conducting a change program. Any of these activities mentioned involves adopting changes, be it in the working hours or new software to be mastered. With the use of change management, the employees impacted can transition successfully without any detrimental effects.
Change management also requires a set of skills and the right people who could monitor the changes being experienced. With today's fast-changing world, it is even more necessary to attain skills in change management for the good of those directly affected by the change: the employees. By overlooking them, the desired change could not exist.
Who Should Attend This Change Management Training Workshop in Singapore
This Change Management Skills workshop is ideal for anyone who would like to gain a strong grasp and improve their Change Management Skills.
All Staff Within An Organisation
Group Size For This Change Management Training Program in Singapore
The ideal group size for this Change Management Skills course is:
Course Duration For This Change Management Training Course in Singapore
The duration of this Change Management Skills workshop is 2 full days. Knowles Training Institute will also be able to contextualised this workshop according to different durations; 3 full days, 1 day, half day, 90 minutes and 60 minutes.
Change Management Training Course Benefits
Below is the list of course benefits of our Change Management Skills course
• Introduces the participant to the different causes of change and how they can be managed
• Stresses the importance of change management positions in an organization during change implementations
• Helps the participant in undergoing personal transitions so as to increase the success of a project or program
• Increases the participant's ability to adapt and be flexible in any situation
• Improves the participant's coaching techniques in order to support those impacted by change programs
• Ensures the success of change through systematic and strategic management of the people involved and what they are going through
Change Management Training Program Objectives in Singapore
Below is the list of course objectives of our Change Management Skills course
• Identify the factors motivating change to happen and how it led to the conception of different change models
• Define what is change management
• Define the duties and responsibilities of a person in change management
• Determine the kinds of outputs that a change manager is expected to submit
• State the importance of establishing change management in the workplace
• Identify the people in need of change management skills at work
• Identify the necessary skills needed for an effective change management leader
• Determine the ways on how to develop and practice change management skills
• Determine the impact of using change management skills in the individual and organizational level
• Identify the factors affecting change management positively and/or negatively
• Conduct an assessment of oneself for the qualifications of being a change management leader
• Apply the change management skills learned in different change-related situations
Course Content For This Change Management Skills Training Course
Below is the list of course content of our Change Management Skills training programme course
Defining Your Strategy

It is critical to manage change by designing and implementing a strategy that determines an approach consistent with the unique needs of the organisation. The strategy assists as the guiding framework, providing direction and shaping decision making throughout the change process. A simple way to gather data for the approach is to set up interviews and ask questions regarding the different aspects of the change.

Building the Team

To efficiently implement a team positioned for success, leaders must elect members who exhibit a high degree of skill including commitment, contribution and communication. By formalising the team and providing funding and other resources, it sends a message of accountability and responsibility and illustrates the investment the organisation has made in the change.

What's in it for Me?

To respond to the inquiry "What's in it for Me?", or WIFM, change management leadership must create energy and engagement around the change. This builds momentum and instils support at all levels of the organisation.

Building Support

Effective communications are essential for building support in the organisation. Whoever communicates with people impacted by a change must have a clear perception of the overall nature of the change, its purposes, and how it aligns with the vision for the organisation. He or she must comprehend the risks of not changing, the timing for the change, and who will be most influenced by the change.

Influences on Change

Typically causes of change can be divided into two categories: Internal and External. No organisation is an island and external forces are always influencing and interacting with its presence. Individuals and organisations may have minimal ability to control such external factors such as politics, culture, economy, societal changes, or technology.

Common Reactions to Change

If a change is declared, some people may feel that the change is not required. They may be unwilling to listen or dispute any facts or information presented to support the change.

Tools to Help the Change Process

Preparing for the change is very crucial as with preparation comes more chance of success. These tools will help facilitate the change process and provide it with the best opportunities for success.

Preparing and Planning

Begin by placing yourself in a positive mindset. You are likely to experience higher than usual levels of stress, and acknowledging this will give you the capacity to be prepared mentally and physically. You will be the anchorperson and support, and with your steady hand will lead your team through the stressful events.

Delegating

Surround yourself with people that you can delegate to and be confident in their abilities and skills. Be precise and specific with your directions as to when the change process begins. You will depend on these individuals and their talents. Interacting and providing feedback are the keys to successful delegation; make sure your team follows this.

Keep the Lines of Communication Open

Always be available throughout the change process. Before the transition, prepare your friends and family that you may not be open for social events. Convince your team that you are there for them, and you are here to equip them with the required resources to guide them through the change. Stress to them that you are ready and focused on keeping the communications lines open.

Coping with Pushback

Not everyone will agree on the change. Keep in mind that these types of feelings are typical as people generally do not enjoy change and are sometimes made nervous by it. You will likely face pushback and resistance by several team members.

Gathering Data

To continue increasing awareness and to build a desire to support the upcoming change; the change management team must reach out to the organisation at large. The force field analysis, developed by German social psychologist Kurt Lewin helps a change management team to identify the pros and cons of an option before arriving at a decision.

Addressing Concerns and Issues

If concerns or issues arise, then measures must be taken to ensure awareness is continually raised and that desire to promote the change is increased. Strategies that can help the change management team responsively address employees' concerns include engaging employees, providing discussions for people to express their questions and concerns.

Evaluating and Adapting

Change is not exempt from Murphy's Law. And even if things aren't going wrong, change management team members must continuously be observing, listening, and assessing the progress and process during a change. There are several tools to help the team achieve this.

Leading Status Meetings

The leader must make sure that the project and communication plan remains on track. They need to identify, and explore any issues from employees or stakeholders that have emerged, and review and consider any feedback gathered to date. Operating as a facilitator, the leader helps to bring about learning and productivity.

Celebrating Successes

Because connections from managers and supervisors have been proven to have a significant influence on employees throughout a change initiative, it is appropriate that they be actively involved in celebrating the achievement with employees as a result of positive accomplishment.

Sharing the Results and Benefits

To sustain the result of a change, it is essential for everyone who is affected in the process to comprehend what effects are occurring. This occurs across several dimensions. Ongoing feedback is needed from employees at all levels.

The Four Stages

The four stages in the Appreciative Inquiry representation are known as the 4-D cycle. They are discovery, dream, design and destiny.

The Purposes of Appreciative Inquiry

Appreciative inquiry is conducted in organisations for various reasons. It allows the performance of people from across the whole system to participate in an inquiry; all stakeholders (employees, customers, vendors, and interested community members) are involved in the process.

Examples and Case Studies

In the past two decades, there have been many approaches to appreciative inquiry. Two essential methods of the appreciative inquiry often used in organizations are 

Whole System Inquiry

 and the 

AI Summit

.

A Dash of Emotion

Emotion is interpreted as a state of feeling. Because change in organisations doesn't happen without people, human elements and emotion cannot be downplayed. As an organisation works with the appreciative inquiry process, six essential conditions come together in an organisation.

Plenty of Facts

A fact is something that is shown to exist or known to have existed. As opposed to the "people" component, emotion, facts are straightforward and essential to measure progress. As a change management scheme shifts into the launch or in-process stage, the change management team must make sure that measurement is continuous.

What is Resiliency?

Resilience isn't an independent characteristic; rather, it is a combination of attributes of differing degrees in personalities. Resilient people, whom psychologist Daryl Conner terms O-Type, perceive more opportunity than non-resilient characters do. They address life as meaningful, and as a guiding beacon through the hurdles of change.

 Why is it Important?

When resilient people are faced with ambiguity, anxiety, and a loss of control that follows change, they tend to grow stronger from the occurrences, rather than letting themselves to be consumed. Resilient people are more inclined to make a swifter and more effective adaptation to change.

Five Easy Steps for the Leader and the Individual

One can practice behaviours and steps to become more resilient. There are some steps leaders and individuals can take to foster resilience.

What is Flexibility?

There are two dimensions of flexibility; flexible thinking, and social flexibility. 

Flexible Thinking: 

People who think flexibly can generate an extensive range of thoughts and possible responses without feeling compelled to decide on one response right away. 

Social Flexibility: 

People with a high level of social flexibility have a distinct sense of their strengths and weaknesses. 

Why is it Important?

Flexible people are team players, a crucial need during a change management initiative. Flexibility permits one to brainstorm more efficiently, bringing a wider variety of ideas to a project team. The broad range of solutions provided by a flexible thinker promotes a strong change solution — and circumvents the potential for inferior solutions that may be generated by people with low levels of social flexibility.

Five Easy Steps for the Leader and the Individual

There are some steps that can benefit either a leader or an individual who is dealing with change on a personal or an organisational level.
Change Management Coure in Singapore Value Added Materials
Each participant will receive the following materials for the Change Management Skills course
Change Management Skills Learner's Guide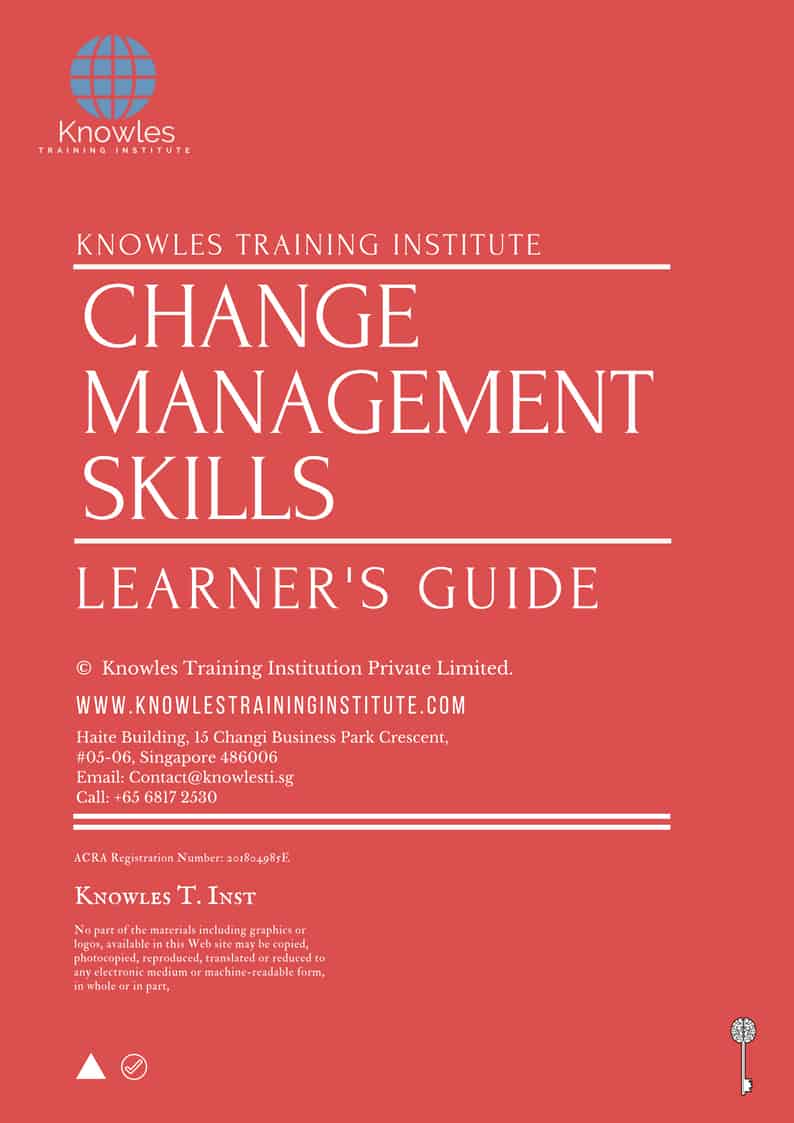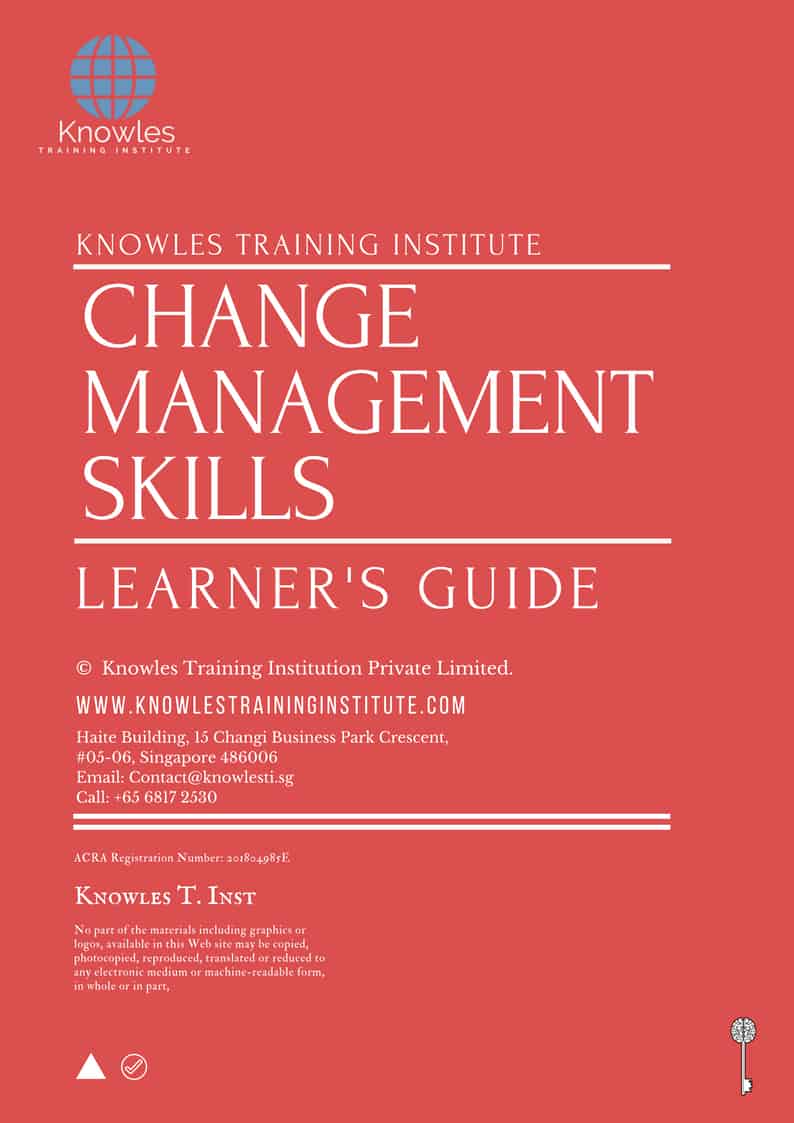 Change Management Skills Key Takeaways Notes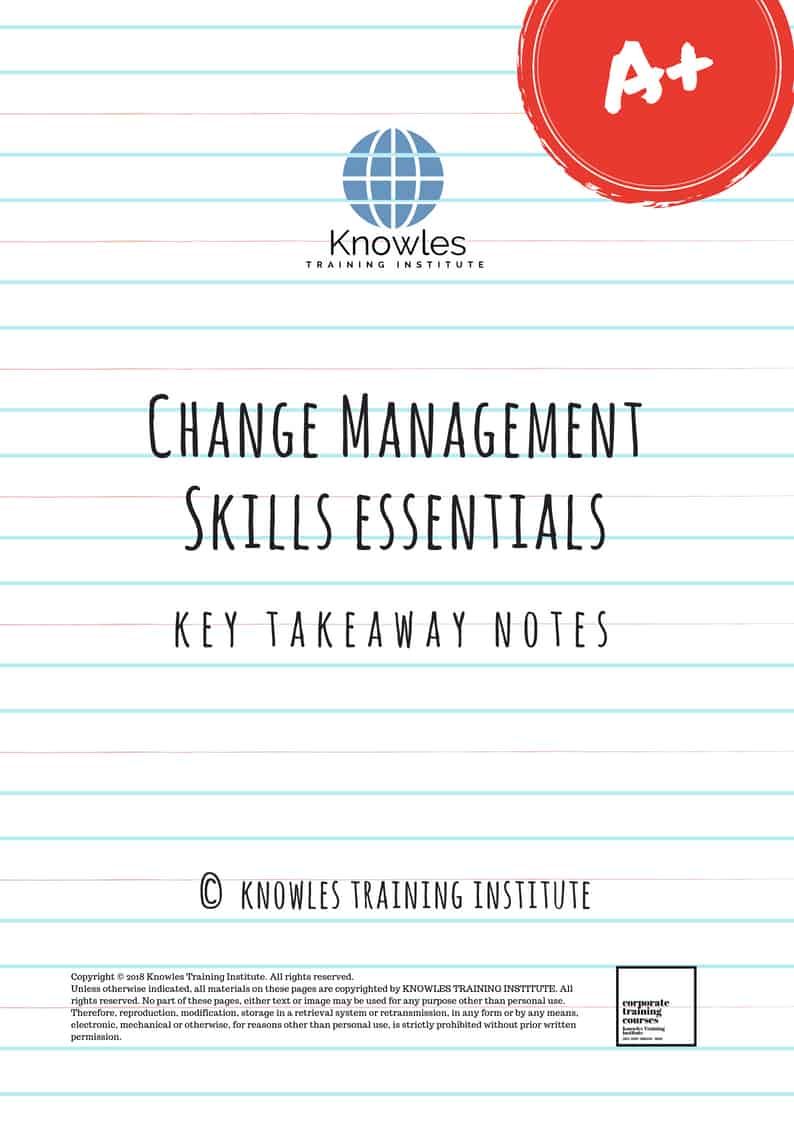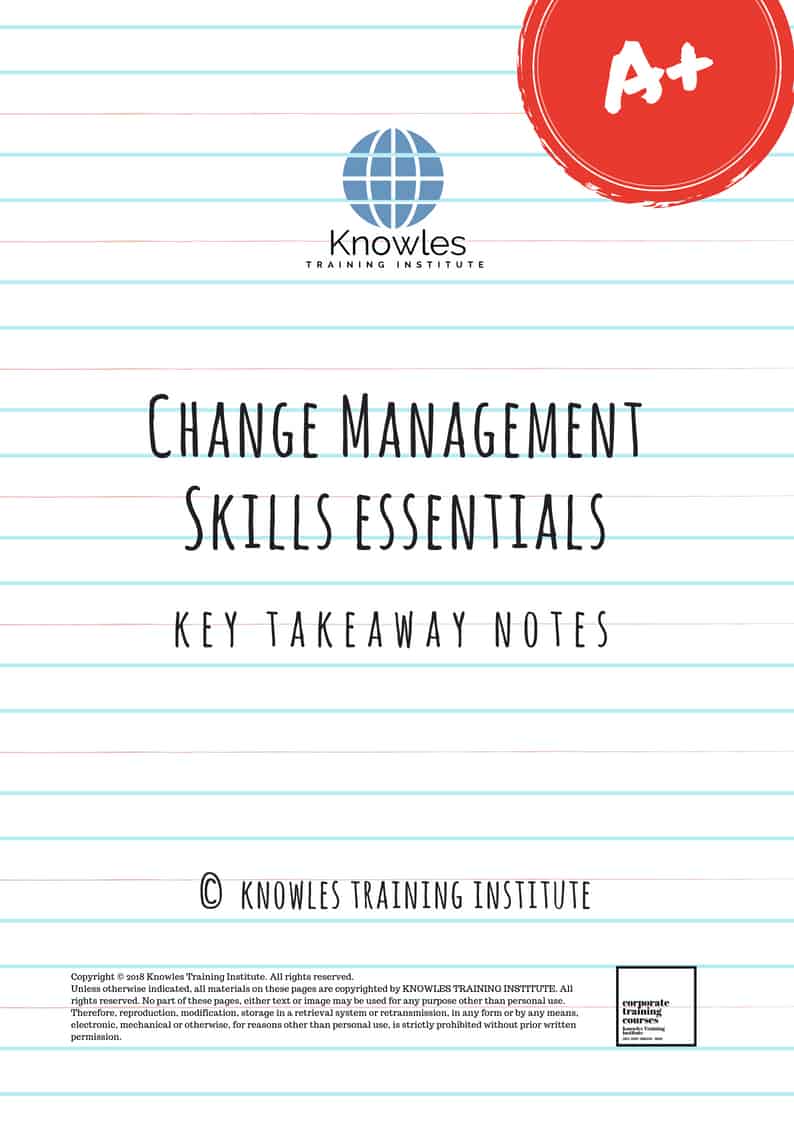 Change Management Skills Essentials Ebook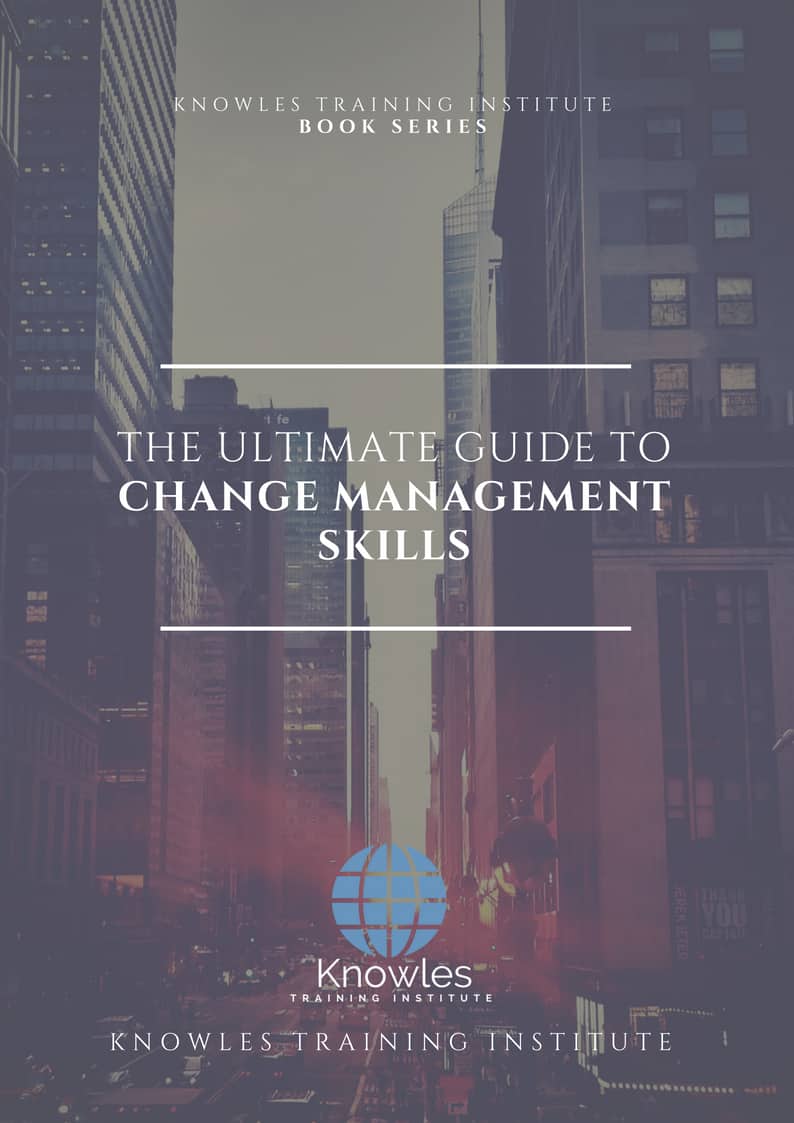 Change Management Skills Course Handouts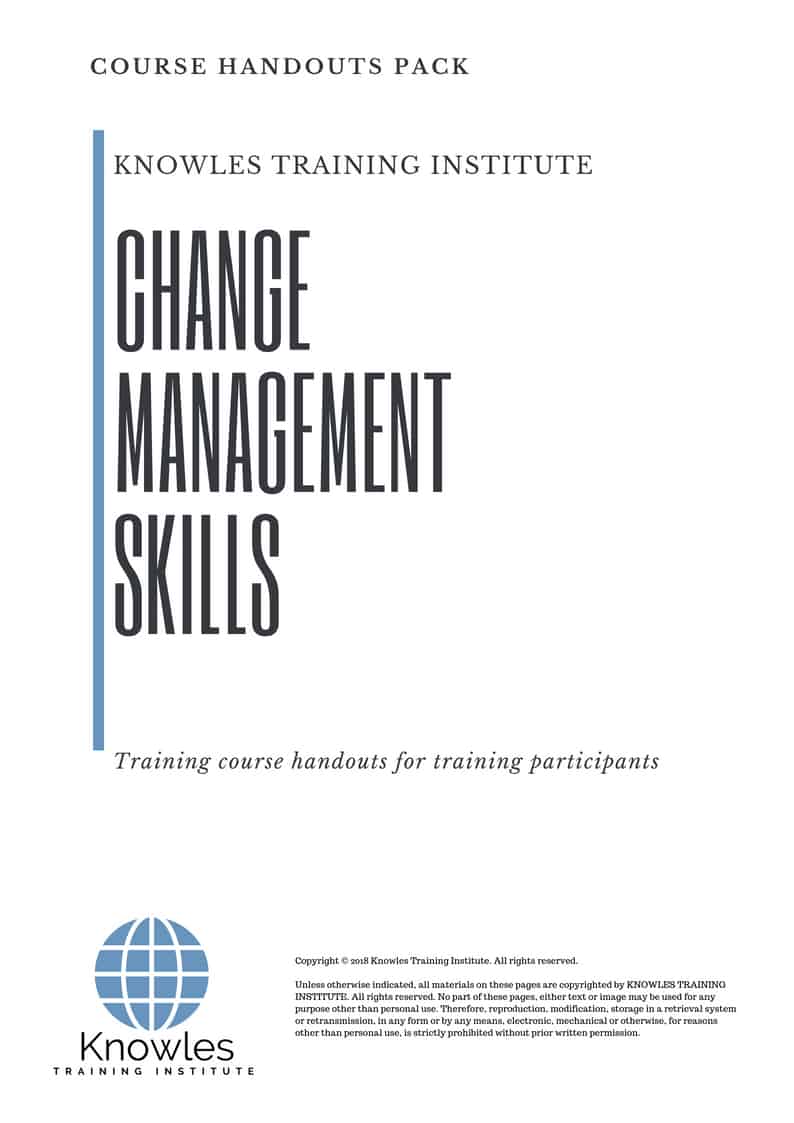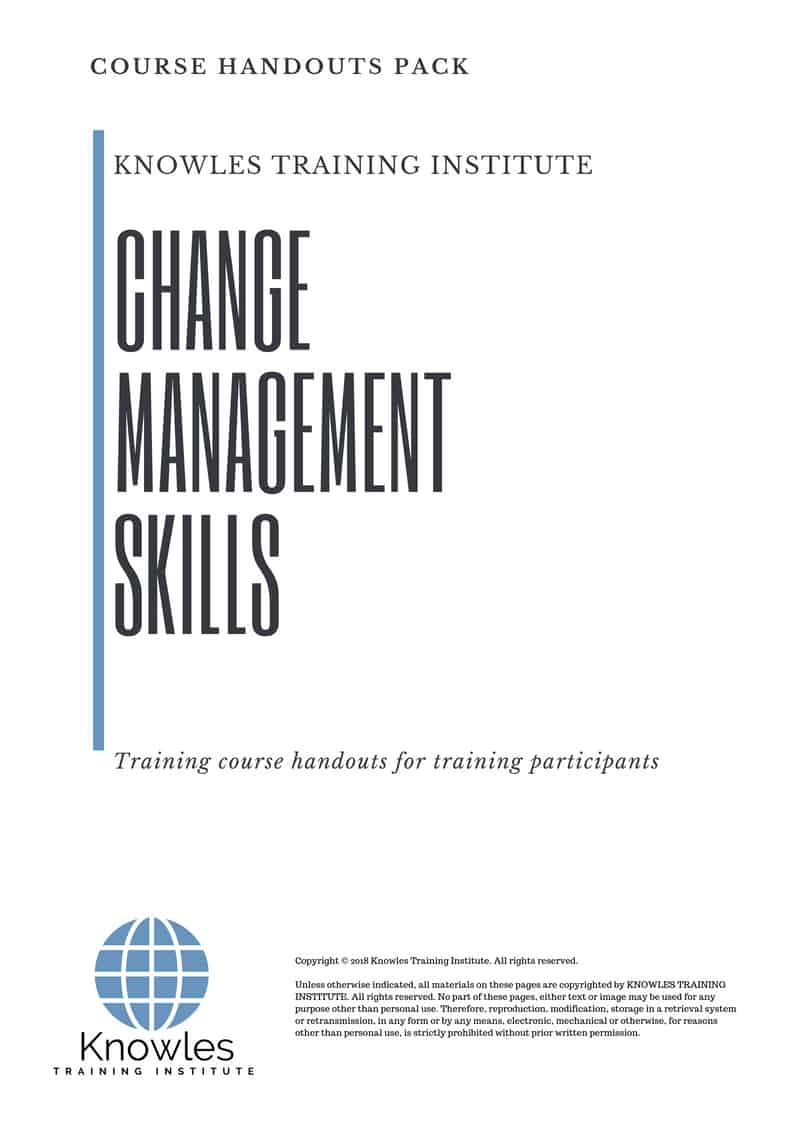 Change Management Skills 30-Day Action Plan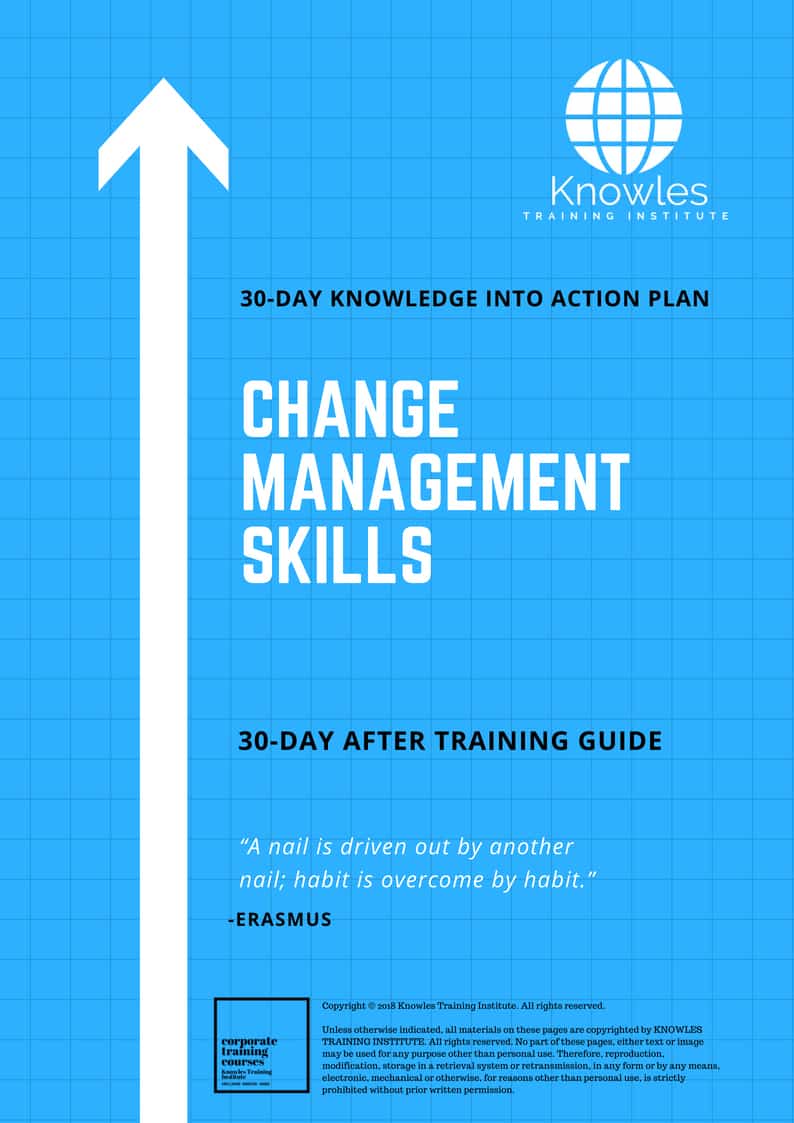 Change Management Skills MindMaps Pack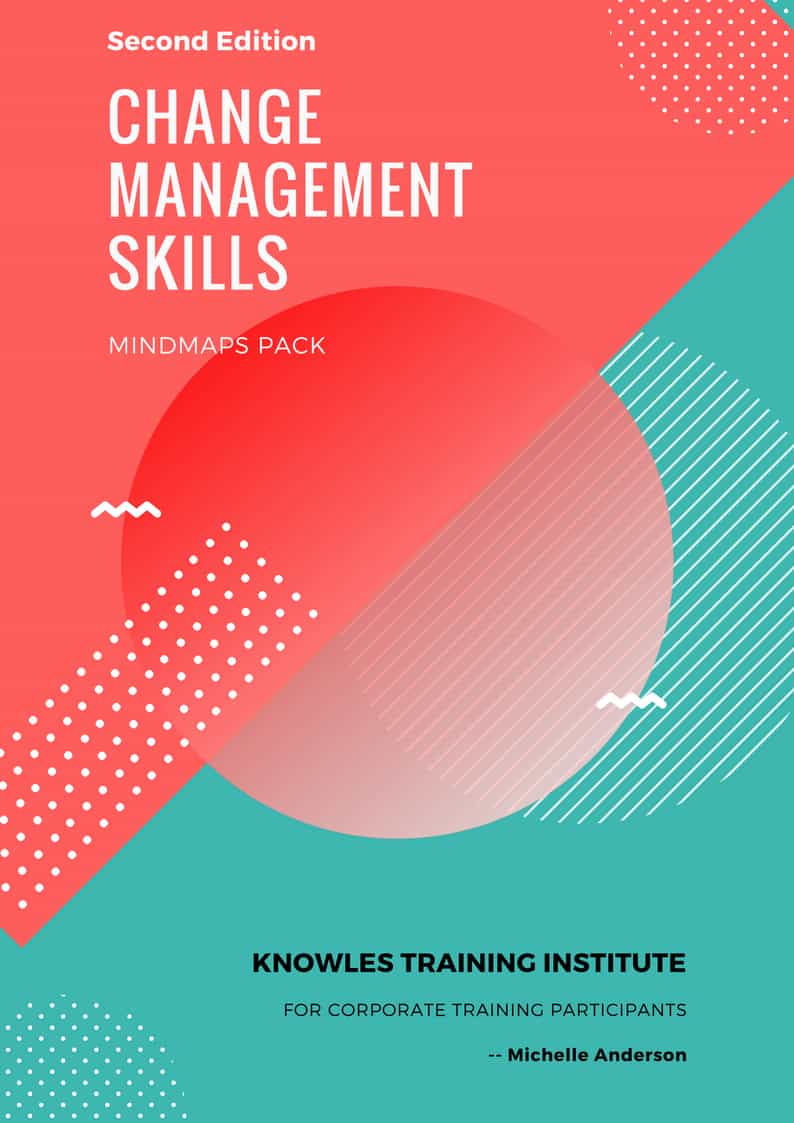 Change Management Skills PPT Slides Used During Course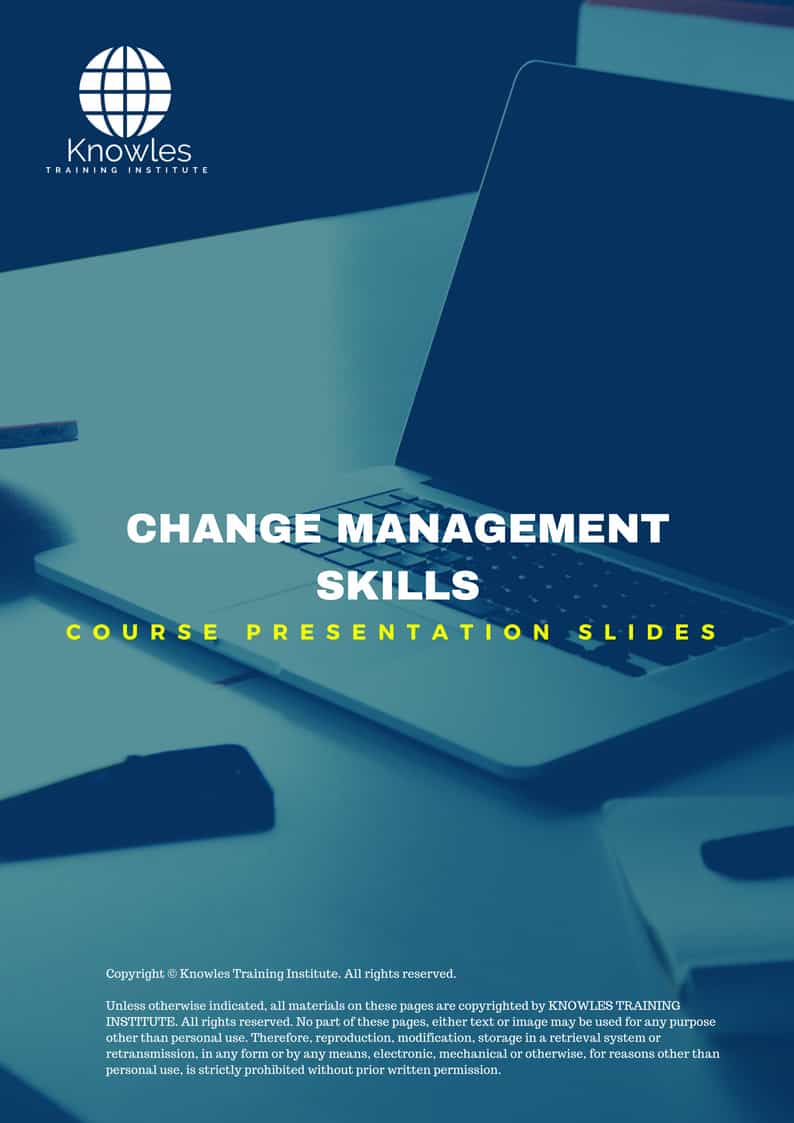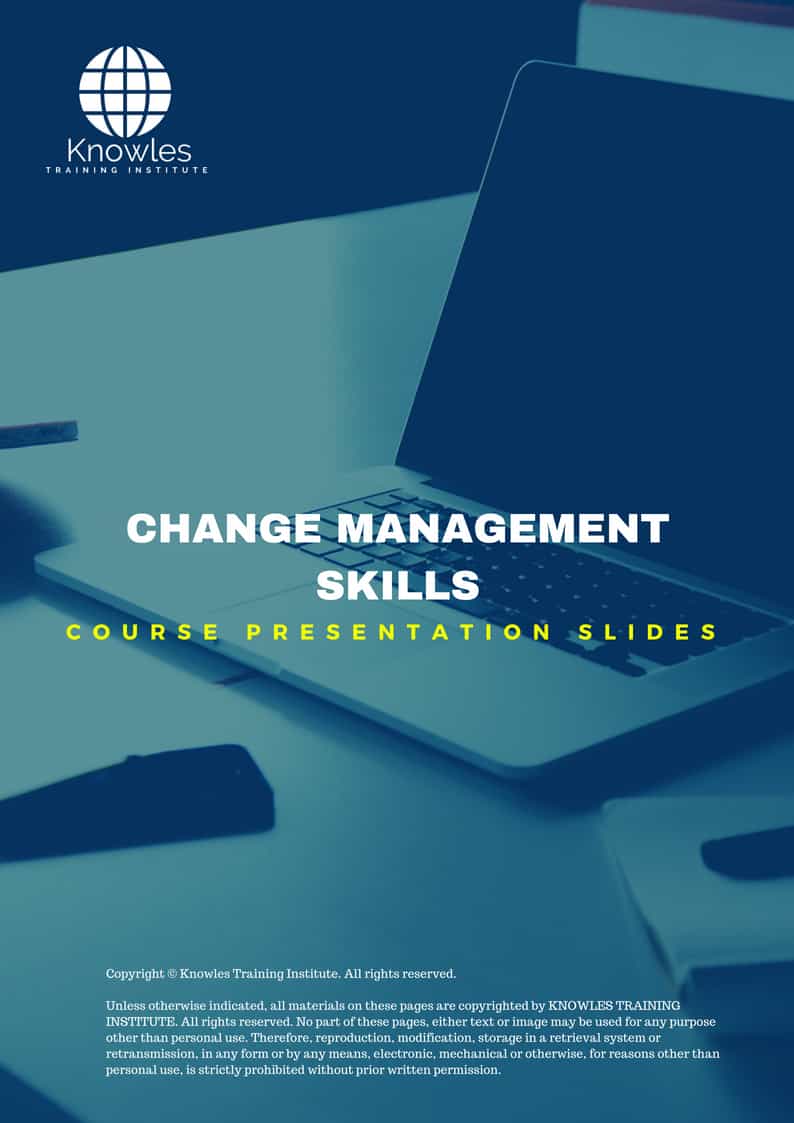 Change Management Skills Long-Term Memory Flashcards Pack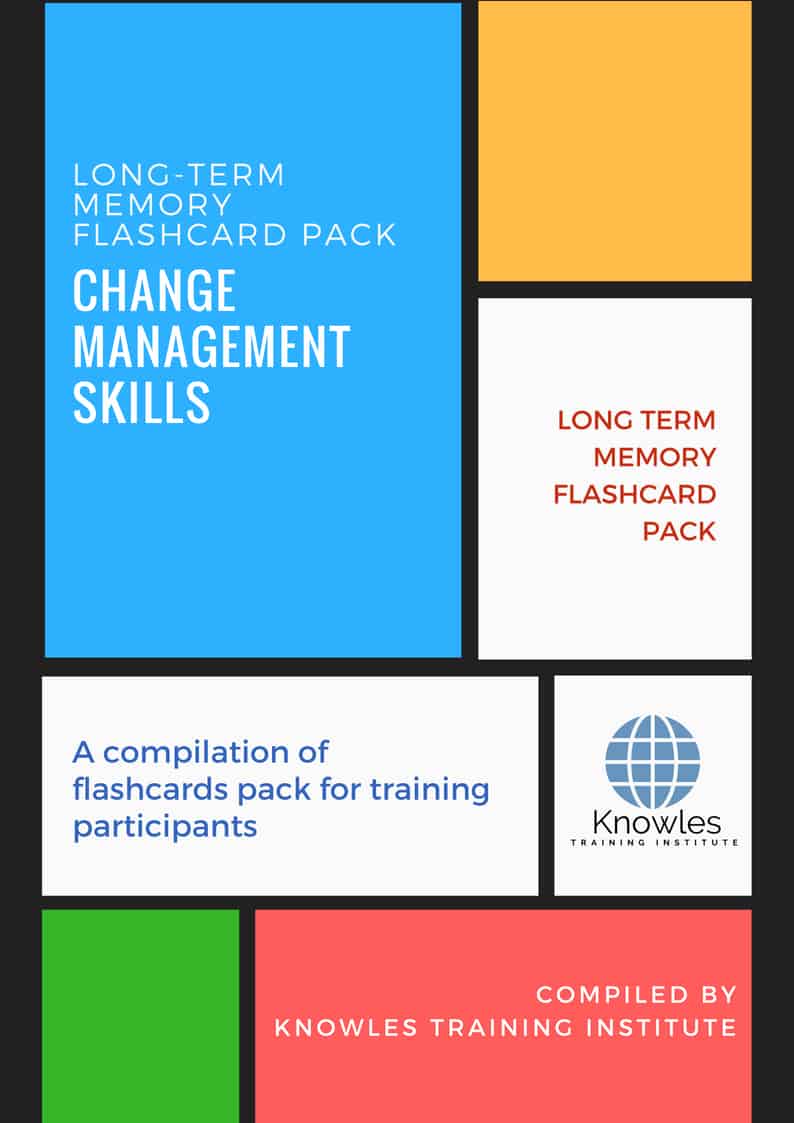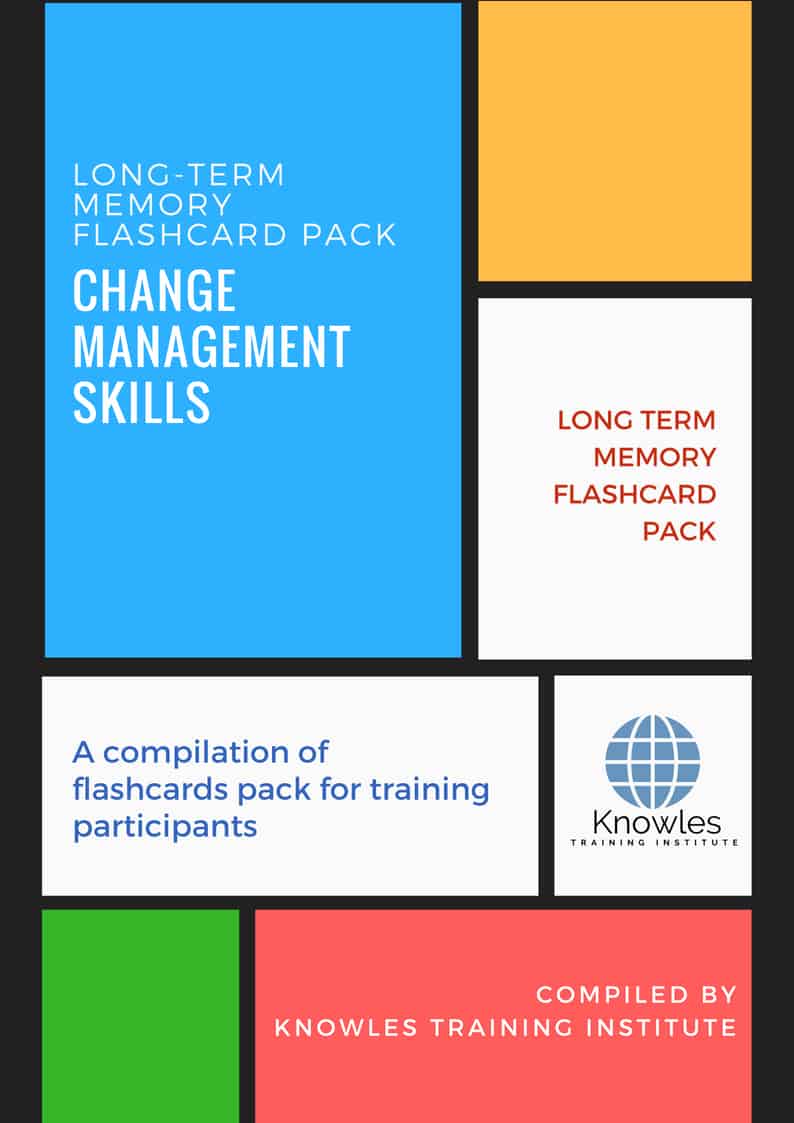 Change Management Skills E-Learning Course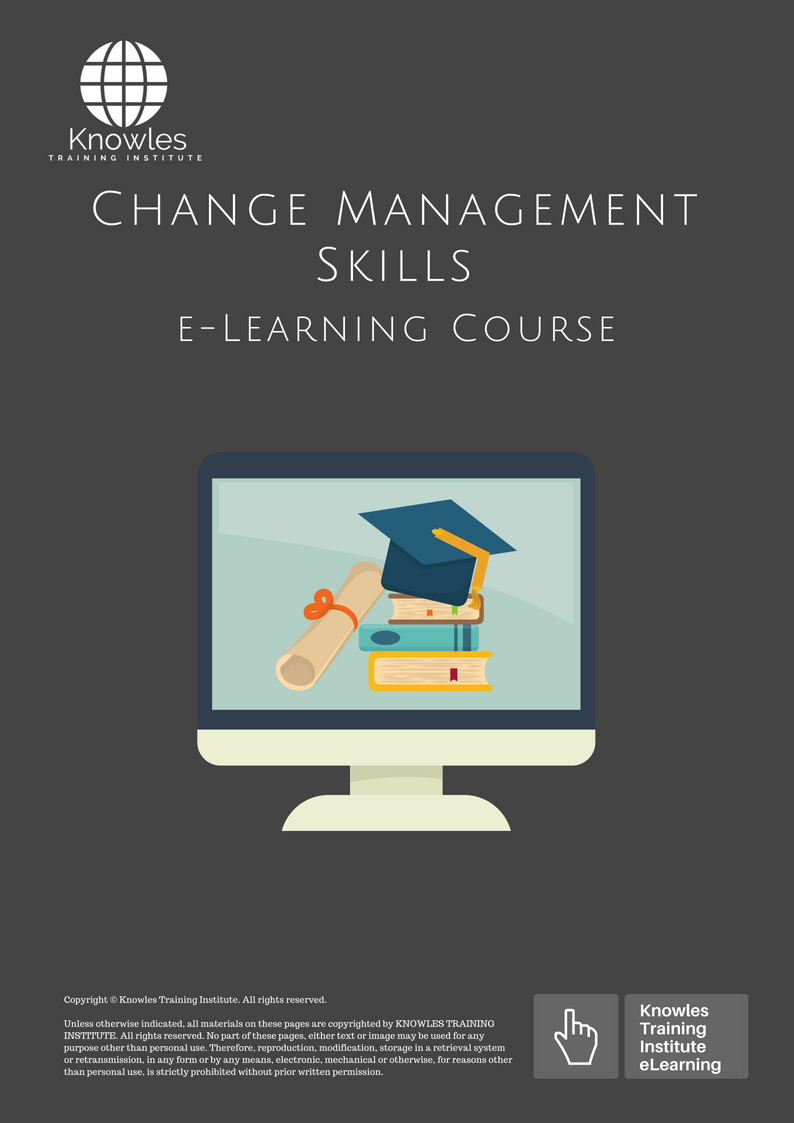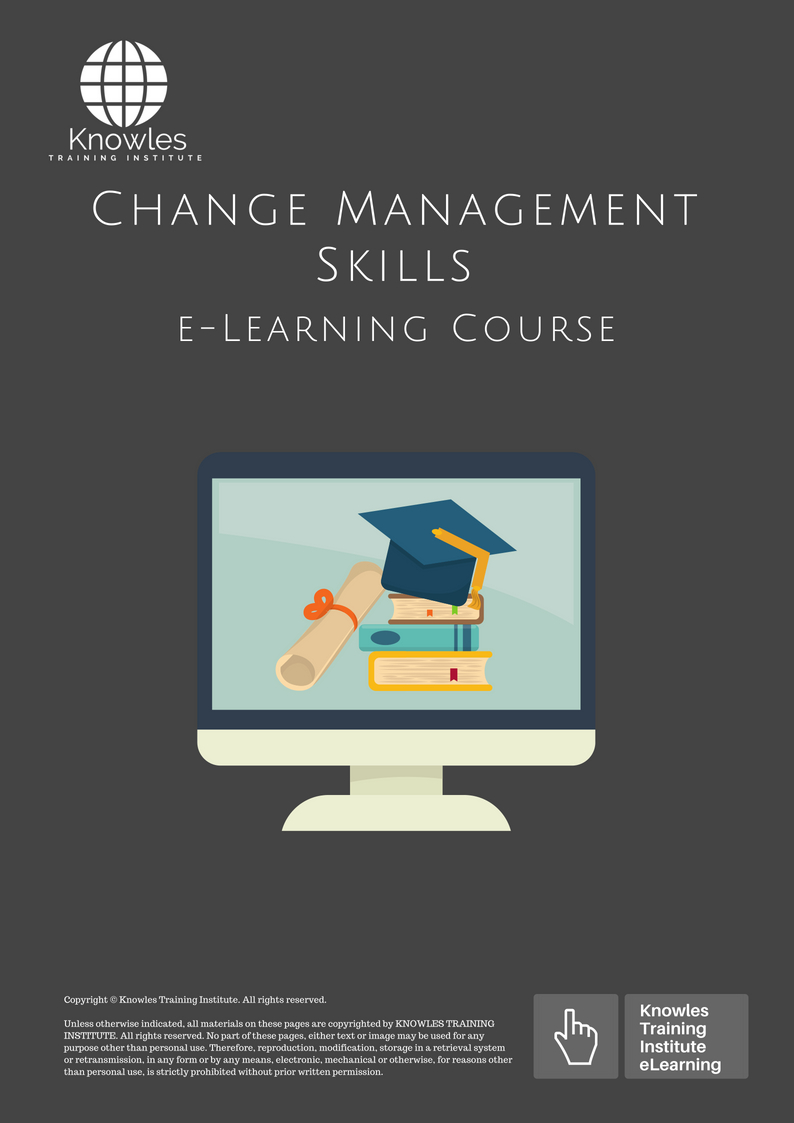 Change Management Skills Online Video Course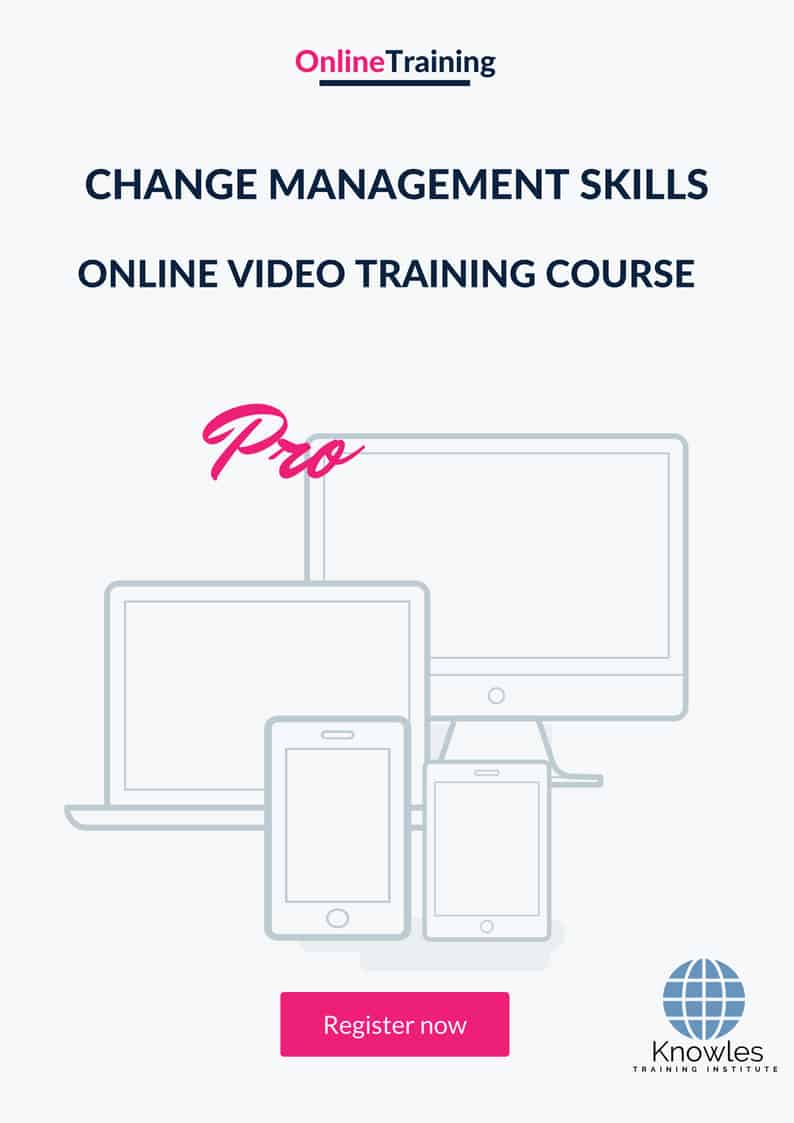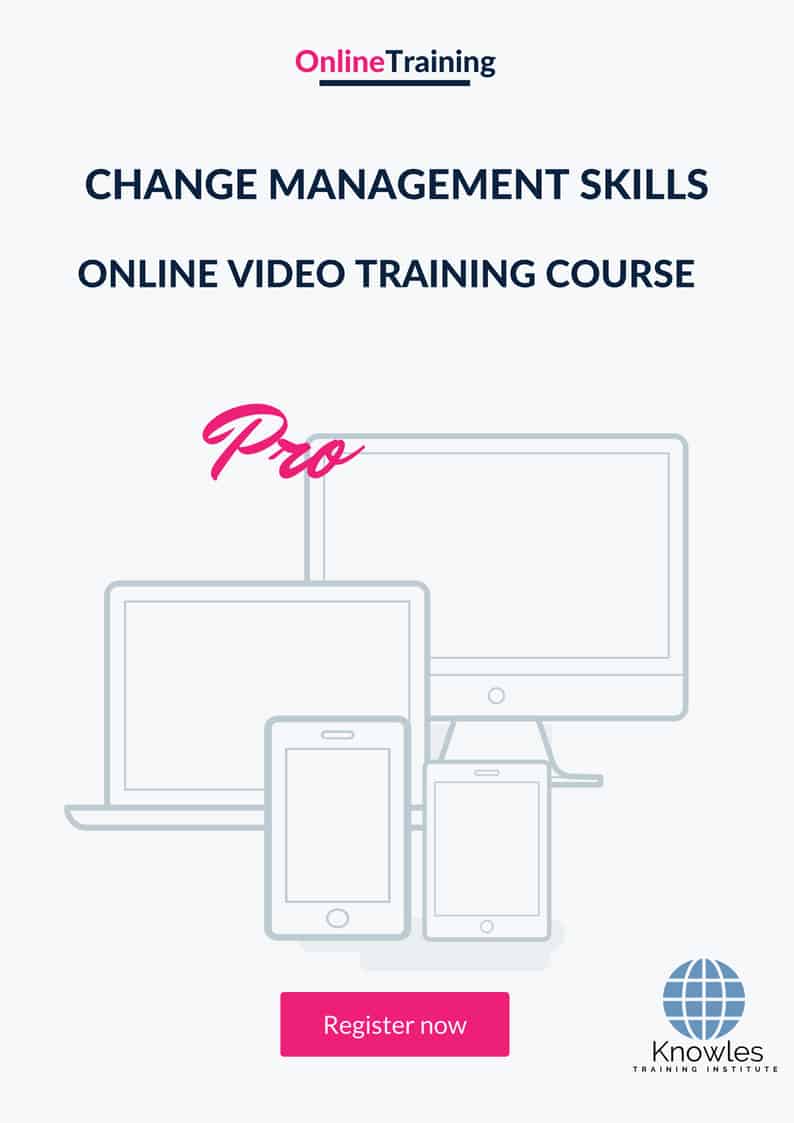 Change Management Skills Essentials Audiobook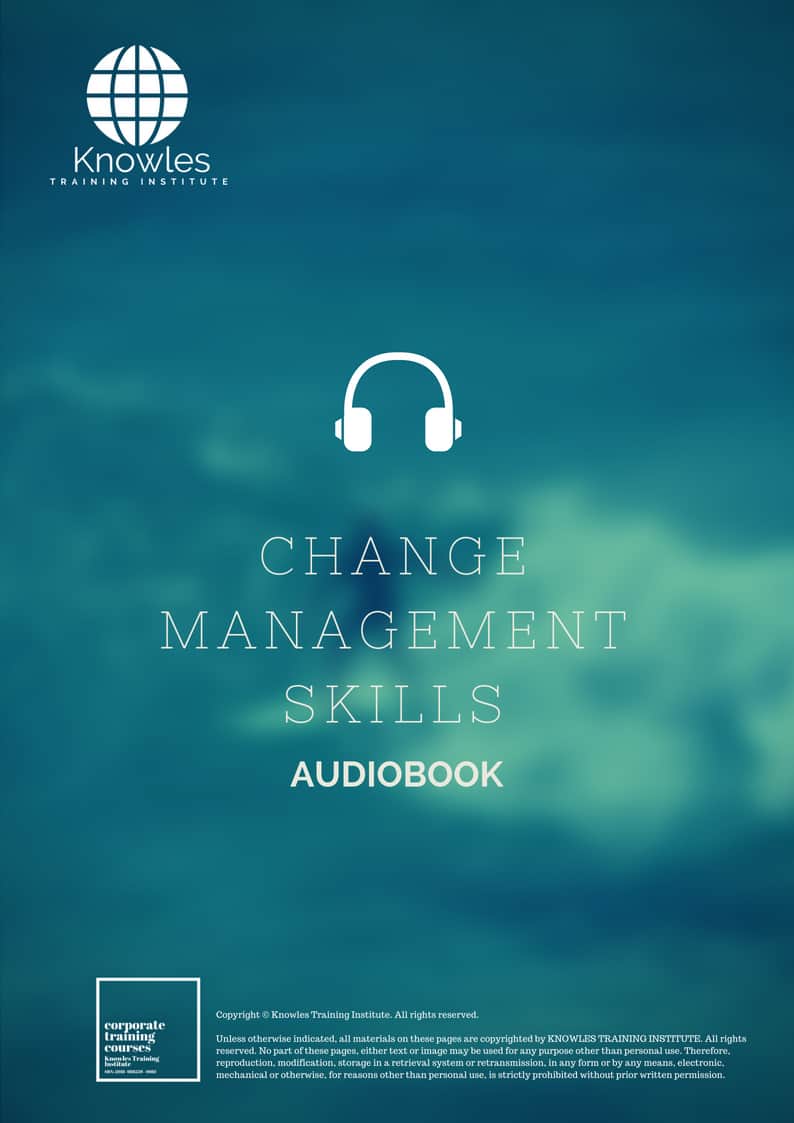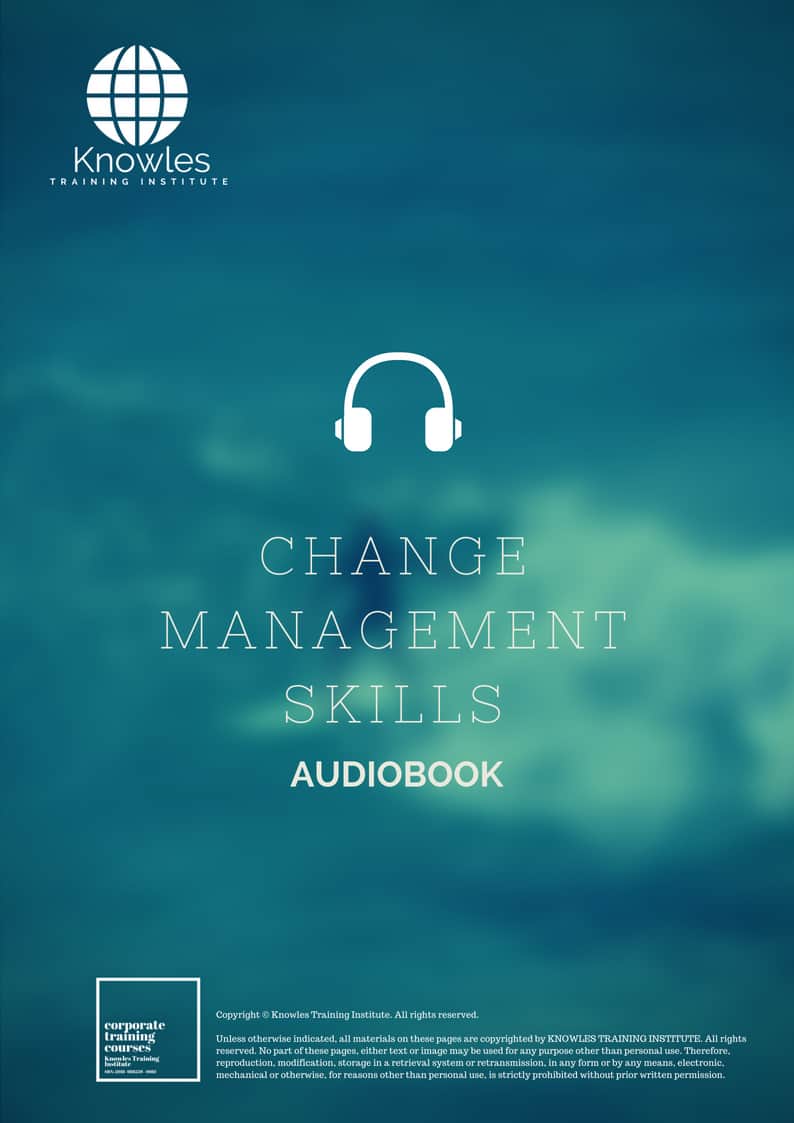 Change Management Skills Infographics Pack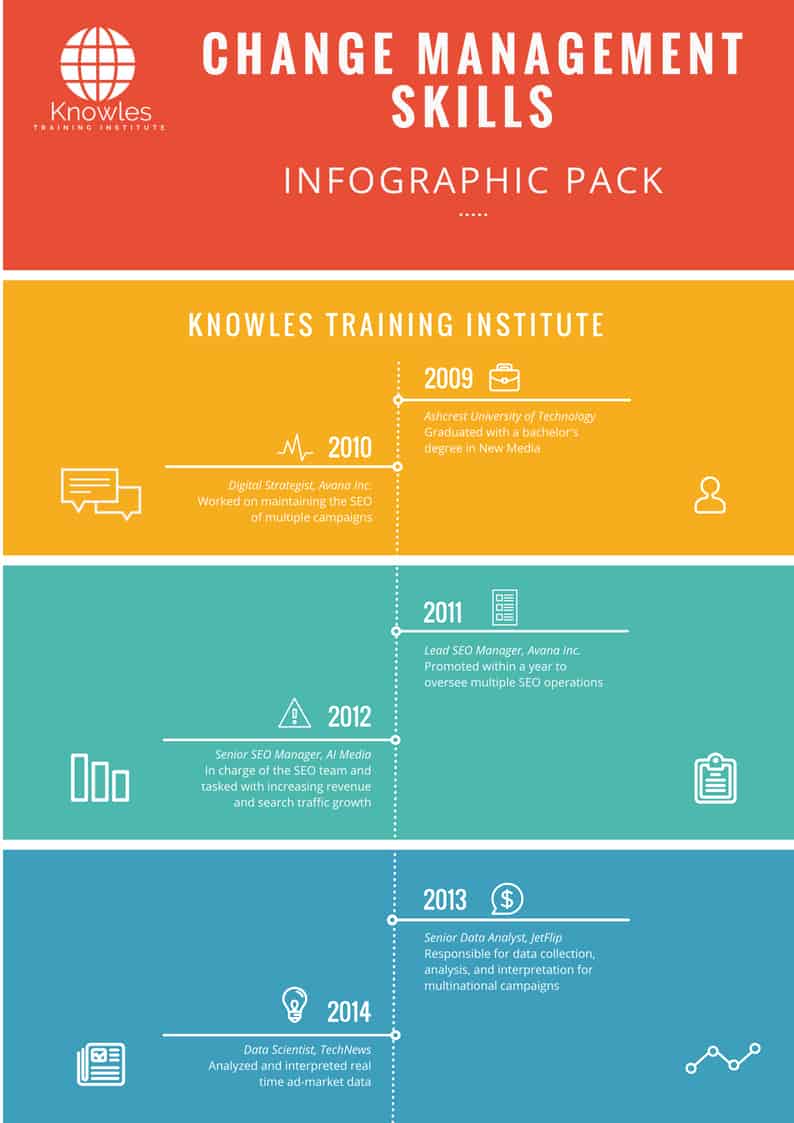 Change Management Skills Certification
Each course participant will receive a certification of training completion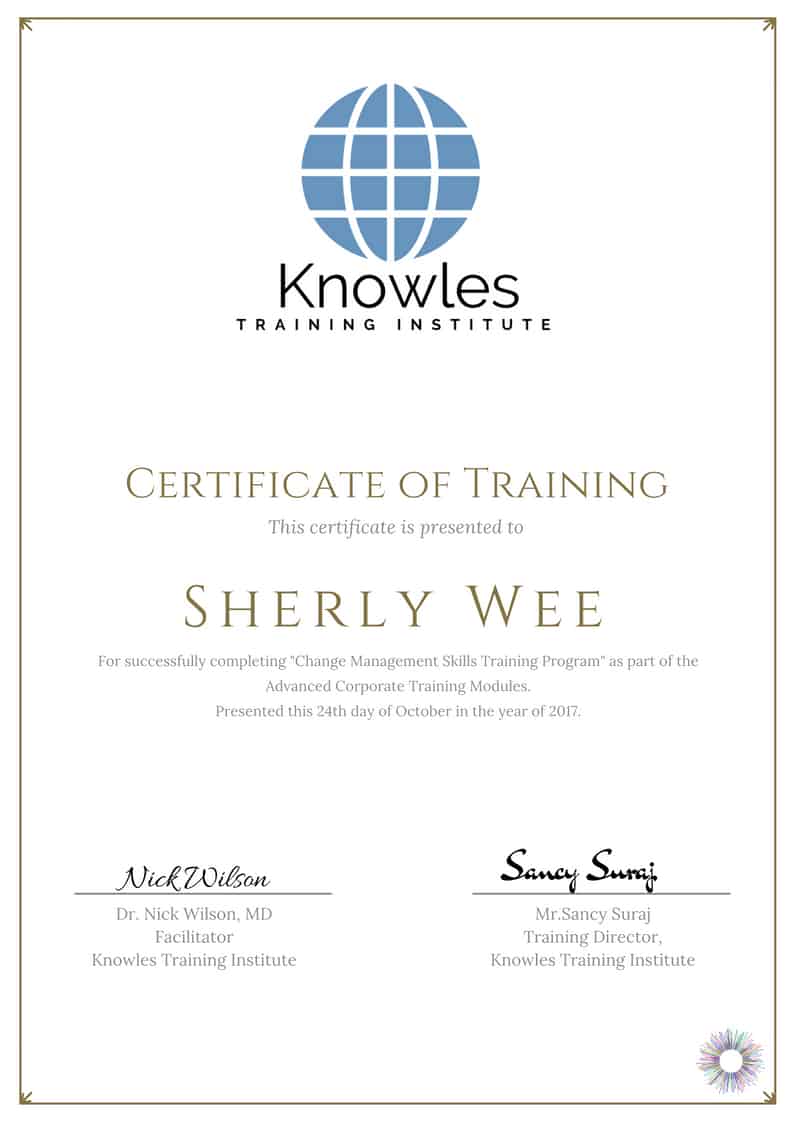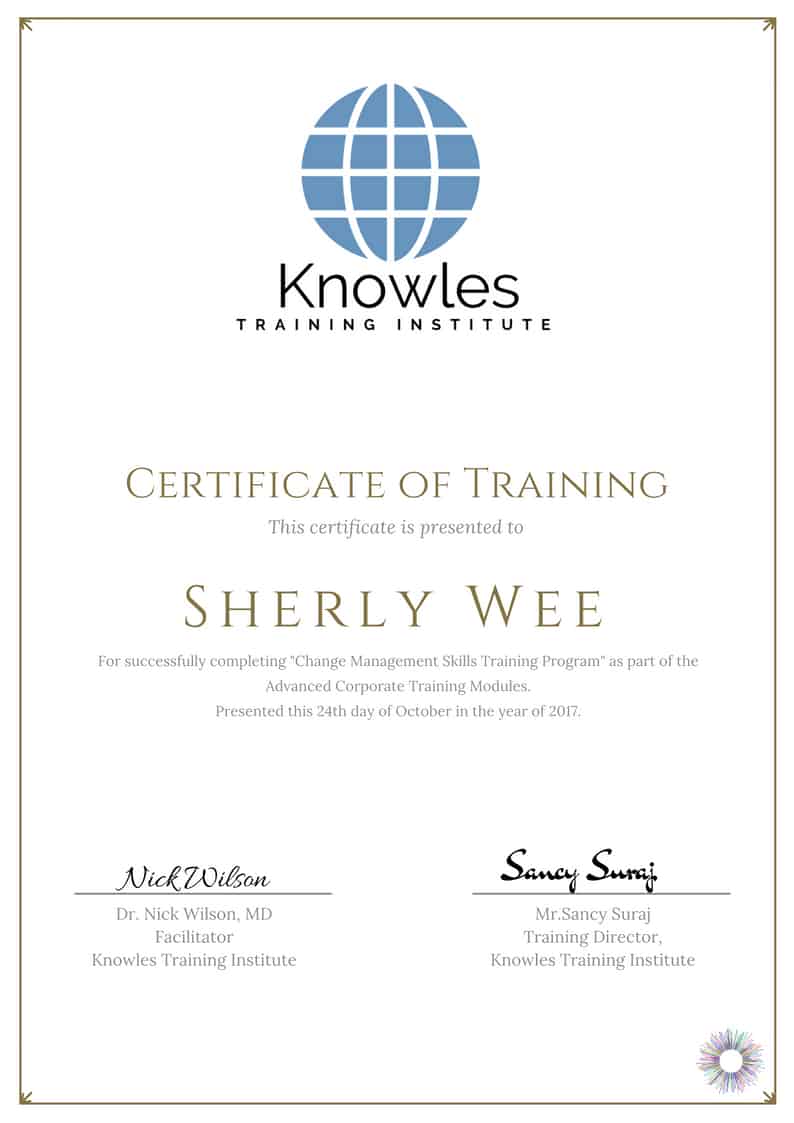 Change Management Course Singapore Fees
There are 3 pricing options available for this Change Management Skills training course. Course participants not in Singapore may choose to sign up for our online Change Management Skills training course.
2-Full Day Course
Learner's Guide
Course Handouts
—
—
—
—
—
—
—
—
—
—
Premium 2-Full Day Course
Learner's Guide
Course Handouts
PPT Slides Used During Training Course
Long-Term Memory Flashcards Guide TM
1 Year Access to Online Training Video Course (*Worth S$589.97)
Contact Your Trainer: 90-Day Post Course Help (*Worth S$89.97)
Key Learning Takeaway Notes (*Worth S$18.97)
Audio Book (*Worth S$18.97)
eBook (*Worth S$14.97)
Course Infographics Pack (*Worth S$11.97)
Course Mind Maps (*Worth S$8.97)
30-Day Action Plan
Upcoming Change Management Skills Training Course Schedule
Contact us for the latest Change Management Skills course schedules:
Phone: +65 6817 2530
Email: contact@knowlesti.com
Message:
Why Register For This Training Course?
Post Training Support: A vast majority of training does not have any effect beyond 120 days. To work, training has to have a strong pre- and post-training component. Post-training reinforcement helps individuals to recall the understanding and ask questions.

Blended Learning: Learning does not occur in the classroom. Virtually everybody prefers distinct ways of learning. Successful learning should have a multi-channel, multi-modal strategy.

We Understand The Industry: We've got a profound comprehension of the business, business design, challenges, strategy and the that our participants are in and have designed the courseware to cater to their professional needs.

Course Content: Knowles Training Institute's material is relevant, of high quality and provide specific learning results. Participants will leave the training course feeling as they have gained a strong understanding and will also be in a position to execute what they have learned sensibly.

Course Development — The workshop modules follow a systematic and logical arrangement. This structure helps to ensure that the course material allows the facilitators to deliver the course in a logical arrangement. Consider the subjects as building bricks into learning, our facilitators slowly build towards a comprehensive picture of this entire topic.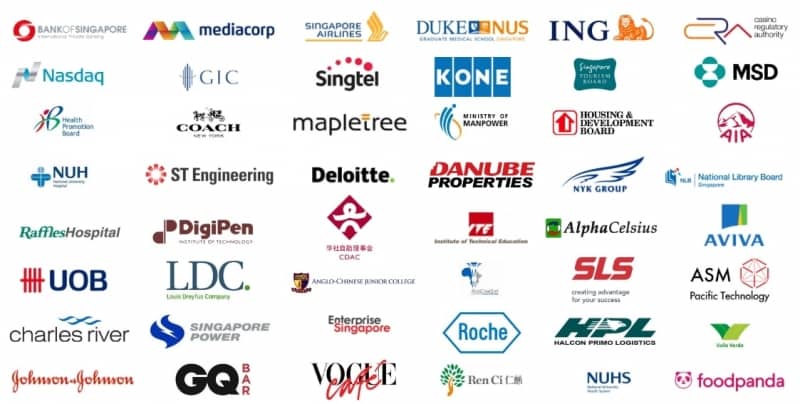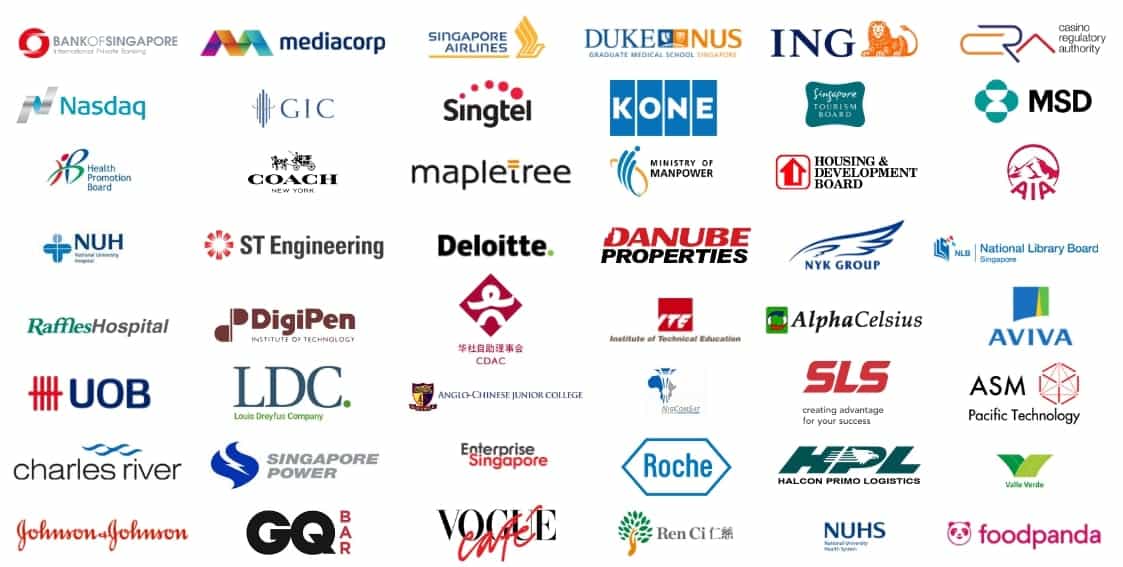 Fill up the form and we will get back to you in less than 1 working day.
Alternatively, give us a call to have one of our training consultants contact you. Our corporate training courses can be contextualised to meet your organisation's training needs. Leverage on our large pool of professional trainers and consultants for your organisation's training needs.
Office Address: Knowles Training Institute, 138 Robinson Road, #28-03, Oxley Tower, Singapore 068906
Office Phone: +65 6935 7406
Email: contact@knowlesti.sg
We Guarantee 100% Privacy. We Respect Your Privacy. Your Information Will Never Be Shared.
Register Now
Register For This Change Management Skills Course Now!
Change Management Training. Change Management Program. Change Management Course Singapore. Change Management Skills course, workshop, training, class, seminar, talk, program, programme, activity, lecture. Change Management Skills courses, workshops, classes, seminars, talks, programs, programmes, activities, lectures in Singapore. Change Management Skills improvement tips, Change Management Skills techniques, improve Change Management Skills, improve Change Management Skills games, Change Management Skills improvement exercises, improve Change Management Skills power, how to have good Change Management Skills, how to have good Change Management Skills in studying, how to build up your Change Management Skills, how to improve Change Management Skills how to improve Change Management Skills course in Singapore. Enhance, boost, build up, enlarge, heighten Change Management Skills course in Singapore. Increase, intensify, raise, reinforce, strengthen Change Management Skills. Upgrade, amplify, boom, elevate, exaggerate, magnify, grow, gain Change Management Skills. Develop Change Management Skills, multiple, power up, beef up, bolster, establish, extend Change Management Skills. Invigorate, restore, step up, toughen, empower, fortify, regenerate Change Management Skills. Rejuvenate, renew, escalate, expand, maximize Change Management Skills. Powerful, mighty, impressive, competent, great, excellent, exceptional Change Management Skills in Singapore. Superb Change Management Skills. Super, superior, strong, solid, active Change Management Skills training courses and workshops in Singapore. Change Management Skills enhancement, booster, building up, enlargement, heightening, increment, strengthening, amplification. Change Management Skills magnification, growth, development, power, empowerment, regeneration. Change Management Skills rejuvenation, development, escalation, expansion. Change Management Skills maximization, power training courses & workshops in Singapore. Change Management Course Singapore.