Visual Storytelling Training Course
Visual Storytelling Course in Singapore
About This Visual Storytelling Training Course
Visual Storytelling Course in Singapore
Around 65% of people are visual learners. It's faster to understand and remember stories, events, and, concerns when presented in picture form. The social media platform, Instagram, circulates mostly pictures or short clip videos to inform and let media goers communicate. It is also a platform where businesses use the same media to lure customers to buy their products or services. These pictures may have an inspirational quote as a front line and a matching emotional photo at the background. It could, also, be an advertising photo or clip that instigates Instagram users to immediately think of the positive effects of these products and services. At times, the posts are just photos depicting a very heartwarming scene or a beautifully captured landscape.
Visual storytelling is a new form of marketing strategy. Despite being introduced in 2004, the terminology was documented to be growing popular in the last 3-years only. It was similar to the trend of content marketing in 2005. In recent years, marketers are looking into visual storytelling to reach more audience. Visuals reduce the time for people to learn and understand concepts. It makes it easier to process difficult ideas. It, also, gets retained longer in our brain. Since it resonates more emotionally with viewers and consumers, it is more likely to be remembered than words can.
International companies are catching up to this trend of Visual Storytelling. Samples of these creative companies are Airbnb, Google, Nike, Samsung, and, GoPro. They released promotional videos for their services and products. They all touched on the subject of family, rescue, and life-changing journeys. Something people are always drawn to and will remember when they have availed of their product and services for the many years to come.
This course will guide individuals and marketers in using Visual Storytelling for future marketing advantages. It will give you simple tips to keep your videos and pictures relevant to the market to boost the audience and possibly sales.
Who Should Attend This Visual Storytelling Workshop
This Visual Storytelling workshop is ideal for anyone who would like to gain a strong grasp and improve their Visual Storytelling.
All Staff Within An Organisation
Group Size For This Visual Storytelling Training Program
The ideal group size for this Visual Storytelling course is:
Course Duration For This Visual Storytelling Skills Course
The duration of this Visual Storytelling workshop is 2 full days. Knowles Training Institute will also be able to contextualised this workshop according to different durations; 3 full days, 1 day, half day, 90 minutes and 60 minutes.
Visual Storytelling Course Benefits
Below is the list of course benefits of our Visual Storytelling course
Improve relevance to the market.
Keep up-to-date with the current trend in social media and marketing.
Increase sales using Visual Storytelling.
Increase the audience using Visual Storytelling.
Enable creative abilities and skills through the use of Visual Storytelling.
Retain memory and understanding of the topic through Visual Storytelling.
Visual Storytelling Course Objectives
Define Visual Storytelling and its uses.
Identify fields and industries that would benefit from Visual Storytelling.
Study ways to improve videos and pictures through Visual Storytelling.
Recognize the needs of the target audience.
Interact with the target audience to identify needs and wants.
Outline the key points and the focus of marketing videos or pictures based on the interaction with the target audience.
Explore other videos published and developed by successful companies.
Observe what made international companies successful through the use of Visual Storytelling.
Develop marketing strategies around Visual Storytelling.
Create videos and pictures to market products and services.
Improve marketing videos and plans based on observations from the published videos.
Record impact of Visual Storytelling tools and techniques used in marketing for future improvement and inspiration.
Course Content For This Visual Storytelling Training Course
What is Visual Storytelling?
How useful is Visual Storytelling?
How is Visual Storytelling essential for marketing?
What are the steps or rules for Visual Storytelling?
How do you make it easier for your audience to visualize the story?
Examples of the power of visual storytelling for inspiration.
What are the causes that visual storytelling is effective for marketers?
Successful companies use Visual Storytelling in marketing.
What is the sample videos of Visual Storytelling released by well-known international companies?
How to evaluate the impact of the videos and pictures published for marketing?
Visual Storytelling Value Added Materials
Each participant will receive the following materials for the Visual Storytelling course
Visual Storytelling Learner's Guide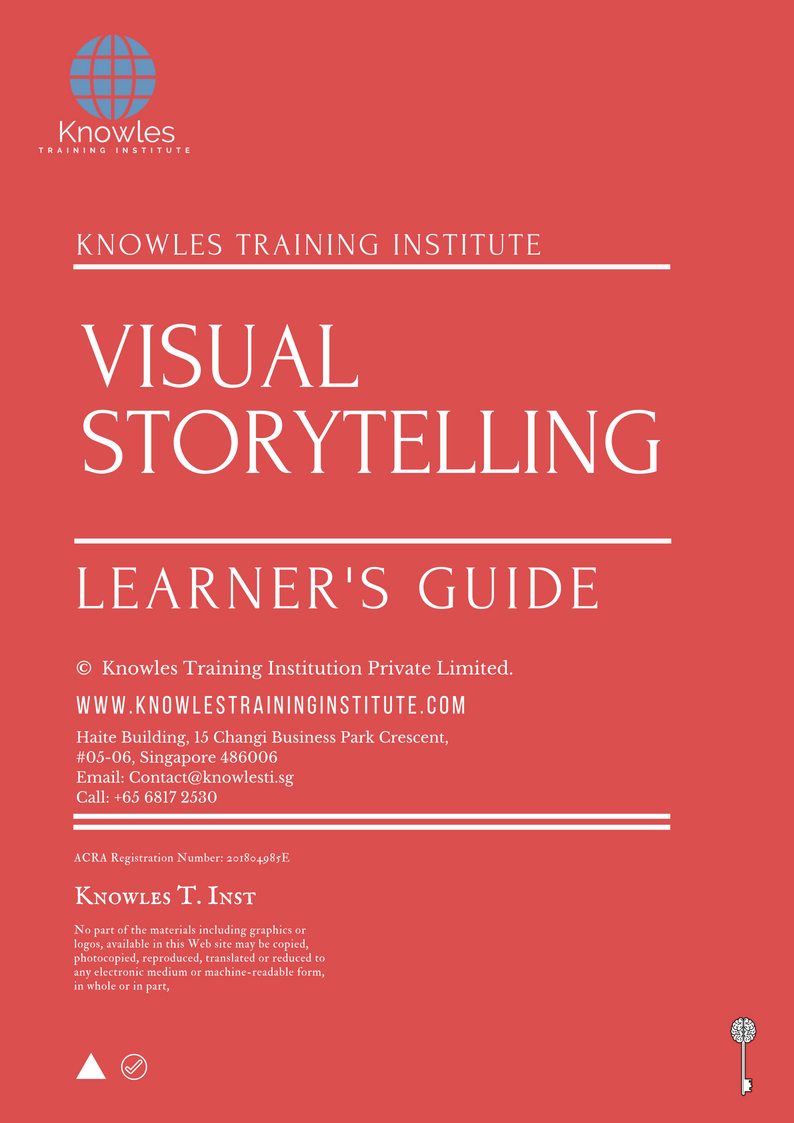 Visual Storytelling Key Takeaways Notes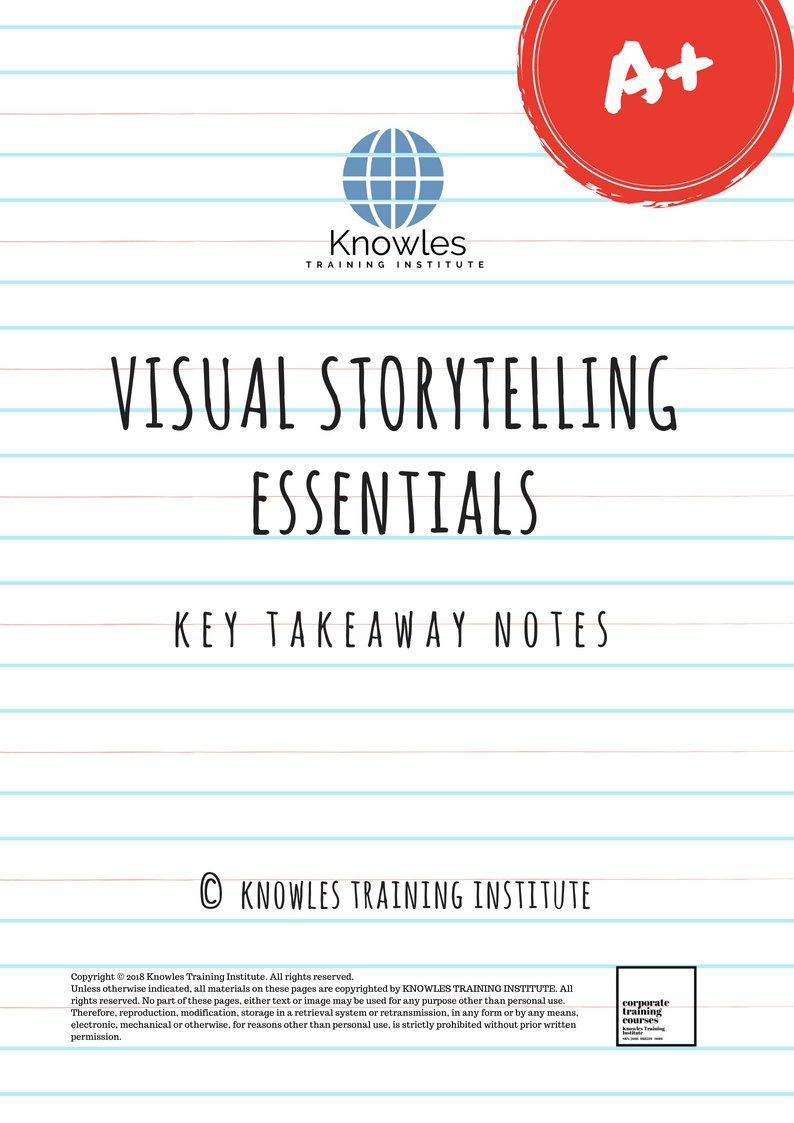 Visual Storytelling Essentials Ebook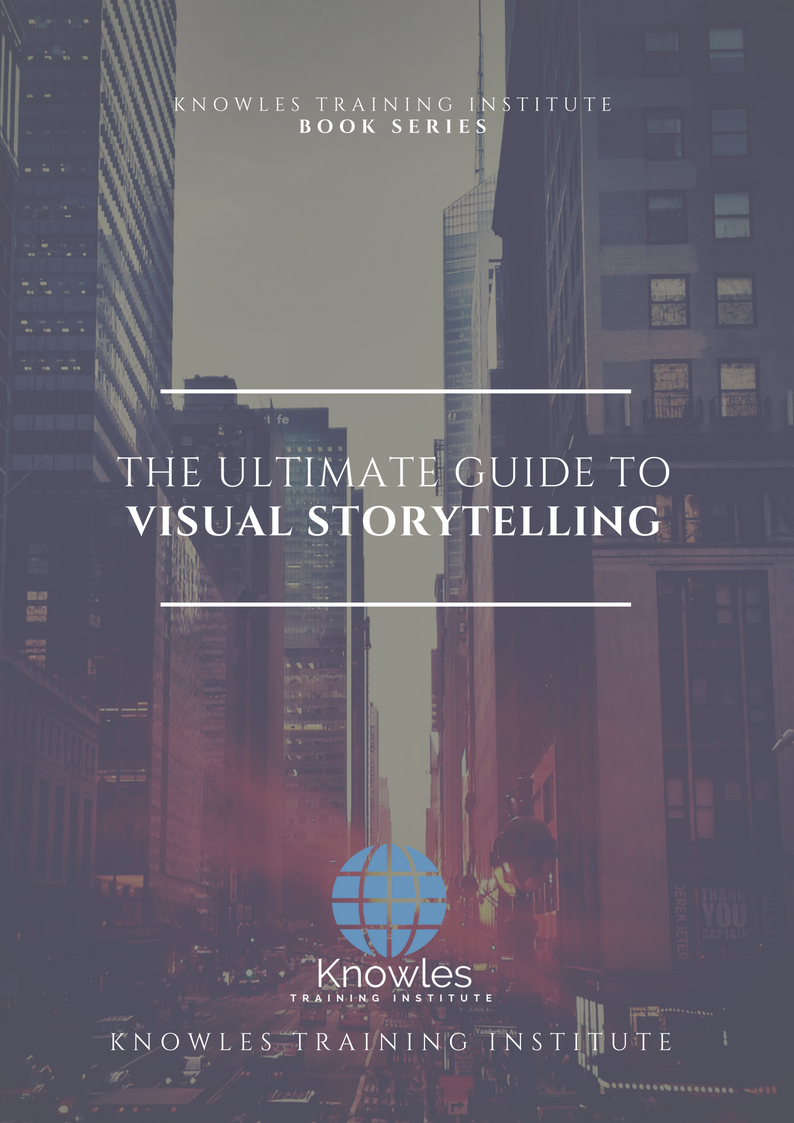 Visual Storytelling Course Handouts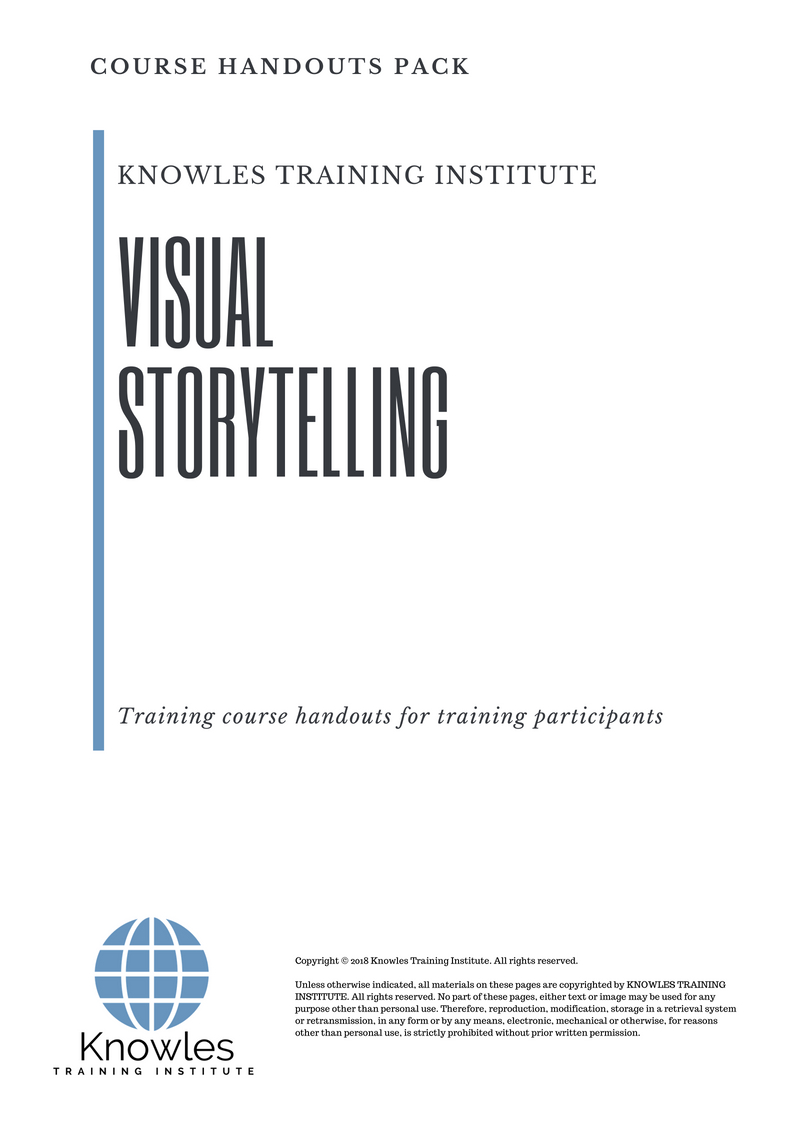 Visual Storytelling 30-Day Action Plan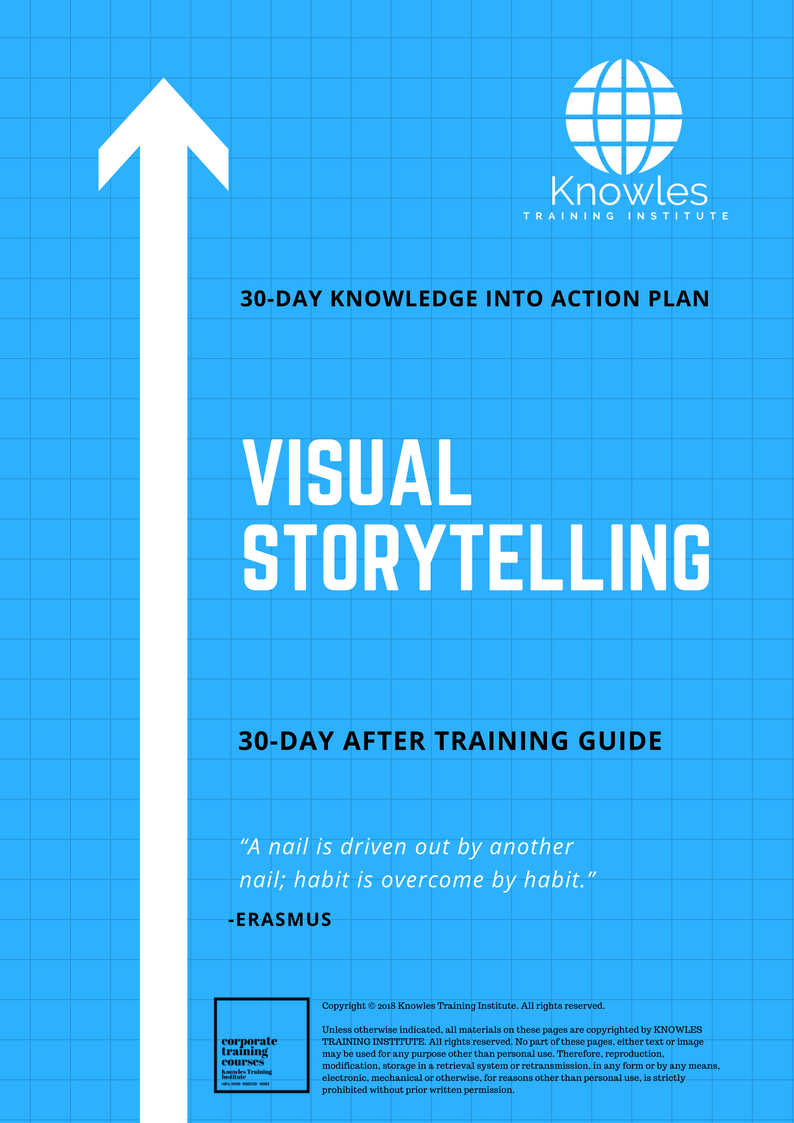 Visual Storytelling MindMaps Pack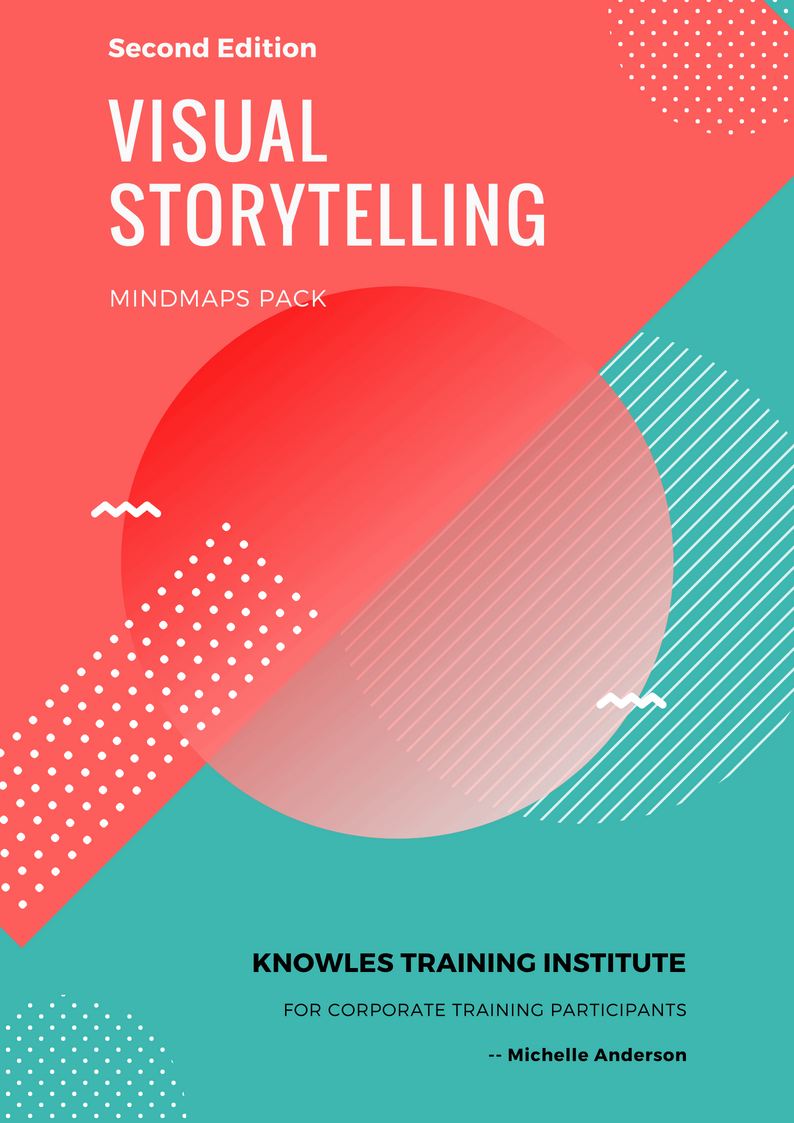 Visual Storytelling PPT Slides Used During Course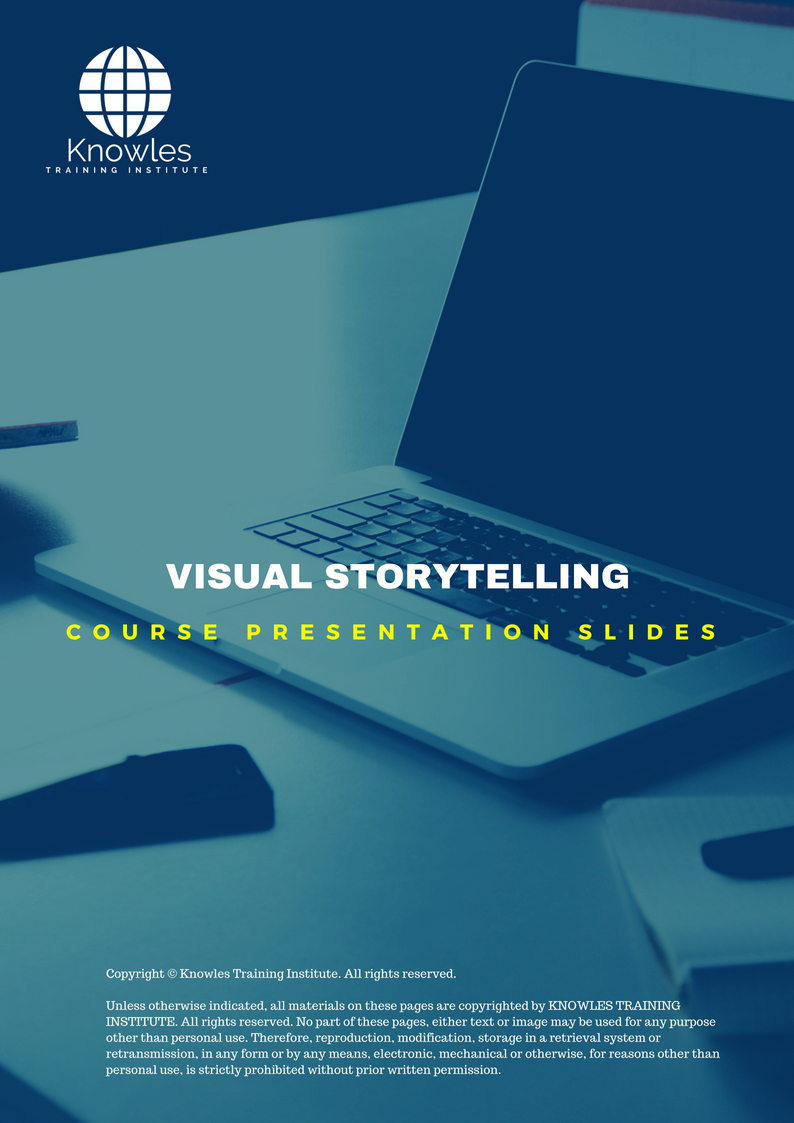 Visual Storytelling Long-Term Memory Flashcards Pack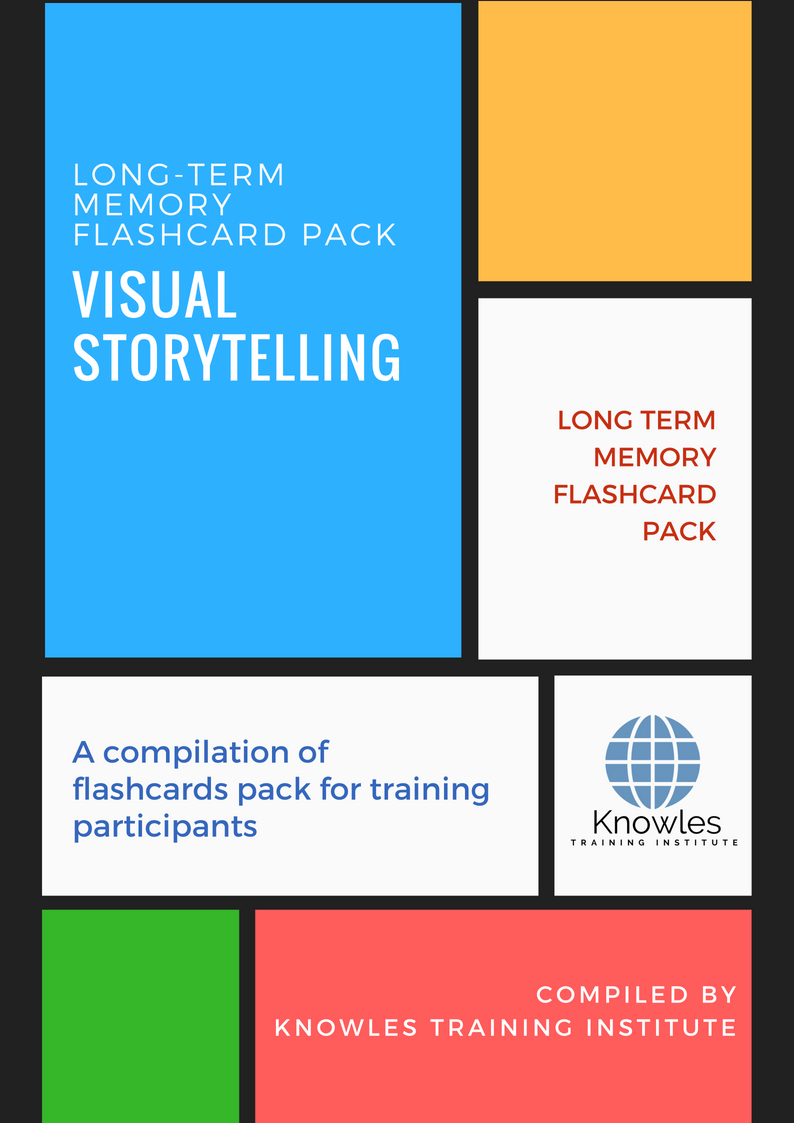 Visual Storytelling E-Learning Course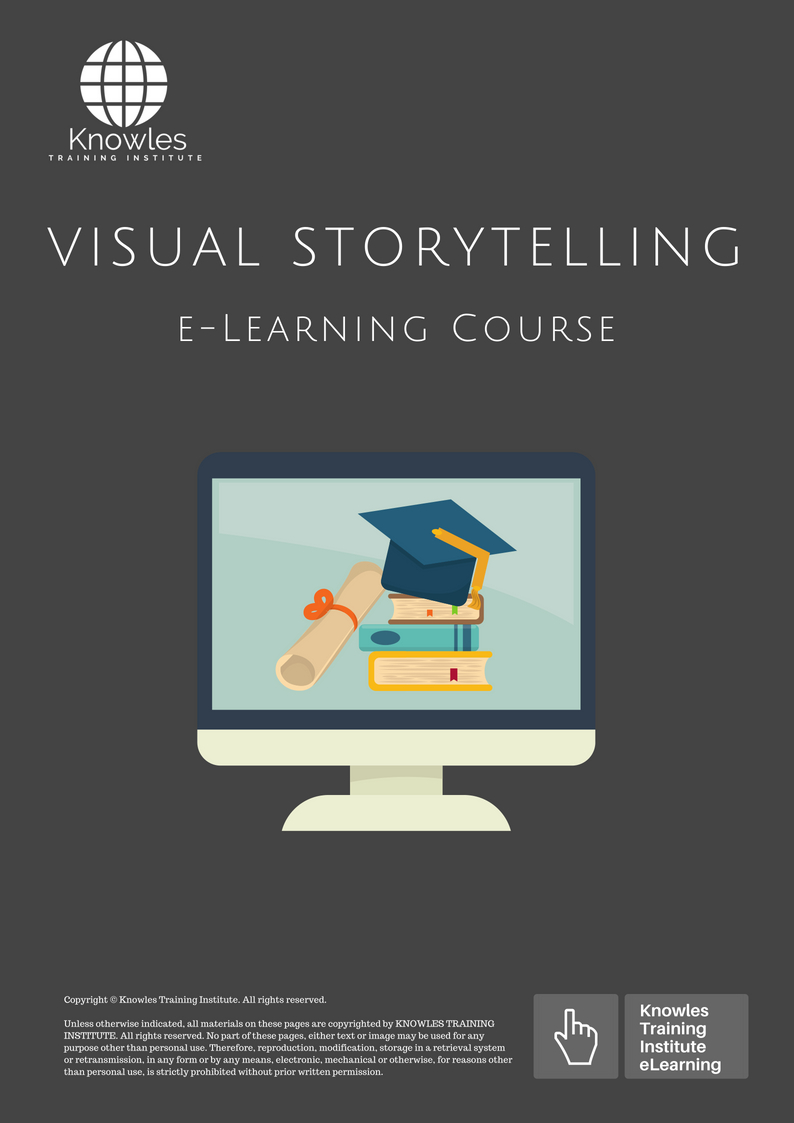 Visual Storytelling Online Video Course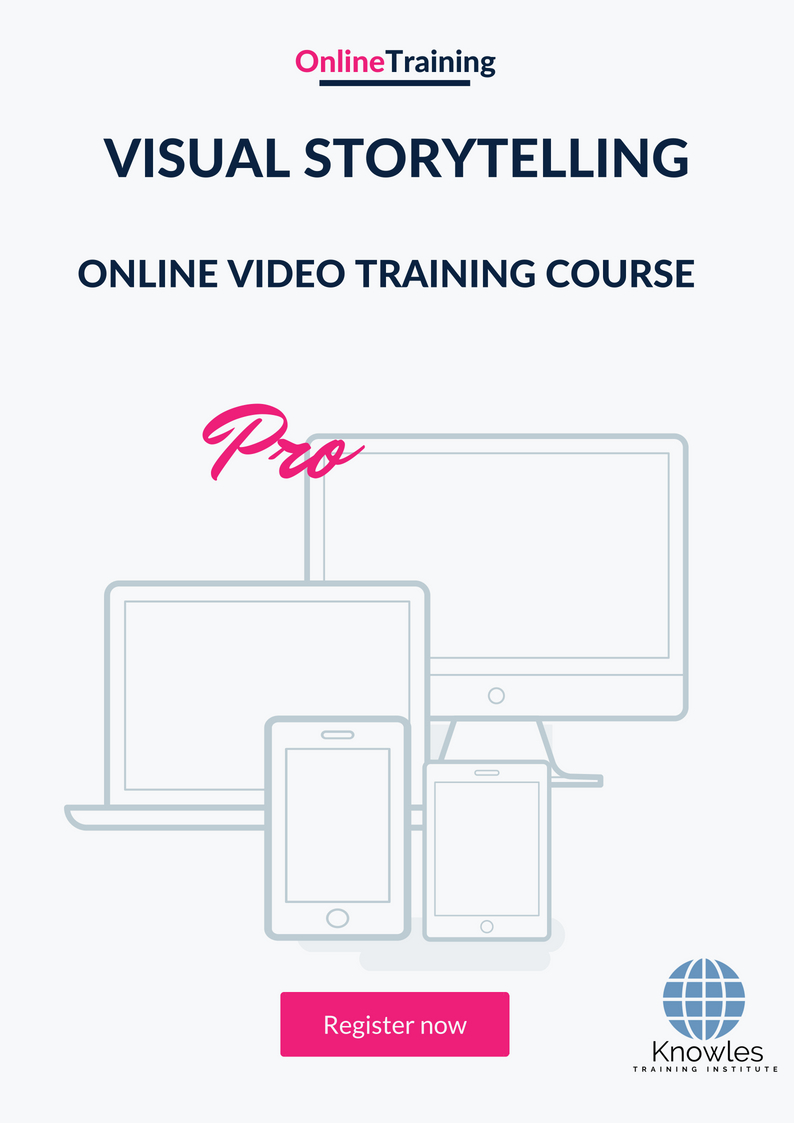 Visual Storytelling Essentials Audiobook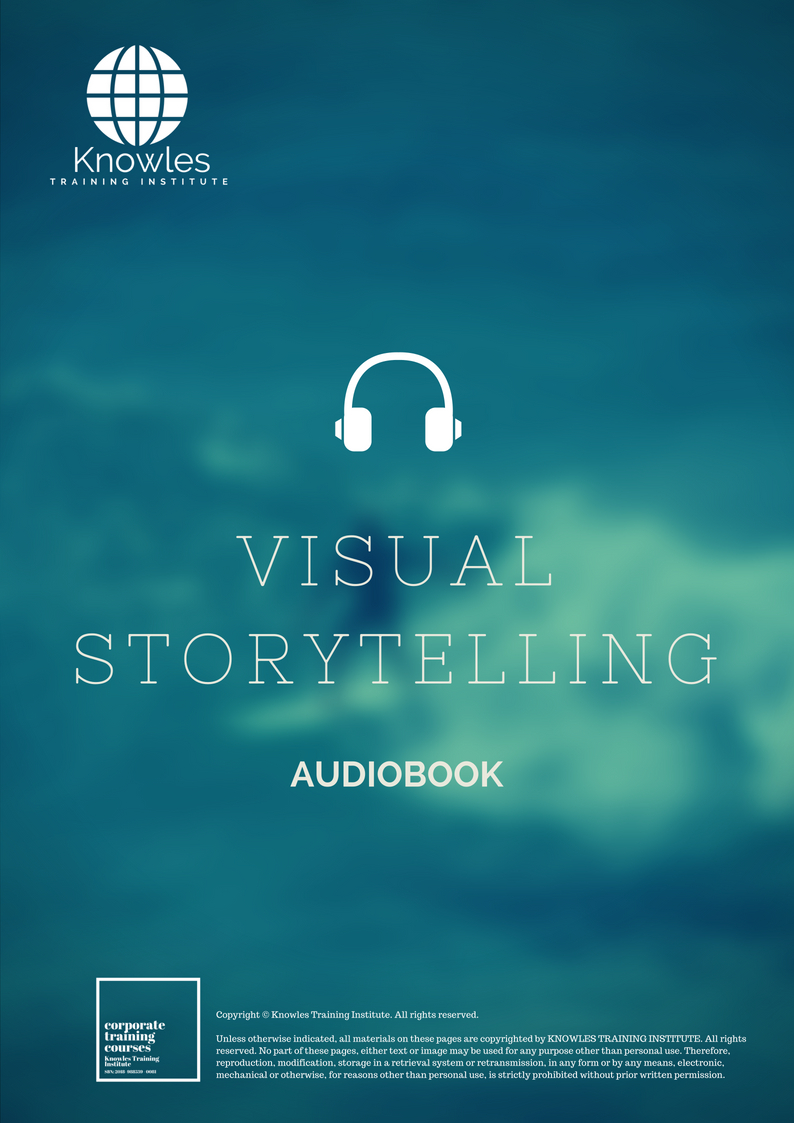 Visual Storytelling Infographics Pack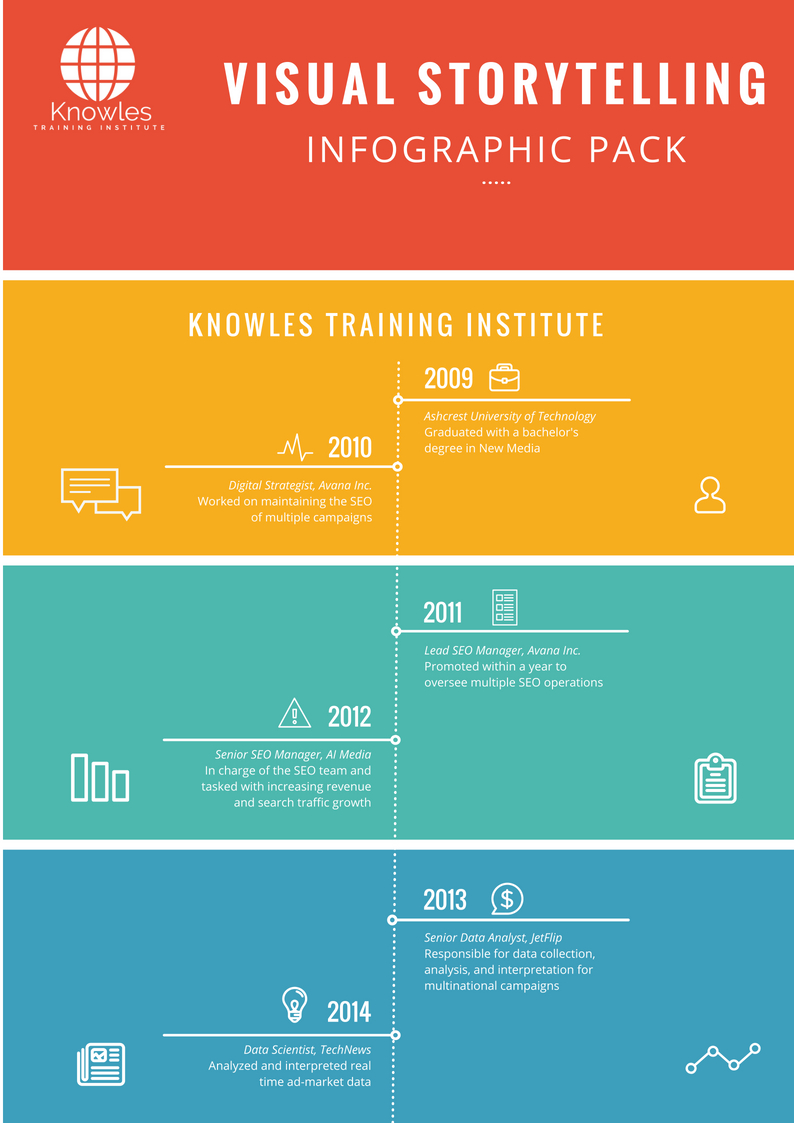 Visual Storytelling Certification
Each course participant will receive a certification of training completion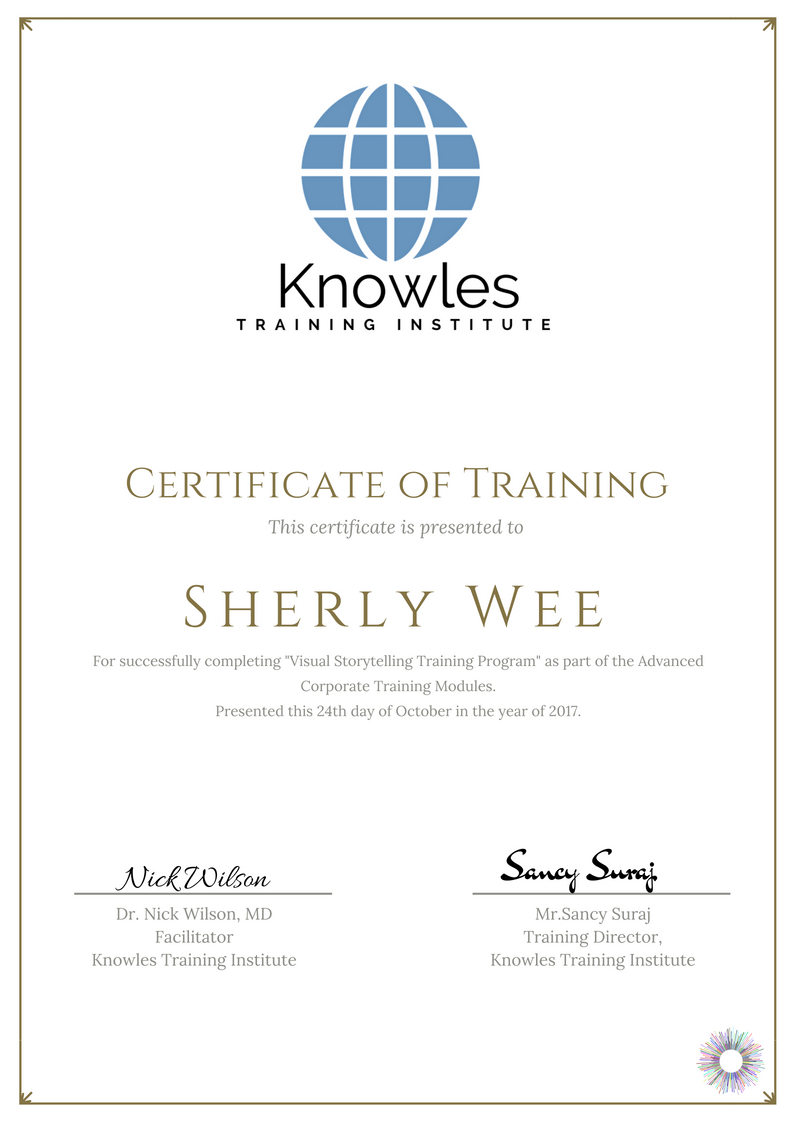 There are 4 pricing options available for this Visual Storytelling training course. Course participants not in Singapore may choose to sign up for our online Visual Storytelling training course.
SGD 1,334.96 For a 60-minute Lunch Talk Session.

SGD 584.96 For a Half Day Course Per Participant.

SGD 884.96 For a 1 Day Course Per Participant.

SGD 1,184.96 For a 2 Day Course Per Participant.

Discounts available for more than 2 participants.

Knowles Training Institute, 15 Changi Business Park Crescent, #05-06, Haite Building, Singapore 486006
Nearest Mrt Station: Singapore Expo MRT Station, Upper Changi MRT Station
Bus: Free Shuttle Bus from Changi City Point at 10 minutes Frequency
Drive: Ample of Parking Available. Quick Access to PIE, ECP & TPE
Upcoming Visual Storytelling Training Course Schedule
Contact us for the latest Visual Storytelling course schedules:
Phone: +65 6714 6663
Email: contact@knowlesti.com
Message:
Download Visual Storytelling Course Brochure
Request for this Visual Storytelling course brochure. Fill up the short information below and we will send it to you right away!
Post-Training Support: A vast majority of training does not have any effect beyond 120 days. But to work, training has to have a strong pre- and post-training component. Post-training reinforcement consequently helps individuals to recall the understanding and ask questions.

Blended Learning: Learning does not occur in the classroom. Virtually everybody prefers distinct ways of learning. Successful learning should have a multi-channel, multi-modal strategy.

We Understand The Industry: Similarly, we've got a profound comprehension of the business, business design, challenges, strategy and the that our participants are in and have designed the courseware to cater to their professional needs.

Course Content: Knowles Training Institute's material is relevant, of high quality and provide specific learning outputs. As a result, Participants will leave the training course feeling as they have gained a strong understanding and will also be in a position to execute what they have learned sensibly.

Course Development — The workshop modules follow a systematic and logical arrangement. Therefore, this structure helps to ensure that the course material allows the facilitators to deliver the course in a logical arrangement. Consider the subjects as building bricks into learning, our facilitators slowly build towards a comprehensive picture of this entire topic.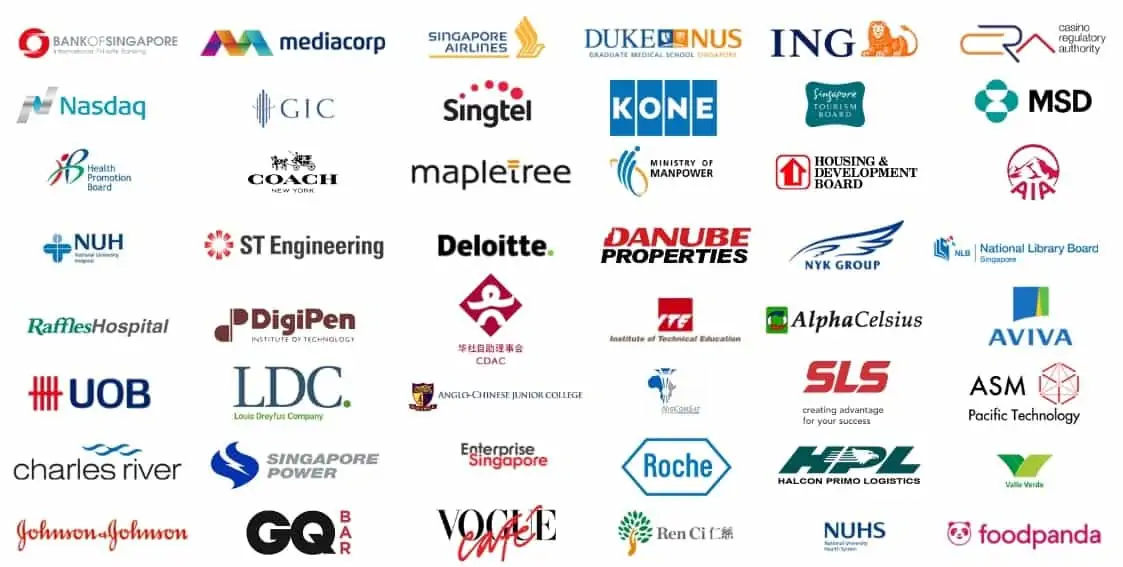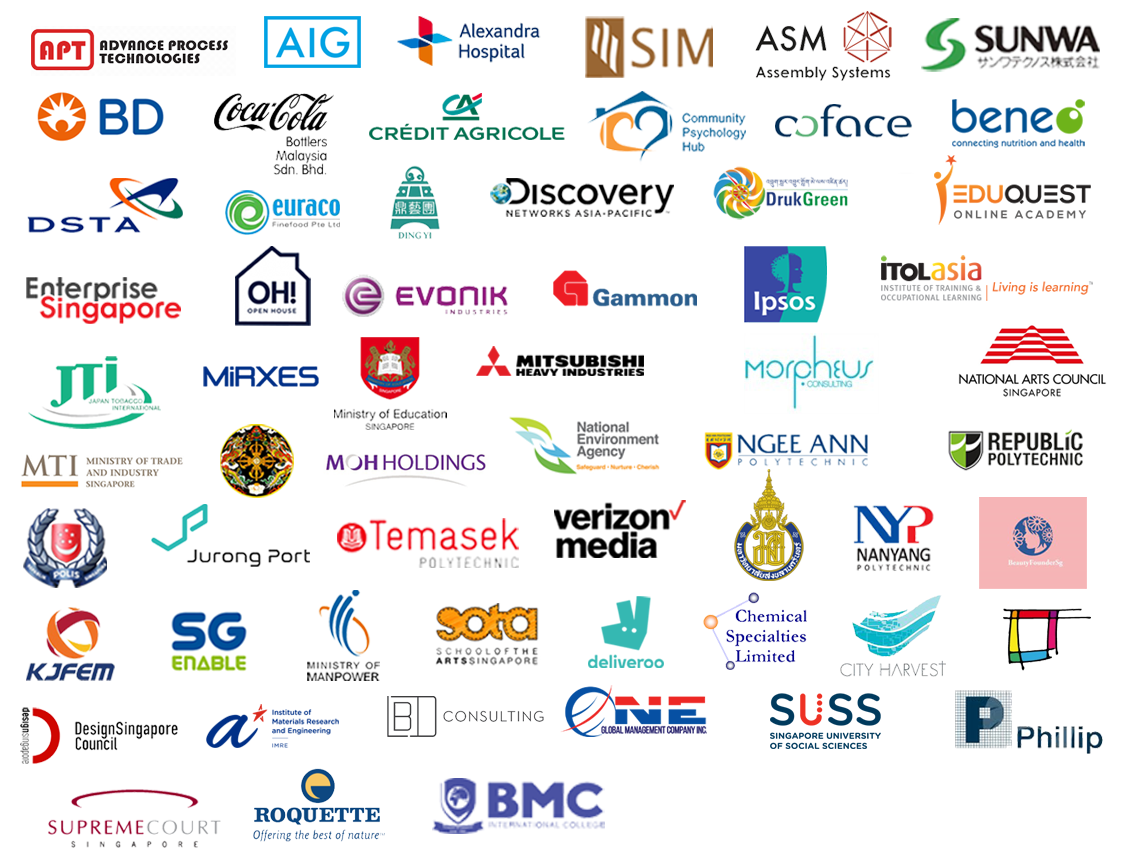 Fill up the form and we will get back to you in less than 1 working day.
Alternatively, give us a call to have one of our training consultants contact you. Our corporate training courses can be contextualized to meet your organization's training needs. Leverage on our large pool of professional trainers and consultants for your organization's training needs.
Office Address: 60 Paya Lebar Rd, #07-54 Paya Lebar Square, Singapore 409051
We Guarantee 100% Privacy. We Respect Your Privacy. Your Information Will Never Be Shared.
Register Now
Register For This Visual Storytelling Course Now!
Best Visual Storytelling course, workshop, training, class, seminar, talk, program, programme, activity, lecture. The Best Visual Storytelling courses, workshops, classes, seminars, talks, programs, programmes, activities, lectures in Singapore. Effective Visual Storytelling improvement tips, Visual Storytelling techniques, improve Visual Storytelling, improve Visual Storytelling games, Visual Storytelling improvement exercises, improve Visual Storytelling power, how to have good Visual Storytelling, how to have good Visual Storytelling in studying, how to build up your Visual Storytelling, how to improve Visual Storytelling how to improve Visual Storytelling course in Singapore. Enhance, boost, build up, enlarge, heighten Visual Storytelling course in Singapore. Increase, intensify, raise, reinforce, strengthen Visual Storytelling. Upgrade, amplify, boom, elevate, exaggerate, magnify, grow, gain Visual Storytelling. Develop Visual Storytelling, multiple, power up, beef up, bolster, establish, extend Visual Storytelling. Invigorate, restore, step up, toughen, empower, fortify, regenerate Visual Storytelling. Rejuvenate, renew, escalate, expand, maximize Visual Storytelling. Powerful, mighty, impressive, competent, great, excellent, exceptional Visual Storytelling in Singapore. Superb Visual Storytelling. Super, superior, strong, solid, active Visual Storytelling training courses and workshops in Singapore. Productive Visual Storytelling enhancement, booster, building up, enlargement, heightening, increment, strengthening, amplification. Visual Storytelling magnification, growth, development, power, empowerment, regeneration. Online Visual Storytelling rejuvenation, development, escalation, expansion.Virtual  Visual Storytelling maximization, power training courses & workshops in Singapore.