Telephone Etiquette Course in Singapore
About This Telephone Etiquette Training Course
Telephone Etiquette Course in Singapore
About This Course
In most of today's business, the first contact with clients is usually through calls or text. Hence, telephone etiquette cannot be neglected. Transactions over the phone could offer countless possibilities for business. As a marketing strategy, it could attract a large demographic of customers. Incompetent or rude employees could result in dissatisfied or offended customers while polite and reliable ones encourage customers to avail of the services again.
There is a reason why, despite the options of leaving a message through e-mail or any social media sites, many callers still prefer the use of direct calls. Calls provide prompt, straightforward answers without taking the time to read a mile-long manual or understanding difficult instructions. Some people are auditory in gaining information or learning. Hearing from a competent voice is easier to take in and answers inquiries faster.
Telephone etiquette is not limited to telephone use only. With the present technology advancing the role of customer service, these etiquettes can be employed in any digital contact with the business. Learning these skills will give a big impact to the reputation of a company.
Who Should Attend This Telephone Etiquette Workshop
This Telephone Etiquette workshop is ideal for anyone who would like to gain a strong grasp and improve their Telephone Etiquette.
All Staff Within An Organisation
Group Size For This Telephone Etiquette Training Program
The ideal group size for this Telephone Etiquette course is:
Course Duration For This Telephone Etiquette Skills Course
The duration of this Telephone Etiquette workshop is 2 full days. Knowles Training Institute will also be able to contextualised this workshop according to different durations; 3 full days, 1 day, half day, 90 minutes and 60 minutes.
Telephone Etiquette Course Benefits
Below is the list of course benefits of our Telephone Etiquette course
Develops the participant's tactfulness and courteousness which are key traits in telephone etiquette
Leaves a good impression of the company and individually on the caller
Increases the number of clients, prospective clients, and repeat orders due to persuasive, helpful, and engaging call handlers
Develops the participant's skill in mediating and resolving conflicts with diplomacy
Makes the callers or customers feel valued with the company, which in turn increases sales
Enhances the participant's preparedness and proficiency in anticipation of different kinds of callers
Telephone Etiquette Course Objectives
Below is the list of course objectives of our Telephone Etiquette course
In this growing electronic age, we often forget how important it can be to have simple telephone etiquette. Outside the realm of texting and emails, many people still use the telephone as a primary source of communication. Knowing the proper etiquette and procedures for speaking with someone on the telephone can show a great deal of professionalism as well as social knowledge.
Telephone Etiquette Course Objectives:
• Recognize the different aspects of telephone language
• Properly handle inbound/outbound calls
• Know how to handle angry or rude callers
• Learn to receive and send phone messages
• Know different methods of employee training
Course Content For This Telephone Etiquette Training Course
Below is the list of course content of our Telephone Etiquette training course
Telephone Etiquette Training Course – Part 1: Aspects of Phone Etiquette
Many people do not realize they have little or no phone etiquette. When they recognize this, they are often unsure about where to start. One of the first steps to gaining or improving a person's phone etiquette is to know the different aspects of it, such as phrasing and listening skills. Learning this knowledge can be a great starter tool for many people and can help them feel more confident on the phone right away.
Phrasing

When speaking on the telephone, a different set of phrasing is used instead of our everyday talking phrases. Using a more professional group of phrasing portrays to the caller a sense of confidence and a sense that you are there to help them.

Tone of Voice

The tone of voice in which we speak can portray a variety of emotions and feelings. When we're sad or angry our voice can lower in tone; and when we're happy or excited it can raise higher.

Speaking Clearly

When speaking on the telephone, the two callers cannot read lips or take notice of any sort of body language, so it's important to speak clearly and in a professional tone of voice.

Listen to the Caller

With a telephone in our hand, we can often feel a sense of power and can feel the urge to perform all of the speaking – and forget how to listen.
Telephone Etiquette Training Course – Part 2: Using Proper Phone Language

Every environment we enter requires a different form of 'language'. For instance, we wouldn't enter a team meeting with the same type of language we may use in the break room. The same is true for the telephone. Telephone language is different than our everyday language and can take some time to get used to its flow. But with the right tools, it can be easy to adapt in no time.
Please and Thank You

Using good etiquette is a way to show respect and consideration to those we interact with.

Do Not Use Slangs or Singlish

Slang is typically defined as a type of language that consists of words and phrases that are regarded as very informal and are used in everyday speech.

Avoid Using the Term "You"

When speaking with someone on the telephone, it can be easy to get lost in speaking with the caller and letting them know what they may need to do on their end.

Emphasise What You Can Do, Not What You Can't

When we are speaking with someone on the phone, for any reason, it can be hard to communicate what the caller wants or needs from the operator. Sometimes the operator is quick to tell the caller that they cannot complete a certain task or that they cannot help them at all – but this type of attitude does not build relationships.
Telephone Etiquette Training Course – Part 3: Eliminate Phone Distractions

Distractions can be very common in an office environment. Since employees are not alone or isolated, we learn to adapt to the sounds of other people in the room, telephones or fax machines ringing or even the occasional visitor to our work station. However, if we let these distractions hinder our telephone etiquette, it will cause us to sound unprepared and unprofessional.
Avoid Eating or Drinking

It is a common practice to have something at our desk to sip on or snack on during the day. However, this food and drink should not get in the way of your telephone calls.

Minimize Multi-Tasking

Multi-tasking can be a great tool to have in any office. After all, it's helpful to be able to fill out a form while researching new meeting topics on the internet.

Remove Office Distractions

Sometimes distractions are all around us and we may not even be aware of it.

Do Not Let Others Interrupt You

When we work in an office environment, it's not uncommon to have coworkers around our workstation.
Telephone Etiquette Training Course – Part 4: Inbound Calls

For many companies, inbound calls are a major part of the business. Customer call into the company for orders, consultations and even seeking general information. Inbound calls can seem intimidating at times since many times we don't know who is on the other end of the line. But knowing the right tools, such as a proper greeting and key phrases, can help the telephone operator through any situation.
Avoid Long Greeting Messages

For inbound calls, every company has their own set of greetings or scripting to use when they answer the phone.

Introduce Yourself

When a person calls into your office, they may not necessarily know who or where they are speaking to.

Focus on Their Needs

One of the most important aspects of business is to maintain its customers, and one of the best ways to do that is to focus on the customer's needs.

Be Patient

Inbound calls can be lengthy and tiresome for the operator. In these calls, the client is calling into the company and will start making requests right away.
Telephone Etiquette Training Course – Part 5: Outbound Calls
Outbound calls can be some of the hardest types of calls to make. They require the caller to be well prepared and be able to keep the 'target' engaged while trying to deliver a point.
Be Prepared

When making outbound calls, it is important to have all of your information prepared and ready before you even dial the number.

Identify Yourself and Your Company

When making outbound calls, the person on the other end of the line will most likely not have any idea who you are or what you want.

Give Them the Reason for the Call

After you've prepared yourself and have identified yourself to the recipient, the next step is to tell the recipient the reason you are calling them.

Keep Caller Information Private

Before we can begin to make outbound calls, we should already have a mound of personal information about the customers we intend to call.
Telephone Etiquette Training Course – Part 6: Handling Rude or Angry Callers

One of the hardest, and somewhat scariest, situations a telephone operator can handle is a rude or angry caller. Every company has them and any person that answers a company phone will encounter them at some point. Many times they can come out of nowhere and it can be difficult to keep the caller focused on what they need/want. But depending on how the operator responds can be the difference between saving and losing that customer.
Stay Calm

Staying calm with an angry or rude called can be one of the hardest tasks a phone operator must do.

Listen to Their Needs

When we encounter rude or angry callers, our first instinct is to stop listening to what they have to say due to their poor attitude.

Never Interrupt

When a person is interrupted while they are speaking, it can cause them to become irritated or frustrated.

Identify What You Can Do for Them

When a customer is angry or upset, the last thing they want to hear from the company is what can't be done for them.
Telephone Etiquette Training Course – Part 7: Handling Interoffice Calls

When handling calls with the outside public, there is a set of guidelines and policies that the telephone operator follows. But when the calls are within the company, or within the same office, these policies and guidelines can shift a bit and become a whole new set of guidelines all their own.
Transferring Calls

Transferring a call to another telephone number may seem like an easy task, but it still requires a bit of skill in any office environment.

Placing Callers on Hold

Just the same as transferring a call, placing a caller on hold can make them feel ignored and that the telephone operator does not want to help them.

Taking Messages

Although many departments do not require employees to take message for each other, the occasion can arise where an employee receives a call from someone looking for another person and wants to leave their callback information.

End the Conversation

Sometimes ending a call with someone can be an awkward feeling and can leave both parties unsure if the call is over.
Telephone Etiquette Training Course – Part 8: Handling Voicemail Messages

Voicemails are a great tool to have in this age of technology, especially since the employee may not always be at their desk or may be busy taking calls from another customer. It is important to understand how to retrieve and deliver these messages efficiently so that critical information isn't lost and the chance to build a professional relationship isn't missed.
Ensure the Voicemail Has a Proper Greeting

When establishing your own voicemail, it is important to have a proper greeting message for your callers to hear. For your personal voicemail, record your own message in your own voice.

Answer Important Messages Right Away

A voicemail can contain several messages at once from numerous sources. Although they can seem overwhelming at times, it is important to determine which messages are urgent and need to be answered right away.

Ensure Messages are Delivered to the Right Person

This can seem like a simple task, but there are many times a message is delivered to the wrong person or delivered to someone that is not able to relay the message, so it is never answered.

When Leaving a Message for Others

Leaving a voicemail message for someone can sometimes feel like an art form. Many voicemail machines only allow a certain amount of time to leave a message, so it's important to only leave the essential information with enough details for the recipient to know why you called. When on a voicemail, leave your name and title.
Telephone Etiquette Training Course – Part 9: Training Others Telephone Etiquette

While having good telephone etiquette is beneficial, it will not do any good if it is not taught to the rest of the team. It is important to the company's success that every employee is properly trained and able to demonstrate telephone etiquette before being let loose on the telephone. Every employee learns differently, so it's helpful to have several methods available to allow employees to adopt these skills.
Group Training

Group training, sometimes referred to as classroom training, is a method training employees that involves one or two trainers that are responsible for training a group of new hires, typically in a separate room or training area.

One-on-One Training

One-on-one training typically involves the employee being trained an only one, sometimes two, trainers. This method is more popular when training a current employee or an employee that is just coming into the department, rather than a new hire.

Peer Training

Although peer training is a method that is not used as often as other methods, it is still a helpful tool when training a small group of employees.

Job Shadowing

Job shadowing is defined as a type of employee training designed for a new employee, or an employee wanting to become familiar with the job area, observes and follows an experienced employee in the department.
Telephone Etiquette Training Course – Part 10: Correcting Poor Telephone Etiquette

Screening Calls

Many companies that offer a telephone service have taken advantage of some sort of call monitoring service. The service records each employee call and allows them to be played back at a later time for review. This process, known as screening calls, can be a great tool for reviewing employee phone calls and checking for correct telephone etiquette.

Employee Evaluations

Individual employee evaluations are another great tool for assessing and correcting any instance of poor telephone etiquette. An employee evaluation is typically created with several points or guidelines in place that an employee is expected to follow and meet certain criteria.

Peer Monitoring

Peer monitoring is a tool of assessment that is growing in popularity. Peer monitoring allows employees to work together to help improve areas of skill and technique.

Customer Surveys

Another method of evaluating employee telephone etiquette is to employee customer/client surveys.
Telephone Etiquette Value Added Materials
Each participant will receive the following materials for the Telephone Etiquette course
Telephone Etiquette Learner's Guide
Telephone Etiquette Key Takeaways Notes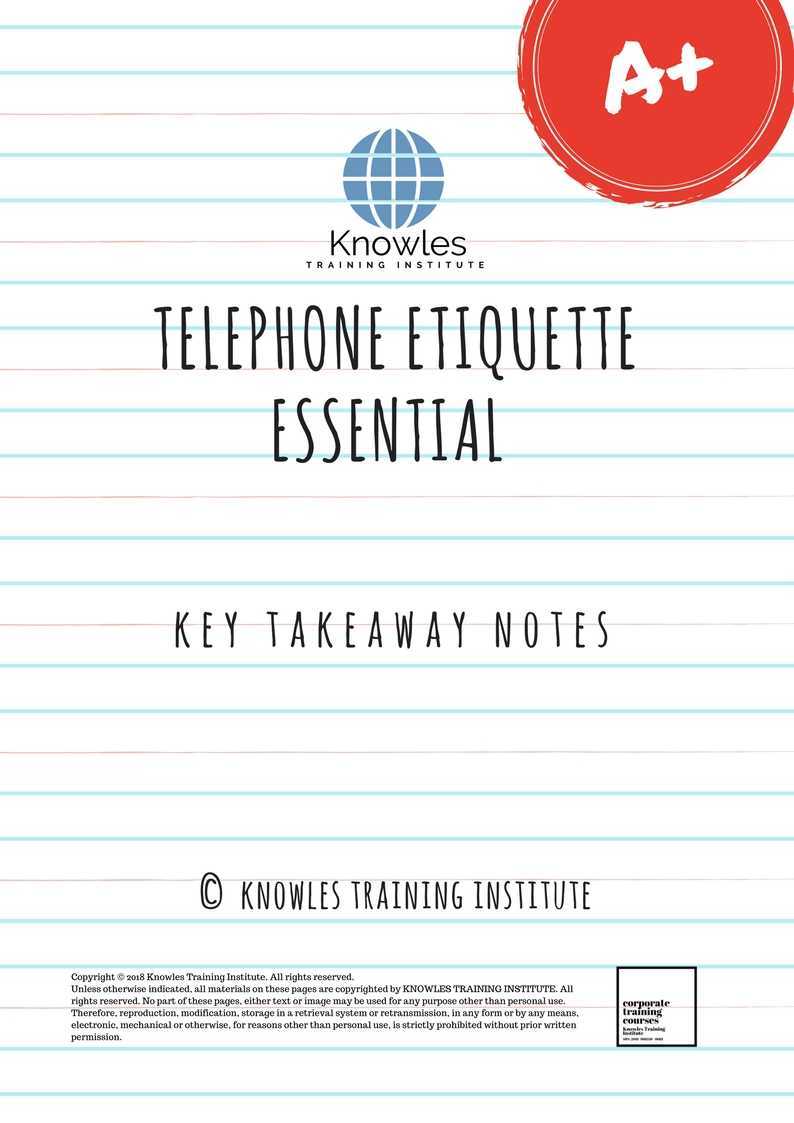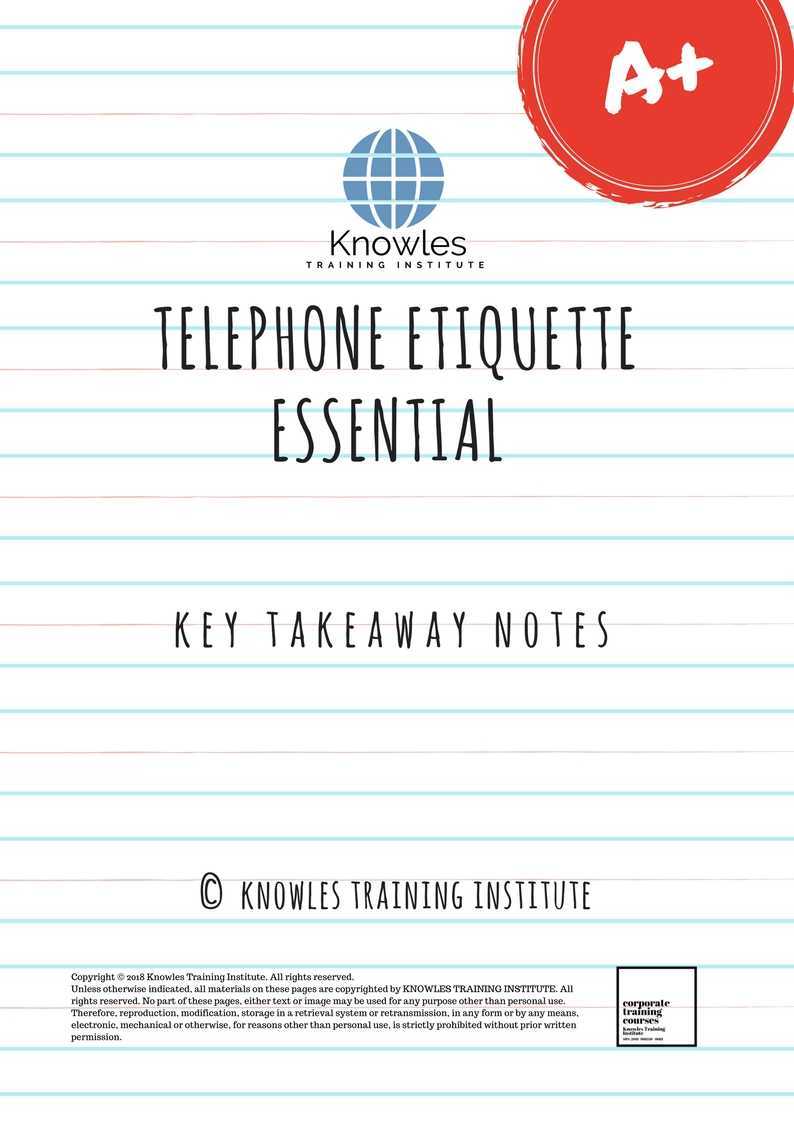 Telephone Etiquette Essentials Ebook
Telephone Etiquette Course Handouts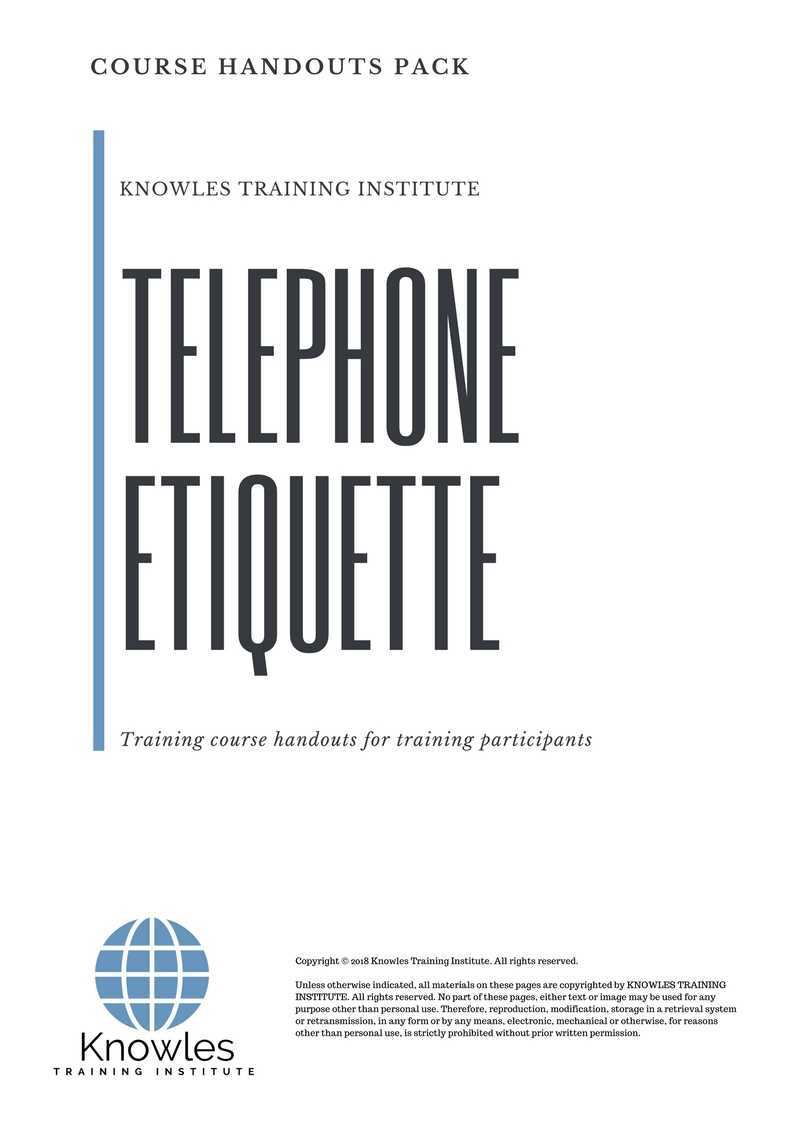 Telephone Etiquette 30-Day Action Plan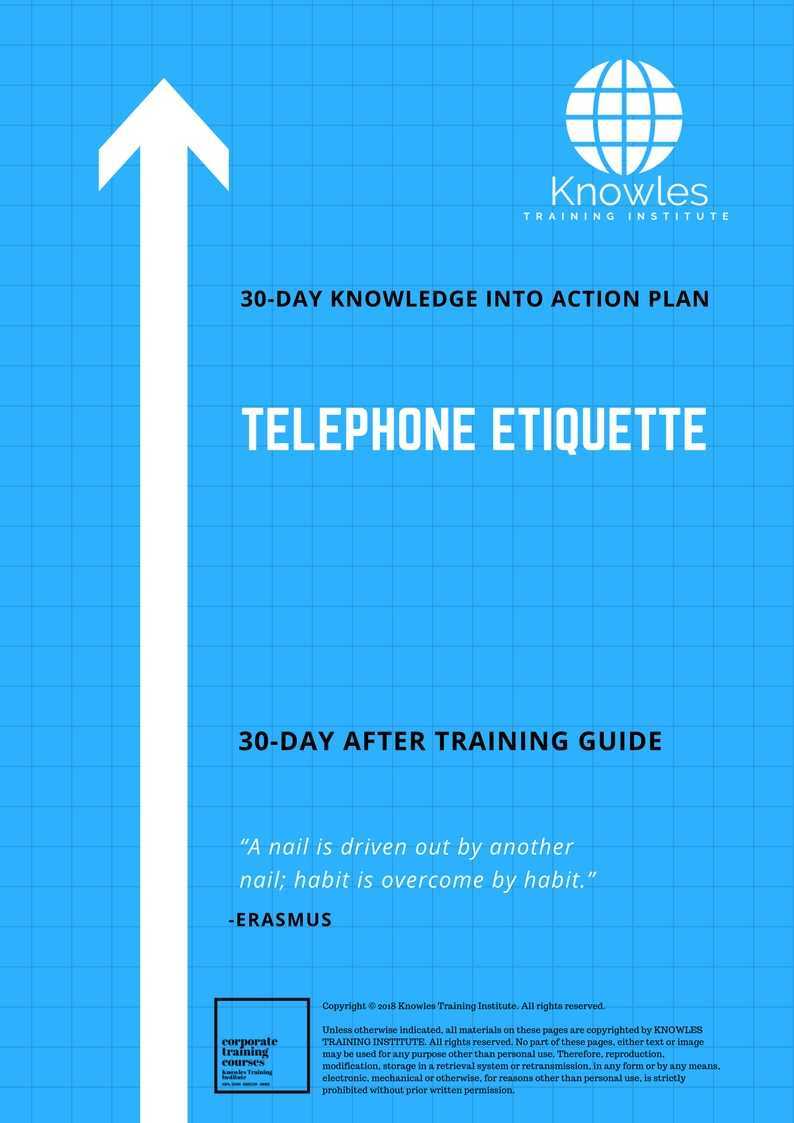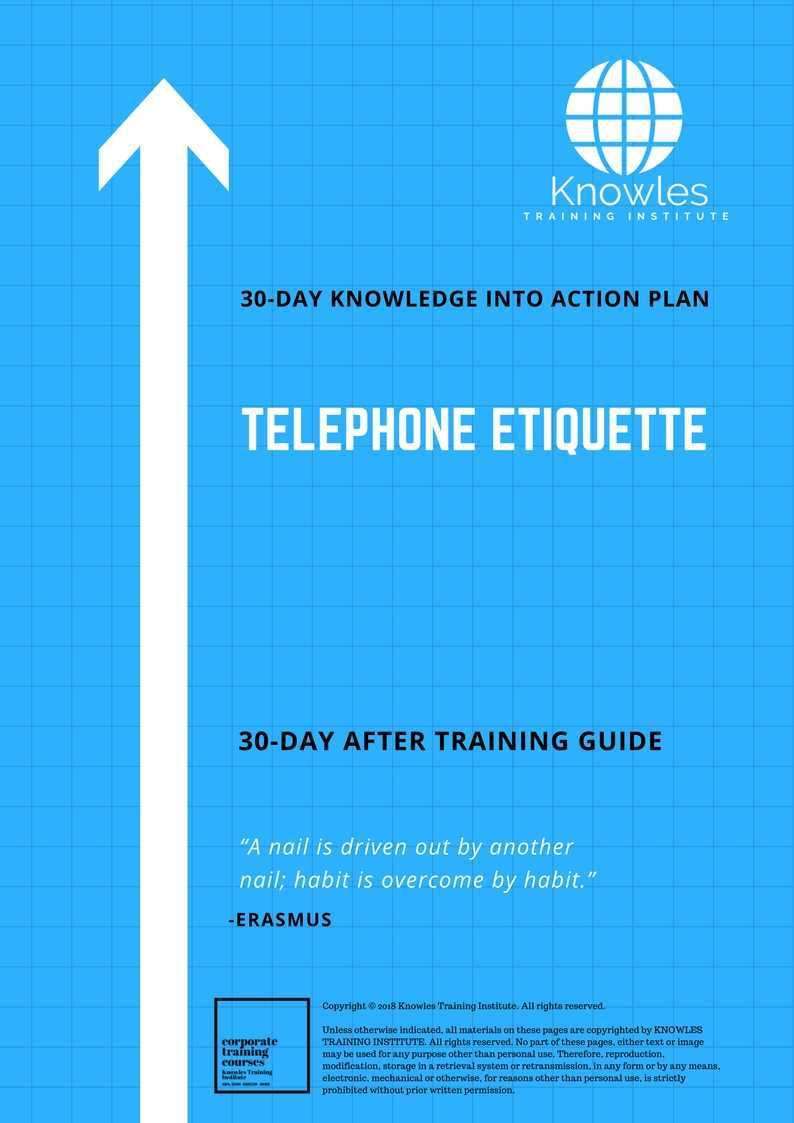 Telephone Etiquette MindMaps Pack
Telephone Etiquette PPT Slides Used During Course
Telephone Etiquette Long-Term Memory Flashcards Pack
Telephone Etiquette E-Learning Course
Telephone Etiquette Online Video Course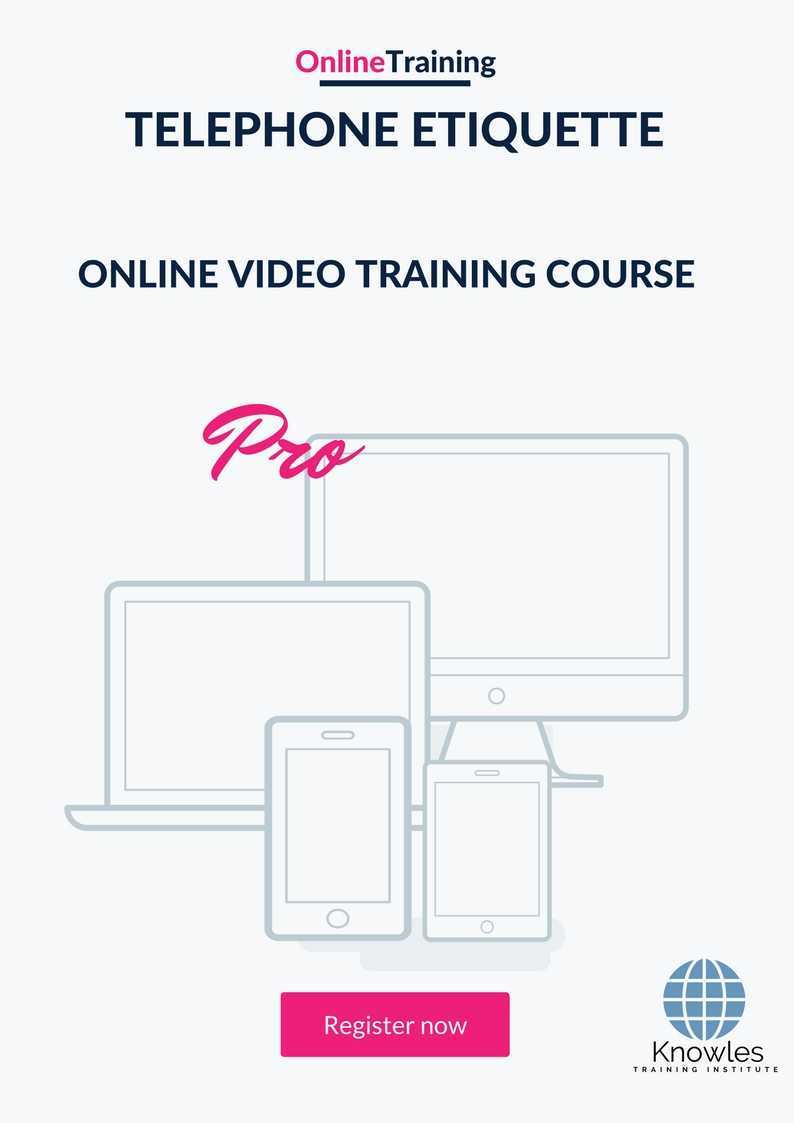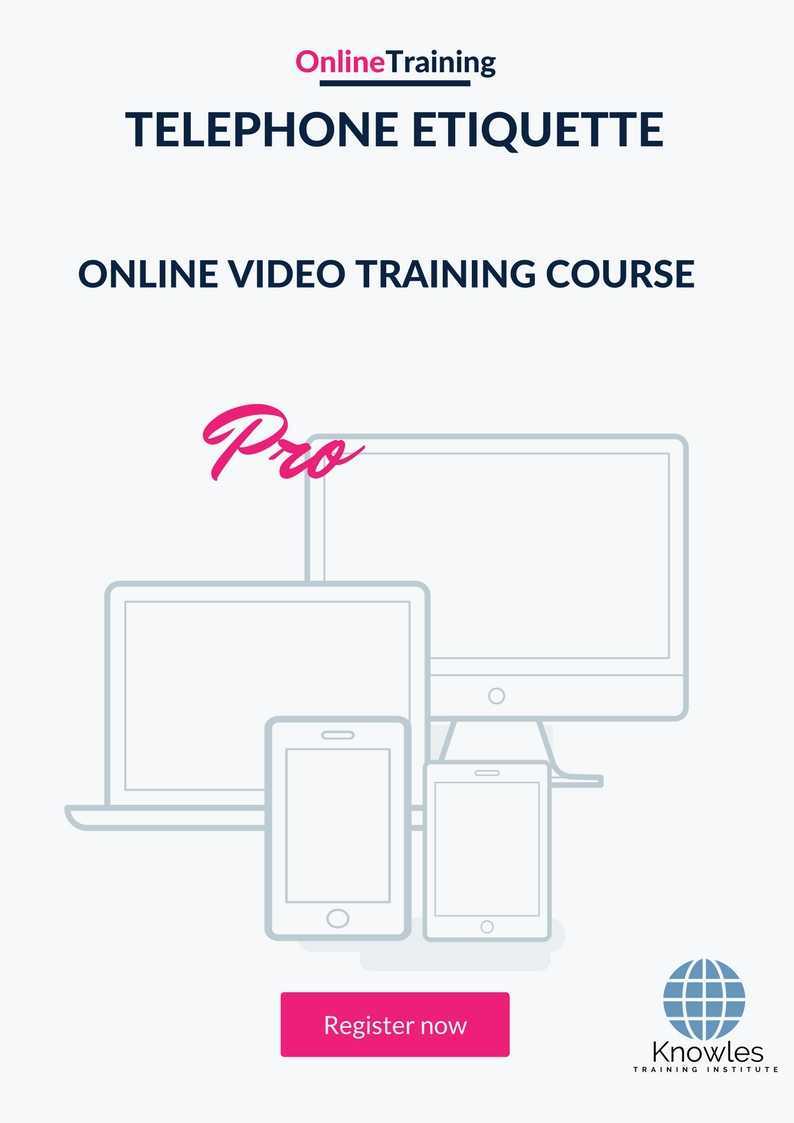 Telephone Etiquette Essentials Audiobook
Telephone Etiquette Infographics Pack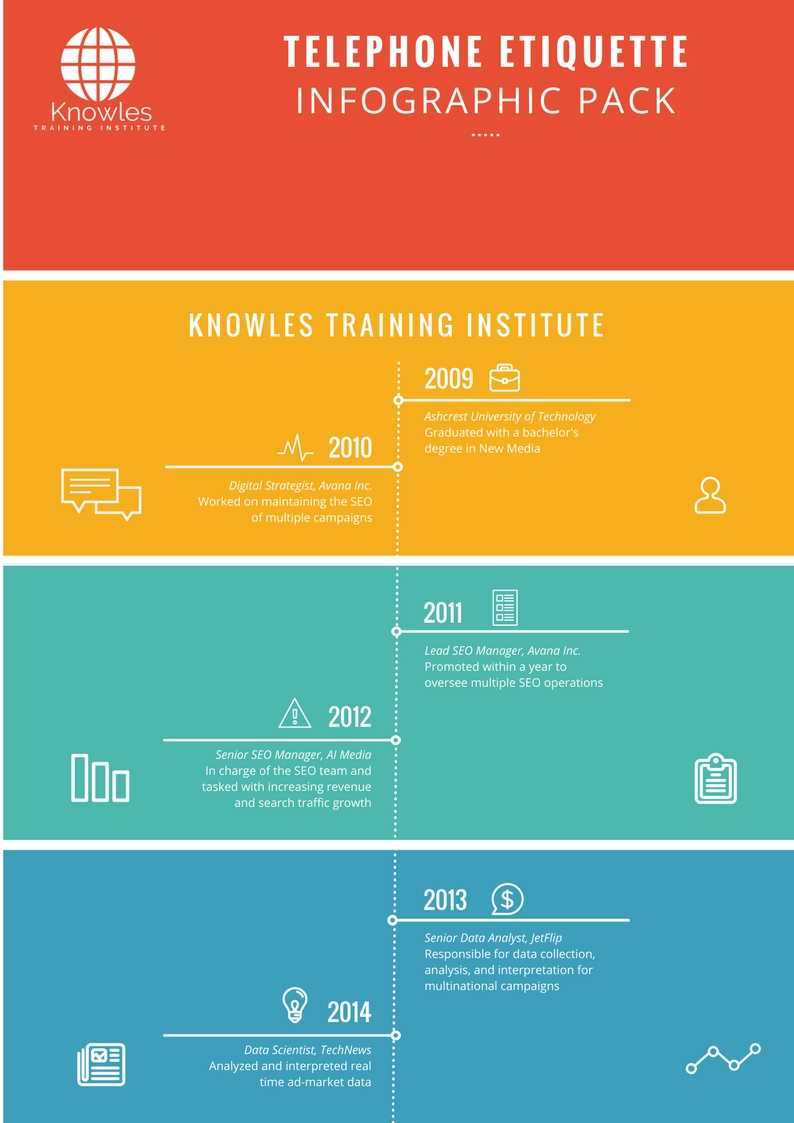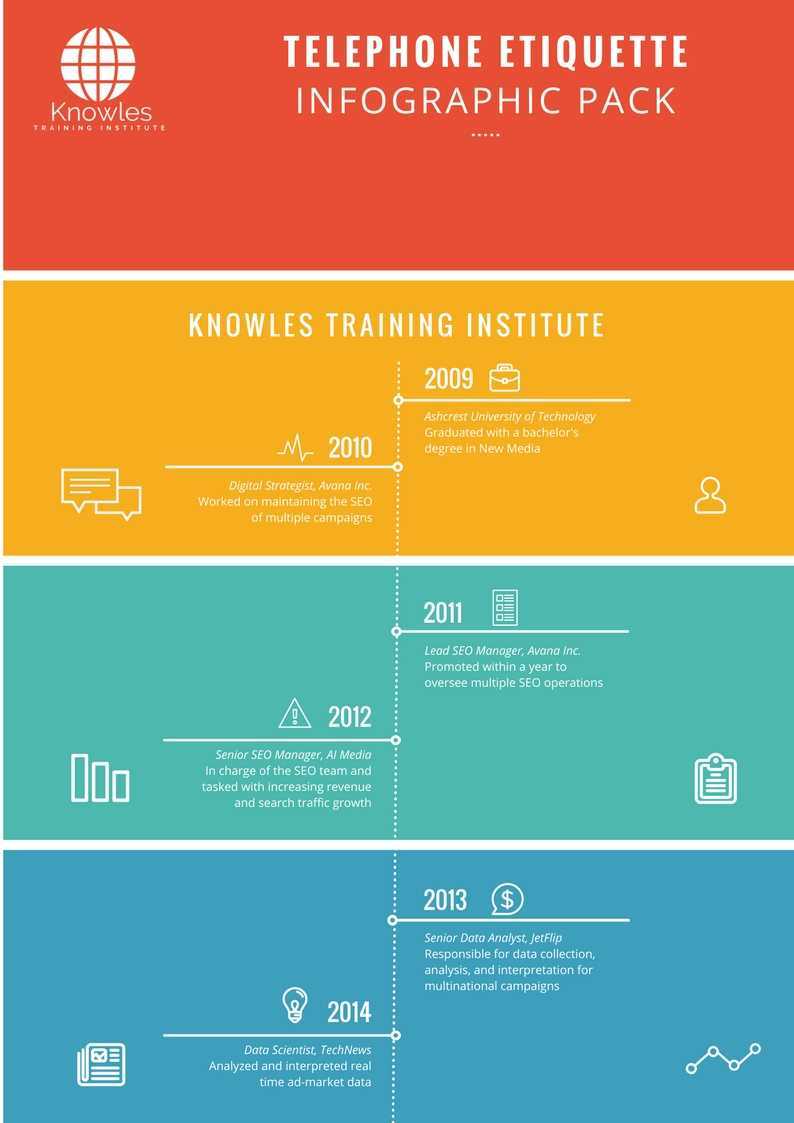 Telephone Etiquette Certification
Each course participant will receive a certification of training completion
There are 3 pricing options available for this Telephone Etiquette training course. Course participants not in Singapore may choose to sign up for our online Telephone Etiquette training course.
2-Full Day Course
Learner's Guide
Course Handouts
—
—
—
—
—
—
—
—
—
—
Premium 2-Full Day Course
Learner's Guide
Course Handouts
PPT Slides Used During Training Course
Long-Term Memory Flashcards Guide TM
1 Year Access to Online Training Video Course (*Worth S$589.97)
Contact Your Trainer: 90-Day Post Course Help (*Worth S$89.97)
Key Learning Takeaway Notes (*Worth S$18.97)
Audio Book (*Worth S$18.97)
eBook (*Worth S$14.97)
Course Infographics Pack (*Worth S$11.97)
Course Mind Maps (*Worth S$8.97)
30-Day Action Plan
Upcoming Telephone Etiquette Training Course Schedule
Contact us for the latest Telephone Etiquette course schedules:
Phone: +65 6817 2530
Email: contact@knowlesti.com
Message:
Download Telephone Etiquette Course Brochure
Request for this Telephone Etiquette course brochure. Fill up the short information below and we will send it to you right away!
Why Register For This Training Course?
Post Training Support: A vast majority of training does not have any effect beyond 120 days. To work, training has to have a strong pre- and post-training component. Post-training reinforcement helps individuals to recall the understanding and ask questions.

Blended Learning: Learning does not occur in the classroom. Virtually everybody prefers distinct ways of learning. Successful learning should have a multi-channel, multi-modal strategy.

We Understand The Industry: We've got a profound comprehension of the business, business design, challenges, strategy and the that our participants are in and have designed the courseware to cater to their professional needs.

Course Content: Knowles Training Institute's material is relevant, of high quality and provide specific learning results. Participants will leave the training course feeling as they have gained a strong understanding and will also be in a position to execute what they have learned sensibly.

Course Development — The workshop modules follow a systematic and logical arrangement. This structure helps to ensure that the course material allows the facilitators to deliver the course in a logical arrangement. Consider the subjects as building bricks into learning, our facilitators slowly build towards a comprehensive picture of this entire topic.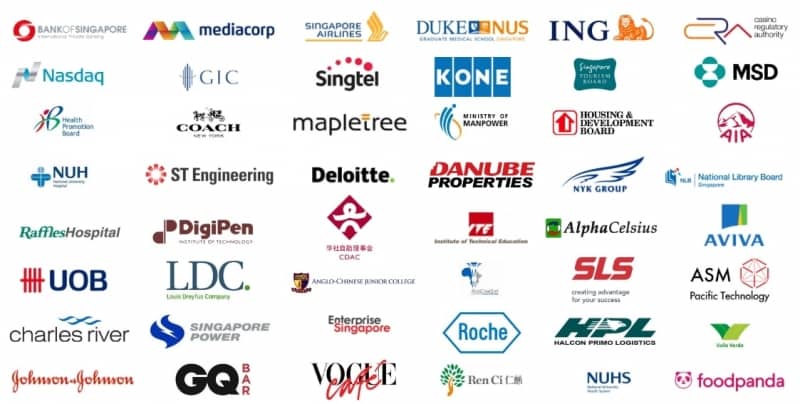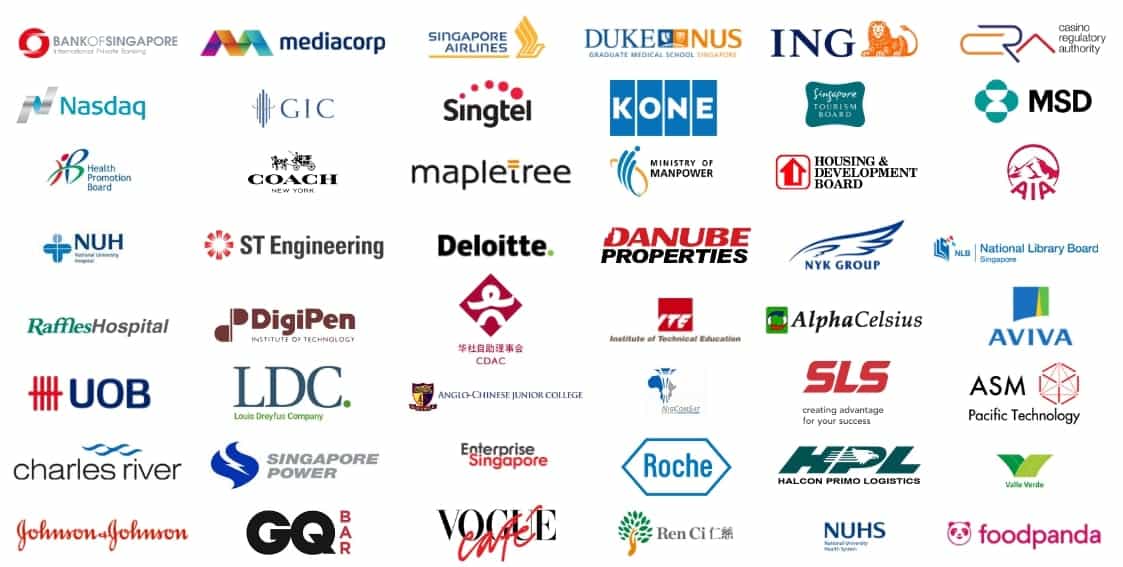 Fill up the form and we will get back to you in less than 1 working day.
Alternatively, give us a call to have one of our training consultants contact you. Our corporate training courses can be contextualised to meet your organisation's training needs. Leverage on our large pool of professional trainers and consultants for your organisation's training needs.
Office Address: Knowles Training Institute, 138 Robinson Road, #28-03, Oxley Tower, Singapore 068906
Office Phone: +65 6935 7406
Email: contact@knowlesti.sg
We Guarantee 100% Privacy. We Respect Your Privacy. Your Information Will Never Be Shared.
Register Now
Register For This Telephone Etiquette Course Now!
Telephone Etiquette course, workshop, training, class, seminar, talk, program, programme, activity, lecture. Telephone Etiquette courses, workshops, classes, seminars, talks, programs, programmes, activities, lectures in Singapore. Telephone Etiquette improvement tips, Telephone Etiquette techniques, improve Telephone Etiquette, improve Telephone Etiquette games, Telephone Etiquette improvement exercises, improve Telephone Etiquette power, how to have good Telephone Etiquette, how to have good Telephone Etiquette in studying, how to build up your Telephone Etiquette, how to improve Telephone Etiquette how to improve Telephone Etiquette course in Singapore. Enhance, boost, build up, enlarge, heighten Telephone Etiquette course in Singapore. Increase, intensify, raise, reinforce, strengthen Telephone Etiquette. Upgrade, amplify, boom, elevate, exaggerate, magnify, grow, gain Telephone Etiquette. Develop Telephone Etiquette, multiple, power up, beef up, bolster, establish, extend Telephone Etiquette. Invigorate, restore, step up, toughen, empower, fortify, regenerate Telephone Etiquette. Rejuvenate, renew, escalate, expand, maximize Telephone Etiquette. Powerful, mighty, impressive, competent, great, excellent, exceptional Telephone Etiquette in Singapore. Superb Telephone Etiquette. Super, superior, strong, solid, active Telephone Etiquette training courses and workshops in Singapore. Telephone Etiquette enhancement, booster, building up, enlargement, heightening, increment, strengthening, amplification. Telephone Etiquette magnification, growth, development, power, empowerment, regeneration. Telephone Etiquette rejuvenation, development, escalation, expansion. Telephone Etiquette maximization, power training courses & workshops in Singapore.