Administrative Office Procedures Course
Administrative Office Procedures Course in Singapore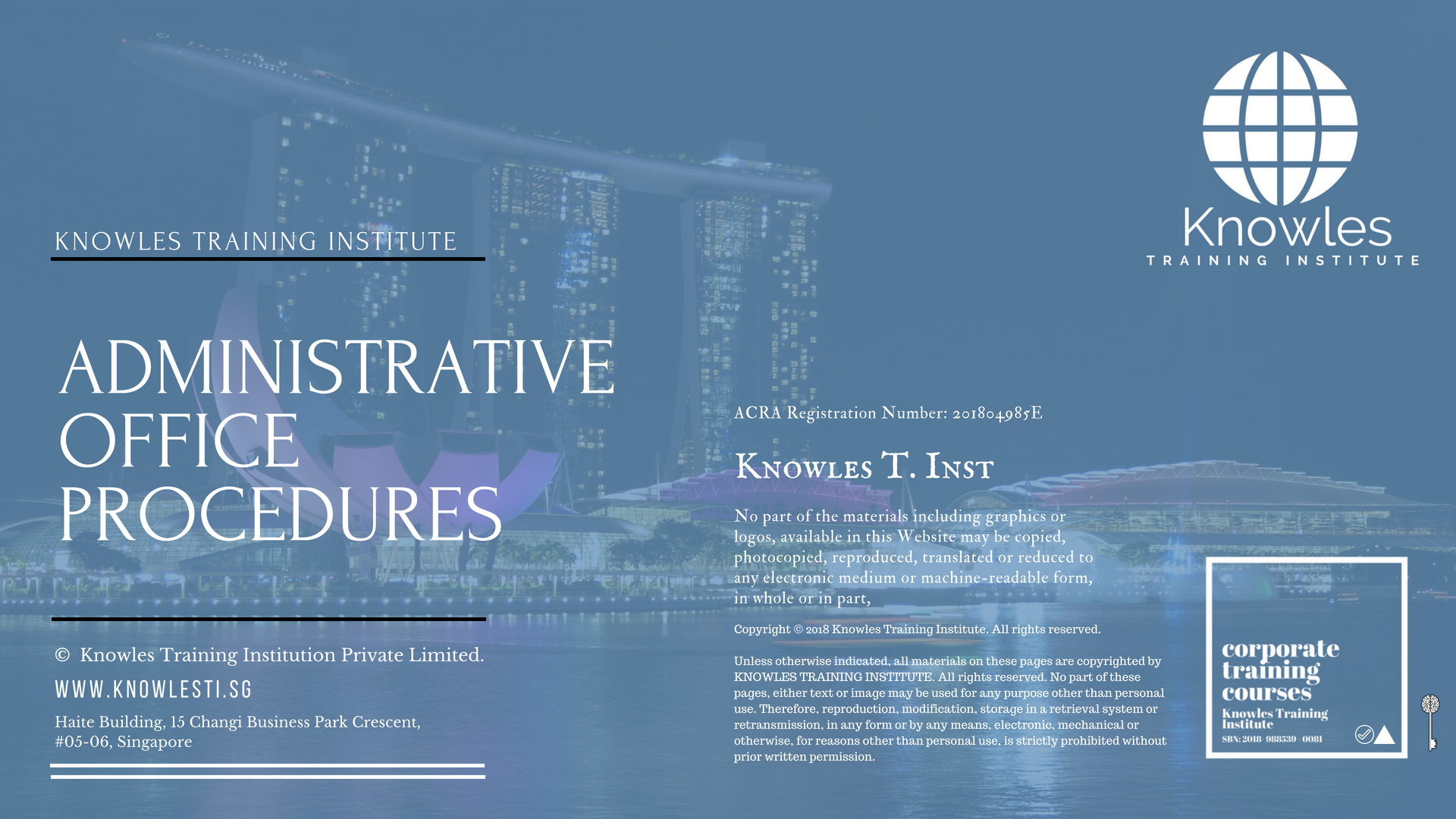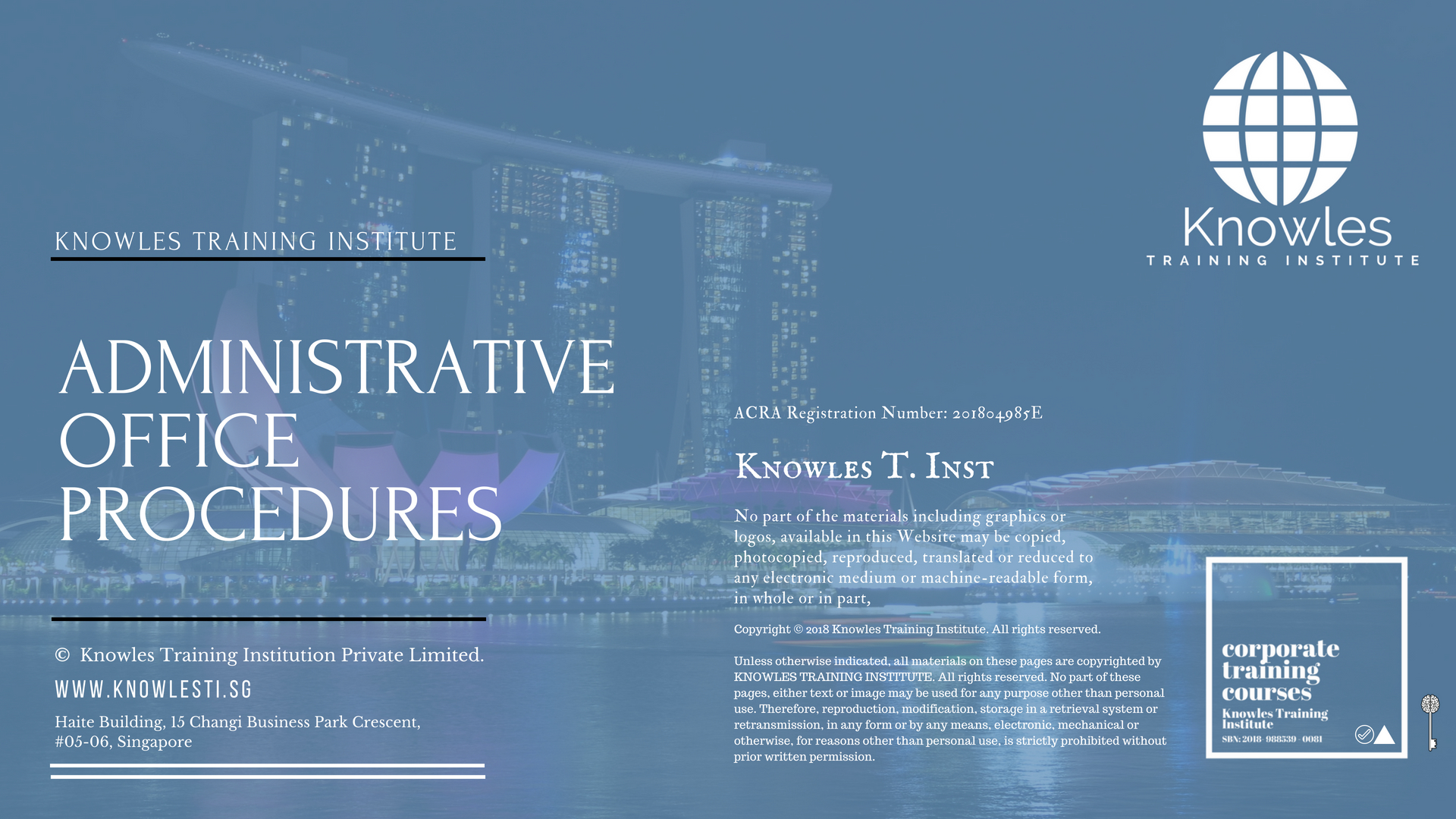 About This Administrative Office Procedures Training Course
Administrative Office Procedures Course in Singapore
Administrative office procedures may not be exciting, but they are crucial to the success of any company. A well run office decreases miscommunications and helps to reduce common errors. By making the administrative office precedence, you will set clear policies and procedures with employee recognition and buy-in, which guarantees that your company runs smoothly.
Every organization needs a structured set of rules to follow. Administrative procedures are needed to be set to create order in the workplace. When everyone complies with the admin rules, miscommunications are lessened, everyone is held accountable and efficient in meeting deliverables daily. This course will let you discover how to establish administrative office procedures and how to make everyone comply in your company.
Who Should Attend This Administrative Office Procedures Workshop
This workshop is ideal for anyone who would like to gain a strong grasp and improve their Administrative Office Procedures.
All Staff Within An Organisation
Group Size For This Administrative Office Procedures Training Program
The ideal group size for this Administrative Office Procedures course is:
Course Duration
The duration of this Administrative Office Procedures workshop is 2 full days. Knowles Training Institute will also be able to contextualised this workshop according to different durations; 3 full days, 1 day, half day, 90 minutes and 60 minutes.
Below is the list of course benefits of our Administrative Office Procedures course
Reduce any miscommunication
Eliminate common errors
Establish clear policies
Establish clear procedures
Ensure the company runs smoothly
Below is the list of course objectives of our Administrative Office Procedures course
Explain why your office needs administrative procedures

Administrative procedures are more than ordinary policies. They are put in place to assure the survival of the company in any event or condition. From emergencies, to change, to basic day-to-day activities, administrative office procedures address them all when they are done rightly. Business continuity, audit requirements, succession planning, and recovery planning are all covered in administrative procedures

List the right tools needed for your office administrative procedures

Any activity needs the use of the correct instruments, and the administrative office is no different. Administrative binders and other materials are required tools that ensure tasks are completed accurately. By collecting the required information and finding these instruments, you will erase confusion and ensure that your procedures are done perfectly.

State how you would identify what office administrative procedures to include

When building an administrative office binder, it is essential to choose the required procedures. If you put too much data in a binder, it becomes hard to navigate. If you don't file enough information in a binder, it is inefficient. By keeping a record of different tasks, working with other employees, and staying aware of everyday activities, you'll be able to find the most suitable procedures.

Recognise the top 5 procedures to record

When building a binder, it is not probable to address all procedures at the same time. For the best outcomes, it is important to limit yourself to five procedures. Begin by determining the top 5 procedures that you need to record. Once you distinguish the top 5 procedures, using a template and writing precise procedures will help guarantee that the recorded procedures are precise and efficient.

List down what to include in your binder Part A

When building an administrative binder, you must decide what should be included and what should not. The needs of each company will determine which topics you should include in the binder. There are, nevertheless, certain topics that should be incorporated in the binders of most companies. Usually used topics include phone etiquette, business writing, arranging meetings, and time management.

List down what to include in your binder Part B

Binders need to incorporate basic policies that employees can quickly consult if they have any questions. Policies that most organisations should include in binders cover absences, breaks, benefits, and salaries. Make sure that the policies are addressed, cover extensive information, and comply with local laws and regulations.

Illustrate how to organise your binder

Once the policies and procedures are developed, it is time to put them in the binder. The organisation of a binder is comparable to any other document. You must give a table of contents that lists each section and a list of procedures that each section covers. Once the binder is put collectively, you need to keep it up to date and make changes as needed.

State what not to include in the procedure guide

Now it is time to discuss what should never be included in a binder under any conditions. Much of what needs to be evaded in the procedure guide is common sense. Passwords and any other classified information must not be included on the binder. Find other ways of sharing confidential information when it is required.

Describe the share office procedure guide

Once you have created the binder, you must share it with the rest of the office. At this point, communication is necessary. Without the buy-in of critical stakeholders, the procedure guide will not be a method or system that gets much use. Receiving feedback from executives and employees alike will guarantee that your guide is useful and relevant to the needs of your audience.

Demonstrate how to successfully execute the office procedure guide

The guide must be administered with the same thoroughness that was used to create it. This needs training, consistency, and communication. Your guide must develop with the company, so learn to consider new ideas while building a culture of consistency.
Below is the list of the course content of our Administrative Office Procedures training course
Business Continuity

Business continuity, also known as a business continuance is the plan in place to keep an organisation running smoothly in the event of a disaster; both during and after the disaster. Securing business continuity requires recognising essential tasks first. This involves items and services that are crucial for the company to function. These will vary by company but they cover technology, employee safety and much more

Succession Planning

Strong succession planning forms a pool of talent so that there are more than enough equipped candidates to fill openings in leadership. This strategy needs recruiting of qualified talent, creating a talent pool, and inspiring loyalty in employees.

Internal and External Audit Requirements

Both internal and external audits are essential for identifying risks that a company may face. The internal audit discusses how valid and reliable administrative controls are in place. An internal audit also discusses record accuracy, legal compliance, and management action. Internal audits and external audits are comparable, but the internal auditor is an agent of the organisation that they audit. The external auditor is, however, not an employee, and they will generate a report based on the finances, operations, and compliance of the organisation. Both internal and external auditors provide guidance based on their assessments.

Recovery Planning

Recovery planning works hand-in-hand with business continuity. D isaster recovery planning or recovery planning or is the method that is put in place to retrieve data, software, hardware, and manpower that the organisation needs to start back up after a disaster.

Administrative Binder

Administrative binders comprise instructions on administrative procedures that all workers will be able to use. Start by choosing a binder and accumulating the necessary dividers and sheet protectors. Producing a binder needs you to keep track of the day-to-day procedures.

Section Divider

Section dividers are used to break down the binder into various sections so that information will be more accessible.

Sheet Protectors

Sheet protectors are required to keep the binder safe from mishaps and spills. Tabbed sheet protectors must be used for section dividers.

Cover to Cover Binders

Once you have received all of the items required to create a binder, decided what should be included

Tracking Tasks for Some Days

In order to recognise the procedures you need to incorporate, it is essential to track tasks for a few days.

Reach Out to Other Employees for Feedback and Ideas

Deciding which procedures to admit is not a unilateral decision. It is essential to collect feedback from employees and ask them for their opinions about what processes need to be included in the official administrative binder

Write Down Daily Tasks

Daily tasks must be written for a minimum of five days so that you can decide which tasks you indeed finished daily.

Keep Track Using a Spreadsheet

As you follow various tasks to determine which procedures to incorporate in the binder, it is essential to keep track of which jobs are daily, weekly, monthly, annually, etc.

Use a Template to Stay Consistent from Track to Track
Be as Detailed as Possible
Use Bullet Points Instead of Paragraphs
Ask Someone to Execute the Procedure
Phone Etiquette
Business Writing
Effective Time Management
Creating Meeting Arrangements
Policy on Absences
Breaks
Salaries
Benefits
Create a Table of Contents
List Each Section (e.g. Accounting)
List Procedures in that Section
Keep Binder Updated with any New Changes
Passwords
Identify Other Confidential Information Via Your Employer
Store Information in a Separate Folder Outside of the Guide
Find a Secure Location to Store
Give Guide to Boss/Executive to Review
Inform Office Personnel of Procedure Guide
Place Guide in a Visible Area
Allow Office Personnel to Express Improvements/Updates if Needed
Create a One Hour Meeting/Seminar for Employees
Stay Consistent with Procedures
Make Employees Aware of any Updated Changes
Keep Open to Improvements
Administrative Office Procedures Value Added Materials
Each participant will receive the following materials for the Administrative Office Procedures course
Administrative Office Procedures Learner's Guide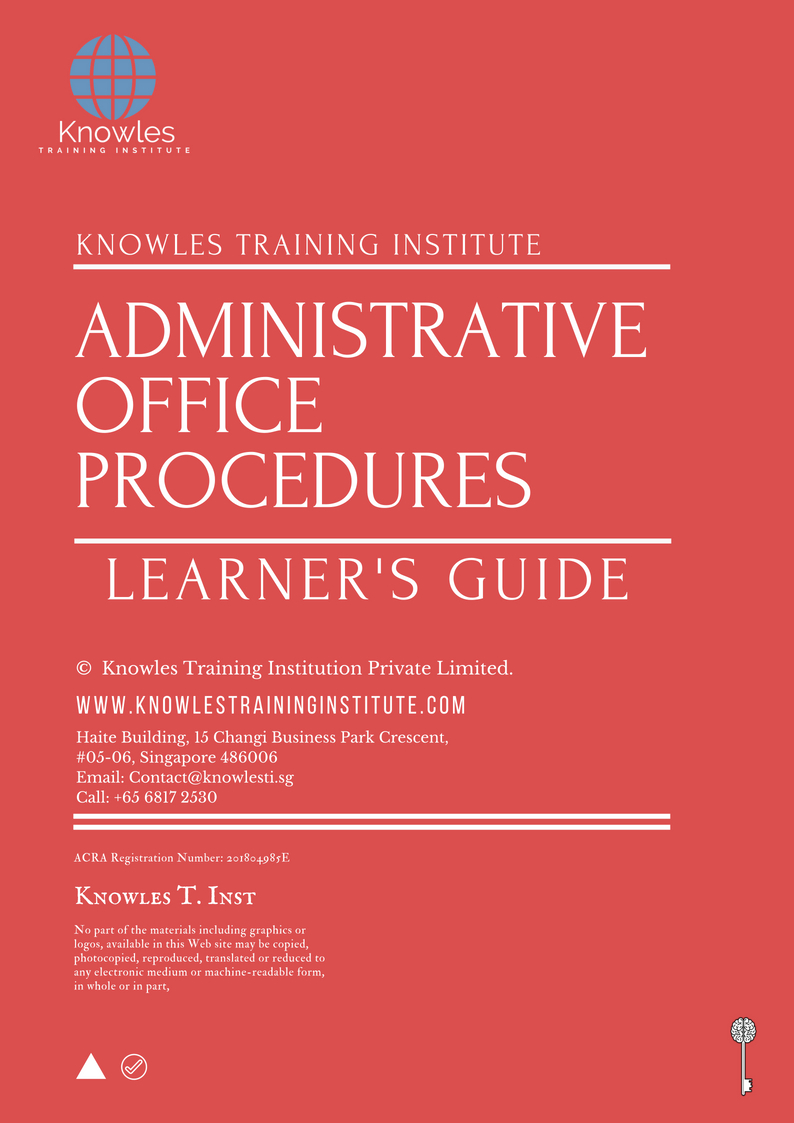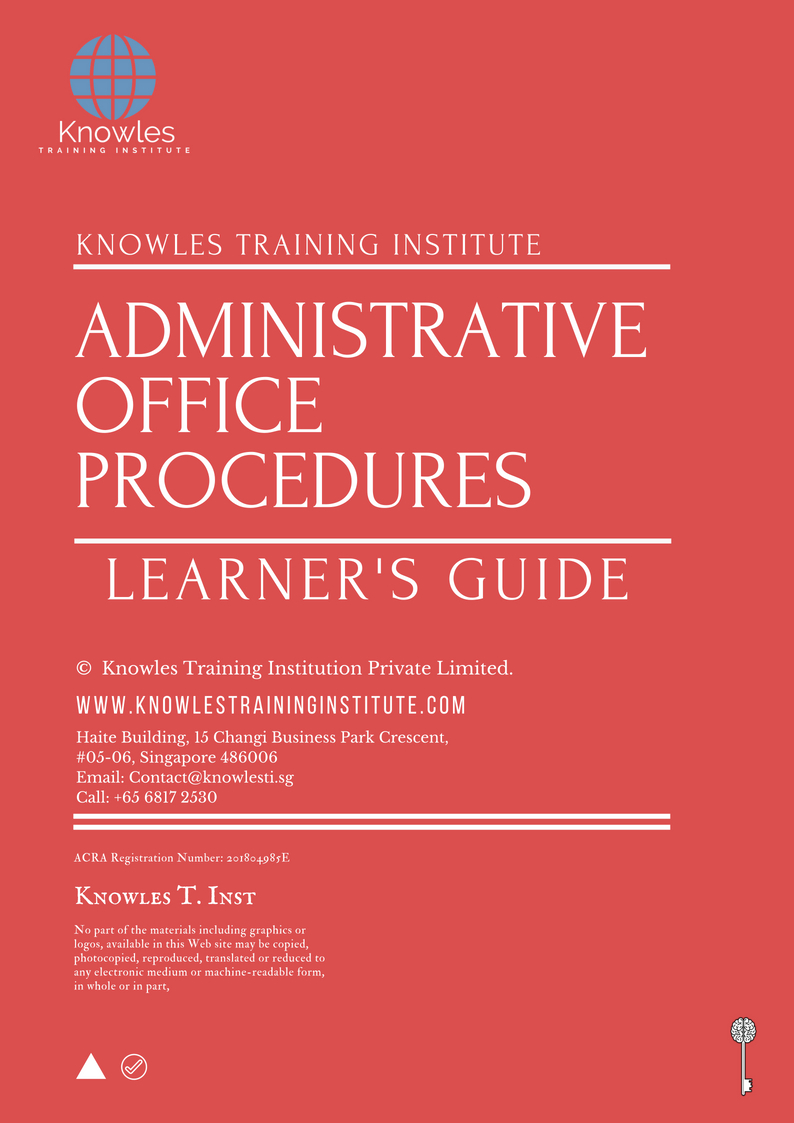 Administrative Office Procedures Key Takeaways Notes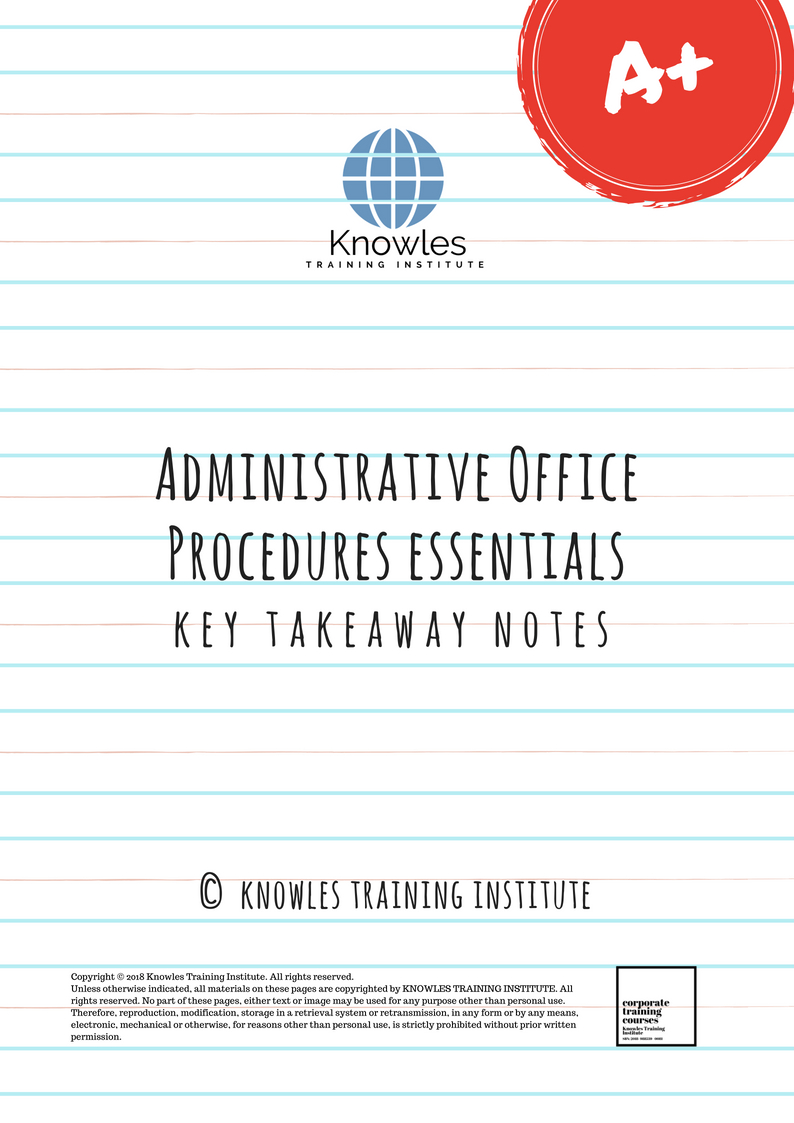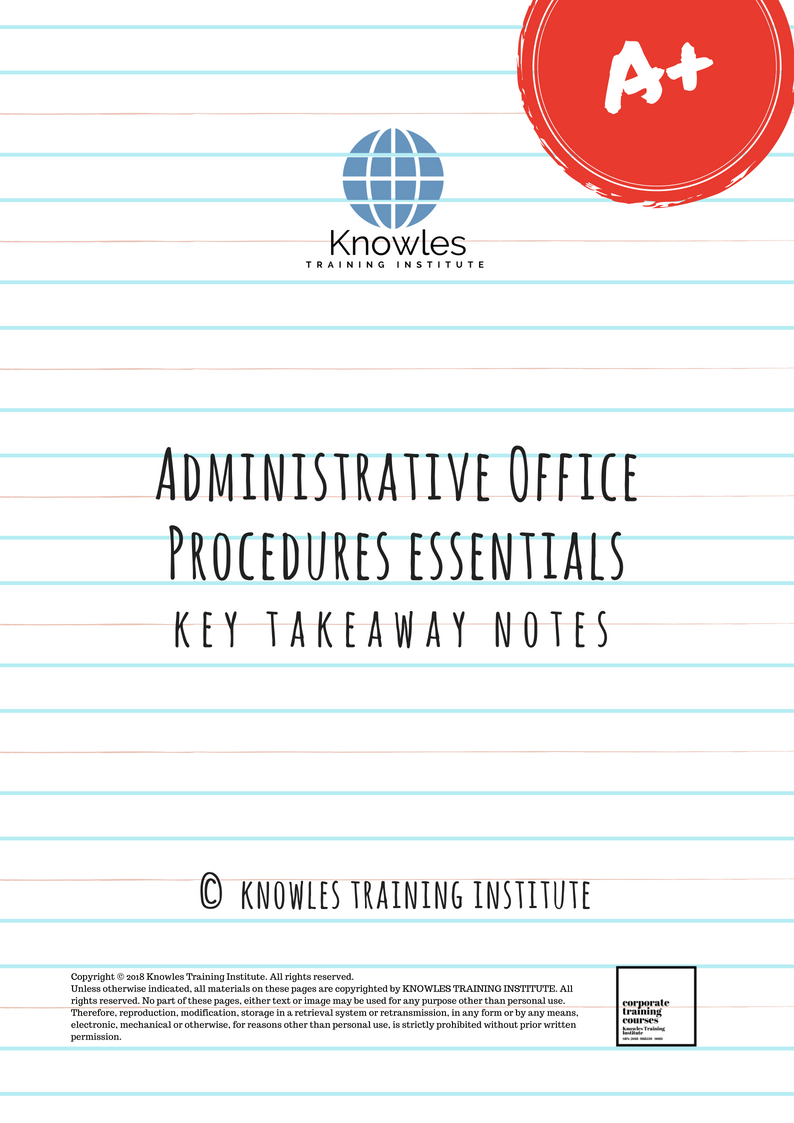 Administrative Office Procedures Essentials Ebook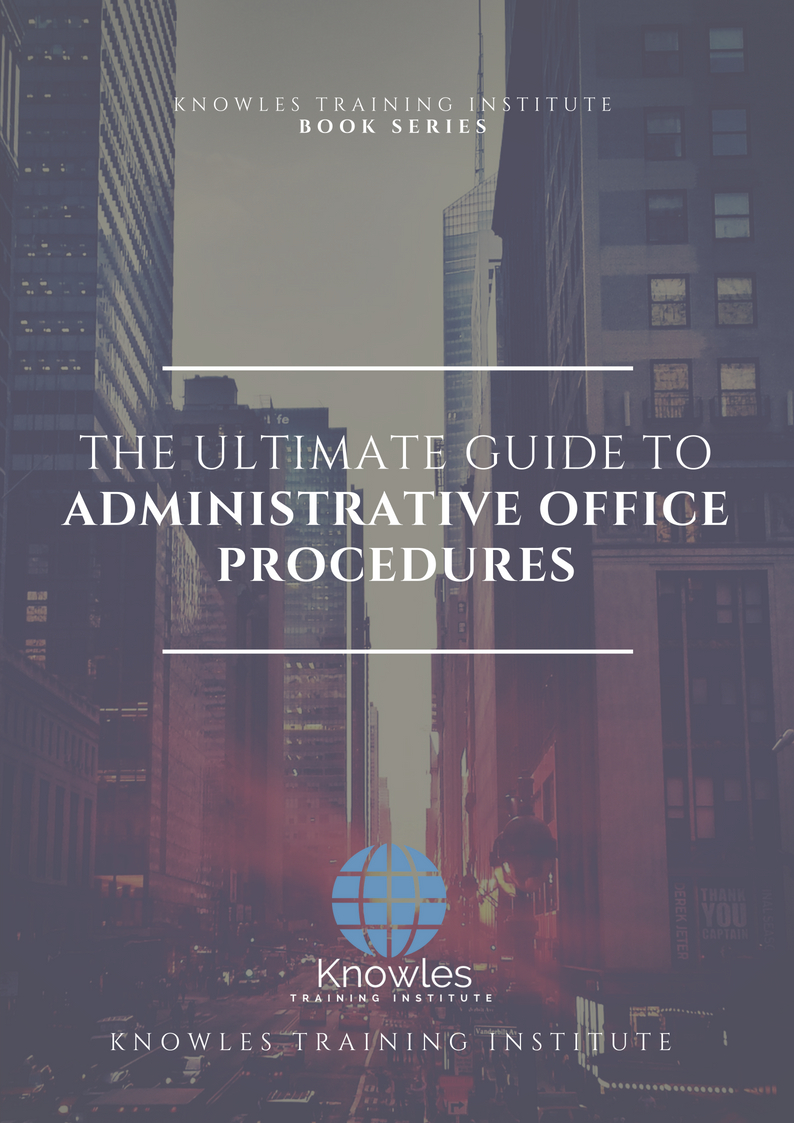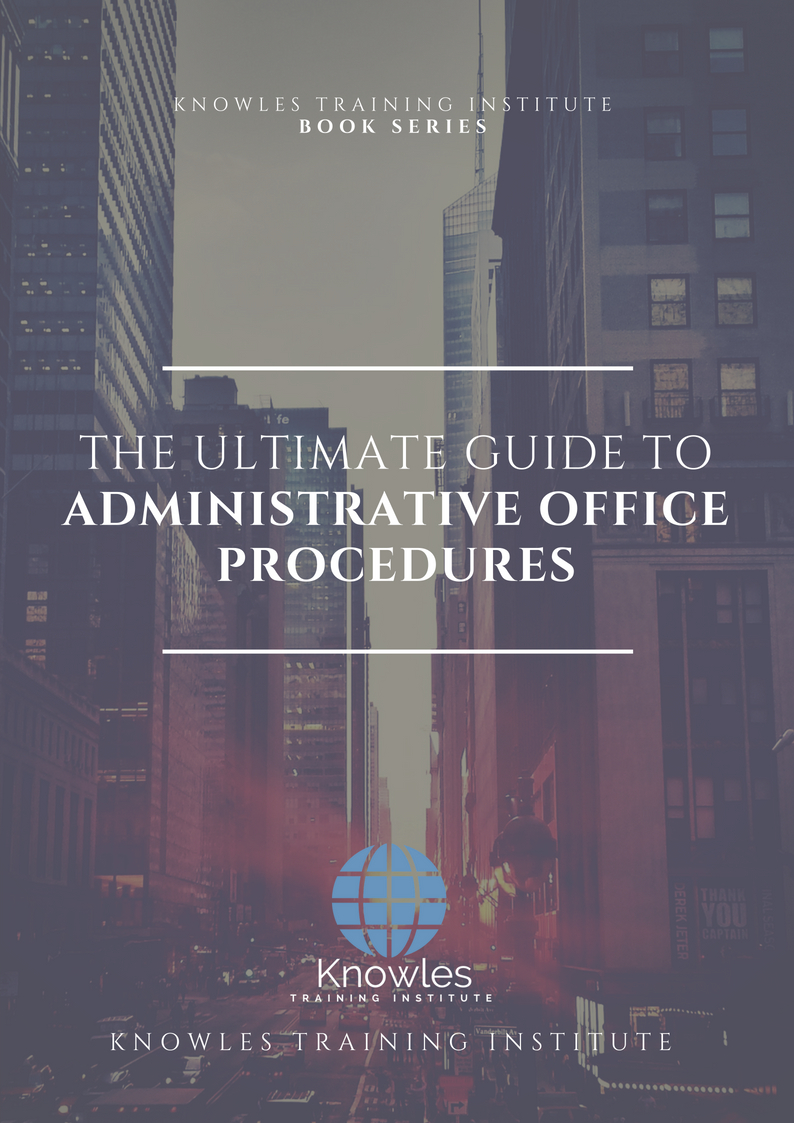 Administrative Office Procedures Course Handouts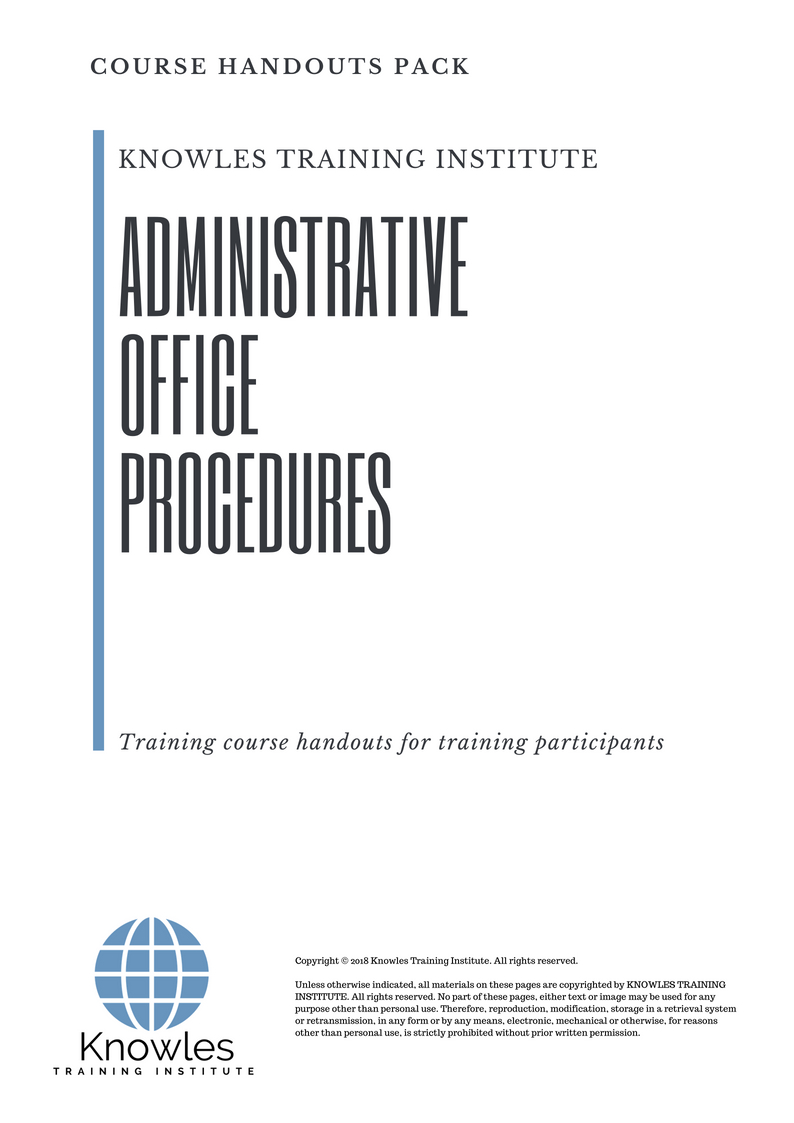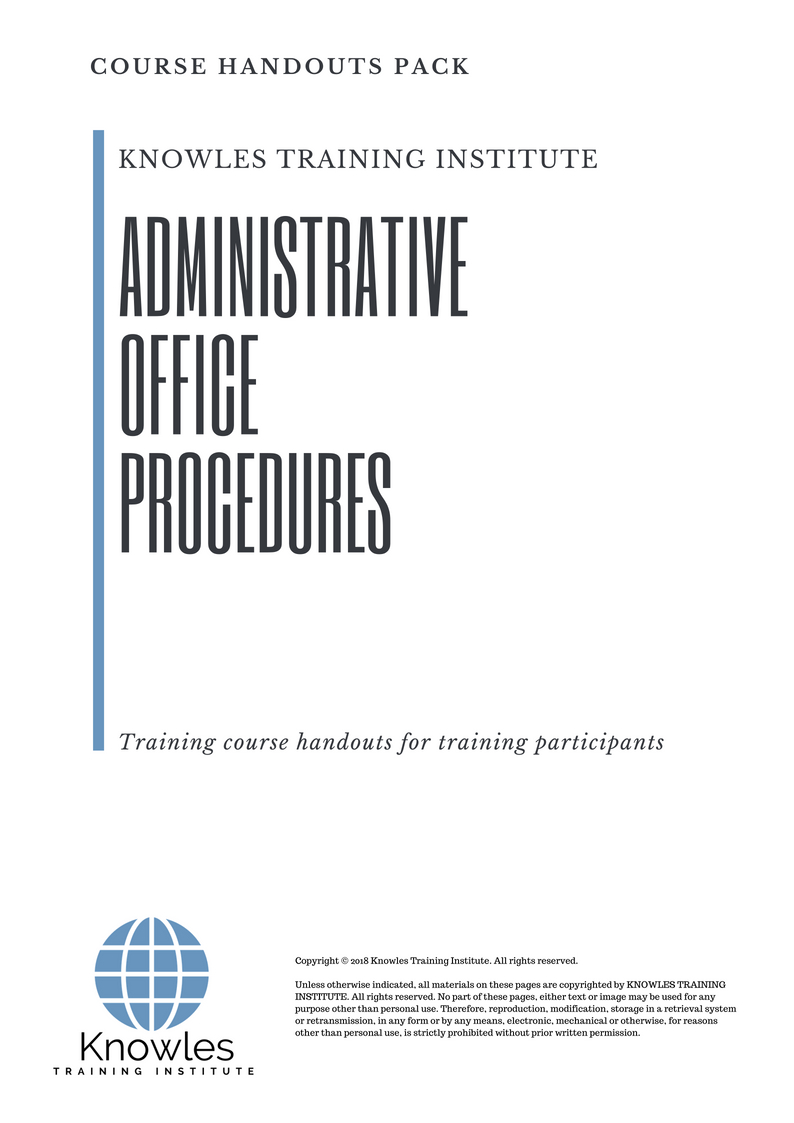 Administrative Office Procedures 30-Day Action Plan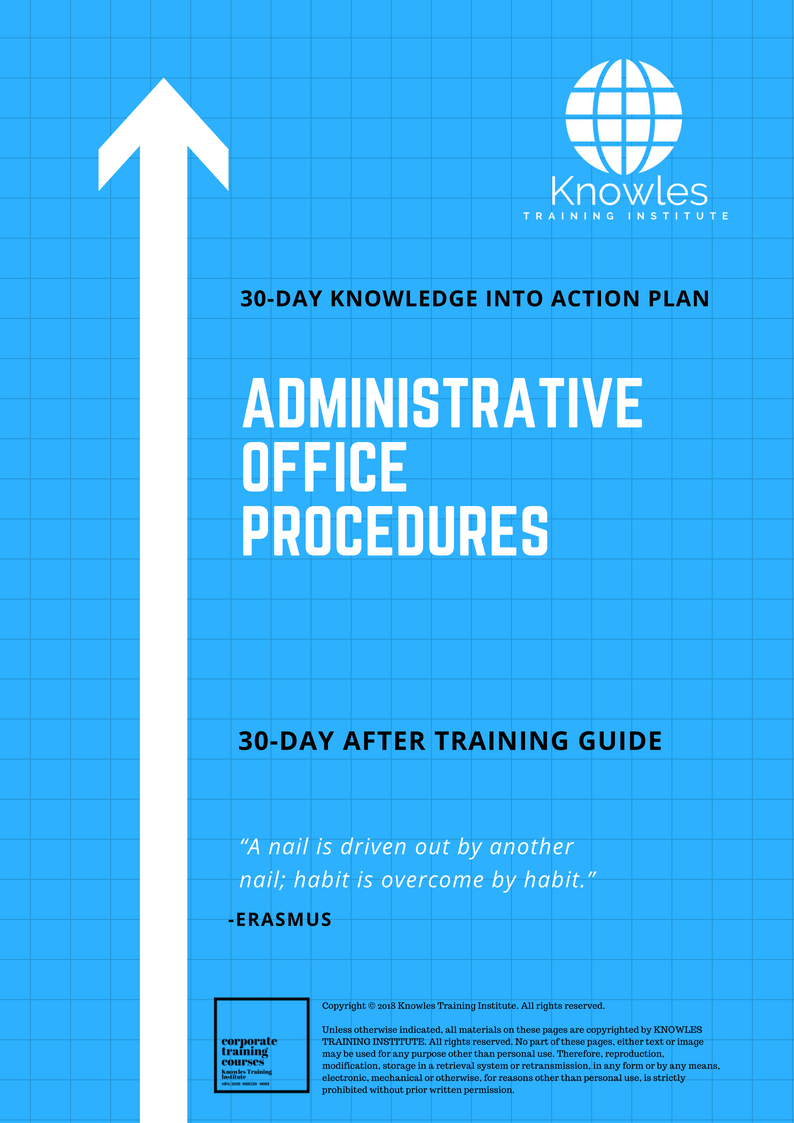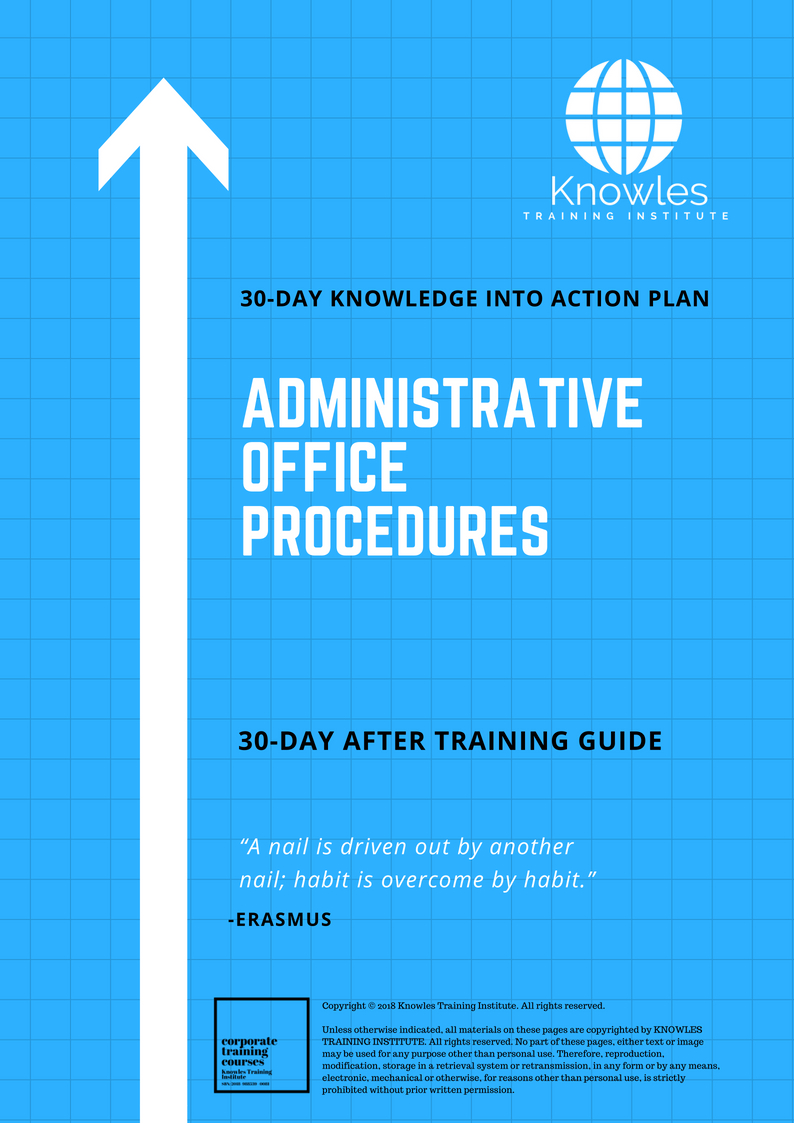 Administrative Office Procedures MindMaps Pack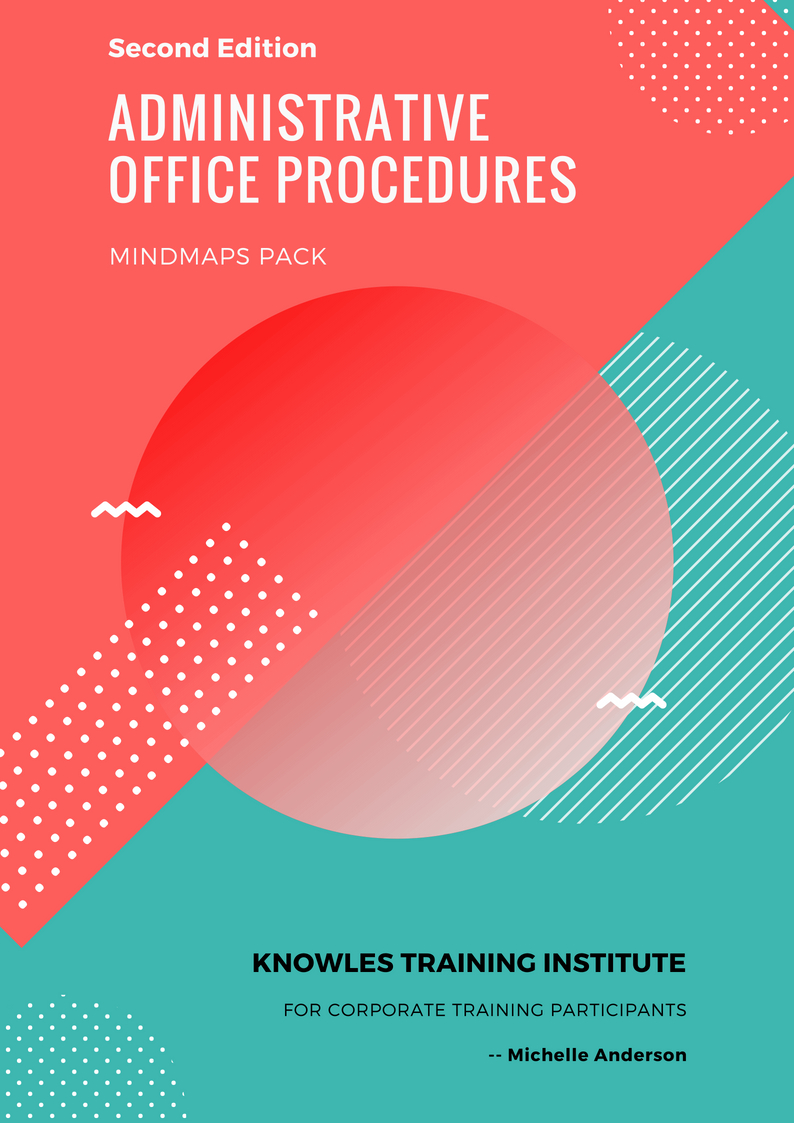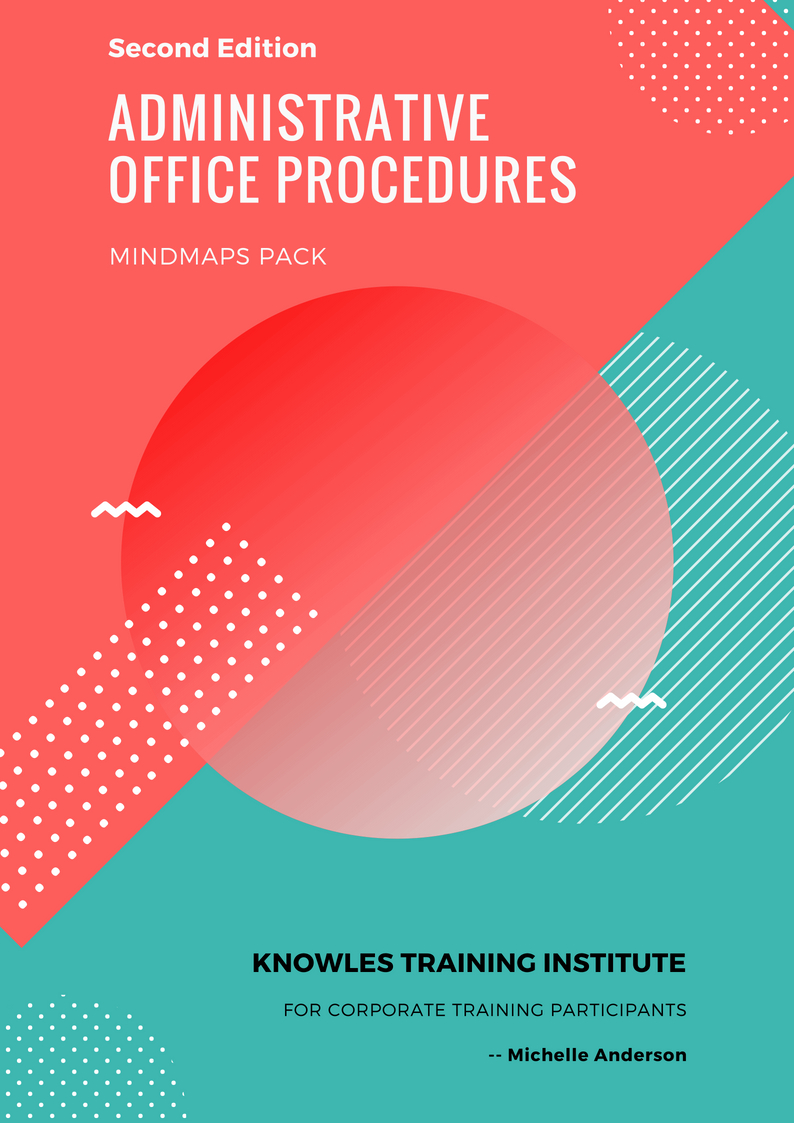 Administrative Office Procedures PPT Slides Used During Course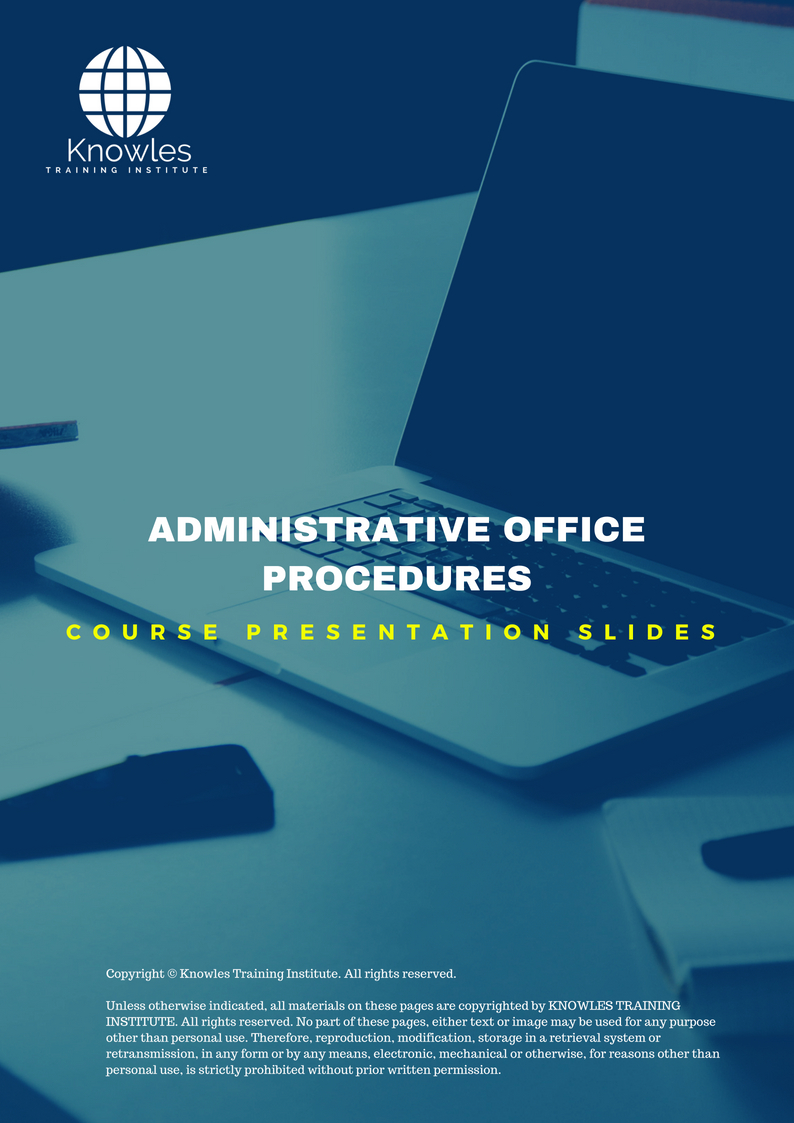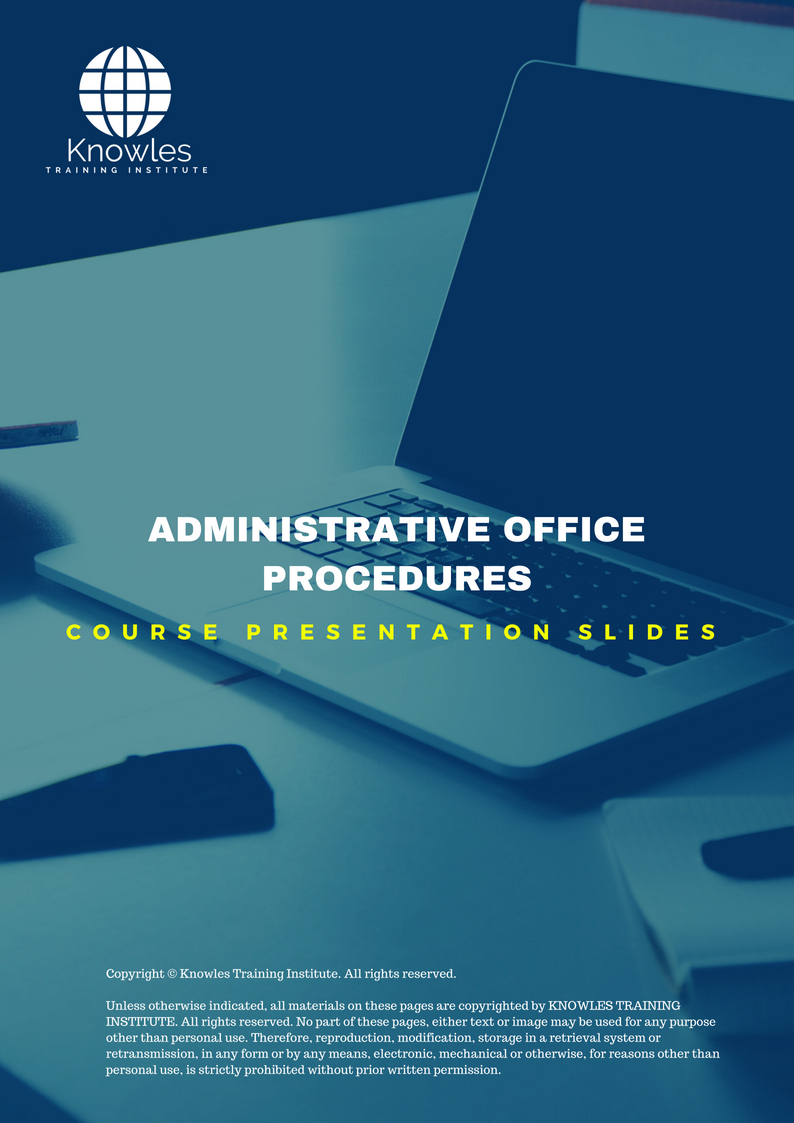 Administrative Office Procedures Long-Term Memory Flashcards Pack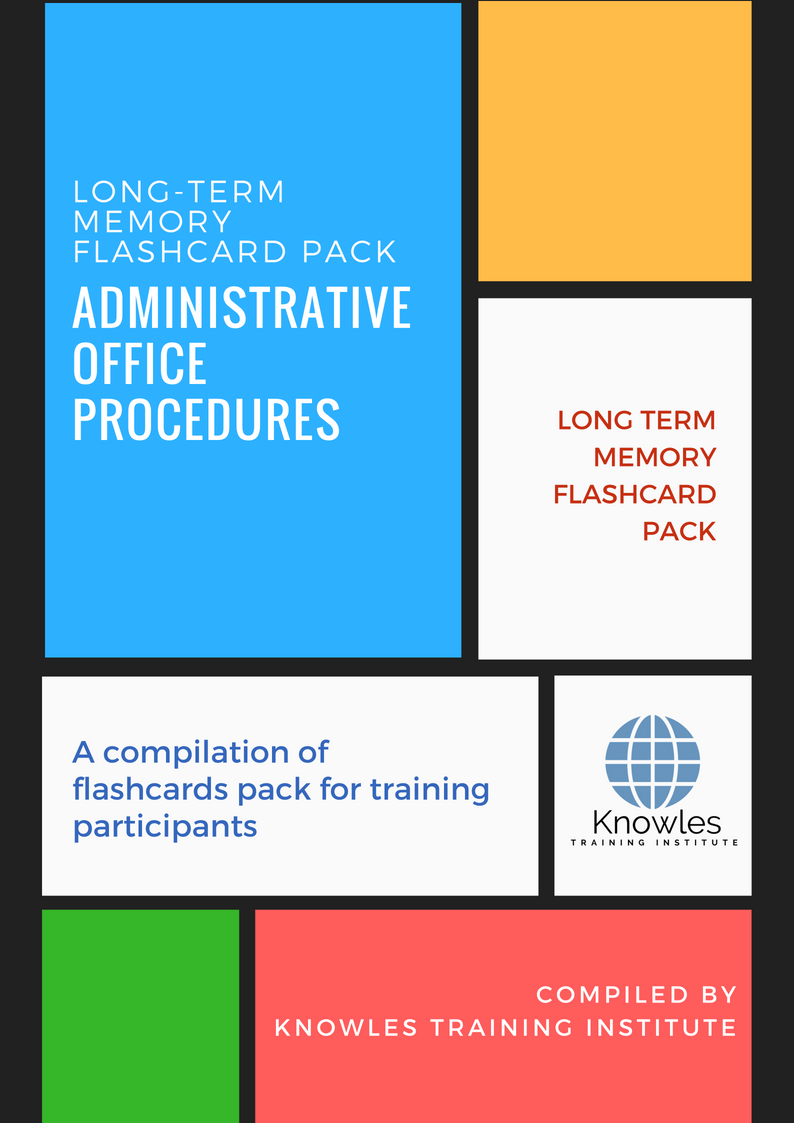 Administrative Office Procedures E-Learning Course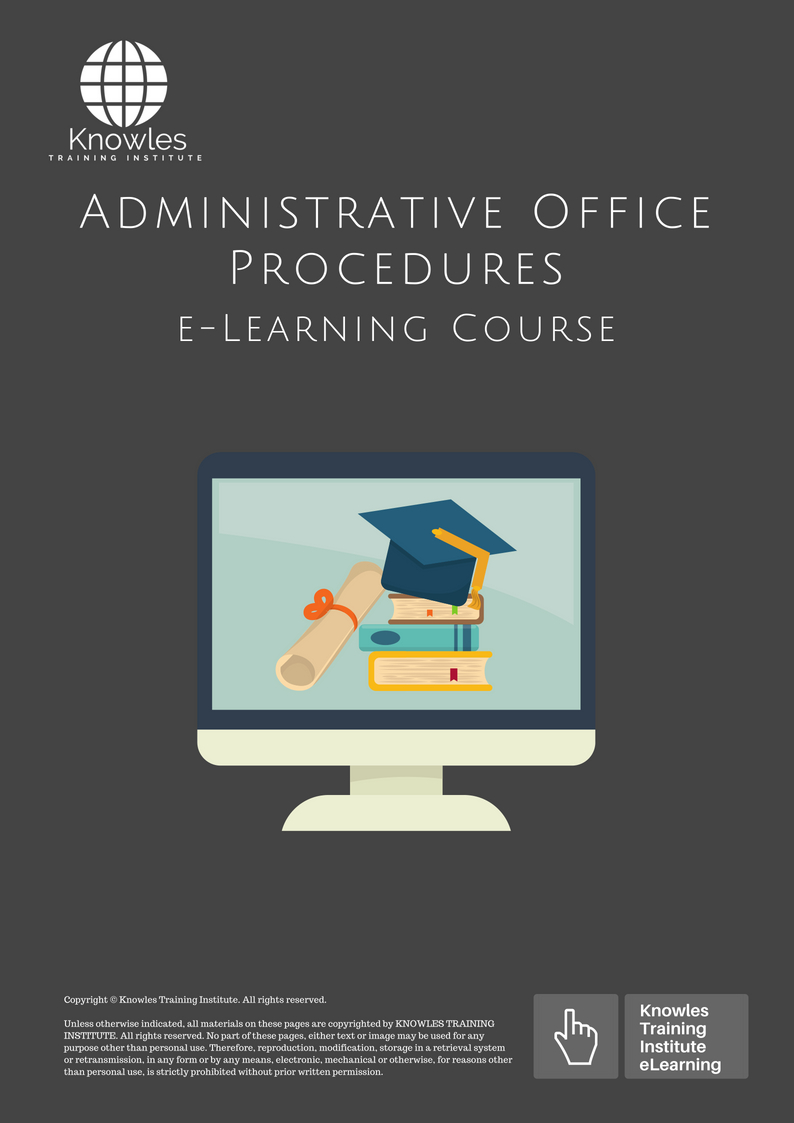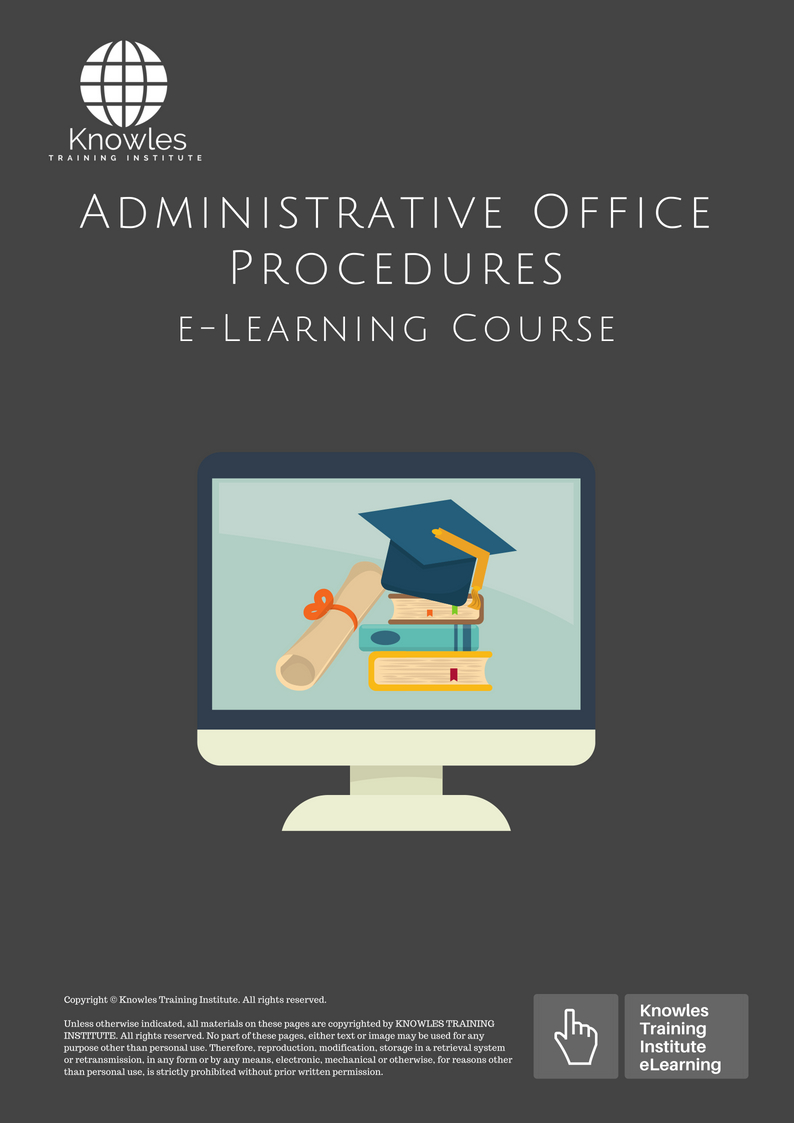 Administrative Office Procedures Online Video Course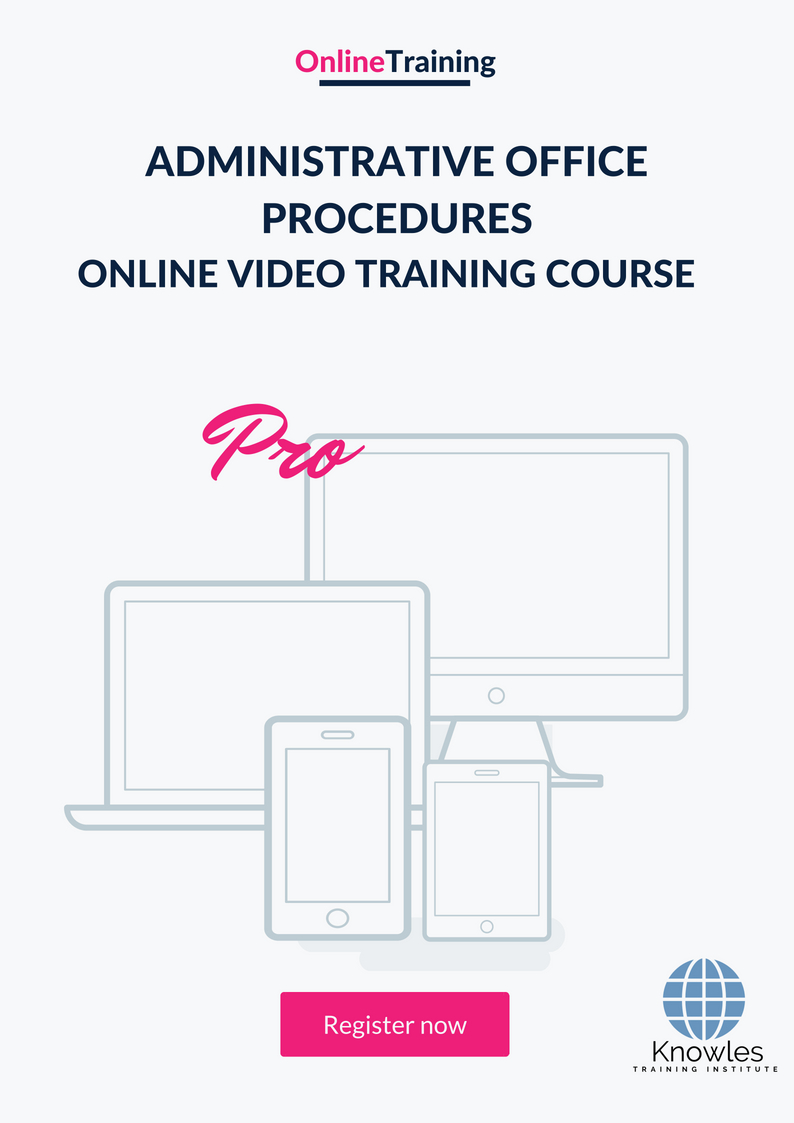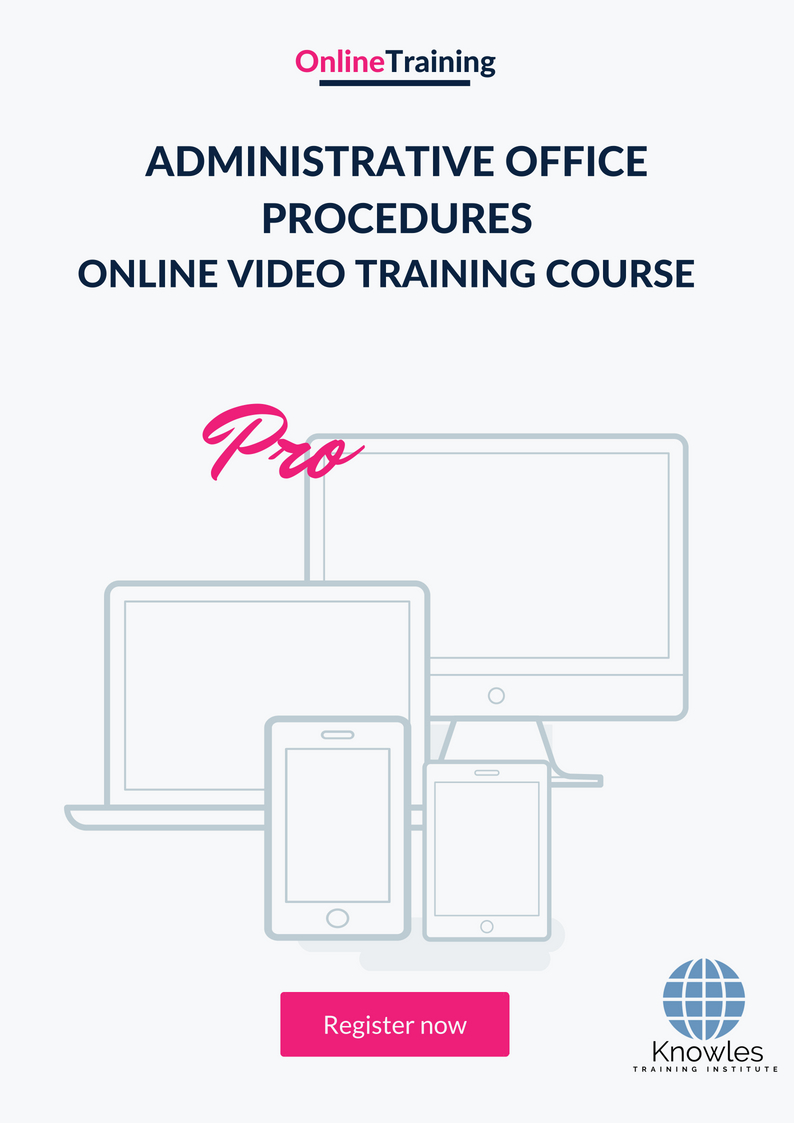 Administrative Office Procedures Essentials Audiobook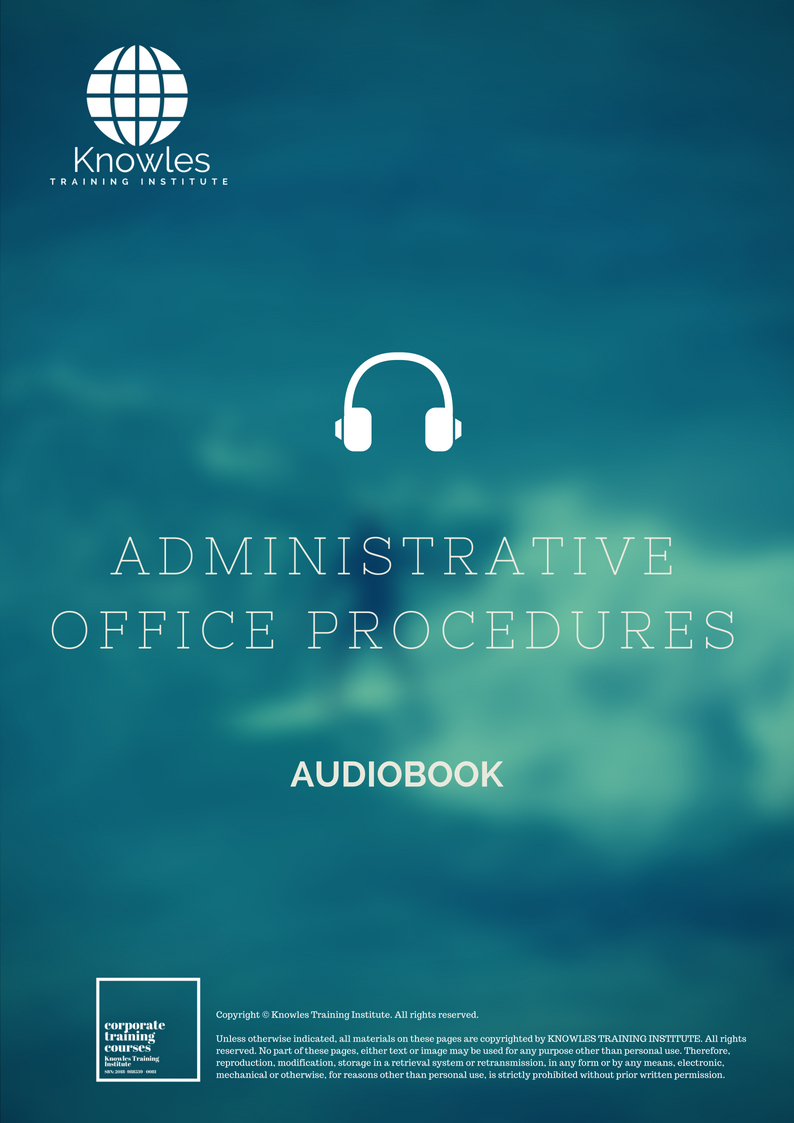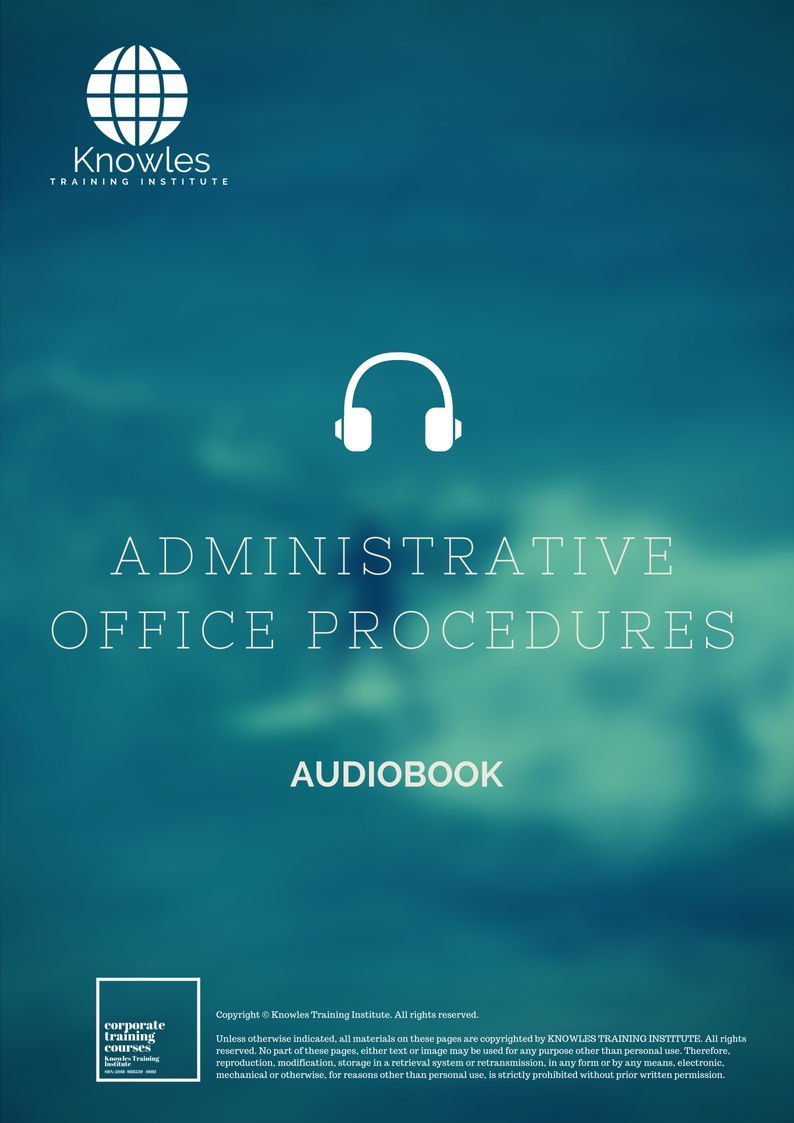 Administrative Office Procedures Infographics Pack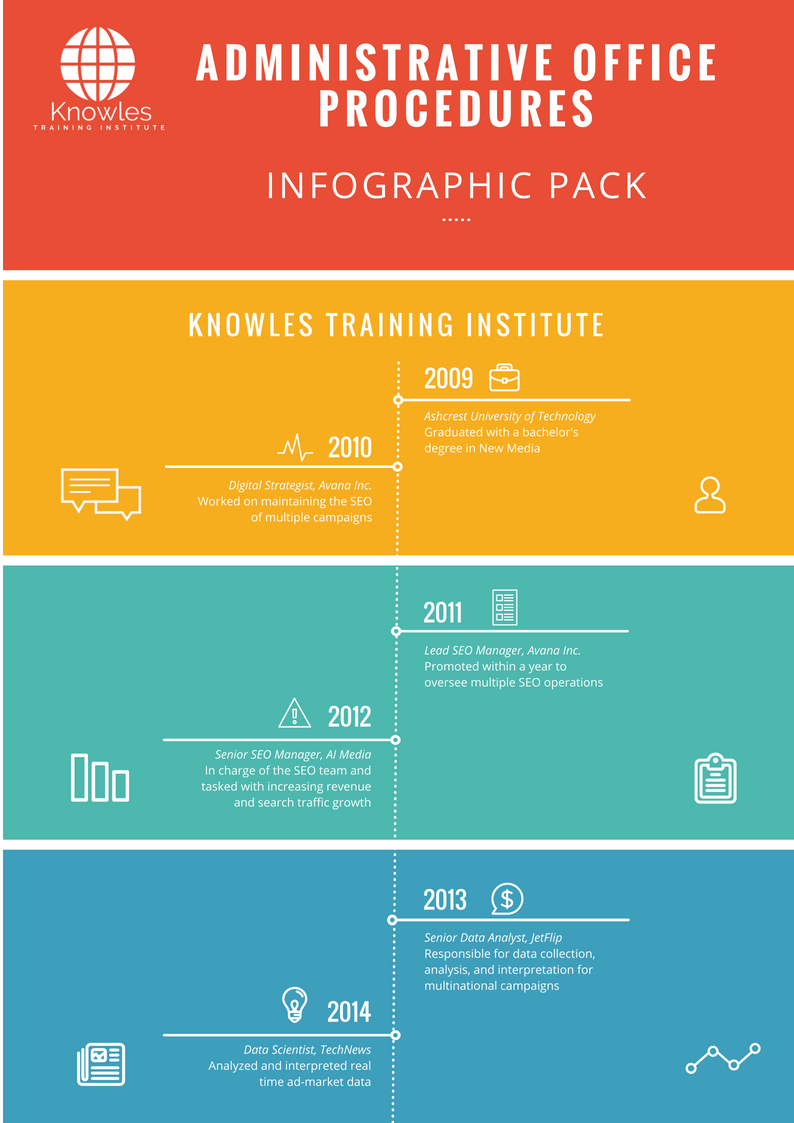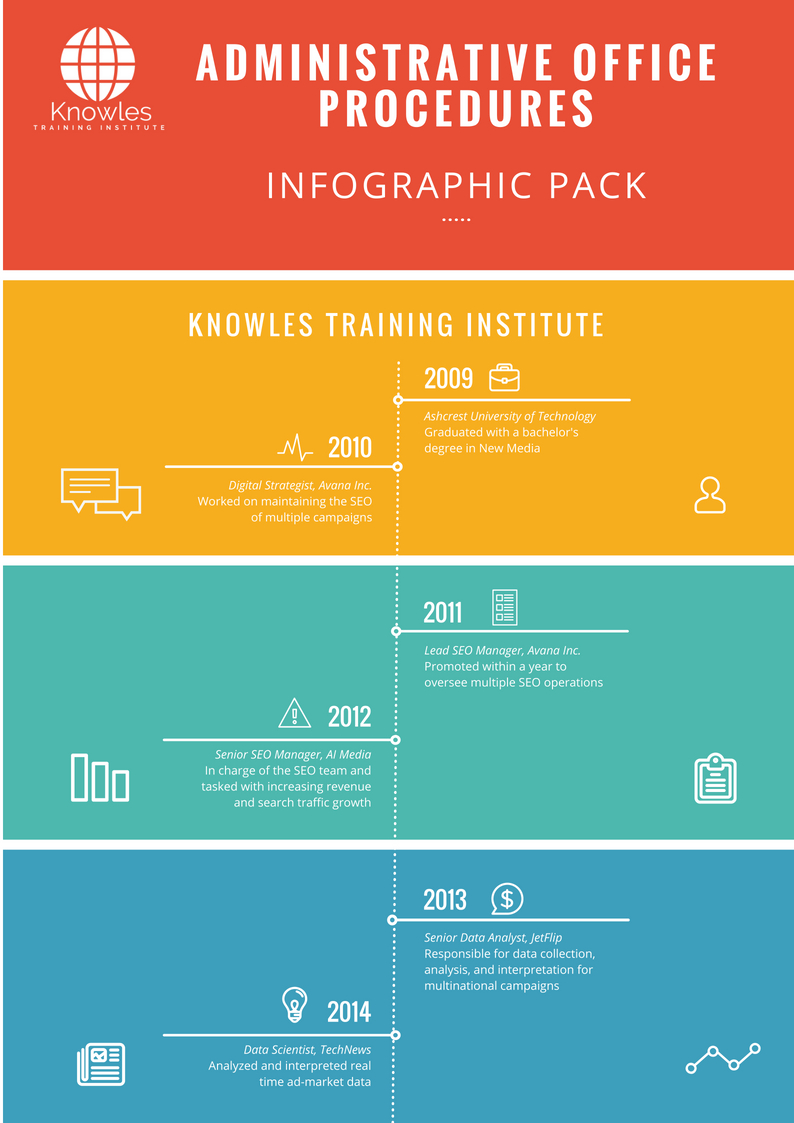 Each course participant will receive a certification of training completion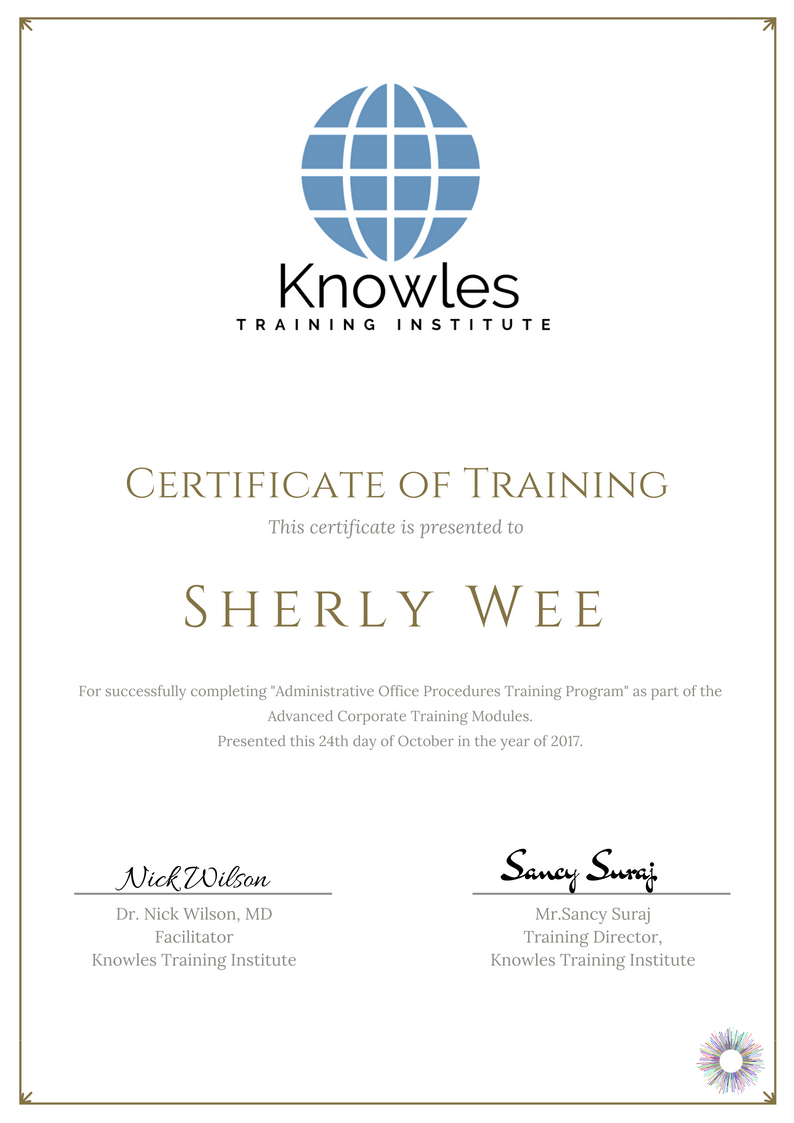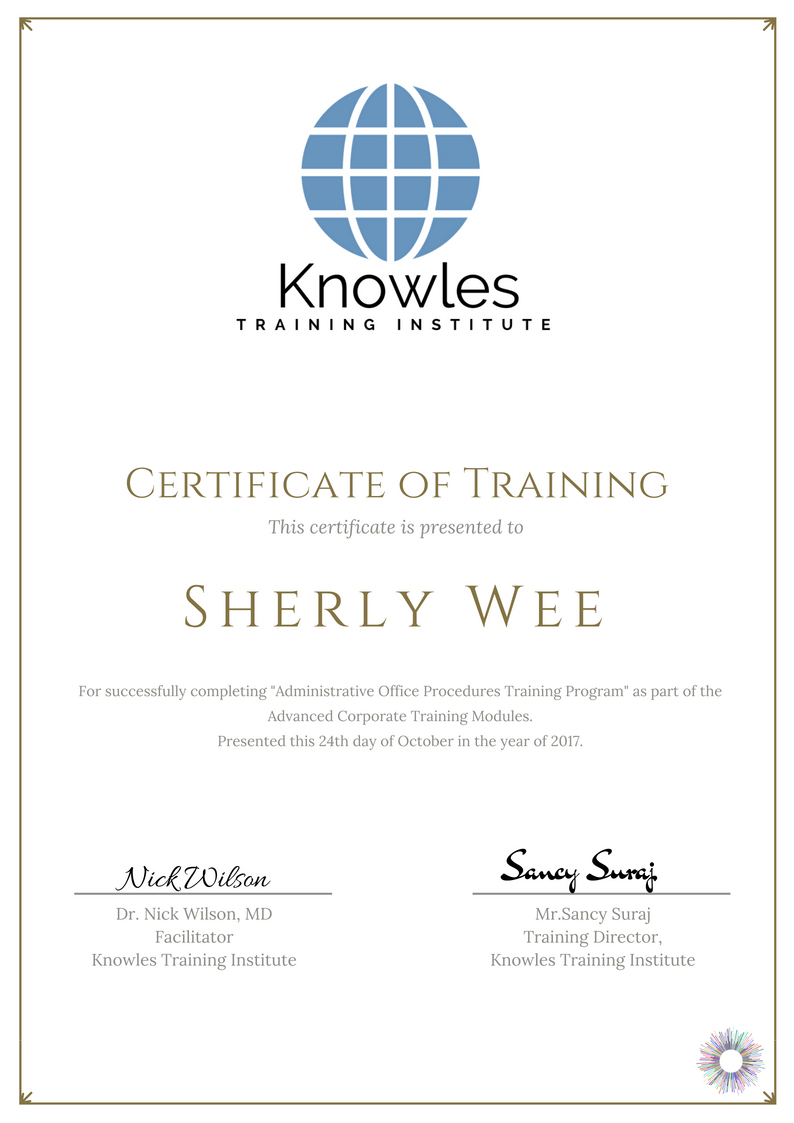 There are 3 pricing options available for this Office Administrative procedure training course. Course participants not in Singapore may choose to sign up for our online Administrative Office Procedures training course.
2-Full Day Course
Learner's Guide
Course Handouts
—
—
—
—
—
—
—
—
—
—
Premium 2-Full Day Course
Learner's Guide
Course Handouts
PPT Slides Used During Training Course
Long-Term Memory Flashcards Guide TM
1 Year Access to Online Training Video Course (*Worth S$589.97)
Contact Your Trainer: 90-Day Post Course Help (*Worth S$89.97)
Key Learning Takeaway Notes (*Worth S$18.97)
Audio Book (*Worth S$18.97)
eBook (*Worth S$14.97)
Course Infographics Pack (*Worth S$11.97)
Course Mind Maps (*Worth S$8.97)
30-Day Action Plan
Contact us for the latest Office Administrative procedure course schedules:
Phone: +65 6817 2530
Email: contact@knowlesti.com
Message: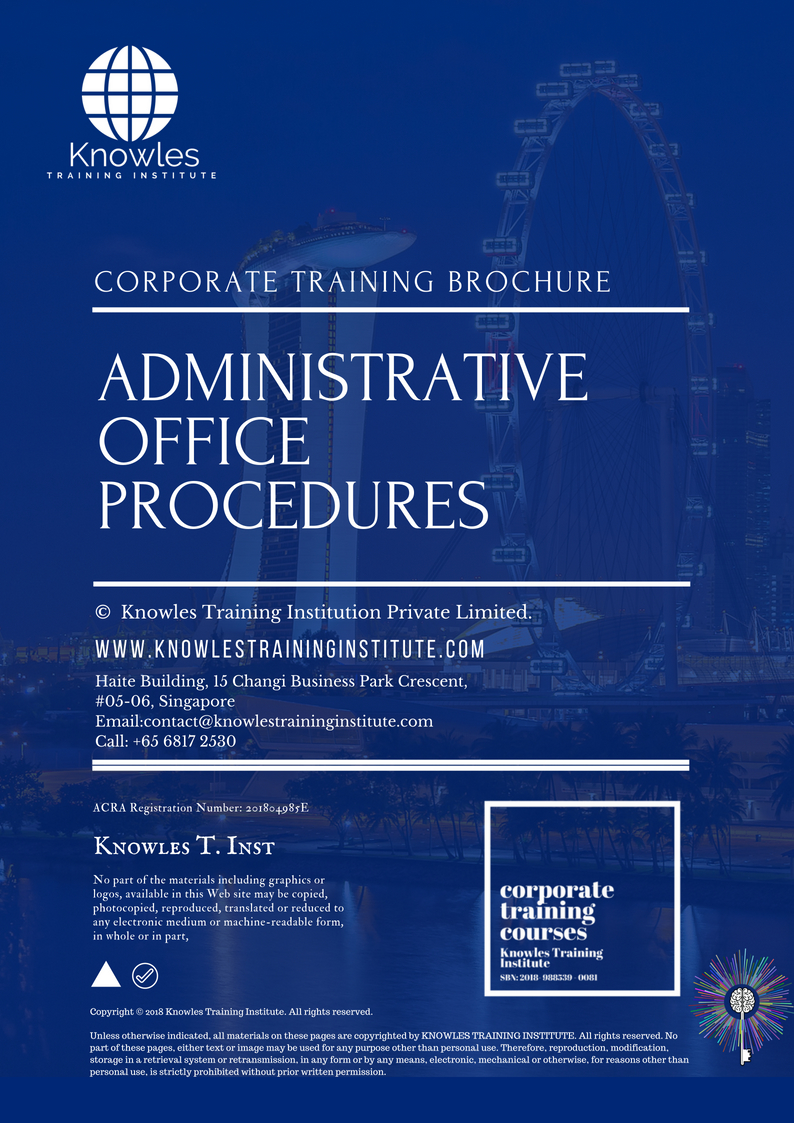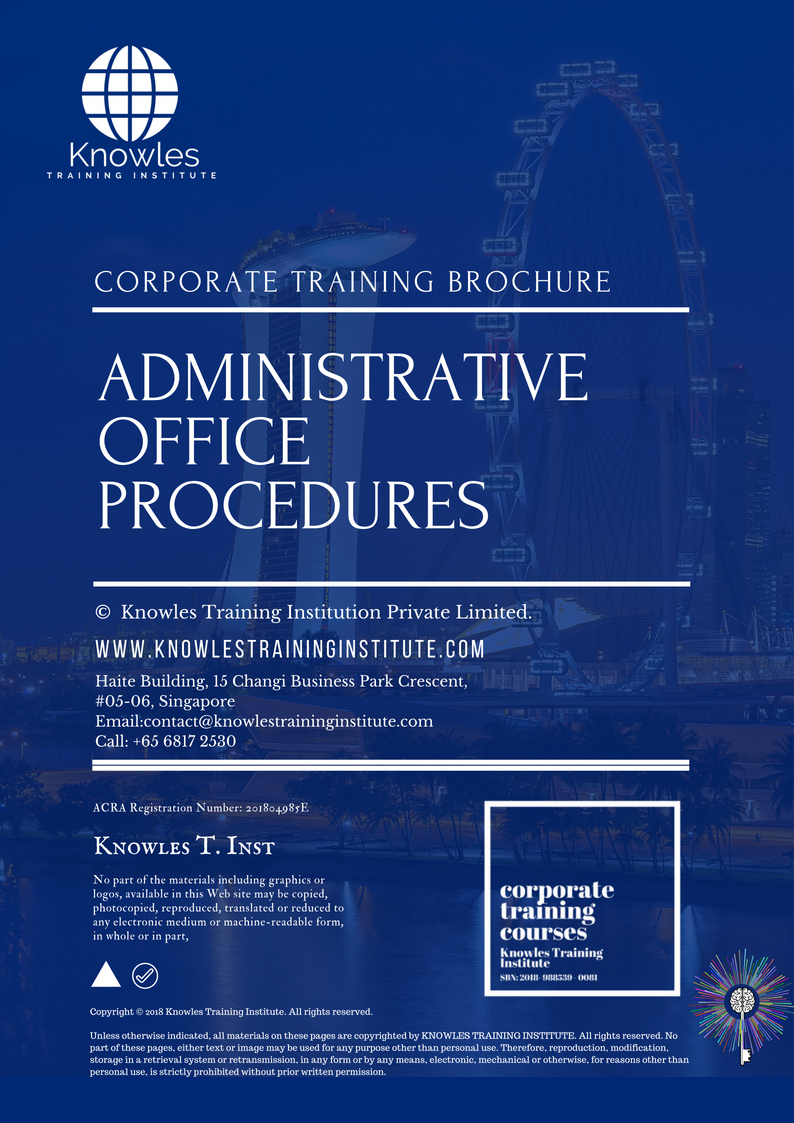 Request for this Administrative Office Procedures course brochure. Fill up the short information below and we will send it to you right away!
Post-Training Support: A vast majority of training does not have any effect beyond 120 days. But to work, training has to have a strong pre- and post-training component. Post-training reinforcement consequently helps individuals to recall the understanding and ask questions.

Blended Learning: Learning does not occur in the classroom. Virtually everybody prefers distinct ways of learning. Successful learning should have a multi-channel, multi-modal strategy.

We Understand The Industry: Similarly, we've got a profound comprehension of the business, business design, challenges, strategy and the that our participants are in and have designed the courseware to cater to their professional needs.

Course Content: Knowles Training Institute's material is relevant, of high quality and provide specific learning outputs. As a result, Participants will leave the training course feeling as they have gained a strong understanding and will also be in a position to execute what they have learned sensibly.

Course Development — The workshop modules follow a systematic and logical arrangement. Therefore, this structure helps to ensure that the course material allows the facilitators to deliver the course in a logical arrangement. Consider the subjects as building bricks into learning, our facilitators slowly build towards a comprehensive picture of this entire topic.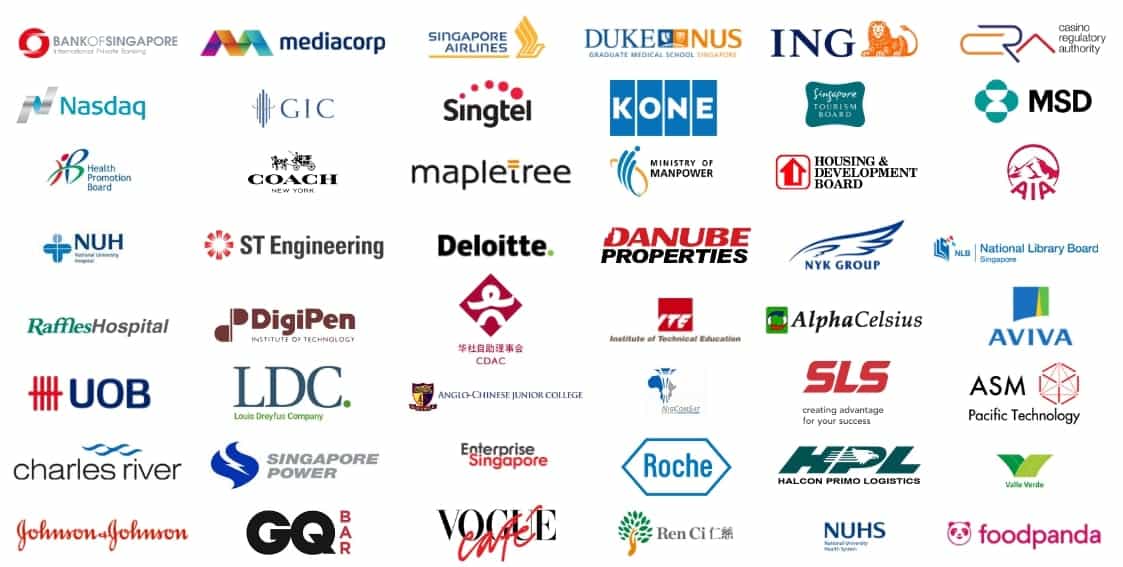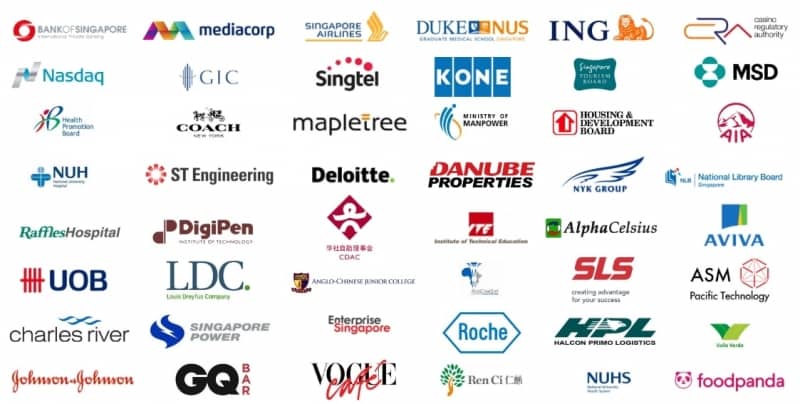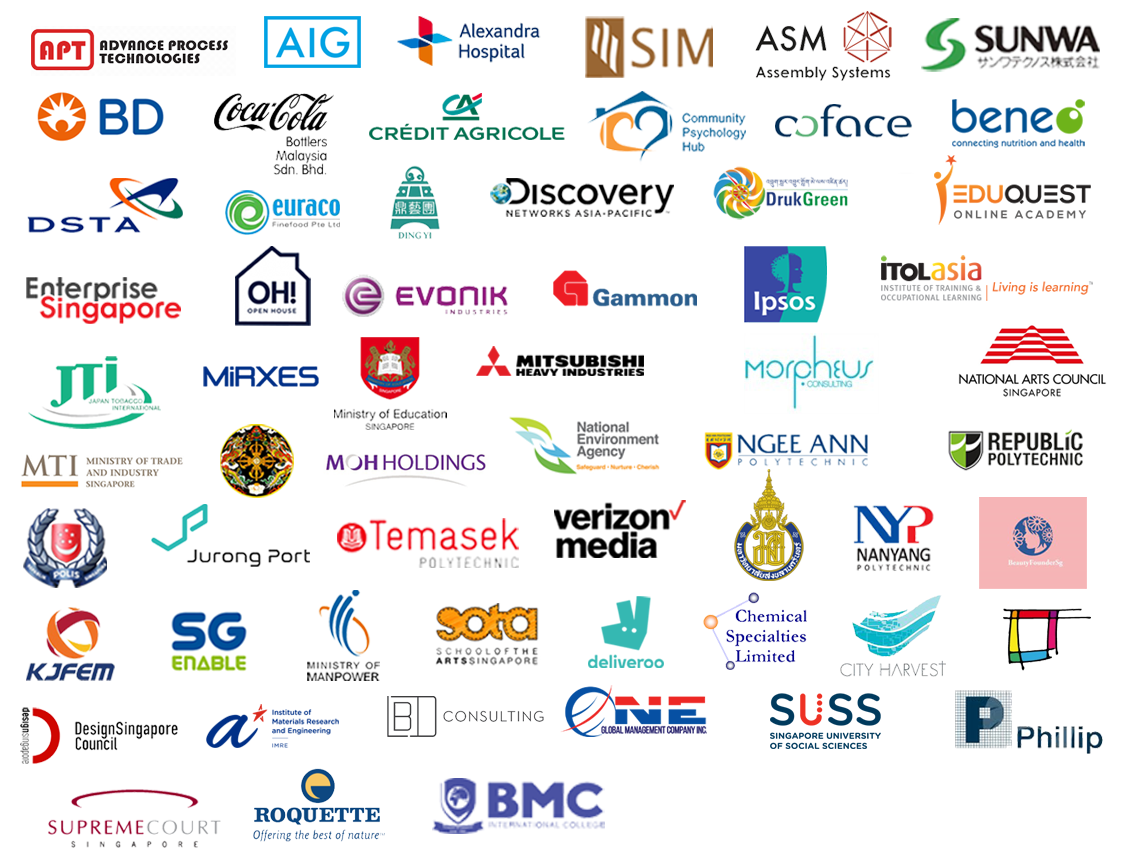 Fill up the form and we will get back to you in less than 1 working day.
Alternatively, give us a call to have one of our training consultants contact you. Our corporate training courses can be contextualized to meet your organization's training needs. Leverage on our large pool of professional trainers and consultants for your organization's training needs.
Office Address: Knowles Training Institute, 7 Temasek Boulevard, #12-07, Suntec Tower One, Singapore 038987
We Guarantee 100% Privacy. We Respect Your Privacy. Your Information Will Never Be Shared.
Register Now
Register For This Administrative Office Procedures Course Now!
Administration Courses Singapore

.

Administrative Office Procedures course

, workshop, training, class, seminar, talk, program, programme, activity, lecture. Indemand Administrative Office Procedures courses, workshops, classes, seminars, talks, programs, programmes, activities, lectures in Singapore. Effective Administrative Office Procedures improvement tips, Administrative Office Procedures techniques, improve Administrative Office Procedures, improve Administrative Office Procedures games, Administrative Office Procedures improvement exercises, improve Administrative Office Procedures power, how to have good Administrative Office Procedures, how to have good Administrative Office Procedures in studying, how to build up your Administrative Office Procedures, how to improve Administrative Office Procedures how to improve Administrative Office Procedures course in Singapore. Enhance, boost, build up, enlarge, heighten Administrative Office Procedures course in Singapore. Increase, intensify, raise, reinforce, strengthen Administrative Office Procedures. Upgrade, amplify, boom, elevate, exaggerate, magnify, grow, gain Administrative Office Procedures. Develop Administrative Office Procedures, multiple, power up, beef up, bolster, establish, extend Administrative Office Procedures. Invigorate, restore, step up, toughen, empower, fortify, regenerate Administrative Office Procedures. Rejuvenate, renew, escalate, expand, maximize Administrative Office Procedures. Powerful, mighty, impressive, competent, great, excellent, exceptional Administrative Office Procedures in Singapore. Superb Administrative Office Procedures. Super, superior, strong, solid, active Administrative Office Procedures training courses and workshops in Singapore.