Train The Trainer Program/Course/ Workshop Qualification in Singapore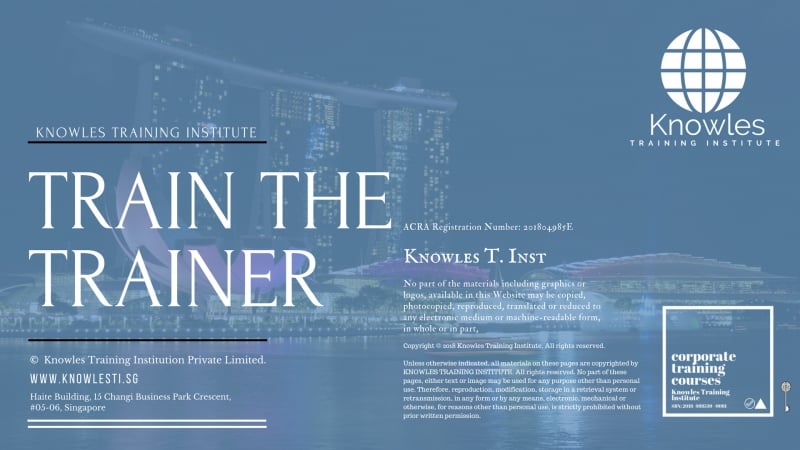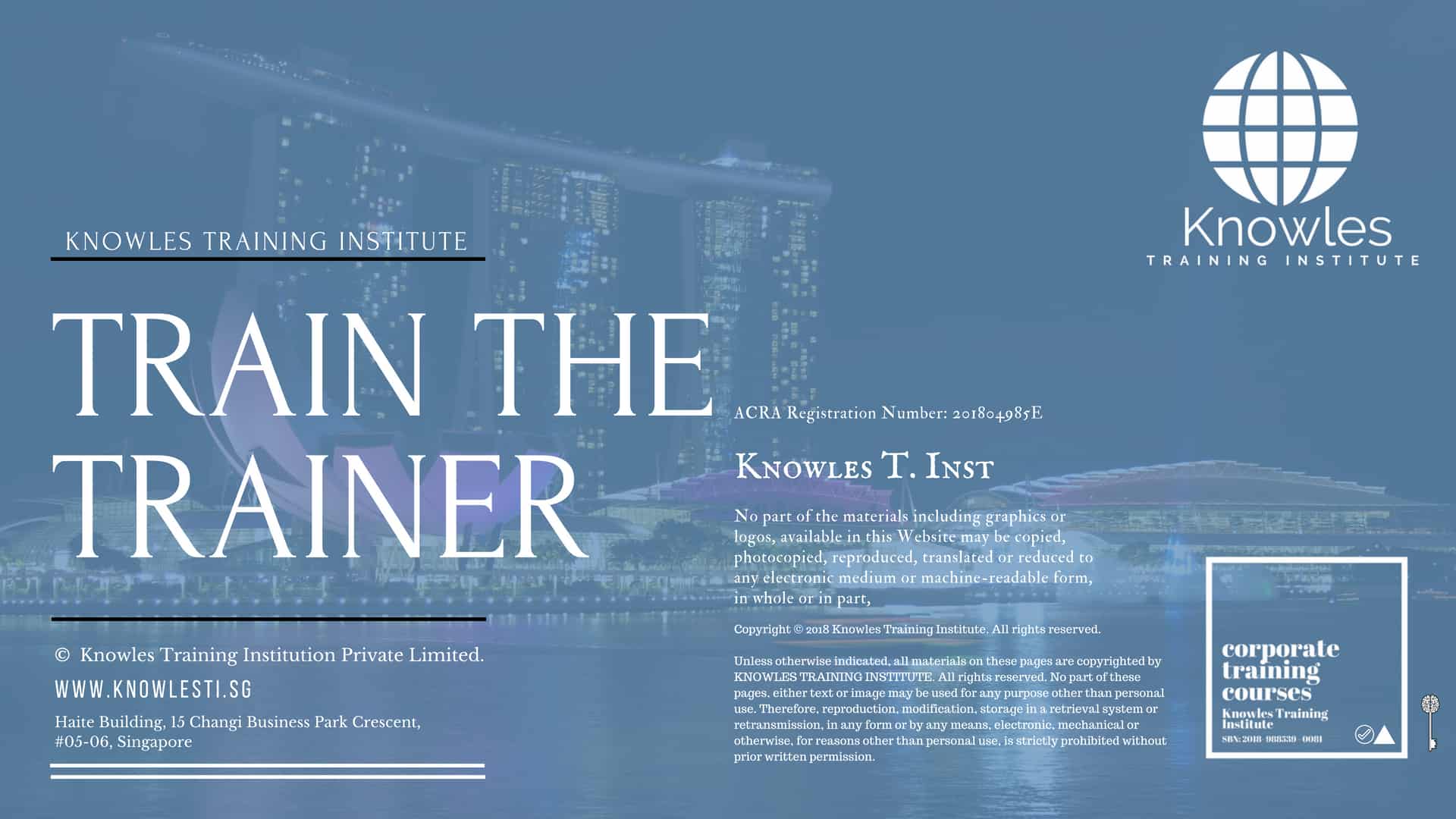 About This Train The Trainer Training Course
Train The Trainer Course in Singapore
Train the Trainer is a teaching approach applied for trainers-to-be. Basically, the participants, the future trainers, are taught and trained about the subjects so that they can train others, too. This is also applicable to professionals who want to hone their skills further. This model is often common in training sessions in the workplace.
Who Should Attend This Train The Trainer Course
This Train The Trainer workshop is ideal for anyone who would like to gain a strong grasp and improve their Train The Trainer.
All Staff Within An Organisation
Group Size For This Train The Trainer Training Program
The ideal group size for this Train The Trainer course is:
Course Duration For This Train The Trainer Skills Course
The duration of this Train The Trainer workshop is 2 full days. Knowles Training Institute will also be able to contextualised this workshop according to different durations; 3 full days, 1 day, half day, 90 minutes and 60 minutes.
Train The Trainer Course Benefits
Below is the list of course benefits of our Train The Trainer course
Acquire knowledge to develop effective coaching programs for individuals and organizations
Incorporate training of employees to improve leadership skills.
Acquire knowledge and skills needed to convey information in a compelling manner to employees, managers and customers.
Learn how to effectively train in today's business environment.
Acquire knowledge to develop training programs that lead to better employee outcomes.
Gain strategies and techniques for delivering high-quality workplace training.
Apply training skills in the workplace to develop talented corporate trainers.
Incorporate the qualities and skills of trainers to enhance public speaking and presentation skills of participants during corporate trainings.
Apply knowledge gained on development of training the trainers program to improve the design of training.
Apply the knowledge acquired on the learning styles of adults to develop appropriate adult learning methodologies in trainings.
Incorporate effective training skills in trainings to enhanced audience engagement.
Use the skills acquired to develop effective participant assessments and evaluation of program.
Gain soft skills important for planning, coordinating and conducting a corporate training.
Apply the knowledge acquired on training to improve training and development of employees.
Train The Trainer Course Objectives
Below is the list of course objectives of our Train The Trainer course
Understand the concept of train the trainer within the corporate organizations.
Appreciate the significance of training the trainer to staff and organizations.
Understand the structure and framework of training the trainers at the workplace.
Know the characteristics and qualities of an exceptional trainer.
Understand how the learning styles of adults differ from those of children toward developing approaches of training the trainers.
Understand the different behavioural styles of trainees and adapt training as necessary in order to meet the set training objectives.
Know what a well designed program for training the trainer looks like and replicate that knowledge in development of training programs.
Understand the importance of conducting a training needs analysis for a prospective training program for corporate organizations.
Understand the multiple methods of enlivening lecture-base programs for training of trainers.
Know the strategies for handling challenging environments and disruptive participants in trainings.
Learn how to choose seating arrangements for effective hands-on learning during training.
Learn how to present information in a clear, concise and engaging manner to participants.
Course Content For This Train The Trainer Training Course
Below is the list of course content of our Train The Trainer training course
Train The Trainer Training – Part 1
What is Training?

Learning can take various forms, and in terms of training, our purpose is to bring about a behavioural change in something that we do. Training is not an event where we attend a workshop one day and foresee the desired behaviour to take place the next day. Training is really a process.

What is Facilitation?

Whereas a trainer can have information that participants do not have coming into a workshop, a facilitator may not have the same knowledge or expertise in the particular subject matter that the participants do. The task of the facilitator is to provide experience in sharing, discussion, learning, and openness for participants.

Identifying Appropriate Situations

A facilitator utilises their knowledge of group processes and dynamics when planning their meeting. They might make use of their skills to run a meeting or a workshop where participants are considering problems, addressing pressing business needs, or preparing for the future.

Identifying Participants' Needs

A good needs analysis has three basic steps. 

Understand who your participants are.

Your training is devised specifically to meet the needs of every person in the workshop, right?  

Reviewing the Materials

Once you have your needs analysis complete and understand what kind of training that you need to design, you can begin to gather materials that will help you reach your objectives. Your materials are a very important component of training. Make sure that the materials you will rely on are modern and applicable.
Train The Trainer Training – Part 2

Identifying and Resolving Gaps

Now that you know what your training objectives are, and you have your materials assembled, take some time to formally evaluate where the gaps are in learning so that you can design a tailored training plan.

Planning for the Basics

A lesson plan may remind you of being in school and having a teacher flip open a plan book. That really is what you are causing here. A good lesson plan won't just keep your training on track; it helps you to guarantee that you have included all of the required elements in your training.

Adding Slack Time

There are a various different ways that you can build some flexible time into your training. Having participants help to design the training (perhaps by selecting which objectives you will cover in the training), is one great way to do this.

Creating a Plan B

A backup plan is a crucial contingency in your training plan so that you can avoid disasters or at least reduce their effects and maintain your professional decorum. We've probably all heard about speakers who put on their lapel microphone and then neglect to turn them off while going to the washroom.
Train The Trainer Training – Part 3

Types of Activities

Trainees presume that training will be stimulating, entertaining, and yes, fun. That does not imply that you have to be a comedian (unless you are, of course, and are hosting a stand-up comic's training workshop), but it does obligate you to incorporate some activities into your training that assists to engage your learners.

Preparing for Emergencies

When we think of emergencies, we usually imagine about fire alarms going off, or someone getting ill, and are prepared for those things by understanding where emergency exits are, who to call, or how to react. This section is for training emergencies, and how to prepare, avoid, and maintain them.

What to do when Activities Go Wrong

Even if we create excellent courses and training plans, as trainers, we also recognise that a game or activity that worked with one group may not serve with another.

Creating a Materials List

When it comes to materials, being over-prepared is a great idea. As you devise your lessons (and if you have used the template for lesson plans that we provided earlier), you will also be producing a running materials list that you need to bring to training. Double-check the list and your supplies to make sure that you do not run out of a particular item, and that everything operates as it should.
Train The Trainer Training – Part 4

Gathering Participant Information

The more effort you can put into learning to know your potential training group, the more effectively you can design training that meets their needs. Use this space to list some different approaches to getting to know your audience.

Setting Up the Physical Location

An ideal classroom set up comprises of the following items:
· A room with at least 10 foot ceilings and no pillars.
· Participants enter from the back of the room (to allow for the least amount of disruption).

Greeting Participants

Greetings are an essential part of getting your training off on the right foot. When you think about greeting your participants, put yourself in their shoes and think of the things that attract you when you attend training somewhere.

Being Prepared

To be ready to welcome participants to your training, you must be prepared. Try to get a good night's sleep beforehand, and leave yourself plenty of time so that you reach the training site early.

Using Icebreakers and Energisers

Icebreakers are an opener into training and can assist various purposes. Openers help to prepare people for training. When we begin a workshop, as a trainer, we are fully equipped for the program that has been prepared.
Train The Trainer Training – Part 5

Using Visual Aids

We produce pictures in our mind as people converse to us, and we can think much faster than we speak. Therefore, if someone talks to me at an average rate of speed (150-175 words per minute), and I am thinking of 400-500 words per minute, the correct visual data will help me to form an accurate perception in my mind.

Creating Supporting Materials

Whiteboards:

Having replaced old-fashioned chalkboards almost exclusively, whiteboards can be a helpful tool in training. 

Flip Charts:

Flip charts are a great tool, but often misunderstood. The idea of a flip chart is that you have a visual tool that you can create on the go during training, or ahead of time for shortlists.

Break!

With a little work, you will be able to gauge when your group needs a break from training. If you have set up an agenda that includes breaks, people will expect you to release them on time, so be sure to stick to what you have said. With some experience, you can read other times that people may start to fade.

Encouraging Discussion

In order to engage participants through discussion, it is helpful for you to keep the terms "instructor-led, participant-directed" in mind. Putting some parameters to the debate helps participants remain on track and meet the objectives. If you have them "discuss" a topic, it can be easy for one or two people to take over the conversation, or for someone to take off on a tangent.
Train The Trainer Training – Part 6

Using Group Work

In order to make group activities work for you as a trainer, here are some tips: Provide the group with clear objectives, points to discuss, or case studies to keep their work focused and make sure that you have all the needed materials for group work to start on time and be most efficient.

The Power of Sticky Notes

Sticky notes don't just add colour to your presentation; they can also add value as a visual aid. A few ideas for utilising sticky notes in a presentation:
· Draft just one idea per note.
· Letter only one or two words per note.

The Ground Rules

Rules will assist you as a trainer so that you can establish a learning environment. The rules can be generated by your participants, which is especially helpful during workshops that are about team building or trust. In the interest of time, the rules can also be declared by the trainer.

Challenges and Solutions

When you think of how you are within a training session – like this workshop, for example – do you ever display any untoward behaviours? Although we like to think that we probably do not exhibit poor trainee behaviours, many of us can on a given day.
Train The Trainer Training – Part 7

Handling Interruptions

Most often, your training is going to look accessible to participants. That is part of doing a great job. Sometimes, though, things can happen that will set your training schedule sideways.

Tough Stuff to Watch Out For

Visualise that you have just been asked to implement health and safety training for your organization. You have never given this kind of training before, and in reality know little about it.

Adjusting Your Material for a Sensitive Issue

Sometimes the unforeseen can arise in an otherwise harmless training session. As we discussed in an earlier module, people can frequently be preoccupied with uncompleted tasks at work, family pressures, and many other things. If you are treading close to emotional issues, you may strike a nerve with someone.

Dealing With Sensitive Issues in the Workshop

One way to deal with delicate issues is to provide an attitude survey before a tough topic is discussed. This enables participants to put their thoughts and reactions on paper, and provides them with some thinking and adjusting the time before the issue is discussed aloud among the group, or before other activities get underway.
Train The Trainer Value Added Materials
Each participant will receive the following materials for the Train The Trainer course
Train The Trainer Learner's Guide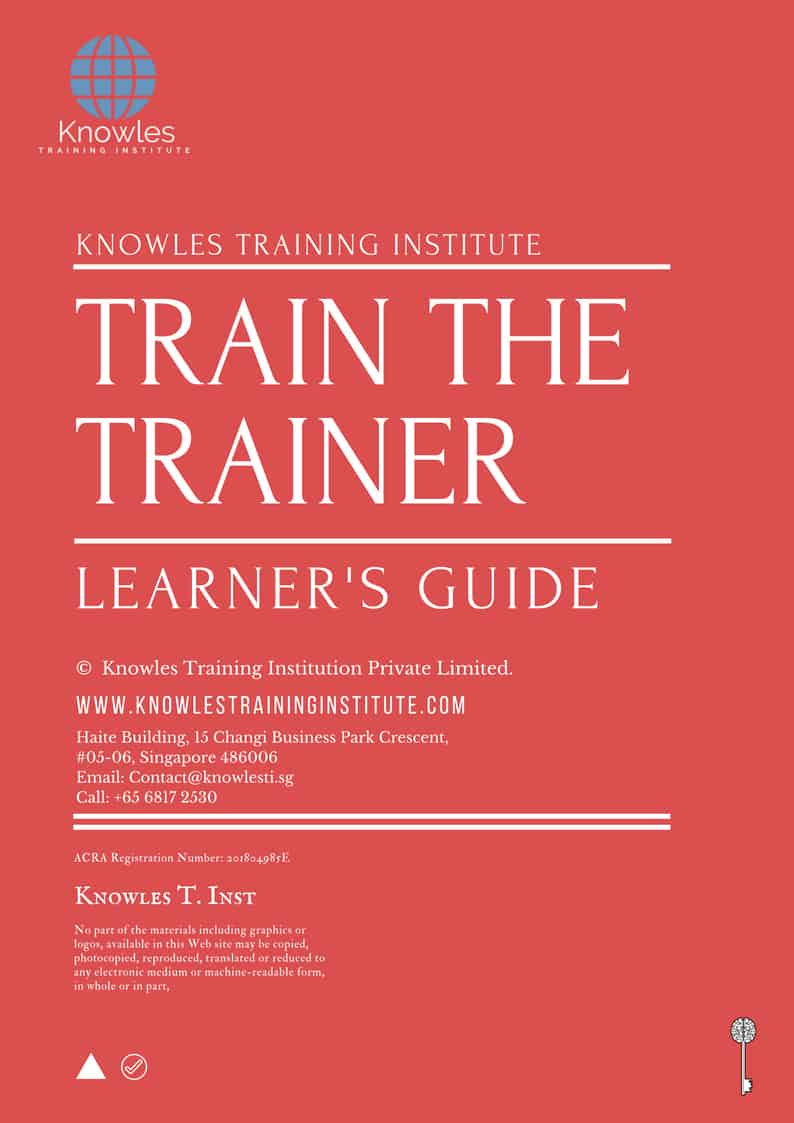 Train The Trainer Key Takeaways Notes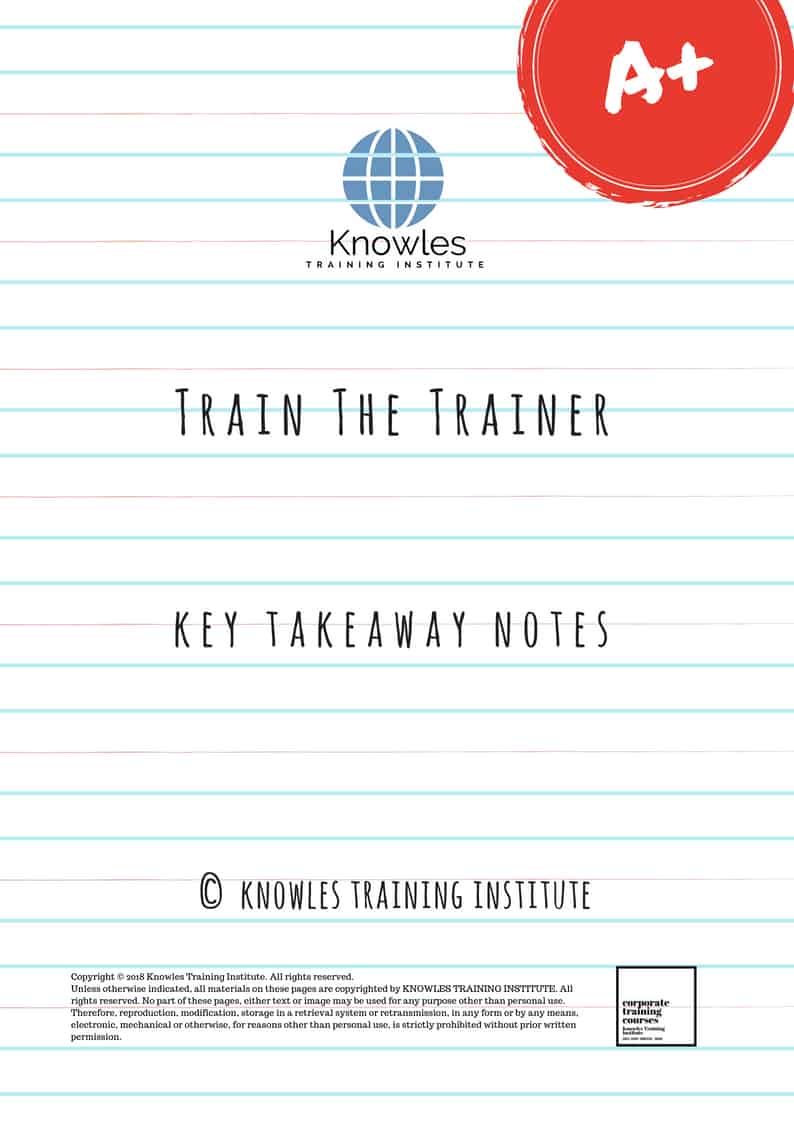 Train The Trainer Essentials Ebook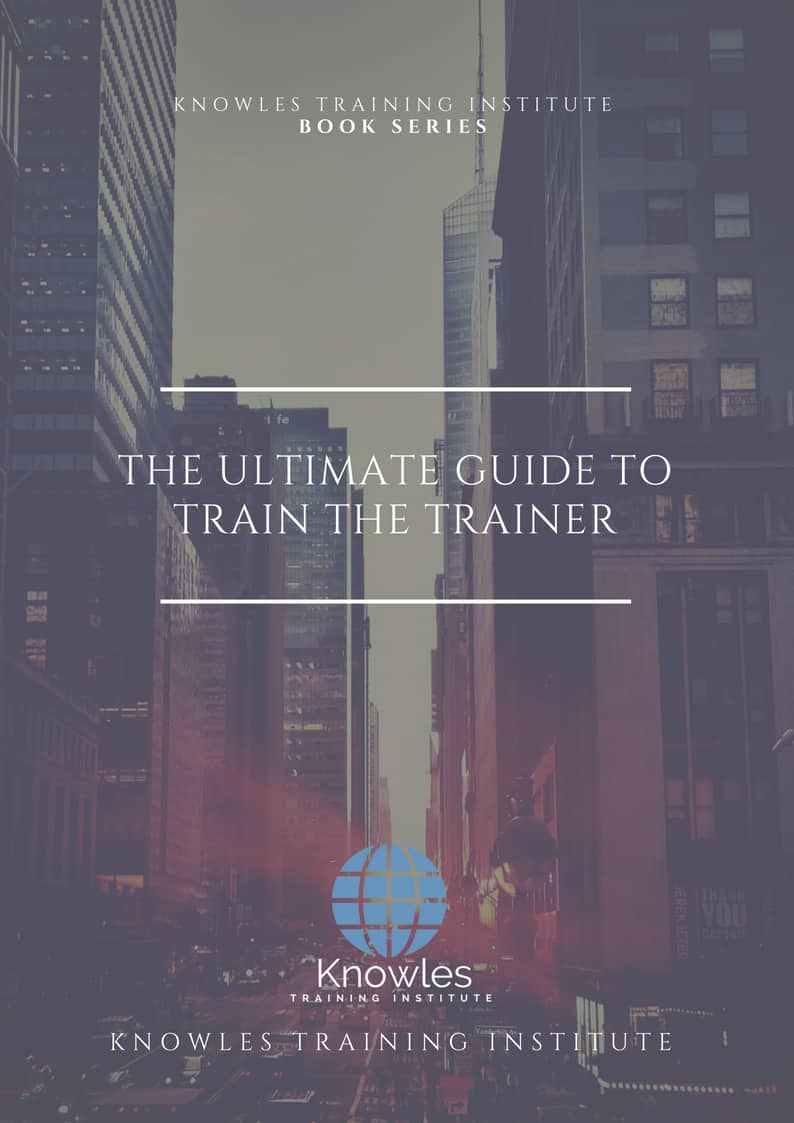 Train The Trainer Course Handouts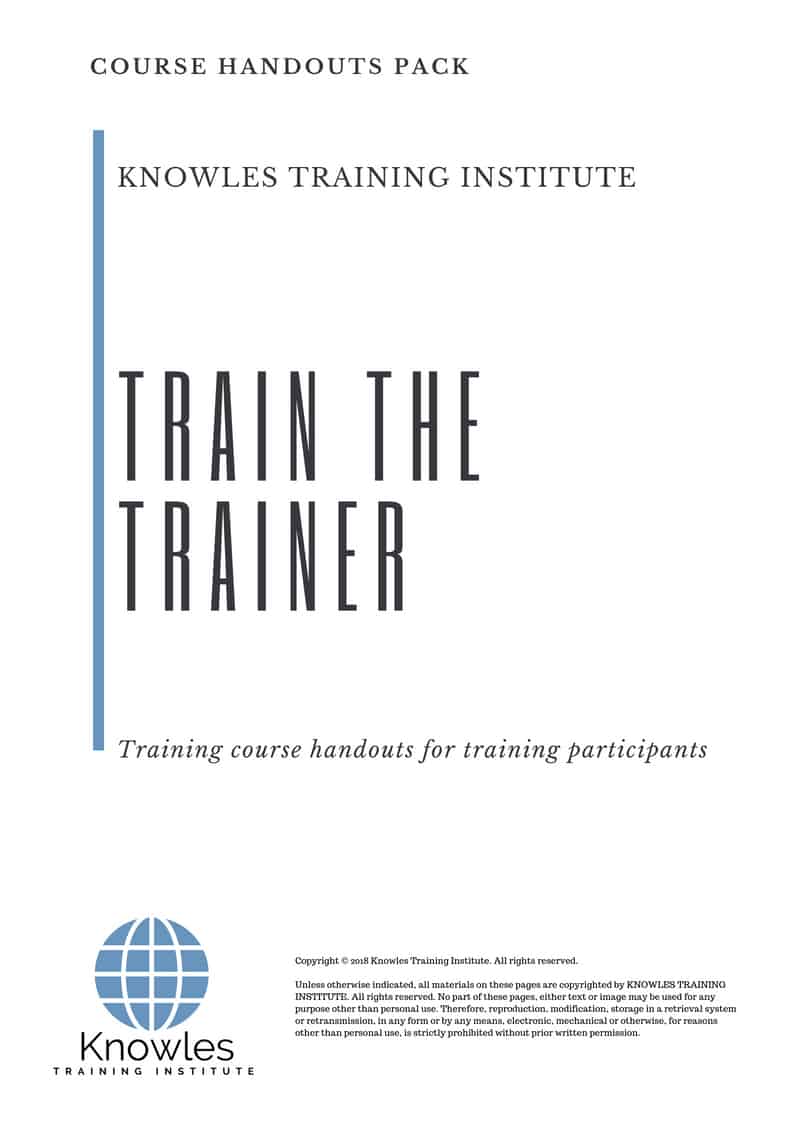 Train The Trainer 30-Day Action Plan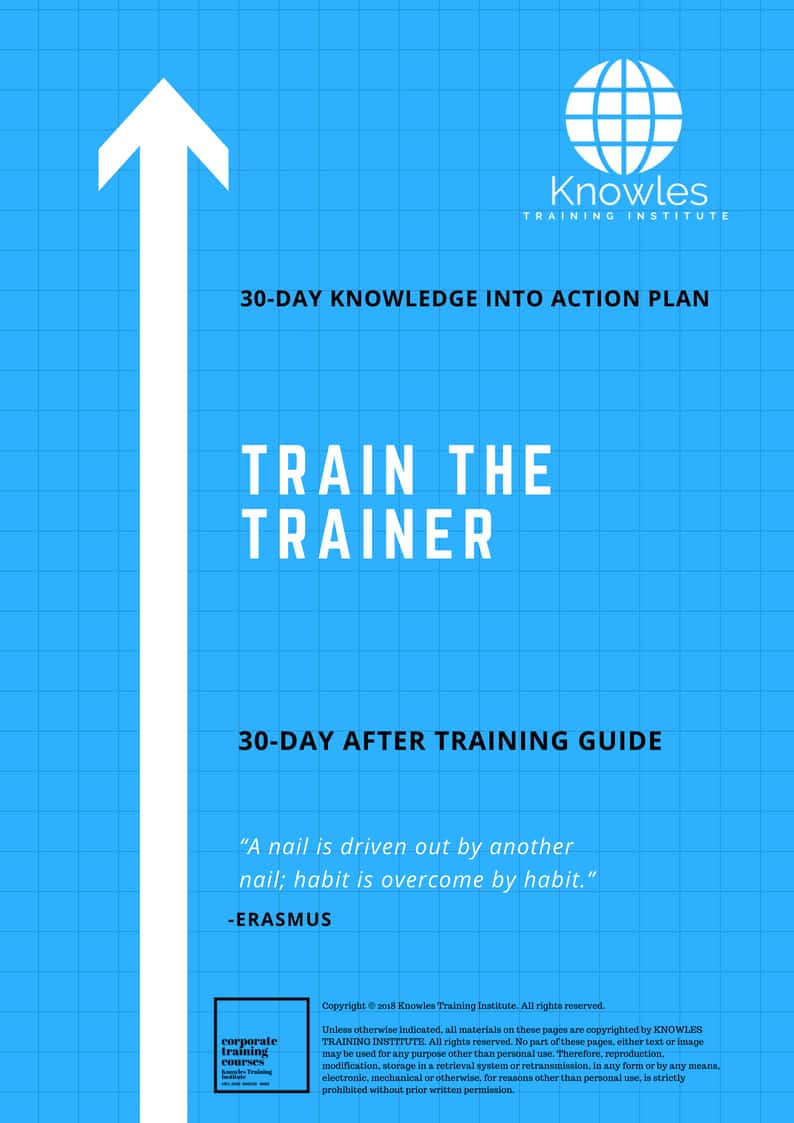 Train The Trainer MindMaps Pack
Train The Trainer PPT Slides Used During Course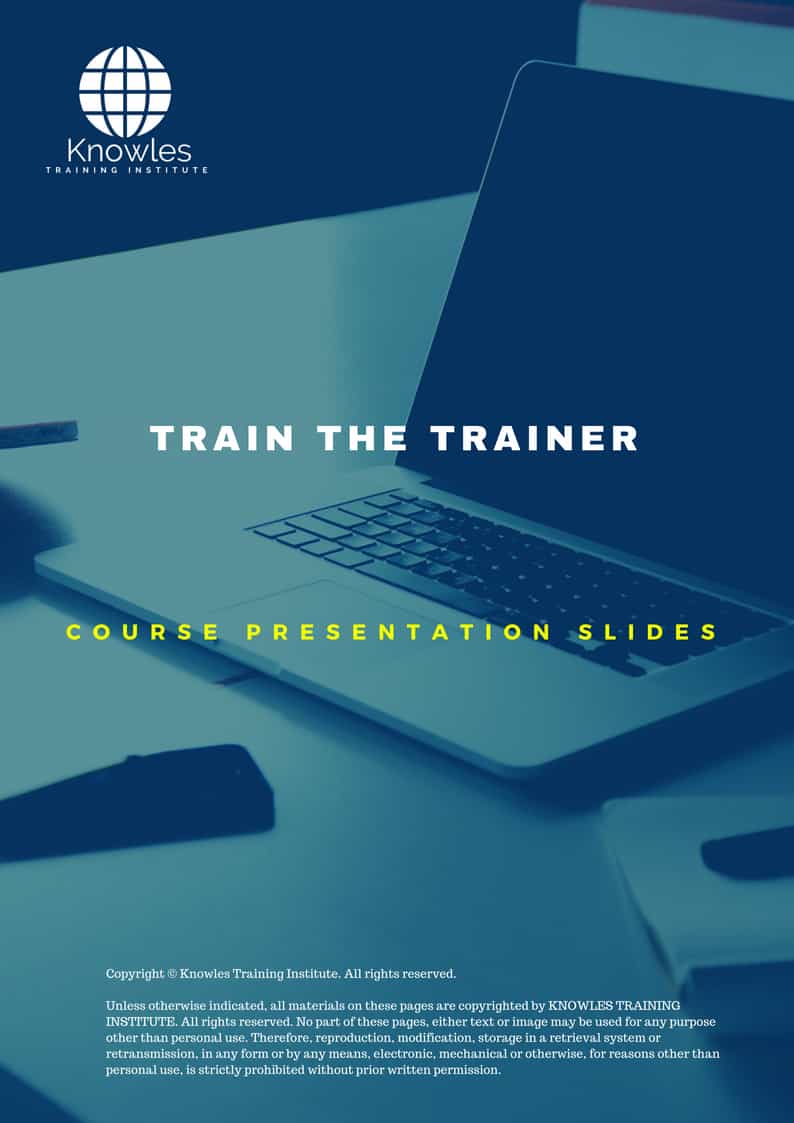 Train The Trainer Long-Term Memory Flashcards Pack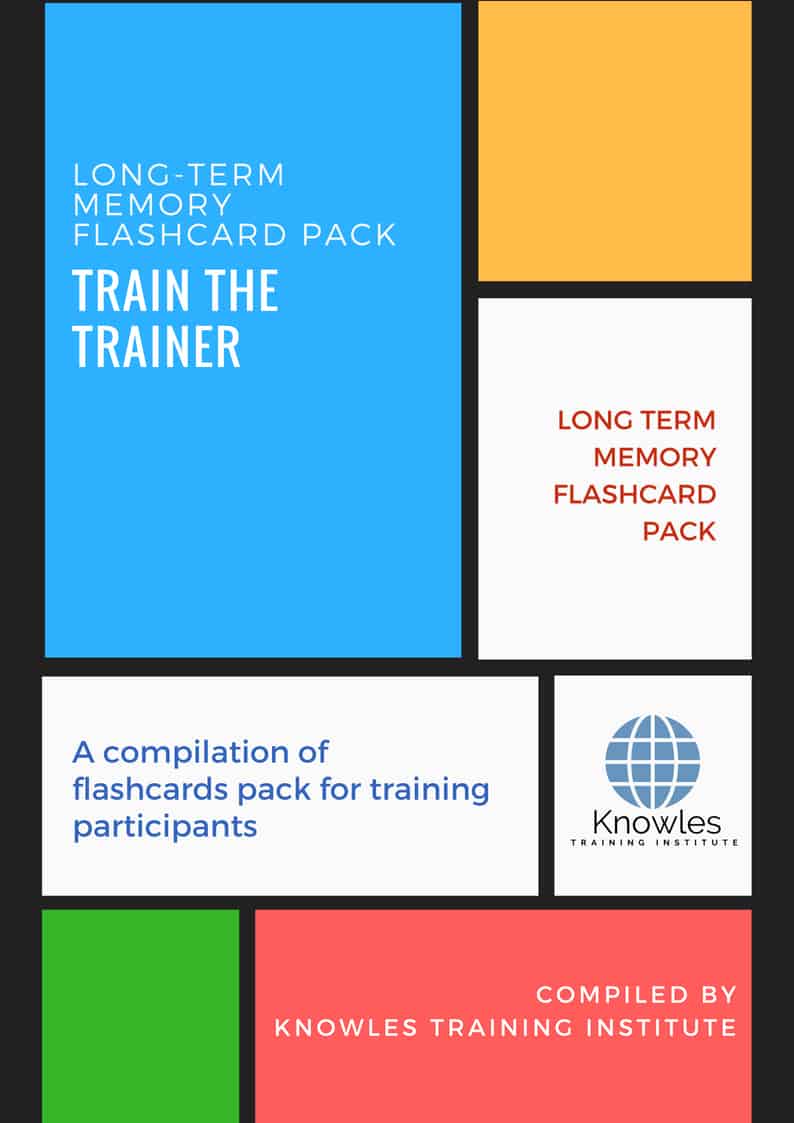 Train The Trainer E-Learning Course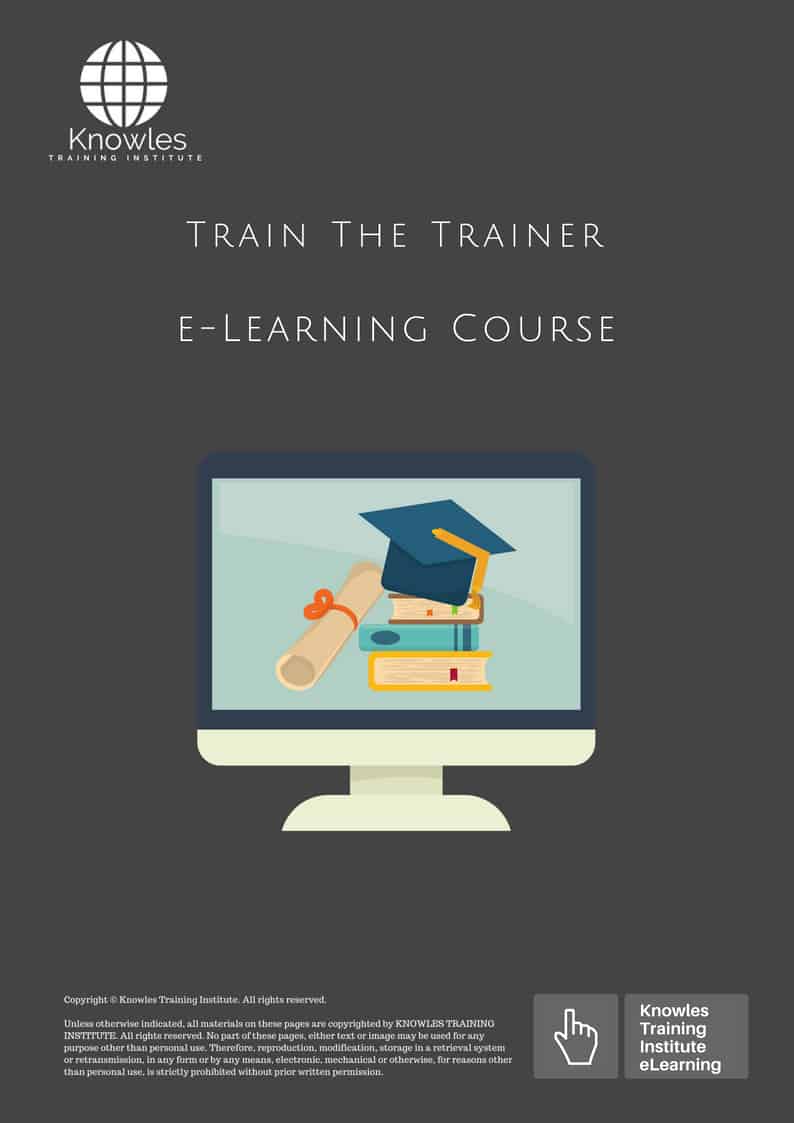 Train The Trainer Online Video Course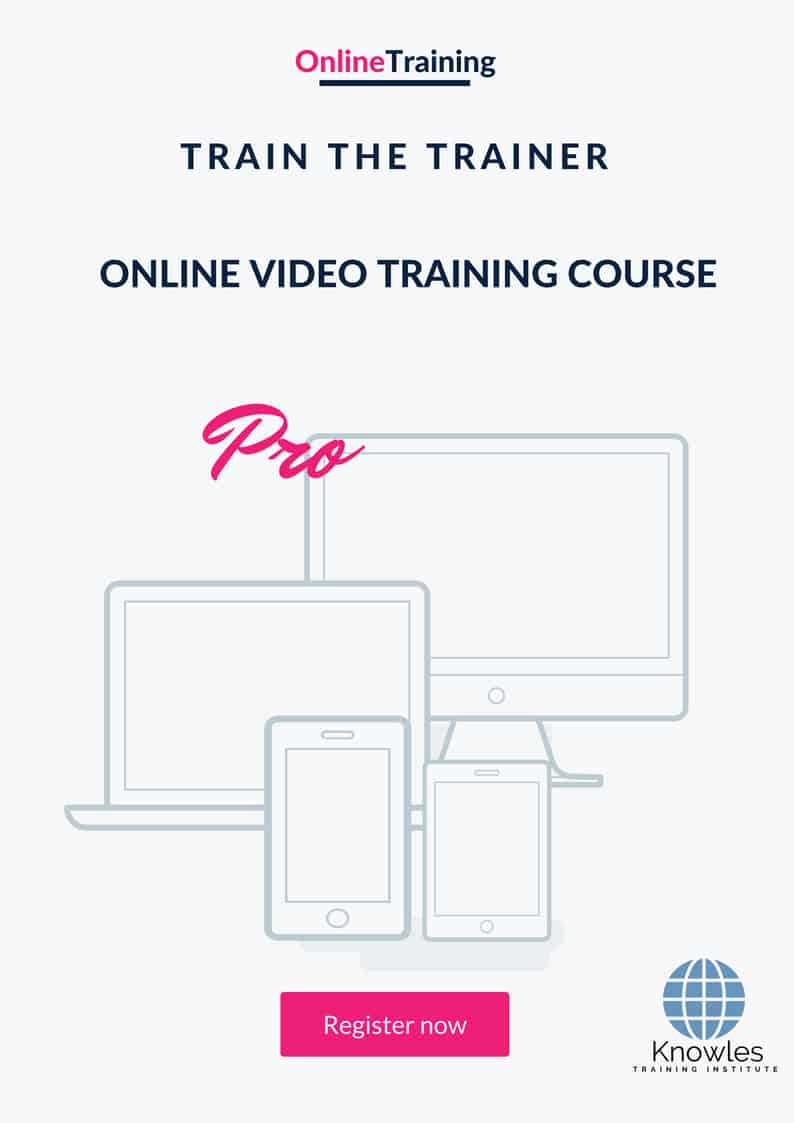 Train The Trainer Essentials Audiobook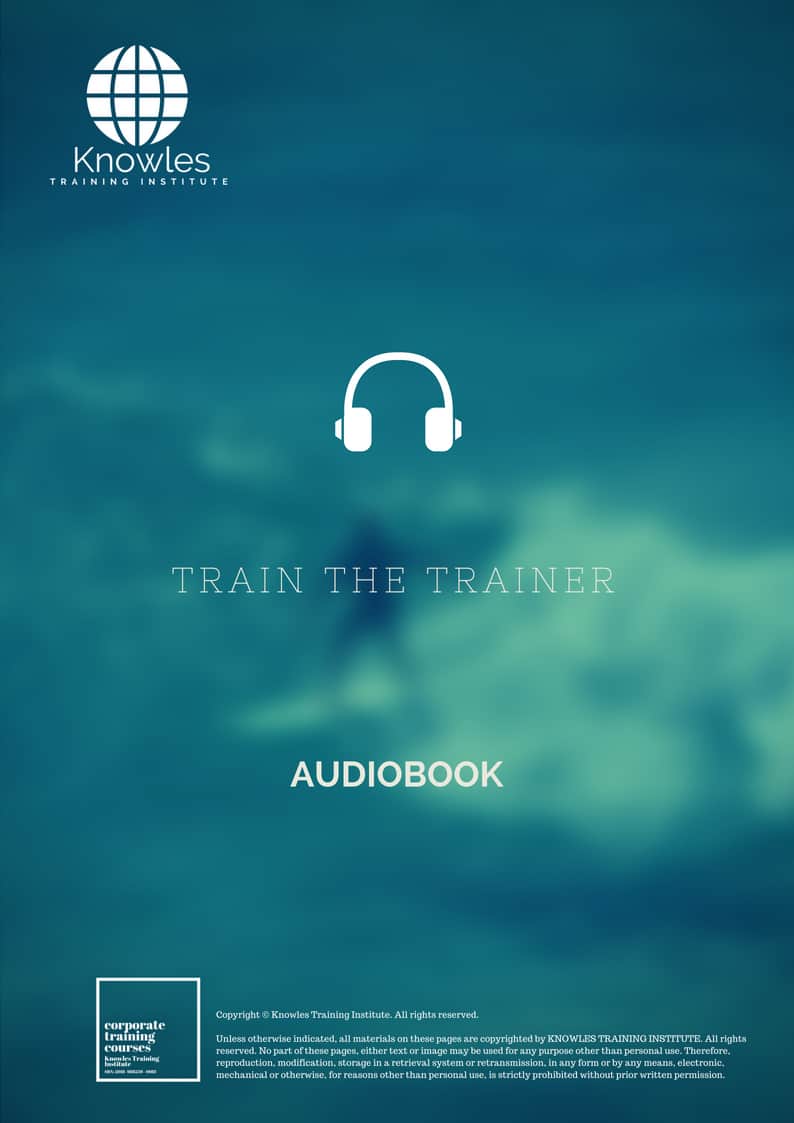 Train The Trainer Infographics Pack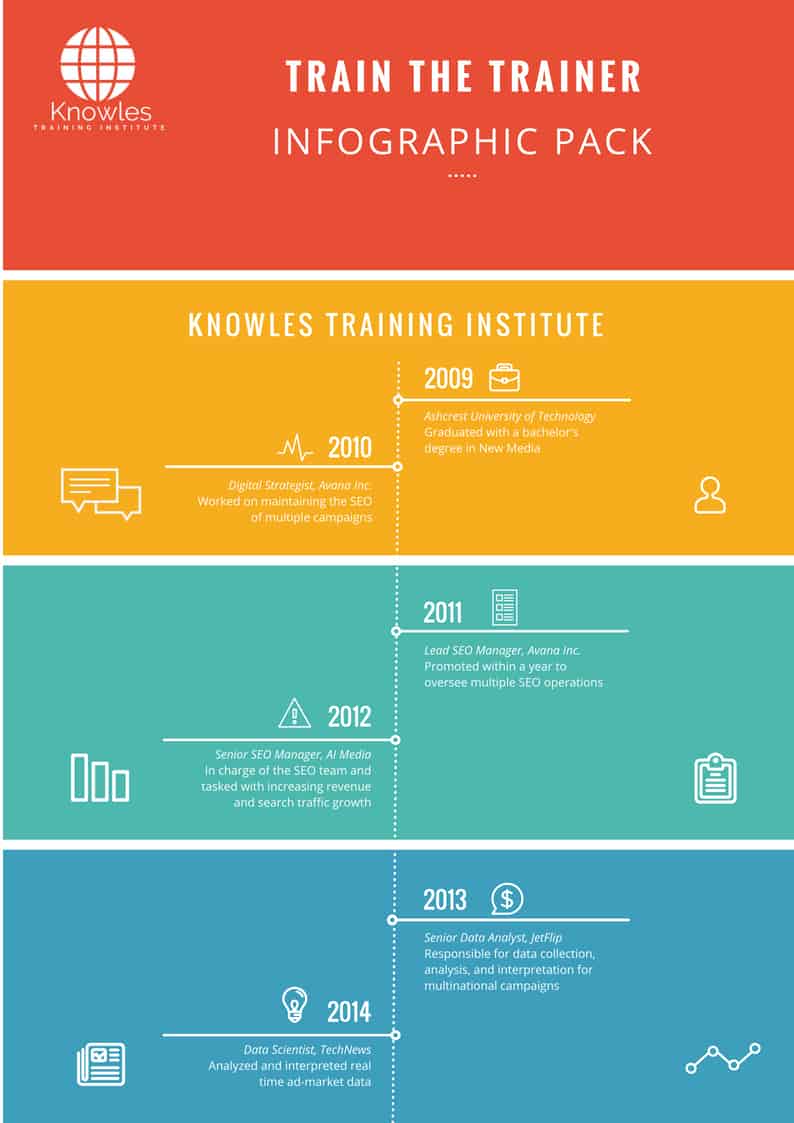 Train The Trainer Certification
Each course participant will receive a certification of training completion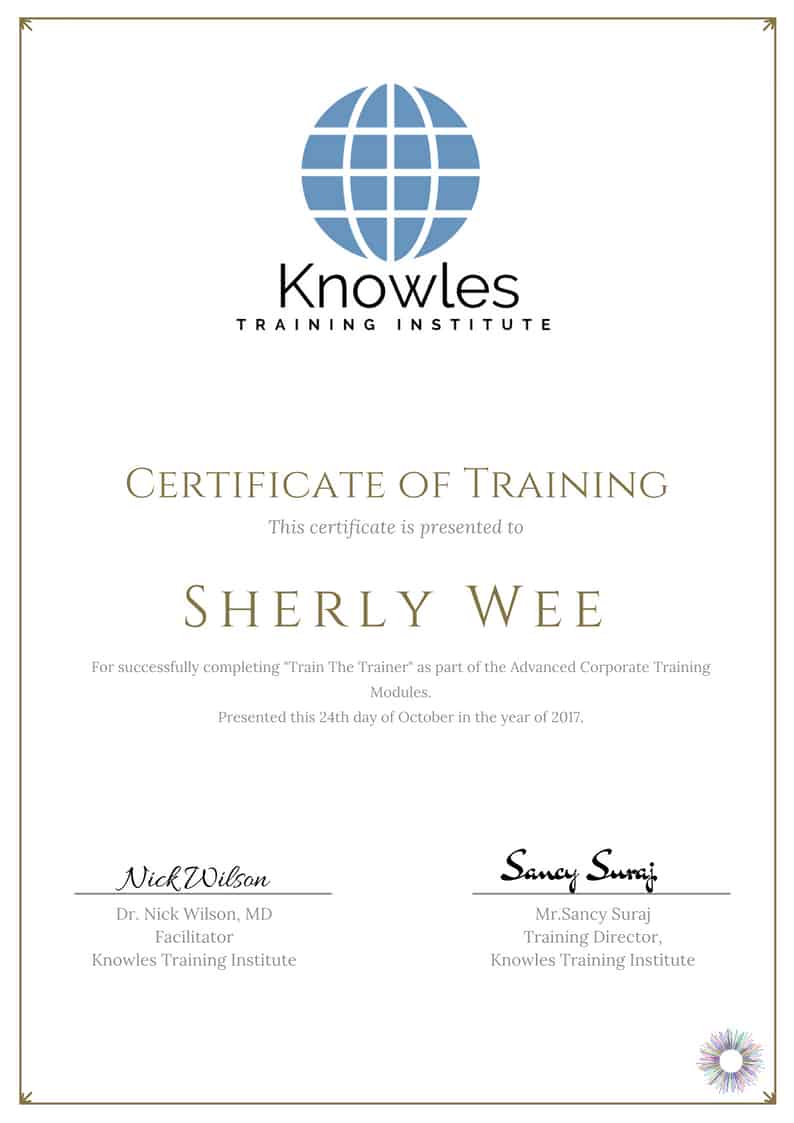 There are 2 pricing options available for this Train The Trainer training course. Course participants not in Singapore may choose to sign up for our online Train The Trainer training course.
2-Full Day Course
Learner's Guide
Course Handouts
—
—
—
—
—
—
—
—
—
—
Premium 2-Full Day Course
Learner's Guide
Course Handouts
PPT Slides Used During Training Course
Long-Term Memory Flashcards Guide TM
1 Year Access to Online Training Video Course (*Worth S$589.97)
Contact Your Trainer: 90-Day Post Course Help (*Worth S$89.97)
Key Learning Takeaway Notes (*Worth S$18.97)
Audio Book (*Worth S$18.97)
eBook (*Worth S$14.97)
Course Infographics Pack (*Worth S$11.97)
Course Mind Maps (*Worth S$8.97)
30-Day Action Plan
Why Register For This Training Course?
Post Training Support: A vast majority of training does not have any effect beyond 120 days. To work, training has to have a strong pre- and post-training component. Post-training reinforcement helps individuals to recall the understanding and ask questions.

Blended Learning: Learning does not occur in the classroom. Virtually everybody prefers distinct ways of learning. Successful learning should have a multi-channel, multi-modal strategy.

We Understand The Industry: We've got a profound comprehension of the business, business design, challenges, strategy and the that our participants are in and have designed the courseware to cater to their professional needs.

Course Content: Knowles Training Institute's material is relevant, of high quality and provide specific learning results. Participants will leave the training course feeling as they have gained a strong understanding and will also be in a position to execute what they have learned sensibly.

Course Development — The workshop modules follow a systematic and logical arrangement. This structure helps to ensure that the course material allows the facilitators to deliver the course in a logical arrangement. Consider the subjects as building bricks into learning, our facilitators slowly build towards a comprehensive picture of this entire topic.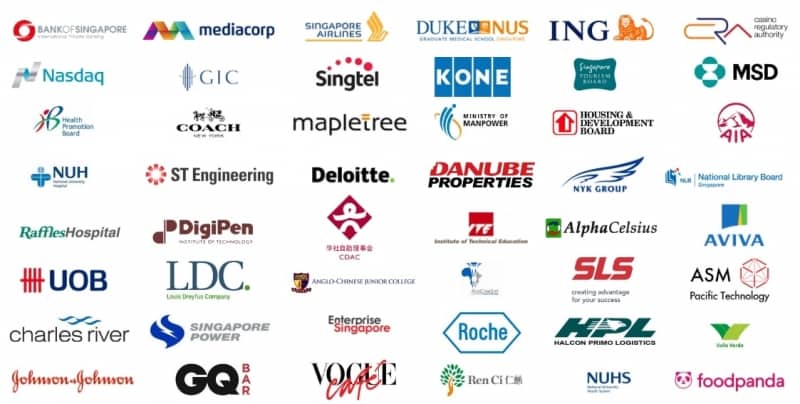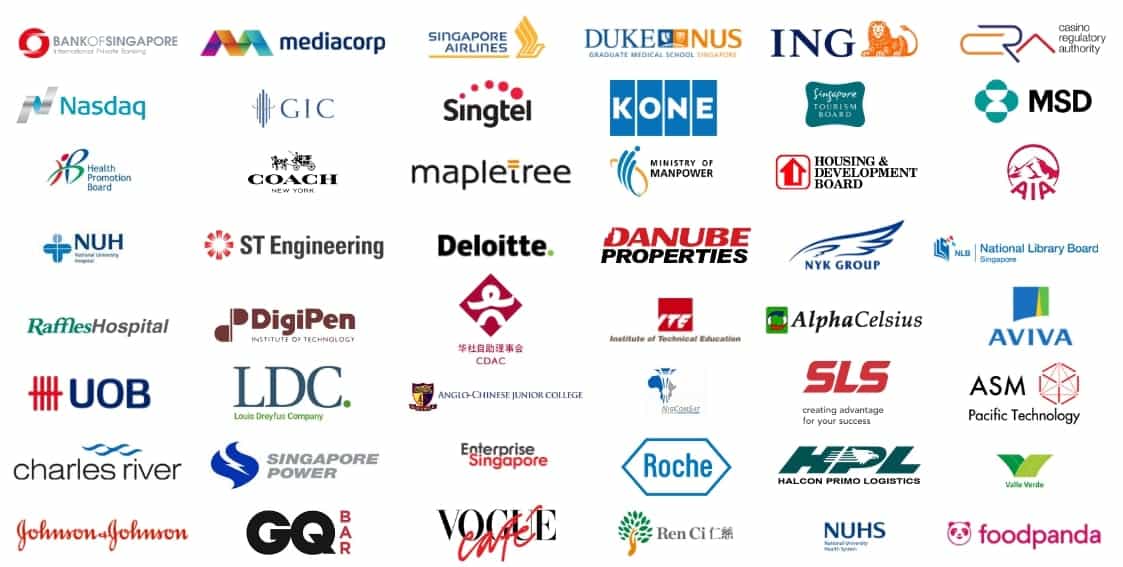 Fill up the form and we will get back to you in less than 1 working day.
Alternatively, give us a call to have one of our training consultants contact you. Our corporate training courses can be contextualised to meet your organisation's training needs. Leverage on our large pool of professional trainers and consultants for your organisation's training needs.
Office Address: Knowles Training Institute, 138 Robinson Road, #28-03, Oxley Tower, Singapore 068906
Office Phone: +65 6935 7406
Email: contact@knowlesti.sg
We Guarantee 100% Privacy. We Respect Your Privacy. Your Information Will Never Be Shared.
Train The Trainer qualification course, train the trainer program, workshop, training, class, seminar, talk, train the trainer training outline program, programme, activity, lecture. Train The Trainer courses, workshops, classes, seminars, talks, programs, programmes, activities, lectures in Singapore. Train The Trainer improvement tips, Train The Trainer techniques, improve Train The Trainer, improve Train The Trainer games, Train The Trainer improvement exercises, improve Train The Trainer power, how to have good Train The Trainer, how to have good Train The Trainer in studying, how to build up your Train The Trainer, how to improve Train The Trainer how to improve Train The Trainer course in Singapore. Enhance, boost, build up, enlarge, heighten Train The Trainer course in Singapore. Increase, intensify, raise, reinforce, strengthen Train The Trainer. Upgrade, amplify, boom, elevate, exaggerate, magnify, grow, gain Train The Trainer. Develop Train The Trainer, multiple, power up, beef up, bolster, establish, extend Train The Trainer. Invigorate, restore, step up, toughen, empower, fortify, regenerate Train The Trainer. Rejuvenate, renew, escalate, expand, maximize Train The Trainer. Powerful, mighty, impressive, competent, great, excellent, exceptional Train The Trainer in Singapore. Superb Train The Trainer. Super, superior, strong, solid, active Train The Trainer training courses and workshops in Singapore. Train The Trainer enhancement, booster, building up, enlargement, heightening, increment, strengthening, amplification. Train The Trainer magnification, growth, development, power, empowerment, regeneration. Train The Trainer rejuvenation, development, escalation, expansion. Train The Trainer maximization, power training courses & workshops in Singapore.