Emotional Intelligence (EQ) Course in Singapore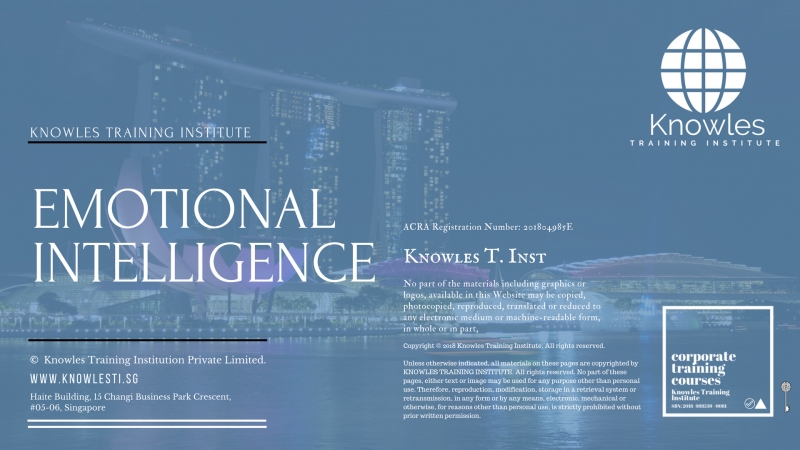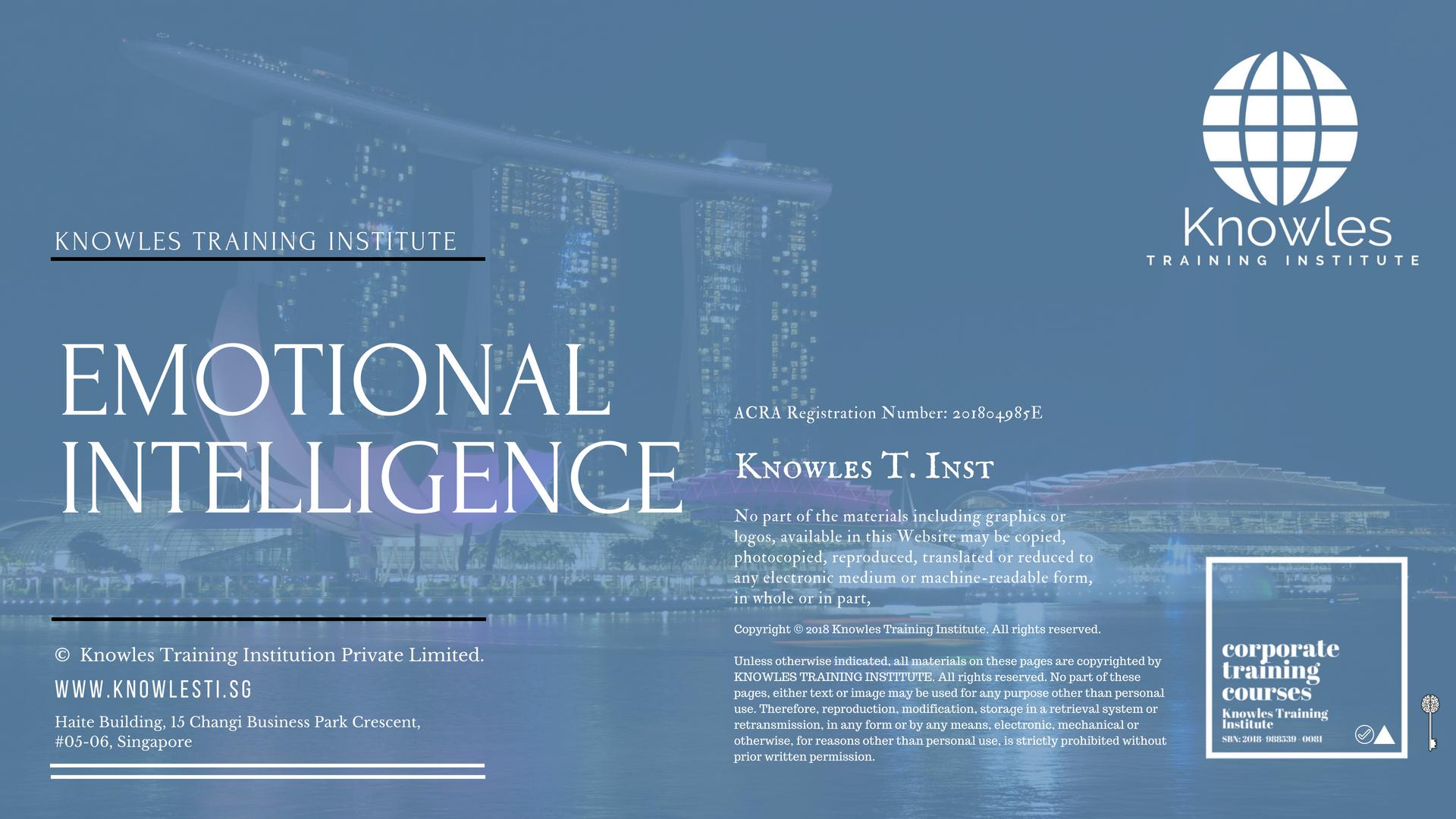 About This Emotional Intelligence Training Course
Emotional Intelligence (EQ) Course in Singapore
Emotional intelligence (EQ) is having the ability to efficiently perceive, manage, and compare emotions in yourself as well as in others.
To be emotionally sensible approach directing your feelings in top-rated ways to alleviate pressure and anxiety in diverse conditions. moreover, it's about the use of your feelings to overcome existence troubles in a peaceful and managed manner.
To be emotionally shrewd manner having the capacity to empathize with others, which in the end lets you higher recognize human beings deepest needs.
Emotional intelligence is a ready conversation and social interaction. particularly, it's approximately directing your feelings in most efficient ways that help you talk efficiently with others the use of verbal and nonverbal cues. The fee of having emotional intelligence extends past the "self" and undoubtedly influences the relationships we've with others. In truth, all people we interact with blessings. They benefit because of how we communicate with them.
An emotionally sensible person understands how to defuse struggle in rational approaches to fixing relationships, which ultimately enables construct deeper tiers of trust.
You display emotional intelligence whilst you become aware of the emotions you are experiencing. but, recognition is most effective a start. You must additionally display which you understand those feelings and the impact that they have got to your kingdom-of-thoughts. moreover, you need to understand how your emotions are affecting the human beings around you.
This emotional intelligence education route addresses our very own Emotional Intelligence (EI) and how we will better recognize ourselves and interpret others.it focuses on 4 key regions; self-awareness, self-control, social consciousness, social management and it's going to provide you with the capabilities to be more self-aware and select to control your reactions. It additionally gives you the competencies to assess other's emotions greater efficiently and deal with them correctly for superior performance.
Who Should Attend This Emotional Intelligence Workshop
This Emotional Intelligence workshop is ideal for anyone who would like to gain a strong grasp and improve their Emotional Intelligence.
All Staff Within An Organisation
Group Size For This Emotional Intelligence Training Program
The ideal group size for this Emotional Intelligence course is:
Course Duration For This Emotional Intelligence Skills Course
The duration of this Emotional Intelligence workshop is 2 full days. Knowles Training Institute will also be able to contextualised this workshop according to different durations; 3 full days, 1 day, half day, 90 minutes and 60 minutes.
Emotional Intelligence Course Benefits
Below is the list of course benefits of our Emotional Intelligence course
Develop rapport with individuals.
Capable to understand the non-verbal expression more efficiently.
Signify of motivations and behaviours and learn to acknowledge the difference.
Able to achieve and manage with people more efficiently by perception and valuing their passions.
Become more versatile to how others create and what unconventional views they have.
Manage a communication pattern to develop more emotionally powerful discussions.
Discovering basic coaching skills to competently understand people and their objects and needs.
Emotional Intelligence Course Objectives
Below is the list of course objectives of our Emotional Intelligence course
Encourage you to be aware of, control and express your emotions.
Enables you to handle interpersonal relationships judiciously and empathetically.
Increases leadership ability.
Improves decision-making capability.
Raise personal well-being and team performance.
Prepare you to cheer up or calm down other people.
Helps you identify and manage emotions at the moment.
Motivate to have personal insight and difference between thoughts and feelings in order to
make choices.
Assist you inflexible responses to challenges, pressure, high demand and stress.
Allow you to identify the four aspects that comprise emotional intelligence.
Assist you to manage emotions to enhance relationships with some practical strategies.
Benefit you to understand other personalities and increase the ability to empathize with those around them.
Course Content For This Emotional Intelligence Training Course
Below is the list of course content of our Emotional Intelligence training course
Self-Management

In order to effectively accomplish your overall career objectives or the objectives within a given task, you must use clearly defined methods to carry out those activities. This involves the setting of goals, decision making, planning, and scheduling. Once the tasks are completed, you must evaluate the success of these methods.

Self-Awareness

Being 'aware' of one's self is the ability to correctly perceive one's skills and knowledge, value and responsibilities. It is being confident in what you have to offer, whether it is personally or professionally.

Self-Regulation

Self-Regulation is another term for 'self-control', which is interpreted as the ability to manage one's emotions, desires, and behaviours to attain a positive outcome. Self-regulation is sometimes tricky because of the phenomenon that it is essential to 'express how you feel'. While this may be partly true, the art to attaining the balance between displaying one's feelings and avoiding unnecessary tension is self-regulation.

Self-Motivation

Andrew Carnegie said it best with his quote "

People who are unable to motivate themselves must be content with mediocrity, no matter how impressive their other talents

." Self-motivation is an indispensable part of excelling in life. You need to learn to motivate yourself because you cannot depend on others to do it for you.

Empathy

Empathy is sharing in the feelings of others, whether joy or sadness is an admirable trait. For empathy to work, a person must first be able to recognize, classify, and understand their own emotions.

How to accurately perceive emotional intelligence?

The statements that people say are only half of the information they are attempting to get across. The expression in which they say it, or the emotion attached to their words, is the other half.

Use Emotions to Facilitate Thinking

'Use emotions to promote thinking' is such a heartfelt statement. How one feels will ascertain how he/she observes situations. If you are in a light mood, everyday events don't seem so bad.

Manage Emotions

Apprehending what emotion you are exhibiting or understanding the reason for that emotion is not enough to manage your emotions. Maintaining your emotions is a conscious and active task.

Focused Listening

One of the most reliable methods to assure someone that you are genuinely listening to what they are saying is to listen intently. To any, this may seem like common sense, but it is a skill that is rarely mastered. Usually, when engaged in a dialogue, the listener is multitasking.

Asking Questions

Asking probing questions is an element that goes hand-in-hand with focused listening. Seldom does someone genuinely understand everything another is saying without at least asking a couple of probing questions. The key is to not ask questions for the sake of asking questions or ask questions that do not correlate to the conversation.

Communicating with Flexibility and Authenticity

When conversing to another, the one practice you want to always observe is that you are being honest about what you are saying. This can be slight of a challenge because we are taught to speak with diplomacy; being politically correct, especially in the business world.

Body Language

The saying, 'Actions speak louder than words' is so accurate in the world of business. It is easy to shower someone with promises, but when it is time to perform, if the actions do not measure up to the words spoken, the words expressed will be forgotten.

It's Not What You Say, It's How You Say It

How you say something could be the factor that concludes what the listener hears. It is essential to be conscious of your emotions, body language, tone, rate, and pitch when you speak. May appear like a lot of work, and until it becomes second nature, it may be, but consistently doing so can create a favourable outcome.

Benefits of Emotional Intelligence

Emotional intelligence is "

the ability to perceive emotions, to access and generate emotions so as to assist thought, to understand emotions and emotional knowledge, and to reflectively regulate emotions so as to promote emotional and intellectual growth"

 (Mayer-Salovey, Four Branch Model of Emotional Intelligence)

.

Articulate your Emotions Using Language

As a child, it may be fair to 'act out your emotions' to get your intention across, but when you become a grown-up, it is frowned upon and surely not appropriate in the workplace. Emotions will never disappear, but that is not an explanation to say, do and act any way we want to.

Seeing the Other Side

If you ever want to know the type of person you are and how you behave, ask other people. It is easy to excuse the things you do, so much so that it appears like everything you do is perfect. If you take an honest examination at yourself, you would probably say not only is this perfection incorrect for you, but it is unattainable for all.

Self-Management and Self-Awareness

Self-management can sometimes be a difficult quality to tame when self-awareness produces a very arrogant and self-centred result. The strength to self-management and self-awareness lies in the balance between the two.

Giving in Without giving Up

Compromise is an inevitable part of dealing with others in both the business world and in personal relationships. The ideal situation would be that everyone concurs with everything you say, but that is highly unlikely. Unless you exist in a society that does not regard diplomacy, this is a skill that will offer plenty of opportunities for you to master it.

Using Coping Thoughts

The power of the mind is amazing. Every day, you will meet at least one situation that requires you to use the calming forces of your mind, to overcome the potential anxiety of the issue at hand. In order to use these forces, you must have a reservoir that consists of them.

Using Relaxation Techniques

Relaxation techniques are not just used to help you 'feel better'; they actually play a major role in reducing the stress on your body and mind that comes from the experiences of everyday life.

Bringing it All Together

Once you have mastered the art of coping with difficult situations, it may not be necessary to engage in relaxation techniques as much. But until you have reached that point and maybe even afterwards, finding efficient ways to relax yourself and take control of the situation is highly beneficial.

Understand Emotions and How to Manage Them in the Workplace

As earlier stated, having emotions is an integral part of all human beings. Understanding one's feelings and determining how to use them is the responsibility of each person. Many times, it may feel like the workplace is no place for emotions, whether good or bad.

Role of Emotional Intelligence at Work

Emotional Intelligence plays a vital role in the workplace. How one feels about himself, interacts with others, and handles conflict is directly reflected in the quality of work produced. Both social and personal proficiencies are acquired as a result of Emotional Intelligence.

Disagreeing Constructively

To oppose constructively means to do so in a positive, productive manner. Its objective is not to disagree for the sake of disagreeing or getting your point across. It is also not used to be harmful or destructive of another's thoughts.

Optimism

Possessing the quality of 'optimism' is the capacity to find the bright side of every circumstance. This is an excellent position that not all have. The secret to exhibiting this feature is to realise that there are no issues that cannot have a positive spin.

Pessimism

Pessimism is the exact reverse of optimism. Instead of seeing the glass as 'half full' or having a positive outlook on situations, pessimists can only see the downside of the issue.

The Balance Between Optimism and Pessimism

Extremism may not be a desirable quality in a person. This is also valid when it comes to optimism and pessimism. Being optimistic about every situation could likely lead a person away from reality and taking the proper steps to settle a situation.

Creating a Powerful First Impression

Although some don't like to admit it, many are considerably concerned with the first impression that is made to a new acquaintance. The impact one leaves can be the difference between getting and not getting a job or obtaining and not obtaining a contract for your company.

Assessing a Situation

Before deciding on the path to take to address a situation, one must first assess it. Is it worth doing anything about? How will it impact me or others?

Being Zealous without Being Offensive

Being a zealous person is a good feature, but being overly zealous can not only send an adverse communication to others, but it may also be deemed offensive. Every manager would like to learn that their employees are enthusiastic about work. This conveys the idea that the employees will concentrate on 'getting the job done'.
Emotional Intelligence Value Added Materials
Each participant will receive the following materials for the Emotional Intelligence course
Emotional Intelligence Learner's Guide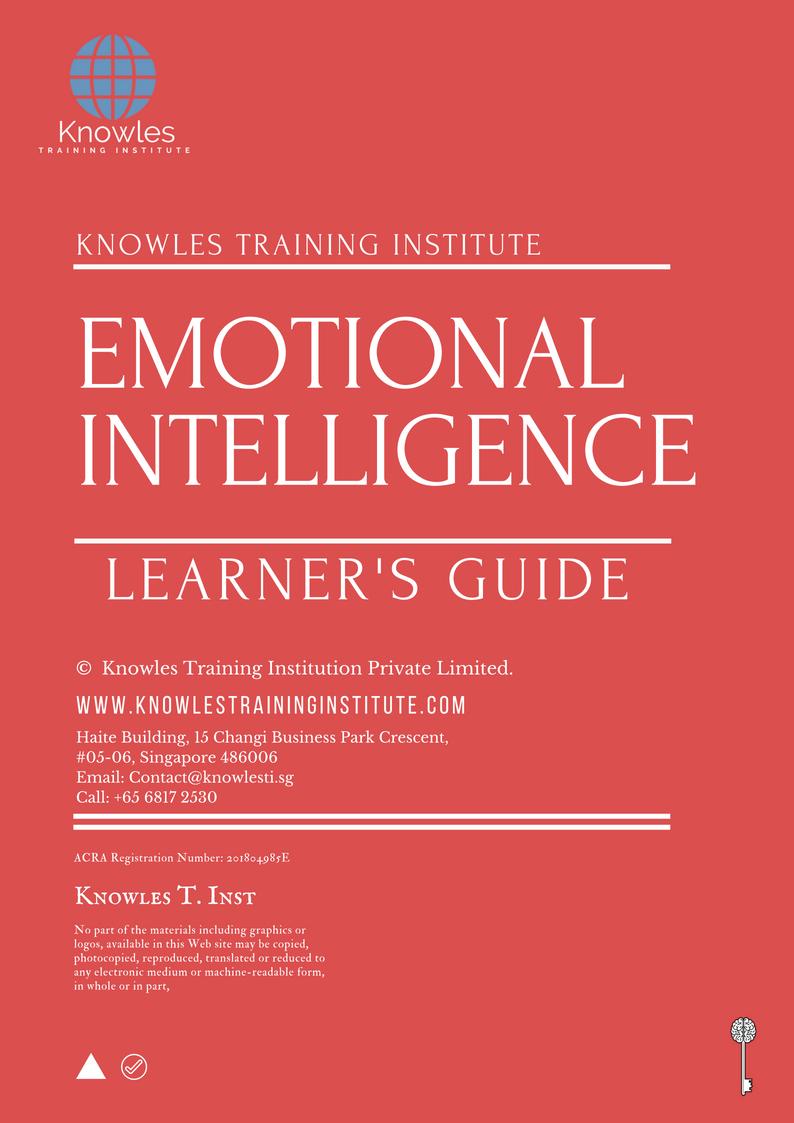 Emotional Intelligence Key Takeaways Notes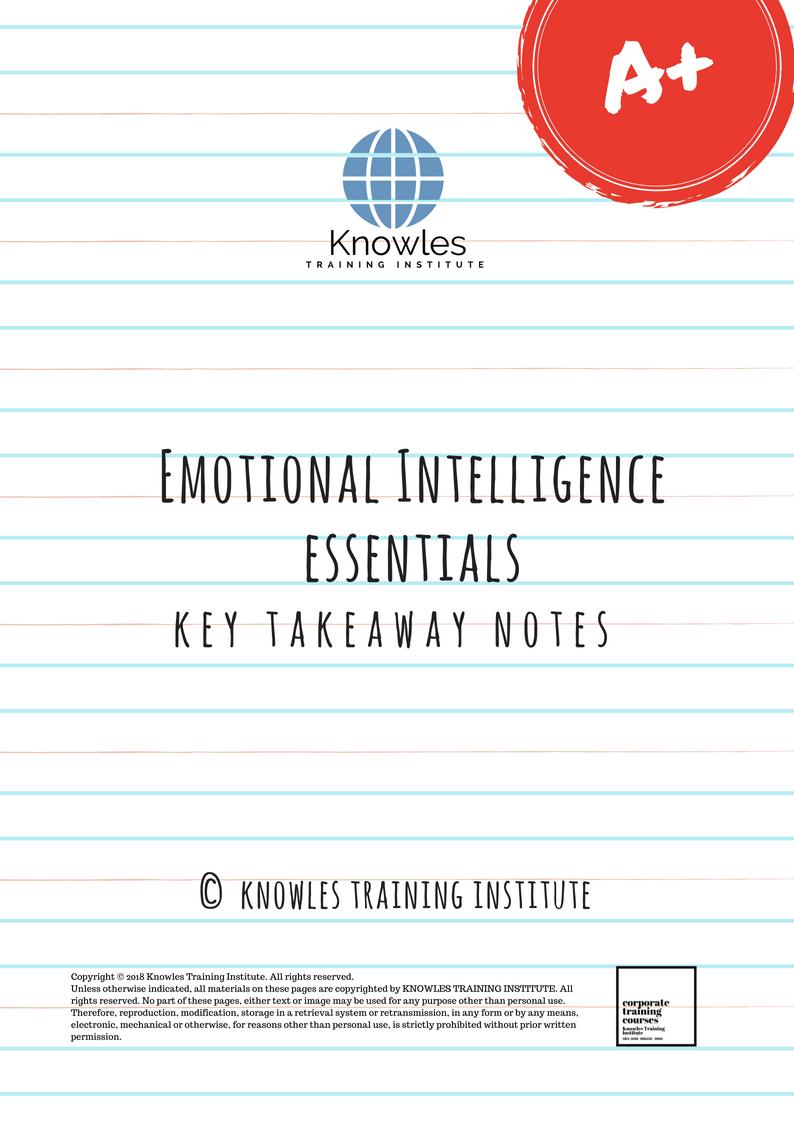 Emotional Intelligence Essentials Ebook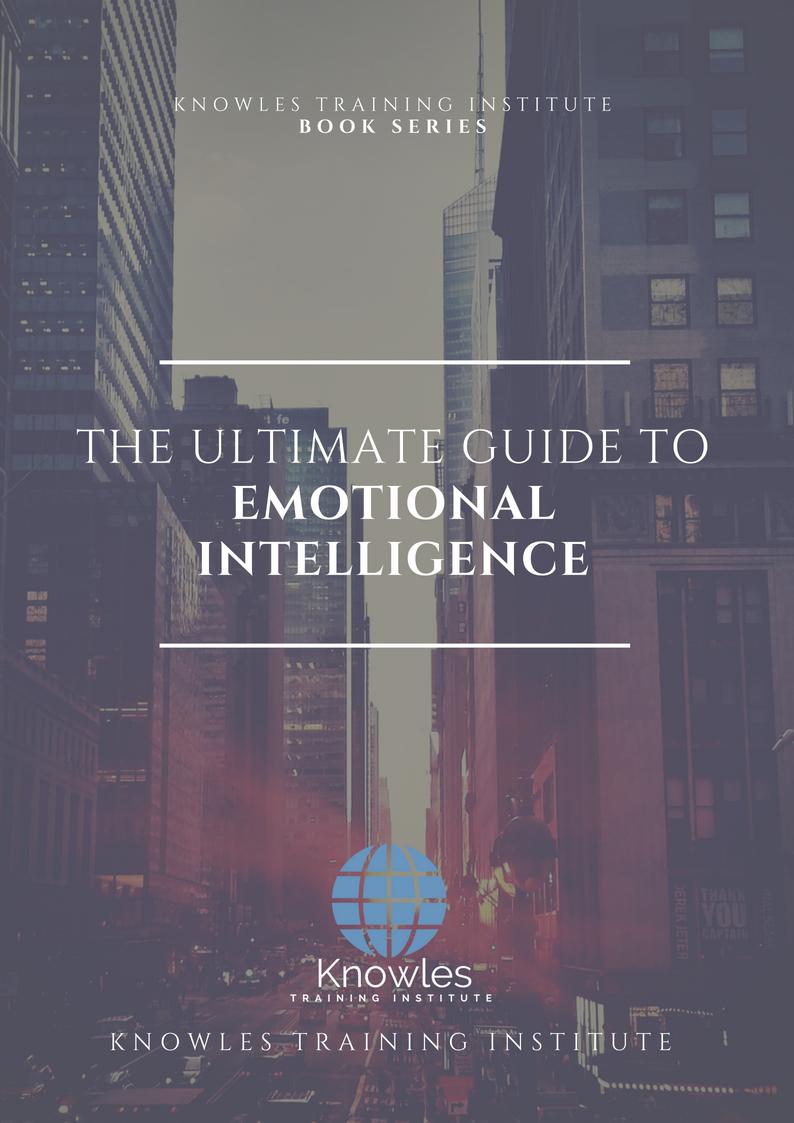 Emotional Intelligence Course Handouts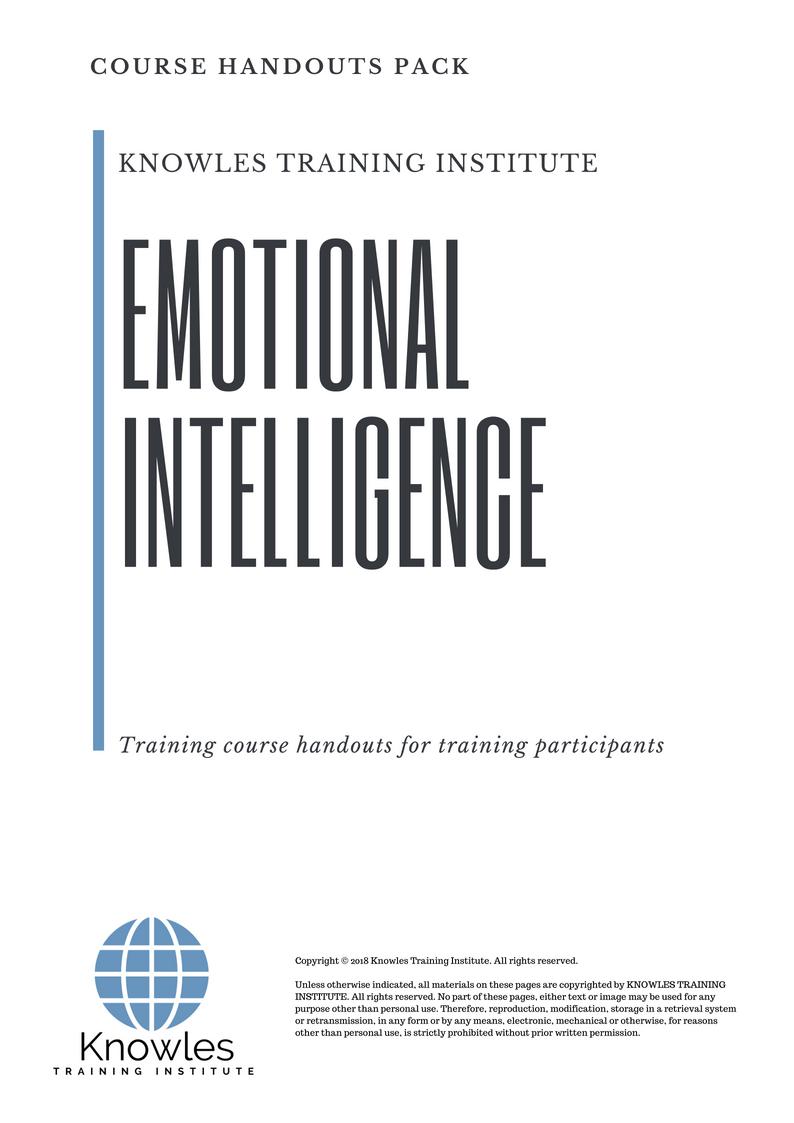 Emotional Intelligence 30-Day Action Plan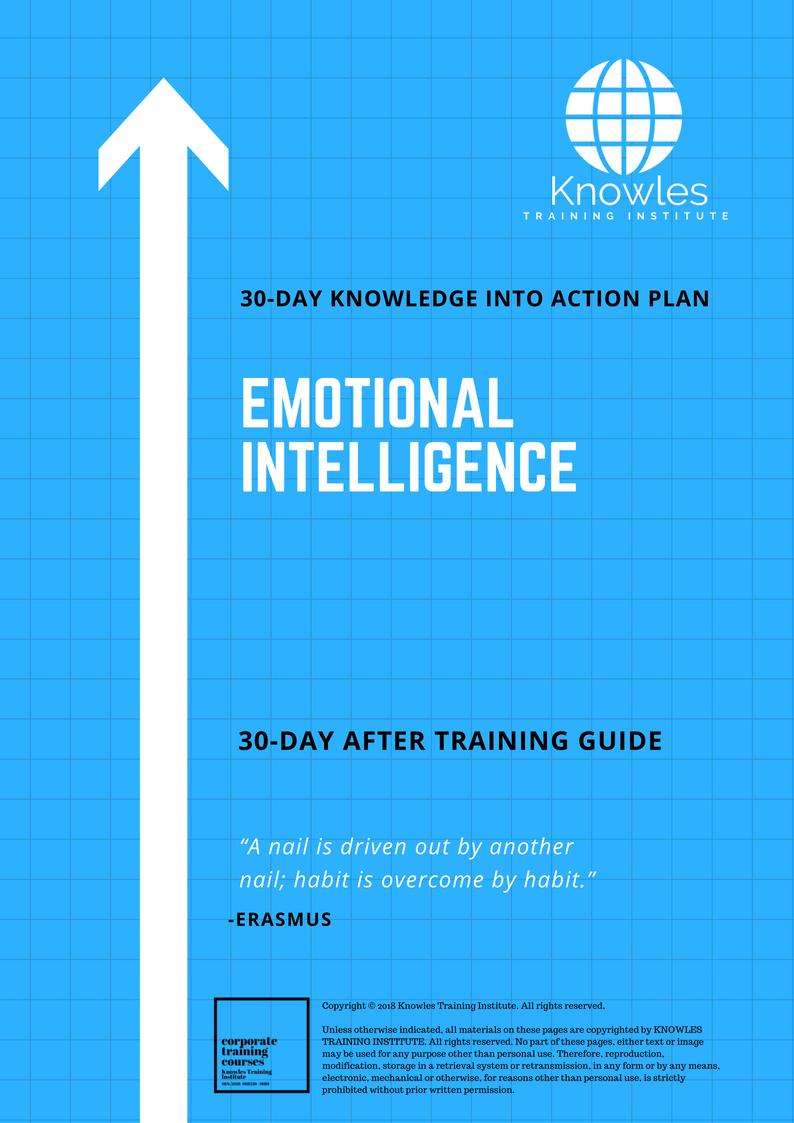 Emotional Intelligence MindMaps Pack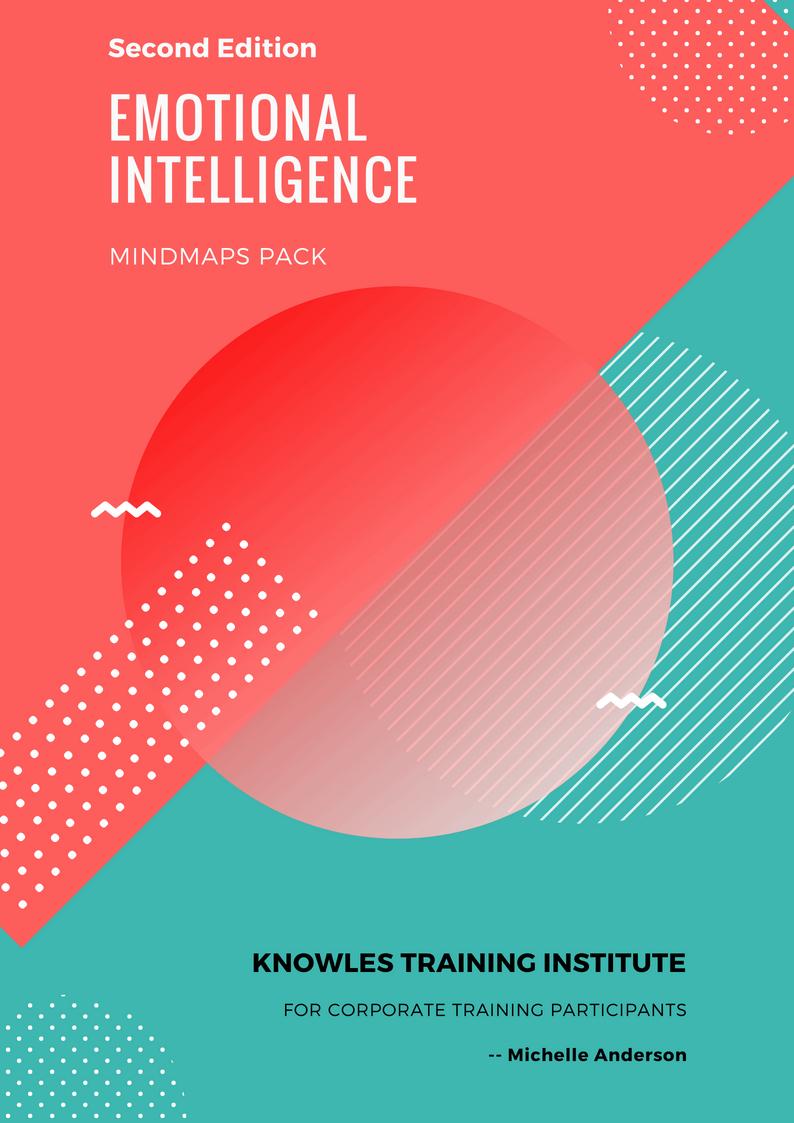 Emotional Intelligence PPT Slides Used During Course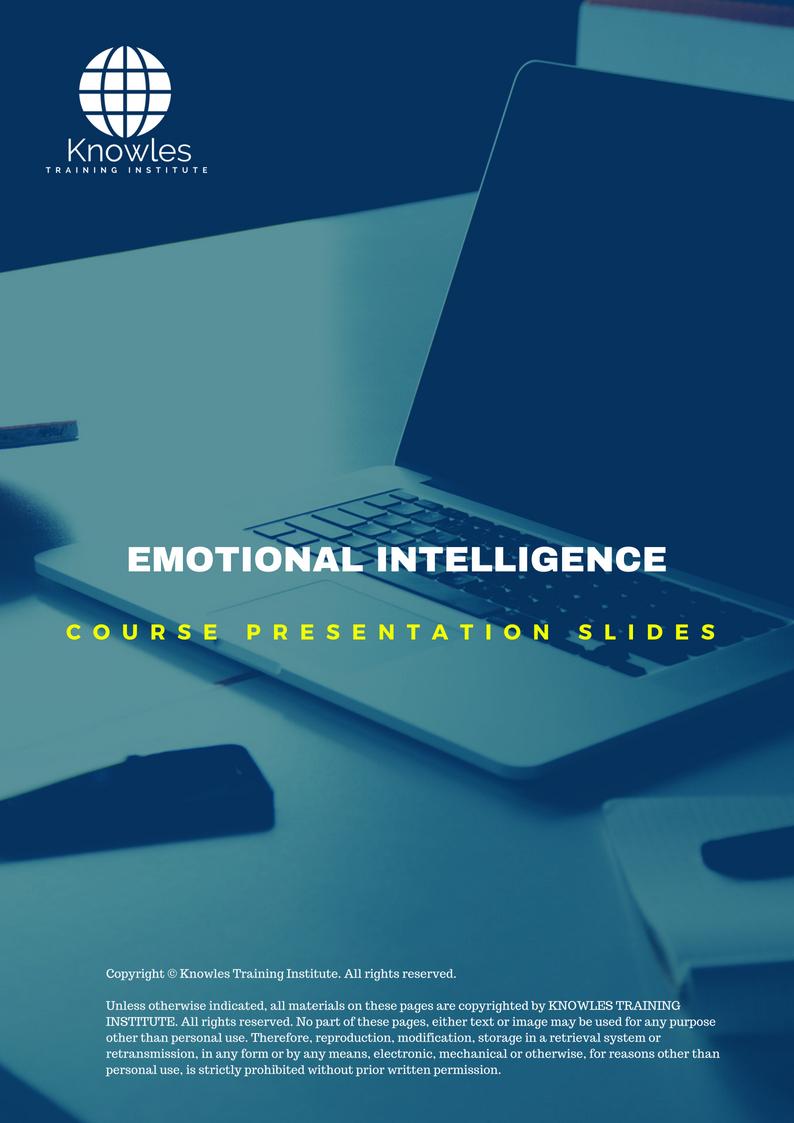 Emotional Intelligence Long-Term Memory Flashcards Pack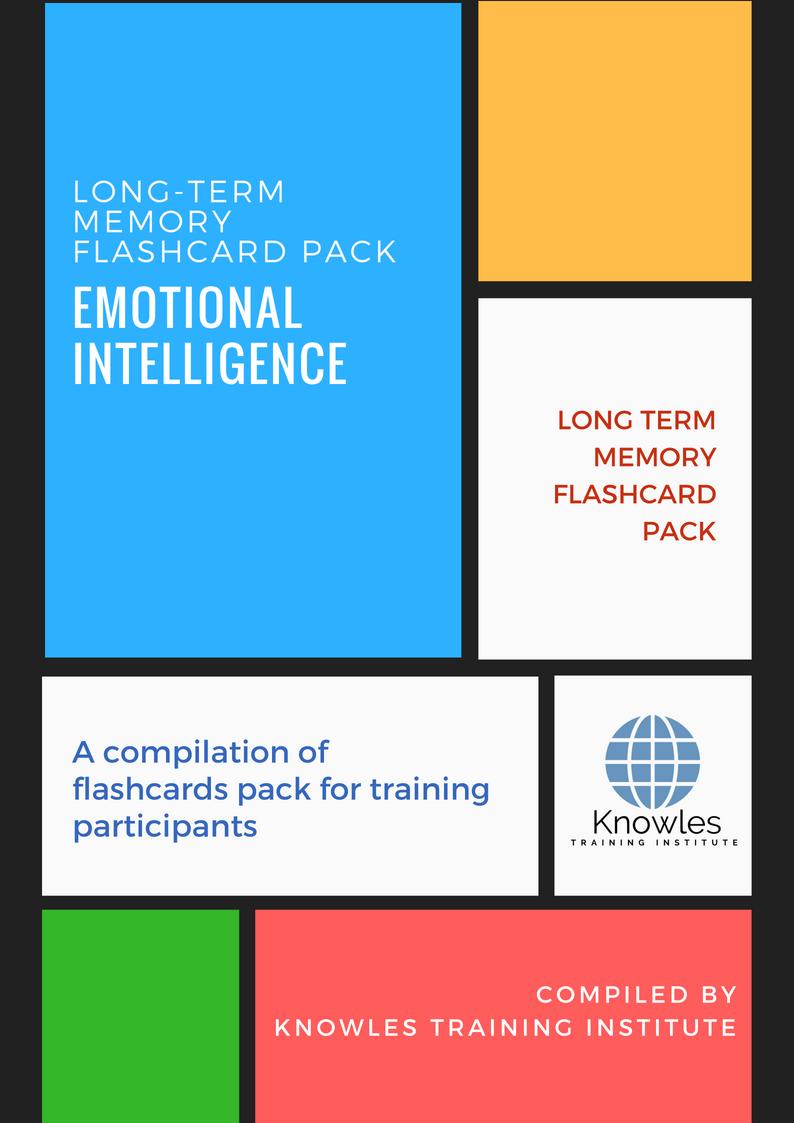 Emotional Intelligence E-Learning Course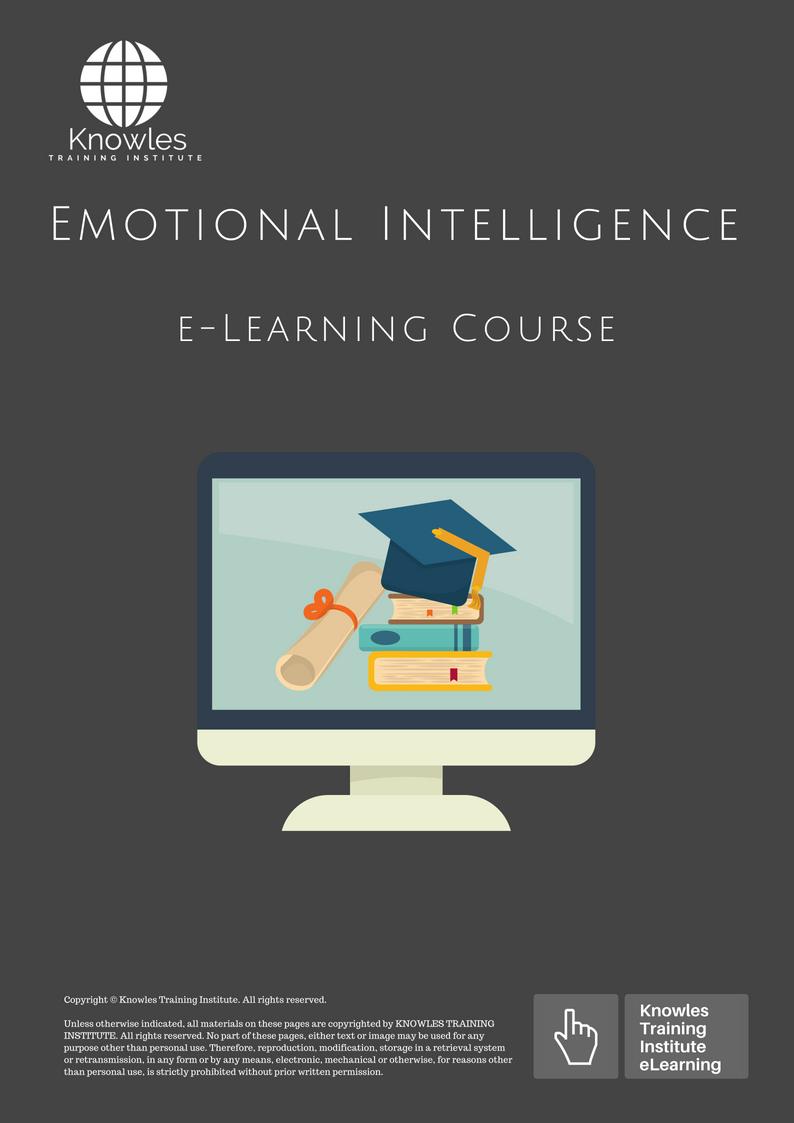 Emotional Intelligence Online Video Course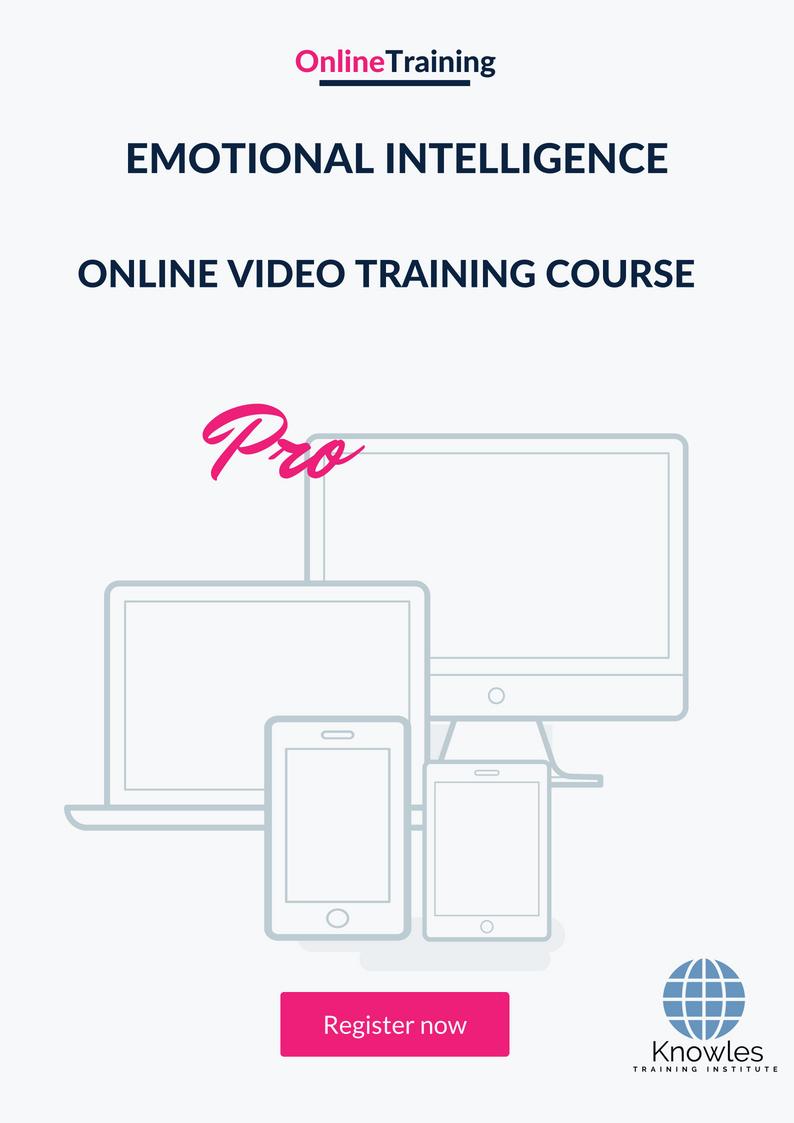 Emotional Intelligence Essentials Audiobook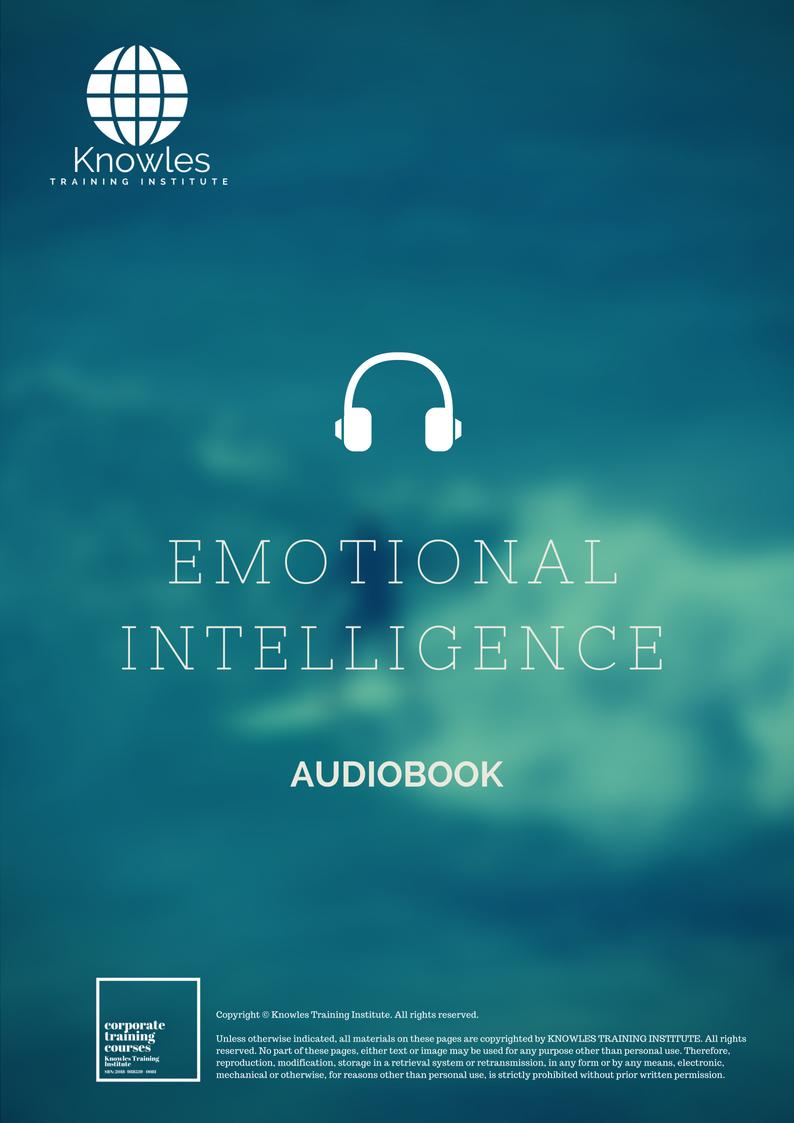 Emotional Intelligence Infographics Pack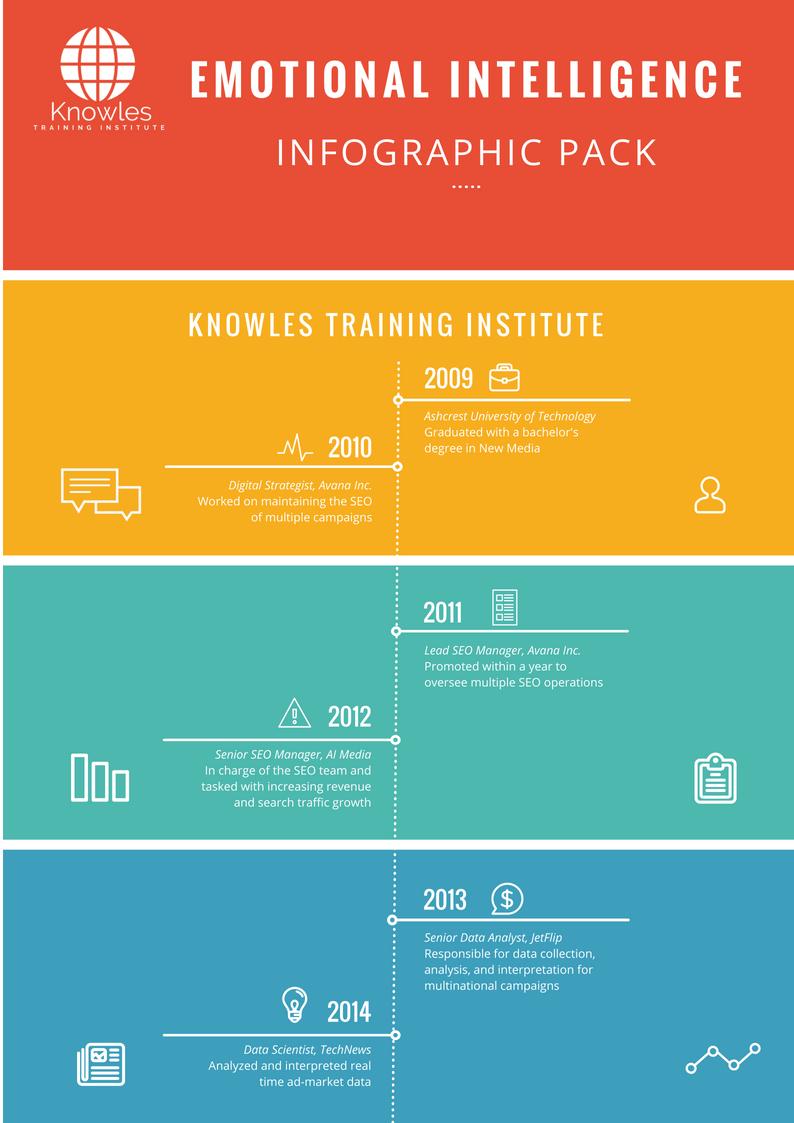 Emotional Intelligence Certification
Each course participant will receive a certification of training completion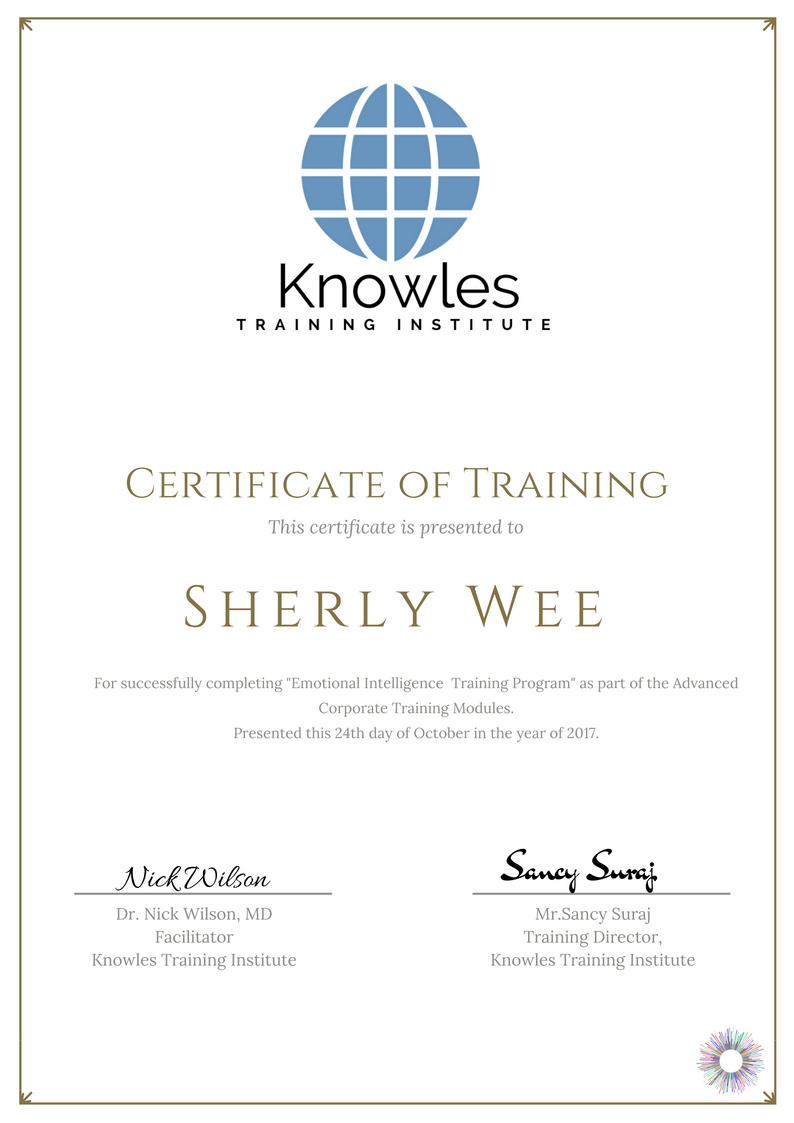 There are 3 pricing options available for this Emotional Intelligence training course. Course participants not in Singapore may choose to sign up for our online Emotional Intelligence training course.
2-Full Day Course
Learner's Guide
Course Handouts
—
—
—
—
—
—
—
—
—
—
Premium 2-Full Day Course
Learner's Guide
Course Handouts
PPT Slides Used During Training Course
Long-Term Memory Flashcards Guide TM
1 Year Access to Online Training Video Course (*Worth S$589.97)
Contact Your Trainer: 90-Day Post Course Help (*Worth S$89.97)
Key Learning Takeaway Notes (*Worth S$18.97)
Audio Book (*Worth S$18.97)
eBook (*Worth S$14.97)
Course Infographics Pack (*Worth S$11.97)
Course Mind Maps (*Worth S$8.97)
30-Day Action Plan
Upcoming Emotional Intelligence Training Course Schedule
Contact us for the latest Emotional Intelligence course schedules:
Phone: +65 6817 2530
Email: contact@knowlesti.com
Message:
Download Emotional Intelligence Course Brochure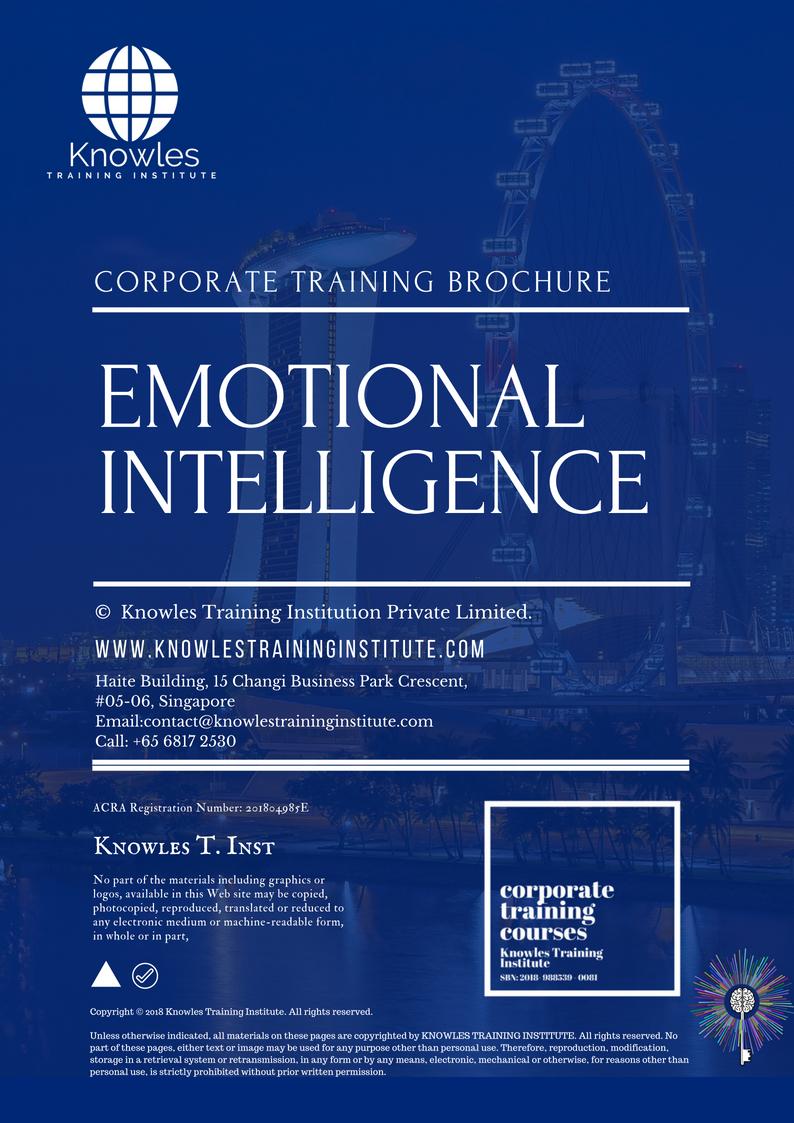 Request for this Emotional Intelligence course brochure. Fill up the short information below and we will send it to you right away!
Why Register For This Training Course?
Post Training Support: A vast majority of training does not have any effect beyond 120 days. To work, training has to have a strong pre- and post-training component. Post-training reinforcement helps individuals to recall the understanding and ask questions.

Blended Learning: Learning does not occur in the classroom. Virtually everybody prefers distinct ways of learning. Successful learning should have a multi-channel, multi-modal strategy.

We Understand The Industry: We've got a profound comprehension of the business, business design, challenges, strategy and the that our participants are in and have designed the courseware to cater to their professional needs.

Course Content: Knowles Training Institute's material is relevant, of high quality and provide specific learning results. Participants will leave the training course feeling as they have gained a strong understanding and will also be in a position to execute what they have learned sensibly.

Course Development — The workshop modules follow a systematic and logical arrangement. This structure helps to ensure that the course material allows the facilitators to deliver the course in a logical arrangement. Consider the subjects as building bricks into learning, our facilitators slowly build towards a comprehensive picture of this entire topic.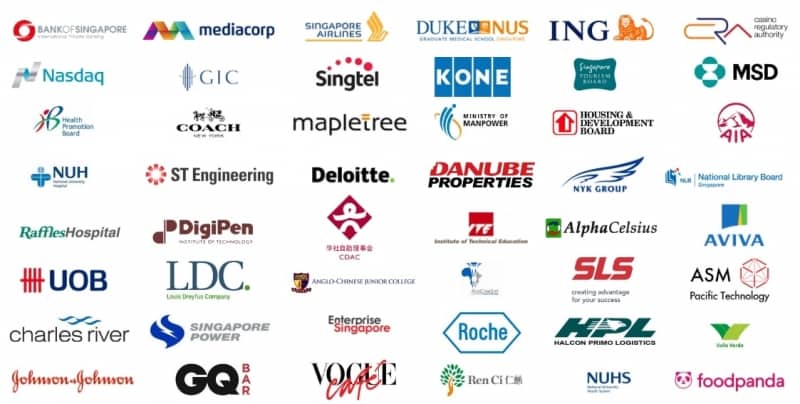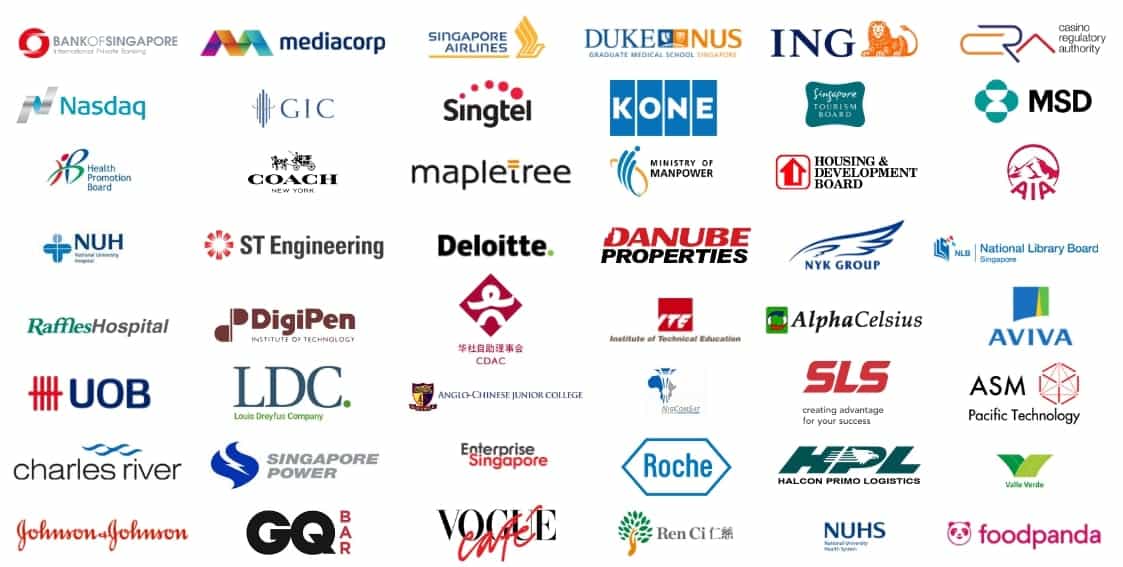 Fill up the form and we will get back to you in less than 1 working day.
Alternatively, give us a call to have one of our training consultants contact you. Our corporate training courses can be contextualised to meet your organisation's training needs. Leverage on our large pool of professional trainers and consultants for your organisation's training needs.
Office Address: Knowles Training Institute, 138 Robinson Road, #28-03, Oxley Tower, Singapore 068906
Office Phone: +65 6935 7406
Email: contact@knowlesti.sg
We Guarantee 100% Privacy. We Respect Your Privacy. Your Information Will Never Be Shared.
Register Now
Register For This Emotional Intelligence Course Now!
Emotional Intelligence course, workshop, training, class, seminar, talk, program, programme, activity, lecture. Emotional Intelligence courses, workshops, classes, seminars, talks, programs, programmes, activities, lectures in Singapore. Emotional Intelligence improvement tips, Emotional Intelligence techniques, improve Emotional Intelligence, improve Emotional Intelligence games, Emotional Intelligence improvement exercises, improve Emotional Intelligence power, how to have good Emotional Intelligence, how to have good Emotional Intelligence in studying, how to build up your Emotional Intelligence, how to improve Emotional Intelligence how to improve Emotional Intelligence course in Singapore. Enhance, boost, build up, enlarge, heighten Emotional Intelligence course in Singapore. Increase, intensify, raise, reinforce, strengthen Emotional Intelligence. Upgrade, amplify, boom, elevate, exaggerate, magnify, grow, gain Emotional Intelligence. Develop Emotional Intelligence, multiple, power up, beef up, bolster, establish, extend Emotional Intelligence. Invigorate, restore, step up, toughen, empower, fortify, regenerate Emotional Intelligence. Rejuvenate, renew, escalate, expand, maximize Emotional Intelligence. Powerful, mighty, impressive, competent, great, excellent, exceptional Emotional Intelligence in Singapore. Superb Emotional Intelligence. Super, superior, strong, solid, active Emotional Intelligence training courses and workshops in Singapore. Emotional Intelligence enhancement, booster, building up, enlargement, heightening, increment, strengthening, amplification. Emotional Intelligence magnification, growth, development, power, empowerment, regeneration. Emotional Intelligence rejuvenation, development, escalation, expansion. Emotional Intelligence maximization, power training courses & workshops in Singapore.