The Complete Business Writing Mastery Course (Updated 2019)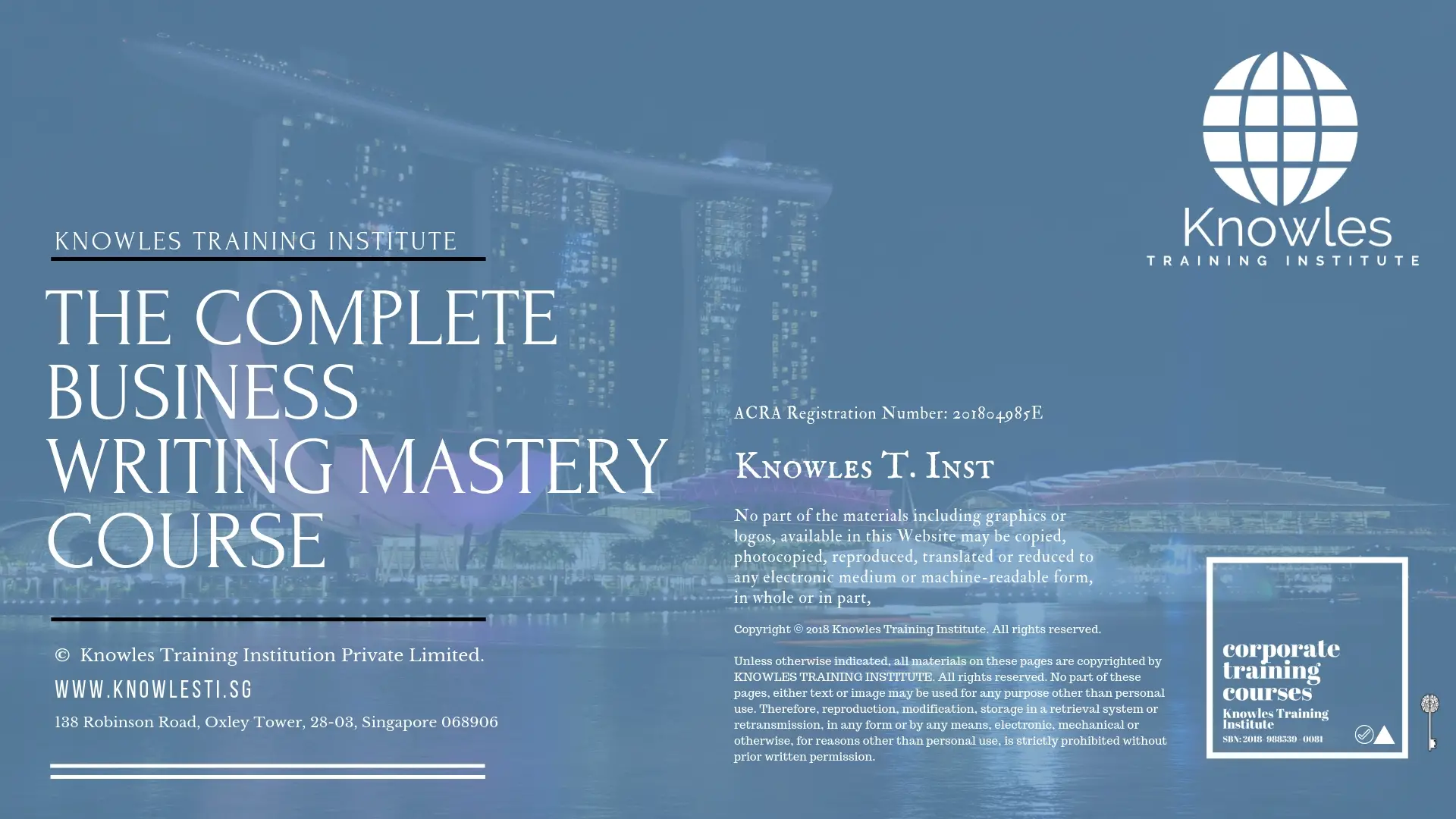 This 2-day business writing course covers the 8 most important aspects of business writing:
Technical Writing
Advance Business Writing Strategies
Professional Proofreading
Proposal Writing
Writing Emails
Writing Standard Operating Procedures
Copywriting Essentials
Writing a Business Plan
Business Correspondence
Anyone looking to further improve their writing in a business context.
Course Duration
2 Full Days
From 9am to 5 pm on both days
Upcoming Date: 30 May 2019 (Fill up form below to register)
Module 1: Technical Writing
Technical writing is done by a technical writer (or technical author) and is the manner of writing and distributing information in a professional context. A technical writer's main task is to communicate information to another person or company in the clearest and most effective manner possible. The information that technical writers communicate is often complicated, and it is one of their main tasks to analyse the information and display it in a format that is simple to read and understand.
Develop an understanding of what technical writing is
Communicate throughout the industry to ensure the writing is as varied as possible
Build active sentences and sections that describe information.
Employ diagrams, tables, charts, and other graphical instruments effectively.
Create informational content that your readers will appreciate and use.
Organise ideas with the Front Loading Planner form.
Module 2: Advance Busines Writing Course
Writing is a crucial means of communication for most people, and it"s one that many people grapple with. Writing and communication abilities have degraded with more and more people communicating over email and text messaging. Improving writing skills is still valuable in the business world as producing proper documents (such as reports, proposals, and agendas), giving you that extra edge in the workplace.
Obtain better awareness of common spelling and grammar issues in business writing.
Remember tips and techniques to use when deciding the most appropriate format to use for agendas, email messages, business letters, business reports, and business proposals.
Identify tips and techniques in writing agendas, emails, business letters, business reports, and business proposal.
Gain an overview of Request for projections, plans, Executive Summaries, and Business Cases.
Name proofreading and understand techniques in improving proofreading skills.
State guidelines in printing and publishing business writing.
Module 3: Professional Proofreading
Your managers may have told you in the past that you need to proofread your work or email before submitting it. Proofreading is an essential skill for all corporate professionals to learn.
Develop an understanding of how to use punctuation to your advantage
Build a reputation as a reliable proof-reader to improve others' writing
Develop an understanding of the rules of grammar
Examine basic concepts in sentence and paragraph construction.
Assess previous examples of perfect writing to try to replicate this in future proofreading
Resolve issues by ensuring writing is as perfectly constructed as possible
Communicate with clients in a way that makes them feel you are improving their work
Module 4: Proposal Writing
A proposal has many different purposes, but there's only one right way to write one: the idea pulls together all of the information concisely and persuasively and helps you get what you want.
Construct memorable copy that enhances proposals
Communicate with proposal-receivers and understand what they're looking for
Recognise what went wrong with unsuccessful proposals
Compare successful proposals to ones which were denied or rejected
Examine the way that people read proposals
Understand how to structure a proposal so it is easy to consume information
Module 5: Writing Effective Emails
Although email is a helpful tool, it creates some challenges for business writers. Miscommunication can instantly occur when people have mixed expectations about the messages that they send and receive. Email is used for many different ideas, including contacting friends, communicating with managers and supervisors, requesting for information, and applying for jobs. Depending on your goals, the messages you send will change in their behaviour, intended audience, and desired outcomes.
Recognise the value of creating a meaningful subject line
Avoid unnecessary repetition
Determine the best way to grab your reader's attention quickly
Implement techniques to ensure your email remains professional yet personable
Build the reputation of being an effective and responsive email respondent
Module 6: Writing Standard Operating Procedures
A Standard Operating Procedure or an SOP is defined as a set of instructions that describes all the relevant steps and activities of a process or procedure. If you're trying to improve an existing business, you have to know how things are going to get done. What are the tasks that you or your employee needs to get done?  Which one of your employees need to do them and what are the best ways to approach and complete these tasks? Writing an SOP is the first step toward systemising a business. The SOP will process workflows which will define the way the employees within the organisation accomplish day to day activities and function. In this course, you will learn the step by step instruction on how to create a standard operating procedure from scratch.
Introduction to Standard Operating Procedure
Analyse & Plan for You Standard Operating Procedure
Designing Your Standard Operating Procedure
Developing & Implementing Your Standard Operating Procedure
Implementing Your Standard Operating Procedure
Evaluate Your Standard Operating Procedure
Review Your Standard Operating Procedure
Maintaining Your Standard Operating Procedure
Module 7: Copywriting Essentials
Copywriting is the act of writing a text for the purpose of advertising or other forms of marketing. The product, called copy, is written content that aims to increase brand awareness and ultimately persuade a person or group to take a particular action.
Top 30 attention Grabbing headlines you can use immediately
Explain the use and benefit of a swipe file
Module 8: Writing a Business Plan
Writing a Business Plan is a way to introduce the business idea, target market, and the goal of the business. In principle, a business plan is a brief document that serves as a guide to the overall strategy and operation of a company. In common instances, a business plan is used as a formal document to attract investment capital or secure business sales. Business professionals need to learn how to write a business plan as part of their skill set in order to progress their careers further.
Knowledge in Writing a Business Plan is always necessary to obtain an understanding of the operations of new or expanding businesses as it contains the business description, projections, and proposals.
In Writing a Business Plan course, participants will learn the considerations that must be reflected in writing the business plan and effectively write the business plan. The course will discuss the basic components of a business plan as well as outline the contents of each component, and write the goals and objectives of the business.
Understand the purpose of writing a business plan
Identify the different parts of the business plan
Identify the purpose of each part of the business plan
Apply the principles of writing a good business plan
Align the business plan with business strategies and goals
Develop innovative strategies in writing a specialized business plan
Module 9: Business Correspondence
Business Correspondence is the act of communicating properly and politely with business clients and customers. Exchanging information through Business Correspondence is usually written through letters and electronic mail, and it can involve communication within or outside of the business. Business Correspondence builds the first impression of others, yet business professionals often disregard this simple skill.
Learning how to do Business Correspondence is a must for business professionals seeking to develop their professional image. Business Correspondence helps build the skills needed for effective business writing.
In this Business Correspondence course, participants will learn how to follow business standards in communicating with clients, customers, and business professionals. This course will also tackle the context of business correspondence, and its intricacies which need to be taken into account.
Apply the correct tone in writing correspondences and replies
Implement protocols in dealing with business inquiries and messages
Understand how to make follow-up requests or inquiries
Identify when not to use email in correspondences
Evaluate existing business writing practices
Create effective business correspondences to promote a professional image
Premium 2-Full Day Course
Learner's Guide
Course Handouts
PPT Slides Used During Training Course
Long-Term Memory Flashcards Guide TM
1 Year Access to Online Training Video Course (*Worth S$189.97)
Contact Your Trainer: 90-Day Post Course Help (*Worth S$89.97)
Key Learning Takeaway Notes (*Worth S$18.97)
Audio Book (*Worth S$18.97)
eBook (*Worth S$14.97)
Course Infographics Pack (*Worth S$11.97)
Course Mind Maps (*Worth S$8.97)
30-Day Action Plan

Fill up the form and we will get back to you in less than 1 working day.
Alternatively, give us a call to have one of our training consultants contact you. Our corporate training courses can be contextualized to meet your organization's training needs. Leverage on our large pool of professional trainers and consultants for your organization's training needs.
Office Address: Knowles Training Institute, 7 Temasek Boulevard, #12-07, Suntec Tower One, Singapore 038987
We Guarantee 100% Privacy. We Respect Your Privacy. Your Information Will Never Be Shared.