Meeting Skills Course in Singapore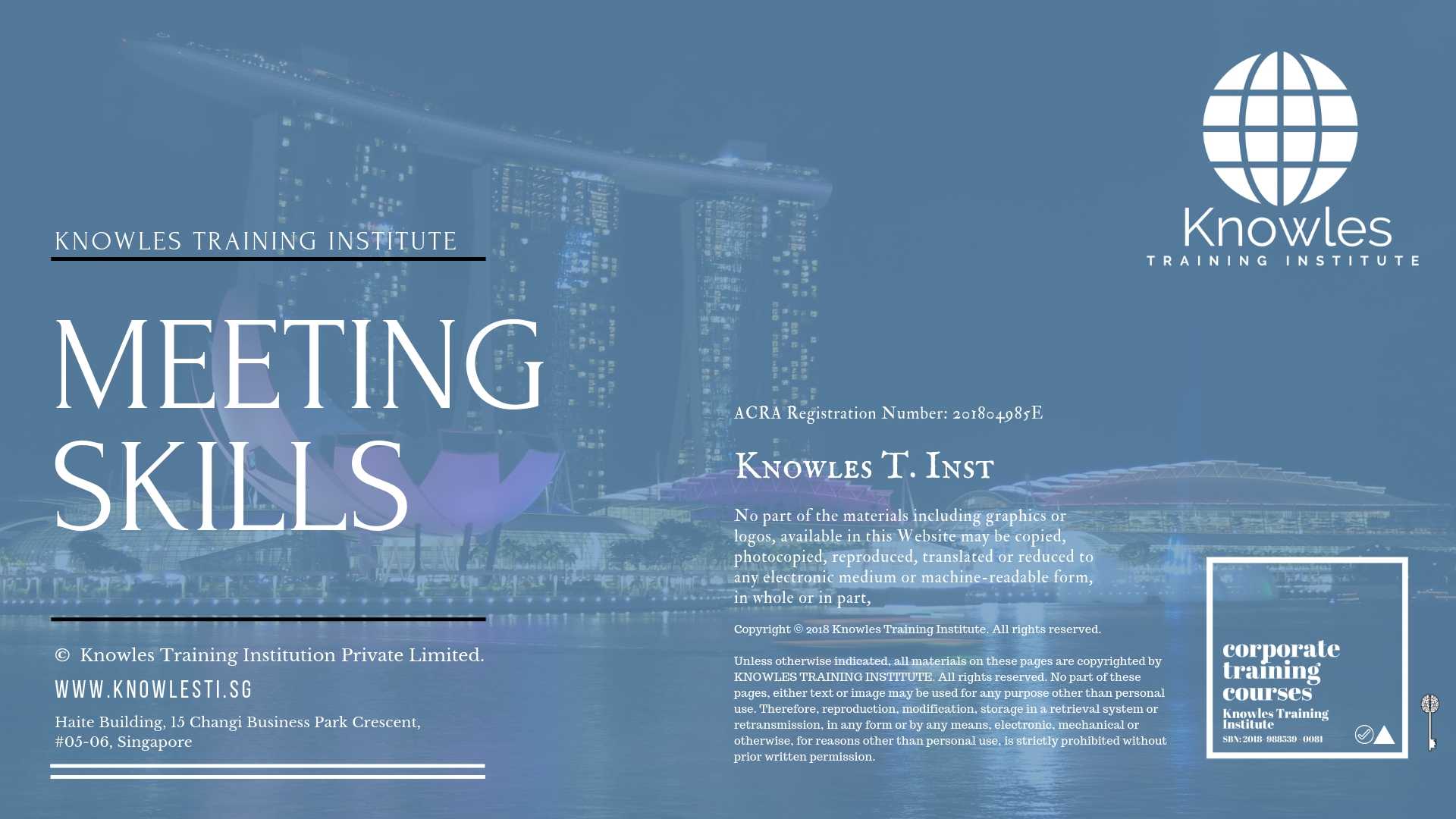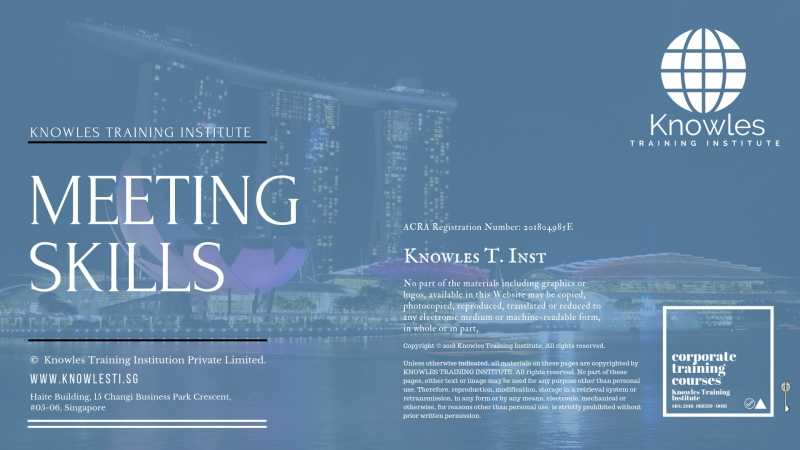 About This Meeting Skills Training Course
Meeting Skills Course in Singapore
Whether you are leading a meeting or simply participating in it, meeting skills must be instilled in all professionals working in a company. These skills will help employees navigate through a meeting, follow it attentively, observe proper meeting etiquette, and give opinions and suggestions in a timely and polite manner.
Who Should Attend This Meeting Skills Workshop
This Meeting Skills workshop is ideal for anyone who would like to gain a strong grasp and improve their Meeting Skills.
All Staff Within An Organisation
Group Size For This Meeting Skills Training Program
The ideal group size for this Meeting Skills course is:
Course Duration For This Meeting Skills Course
The duration of this Meeting Skills workshop is 2 full days. Knowles Training Institute will also be able to contextualised this workshop according to different durations; 3 full days, 1 day, half day, 90 minutes and 60 minutes.
Meeting Skills Course Benefits
Below is the list of course benefits of our Meeting Skills course
With an idea of what needs to be covered and for how long, you can then look at the information that should be prepared beforehand
Help you and your team to conduct your meetings in a more professional manner
Help to achieve your objectives with the minimum of fuss or disruption
Gaining a reputation for running efficient and successful meetings is good for you and your career
Improve your management skills during a meeting by being both specific and punctual with the timing
Clarity will allow a person who doesn't know you or the situation coming in to get right up to speed at the start
Gives employees the opportunity to build their meeting management skills, organize their thought, and perform in front of a group
Learn a lot from planning the meeting and preparing the agenda, and will ultimately help you run more effective meetings
Learn to summarize at the end of each discussion point and at the end of the meeting
Employees arrive at higher quality decisions that are capable of reconciling seemingly contrary points of view
Teams can breakthrough their stalemates and deadlocks by rediscovering common ground or by creating options during the meeting that did not walk into the room at the start of the meeting
Proper facilitation will demonstrate the opportunity and method for discovering win-win solutions
Meeting Skills Course Objectives
Below is the list of course objectives of our Meeting Skills course
Learn how to run effective meetings and know when to start and how to host a meeting
For a meeting to meet this outcome, or objective, you have to be clear about what it is
To ensure you cover only what needs to be covered and you stick to relevant activities, you need to create an agenda
Circulate reports for people to read beforehand, and assign smaller group meetings to discuss issues relevant to only certain people
Make sure someone is assigned to take notes during the meeting if you think you will be too busy to do so yourself
Your meeting should follow a set of "ground rules," or etiquette, that govern the way you behave
Rules will vary according to the culture of your organization, your management style, and the preferences of your team
Effective meetings need structure, order and ground rules and without these elements they can go on forever and not accomplish a thing
Have a solid objective in mind, a tight agenda, and a commitment to involving the meeting participants in the planning, preparation, and execution of the meeting
Improve your management skills and hold more effective meetings
Set the foundation, establish the parameters, organize the terms of reference and tells everybody in the room why they are there
Be more punctual, and help you improve your management skills in a respectable manner
Course Content For This Meeting Skills Training Course
Below is the list of course content of our Meeting Skills training course
An effective meeting serves a useful purpose. This means that in it, you achieve a desired outcome
Before you do any meeting planning, you need to focus your objective
Plan the contents of the meeting, and determine who needs to be present
The agenda is what you will refer to in order to keep the meeting running on target and on time
Assigning a particular topic of discussion to various people is another great way to increase involvement and interest
On the agenda, indicate who will lead the discussion or presentation of each item
Start the meeting on time, do not spend time recapping for latecomers, and, when you can, finish on time
Once you have an agenda prepared, you need to circulate it to the participants and get their feedback and input
Quickly summarize what was said, and ask people to confirm that that's a fair summary and then make notes regarding follow-up
Take some time to debrief, and determine what went well and what could have been done better
Evaluate the meeting's effectiveness based on how well you met the objective
Prepare the meeting summary a record of what was accomplished and who is responsible for what as the team moves forward
Meeting Skills Value Added Materials
Each participant will receive the following materials for the Meeting Skills course
Meeting Skills Learner's Guide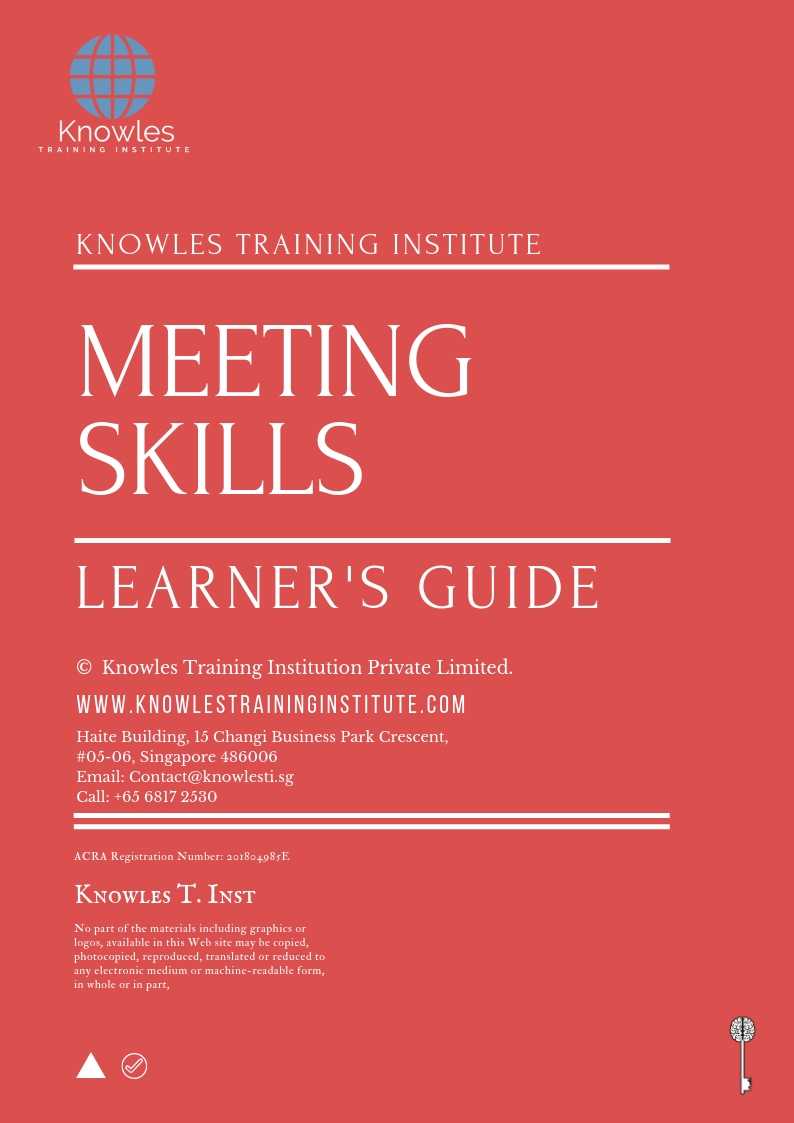 Meeting Skills Key Takeaways Notes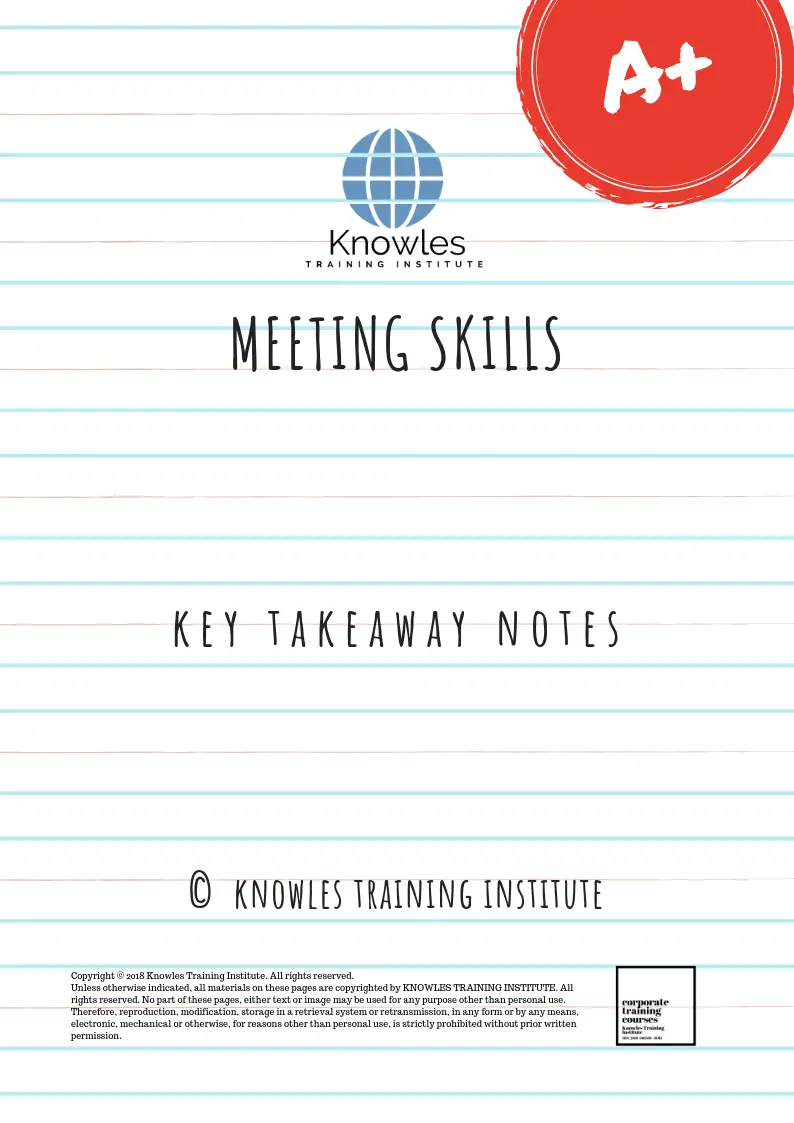 Meeting Skills Essentials Ebook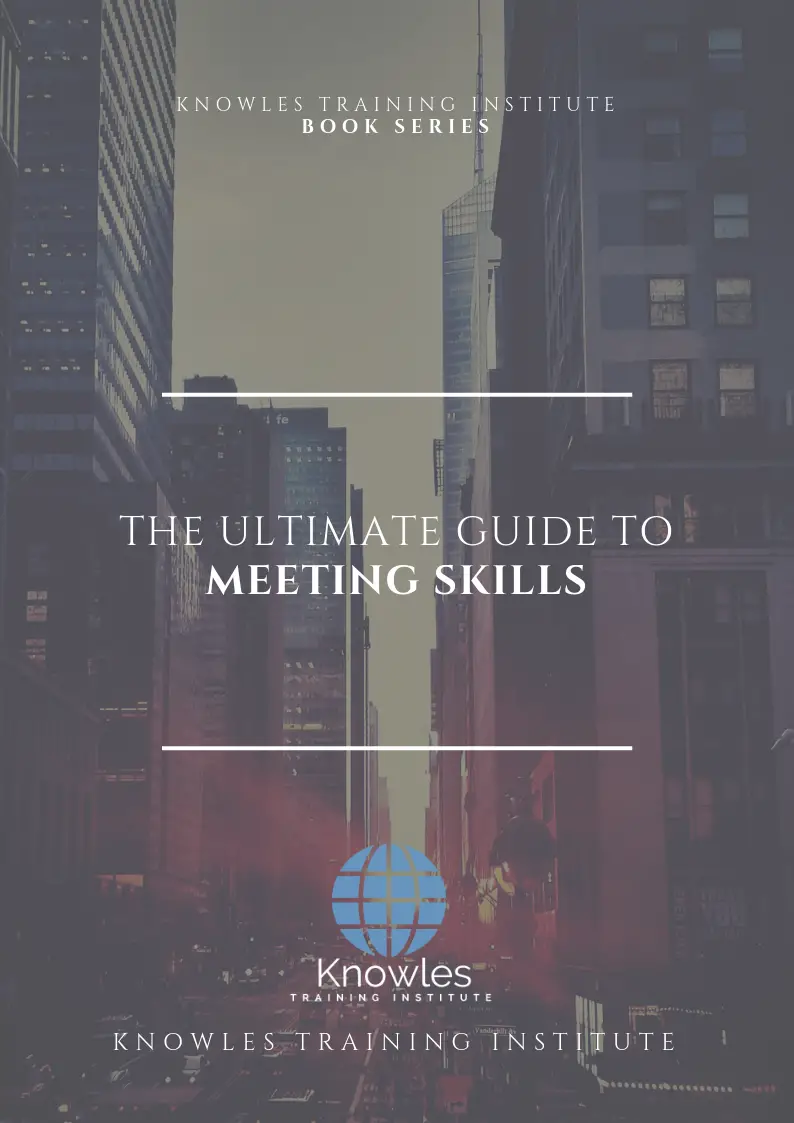 Meeting Skills Course Handouts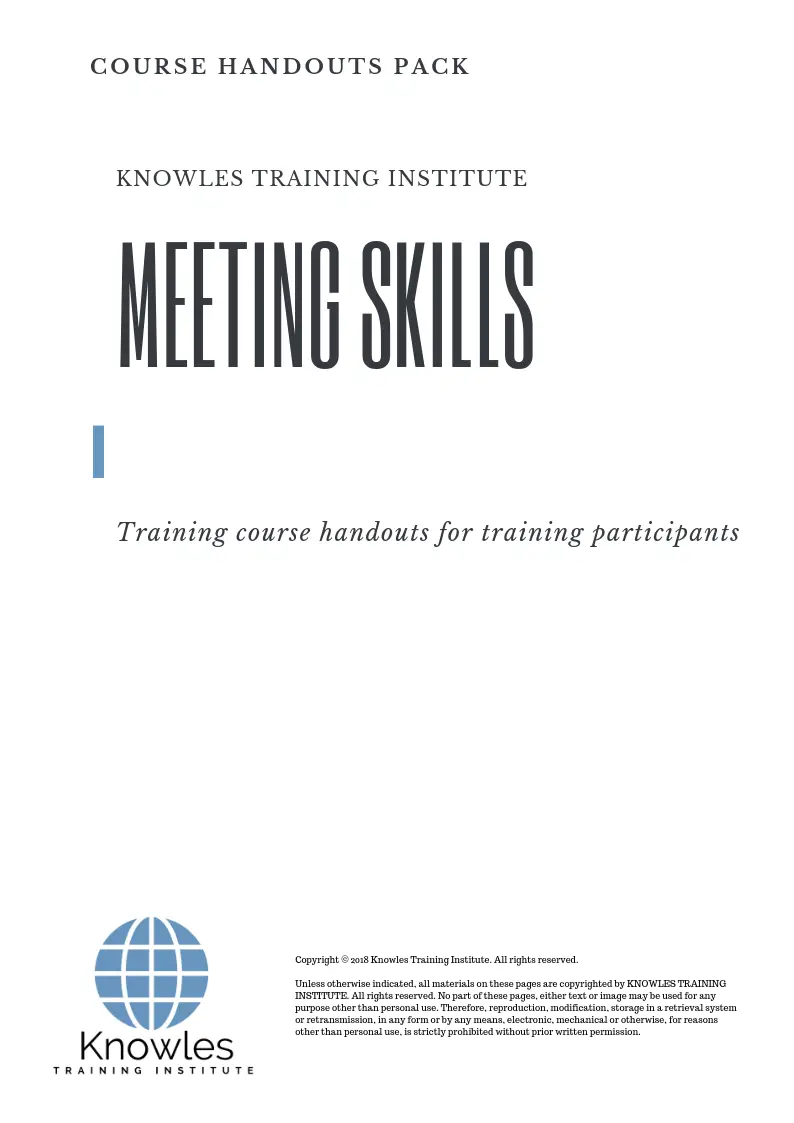 Meeting Skills 30-Day Action Plan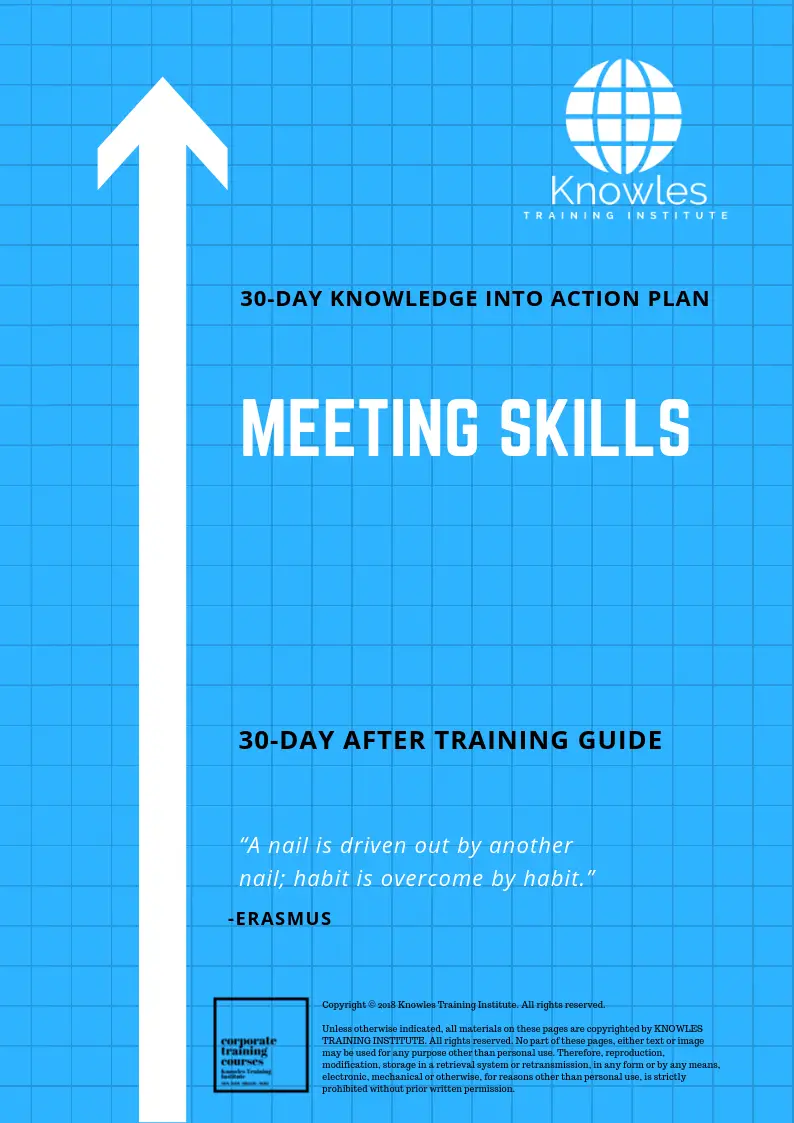 Meeting Skills MindMaps Pack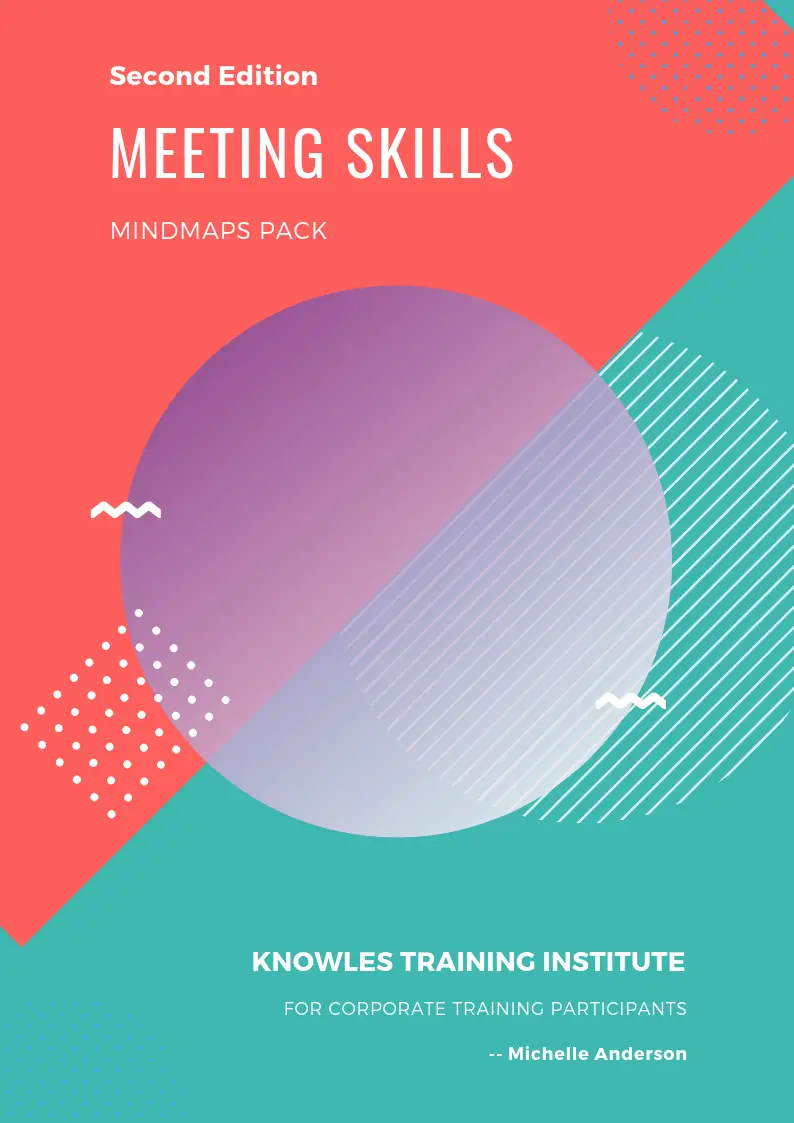 Meeting Skills PPT Slides Used During Course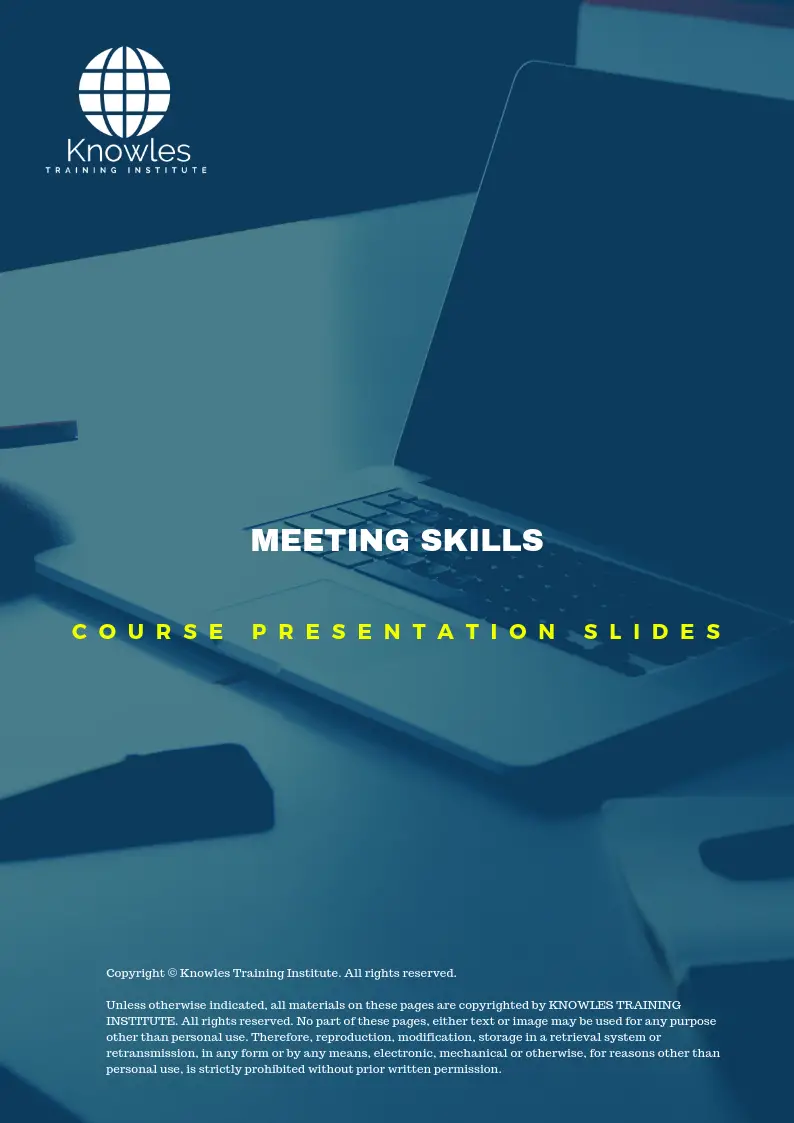 Meeting Skills Long-Term Memory Flashcards Pack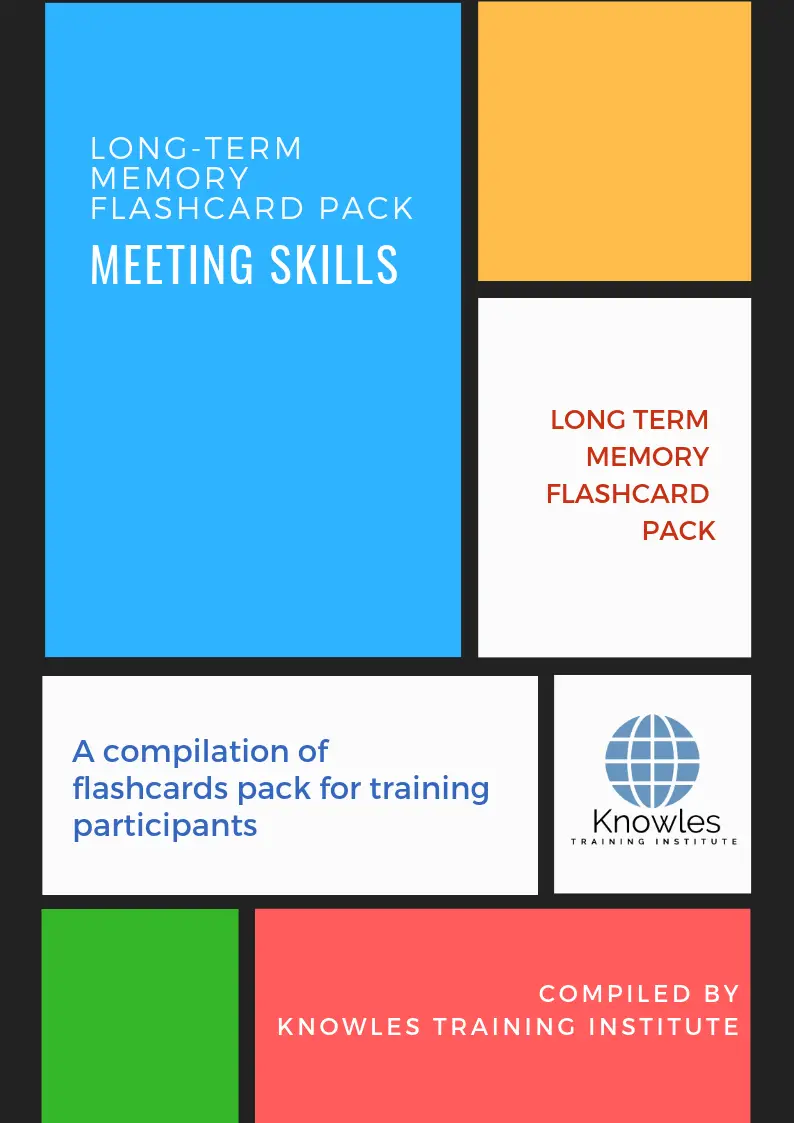 Meeting Skills E-Learning Course
Meeting Skills Online Video Course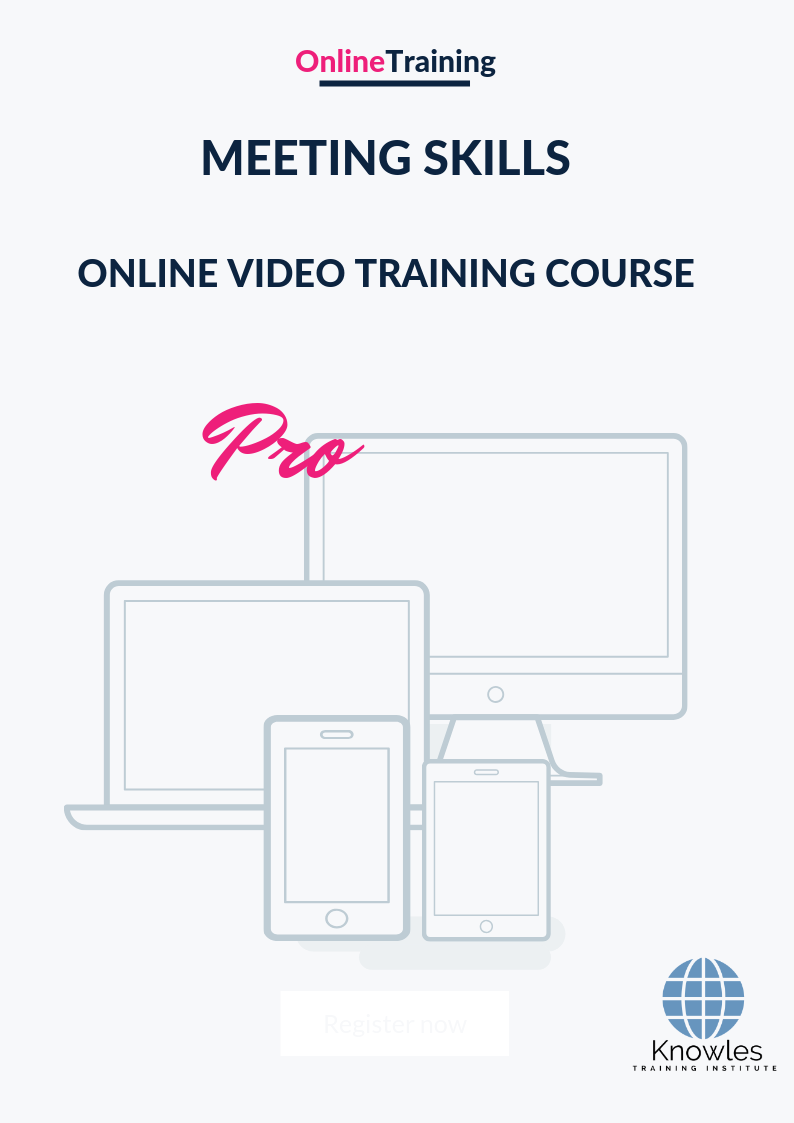 Meeting Skills Essentials Audiobook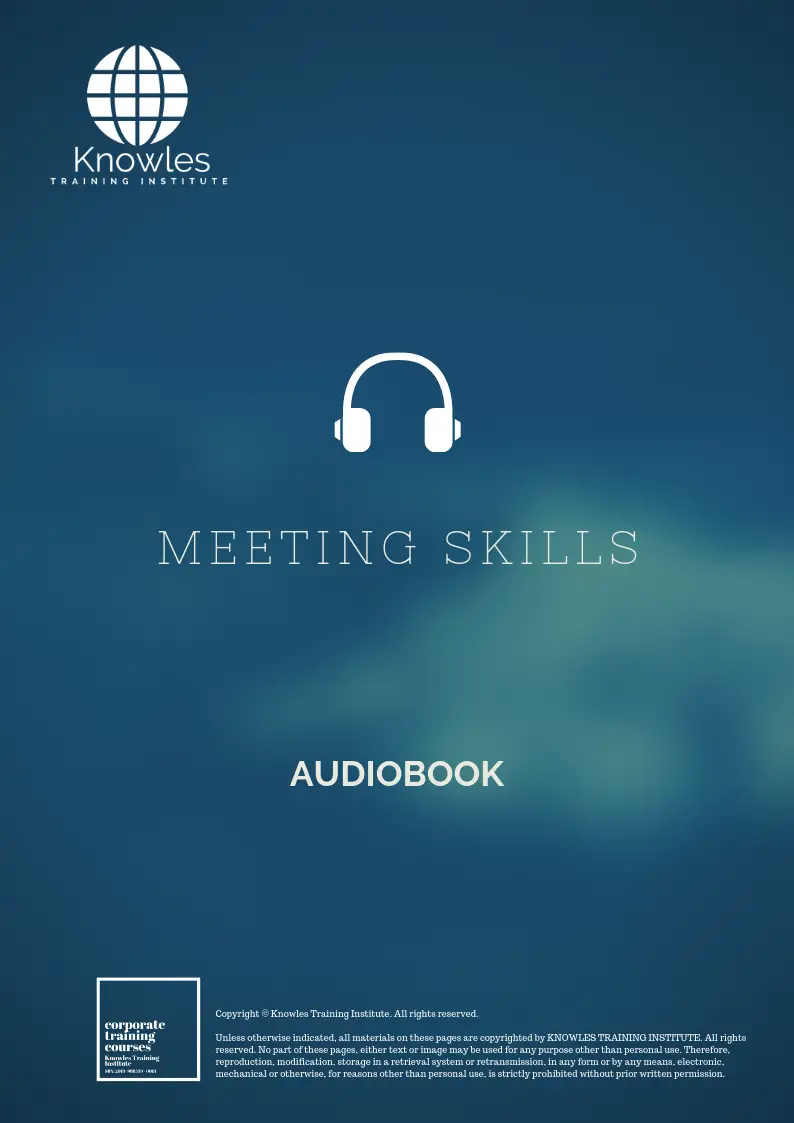 Meeting Skills Infographics Pack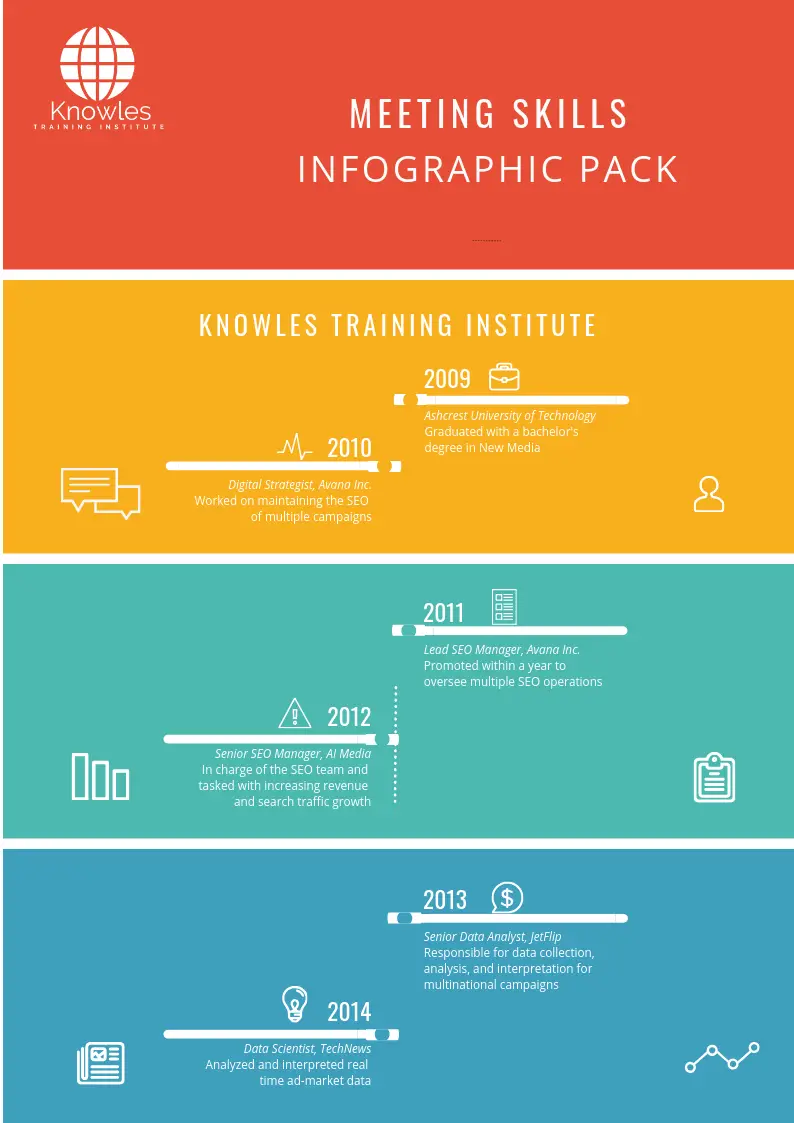 Meeting Skills Certification
Each course participant will receive a certification of training completion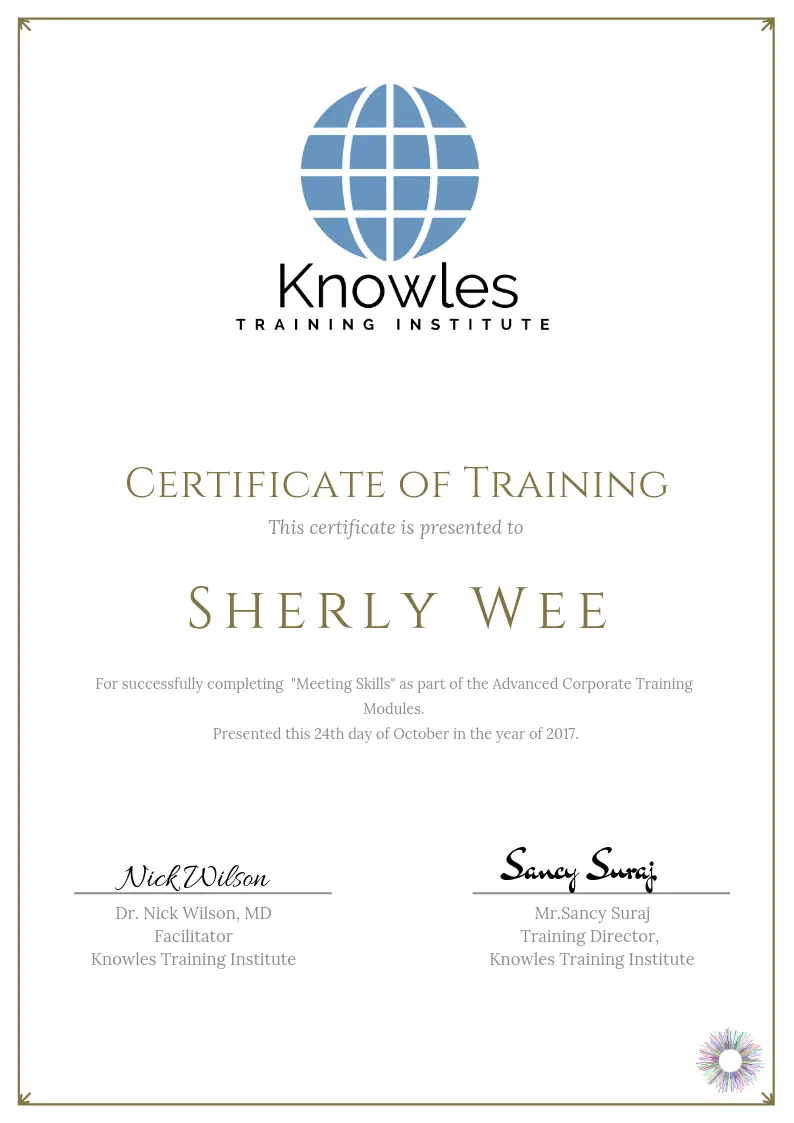 There are 3 pricing options available for this Meeting Skills training course. Course participants not in Singapore may choose to sign up for our online Meeting Skills training course.
2-Full Day Course
Learner's Guide
Course Handouts
—
—
—
—
—
—
—
—
—
—
Premium 2-Full Day Course
Learner's Guide
Course Handouts
PPT Slides Used During Training Course
Long-Term Memory Flashcards Guide TM
1 Year Access to Online Training Video Course (*Worth S$589.97)
Contact Your Trainer: 90-Day Post Course Help (*Worth S$89.97)
Key Learning Takeaway Notes (*Worth S$18.97)
Audio Book (*Worth S$18.97)
eBook (*Worth S$14.97)
Course Infographics Pack (*Worth S$11.97)
Course Mind Maps (*Worth S$8.97)
30-Day Action Plan
Course Discounts, Fundings & Subsidies
We have the following  discounts, fundings & subsidies for this Meeting Skills training course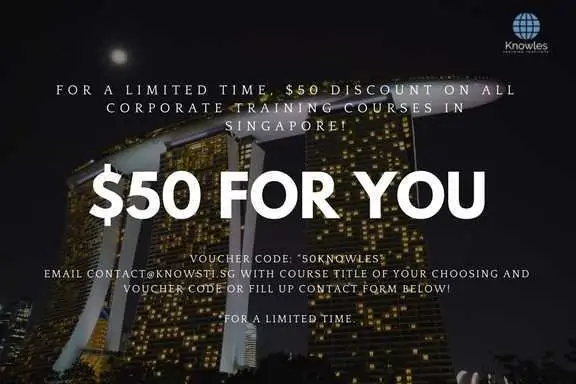 Upcoming Meeting Skills Training Course Schedule
Contact us for the latest Meeting Skills course schedules:
Phone: +65 6714 6663
Email: contact@knowlesti.com
Message:
Download Meeting Skills Course Brochure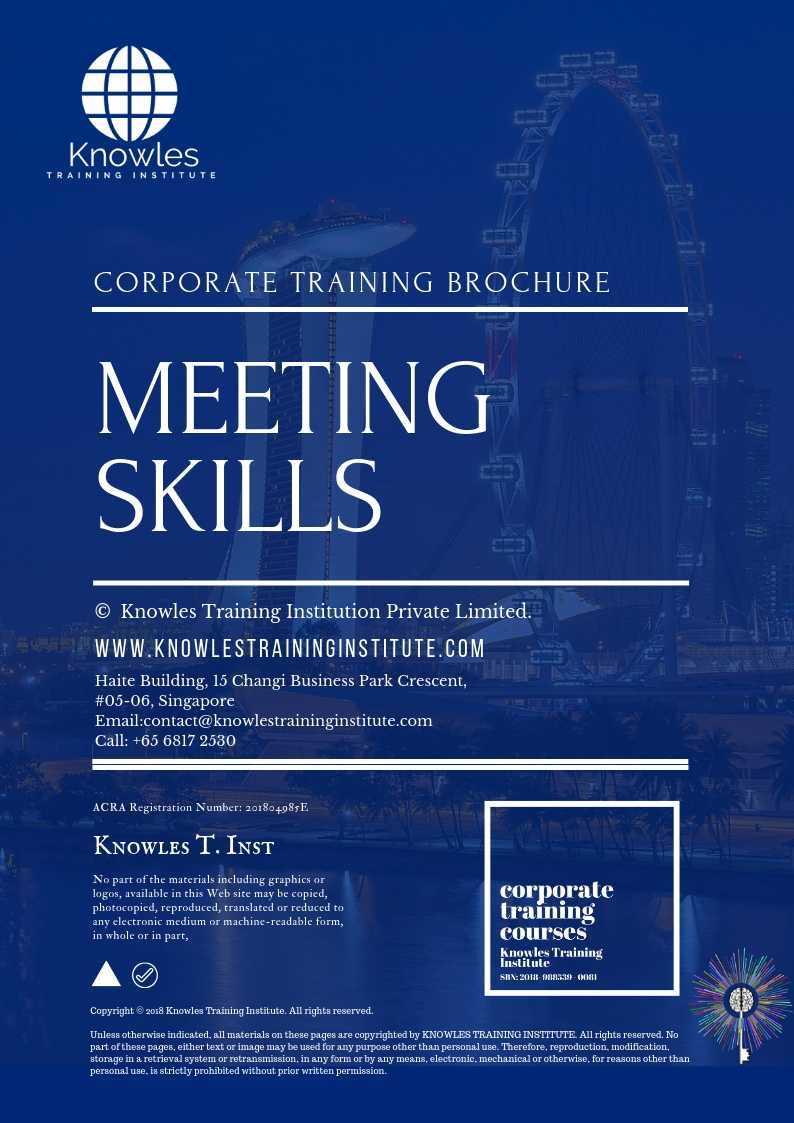 Request for this Meeting Skills course brochure. Fill up the short information below and we will send it to you right away!
Post-Training Support: A vast majority of training does not have any effect beyond 120 days. But to work, training has to have a strong pre- and post-training component. Post-training reinforcement consequently helps individuals to recall the understanding and ask questions.

Blended Learning: Learning does not occur in the classroom. Virtually everybody prefers distinct ways of learning. Successful learning should have a multi-channel, multi-modal strategy.

We Understand The Industry: Similarly, we've got a profound comprehension of the business, business design, challenges, strategy and the that our participants are in and have designed the courseware to cater to their professional needs.

Course Content: Knowles Training Institute's material is relevant, of high quality and provide specific learning outputs. As a result, Participants will leave the training course feeling as they have gained a strong understanding and will also be in a position to execute what they have learned sensibly.

Course Development — The workshop modules follow a systematic and logical arrangement. Therefore, this structure helps to ensure that the course material allows the facilitators to deliver the course in a logical arrangement. Consider the subjects as building bricks into learning, our facilitators slowly build towards a comprehensive picture of this entire topic.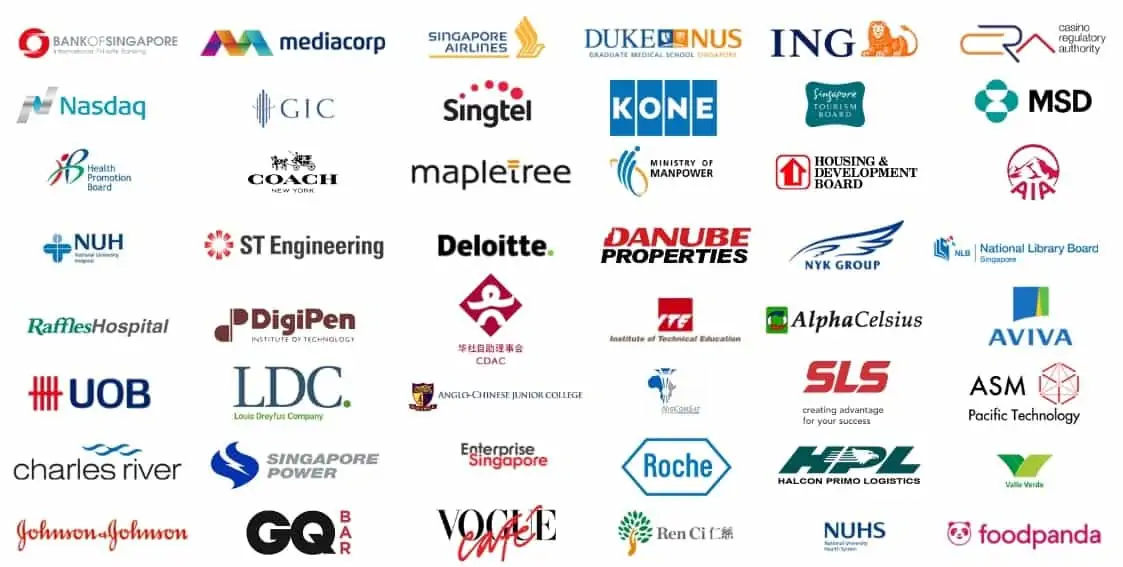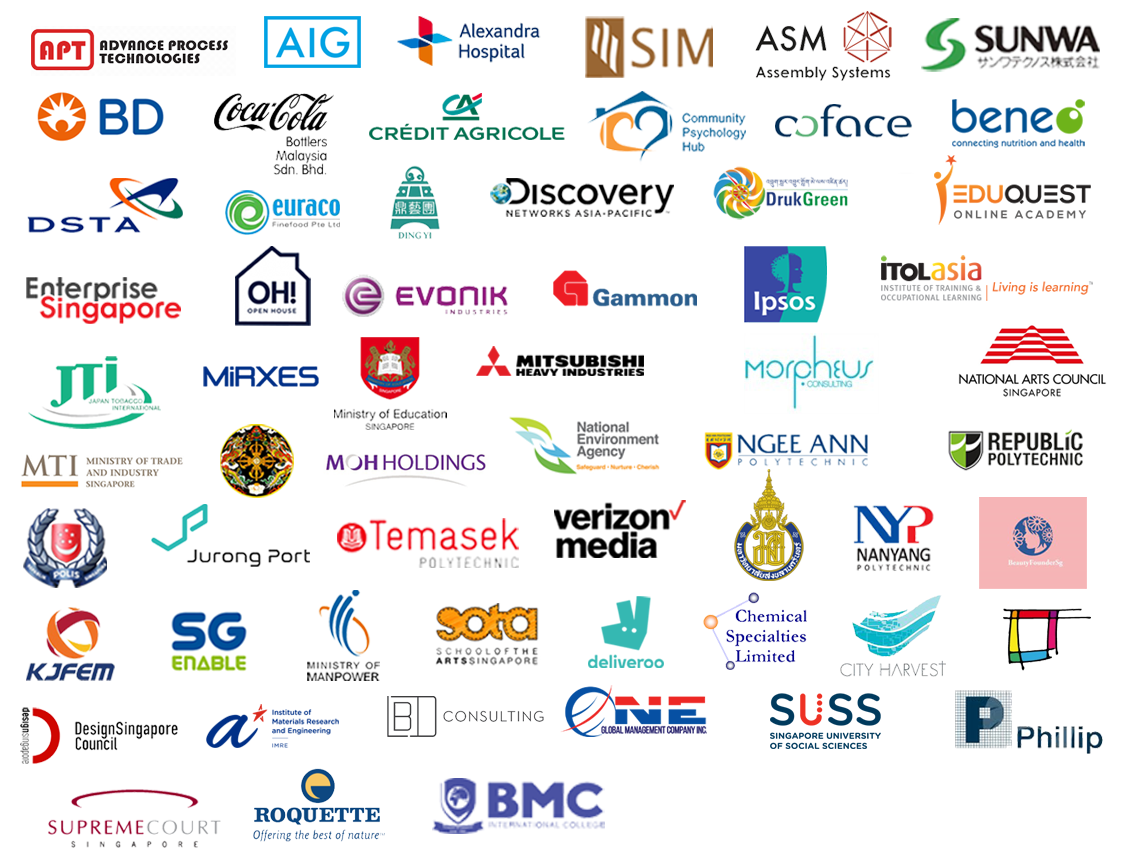 Fill up the form and we will get back to you in less than 1 working day.
Alternatively, give us a call to have one of our training consultants contact you. Our corporate training courses can be contextualized to meet your organization's training needs. Leverage on our large pool of professional trainers and consultants for your organization's training needs.
Office Address: Knowles Training Institute, 7 Temasek Boulevard, #12-07, Suntec Tower One, Singapore 038987
We Guarantee 100% Privacy. We Respect Your Privacy. Your Information Will Never Be Shared.
Register Now
Register For This Meeting Skills Course Now!
Meeting Skills course, workshop, training, class, seminar, talk, program, programme, activity, lecture. Meeting Skills courses, workshops, classes, seminars, talks, programs, programmes, activities, lectures in Singapore. Meeting Skills improvement tips, Meeting Skills techniques, improve Meeting Skills, improve Meeting Skills games, Meeting Skills improvement exercises, improve Meeting Skills power, how to have good Meeting Skills, how to have good Meeting Skills in studying, how to build up your Meeting Skills, how to improve Meeting Skills how to improve Meeting Skills course in Singapore. Enhance, boost, build up, enlarge, heighten Meeting Skills course in Singapore. Increase, intensify, raise, reinforce, strengthen Meeting Skills. Upgrade, amplify, boom, elevate, exaggerate, magnify, grow, gain Meeting Skills. Develop Meeting Skills, multiple, power up, beef up, bolster, establish, extend Meeting Skills. Invigorate, restore, step up, toughen, empower, fortify, regenerate Meeting Skills. Rejuvenate, renew, escalate, expand, maximize Meeting Skills. Powerful, mighty, impressive, competent, great, excellent, exceptional Meeting Skills in Singapore. Superb Meeting Skills. Super, superior, strong, solid, active Meeting Skills training courses and workshops in Singapore. Meeting Skills enhancement, booster, building up, enlargement, heightening, increment, strengthening, amplification. Meeting Skills magnification, growth, development, power, empowerment, regeneration. Meeting Skills rejuvenation, development, escalation, expansion. Meeting Skills maximization, power training courses & workshops in Singapore.