Design Thinking Training Course
Design Thinking Skills Course in Singapore
About This Design Thinking Skills Training Course
Design Thinking Skills Course in Singapore
Design Thinking is a mindset and a human-centred process of finding suitable solutions to complex problems to get the desired outcome. This method is used to figure out unknown problems by understanding human needs. It's a solution-focused method to, actively, build up to a preferred result. It induces logic, creativity, intuition, and systemic reasoning, to examine possibilities.
The Hasso-Plattner Institute of Design at Stanford is said to be the leading university when it comes to design. They proposed five (5) stages to Design Thinking. These stages are Empathizing, Defining the Problem, Ideating, Prototyping, and, Testing. They also emphasized that the process doesn't always follow a linear course in actual applications. It could be that during the later stages, there will be a need to revert to the first or second stage of the design process.
This mindset revolves around what can be done to improve or help the community, the client, and, generally, anybody with a problem. The question, "What can I do to help?" is often in mind. Unlike, deductive reasoning where the top is always right, design thinking allows one to explore problems individually and not just to address as a whole.
Ergonomics is a field of science involved in human and machine interaction. Ergonomists study and evaluate the operator's comfort and safety to improve their working environment. They considerably use their Design Thinking skills to find solutions and improve the operator's overall health and productivity. There are plenty more fields using these skills besides Ergonomics. Building up these skills will positively affect one's way of life and the lives of others.
This course will introduce individuals to Design Thinking. It will serve as a guide to build up the mindset and get involved in the community or the workplace.
Who Should Attend This Design Thinking Skills Workshop
This Design Thinking Skills workshop is ideal for anyone who would like to gain a strong grasp and improve their Design Thinking Skills.
All Staff Within An Organisation
Group Size For This Design Thinking Skills Training Program
The ideal group size for this Design Thinking Skills course is:
Course Duration For This Design Thinking Skills Course
The duration of this Design Thinking Skills workshop is 2 full days. Knowles Training Institute will also be able to contextualised this workshop according to different durations; 3 full days, 1 day, half day, 90 minutes and 60 minutes.
Design Thinking Skills Course Benefits
Below is the list of course benefits of our Design Thinking Skills course
Improve creativity in tackling problems.
Boost teamwork and collaboration to figure out solutions.
Increase social and cultural awareness from citing possible people-oriented problems encountered.
Raise morale and self-confidence after testing and implementing solutions.
Improve adaptability to changing situations and solutions.
Develop an initiative to reach out and provide a solution to problems.
Design Thinking Skills Course Objectives
Below is the list of course objectives of our Design Thinking Skills course
Recognize issues in the workplace, community or surroundings.
Interact with the people affected.
List down their prominent concerns.
Break down issues to work with detailed pointers.
Investigate possible ways to improve the issues.
List ideas gathered to resolve the problem.
Compare ideas to come up with the most suitable solution.
Explain selected or resulting conclusion from the collaboration.
Create a prototype or proposal based on the study.
Present the prototype and proposal to the people involved.
Evaluate the effect of the proposal to the people involved.
Review the conclusion from the feedback received from the people involved.
Improve proposal for implementation.
Course Content For This Design Thinking Skills Training Course
Below is the list of course content of our Design Thinking Skills course
What is Design Thinking?
What are the benefits of having a Design Thinking mindset?
How do you implement the stages of Design Thinking?
How do you recognize a problem in the community, workplace, or your surroundings?
What are the tools to be used to gather information from the people involved?
Design Thinking Applications.
Design Thinking Companies.
Community Involvement.
Group discussion to come up with appropriate conclusions.
How do you test the Design Thinking solution?
When does the reviewing process of the Design Thinking solution end?
Design Thinking Skills Value Added Materials
Each participant will receive the following materials for the Design Thinking Skills course
Design Thinking Course Learner's Guide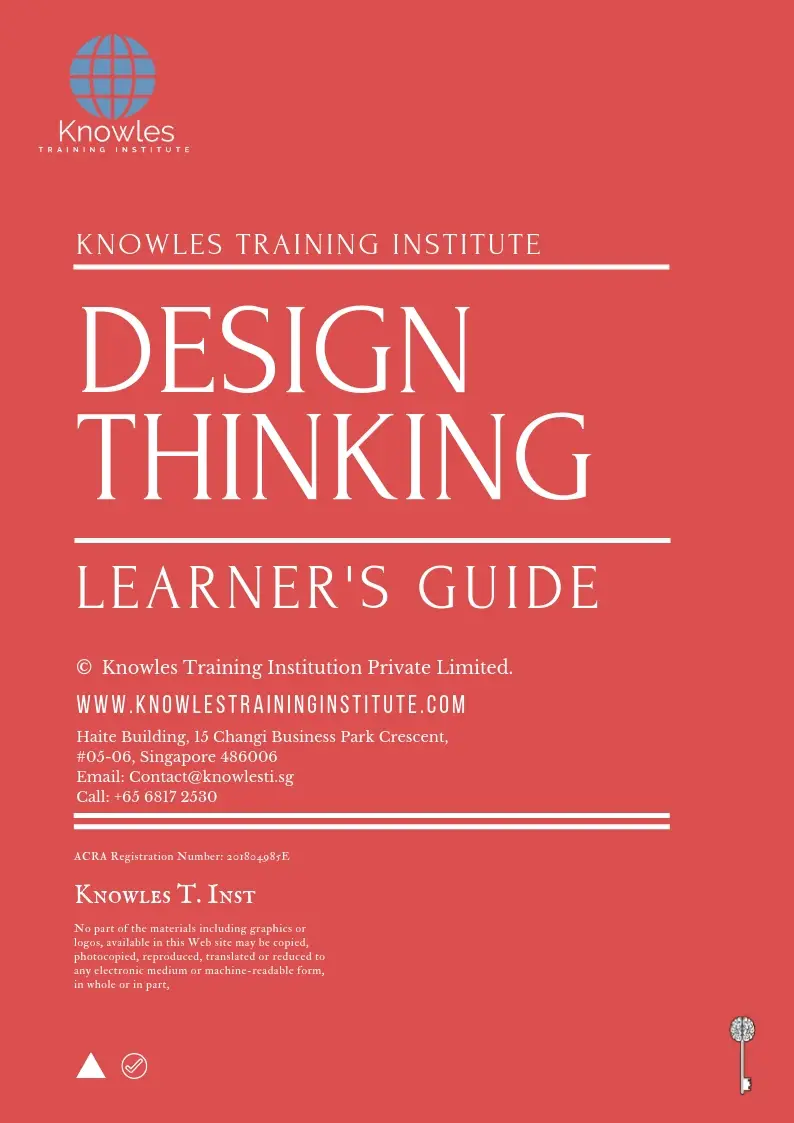 Design Thinking Course Key Takeaways Notes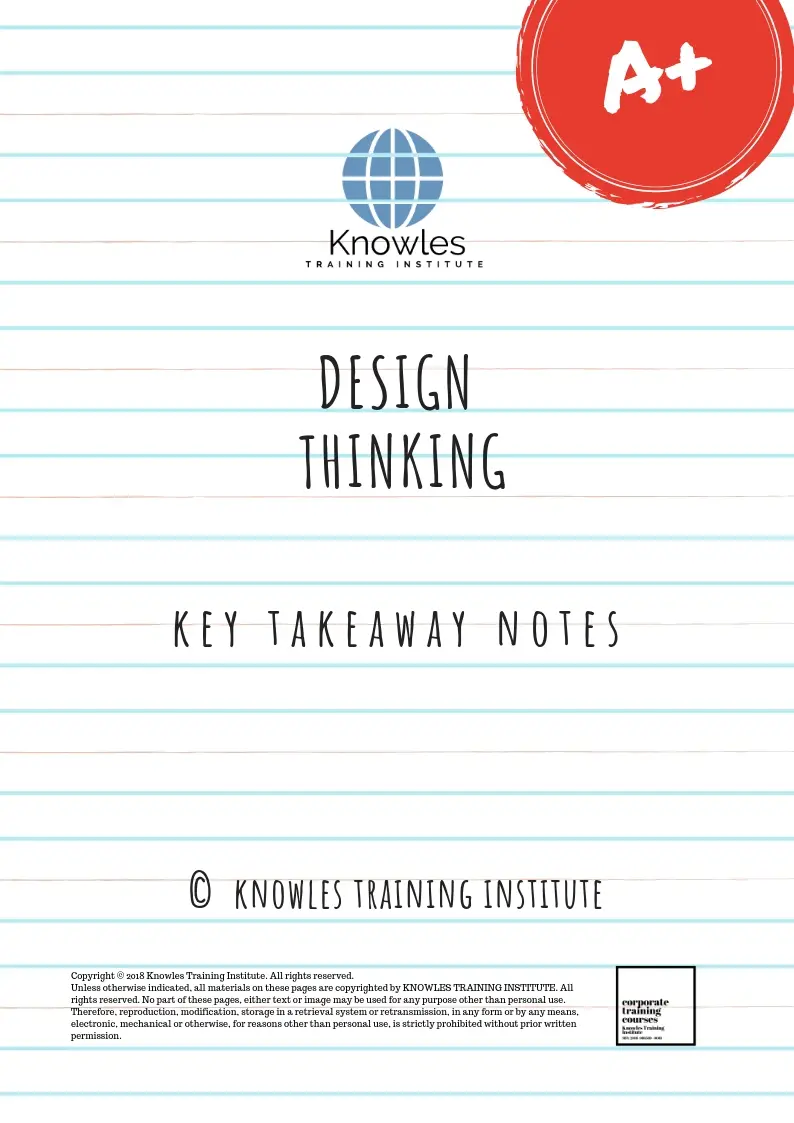 Design Thinking Course Essentials Ebook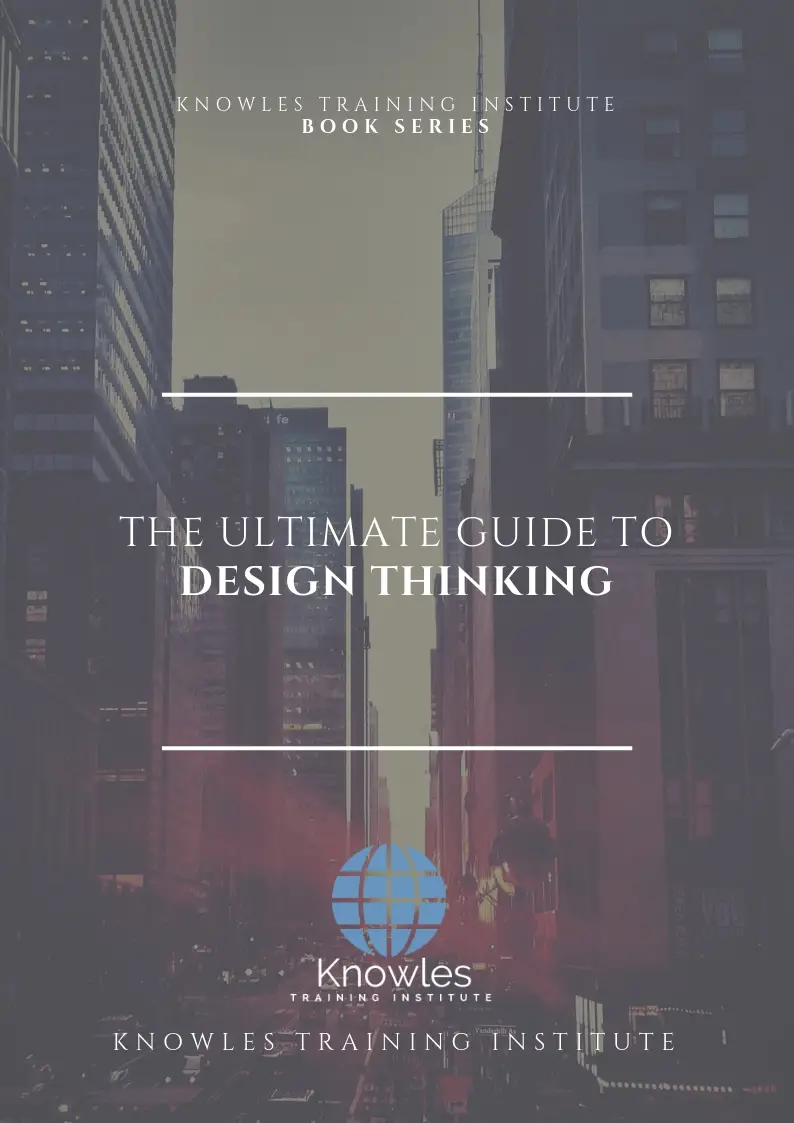 Design Thinking Skills Course Handouts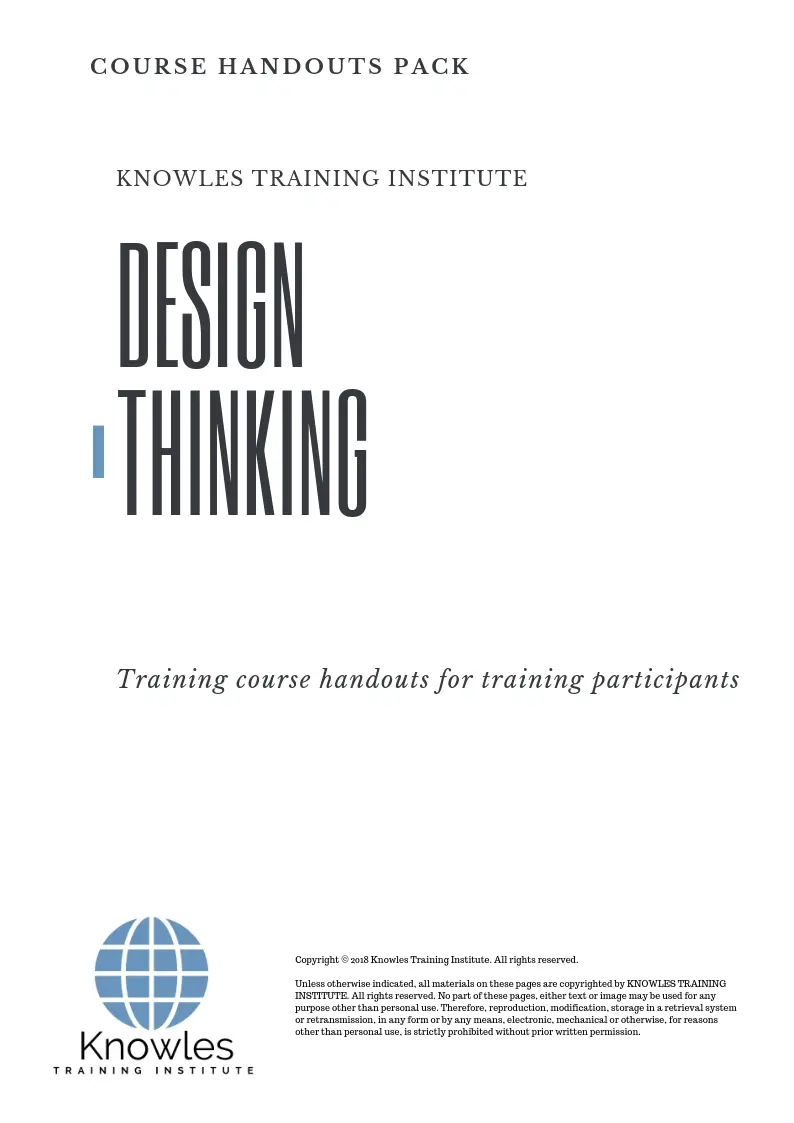 Design Thinking Course 30-Day Action Plan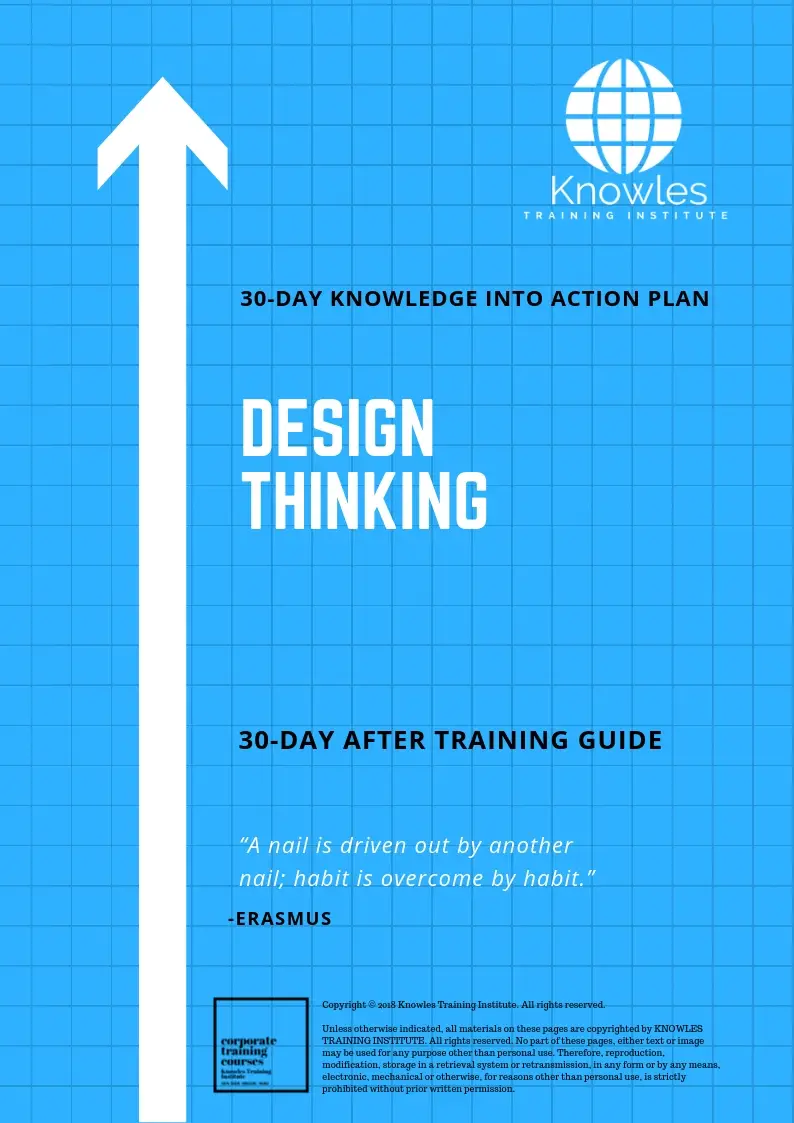 Design Thinking Course MindMaps Pack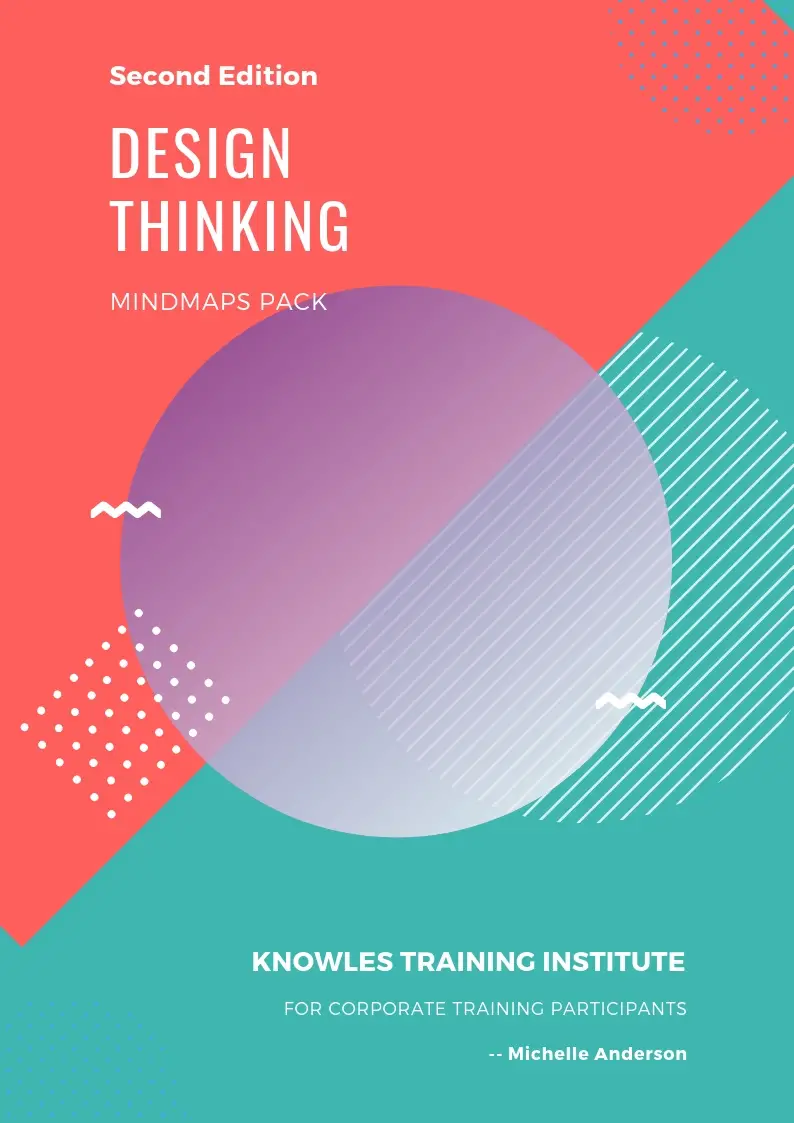 Design Thinking Skills PPT Slides Used During Course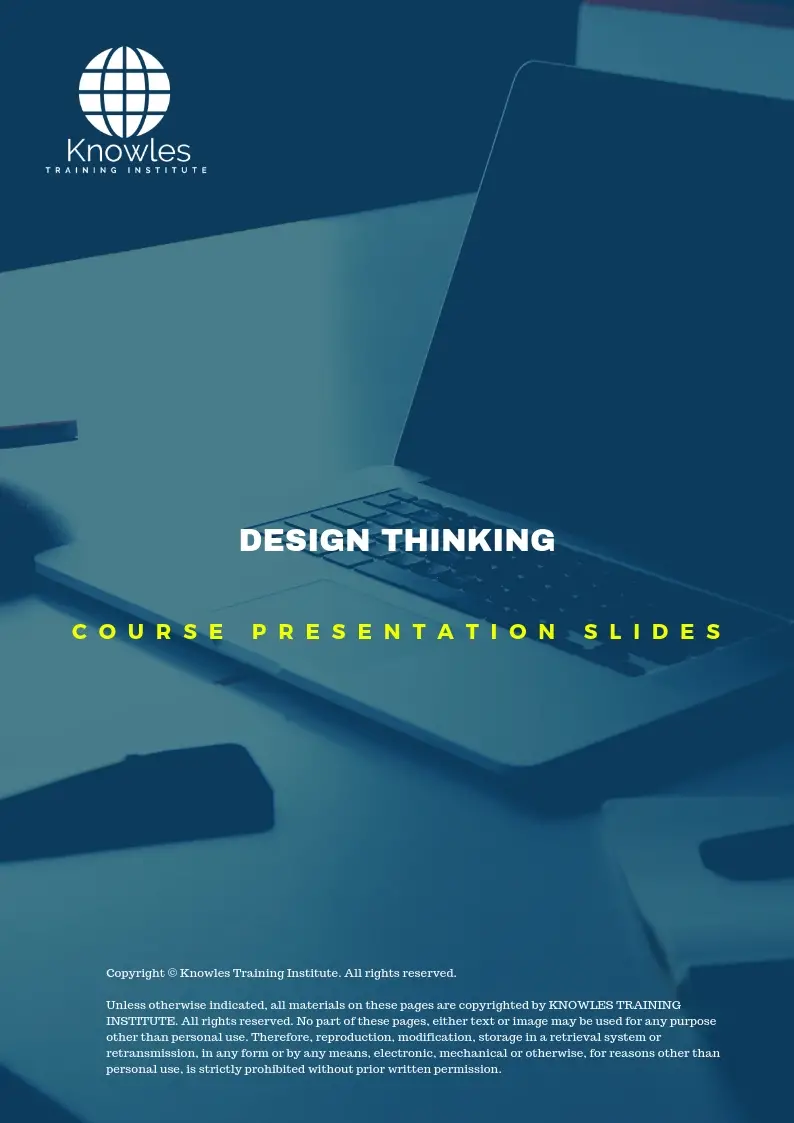 Design Thinking Skills Long-Term Memory Flashcards Pack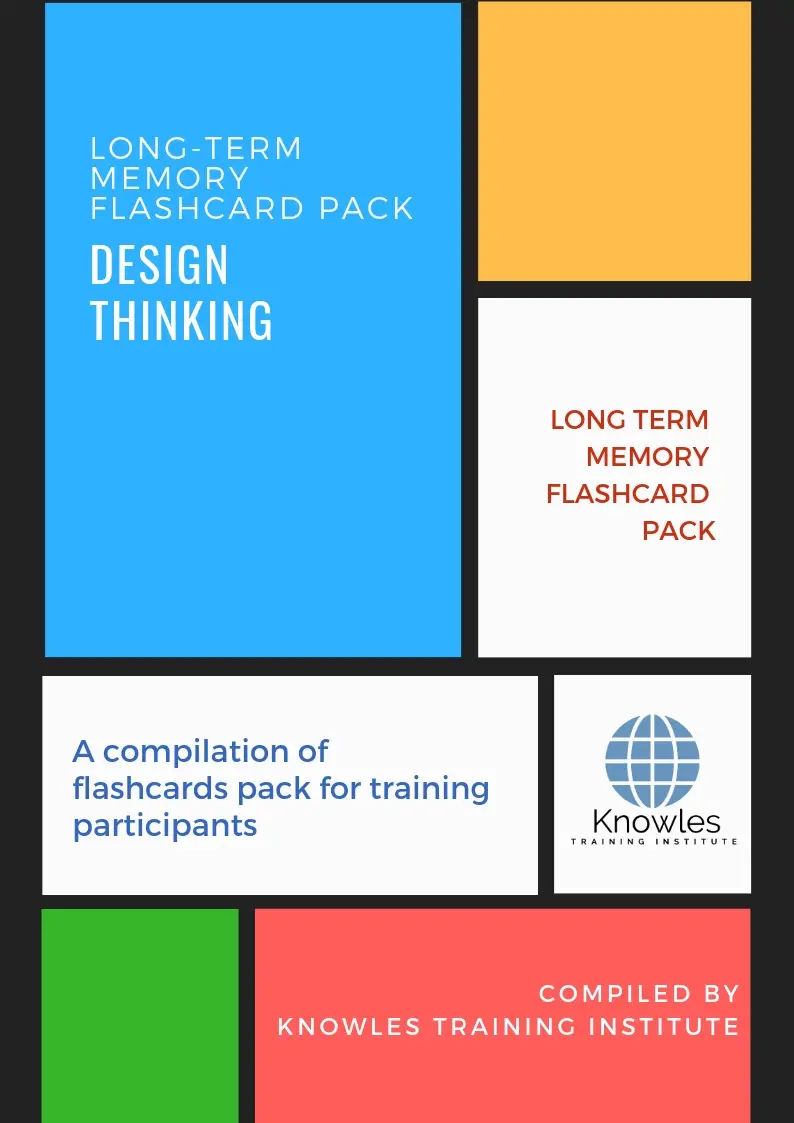 Design Thinking Skills E-Learning Course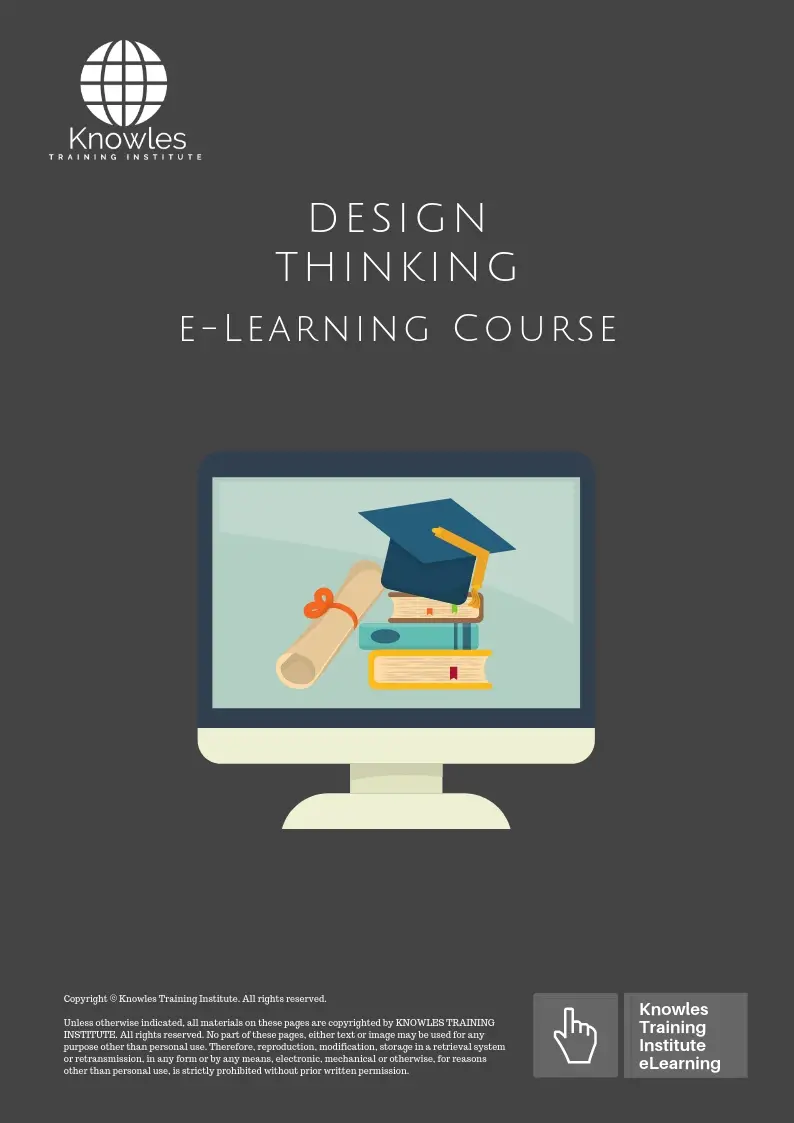 Design Thinking Skills Online Video Course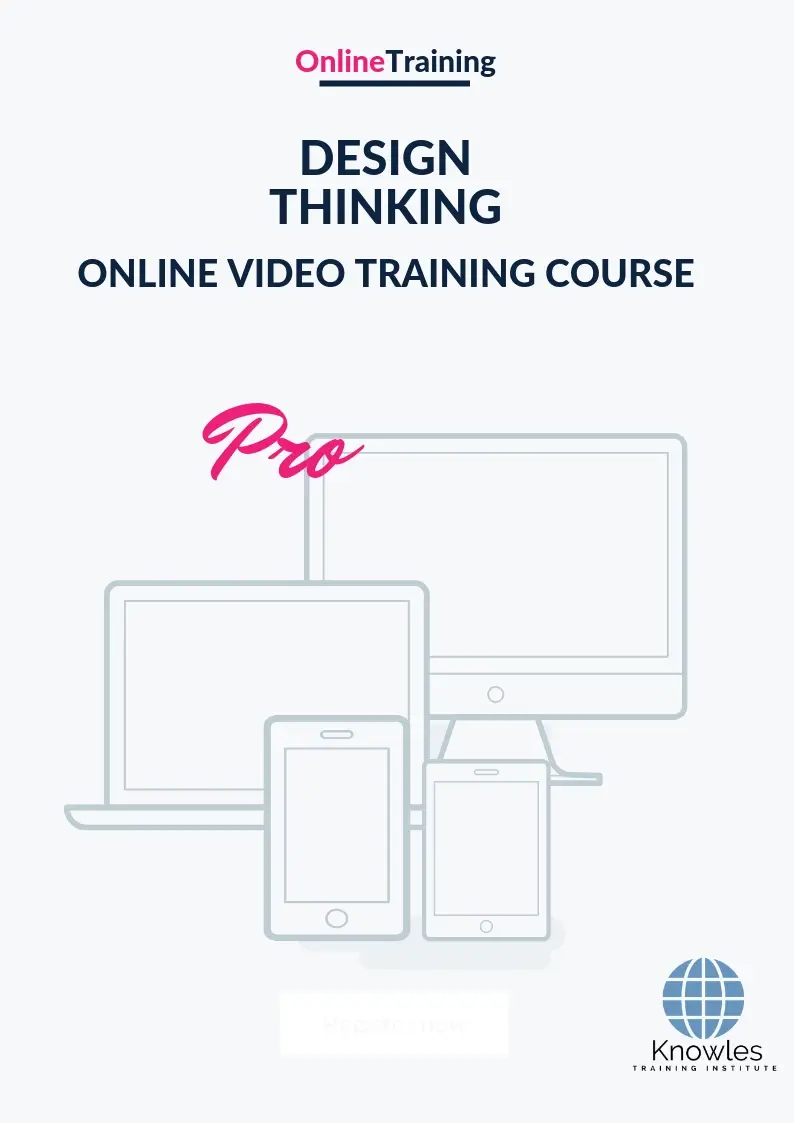 Design Thinking Skills Essentials Audiobook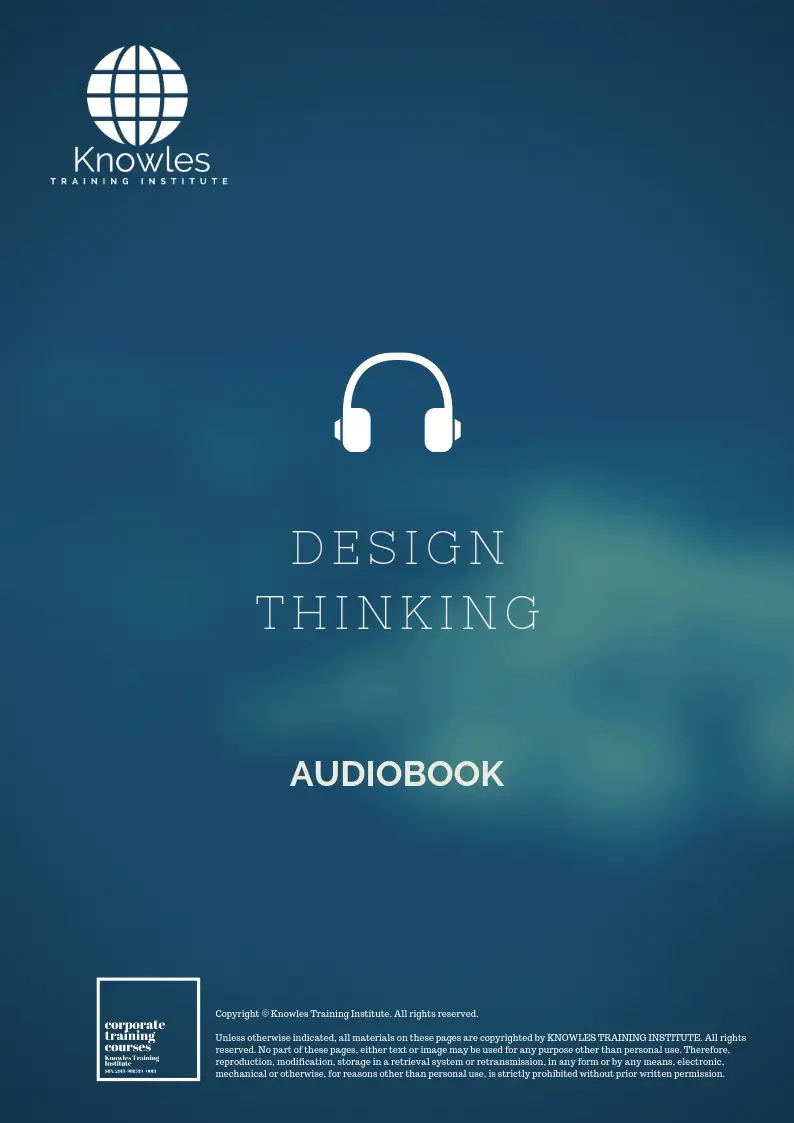 Design Thinking Skills Infographics Pack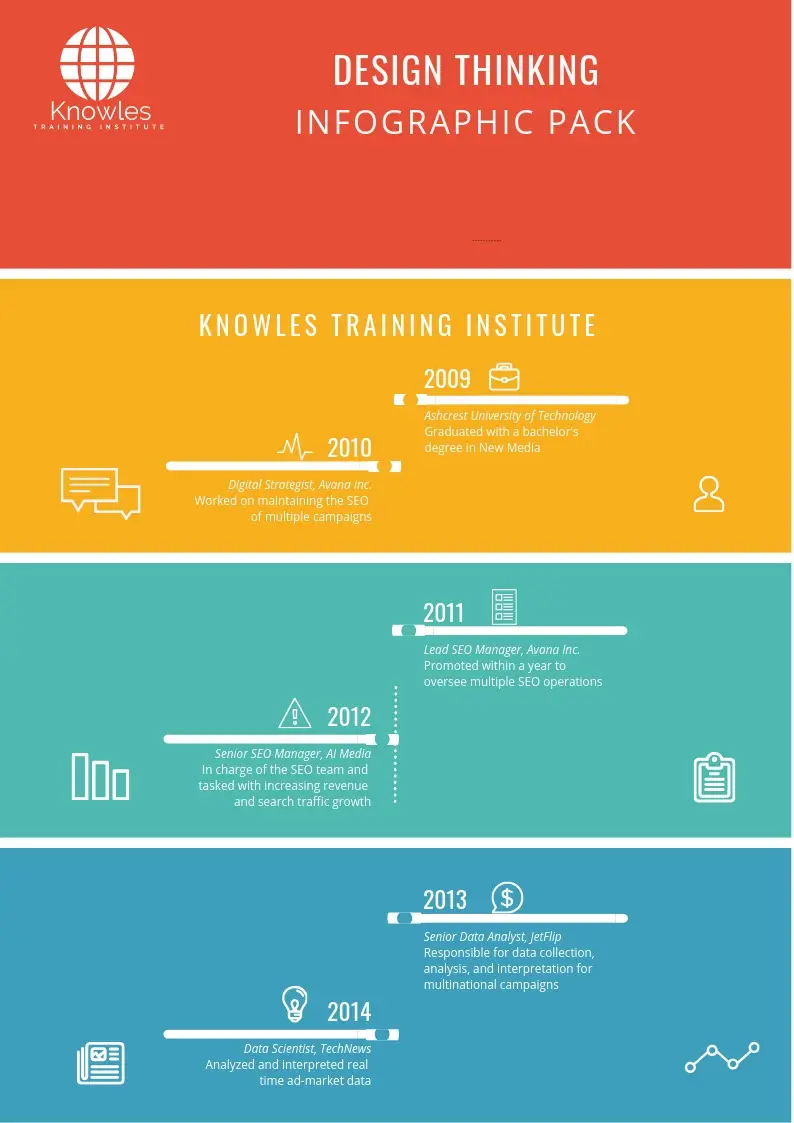 Design Thinking Skills Certification
Each course participant will receive a certification of training completion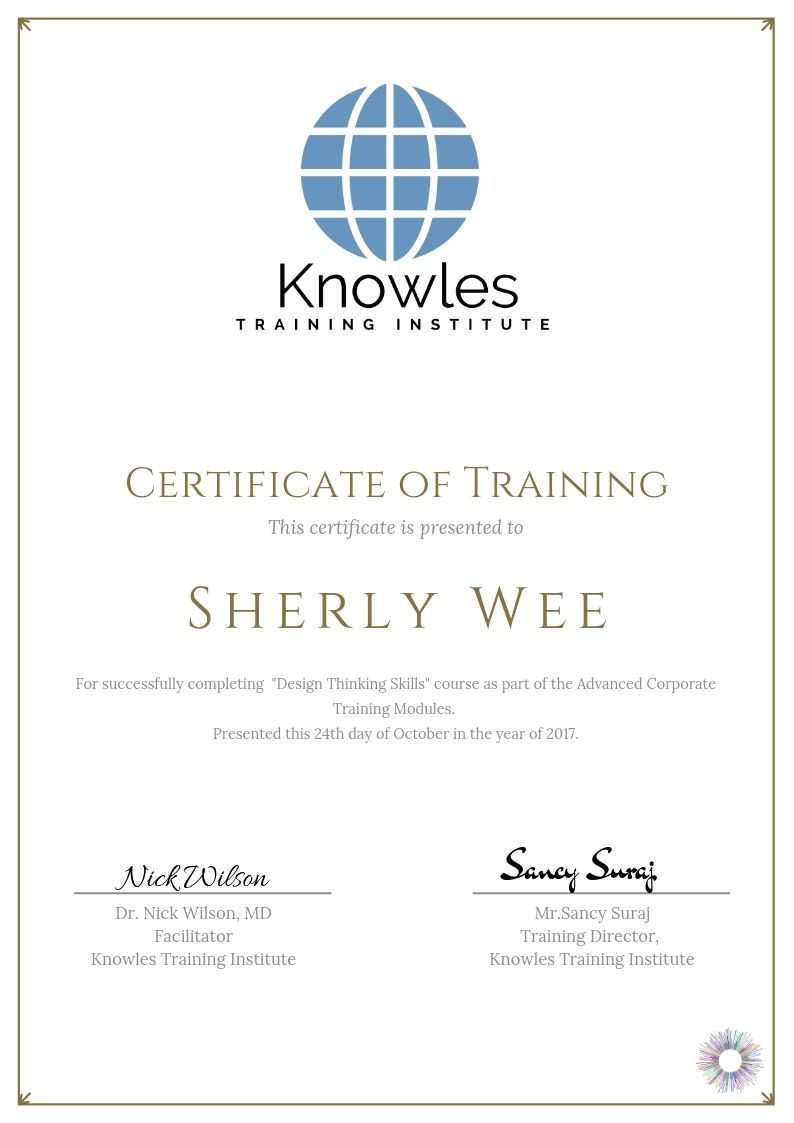 Design Thinking Course Fees
There are 4 pricing options available for this Design Thinking Skills training course. Course participants not in Singapore may choose to sign up for our online Design Thinking Skills training course.
SGD 1,334.96 For a 60-minute Lunch Talk Session.

SGD 584.96 For a Half Day Course Per Participant.

SGD 884.96 For a 1 Day Course Per Participant.

SGD 1,184.96 For a 2 Day Course Per Participant.

Discounts available for more than 2 participants.
Upcoming Design Thinking Skills Training Course Schedule
Contact us for the latest Design Thinking Skills course schedules:
Phone: +65 6714 6663
Email: contact@knowlesti.com
Message:
Download Design Thinking Skills Course Brochure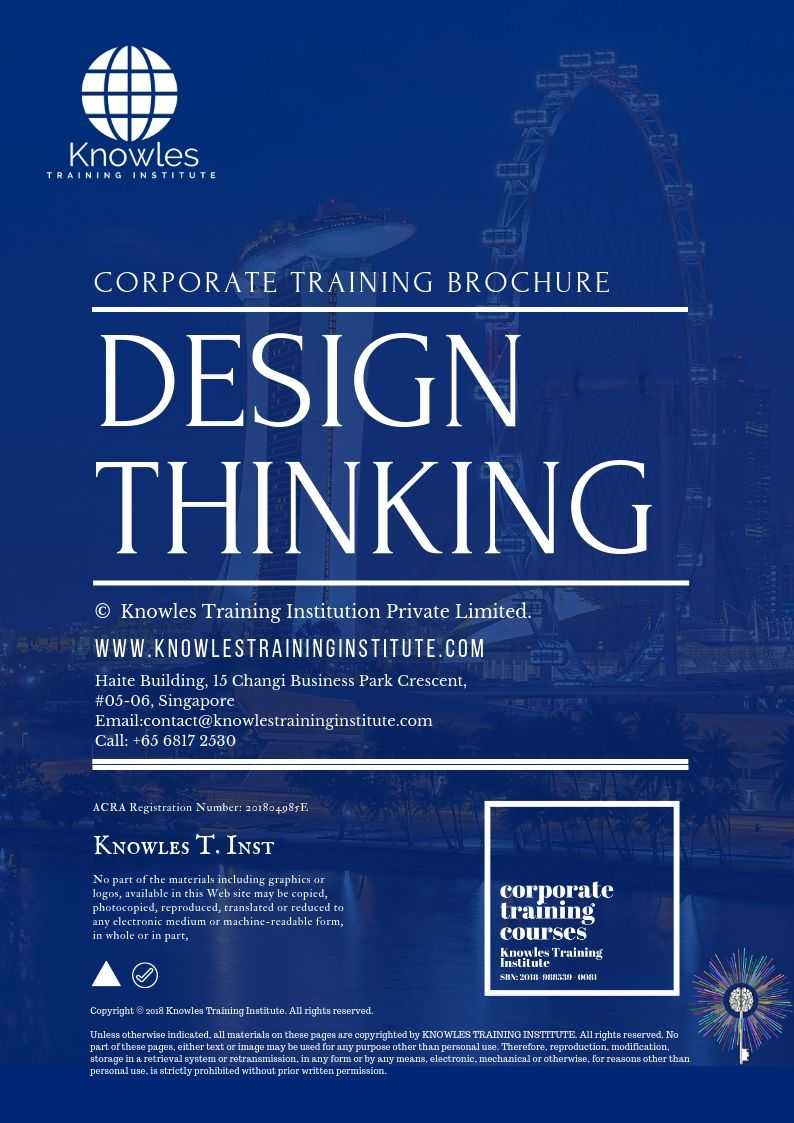 Request for this Design Thinking Skills course brochure. Fill up the short information below and we will send it to you right away!
Post-Training Support: A vast majority of training does not have any effect beyond 120 days. But to work, training has to have a strong pre- and post-training component. Post-training reinforcement consequently helps individuals to recall the understanding and ask questions.

Blended Learning: Learning does not occur in the classroom. Virtually everybody prefers distinct ways of learning. Successful learning should have a multi-channel, multi-modal strategy.

We Understand The Industry: Similarly, we've got a profound comprehension of the business, business design, challenges, strategy and the that our participants are in and have designed the courseware to cater to their professional needs.

Course Content: Knowles Training Institute's material is relevant, of high quality and provide specific learning outputs. As a result, Participants will leave the training course feeling as they have gained a strong understanding and will also be in a position to execute what they have learned sensibly.

Course Development — The workshop modules follow a systematic and logical arrangement. Therefore, this structure helps to ensure that the course material allows the facilitators to deliver the course in a logical arrangement. Consider the subjects as building bricks into learning, our facilitators slowly build towards a comprehensive picture of this entire topic.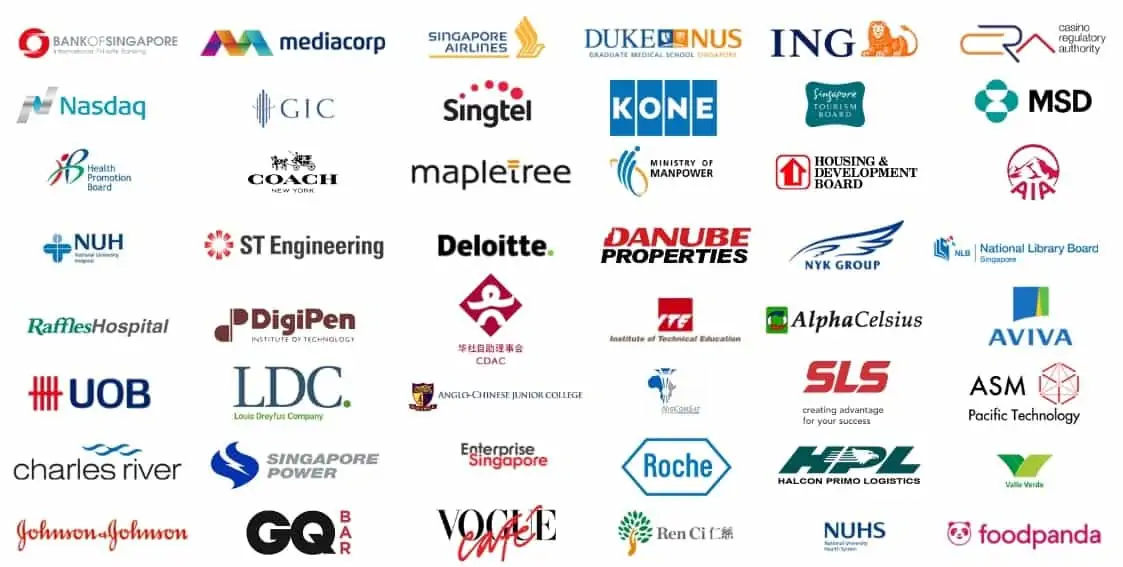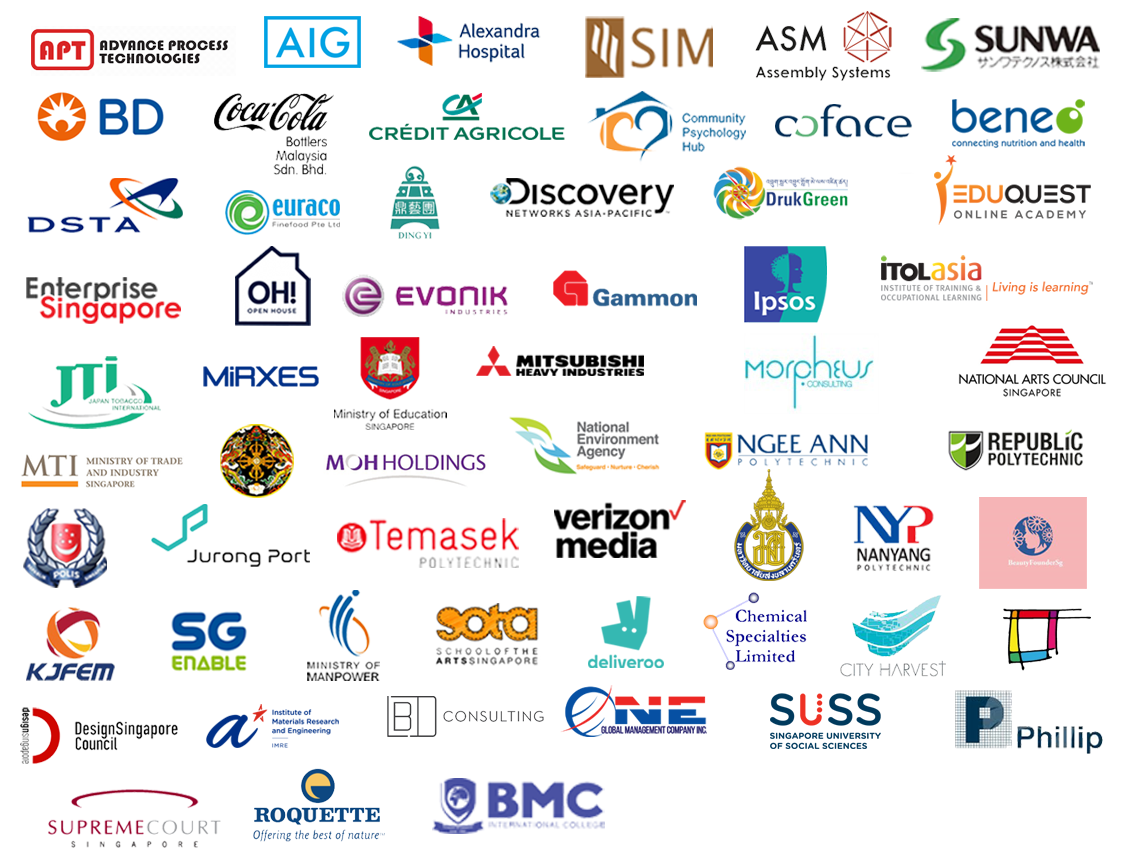 Design Thinking FAQs
What is the meaning of design thinking?
Design Thinking is an iterative method where we seek to understand the user, challenges, and redefine issues in an attempt to identify alternative approaches and solutions that might not be directly apparent with our first level of understanding. Design Thinking gives a solution-based method for solving problems. It is a way of thinking and operating, as well as a compilation of hands-on techniques. Design Thinking rotates around a deep interest in advancing an understanding of the people for whom we are designing the goods or services. It assists us to observe and form empathy with the target user.
What is an example of design thinking?
Design thinking is a component of Airbnb's success. They built a culture of experimentation. They mentioned that it was only when they allowed themselves to experiment with non-scalable changes to their business that they improved. 
What are the steps of design thinking?
When analyzing the five steps of Design Thinking, it's crucial to remember that it is not a linear process.
Empathize: It starts with empathy. You need to understand what your uses need and who they are. What is their expectation?
Define: After compiling your findings from the first stage, piece them together. Are there patterns to observe? What challenges regularly came up?
Ideate: Come up with possible solutions to the above challenges.
Test: Observe your users as they interact with your prototype. Gather feedback on how they feel. How can you use this data to improve?
Why is it called design thinking?
Design thinking was created not solely because Tim Brown coined the word that became a buzzword. There is a legitimate reason for it. It was created because big corporations were unable to be creative and, in extreme cases, they were not able to develop new goods and services that meet the unmet requirements of their customers.
What are the applications of design thinking?
Design thinking finds its application over numerous professions. From sports, education, research to business, management, and design, design thinking is commonly used by specialists around the globe. It is halfway between analytical and intuitive thinking. Analytical thinking involves purely deductive logic and inductive logical that employ quantitative methods to come to outcomes. However, intuitive thinking applies to knowing something without any reasoning.
What is the purpose of design thinking?
Design thinking has a human-centered focus. It assists organizations to concentrate on the people they're creating for, which points to better products, services, and internal methods. When you start to create a solution for a business need, the first question should always be what the human need behind it is.
How do you use design thinking in everyday life?
Design Thinking is not limited to designers. In fact, everyone can learn to understand design thinking.
Here are 3 (three) ways to implement Design Thinking in your daily life.
Visualize your problem: The ability to do this will help you see your problems better and how to come up with solutions
Question everything: This approach will help you break down assumptions and begin with devising ideas.
Reverse your thinking: This of your problems in reverse and not as a significant roadblock. E.g.,: Instead of thinking how to appeal to your target audience, think about how to ensure the target audience will never be exposed to your brand. This could help give you ideas.
How do organizations use design thinking?
Organizations embraced design thinking for several reasons, not just innovation. Some plans were developed out of past initiatives that had failed; others arrived as a result of management's disappointment that the organization was negligent and bureaucratic; others to improve communication with customers, to promote collaboration, or to attract and engage talent. Some had these goals and more.
What does design thinking help you achieve?
The overall purpose of design thinking is to help you design more reliable products, services, strategies, architecture, experiences and more. Design thinking will assist you, and your team develop practical and innovative solutions for your issues.
How do you ensure that design thinking is taking place in business?
Here are several ways you can ensure that design thinking is taking place in your business.
Creating a roadmap for the future
Identify the right problems
Team collaboration & innovation
Deep understanding of customers
Staying ahead of competition
Getting more opportunities
Clarity in meetings
Improving customer experience
Launching products & services
Sales interactions
What is the most important skill of a design thinking leader?
Design Thinking leaders concentrate on developing the best goods and services for their clients and operating with the experiences and views of subordinates.
Top Qualities Of A Design Thinking Leader
Empathetic
Collaborative
Ability to learn from failure
Experimental
What are the three core factors in the design thinking process model?
The quality of the design thinking process contributes to feeding the innovation inside the company as achieving change requires the consideration of three main factors.
User desirability: the goods should satisfy the consumer's requirements and needs through resolving their everyday issues using a user-centric approach.
Business viability: a combined business approach should be considered to secure the good's success.
Technology possibility: technology should be seen as an indispensable component of the new product development process.
Why is design thinking important?
Design thinking is a proven and problem-solving process that any business can apply to achieve significant results. Design thinking joins creative and critical thinking that enables information and ideas to be organized, arrangements to be made, situations to be developed, and knowledge to be gained.
Who introduced design thinking?
IDEO is usually credited with inventing the phrase "design thinking" and the practice. In fact, design thinking has extensive roots in a global discussion that has been releasing for decades.
What are design thinking tools?
Here are 10 Useful Online Tools For Design Thinking
Zoom
Typeform
Creatlr
MakeMyPersona
Userforge
Ideaflip
Boords
POP
Mockingbird
Pingpong

Fill up the form and we will get back to you in less than 1 working day.
Alternatively, give us a call to have one of our training consultants contact you. Our corporate training courses can be contextualized to meet your organization's training needs. Leverage on our large pool of professional trainers and consultants for your organization's training needs.
Office Address: 60 Paya Lebar Rd, #07-54 Paya Lebar Square, Singapore 409051
We Guarantee 100% Privacy. We Respect Your Privacy. Your Information Will Never Be Shared.
Register Now
Register For This Design Thinking Skills Course Now!
Best Design Thinking Skills course, Design Thinking workshop. The Best Design Thinking training. class, seminar, talk, program, programme, activity, lecture. Effective Design Thinking Skills courses, workshops, classes, seminars, talks, programs, programmes, activities, lectures in Singapore. Productive Design Thinking Skills improvement tips, Design Thinking Skills techniques, improve Design Thinking Skills, improve Design Thinking Skills games, Design Thinking Skills improvement exercises, improve Design Thinking Skills power, how to have good Design Thinking Skills, how to have good Design Thinking Skills in studying, how to build up your Design Thinking Skills, how to improve Design Thinking Skills how to improve Design Thinking Skills course in Singapore. Enhance, boost, build up, enlarge, heighten Design Thinking Skills course in Singapore. Increase, intensify, raise, reinforce, strengthen Design Thinking Skills. Upgrade, amplify, boom, elevate, exaggerate, magnify, grow, gain Design Thinking Skills. Develop Design Thinking Skills, multiple, power up, beef up, bolster, establish, extend Design Thinking Skills. Invigorate, restore, step up, toughen, empower, fortify, regenerate Design Thinking Skills. Rejuvenate, renew, escalate, expand, maximize Design Thinking Skills. Powerful, mighty, impressive, competent, great, excellent, exceptional Design Thinking Skills in Singapore. Superb Design Thinking Skills. Super, superior, strong, solid, active Design Thinking Skills training courses and workshops in Singapore. Online Design Thinking Skills enhancement, booster, building up, enlargement, heightening, increment, strengthening, amplification. Virtual Design Thinking Skills magnification, growth, development, power, empowerment, regeneration. Constructive Design Thinking Skills rejuvenation, development, escalation, expansion.