Business Acumen Training Course
Business Acumen Training Skills Course in Singapore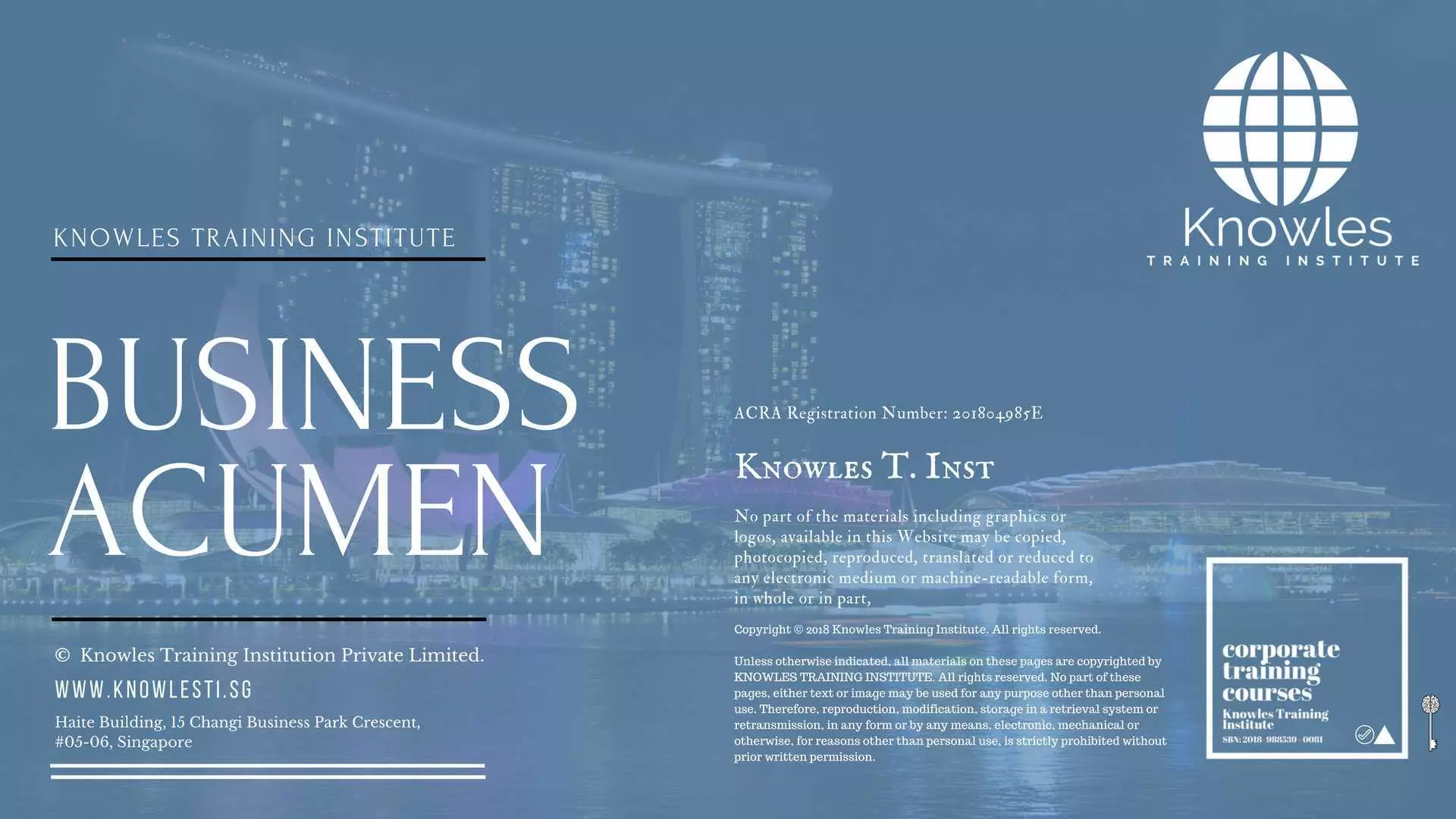 About This Business Acumen Workshop
Business Acumen Training Program in Singapore
Business acumen is a knowledge of how an organisation makes and uses money strategically. Workers with business acumen know how they independently contribute to their organisation's bottom line and use that knowledge to make good business decisions. It is necessary for employees across the organisation, but particularly for training leaders since they must be able to translate learning and development programs into business impact.
Many people believe that one is born with business acumen, which is defined as the ability to assess an external market and make effective decisions. Knowing what is required to navigate and devise a successful business seems innate for certain people. For example, Steve Jobs showed a remarkable business acumen. Fortunately, it is possible for the rest of us to improve business acumen. The proper training combined with experience will grow your business savvy.
Business Acumen is the art of understanding how a business works and adapting to any unforeseen changes that would benefit or harm its sales in order to maintain good results. It is important to learn this skill whether you're a young professional in your first job or a seasoned manager involved in key business decisions, yet few professionals have devoted time to mastering this essential skill needed by every professional.
Business acumen demands an understanding of finance, strategy, and decision making. Managers and employees are responsible for specific areas. However, most have little knowledge of the influence their decisions have on other areas of business. When too much attention is placed on one aspect of the business, it is challenging to make decisions for the benefit of the company. To make effective decisions, it is necessary for you to examine the big picture.
Knowing how the business model operates is not enough to succeed in producing good results. The key to success can be found in the developed understanding of how businesses operate at the macro-level and the micro-level in order to adapt to any unexpected situation in the business.
"95% of employees don't understand their organisation's strategy." – Harvard Business review
In this Business Acumen course, participants will learn the importance of acquiring and utilizing business acumen. The participants will be given a complete overview of the business environment in relation to how most businesses operate. The course will also discuss how to improve the awareness of participants in different business situations and adapt accordingly using what they know about the business environment. Part of this course will also give focus to the current trends in the business environment.
Common Business Acumen Training FAQs
What is the meaning of business acumen?
Business acumen is understanding in dealing with a different business situation such as opportunities and risks that will likely to lead to a positive outcome.
What is business acumen synonym?
Business acumen is also known as Business savvy or business sense.
Why is business acumen training important?
By learning business acumen, you will make more profitable decisions, think strategically and look at the big picture in the context of your own organizational success.
What are the key elements of business acumen competency?
Understanding financial literacy such as knowledge and understanding of financial statements)
Understanding the supply chain of your organisation, from production to delivery
Understanding how the different departments within the organisation work together
Understanding how your organisation market its product or services
Understanding how your organisation get their leads and clients
Understanding your organisation's short-term and long-term goals and how they plan to get there.
| COURSES | DATES | TIME | VENUE | COUNTRY | REGISTRATION |
| --- | --- | --- | --- | --- | --- |
| Business Acumen Course | 21 December, 2023 - 22 December, 2023 | 9 am to 5 pm | Online / Face to Face | Singapore | |
| Business Acumen Course | 22 January, 2024 - 23 January, 2024 | 9 am to 5 pm | Online / Face to Face | Singapore | |
| Business Acumen Course | 21 February, 2024 - 22 February, 2024 | 9 am to 5 pm | Online / Face to Face | Singapore | |
| Business Acumen Course | 22 March, 2024 - 23 March, 2024 | 9 am to 5 pm | Online / Face to Face | Singapore | |
| Business Acumen Course | 23 April, 2024 - 24 April, 2024 | 9 am to 5 pm | Online / Face to Face | Singapore | |
| Business Acumen Course | 25 May, 2024 - 26 May, 2024 | 9 am to 5 pm | Online / Face to Face | Singapore | |
| Business Acumen Course | 25 June, 2024 - 26 June, 2024 | 9 am to 5 pm | Online / Face to Face | Singapore | |
| Business Acumen Course | 25 July, 2024 - 26 July, 2024 | 9 am to 5 pm | Online / Face to Face | Singapore | |
| Business Acumen Course | 25 August, 2024 - 26 August, 2024 | 9 am to 5 pm | Online / Face to Face | Singapore | |
| Business Acumen Course | 23 September, 2024 - 24 September, 2024 | 9 am to 5 pm | Online / Face to Face | Singapore | |
| Business Acumen Course | 23 October, 2024 - 24 October, 2024 | 9 am to 5 pm | Online / Face to Face | Singapore | |
| Business Acumen Course | 23 November, 2024 - 24 November, 2024 | 9 am to 5 pm | Online / Face to Face | Singapore | |
| Business Acumen Course | 23 December, 2024 - 24 December, 2024 | 9 am to 5 pm | Online / Face to Face | Singapore | |
Who Should Attend This Business Acumen Workshop
This Business Acumen workshop is ideal for anyone who would like to gain a strong grasp and improve their Business Acumen.
All Staff Within An Organisation
Group Size For This Business Acumen Skills Course
The ideal group size for this Business Acumen course is:
Course Duration For This Business Acumen Skills Course 
The duration of this Business Acumen workshop is 2 full days. Knowles Training Institute will also be able to contextualised this workshop according to different durations; 3 full days, 1 day, half day, 90 minutes and 60 minutes.
Business Acumen Training Benefits
Below is the list of course benefits of our Business Acumen Training Skills Course
Achieve an understanding of how business acumen is needed for success in business operations

Gain access to knowledge on how to develop more comprehensive and successful business strategies

Acquire trade secrets on how businesses succeed in maximizing their business acumen to seek opportunities

Develop a personal assessment of the business' capabilities and limitations

Obtain skills and credentials needed for promotion and career progression
Business Acumen Course Objectives
Below is the list of course objectives of our Business Acumen Training Course
Develop an appreciation and understanding of the value of acquiring business acumen

Determine the relevance of business acumen for business professionals

Identify the strengths and weaknesses of the business as well as its existing opportunities and threats

Assess the business' advantage and disadvantage in terms of the business environment

Develop more comprehensive business plans and strategies

Understand how the market and the supply chain help increase production and sales

Establish effective strategies in promoting performance and sales

Initiate the implementation of best practices in the workplace

Conduct assessments to identify factors that can affect the business

Build contingency plans for business continuity

Monitor the impact of changes in the business environment to the business

Measure the capacity of the business as compared to its competition
Course Content For This Business Acumen Course
Below is the list of course content of our Business Acumen training course
Business Acumen Training-Part 1
Short and Long Term Interactions

When studying the big picture, it is essential to regard the long term as well as short term interactions. Short term communications are immediate, single exchanges, and they are vital for the company to sustain. Without studying the big picture, however, short term communications may hinder long term success.

Recognize Growth Opportunities

It is crucial for every organization to identify growth opportunities to guarantee long term success. An opportunity is any project or investment that will generate growth. Opportunities, however, can be neglected when we do not regard the big picture.

Mindfulness of Decisions

Decisions need to be executed carefully and mindfully. In stressful circumstances, it is easy to make decisions based on emotions or external pressure. Recognize these events which improve the risk of making a poor decision that can have long term consequences.

Everything is Related

In business, it is essential for each person to perform specific roles and functions. Every business role is related to each other. For example, poor production and poor customer service will affect sales.
Business Acumen Training-Part 2
Decisiveness

KPIs need to be developed decisively. This requires an understanding of which achievements need to be measured and how they should be measured. Generating random metrics will not help assess the effectiveness of your organisation.

Flexible

While it is essential to be decisive with KPIs, they must not be static. Adaptability is necessary in every aspect of business, including KPIs. They must change as the goals change.

Strong Initiative

Exhibiting initiative is having the ability to take charge of a new or unfamiliar situation. Having initiative is a means for employees to be more automatous in their day to day duties. It will lead to and produce better problem-solving skills.

Being Intuitive

Key Performance indicators can work from the top down or the bottom up. KPIs are generated from the top down when they are used in dashboards because dashboards focus on operational goals rather than strategic goals. The dashboard provides intuitive and beneficial information to users.

Continuous Assesment

A risk assessment will help distinguish the different threats and opportunities you may face. There are different types of risks assessments you can implement, depending on the specific objective and the needs of the company such as strategic risk, internal audit, market risk, and customer risk. A risk assessment needs to be a perpetual part of the business cycle to be effective.
Business Acumen Training-Part 3
Internal and External Factors

Managing risk requires identifying the external and internal factors that influence the company. In certain cases, internal factors and external factors will overlap. In fact, numerous internal hazards are external hazards. These factors are crucial to the risk assessment.

Making Adjustments and Corrections

As we established earlier, risk management requires constant monitoring and assessment. As you gather information using KPIs and other tools designated to monitor progress, you will ascertain which management strategies are successful and which are ineffective. Correct and adjust the strategies to enhance performance as necessary.

Knowing When to Pull the Trigger or Plug

There are risks in every regard of business, and not every program will be successful. Risk management strategies help you ascertain when to go for a win and when it is required to cut your losses. Allotting your resources to an unproductive strategy is wasteful.

Develop a Sense of Always Learning

Every encounter offers a learning experience. The key to identifying learning events is to develop a sense of always learning. Distinguishing the eight different ways that we learn, will ensure that you do not neglect learning opportunities.

Evaluate Past Decisions

Our past decisions often lead our current actions. Both successful and unsuccessful choices need to be assessed to recognise errors in judgment as well as effective thought processes. Ask yourself a few questions after each decision, and learn from your mistakes and achievements.
Business Acumen Training-Part 4
Problems Are Learing Opportunities

People prefer to evade problems or mistakes. However, problems are not always avoidable. When problems arise, you have a prospect to learn from them and turn them into opportunities.

Recognize Your Blind Spots

We all possess blind spots in our lives, and they can easily transfer to our business success. Blind spots are elements of our personalities that are hidden to us. They may be deep-seated fears, annoying habits, or judgmental attitudes.

What Makes My Company Money?

The objective of every business is to make a profit. You need to make money in order to survive, but in order to do this; also, you must identify what makes your company money, and you need to examine your products and services to conclude which ones are actually making money for the company.

What Were Sales Last Year?

Companies need to evolve to stay competitive. You are able to identify growth only when you see an increase in sales over time. Knowing last year's sales is vital to understanding the current status of your company.

What Is Our Profit Margin?

Every business needs to make a profit. The profit margin indicates how well the company is operating. A large, successful company typically has a 13% net profit margin.
Business Acumen Training-Part 5
What Were Our Costs?

A company's costs influence other financial aspects, such as profits. This is why it is so essential to control costs. Many companies choose to grow profits by cutting costs.

Assets

Assets are anything of significance that the company has that will create a profit or improve revenue. Many assets are listed on a balance sheet, such as a building or product. Some assets, however, are not listed on the balance sheet.

Financial Ratios

Financial ratios are methods that provide information about the company's status. The data used to find financial ratios is typically taken from the financial statement. Ratios are used to find a variety of information, including trends, liquidity, profitability, assets, and financial leverage.

Liabilities

Liabilities are money that you owe or a debt. Mortgages or credit balances are liabilities. Liabilities are a measure of financial health.

Equity

Both assets and liabilities are used to determine equity. Your equity, in turn, will conclude what type of business risk you are. Lending institutions and investors examine your equity carefully.
Business Acumen Training-Part 6
Income Statement

The income statement enables you to see what money the company made. It is also called a profit and loss statement because it shows the profits or losses for a period, typically a quarter or year. An income statement shows information from the two previous reports, permitting you to determine growth.

Balance Sheet

A balance sheet shows you where your company stands at a given time by showing assets, liability, and equity. Balance sheets are prepared the last day of the month, quarter, or year. The balance sheet permits you to determine the financial health of an organization.

Cash Flow Statement

A cash flow statement is precisely what it sounds like. It provides information about the cash generated and how it was applied. It is also called a sources and management of cash statement.

Read, Read and Read

Financial literacy requires continuing education. Do not become complacent in your learning. Read everything that you notice concerning financial literacy.

Talent Management

Talent management varies from employee management in the development process. Rather than abandoning employees to tasks, managers develop employee talent to benefit the organization. Studies have revealed that talent management can enhance productivity and decrease turnover.
Business Acumen Training-Part 7
Change Management

Change is unavoidable in any organisation. Unfortunately, human beings are not wired to endure change quickly, so tensions may run high as people resist changes. You can help relieve the stress associated with change with efficient change management.

Asset Management

Asset management is a plan that you execute to define your assets and how they are used. Mismanaged assets will affect your, equity, credit, and reputation. Implementing asset management may be easier with the guidance of different software programs available.

Organisational Management

Organisational management is unique to each company, depending on structure. It assumes that each singular element is associated to others. The individual unit as a whole must be managed effectively.

Ask the Right Questions

Critical thinking requires you to ask questions continuously. You should question people, information, plans, etc. The key to critical thinking is by asking the right questions.

Organise Data

Critical thinking and decision making requires you to analyse different data sets. Organizing your data will make it easier for you to analyse. There are programs that will help you get organised.
Business Acumen Training-Part 8
Evluate the Information

You must continuously evaluate information and conclusions before making any conclusions. And should differentiate between a fact and an opinion by using one of the right questions. And, also need to identify information and findings for any signs of bias.

Make the Decision

Critical thinking is useful in the decision making process. You already know how to ask questions and evaluate information. Once you have completed both, you have a few more considerations before you make the decision.

Investing in People

People are a fundamental financial lever in any business; people are your greatest asset. The people associated with your business are your customers and your employees. If you do not invest in your people, you are making a disastrous mistake.

Effective Communication

Business knowledge and acumen are not beneficial if you are incapable of communicating effectively. Communicating is a key to the success of any business, and it starts with listening. You must actively listen to people so that you can answer their questions accurately.

Process Improvement

Process improvement is used to examine business processes. It is also used to introduce a new process or changes to existing ones.

Goal Alignment

Part of looking at the big picture of business is goal alignment. Goal alignment is aligning the goals of all managers and employees with the aims of the business. Aligning individual goals is done at the team level.
Business Acumen Training Value Added Materials
Each participant will receive the following materials for the Business Acumen course
Business Acumen Training Learner's Guide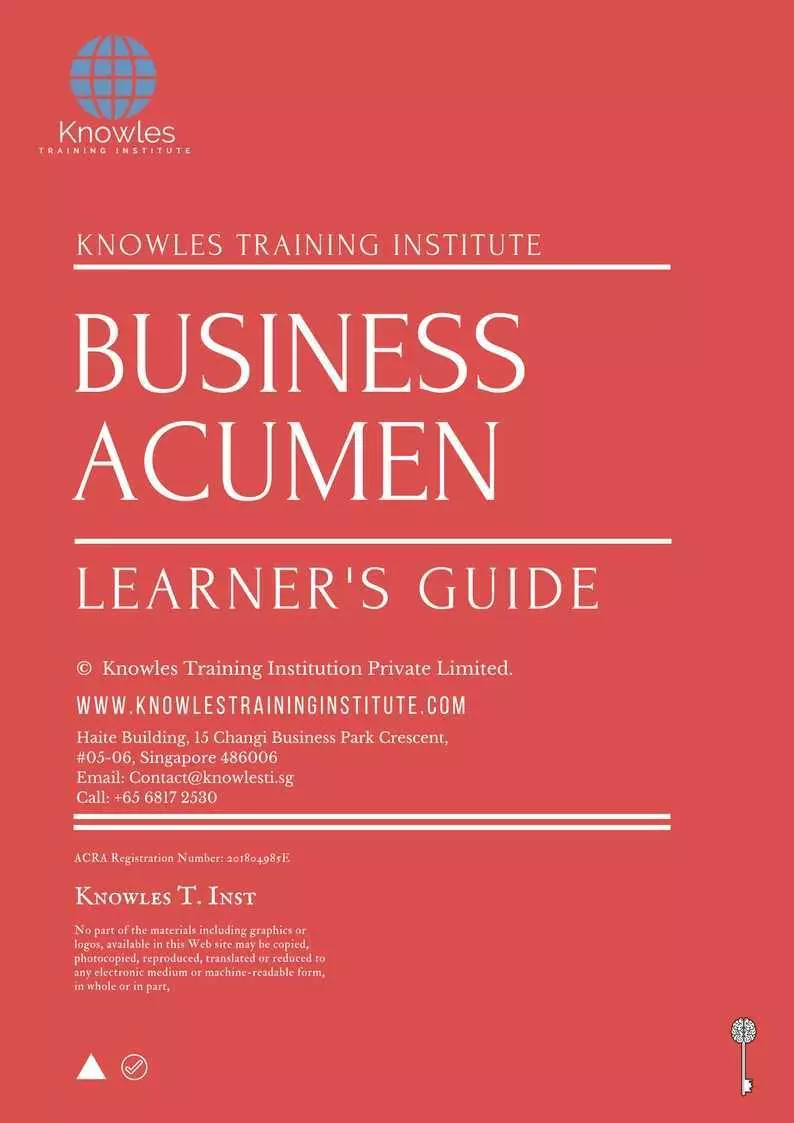 Business Acumen Training Key Takeaways Notes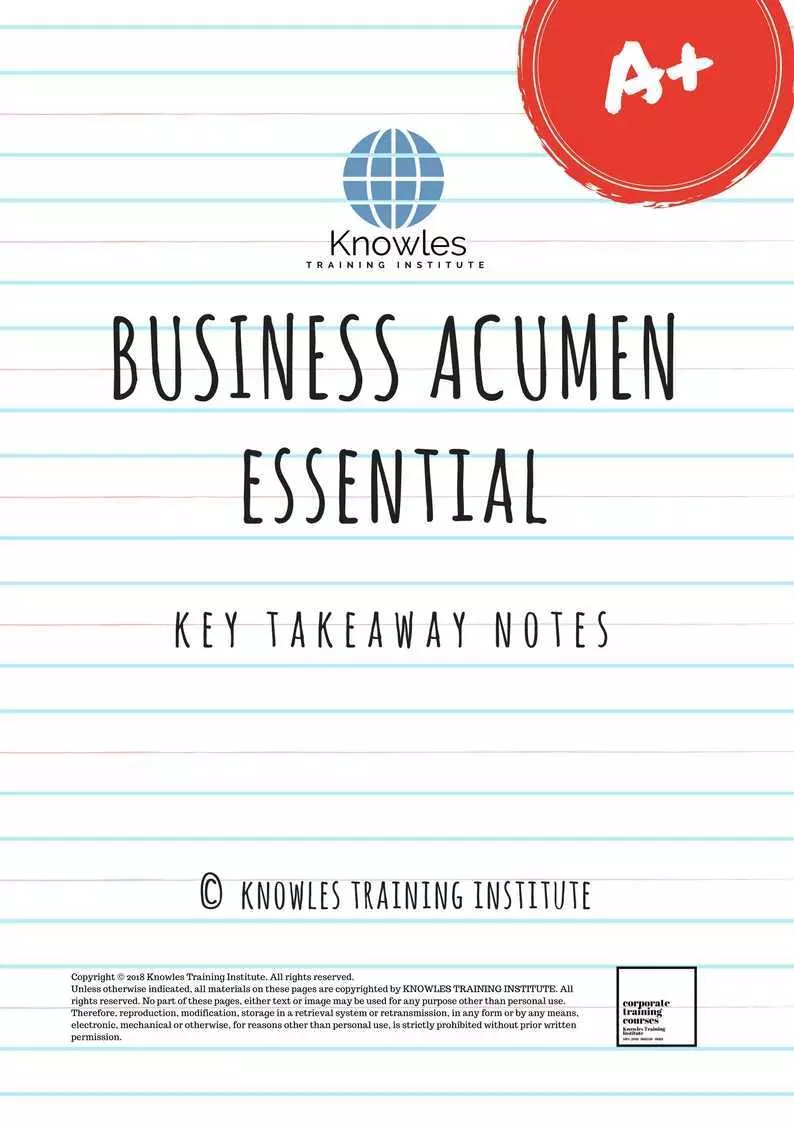 Business Acumen Training PDF Essentials Ebook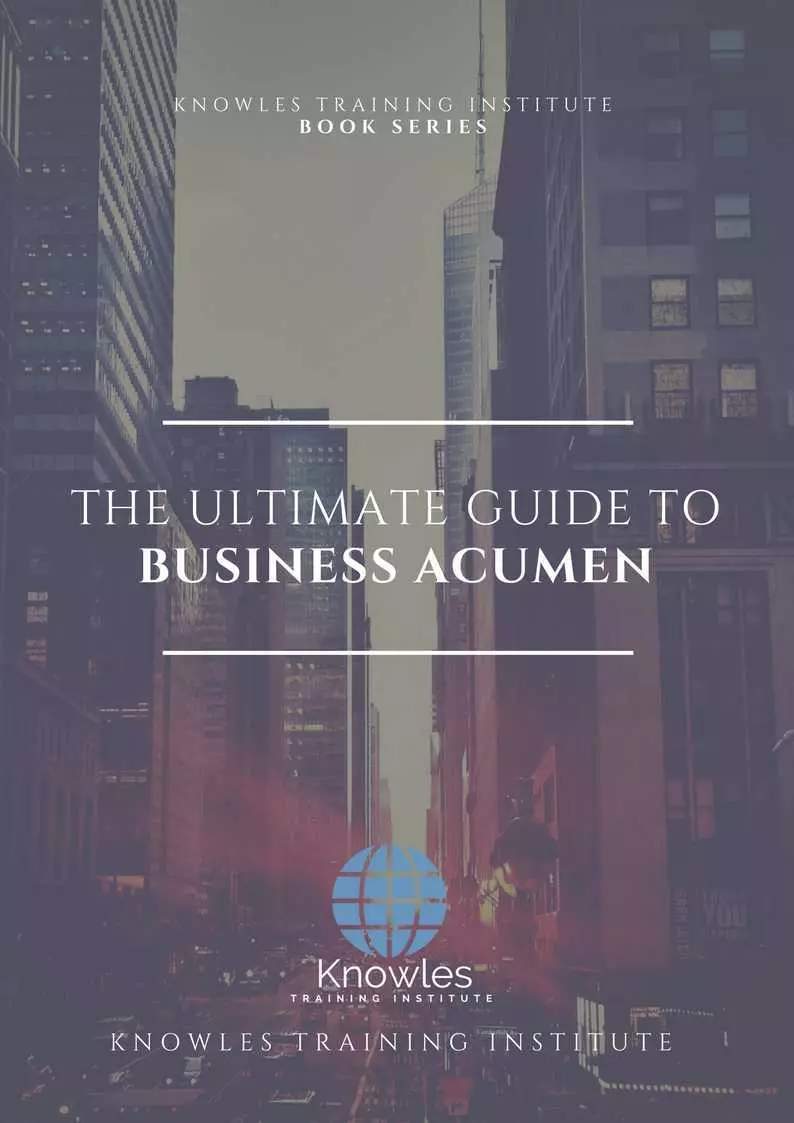 Business Acumen Training Course Handouts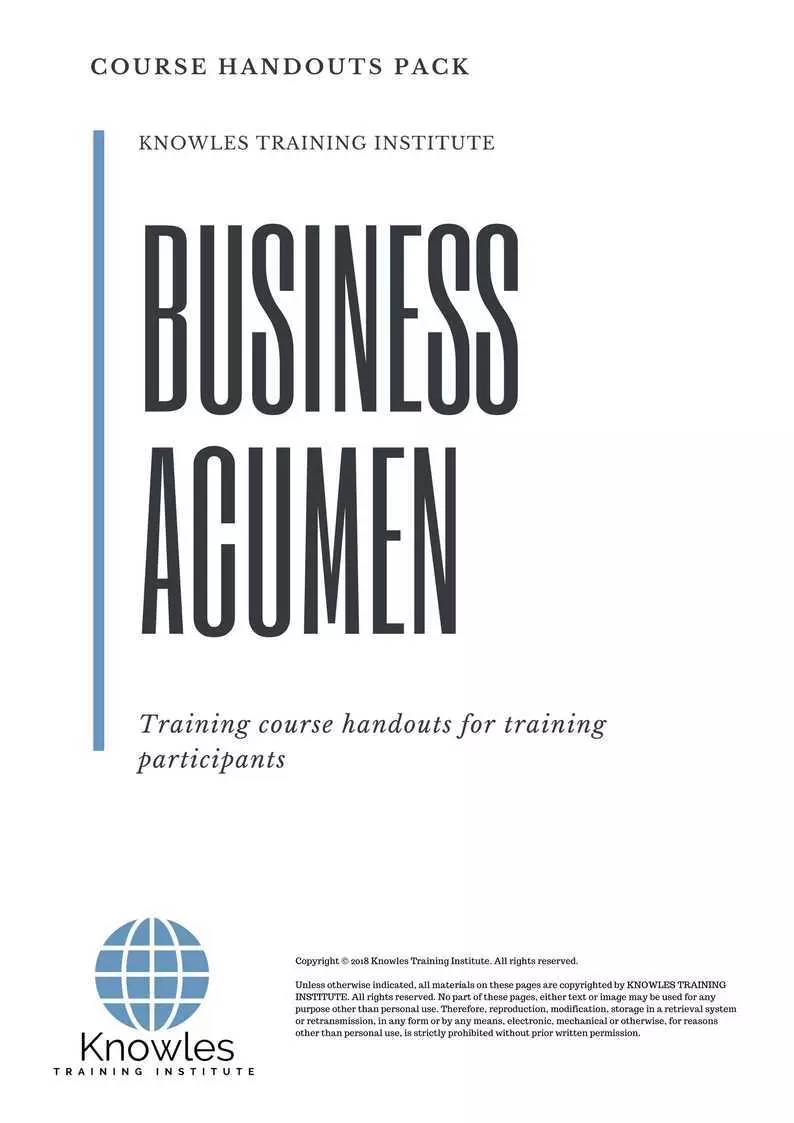 Business Acumen Training 30-Day Action Plan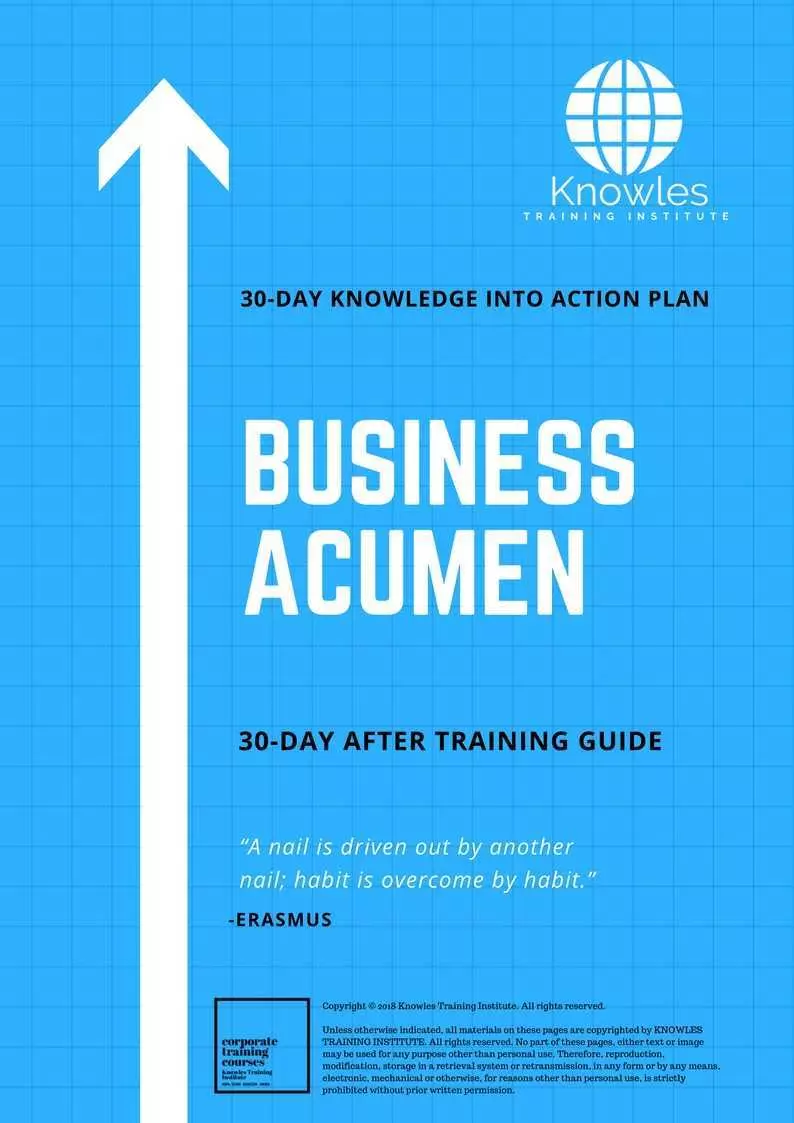 Business Acumen Training MindMaps Pack
Business Acumen Training PDF PPT Slides Used During Course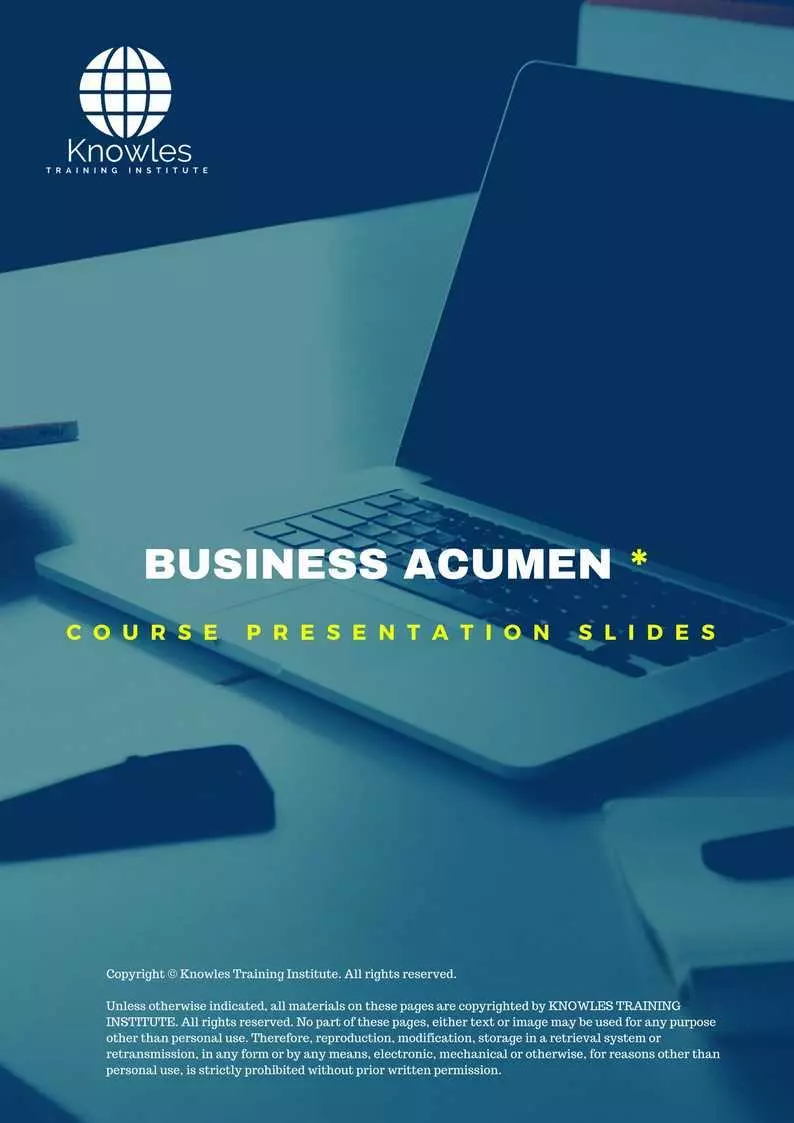 Business Acumen Training Long-Term Memory Flashcards Pack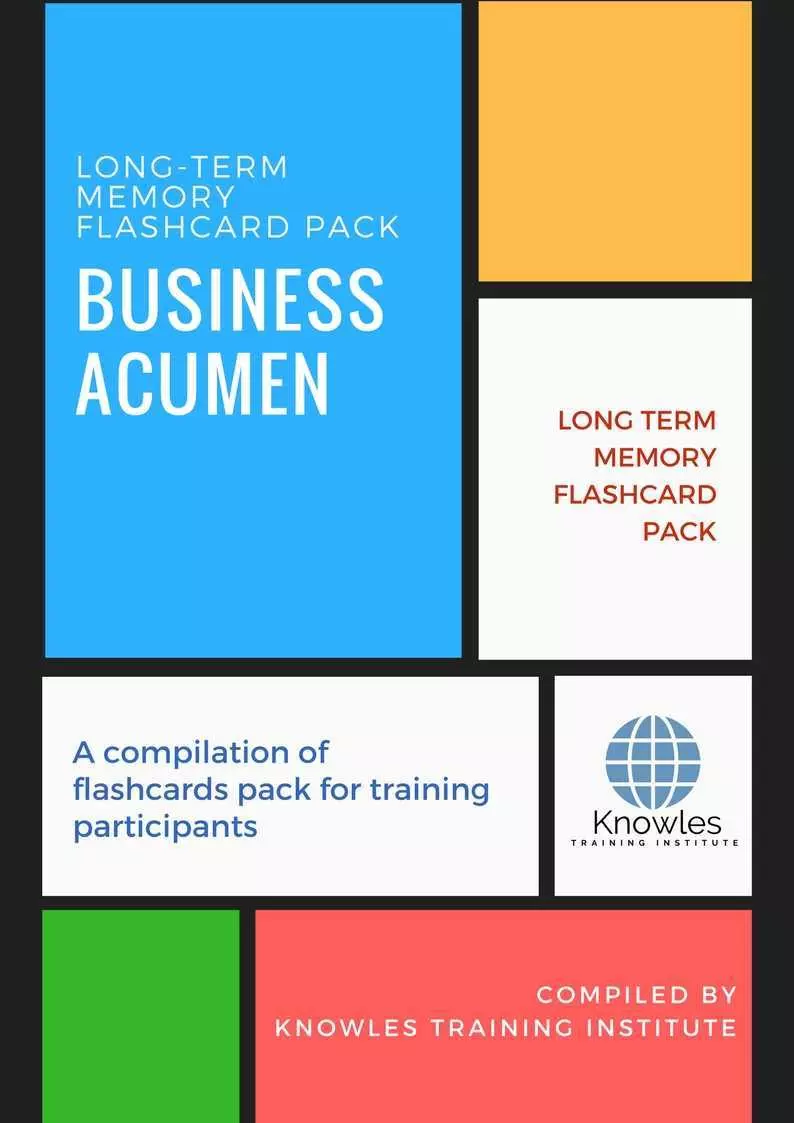 Business Acumen Training E-Learning Course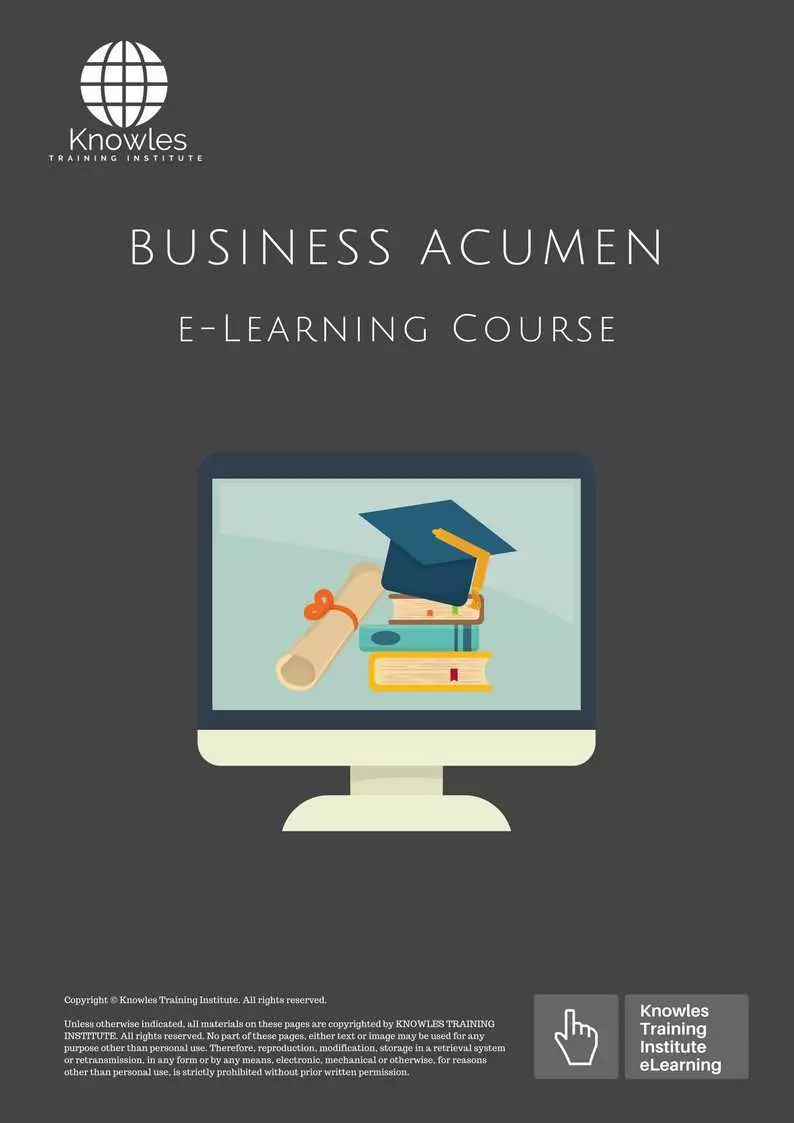 Business Acumen Training Online Video Course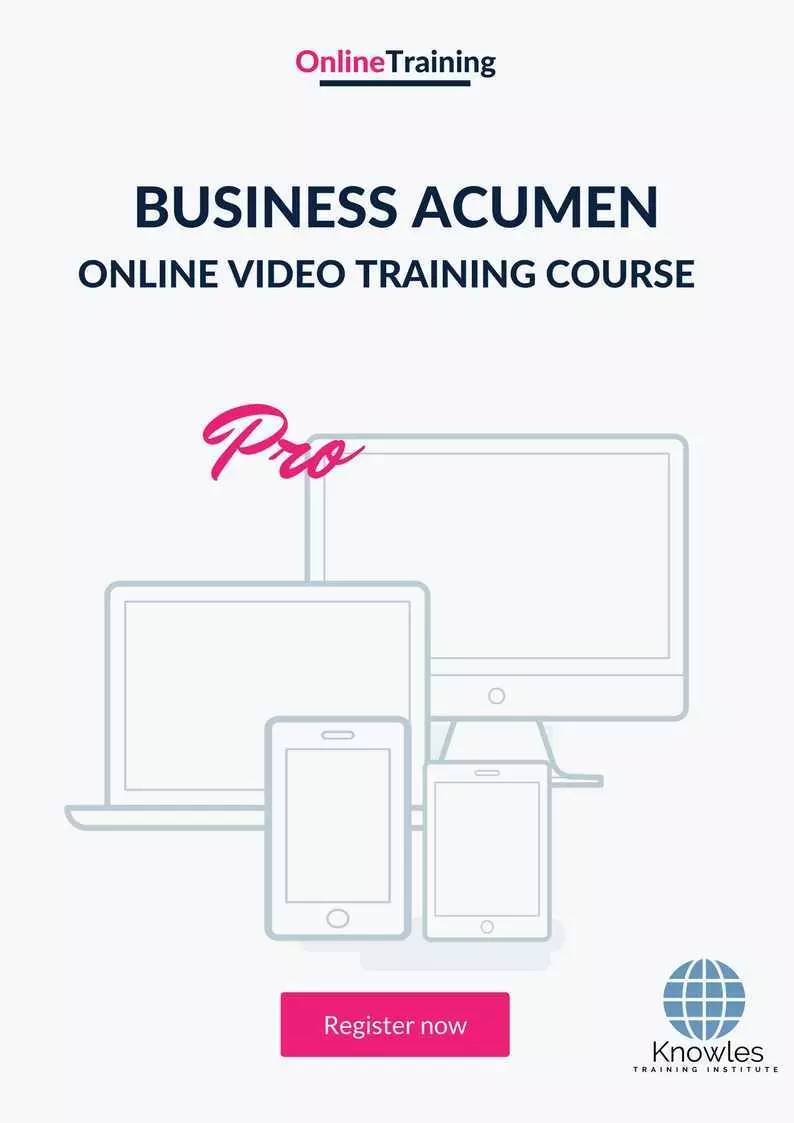 Business Acumen Training Essentials Audiobook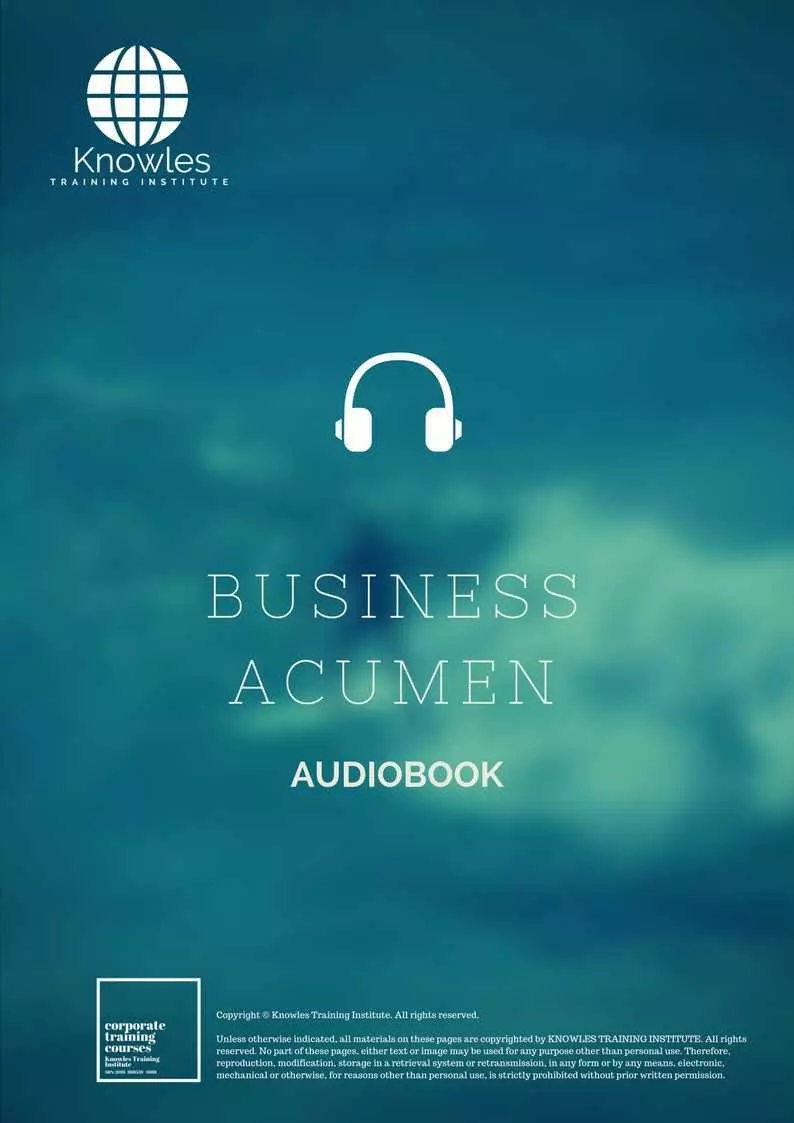 Business Acumen Training PDF Infographics Pack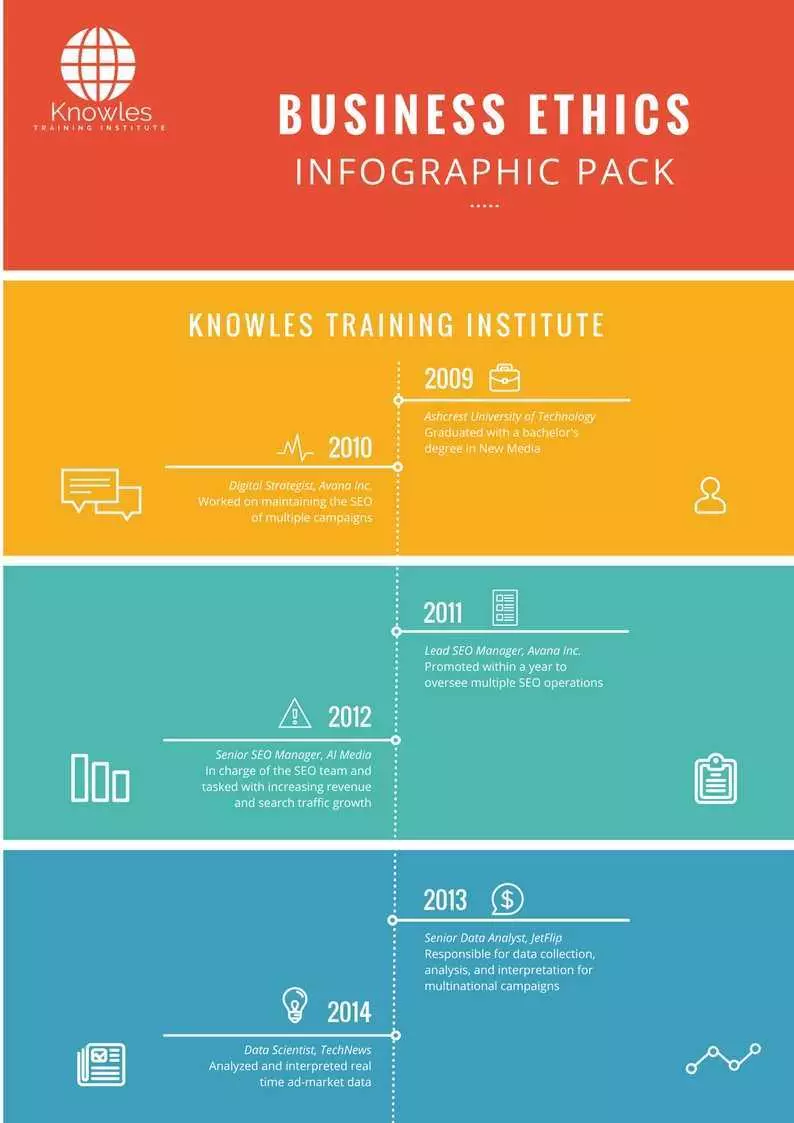 Business Acumen Training Certification
Each course participant will receive a certification of business acumen training completion
Business Acumen Course Fees
There are 4 pricing options available for this Business Acumen training course in Singapore. Course participants not in Singapore may choose to sign up for our online Business Acumen training course in Singapore.
USD $889.97 For a 60-minute Lunch Talk Session.

USD $389.97 For a Half Day Course Per Participant.

USD $589.97 For a 1 Day Course Per Participant.

USD $789.97 For a 2 Day Course Per Participant.

Discounts available for more than 2 participants.

Knowles Training Institute, 138 Robinson Road, Oxley Tower, #28-03, Singapore 068906
Nearest MRT Station: Tanjong Pagar MRT Station & Raffle Place MRT Station
Bus: 700, 971E, 971E, 167, 970, 761, 57, 131, 186, 400, 402, 532 and 5
Drive: Ample of Parking Available in Oxley Tower and Adjacent Buildings
Download Business Acumen Training Course Brochure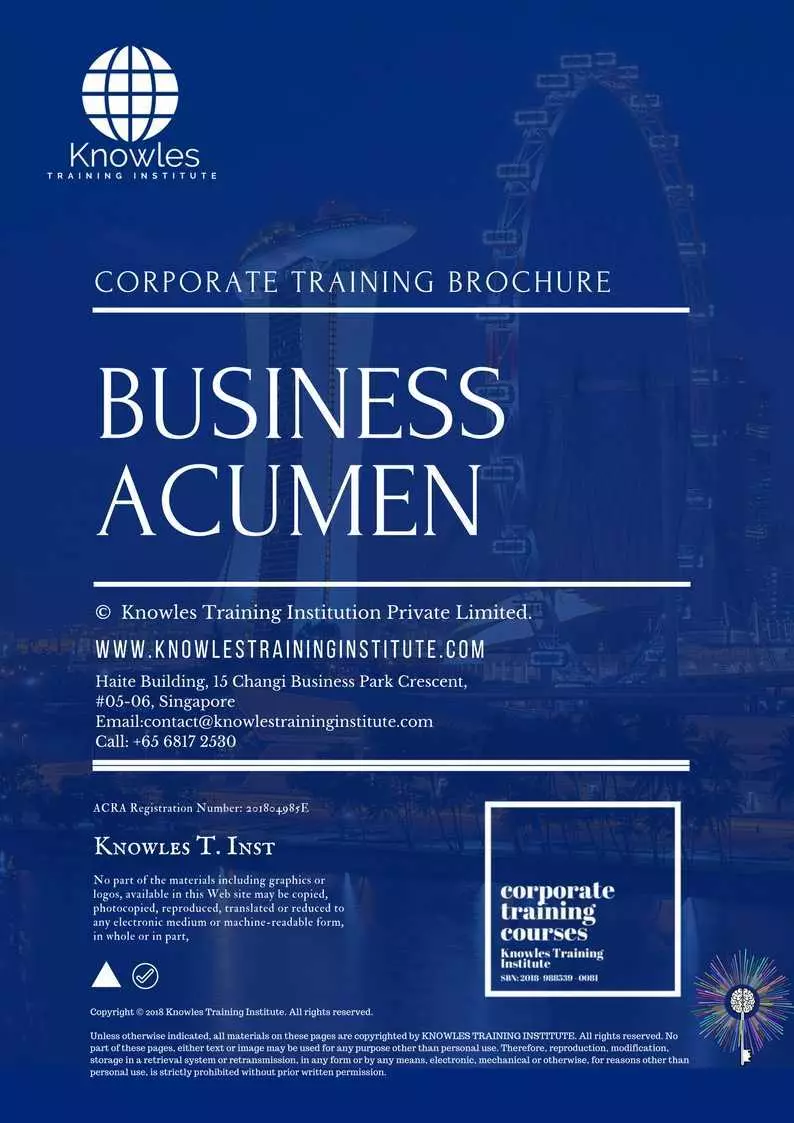 Request for this Business Acumen course brochure. Fill up the short information below and we will send it to you right away!
Post-Training Support: A vast majority of training does not have any effect beyond 120 days. But to work, training has to have a strong pre- and post-training component. Post-training reinforcement consequently helps individuals to recall the understanding and ask questions.

Blended Learning: Learning does not occur in the classroom. Virtually everybody prefers distinct ways of learning. Successful learning should have a multi-channel, multi-modal strategy.

We Understand The Industry: Similarly, we've got a profound comprehension of the business, business design, challenges, strategy and the that our participants are in and have designed the courseware to cater to their professional needs.

Course Content: Knowles Training Institute's material is relevant, of high quality and provide specific learning outputs. As a result, Participants will leave the training course feeling as they have gained a strong understanding and will also be in a position to execute what they have learned sensibly.

Course Development — The workshop modules follow a systematic and logical arrangement. Therefore, this structure helps to ensure that the course material allows the facilitators to deliver the course in a logical arrangement. Consider the subjects as building bricks into learning, our facilitators slowly build towards a comprehensive picture of this entire topic.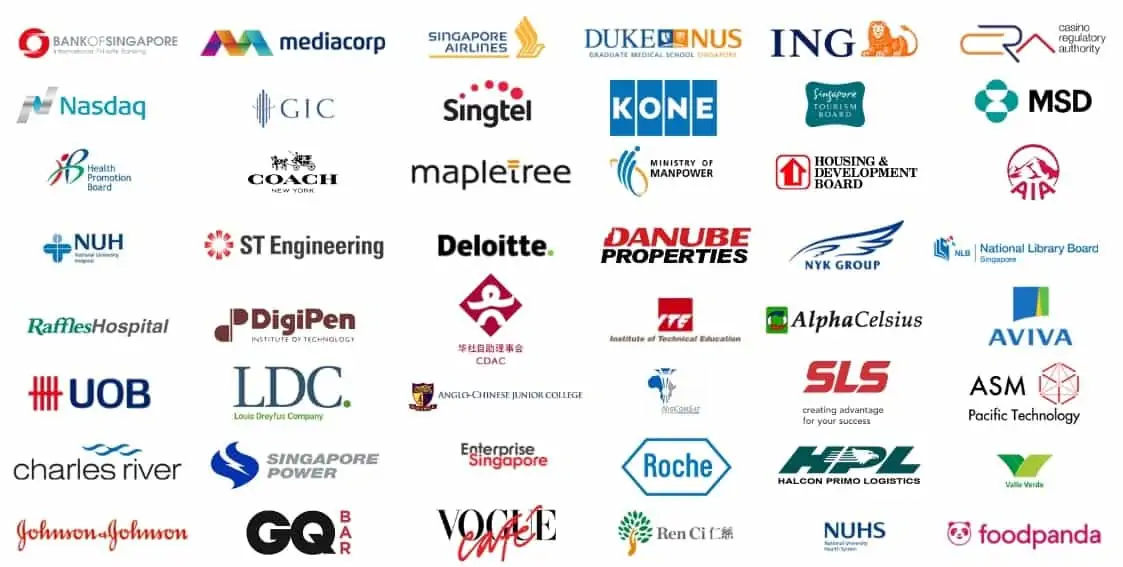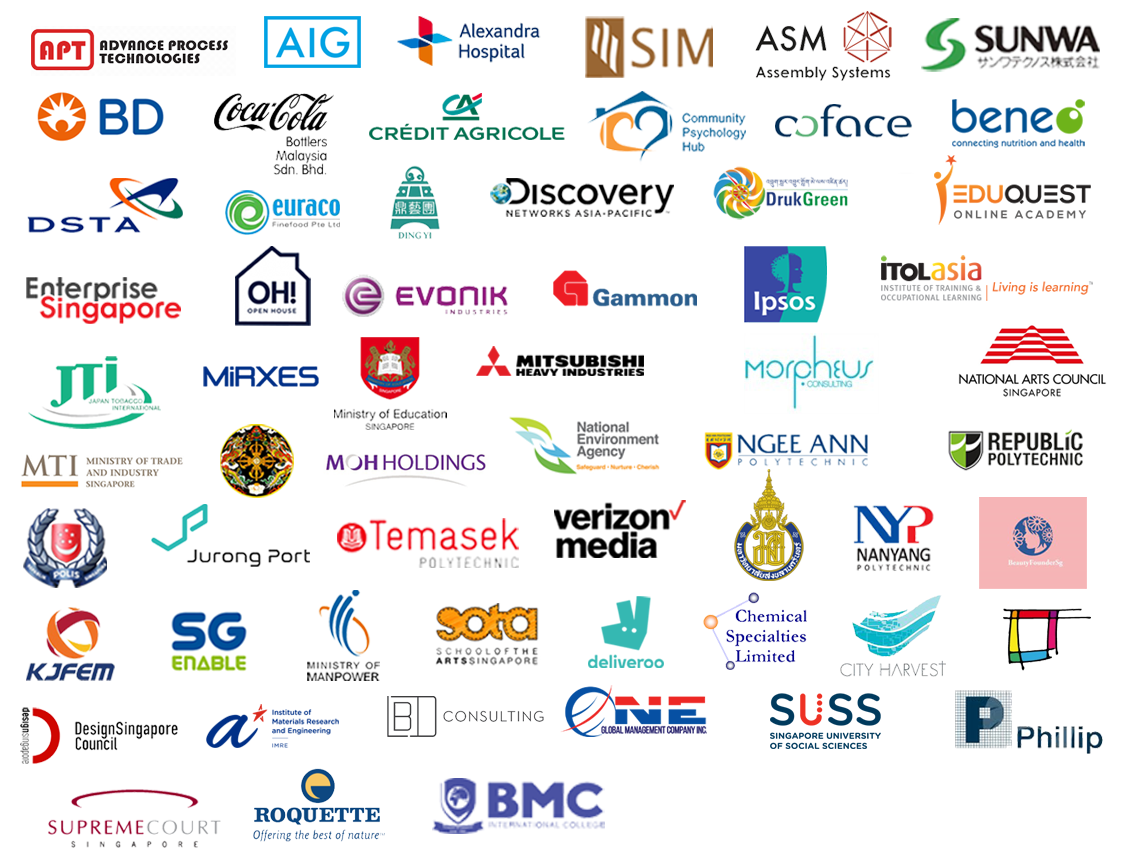 Business Acumen Course Enquiries

Fill up the form and we will get back to you in less than 1 working day.
Alternatively, give us a call to have one of our training consultants contact you. Our corporate training courses can be contextualized to meet your organization's training needs. Leverage on our large pool of professional trainers and consultants for your organization's training needs.
Office Address: 60 Paya Lebar Rd, #07-54 Paya Lebar Square, Singapore 409051
We Guarantee 100% Privacy. We Respect Your Privacy. Your Information Will Never Be Shared.
Register Now
Register For This Business Acumen Course Now!
How to learn business acumen training. The best Business acumen training course. how to develop business acumen skills, business acumen for dummies, acumen business solutions, Business Acumen course, workshop, training, class, seminar, talk, program, programme, activity, lecture. Effective Business Acumen courses, workshops, classes, seminars, talks, programs, programmes, activities, lectures in Singapore. Productive Business Acumen improvement tips, Business Acumen techniques, improve Business Acumen, improve Business Acumen games, Business Acumen improvement exercises, improve Business Acumen power, how to have good Business Acumen, how to have good Business Acumen in studying, how to build up your Business Acumen, how to improve Business Acumen how to improve Business Acumen course in Singapore. Enhance, boost, build up, enlarge, heighten Business Acumen course in Singapore. Increase, intensify, raise, reinforce, strengthen Business Acumen. Upgrade, amplify, boom, elevate, exaggerate, magnify, grow, gain Business Acumen. Develop Business Acumen, multiple, power up, beef up, bolster, establish, extend Business Acumen. Invigorate, restore, step up, toughen, empower, fortify, regenerate Business Acumen. Rejuvenate, renew, escalate, expand, maximize Business Acumen. Powerful, mighty, impressive, competent, great, excellent, exceptional Business Acumen in Singapore. Superb Business Acumen. Super, superior, strong, solid, active Business Acumen training courses and workshops in Singapore. Virtual Online Business Acumen enhancement, booster, building up, enlargement, heightening, increment, strengthening, amplification.Business Acumen maximization, power training courses & workshops in Singapore