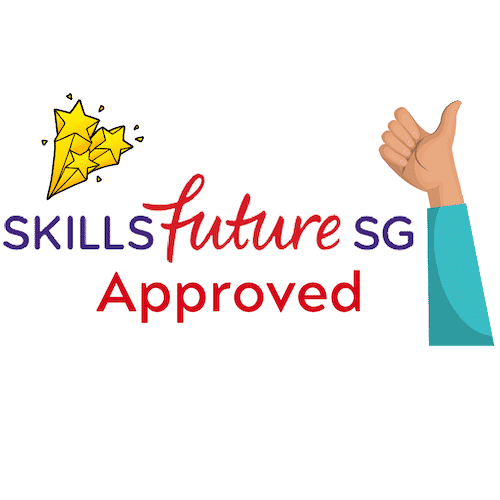 Business Acumen Training Skills Course in Singapore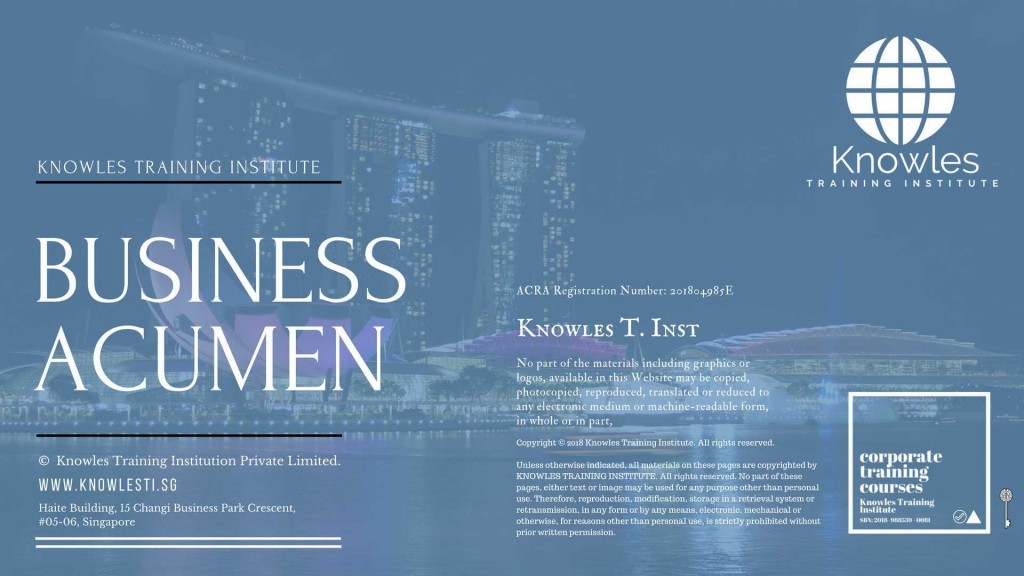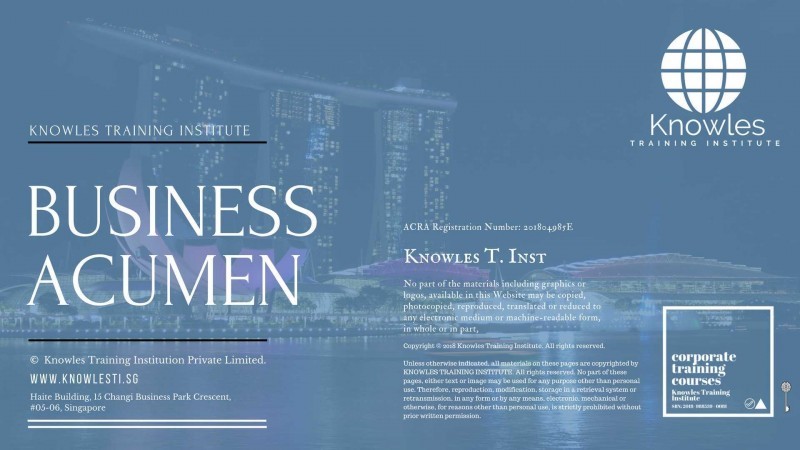 About This Business Acumen Training Course
Business Acumen Training Course in Singapore
Many people believe that one is born with business acumen, which is defined as the ability to assess an external market and make effective decisions. Knowing what is required to navigate and devise a successful business seems innate for certain people. For example, Steve Jobs showed a remarkable business acumen. Fortunately, it is possible for the rest of us to improve business acumen. The proper training combined with experience will grow your business savvy.
Business Acumen is the art of understanding how a business works and adapting to any unforeseen changes that would benefit or harm its sales in order to maintain good results. It is important to learn this skill whether you're a young professional in your first job or a seasoned manager involved in key business decisions, yet few professionals have devoted time to mastering this essential skill needed by every professional.
Business acumen demands an understanding of finance, strategy, and decision making. Managers and employees are responsible for specific areas. However, most have little knowledge of the influence their decisions have on other areas of business. When too much attention is placed on one aspect of the business, it is challenging to make decisions for the benefit of the company. To make effective decisions, it is necessary for you to examine the big picture.
Knowing how the business model operates is not enough to succeed in producing good results. The key to success can be found in the developed understanding of how businesses operate at the macro-level and the micro-level in order to adapt to any unexpected situation in the business.
"95% of employees don't understand their organisation's strategy." – Harvard Business review
In this Business Acumen course, participants will learn the importance of acquiring and utilizing business acumen. The participants will be given a complete overview of the business environment in relation to how most businesses operate. The course will also discuss how to improve the awareness of participants in different business situations and adapt accordingly using what they know about the business environment. Part of this course will also give focus to the current trends in the business environment.
Common Business Acumen Training FAQs
What is the meaning of business acumen?
Business acumen is understanding in dealing with a different business situation such as opportunities and risks that will likely to lead to a positive outcome.
What is business acumen synonym?
Business acumen is also known as Business savvy or business sense.
Why is business acumen training important?
By learning business acumen, you will make more profitable decisions, think strategically and look at the big picture in the context of your own organizational success.
What are the key elements of business acumen competency?
Understand financial literacy such as knowledge and understanding of financial statements)
Understand the supply chain of your organisation, from production to delivery
Understand how the different departments within the organisation work together
Understand how your organisation market its product or services
Understand how your organisation get their leads and clients
Understand your organisation's short-term and long-term goals and how they plan to get there.
Who Should Attend This Business Acumen Workshop
This Business Acumen workshop is ideal for anyone who would like to gain a strong grasp and improve their Business Acumen.
All Staff Within An Organisation
Group Size For This Business Acumen Training Program
The ideal group size for this Business Acumen course is:
Course Duration For This Business Acumen Skills Course 
The duration of this Business Acumen workshop is 2 full days. Knowles Training Institute will also be able to contextualised this workshop according to different durations; 3 full days, 1 day, half day, 90 minutes and 60 minutes.
Business Acumen Course Benefits
Below is the list of course benefits of our Business Acumen Training Skills Course
Achieve an understanding of how business acumen is needed for success in business operations

Gain access to knowledge on how to develop more comprehensive and successful business strategies

Acquire trade secrets on how businesses succeed in maximizing their business acumen to seek opportunities

Develop a personal assessment of the business' capabilities and limitations

Obtain skills and credentials needed for promotion and career progression
Business Acumen Course Objectives
Below is the list of course objectives of our Business Acumen Training Course
Develop an appreciation and understanding of the value of acquiring business acumen

Determine the relevance of business acumen for business professionals

Identify the strengths and weaknesses of the business as well as its existing opportunities and threats

Assess the business' advantage and disadvantage in terms of the business environment

Develop more comprehensive business plans and strategies

Understand how the market and the supply chain help increase production and sales

Establish effective strategies in promoting performance and sales

Initiate the implementation of best practices in the workplace

Conduct assessments to identify factors that can affect the business

Build contingency plans for business continuity

Monitor the impact of changes in the business environment to the business

Measure the capacity of the business as compared to its competition
Course Content For This Business Acumen Training Course
Below is the list of course content of our Business Acumen training course
Defining what Business Acumen is: How do we properly use it?
Why do we need to develop business acumen?

What is and what is not part of business acumen?

Business acumen as the knowledge of business operation
Business acumen as the knowledge of the business environment

Understanding the components of the business environment

Understanding how the market and the supply chain operates

How should we utilize business acumen?
Utilizing Advantages for Better Performance
Competitive advantage through business acumen

Gathering information useful for determining opportunities
Using the strengths of the business to fill market gaps

Developing dynamic business plans

Creating larger market shares using effective strategic initiatives
Tools and Skills Development
Business Plan Writing

SMART goals
Identifying Key Factors
Determining operations and supply chains

Evaluation of Comparative Advantage

Market Analysis (in relation to the target market and existing competitors)
SWOT: Strength, Weakness, Opportunities, and Threats (SWOT)
PESTLE Analysis

Contingency Planning

Risk Assessment and Management
Minimizing Risks

Case study

Aligning strategic initiatives with existing business knowledge
Best practices for utilizing business acumen
Trends in the business environment
Business Acumen Value Added Materials
Each participant will receive the following materials for the Business Acumen course
Business Acumen Learner's Guide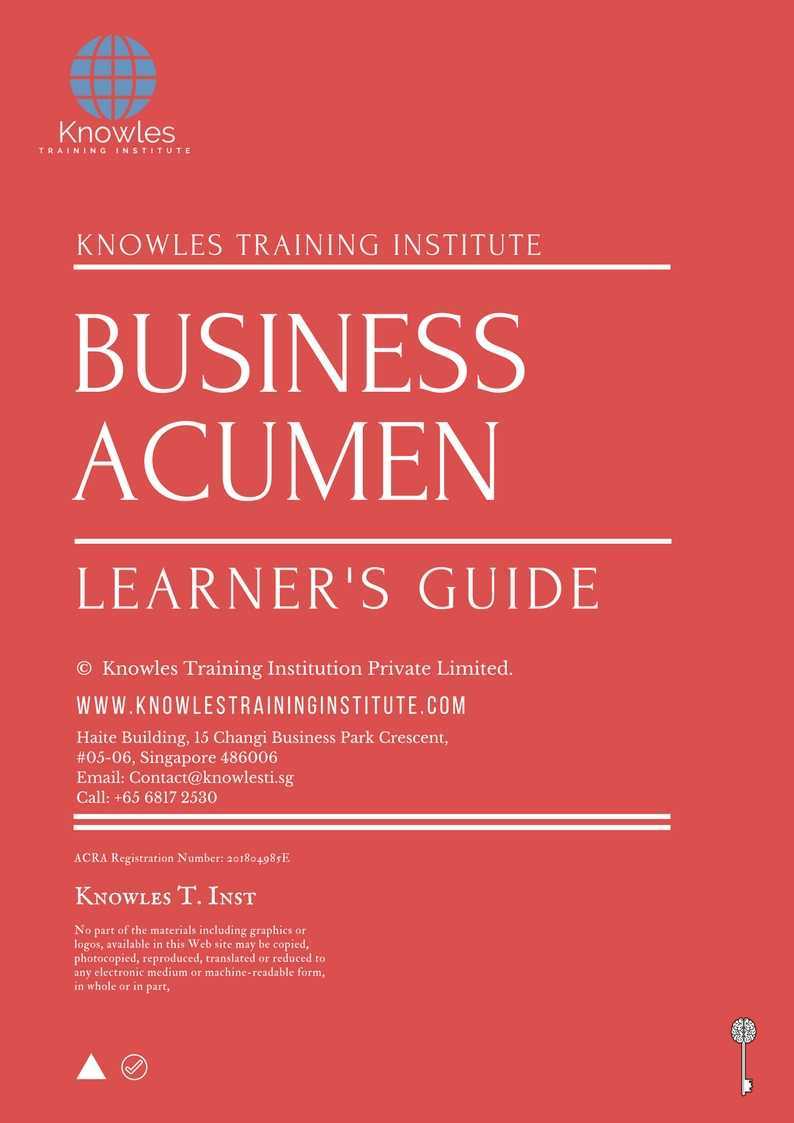 Business Acumen Key Takeaways Notes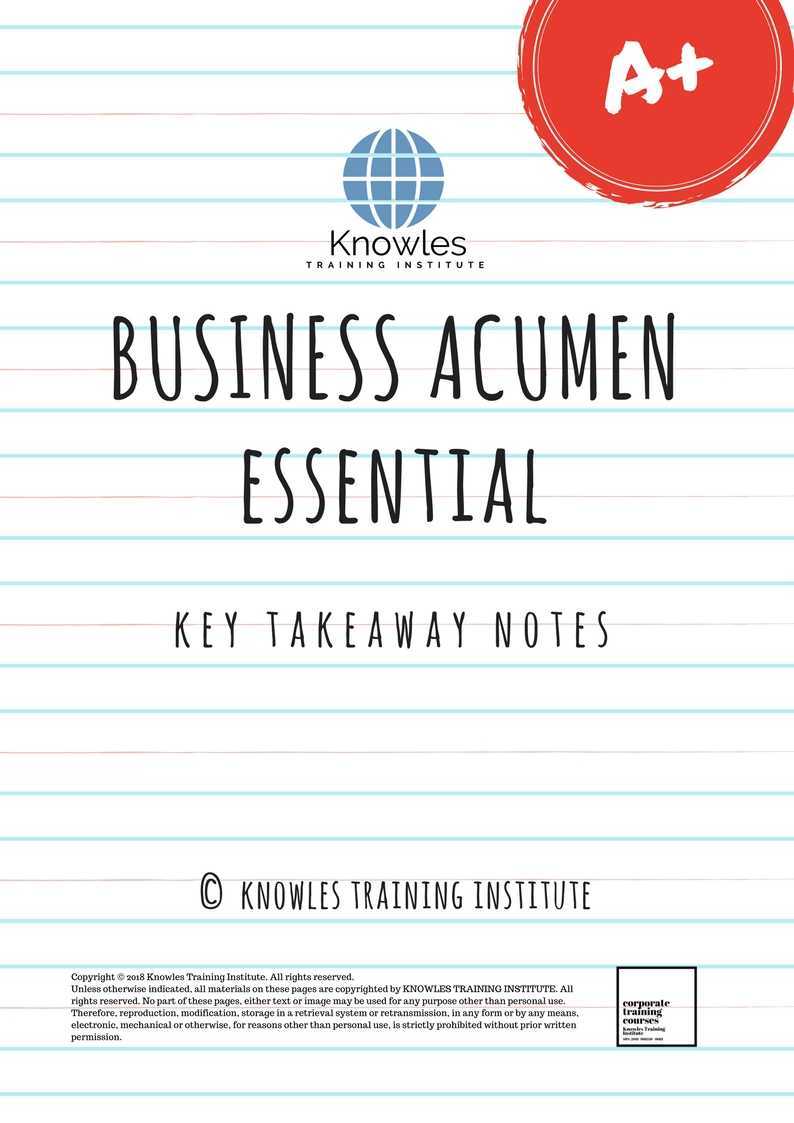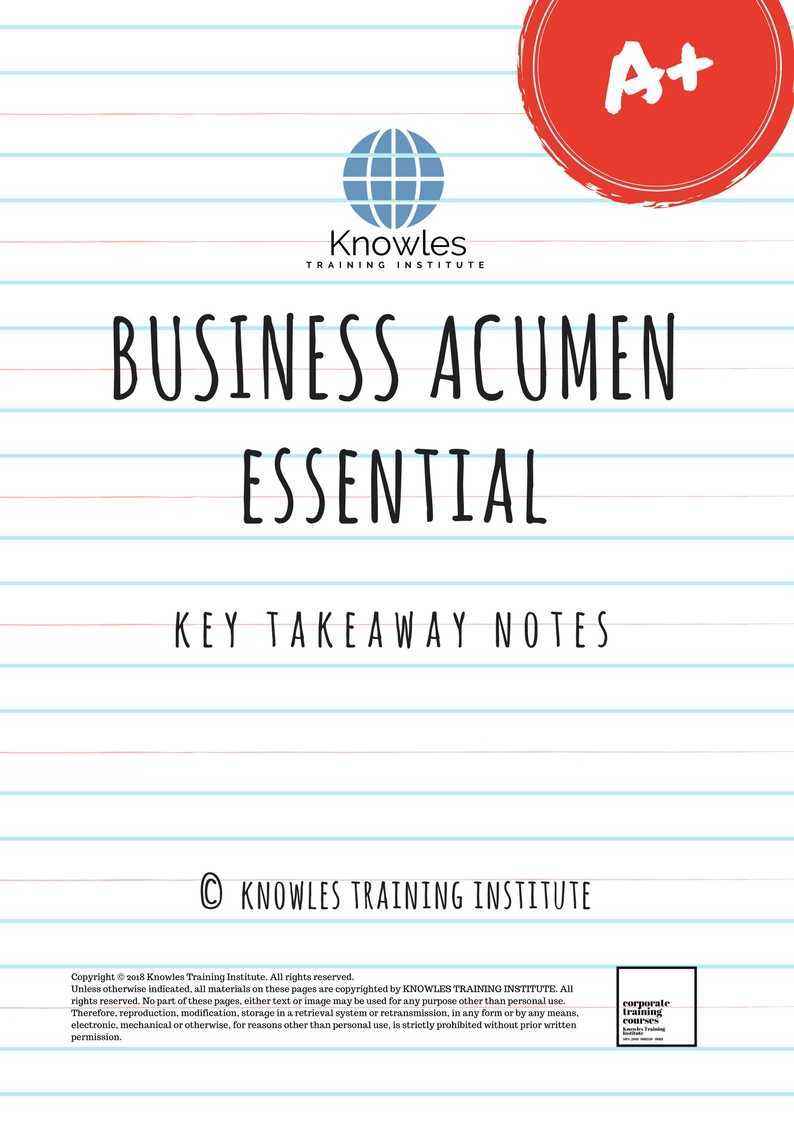 Business Acumen PDF Essentials Ebook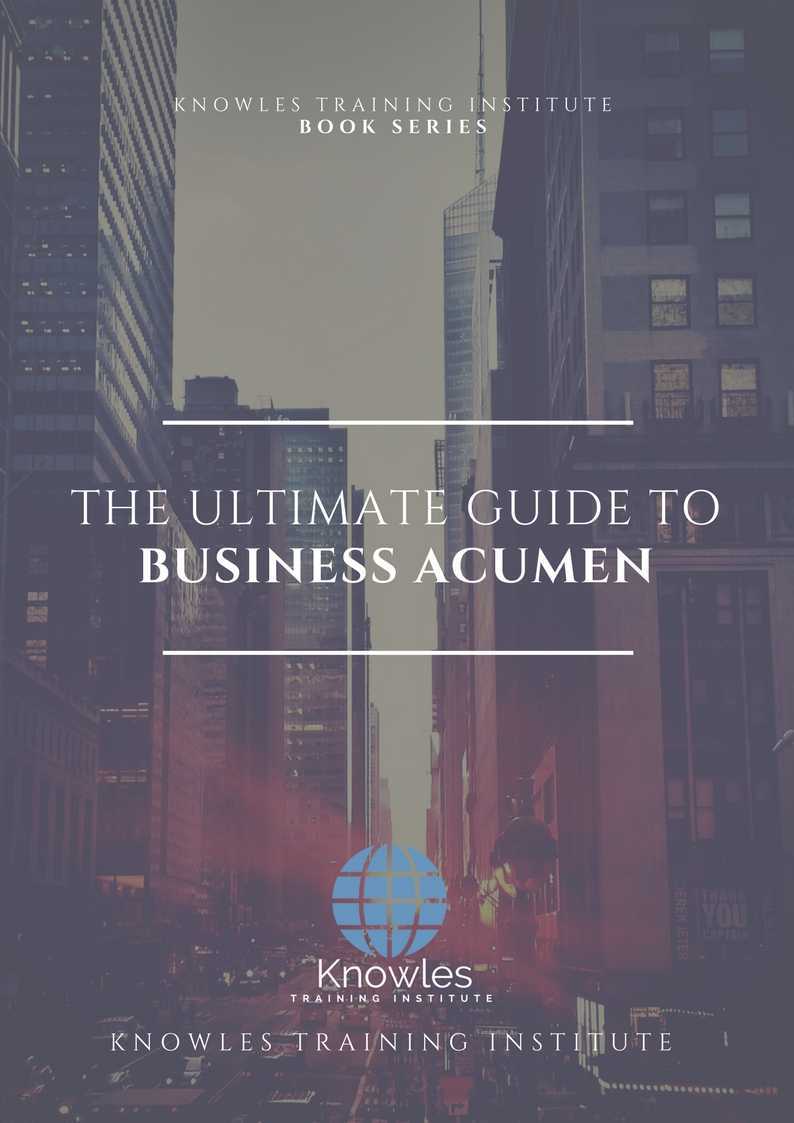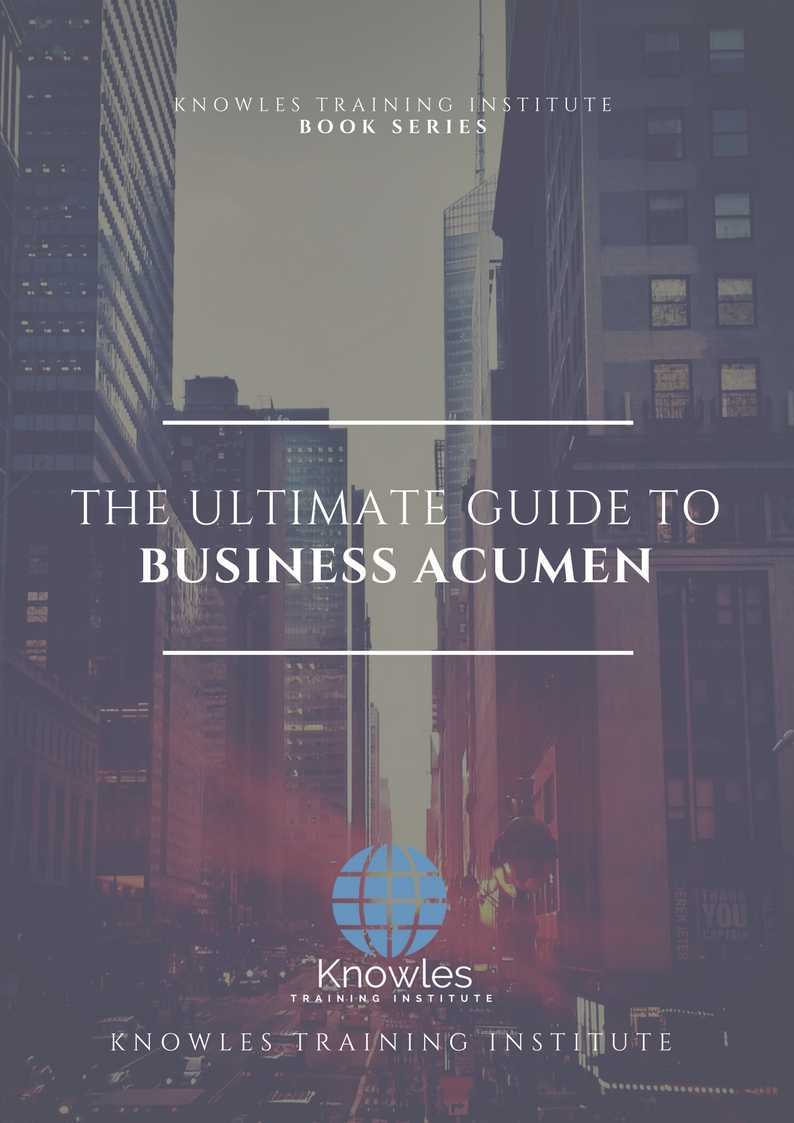 Business Acumen Course Handouts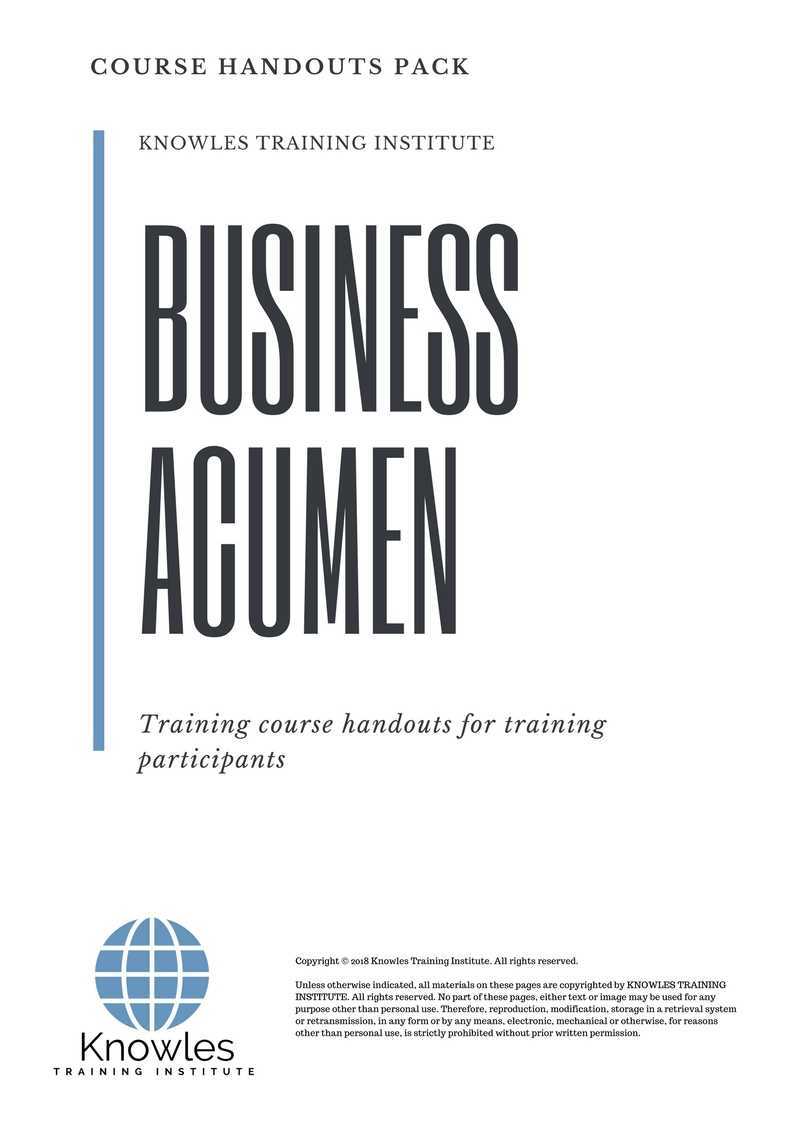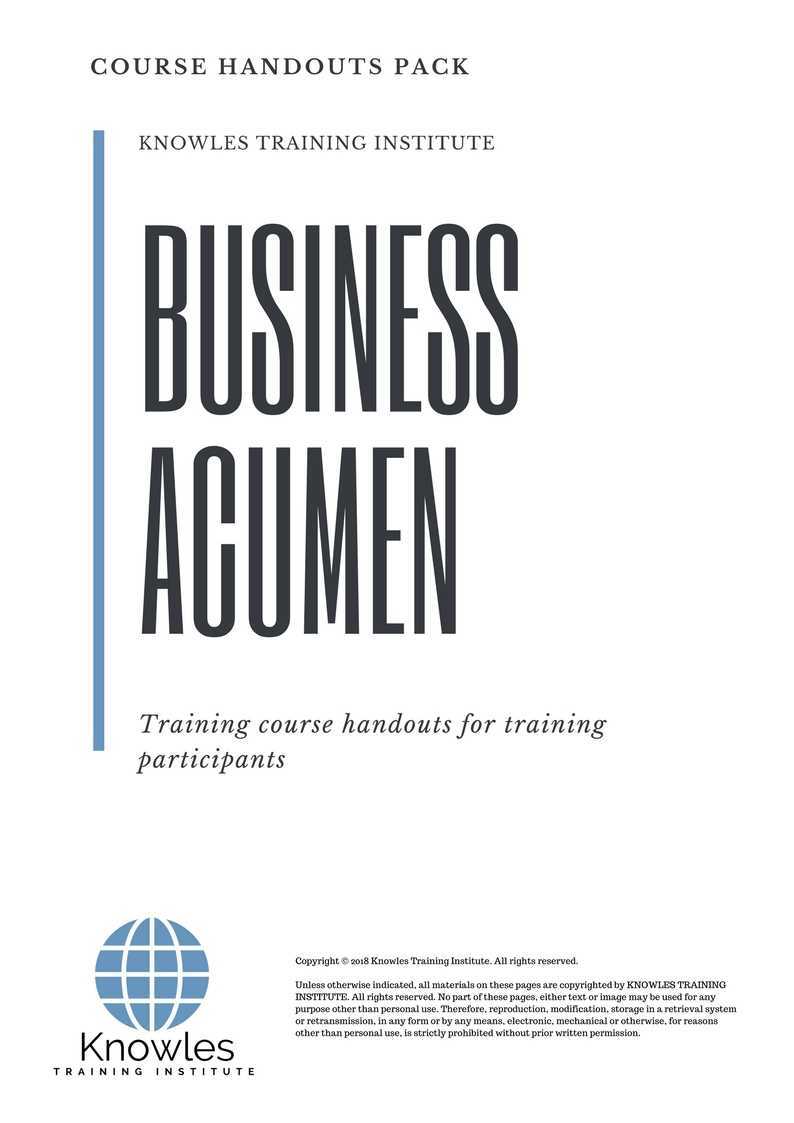 Business Acumen 30-Day Action Plan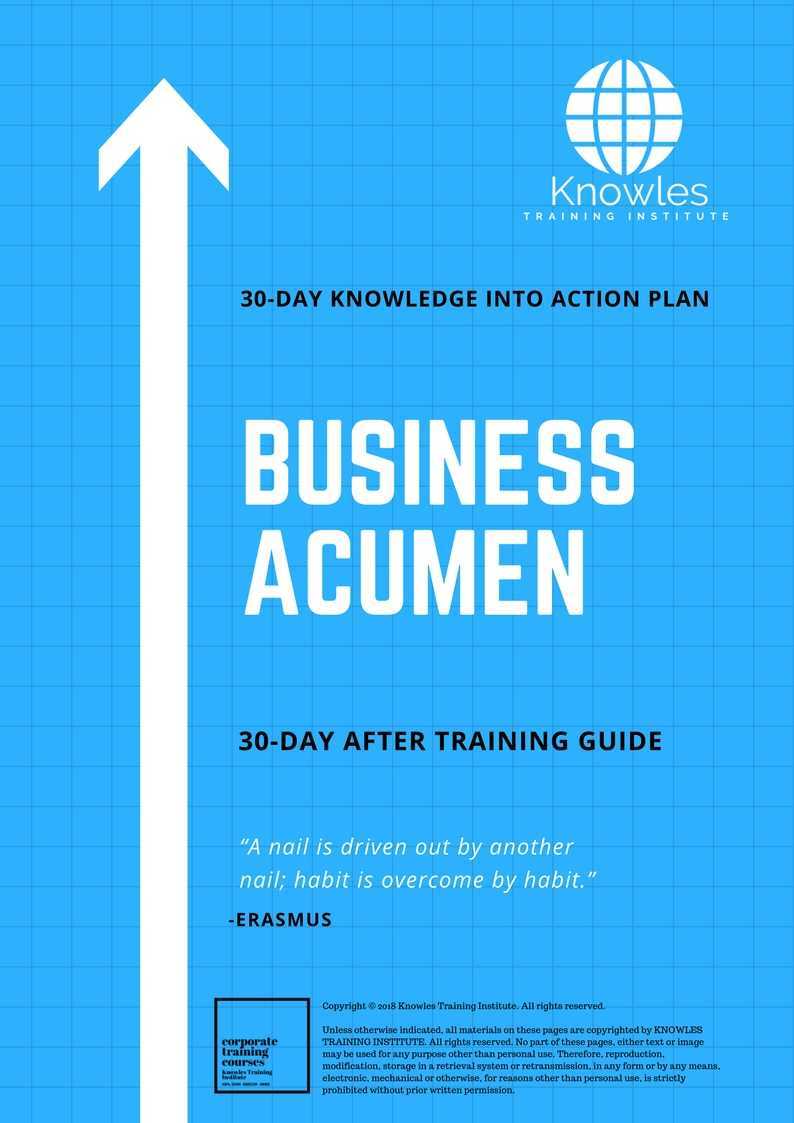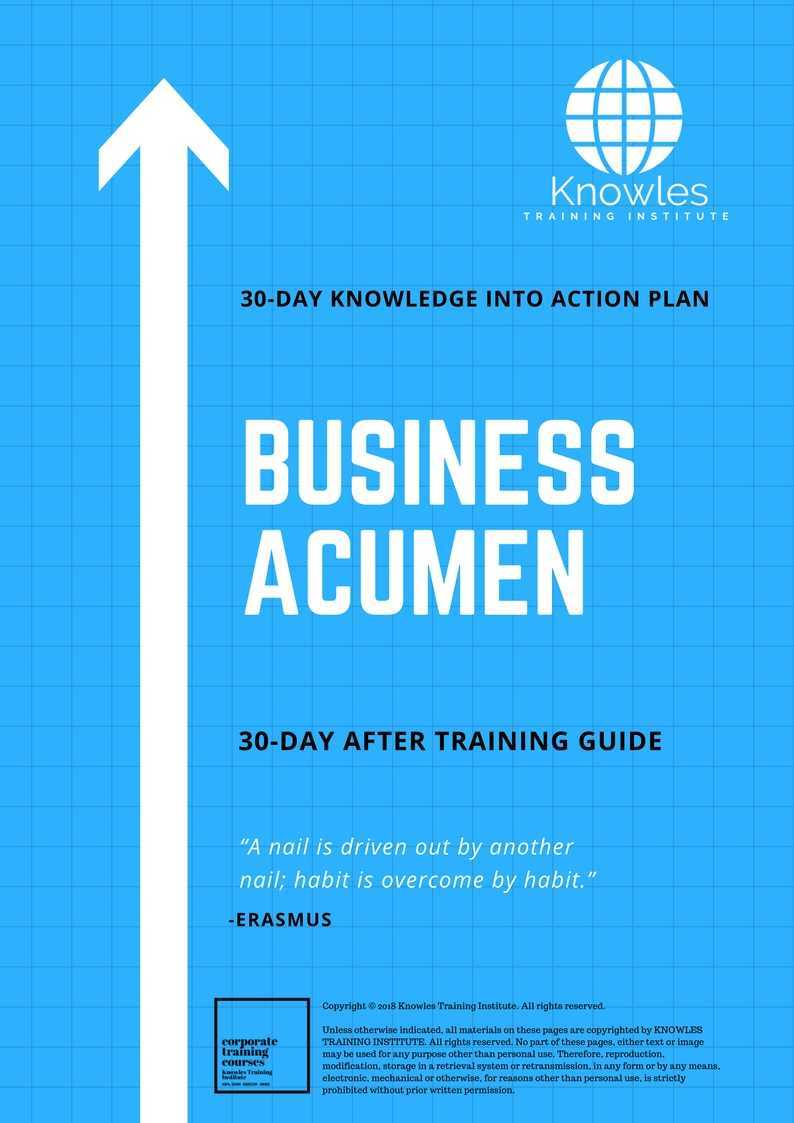 Business Acumen MindMaps Pack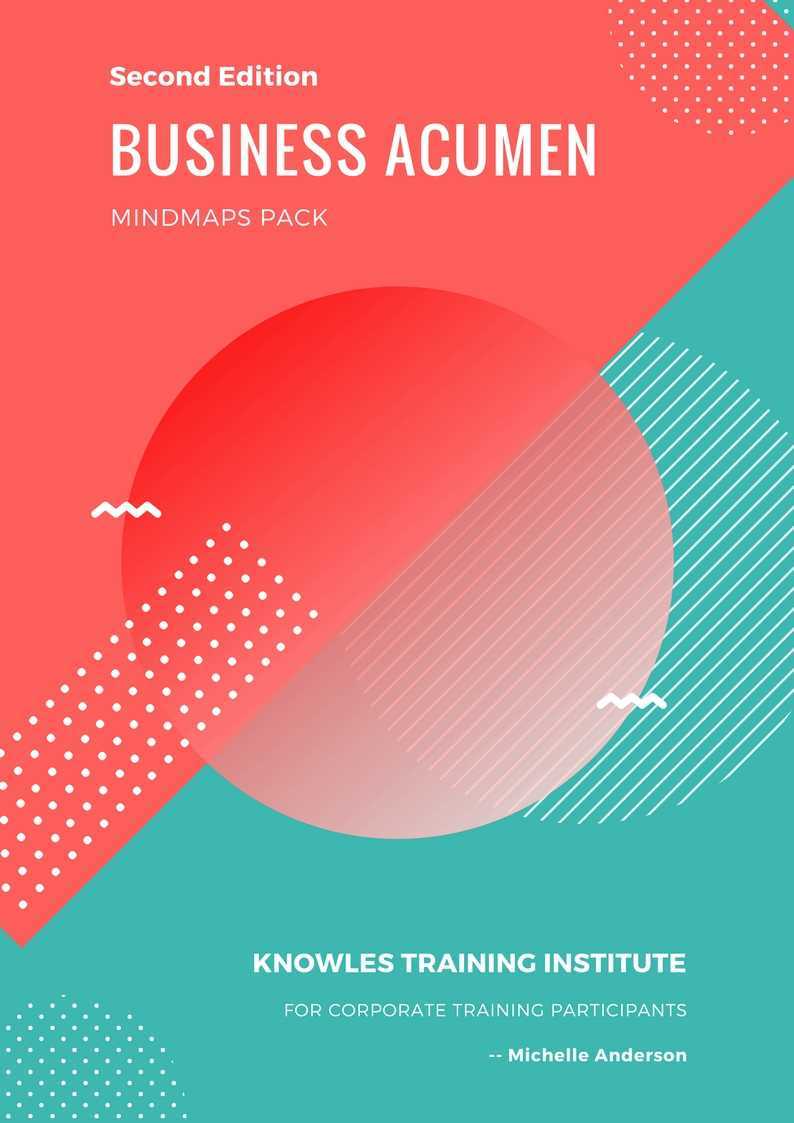 Business Acumen PDF PPT Slides Used During Course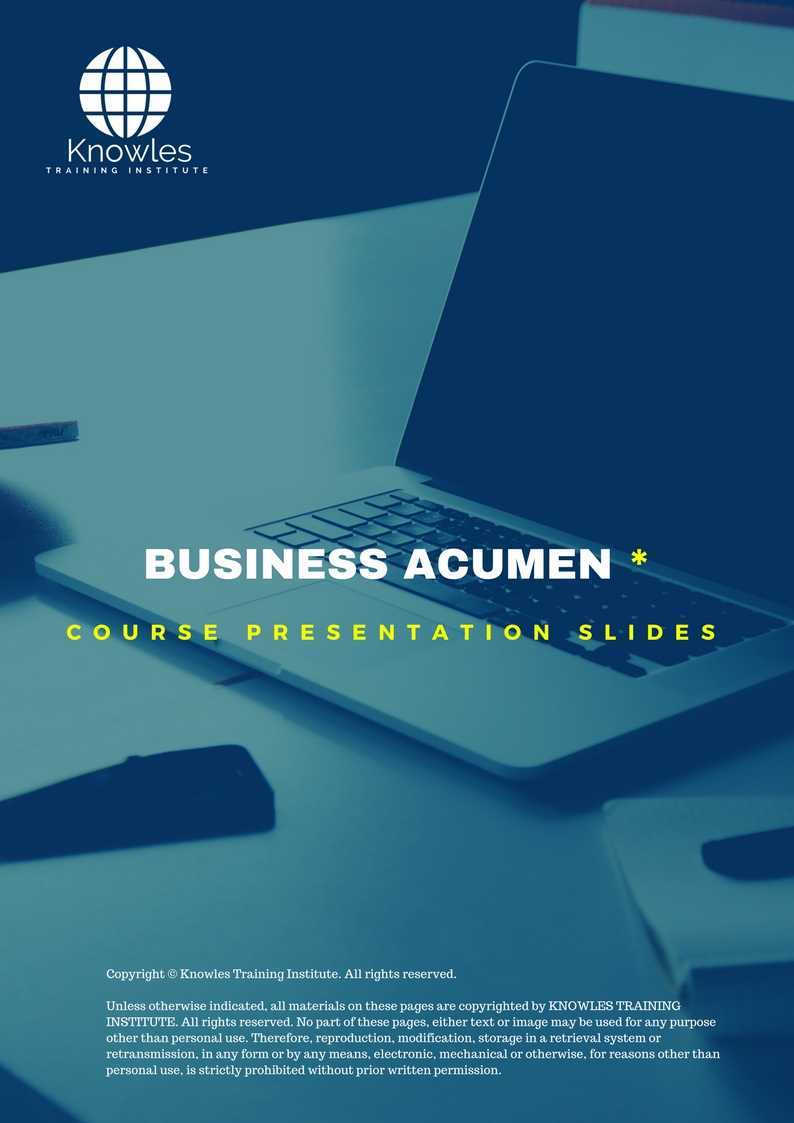 Business Acumen Long-Term Memory Flashcards Pack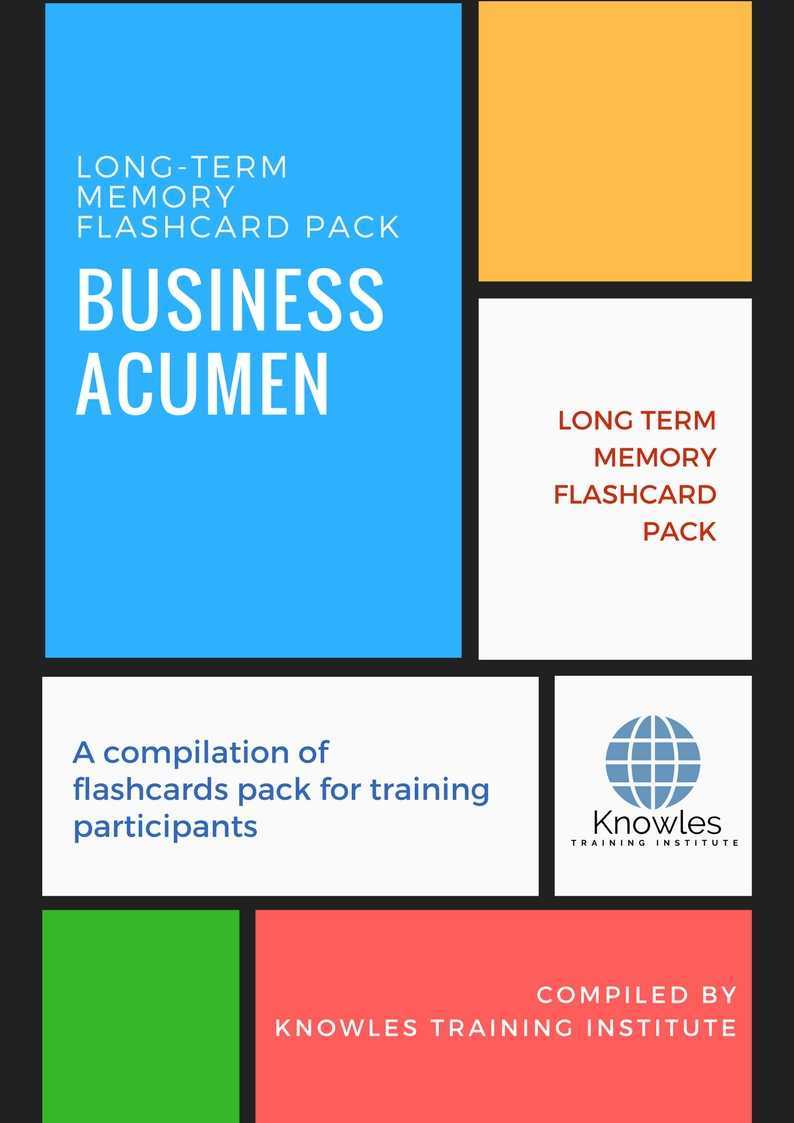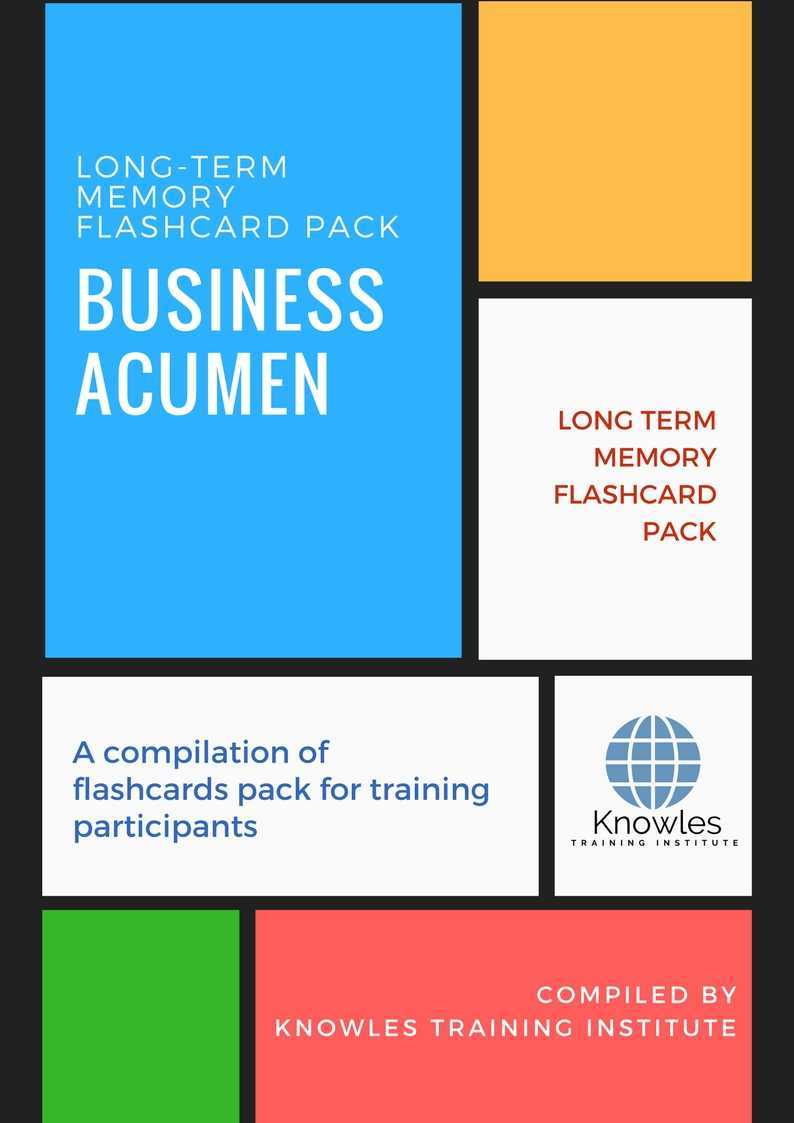 Business Acumen E-Learning Course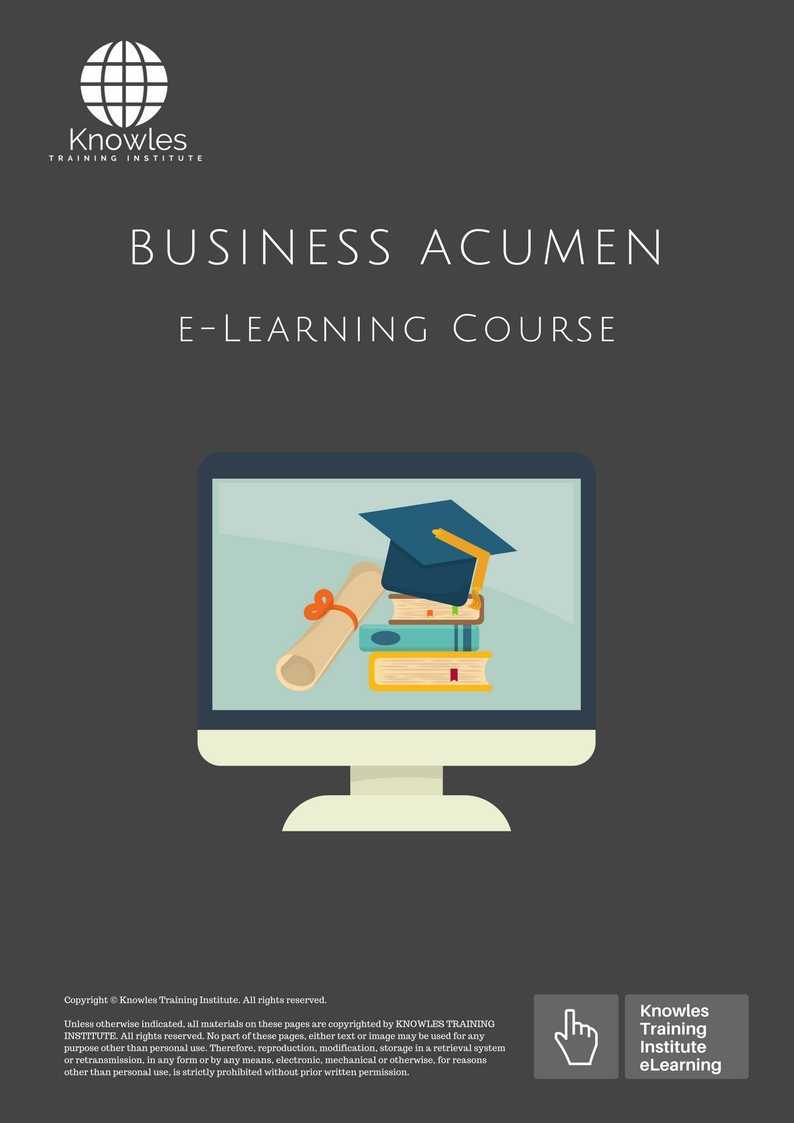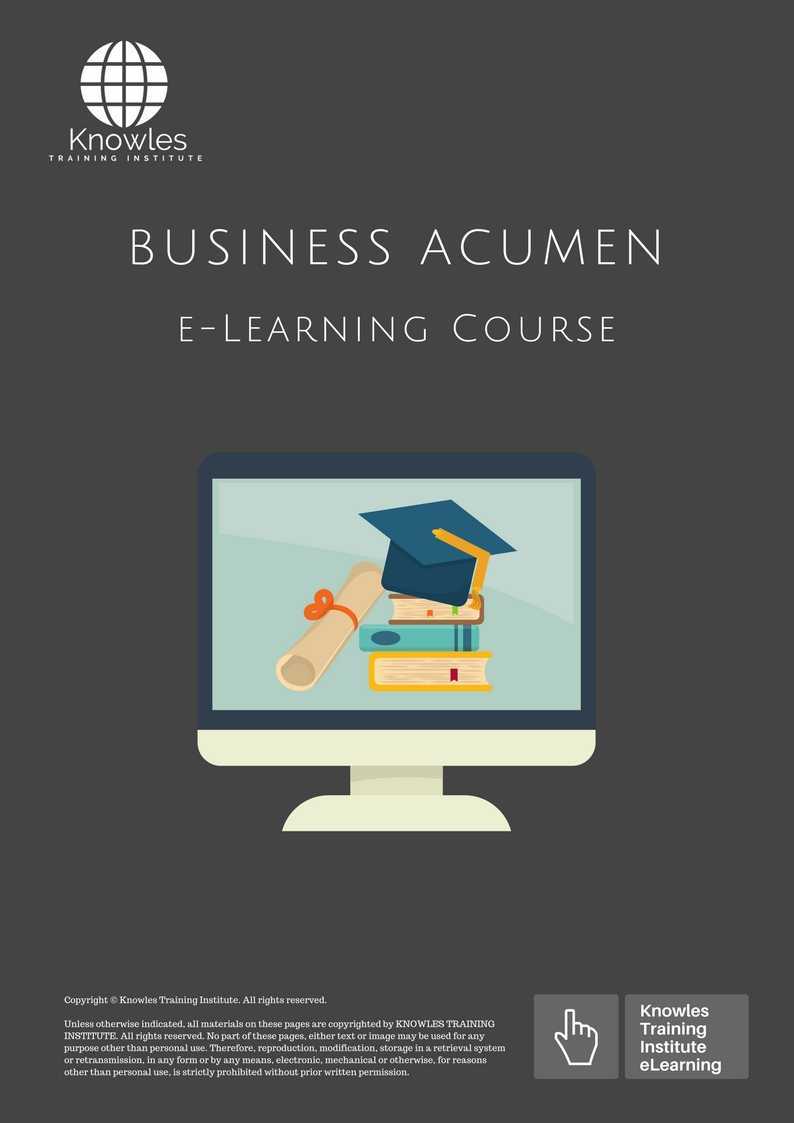 Business Acumen Online Video Course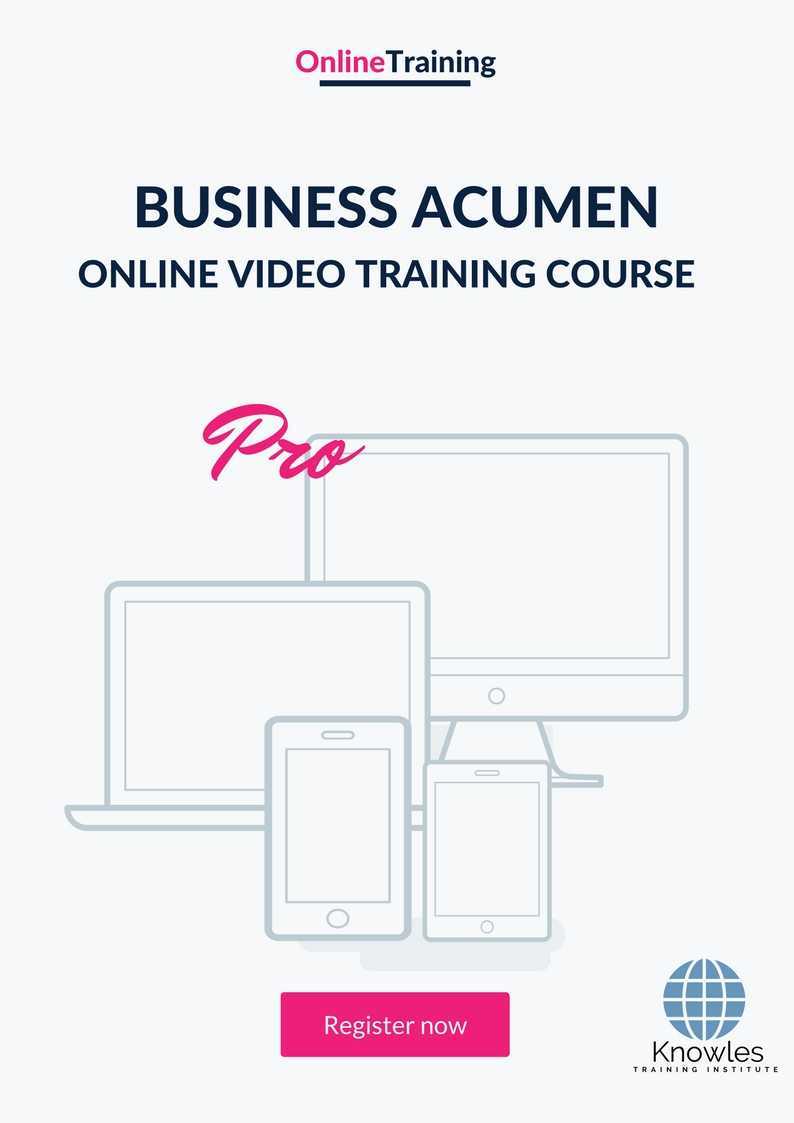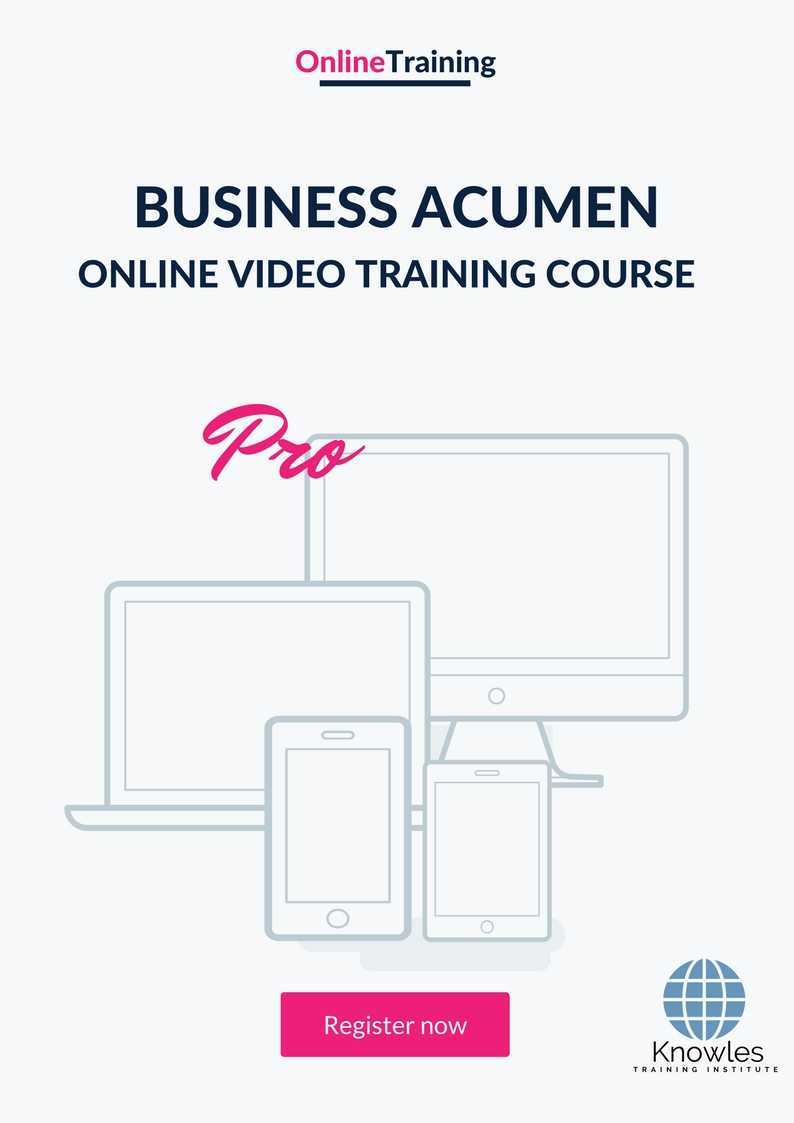 Business Acumen Essentials Audiobook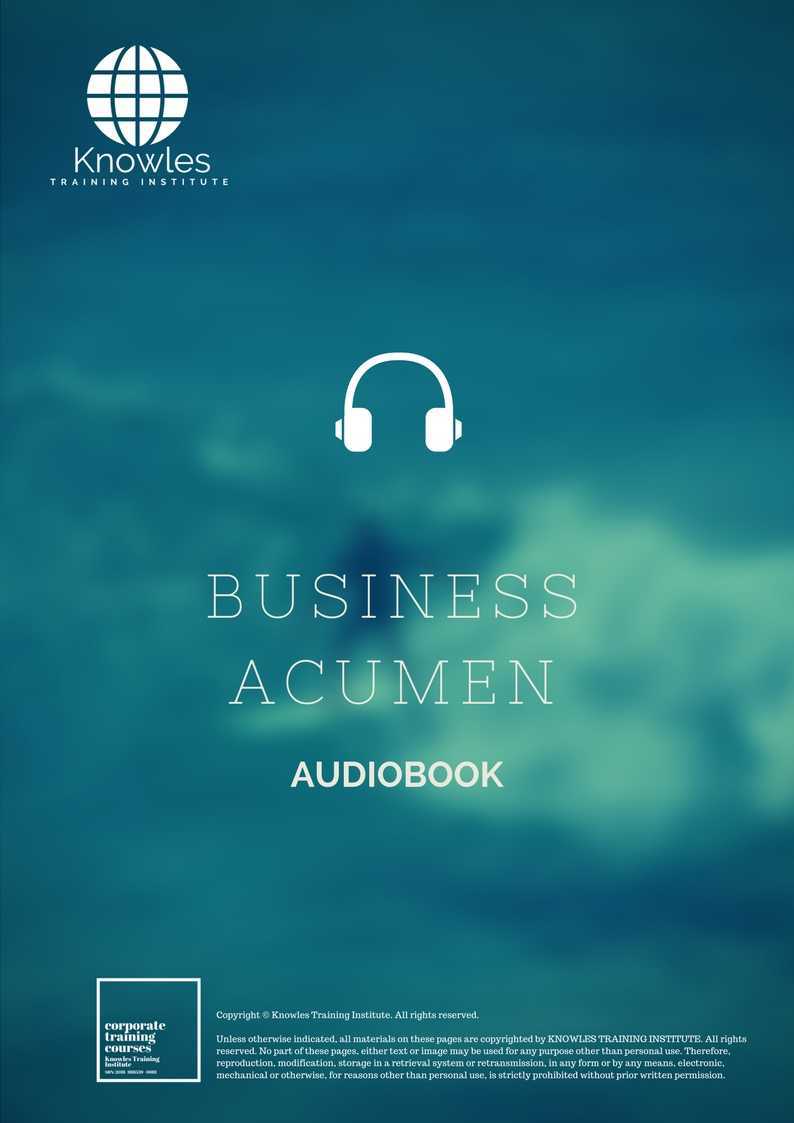 Business Acumen PDF Infographics Pack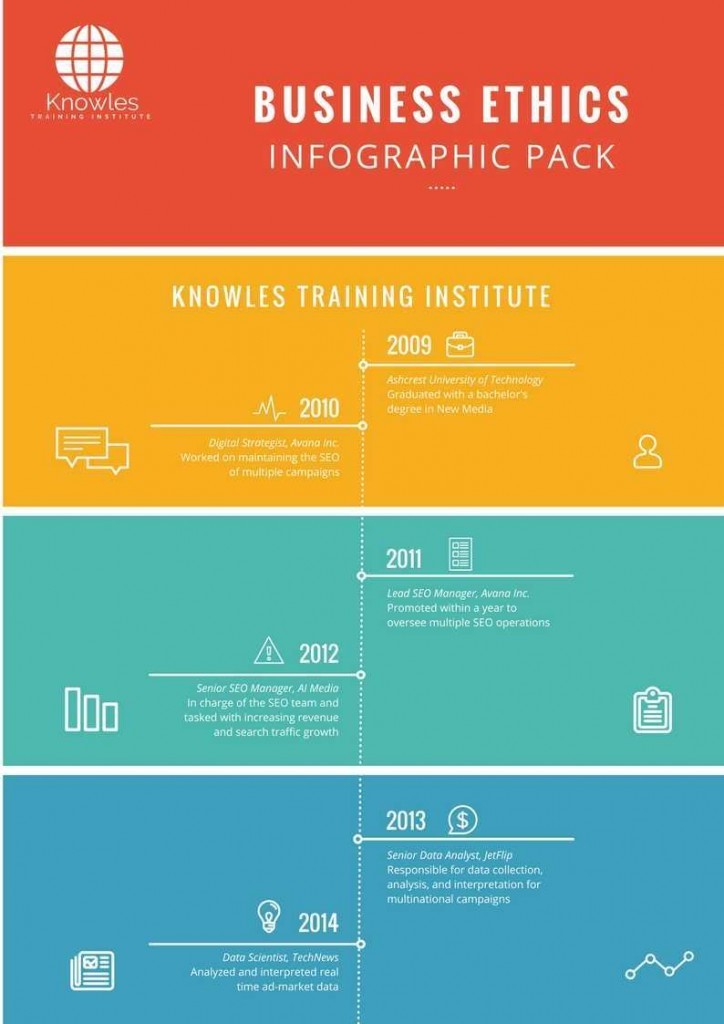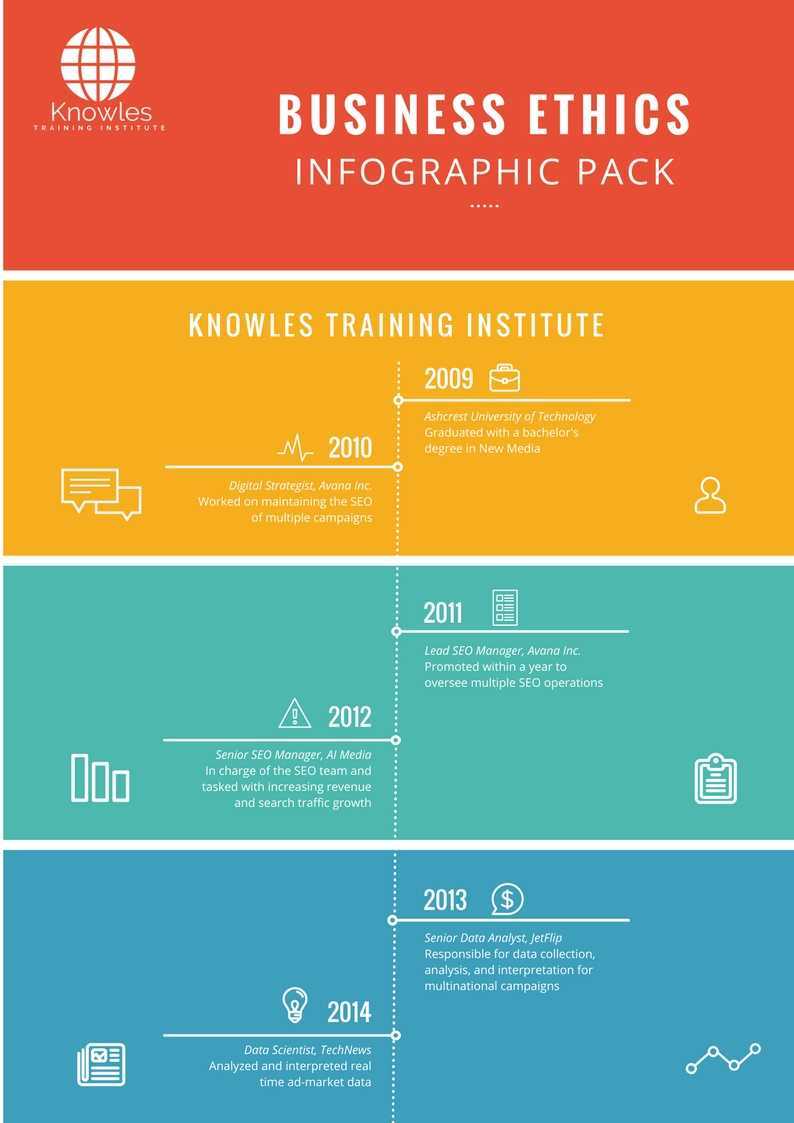 Business Acumen Certification
Each course participant will receive a certification of training completion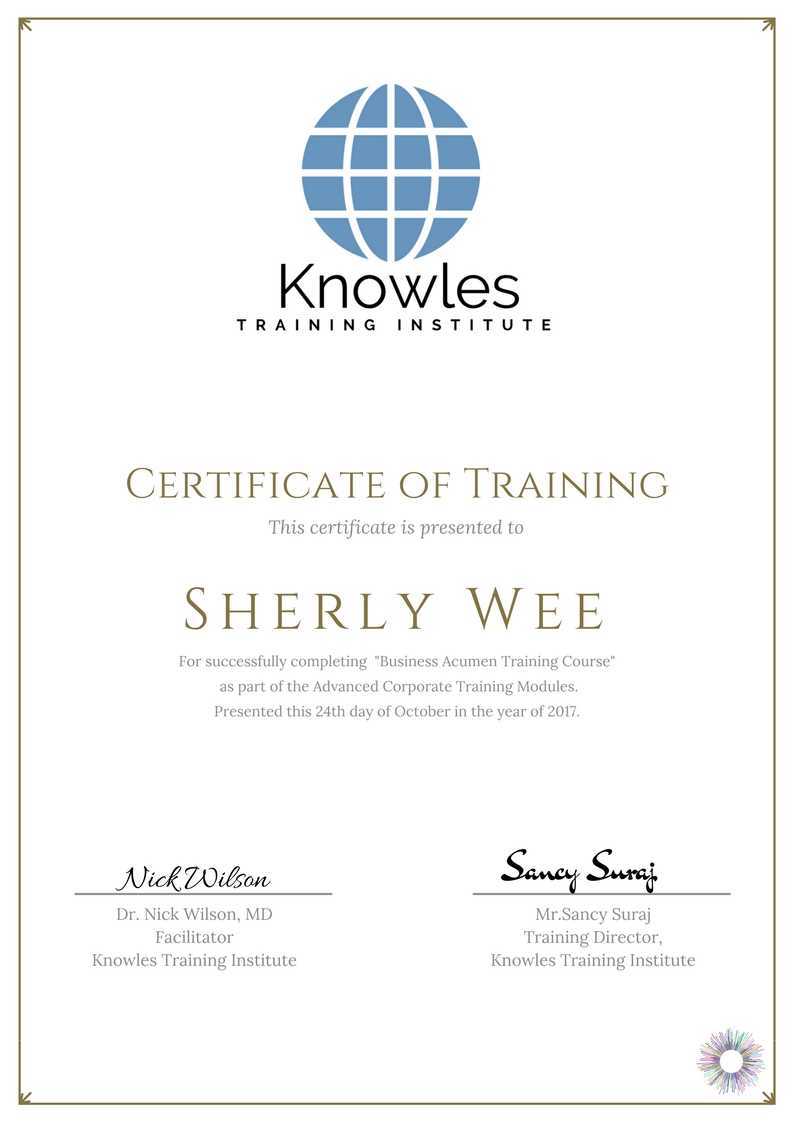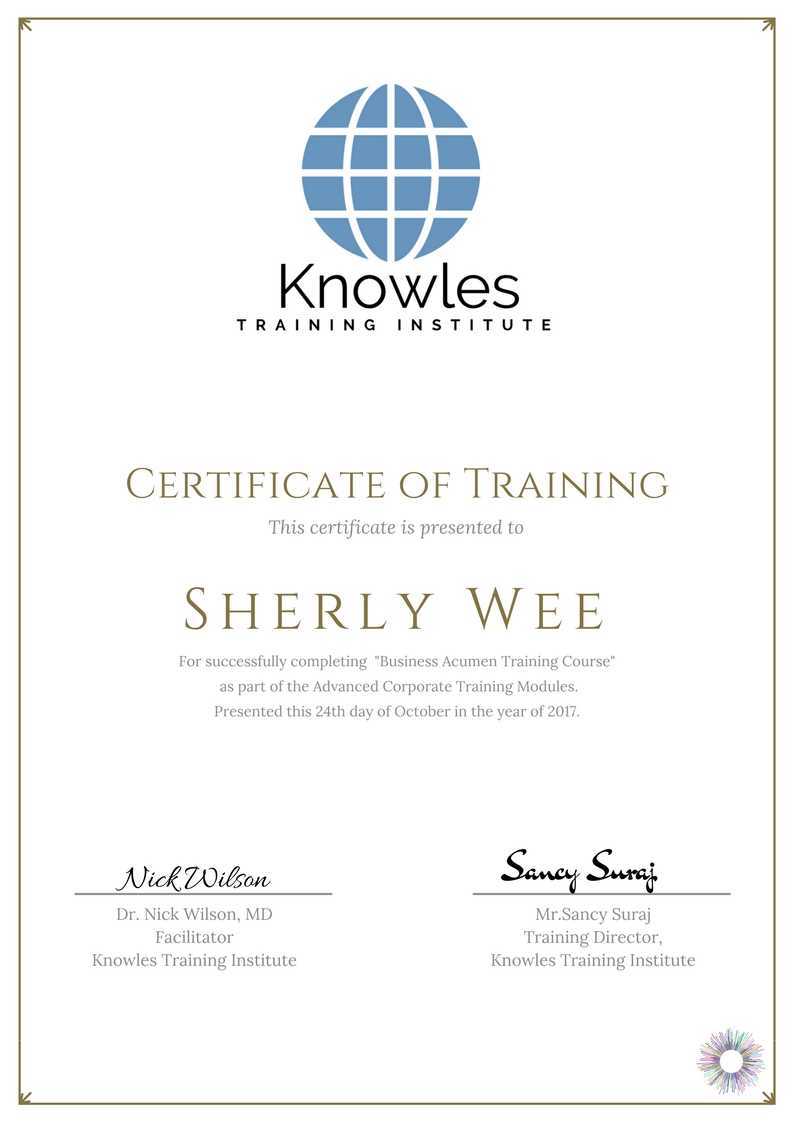 Business Acumen Course Fees
There are 3 pricing options available for this Business Acumen training course. Course participants not in Singapore may choose to sign up for our online time management training course.
2-Full Day Course
S$
499
97 (Skillsfuture Funding Available)
Learner's Guide
Course Handouts
—
—
—
—
—
—
—
—
—
—
Course Discounts, Fundings & Subsidies
This Business Acumen course has Skillsfuture funding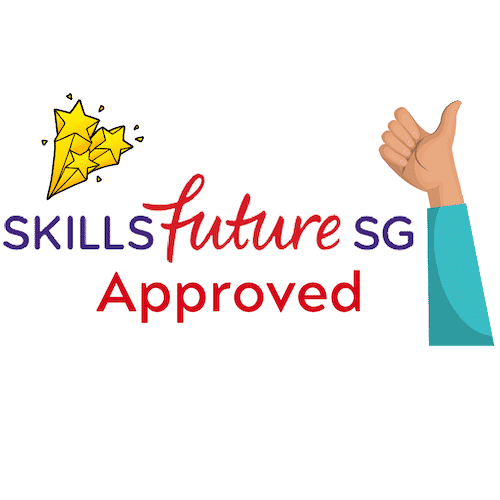 Knowles Training Institute, 138 Robinson Road, Oxley Tower, #28-03, Singapore 068906
Nearest MRT Station: Tanjong Pagar MRT Station & Raffle Place MRT Station
Bus: 700, 971E, 971E, 167, 970, 761, 57, 131, 186, 400, 402, 532 and 5
Drive: Ample of Parking Available in Oxley Tower and Adjacent Buildings
Our Trainers are Subject Matter Experts
Download Business Acumen Course Brochure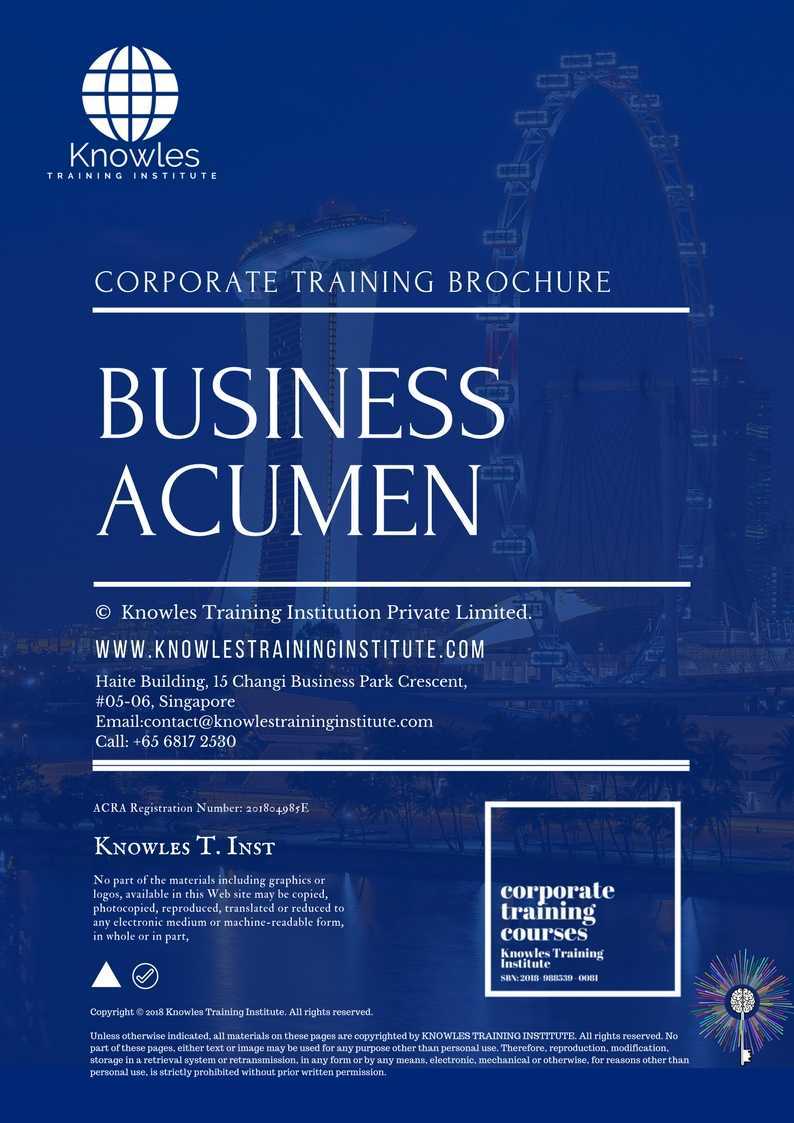 Request for this Business Acumen course brochure. Fill up the short information below and we will send it to you right away!
KTI Training Methodology ™
Why Register For This Training Course?
Post Training Support: A vast majority of training does not have any effect beyond 120 days. To work, training has to have a strong pre- and post-training component. Post-training reinforcement helps individuals to recall the understanding and ask questions.

Blended Learning: Learning does not occur in the classroom. Virtually everybody prefers distinct ways of learning. Successful learning should have a multi-channel, multi-modal strategy.

We Understand The Industry: We've got a profound comprehension of the business, business design, challenges, strategy and the that our participants are in and have designed the courseware to cater to their professional needs.

Course Content: Knowles Training Institute's material is relevant, of high quality and provide specific learning results. Participants will leave the training course feeling as they have gained a strong understanding and will also be in a position to execute what they have learned sensibly.

Course Development — The workshop modules follow a systematic and logical arrangement. This structure helps to ensure that the course material allows the facilitators to deliver the course in a logical arrangement. Consider the subjects as building bricks into learning, our facilitators slowly build towards a comprehensive picture of this entire topic.
Business Acumen Course Enquiries

Fill up the form and we will get back to you in less than 1 working day.
Alternatively, give us a call to have one of our training consultants contact you. Our corporate training courses can be contextualised to meet your organisation's training needs. Leverage on our large pool of professional trainers and consultants for your organisation's training needs.
Office Address: Knowles Training Institute, 138 Robinson Road, #28-03, Oxley Tower, Singapore 068906
Office Phone: +65 6935 7406
Email: contact@knowlesti.sg
We Guarantee 100% Privacy. We Respect Your Privacy. Your Information Will Never Be Shared.
Register Now
Register For This Business Acumen Course Now!
How to learn business acumen, how to develop business acumen skills, business acumen for dummies, acumen business solutions, Business Acumen course, workshop, training, class, seminar, talk, program, programme, activity, lecture. Business Acumen courses, workshops, classes, seminars, talks, programs, programmes, activities, lectures in Singapore. Business Acumen improvement tips, Business Acumen techniques, improve Business Acumen, improve Business Acumen games, Business Acumen improvement exercises, improve Business Acumen power, how to have good Business Acumen, how to have good Business Acumen in studying, how to build up your Business Acumen, how to improve Business Acumen how to improve Business Acumen course in Singapore. Enhance, boost, build up, enlarge, heighten Business Acumen course in Singapore. Increase, intensify, raise, reinforce, strengthen Business Acumen. Upgrade, amplify, boom, elevate, exaggerate, magnify, grow, gain Business Acumen. Develop Business Acumen, multiple, power up, beef up, bolster, establish, extend Business Acumen. Invigorate, restore, step up, toughen, empower, fortify, regenerate Business Acumen. Rejuvenate, renew, escalate, expand, maximize Business Acumen. Powerful, mighty, impressive, competent, great, excellent, exceptional Business Acumen in Singapore. Superb Business Acumen. Super, superior, strong, solid, active Business Acumen training courses and workshops in Singapore. Business Acumen enhancement, booster, building up, enlargement, heightening, increment, strengthening, amplification. Business Acumen magnification, growth, development, power, empowerment, regeneration. Business Acumen rejuvenation, development, escalation, expansion. Business Acumen maximization, power training courses & workshops in Singapore