Appreciative Inquiry Course in Singapore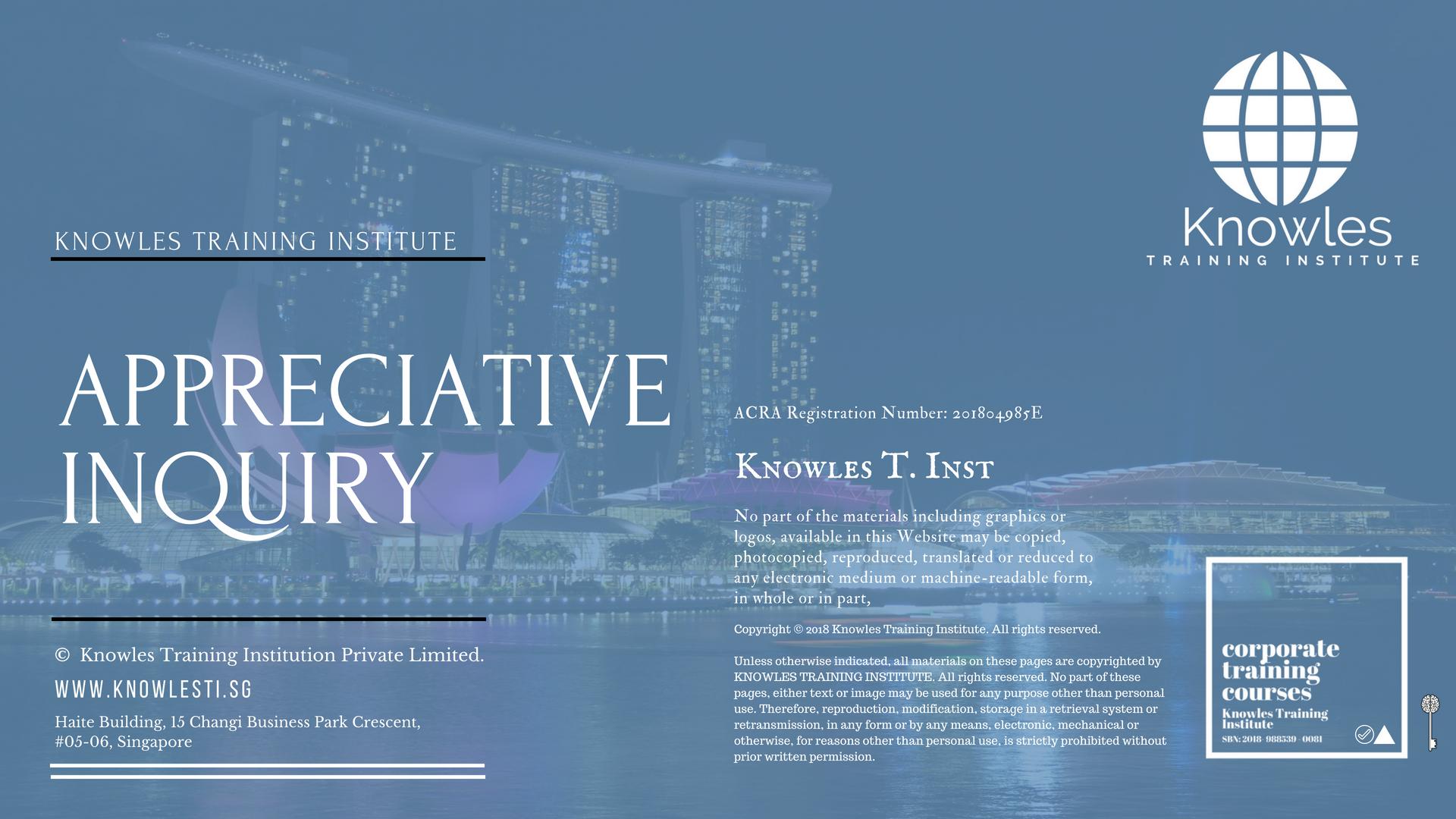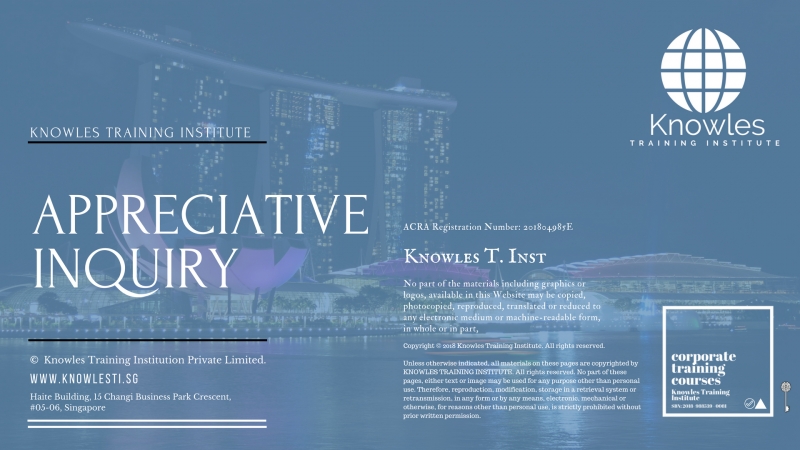 About This Appreciative Inquiry Training Course
Appreciative Inquiry Course in Singapore
When it seems like everything in your organization is going wrong, it's tempting to get bogged down by problems and be disheartened. By using the Appreciative Inquiry (AI), however, things could turn around all with just a shift in mindset. Find out how this appreciative approach could be a game-changer in the way you handle setbacks in your organization.
Appreciative inquiry centres on finding the best in people and how they use it to perform in their work and everyday life. Within appreciative inquiry, an employer uses the art of asking questions and views to further strengthen the system as a whole, thus creating a more positive atmosphere and increasing employee potential. Appreciative inquiry is intended to concentrate less on negativity and criticism, and use personal design and promote discovery.
Who Should Attend This Appreciative Inquiry Workshop
This Appreciative Inquiry workshop is ideal for anyone who would like to gain a strong grasp and improve their Appreciative Inquiry.
All Staff Within An Organisation
Group Size For This Appreciative Inquiry Training Program
The ideal group size for this Appreciative Inquiry course is:
Course Duration For This Appreciative Inquiry Skills Course
The duration of this Appreciative Inquiry workshop is 2 full days. Knowles Training Institute will also be able to contextualised this workshop according to different durations; 3 full days, 1 day, half day, 90 minutes and 60 minutes.
Appreciative Inquiry Course Benefits
Below is the list of course benefits of our Appreciative Inquiry course
Accelerated change that concentrates on what you want to build rather of trying to erase what you don't want.
Interactive conversations focused on positive change produces a personal commitment to development and fosters relationship building.
Grounding the experiences in the company's past achievements and values encourages hope and new possibilities.
Increased morale, engagement, curiosity, and communication enhance retention.
A positive environment for change boosts creativity, open dialogue, and new solutions.
Inclusion of stakeholders promotes buy-in, accountability, and individual commitment.
Appreciative Inquiry Course Objectives
Below is the list of course objectives of our Appreciative Inquiry course
Define Appreciative Inquiry
State how to change the way you think
List the Four D model
Explain the Four I Model
Explain the Appreciative interview style
Describe ways to solicit positive stories
Identify and recognise positive attributes in people
Identify the anticipatory realities of Appreciative Inquiry
Illustrate the power of positive imagery
Discuss how to Influence change through Appreciative Inquiry
Demonstrate how you would coach and manage with Appreciative Inquiry
Recognise ways to create a positive core
Course Content For This Appreciative Inquiry Training Course
Below is the list of course content of our Appreciative Inquiry training course
What is Appreciative Inquiry?
Generating a Better Future
Engaging People in Positive Thought
Change the Person, Change the Organization
Shifting from "What"s Wrong?" to "What"s Right"?
It's Not Eliminating Mistakes, It's Holding Up Successes
Positive Language Will Affect Peoples Thinking
Limit or Remove Negative Phrasing
The Discovery Process of Appreciative Inquiry
The Dream Phase of Appreciative Inquiry
The Design Plan of Appreciative Inquiry
The Delivery Phase of Appreciative Inquiry
The Initiate Phase of Appreciative Inquiry
The Inquire Phase of Appreciative Inquiry
The Imagine Part of Appreciative Inquiry
The Innovate Phase of Appreciative Inquiry
Framing Positive Questions
Solicit Positive Stories
Finding Out What Works
Recognize the Reoccurring Themes
Imagining a Successful Future Will Affect the Present
Controlling Negative Anticipation
Current Decisions Will Be Influenced Positively
Base It on Data and Real Examples
Shaping Performance with Positive Imagery
Being Better Prepared for Adversity
People are More Flexible and Creative
Think of the Perfect Situation
Using Strengths to Solve Challenges
Confidence Will Promote Positive Change
Inquiry is a Seed of Change
People Will Gravitate Towards What is Expected of Them
Build Around What Works
Focus on Increases
Recognize the Best in People
Limit or Remove Negative Comments
Identifying Strengths
Best Practices
Peak Experiences
Remembering Successes
Appreciative Inquiry Value Added Materials
Each participant will receive the following materials for the Appreciative Inquiry course
Appreciative Inquiry Learner's Guide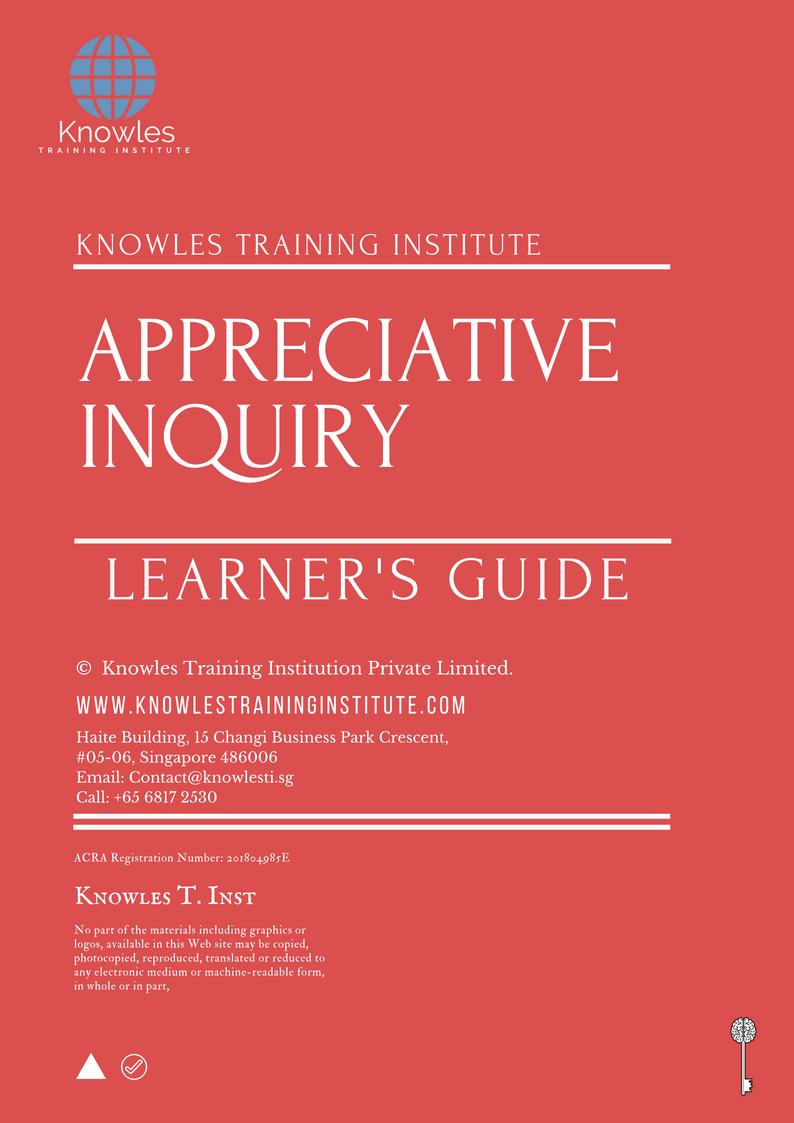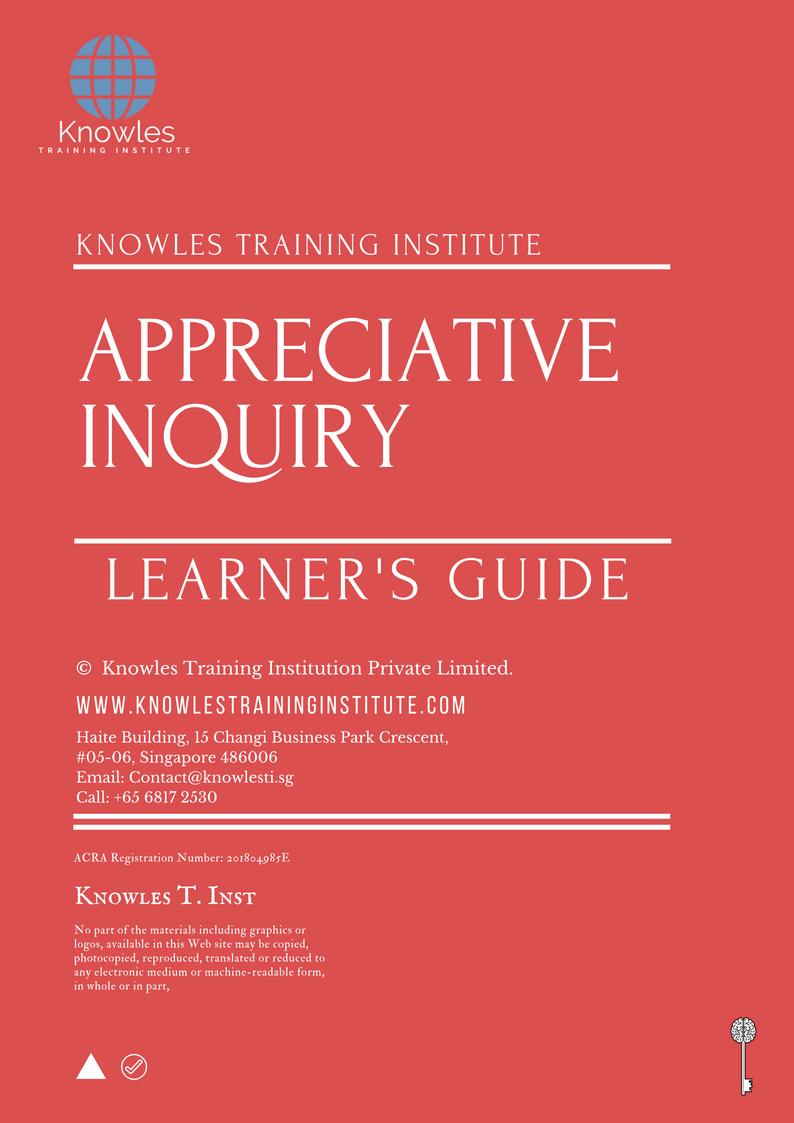 Appreciative Inquiry Key Takeaways Notes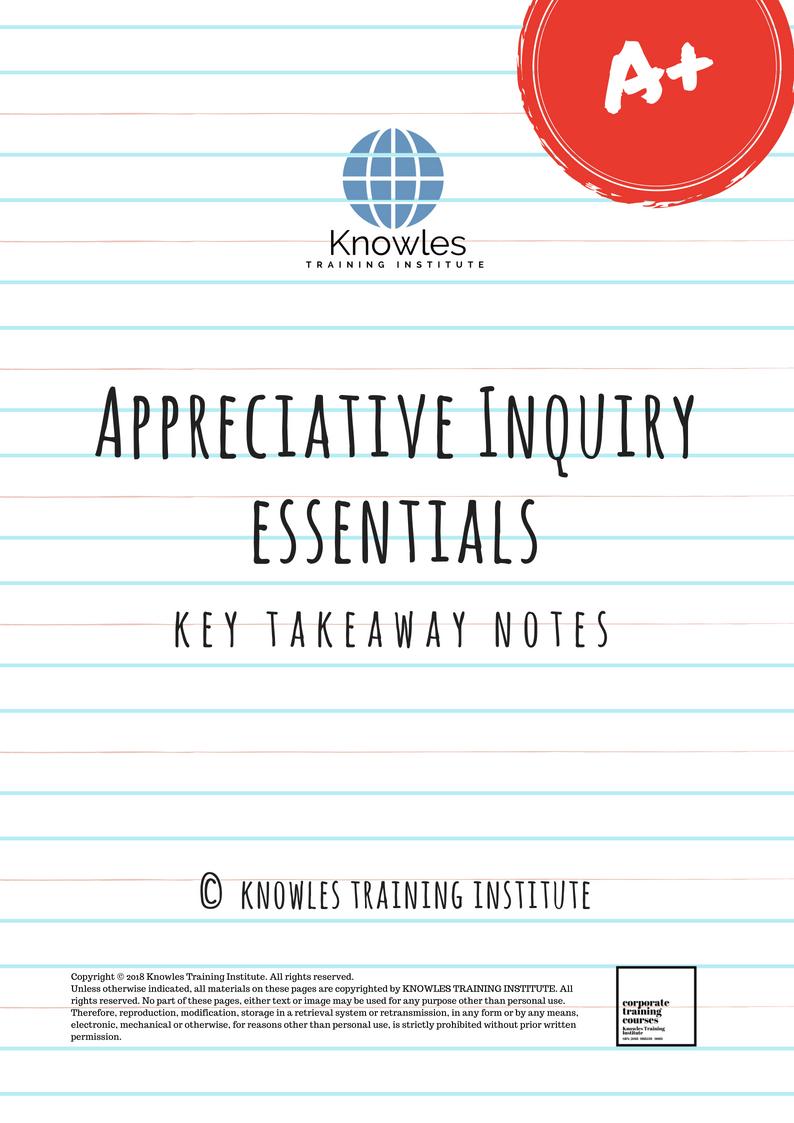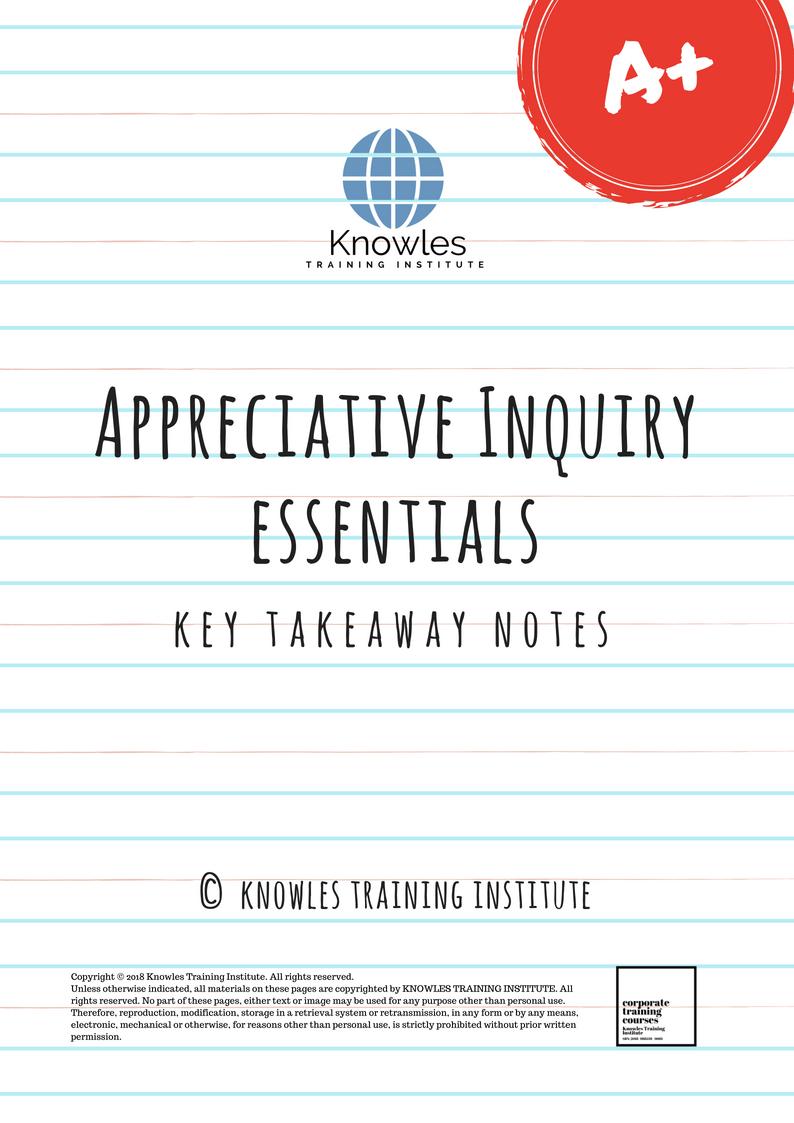 Appreciative Inquiry Essentials Ebook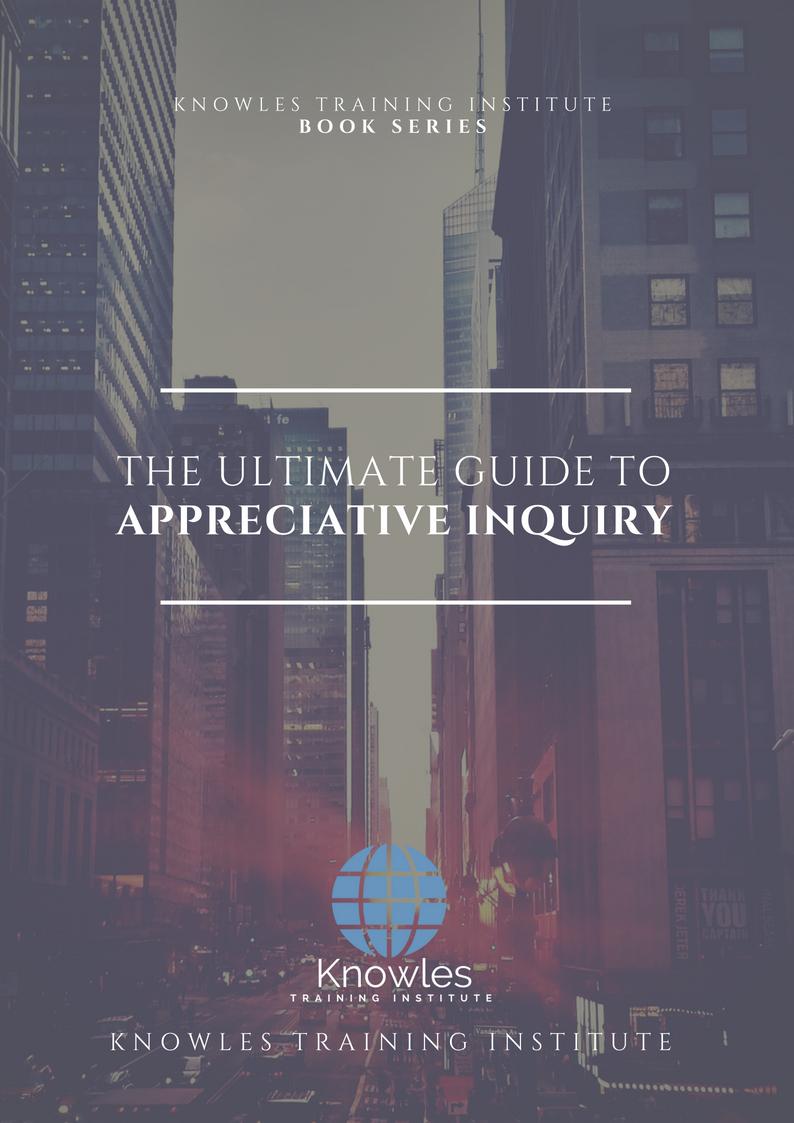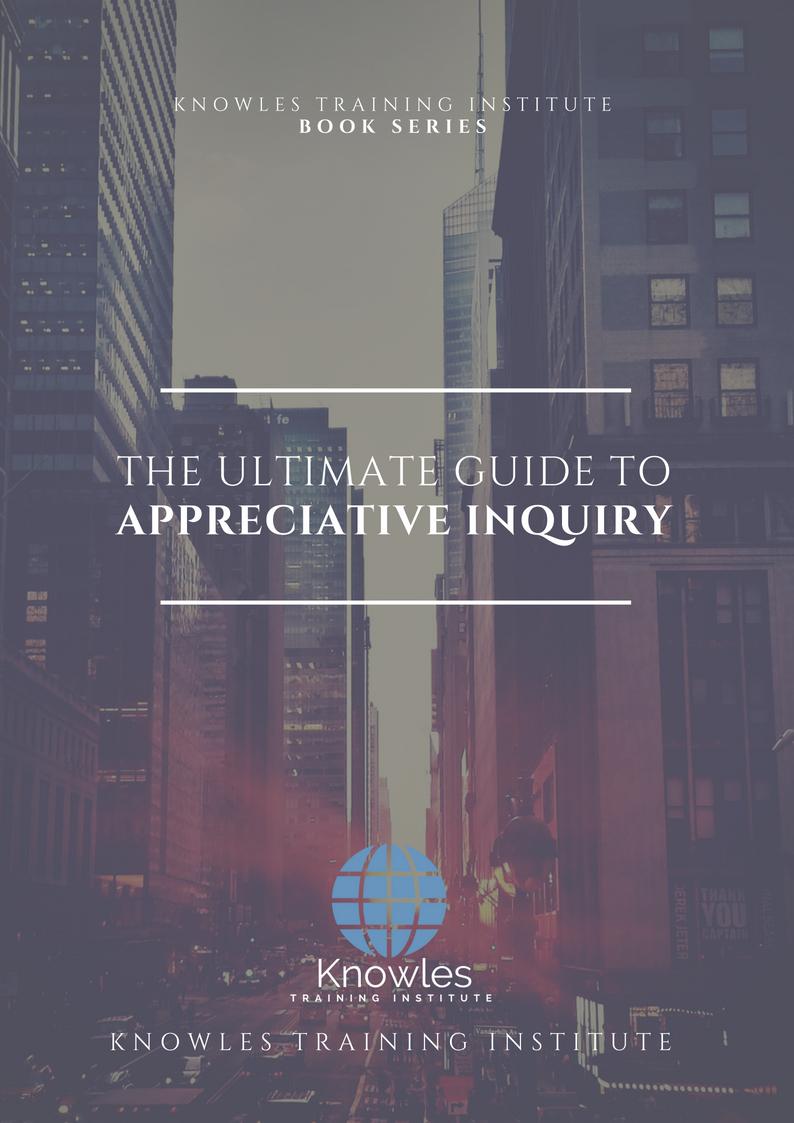 Appreciative Inquiry Course Handouts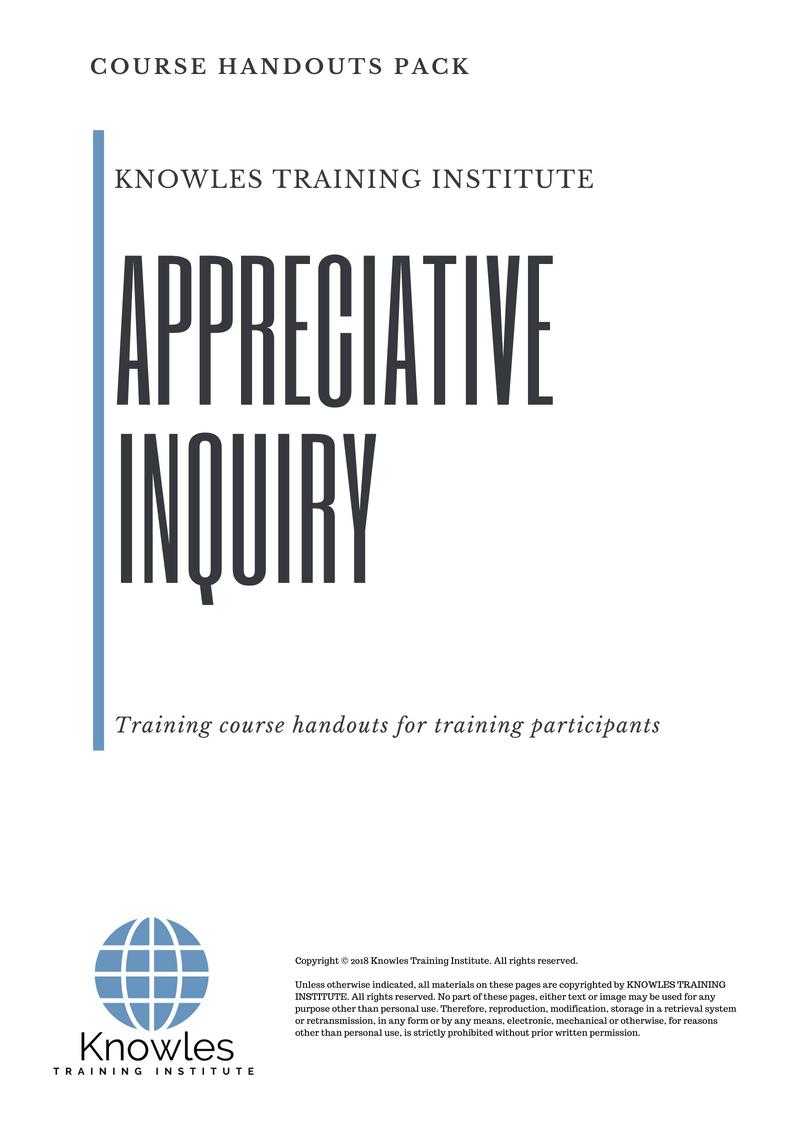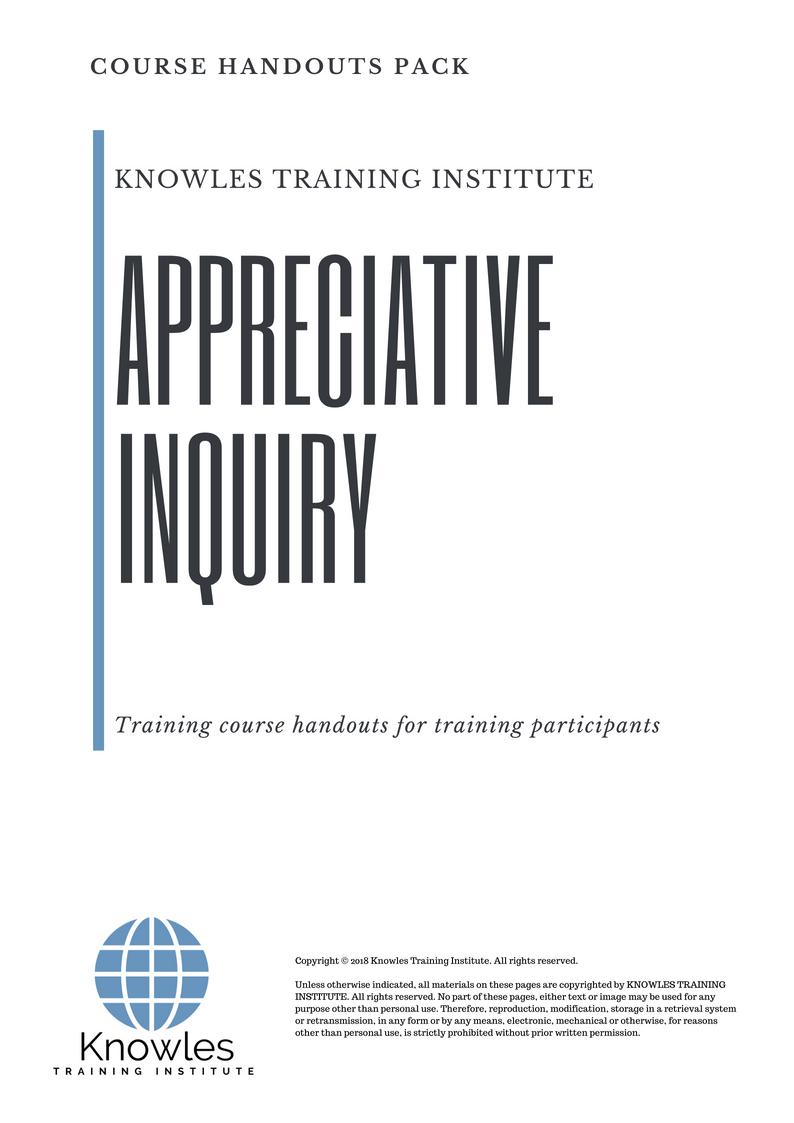 Appreciative Inquiry 30-Day Action Plan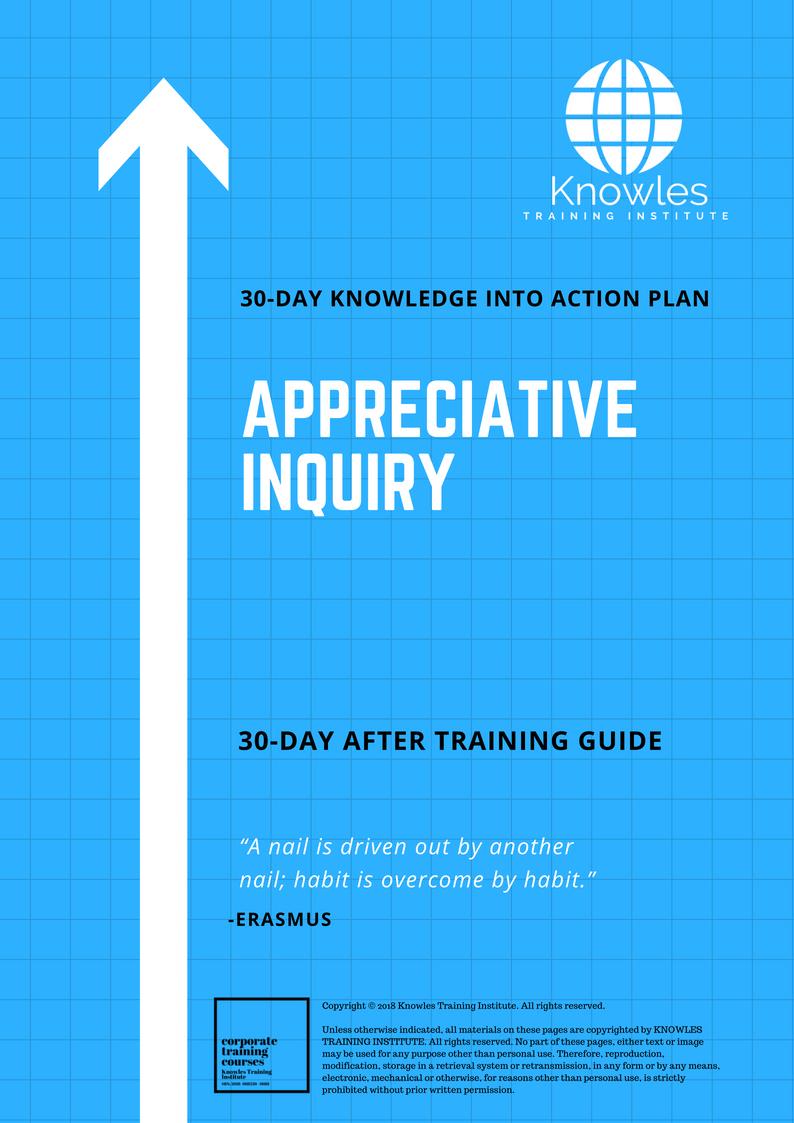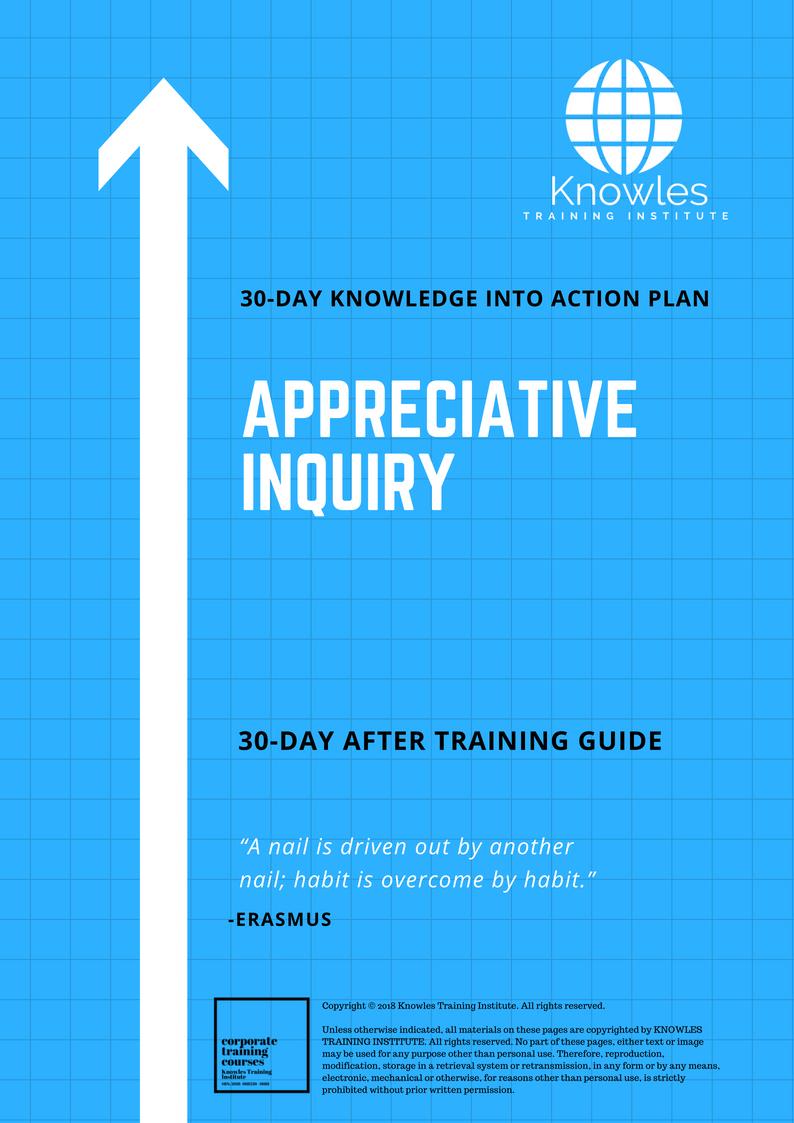 Appreciative Inquiry MindMaps Pack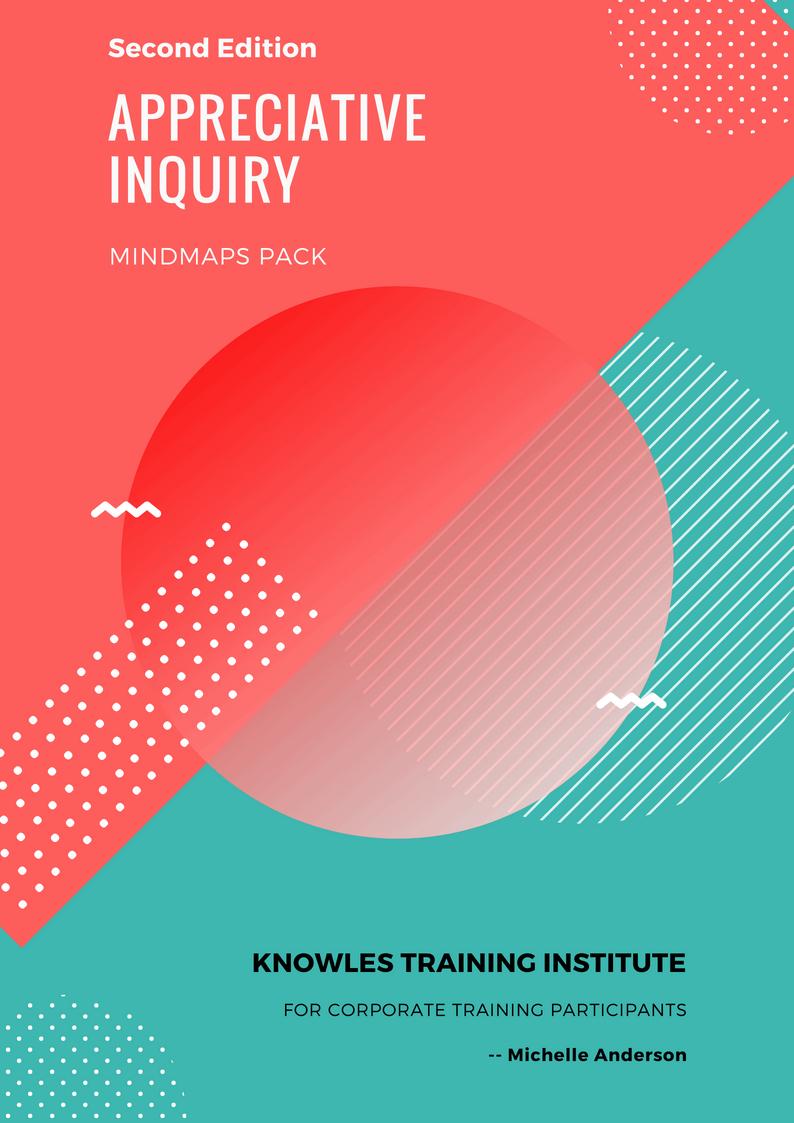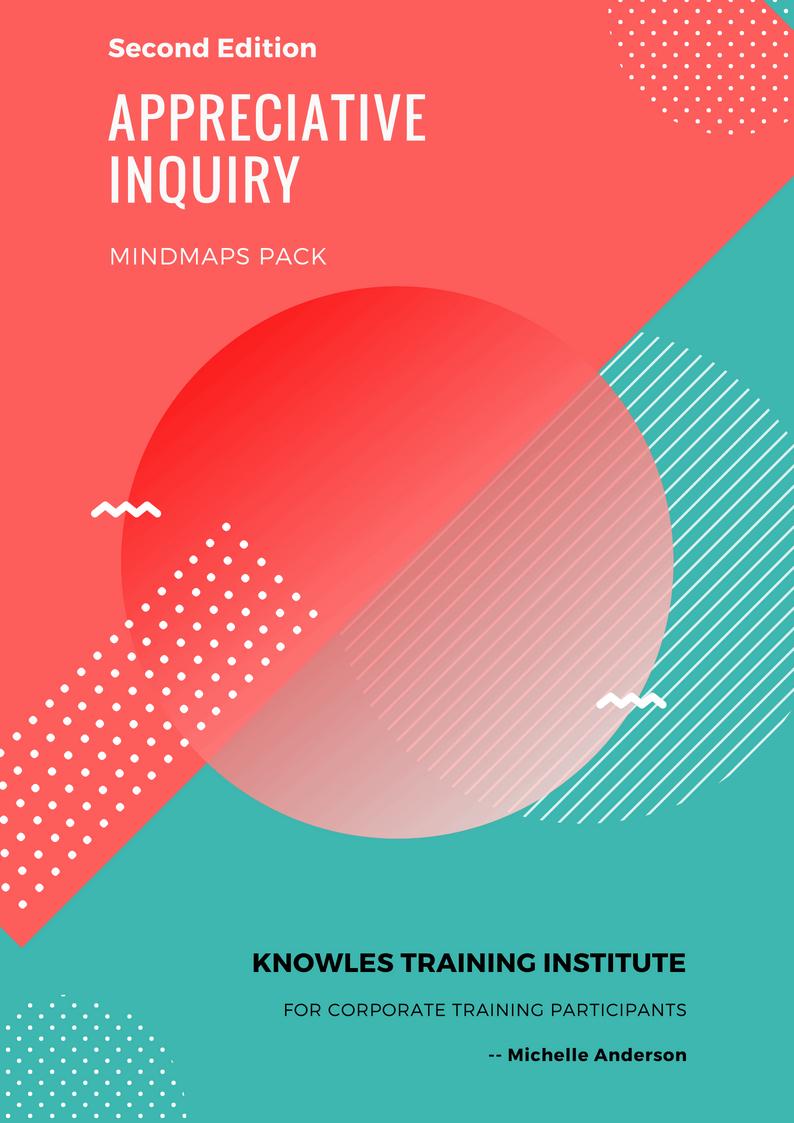 Appreciative Inquiry PPT Slides Used During Course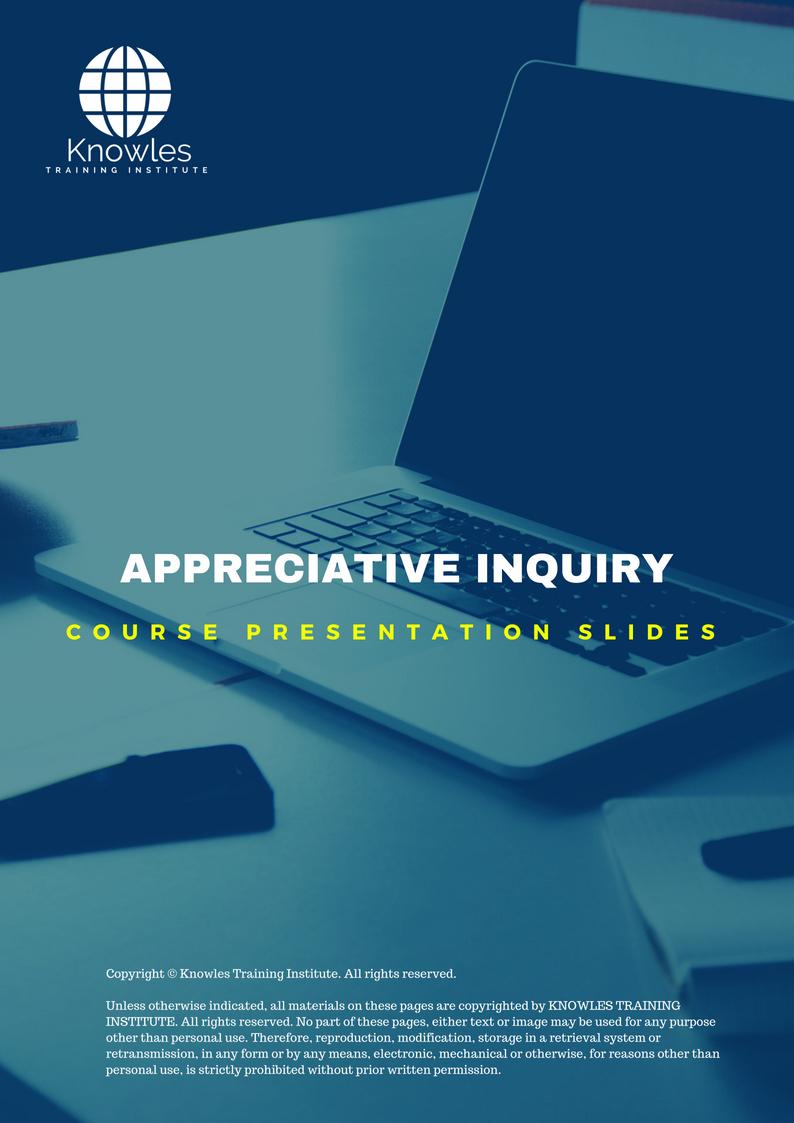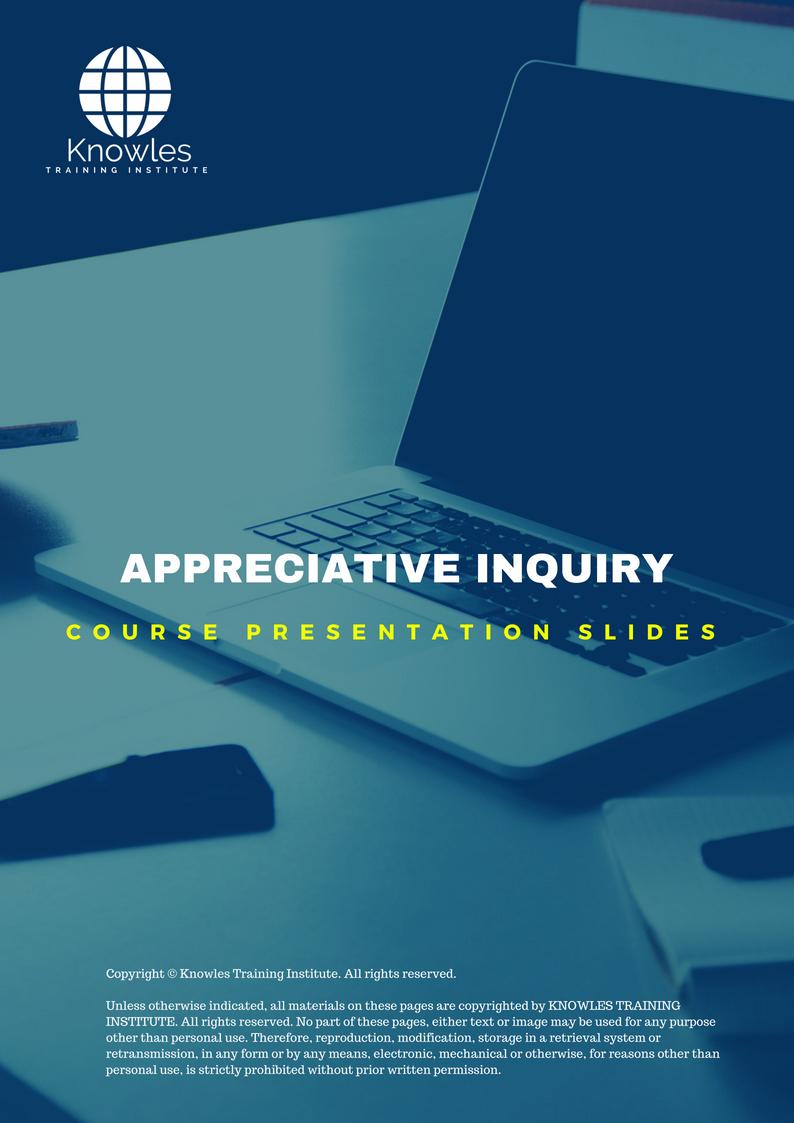 Appreciative Inquiry Long-Term Memory Flashcards Pack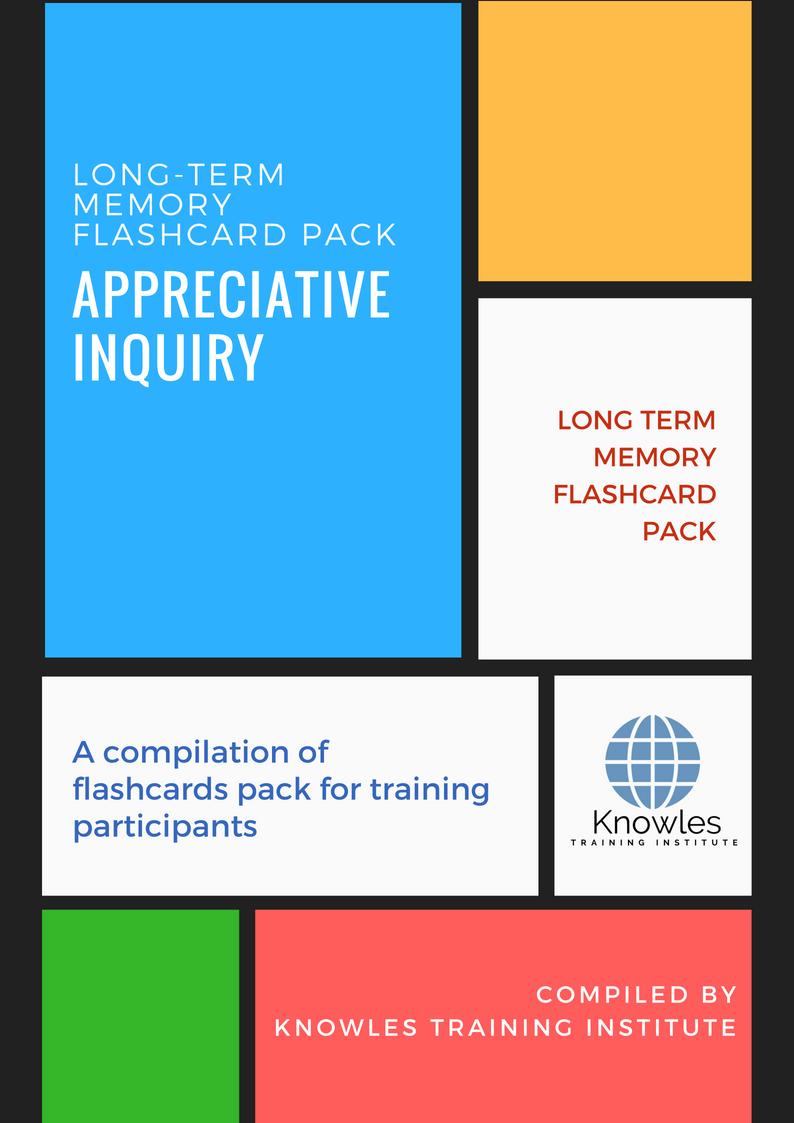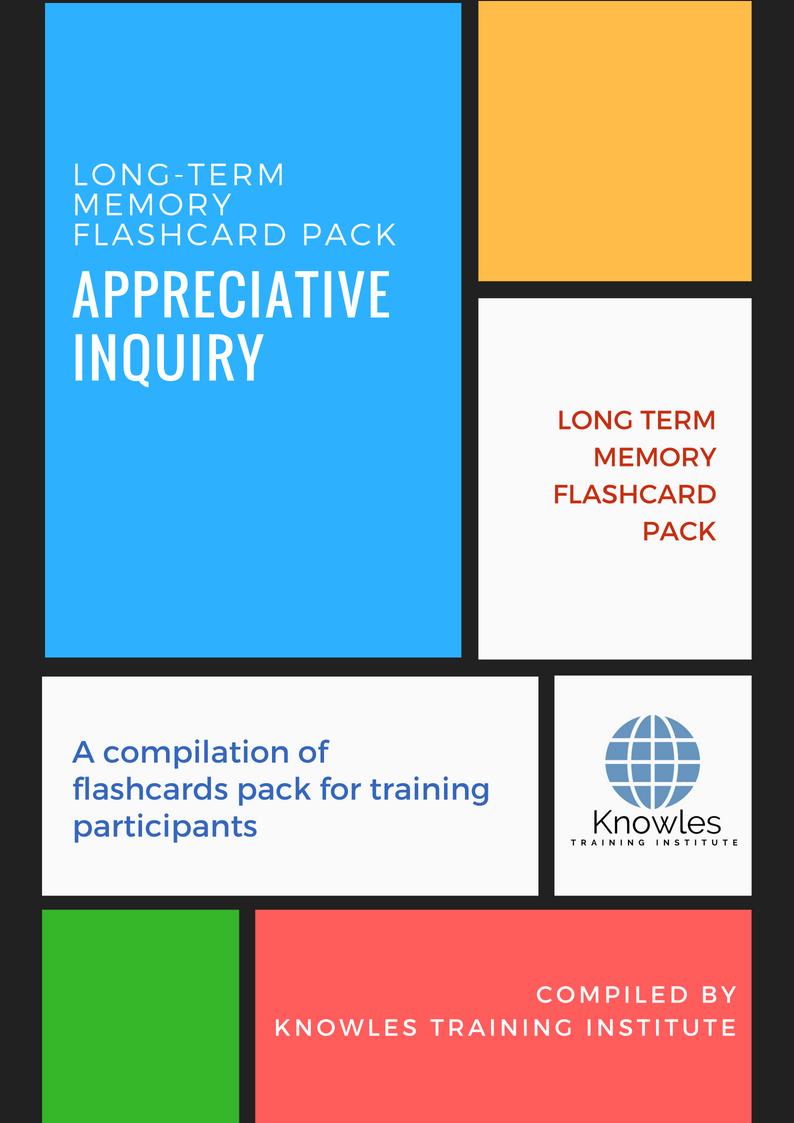 Appreciative Inquiry E-Learning Course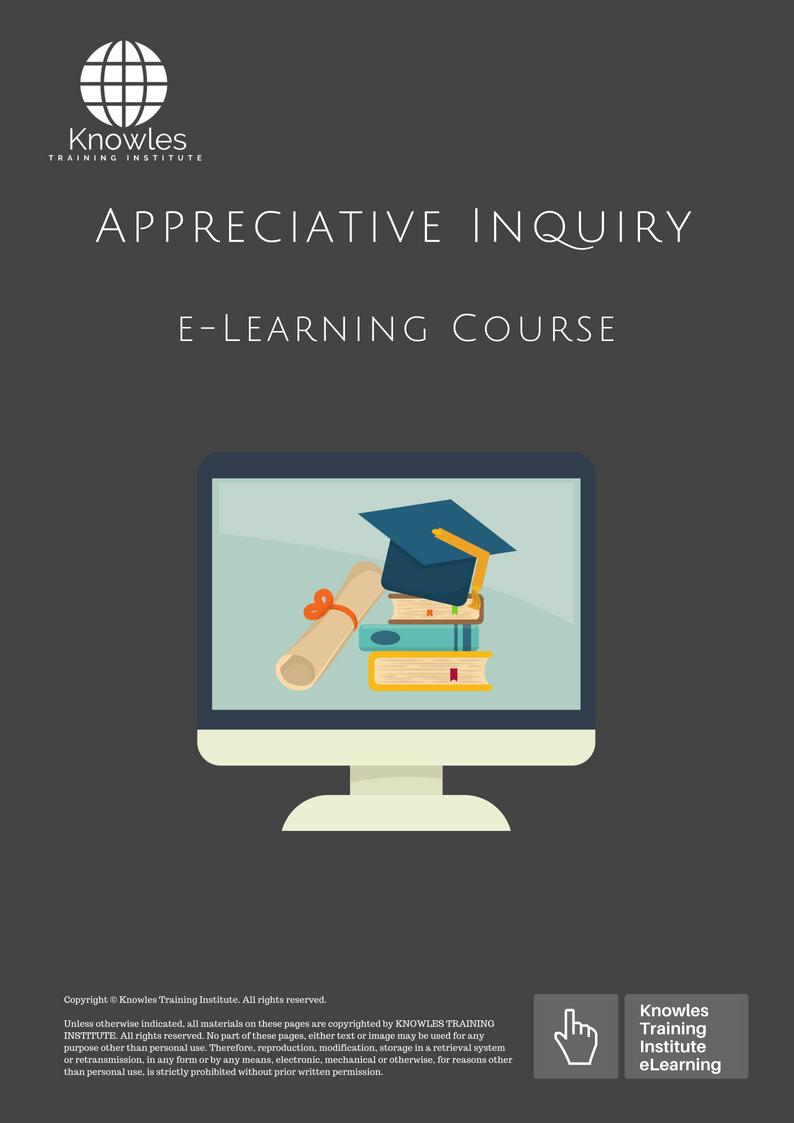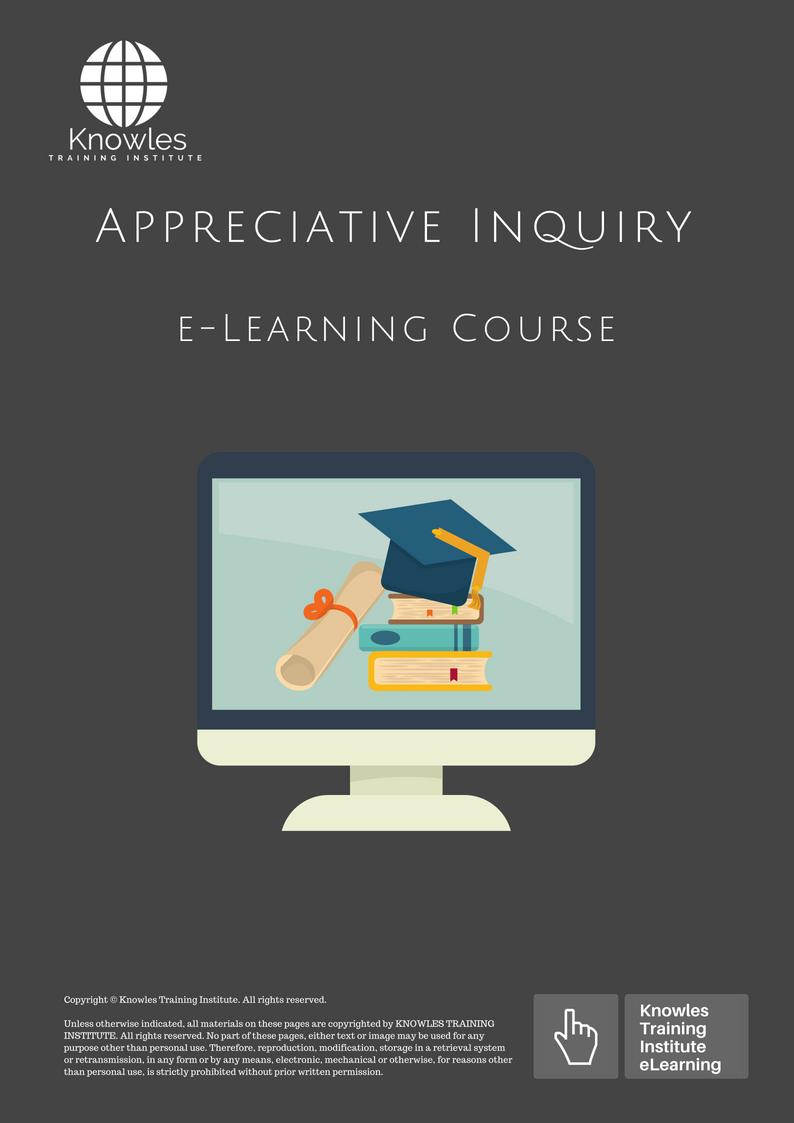 Appreciative Inquiry Online Video Course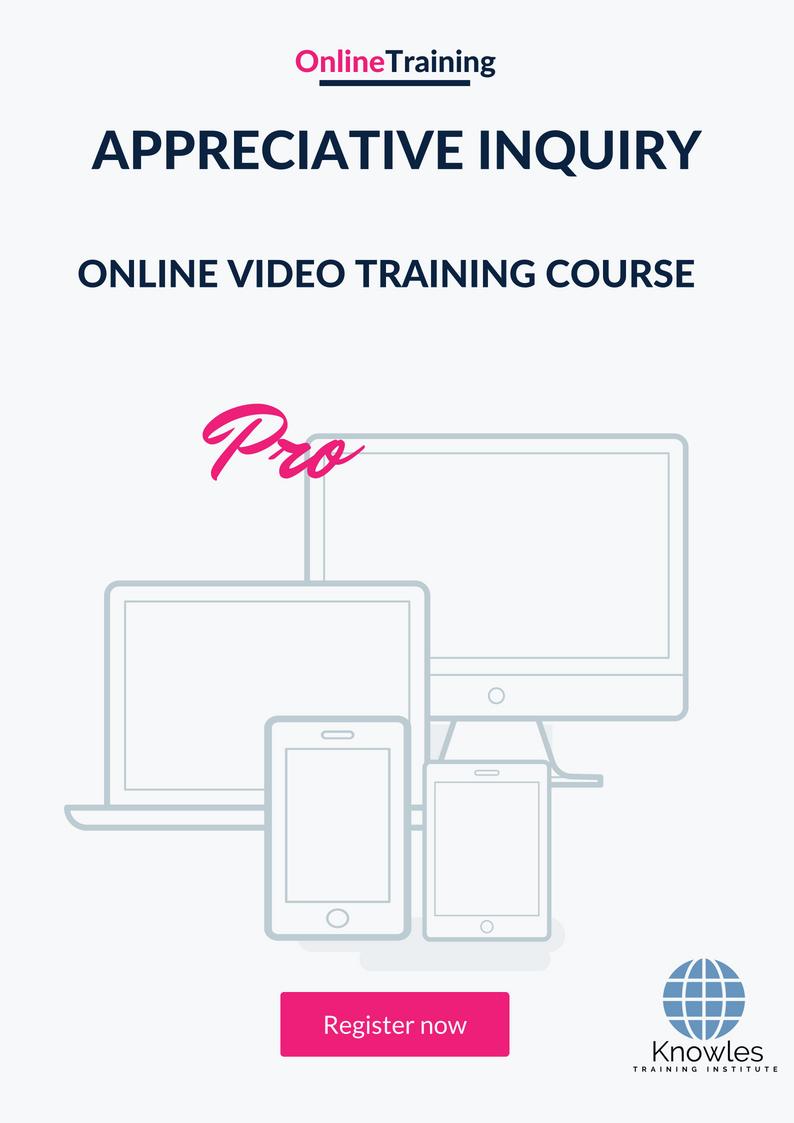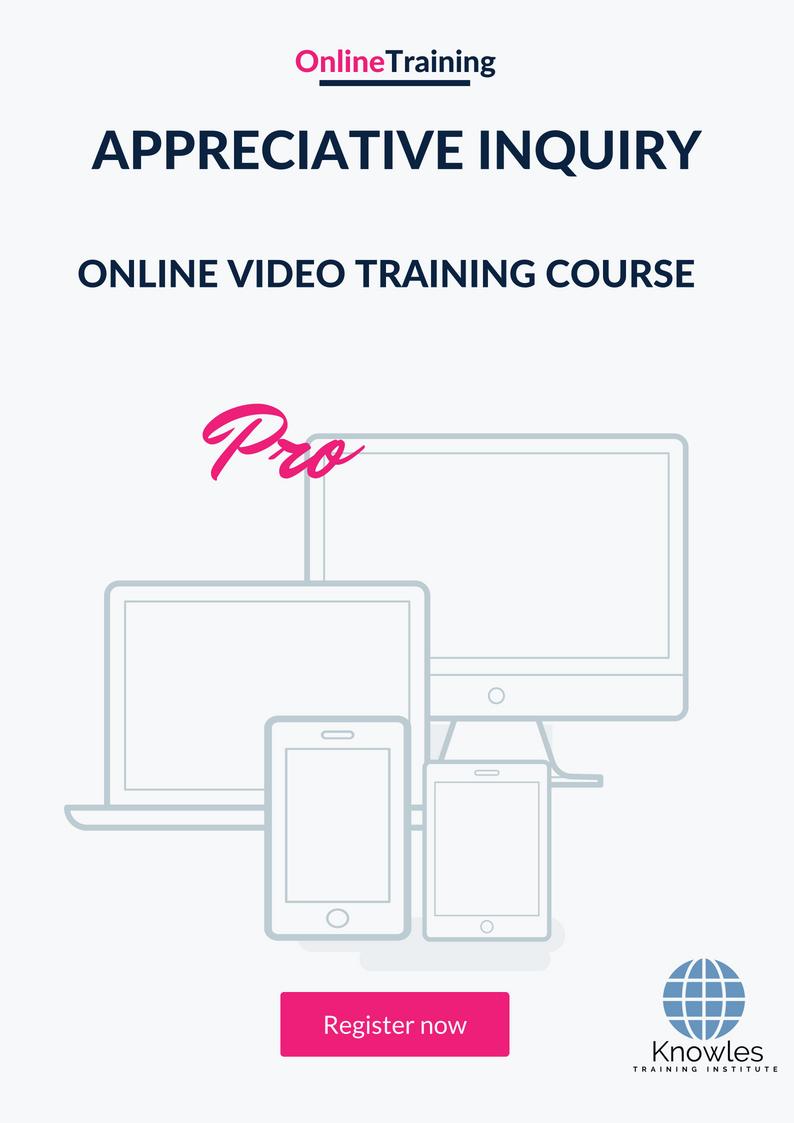 Appreciative Inquiry Essentials Audiobook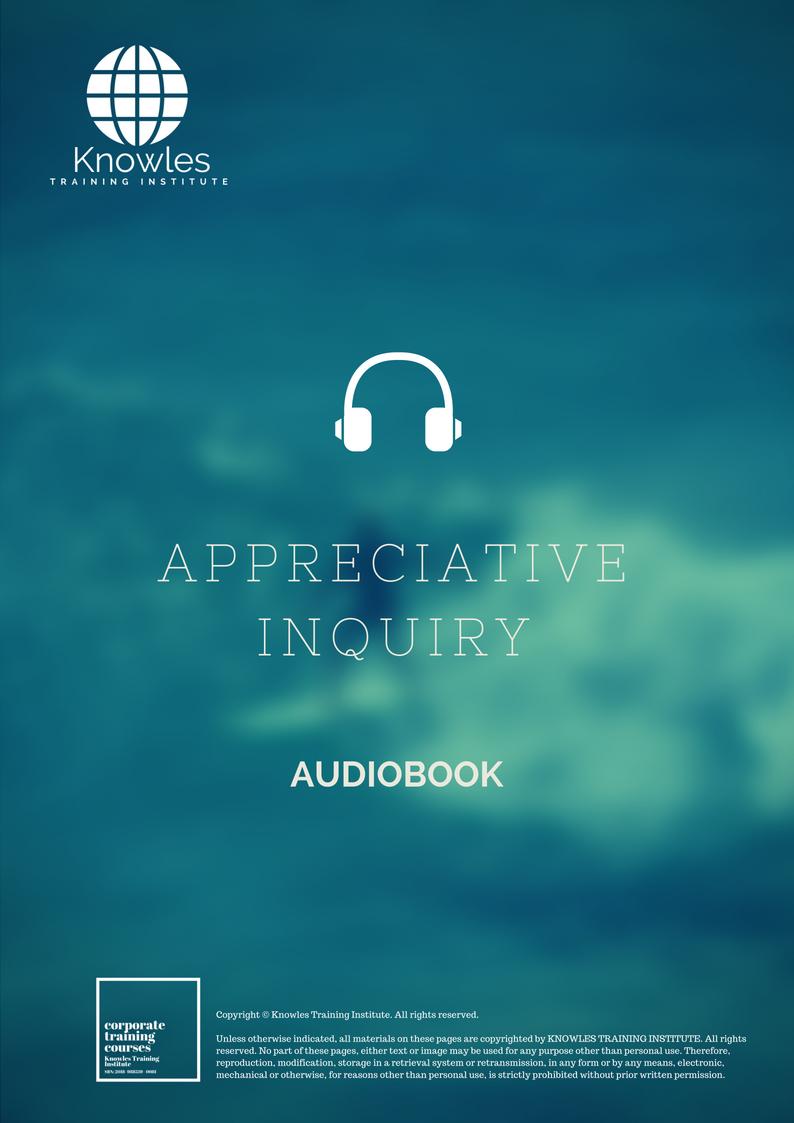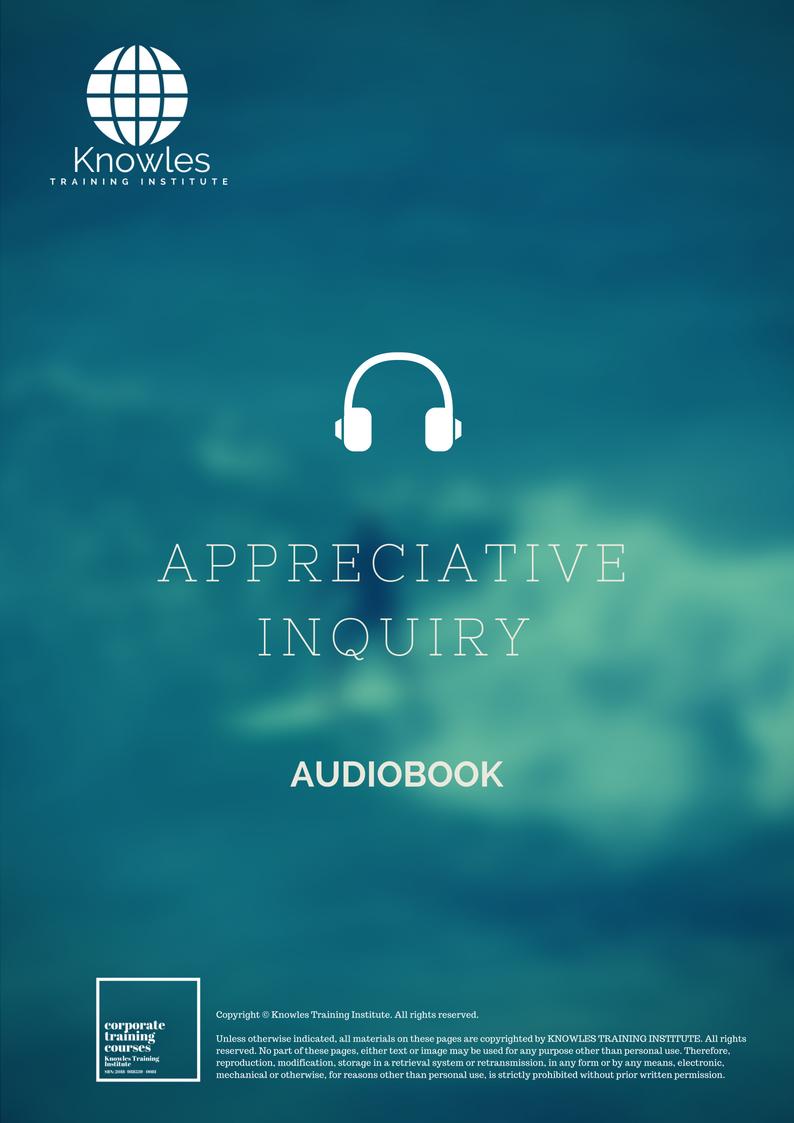 Appreciative Inquiry Infographics Pack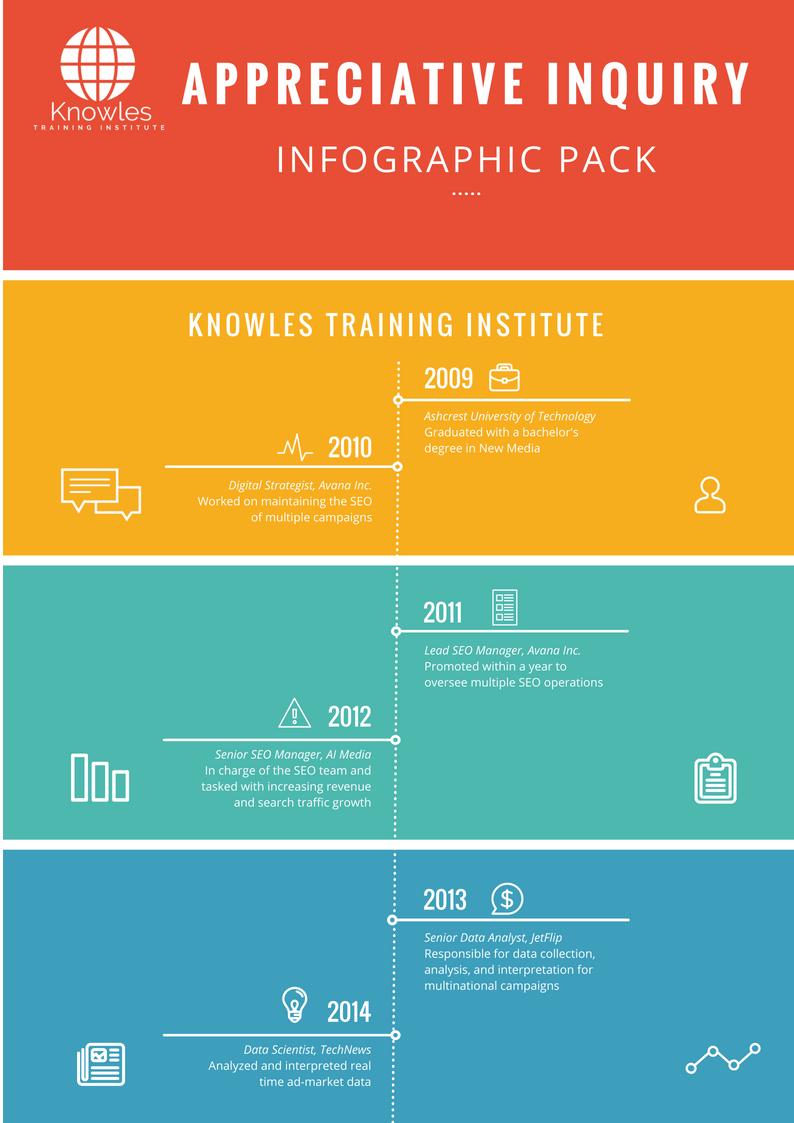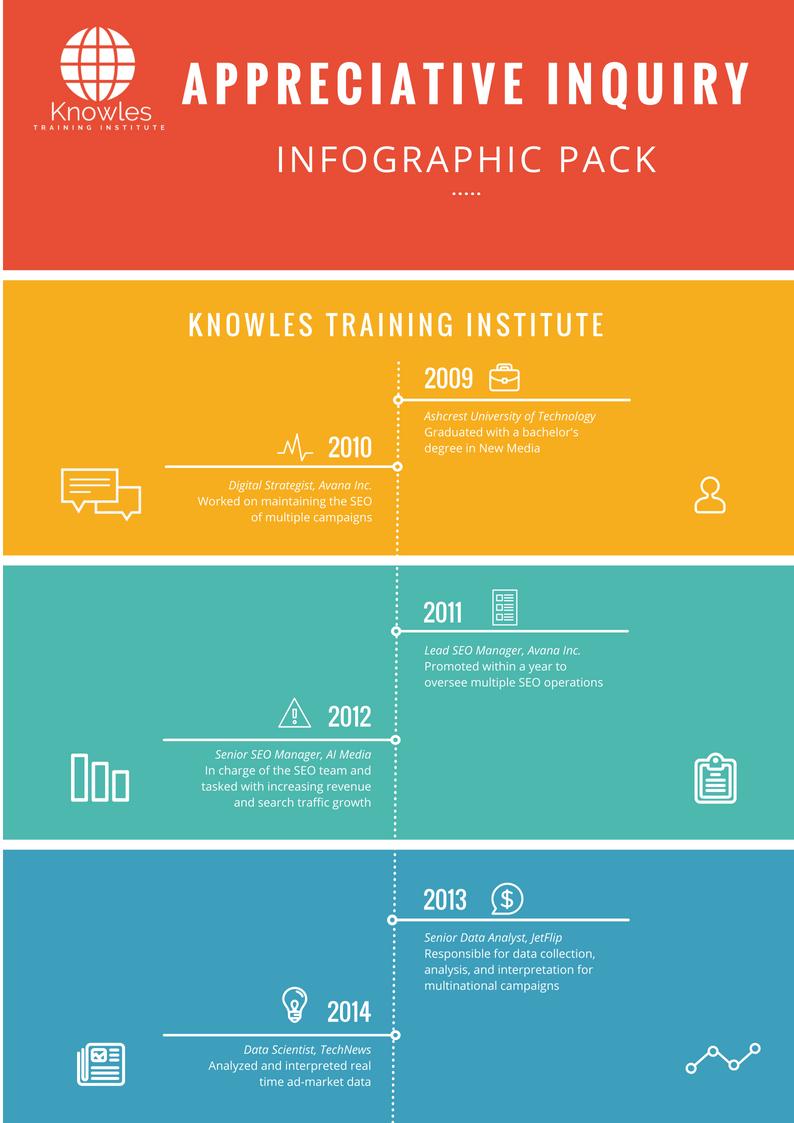 Appreciative Inquiry Certification
Each course participant will receive a certification of training completion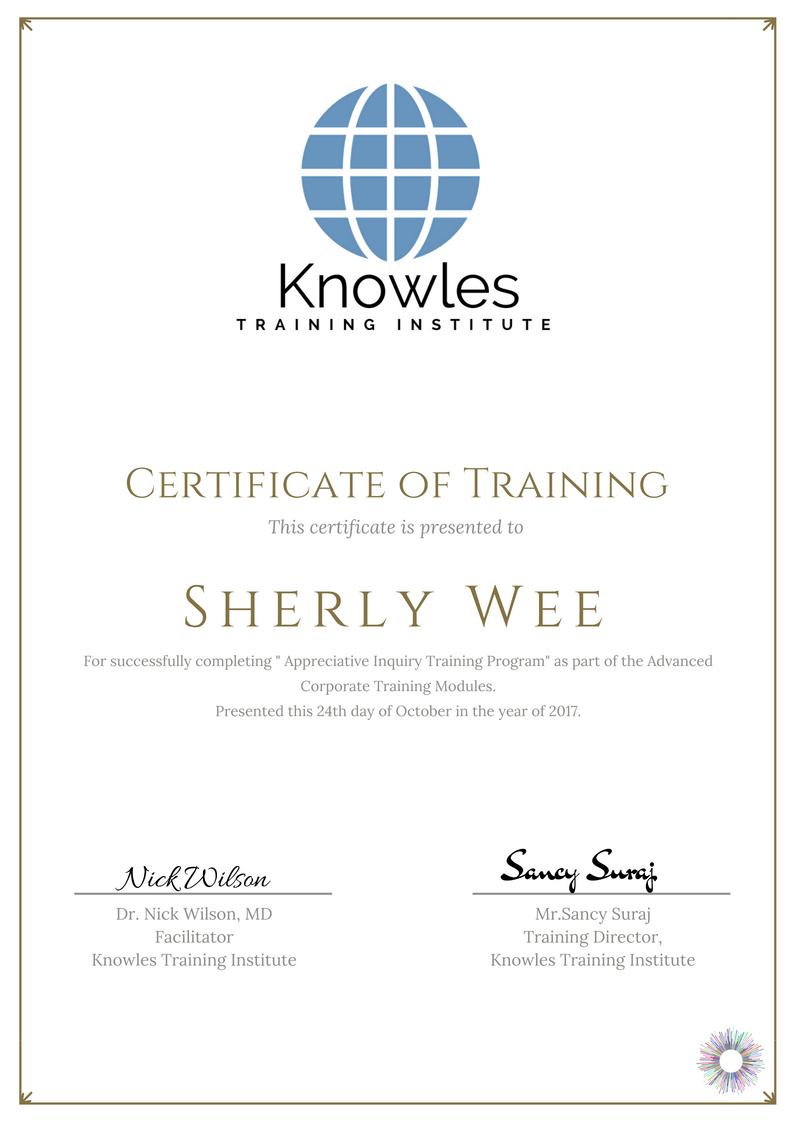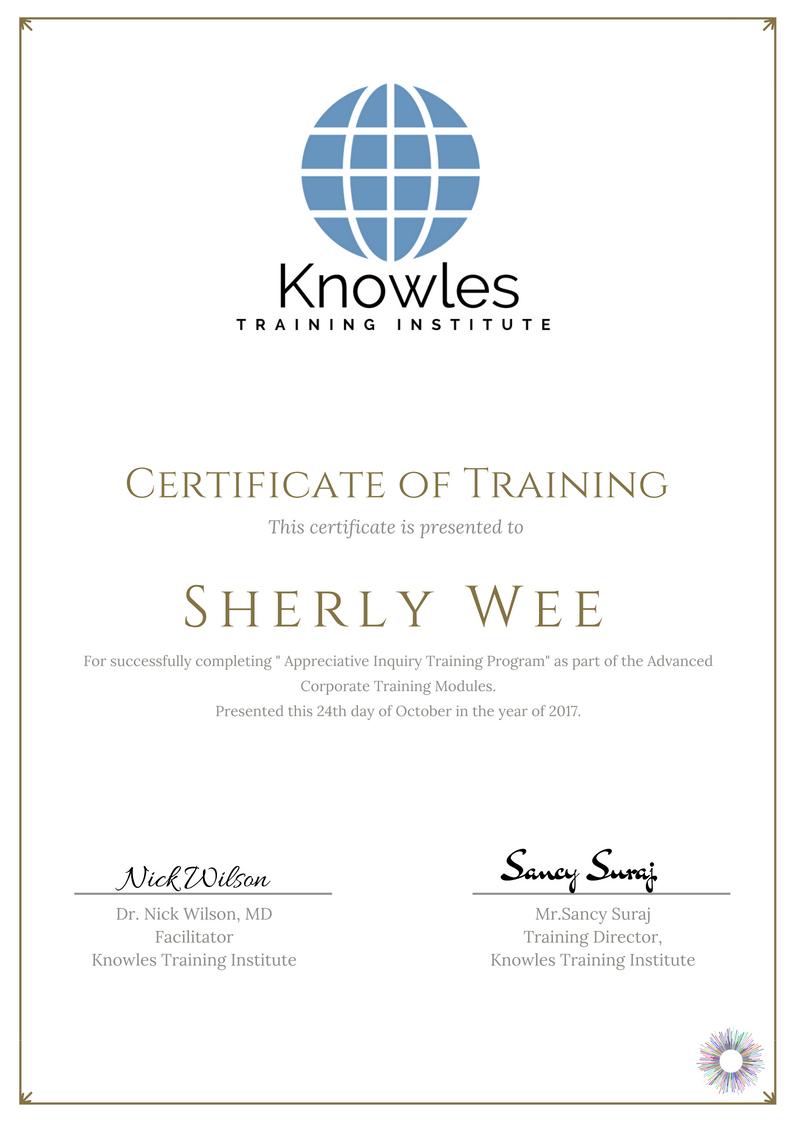 There are 3 pricing options available for this Appreciative Inquiry training course. Course participants not in Singapore may choose to sign up for our online Appreciative Inquiry training course.
2-Full Day Course
Learner's Guide
Course Handouts
—
—
—
—
—
—
—
—
—
—
Premium 2-Full Day Course
Learner's Guide
Course Handouts
PPT Slides Used During Training Course
Long-Term Memory Flashcards Guide TM
1 Year Access to Online Training Video Course (*Worth S$589.97)
Contact Your Trainer: 90-Day Post Course Help (*Worth S$89.97)
Key Learning Takeaway Notes (*Worth S$18.97)
Audio Book (*Worth S$18.97)
eBook (*Worth S$14.97)
Course Infographics Pack (*Worth S$11.97)
Course Mind Maps (*Worth S$8.97)
30-Day Action Plan
Course Discounts, Fundings & Subsidies
We have the following  discounts, fundings & subsidies for this Appreciative Inquiry training course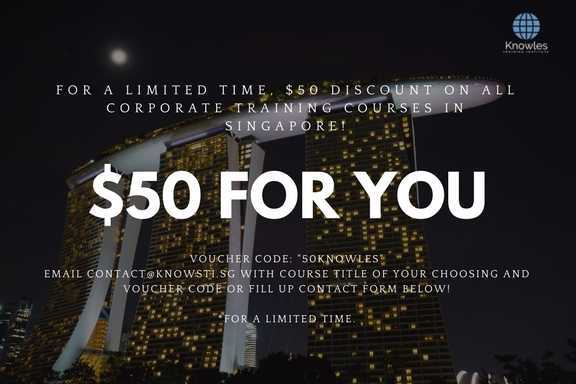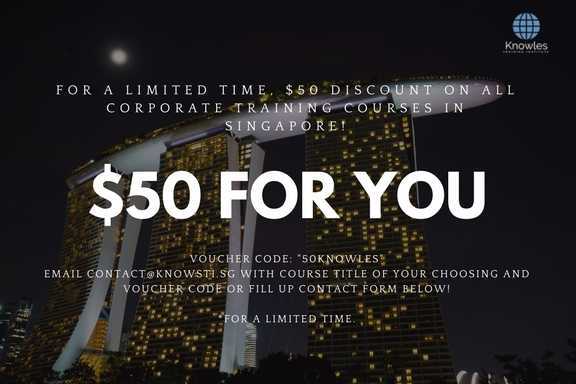 Our Trainers are Subject Matter Experts
Upcoming Appreciative Inquiry Training Course Schedule
Contact us for the latest Appreciative Inquiry course schedules:
Phone: +65 6817 2530
Email: contact@knowlesti.com
Message:
Download Appreciative Inquiry Course Brochure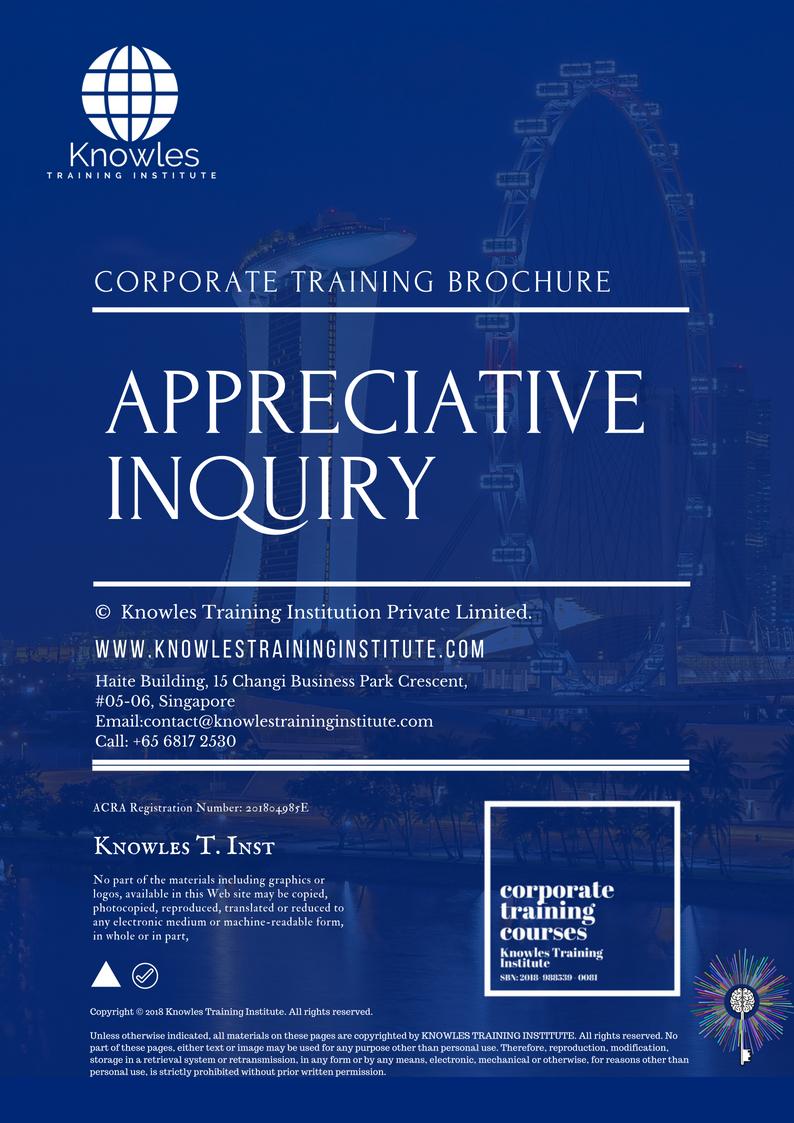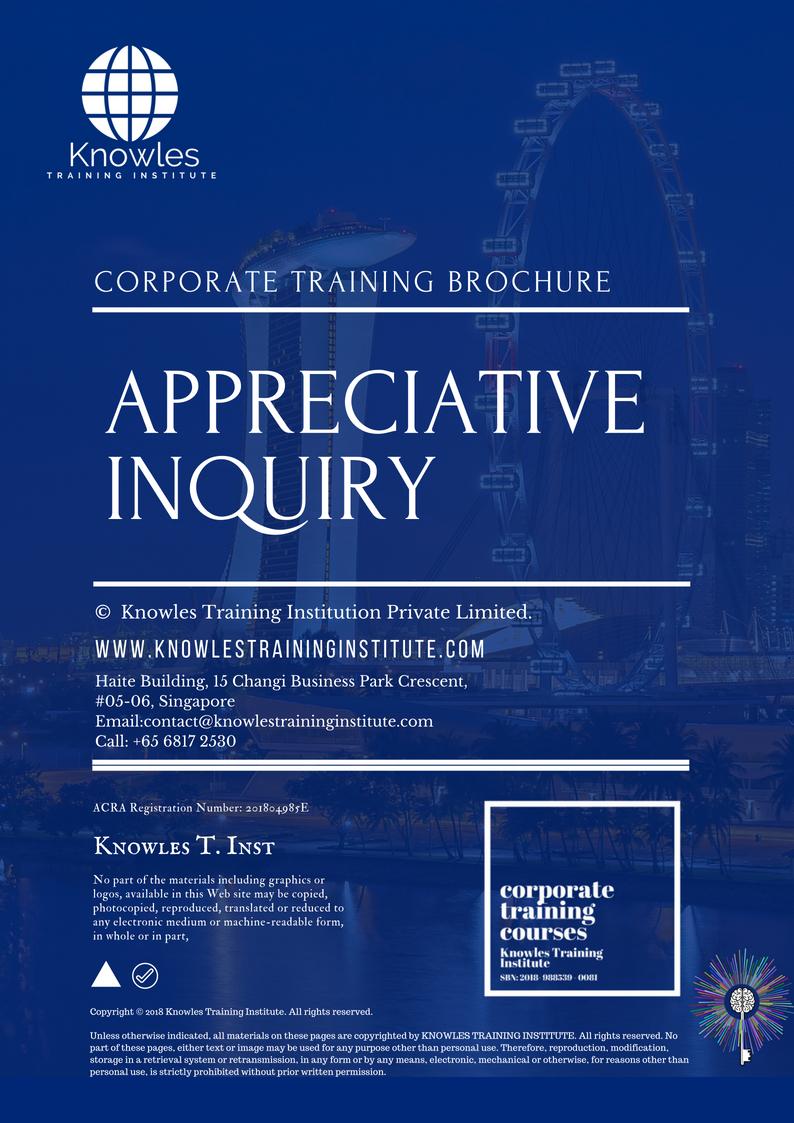 Request for this Appreciative Inquiry course brochure. Fill up the short information below and we will send it to you right away!
KTI Training Methodology ™
Why Register For This Training Course?
Post Training Support: A vast majority of training does not have any effect beyond 120 days. To work, training has to have a strong pre- and post-training component. Post-training reinforcement helps individuals to recall the understanding and ask questions.

Blended Learning: Learning does not occur in the classroom. Virtually everybody prefers distinct ways of learning. Successful learning should have a multi-channel, multi-modal strategy.

We Understand The Industry: We've got a profound comprehension of the business, business design, challenges, strategy and the that our participants are in and have designed the courseware to cater to their professional needs.

Course Content: Knowles Training Institute's material is relevant, of high quality and provide specific learning results. Participants will leave the training course feeling as they have gained a strong understanding and will also be in a position to execute what they have learned sensibly.

Course Development — The workshop modules follow a systematic and logical arrangement. This structure helps to ensure that the course material allows the facilitators to deliver the course in a logical arrangement. Consider the subjects as building bricks into learning, our facilitators slowly build towards a comprehensive picture of this entire topic.

Fill up the form and we will get back to you in less than 1 working day.
Alternatively, give us a call to have one of our training consultants contact you. Our corporate training courses can be contextualised to meet your organisation's training needs. Leverage on our large pool of professional trainers and consultants for your organisation's training needs.
Office Address: Knowles Training Institute, 138 Robinson Road, #28-03, Oxley Tower, Singapore 068906
Office Phone: +65 6935 7406
Email: contact@knowlesti.sg
We Guarantee 100% Privacy. We Respect Your Privacy. Your Information Will Never Be Shared.
Register Now
Register For This Appreciative Inquiry Course Now!
Appreciative Inquiry course, workshop, training, class, seminar, talk, program, programme, activity, lecture. Appreciative Inquiry courses, workshops, classes, seminars, talks, programs, programmes, activities, lectures in Singapore. Appreciative Inquiry improvement tips, Appreciative Inquiry techniques, improve Appreciative Inquiry, improve Appreciative Inquiry games, Appreciative Inquiry improvement exercises, improve Appreciative Inquiry power, how to have good Appreciative Inquiry, how to have good Appreciative Inquiry in studying, how to build up your Appreciative Inquiry, how to improve Appreciative Inquiry how to improve Appreciative Inquiry course in Singapore. Enhance, boost, build up, enlarge, heighten Appreciative Inquiry course in Singapore. Increase, intensify, raise, reinforce, strengthen Appreciative Inquiry. Upgrade, amplify, boom, elevate, exaggerate, magnify, grow, gain Appreciative Inquiry. Develop Appreciative Inquiry, multiple, power up, beef up, bolster, establish, extend Appreciative Inquiry. Invigorate, restore, step up, toughen, empower, fortify, regenerate Appreciative Inquiry. Rejuvenate, renew, escalate, expand, maximize Appreciative Inquiry. Powerful, mighty, impressive, competent, great, excellent, exceptional Appreciative Inquiry in Singapore. Superb Appreciative Inquiry. Super, superior, strong, solid, active Appreciative Inquiry training courses and workshops in Singapore. Appreciative Inquiry enhancement, booster, building up, enlargement, heightening, increment, strengthening, amplification. Appreciative Inquiry magnification, growth, development, power, empowerment, regeneration. Appreciative Inquiry rejuvenation, development, escalation, expansion. Appreciative Inquiry maximization, power training courses & workshops in Singapore.