Training and Facilitation Skills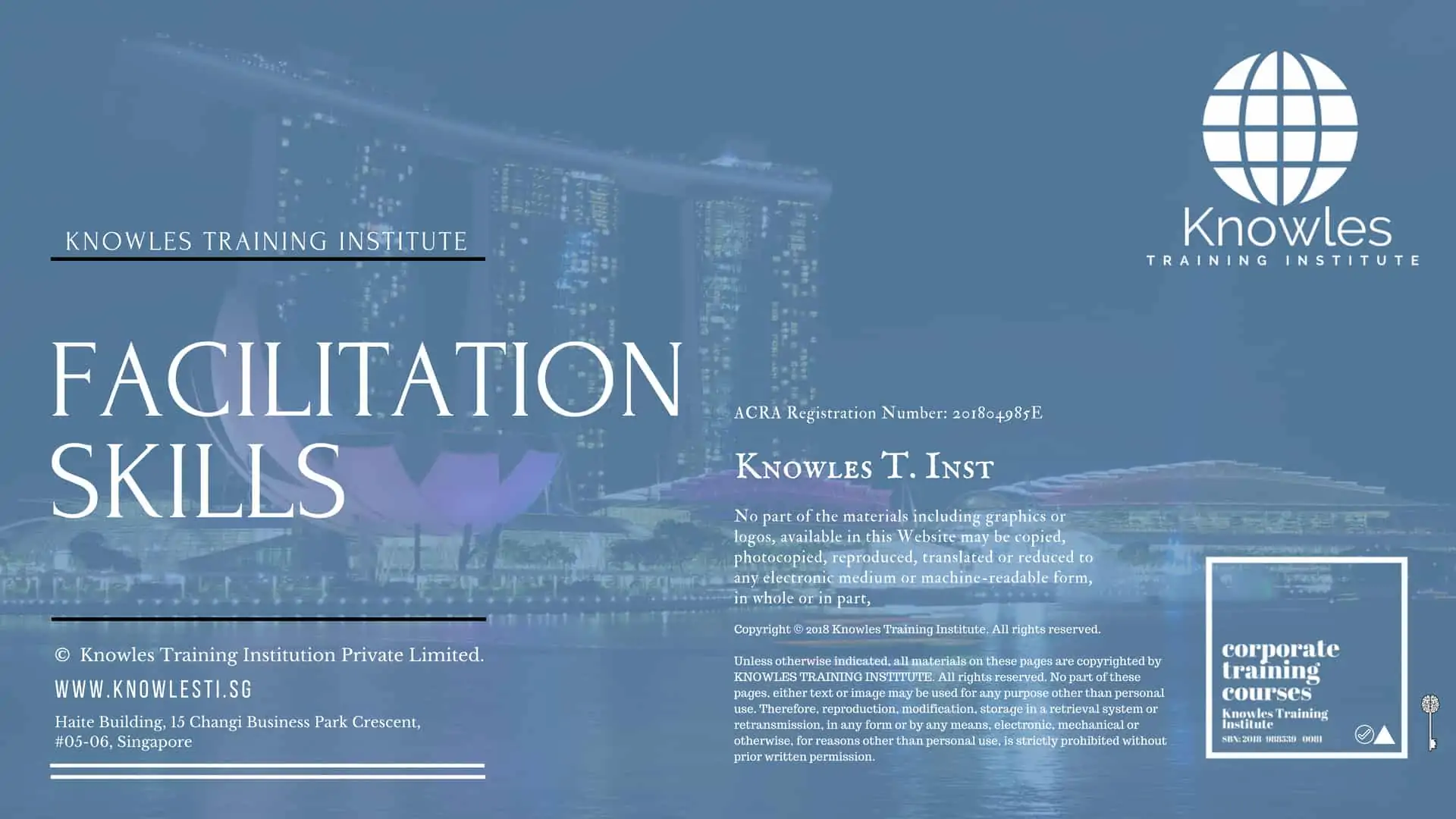 About This Training and Facilitation Skills Course
Training and Facilitation Skills Course in Singapore
Being a facilitator is a handy skill that can be used anywhere, whether you are a top executive, a branch manager, or a team member. Facilitators make a process move smoothly in the right direction without having to favor any sides. Employing facilitation skills is helpful to maintain a harmonious work environment.
Who Should Attend This Training and Facilitation Skills Workshop
This Facilitation Skills workshop is ideal for anyone who would like to gain a strong grasp and improve their Facilitation Skills.
All Staff Within An Organisation
Group Size For This Facilitation Skills Training Program
The ideal group size for this Facilitation Skills course is:
Course Duration For This Training and Facilitation Skills Course
The duration of this Facilitation Skills workshop is 2 full days. Knowles Training Institute will also be able to contextualised this workshop according to different durations; 3 full days, 1 day, half day, 90 minutes and 60 minutes.
Training and Facilitation Skills Course Benefits
Below is the list of course benefits of our Training and Facilitation Skills Course
Employ communication at work to improve employee facilitation skills
Incorporate good facilitation skills to encourage people participation and engagement in learning.
Employ facilitation skills to convey organization goals to staff and enhance employee responsibility and accountability.
Good facilitation skills will build leadership and communication skills.
Apply facilitation skills to professionally manage dysfunctional group behavior.
Incorporate facilitation skills to improve meeting outcome
Facilitation skills help to improve connection between facilitators and people.
Adopt good facilitation skills at the workplace to enhance people confidence and self-esteem
Use of good facilitation skills will improve meeting efficiency.
Develop relevant instructional materials that meet people goals
Proper facilitation skills will ensure efficient use of time and money.
Apply facilitation skills in staff interactions to improve recording of results
Incorporate facilitation skills to encourage employee creativity and innovation
Training and Facilitation Skills Course Objectives
Below is the list of course objectives of our Facilitation Skills course
Define facilitation and identify its purpose and benefits.
Clarify the role and focus of a facilitator.
Differentiate between process and content in the context of a group discussion.
Provide tips in choosing and preparing for facilitation.
Identify a facilitator's role when managing groups in each of Tuckman and Jensen's stages of group development: forming, storming, norming and performing.
Identify ways a facilitator can help a group reach a consensus: from encouraging participation to choosing a solution.
Provide guidelines in dealing with disruptions, dysfunctions and difficult people in groups.
Define what interventions are, when they are appropriate and how to implement them.
Course Content For This Training and Facilitation Skills Training Course
Below is the list of course content of our Training and Facilitation Skills training course
Module 1: Getting Started
Icebreaker
Housekeeping Items
The Parking Lot
Workshop Objectives
Module 2: Understanding Facilitation
What is Facilitation?
What is a Facilitator?
When is Facilitation Appropriate?
Module 3: Process vs. Content
About Process
About Content
A Facilitator"s Focus
Module 4: Laying the Groundwork
Choosing a Facilitated Approach
Planning for a Facilitated Meeting
Collecting Data
Module 5: Tuckman and Jensen"s Model of Team Development
Stage One: Forming
Stage Two: Storming
Stage Three: Norming
Stage Four: Performing
Module 6: Building Consensus
Encouraging Participation
Gathering Information
Presenting Information
Synthesizing and Summarizing
Module 7: Reaching a Decision Point
Identifying the Options
Creating a Short List
Choosing a Solution
Using the Multi-Option Technique
Module 8: Dealing with Difficult People
Addressing Disruptions
Common Types of Difficult People and How to Handle Them
Helping the Group Resolve Issues on Their Own
Module 9: Addressing Group Dysfunction
Using Ground Rules to Prevent Dysfunction
Restating and Reframing Issues
Getting People Back on Track
Module 10: About Intervention
Why Intervention May Be Necessary
When to Intervene
Levels of Intervention
Module 1: Intervention Techniques
Using Your Processes
Boomerang it Back
ICE It: Identity, Check for agreement, Evaluate how to Resolve
Module 12: Wrapping Up
Words from the Wise
Review of Parking Lot
Lessons Learned
Completion of Action Plans and Evaluations
Training and Facilitation Skills Value Added Materials
Each participant will receive the following materials for the Facilitation Skills course
Facilitation Skills Learner's Guide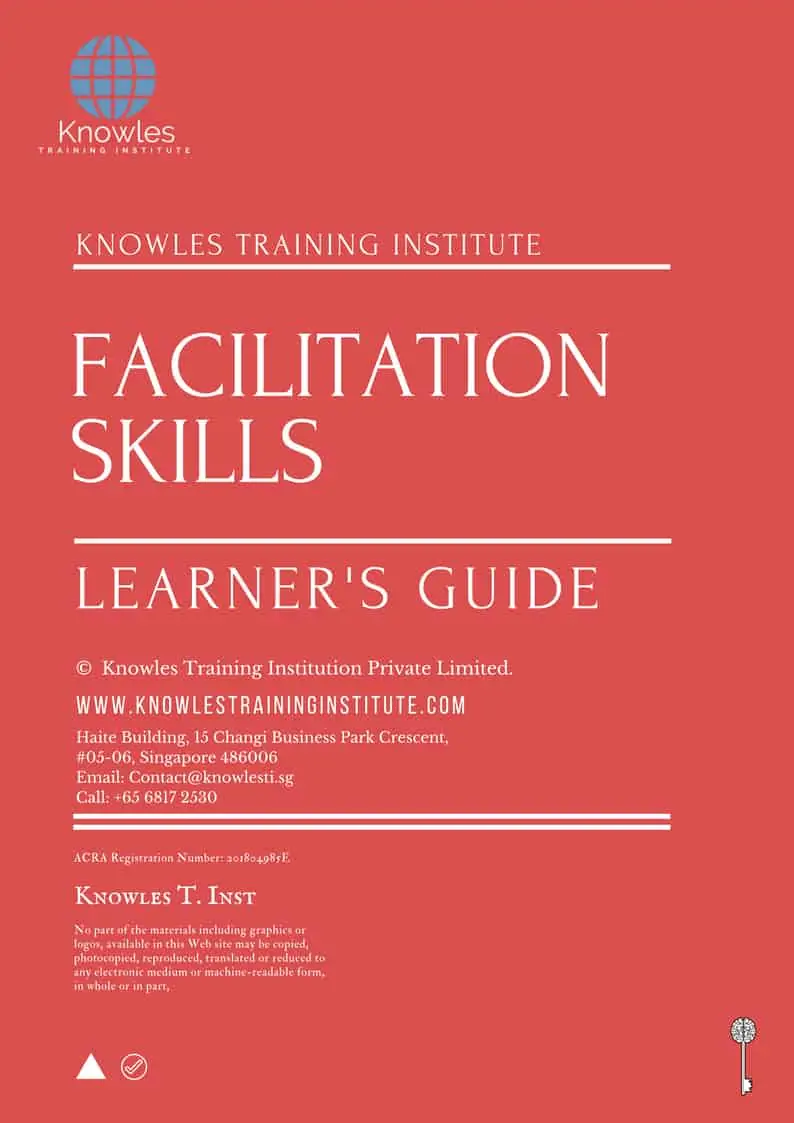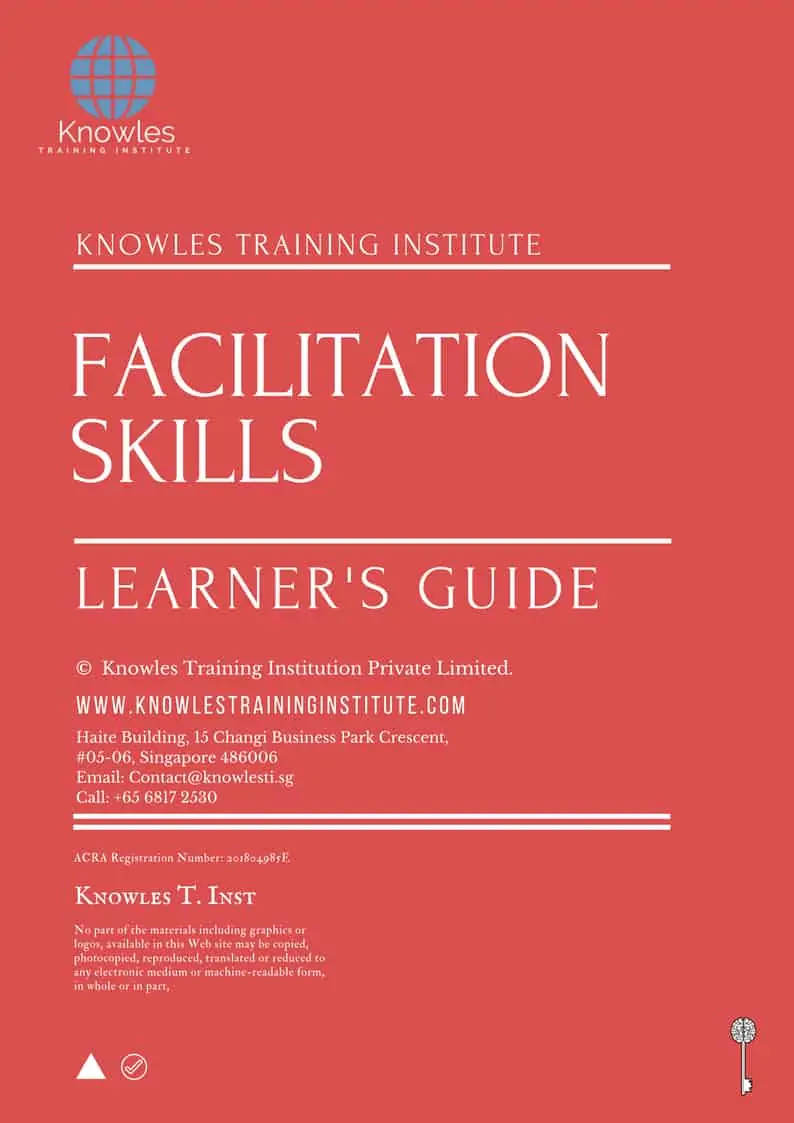 Facilitation Skills Key Takeaways Notes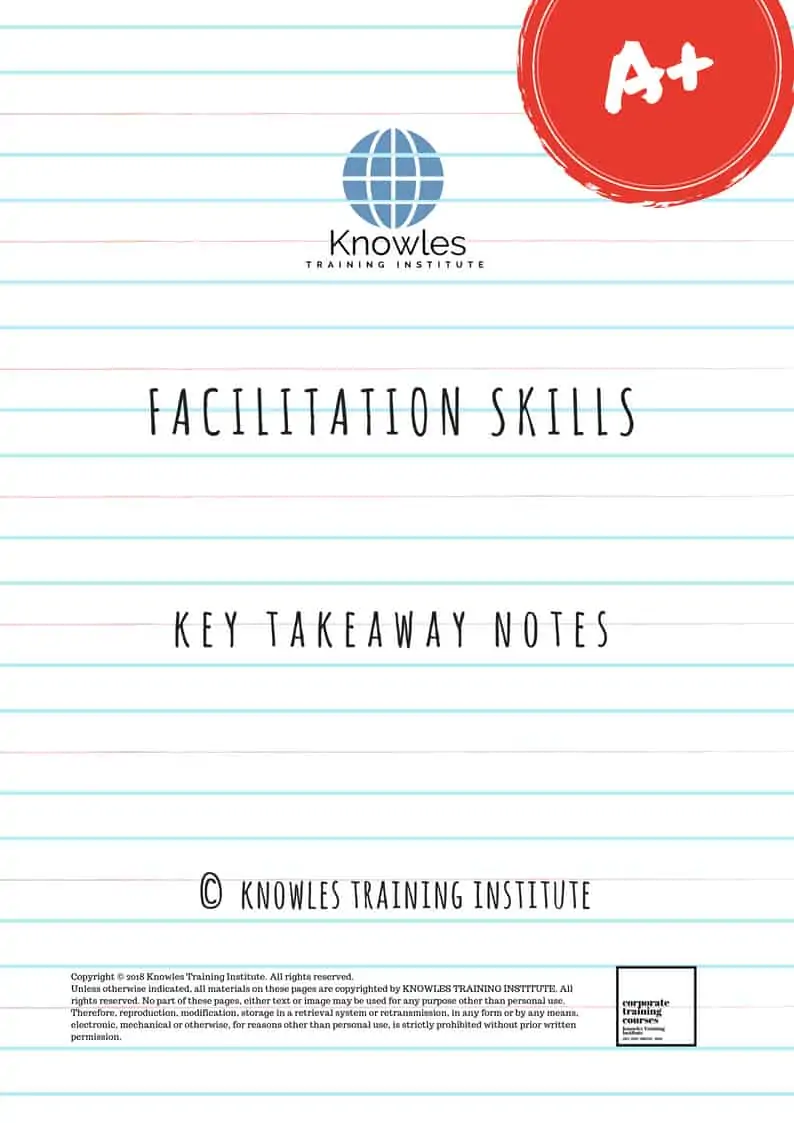 Facilitation Skills Essentials Ebook
Facilitation Skills Course Handouts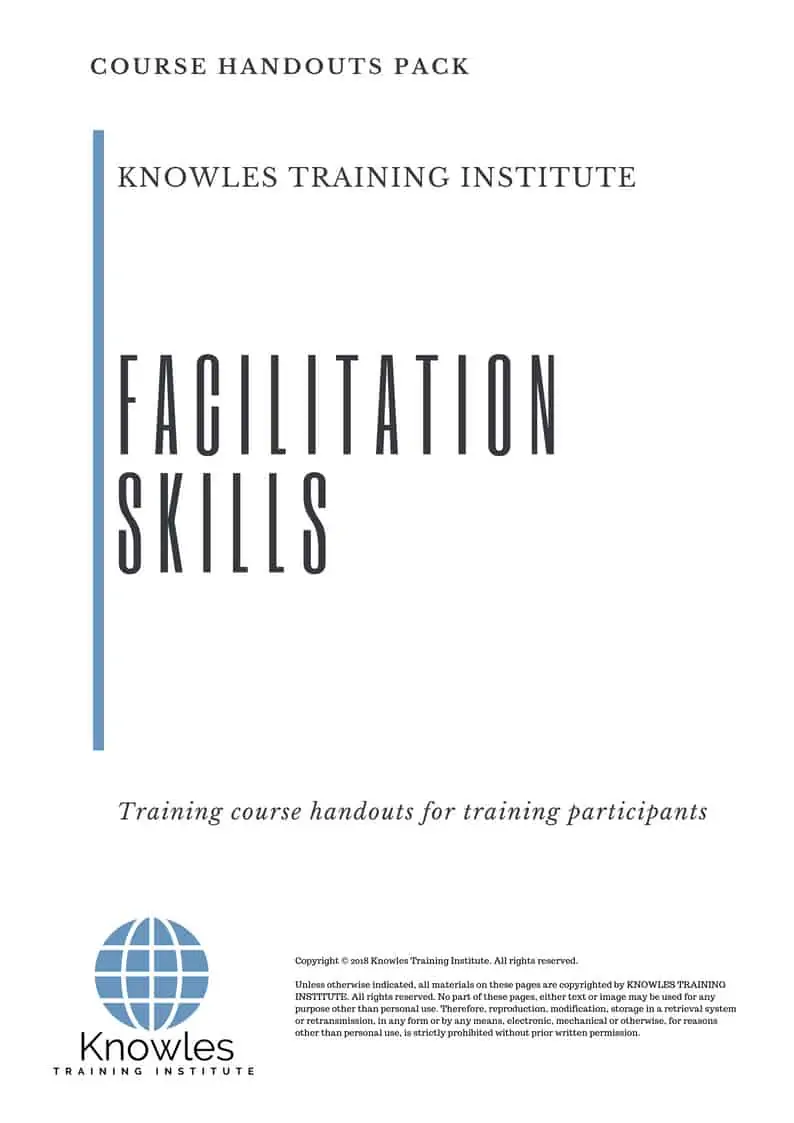 Facilitation Skills 30-Day Action Plan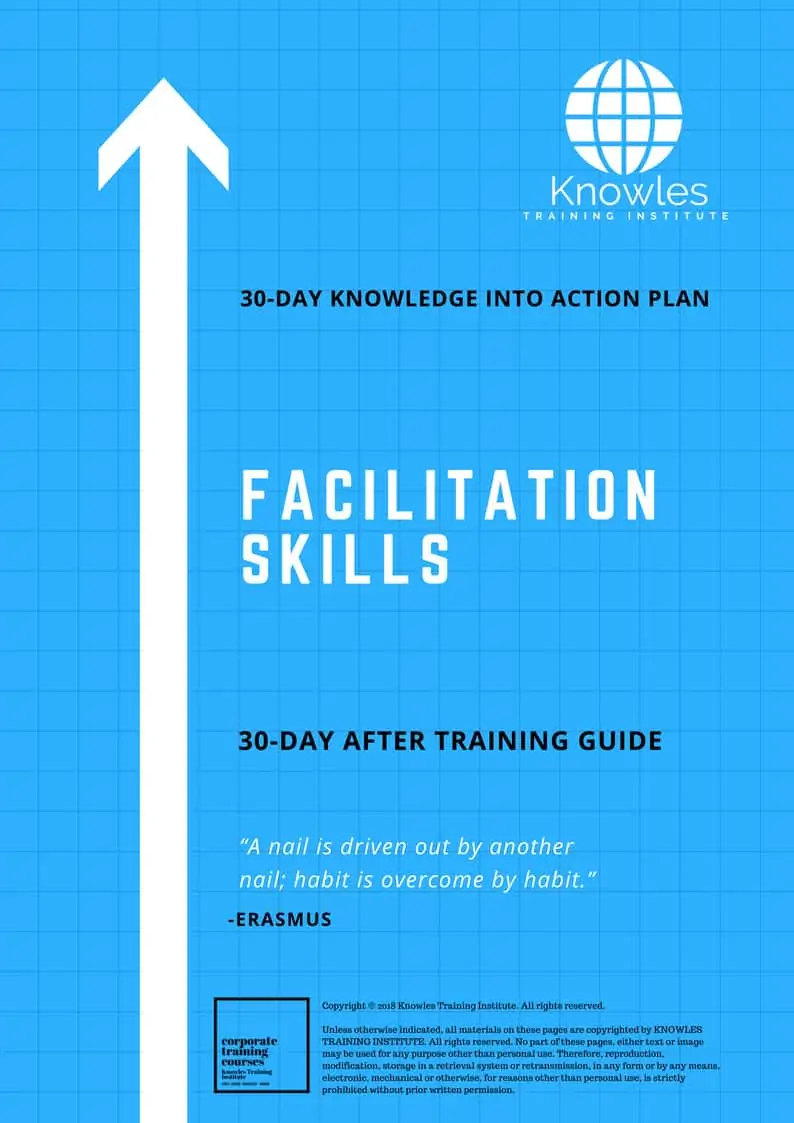 Facilitation Skills MindMaps Pack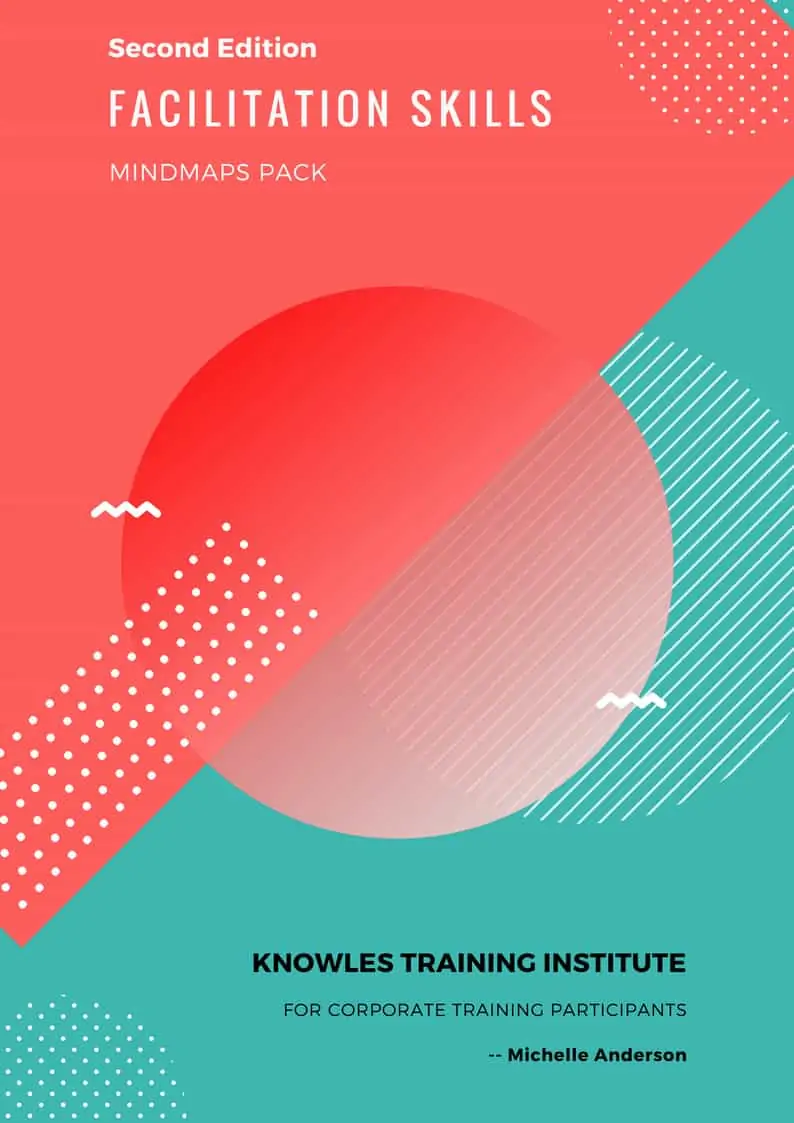 Facilitation Skills PPT Slides Used During Course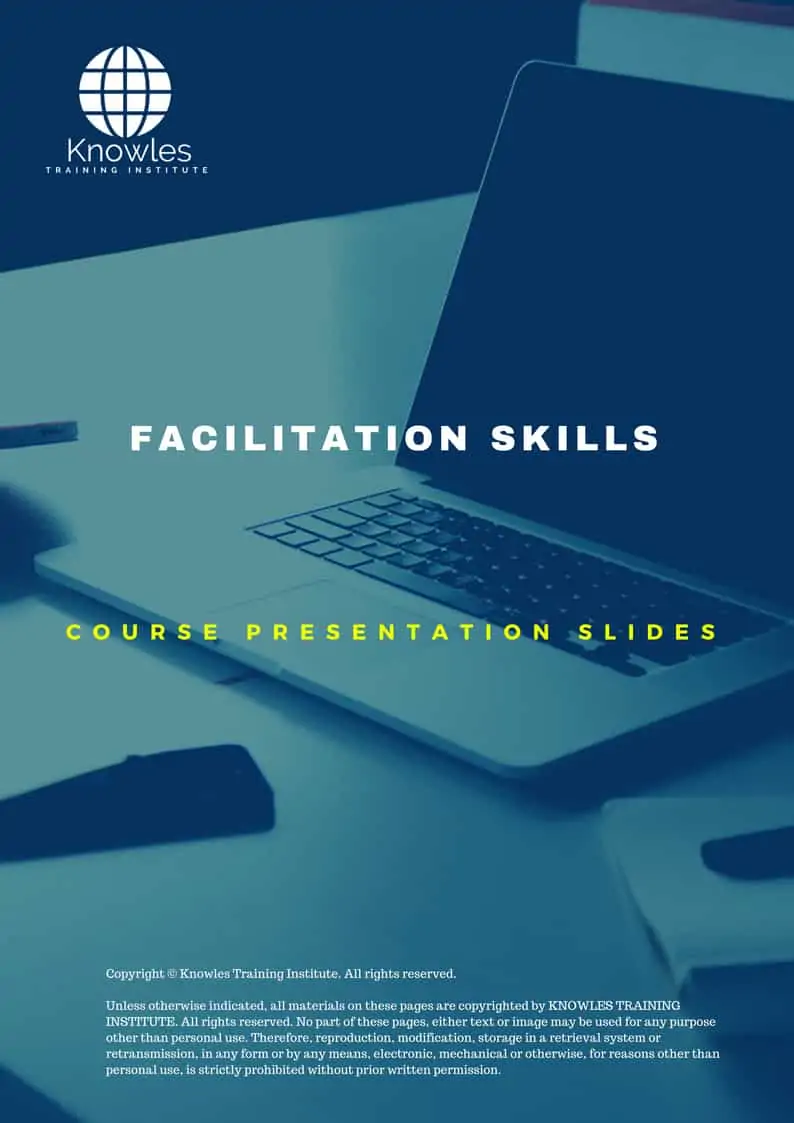 Facilitation Skills Long-Term Memory Flashcards Pack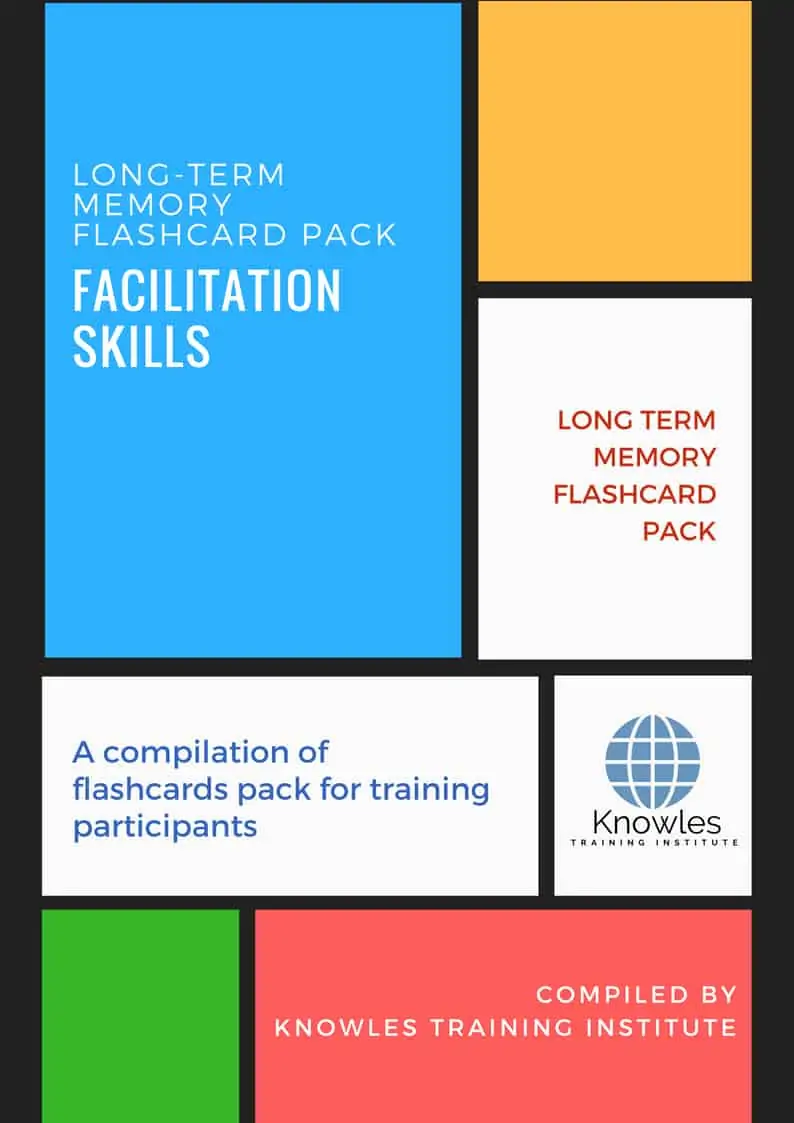 Facilitation Skills E-Learning Course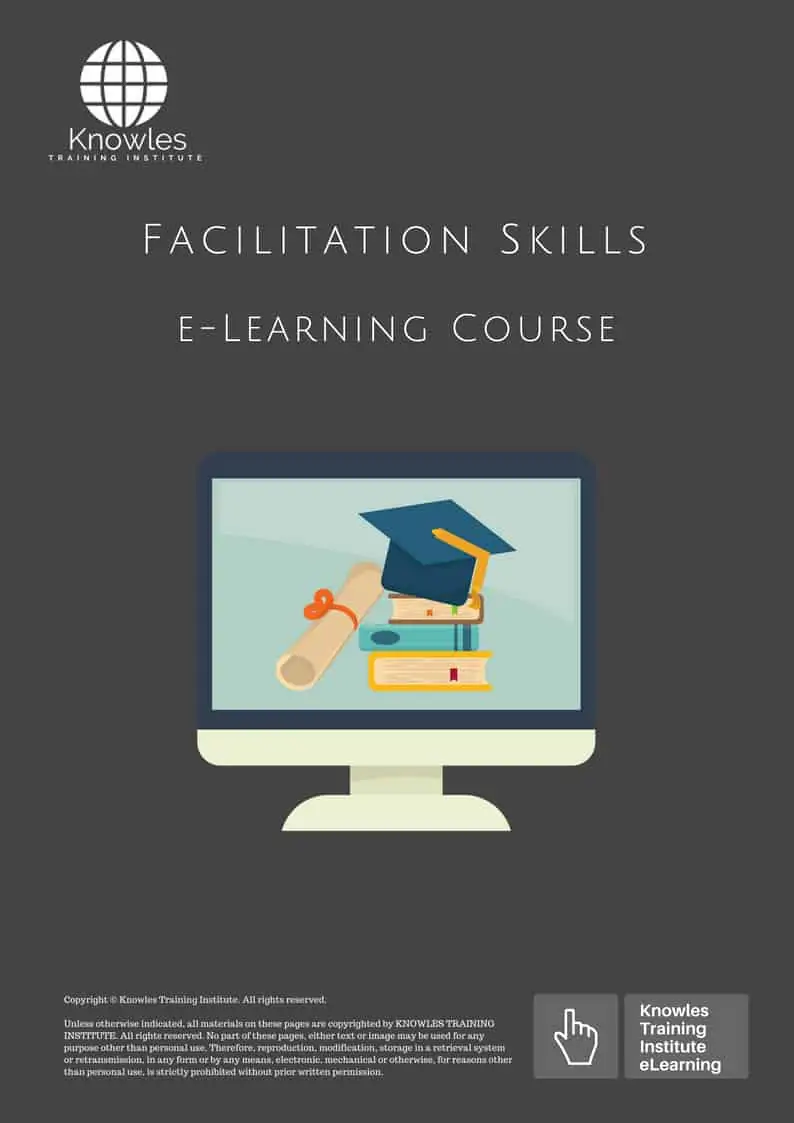 Facilitation Skills Online Video Course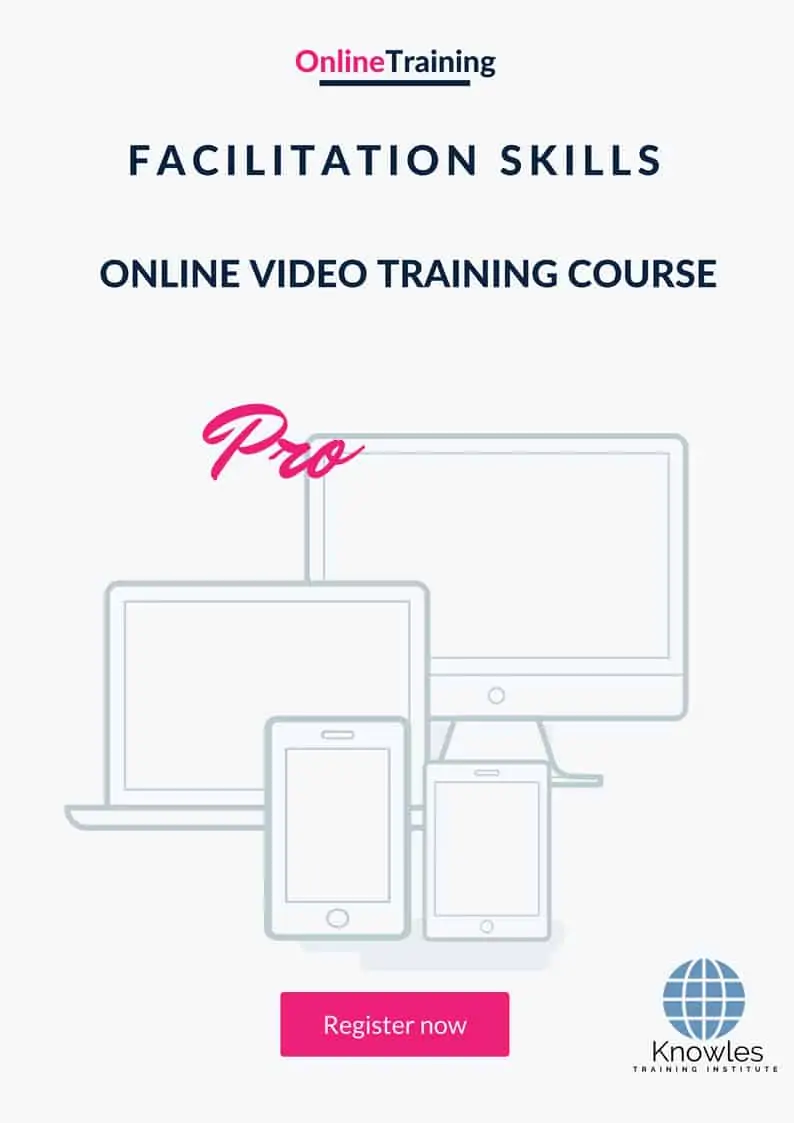 Facilitation Skills Essentials Audiobook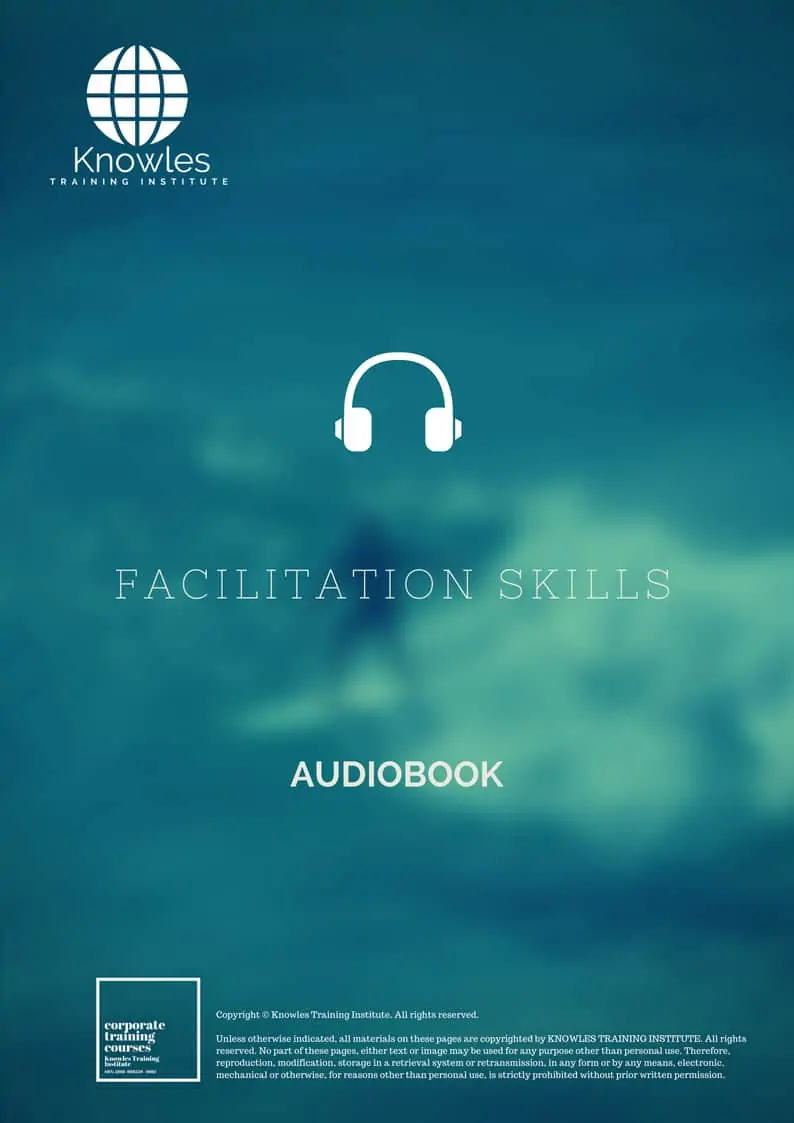 Facilitation Skills Infographics Pack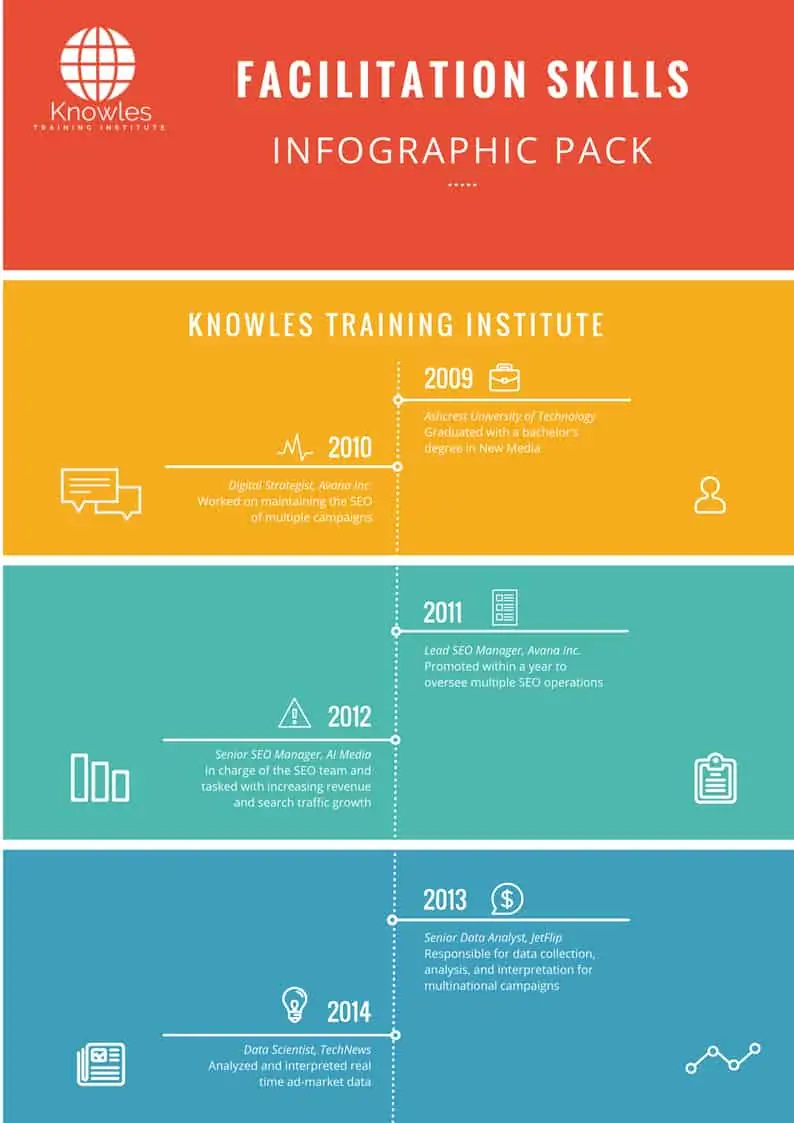 Training and Facilitation Skills Certification
Each course participant will receive a certification of training completion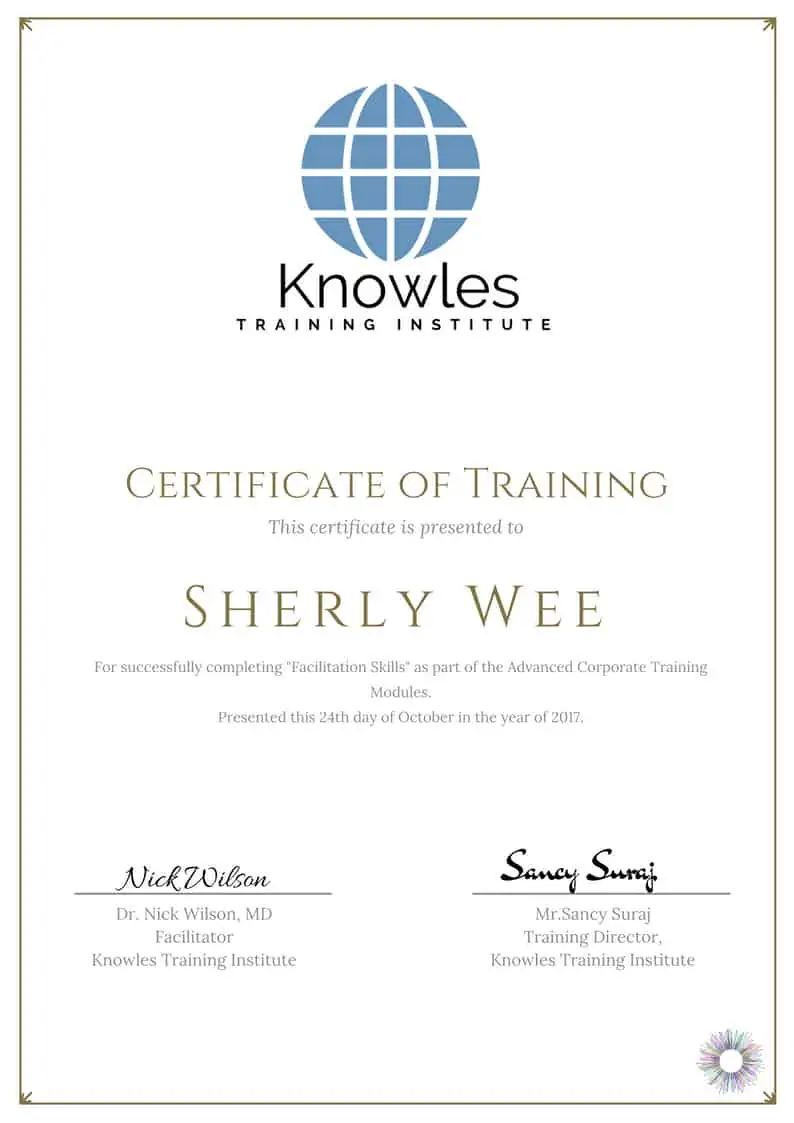 There are 3 pricing options available for this Facilitation Skills training course. Course participants not in Singapore may choose to sign up for our online Facilitation Skills training course.
2-Full Day Course
Learner's Guide
Course Handouts
—
—
—
—
—
—
—
—
—
—
Premium 2-Full Day Course
Learner's Guide
Course Handouts
PPT Slides Used During Training Course
Long-Term Memory Flashcards Guide TM
1 Year Access to Online Training Video Course (*Worth S$589.97)
Contact Your Trainer: 90-Day Post Course Help (*Worth S$89.97)
Key Learning Takeaway Notes (*Worth S$18.97)
Audio Book (*Worth S$18.97)
eBook (*Worth S$14.97)
Course Infographics Pack (*Worth S$11.97)
Course Mind Maps (*Worth S$8.97)
30-Day Action Plan
Post-Training Support: A vast majority of training does not have any effect beyond 120 days. But to work, training has to have a strong pre- and post-training component. Post-training reinforcement consequently helps individuals to recall the understanding and ask questions.

Blended Learning: Learning does not occur in the classroom. Virtually everybody prefers distinct ways of learning. Successful learning should have a multi-channel, multi-modal strategy.

We Understand The Industry: Similarly, we've got a profound comprehension of the business, business design, challenges, strategy and the that our participants are in and have designed the courseware to cater to their professional needs.

Course Content: Knowles Training Institute's material is relevant, of high quality and provide specific learning outputs. As a result, Participants will leave the training course feeling as they have gained a strong understanding and will also be in a position to execute what they have learned sensibly.

Course Development — The workshop modules follow a systematic and logical arrangement. Therefore, this structure helps to ensure that the course material allows the facilitators to deliver the course in a logical arrangement. Consider the subjects as building bricks into learning, our facilitators slowly build towards a comprehensive picture of this entire topic.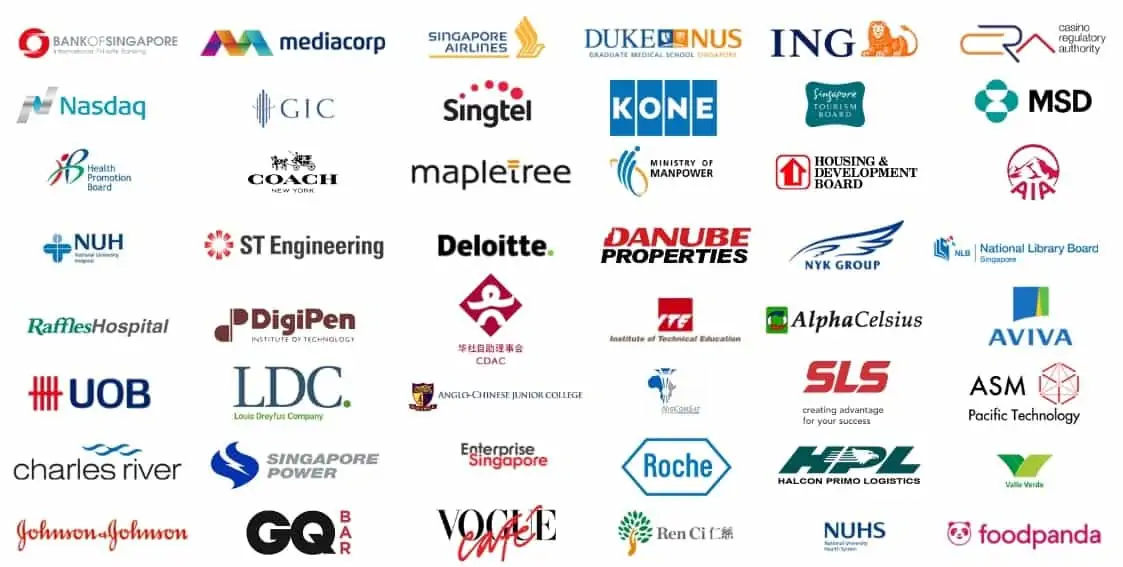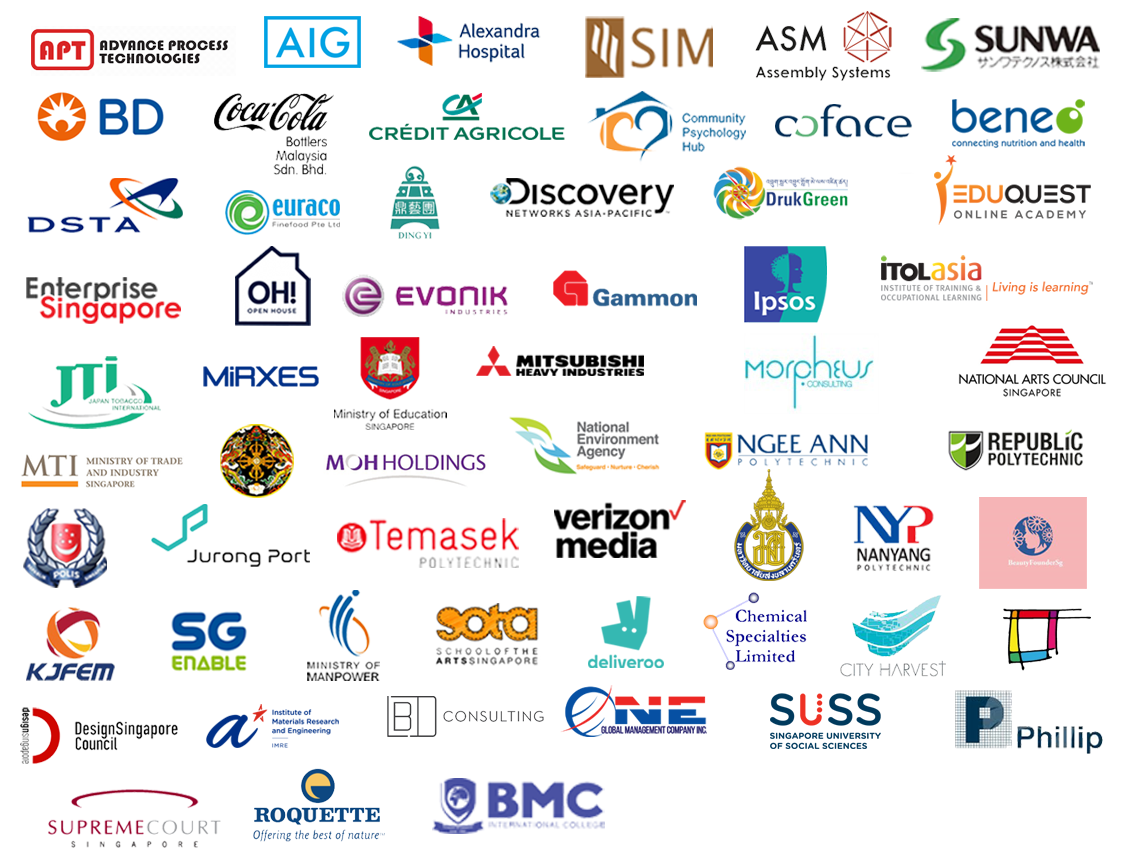 Fill up the form and we will get back to you in less than 1 working day.
Alternatively, give us a call to have one of our training consultants contact you. Our corporate training courses can be contextualized to meet your organization's training needs. Leverage on our large pool of professional trainers and consultants for your organization's training needs.
Office Address: Knowles Training Institute, 7 Temasek Boulevard, #12-07, Suntec Tower One, Singapore 038987
We Guarantee 100% Privacy. We Respect Your Privacy. Your Information Will Never Be Shared.
Facilitation Skills course, workshop, training, class, seminar, talk, program, programme, activity, lecture. Facilitation Skills courses, workshops, classes, seminars, talks, programs, programmes, activities, lectures in Singapore. Facilitation Skills improvement tips, Facilitation Skills techniques, improve Facilitation Skills, improve Facilitation Skills games, Facilitation Skills improvement exercises, improve Facilitation Skills power, how to have good Facilitation Skills, how to have good Facilitation Skills in studying, how to build up your Facilitation Skills, how to improve Facilitation Skills how to improve Facilitation Skills course in Singapore. Enhance, boost, build up, enlarge, heighten Facilitation Skills course in Singapore. Increase, intensify, raise, reinforce, strengthen Facilitation Skills. Upgrade, amplify, boom, elevate, exaggerate, magnify, grow, gain Facilitation Skills. Develop Facilitation Skills, multiple, power up, beef up, bolster, establish, extend Facilitation Skills. Invigorate, restore, step up, toughen, empower, fortify, regenerate Facilitation Skills. Rejuvenate, renew, escalate, expand, maximize Facilitation Skills. Powerful, mighty, impressive, competent, great, excellent, exceptional Facilitation Skills in Singapore. Superb Facilitation Skills. Super, superior, strong, solid, active Facilitation Skills training courses and workshops in Singapore. Facilitation Skills enhancement, booster, building up, enlargement, heightening, increment, strengthening, amplification. Facilitation Skills magnification, growth, development, power, empowerment, regeneration. Facilitation Skills rejuvenation, development, escalation, expansion. Facilitation Skills maximization, power training courses & workshops in Singapore.