Theory Z Training Course In Singapore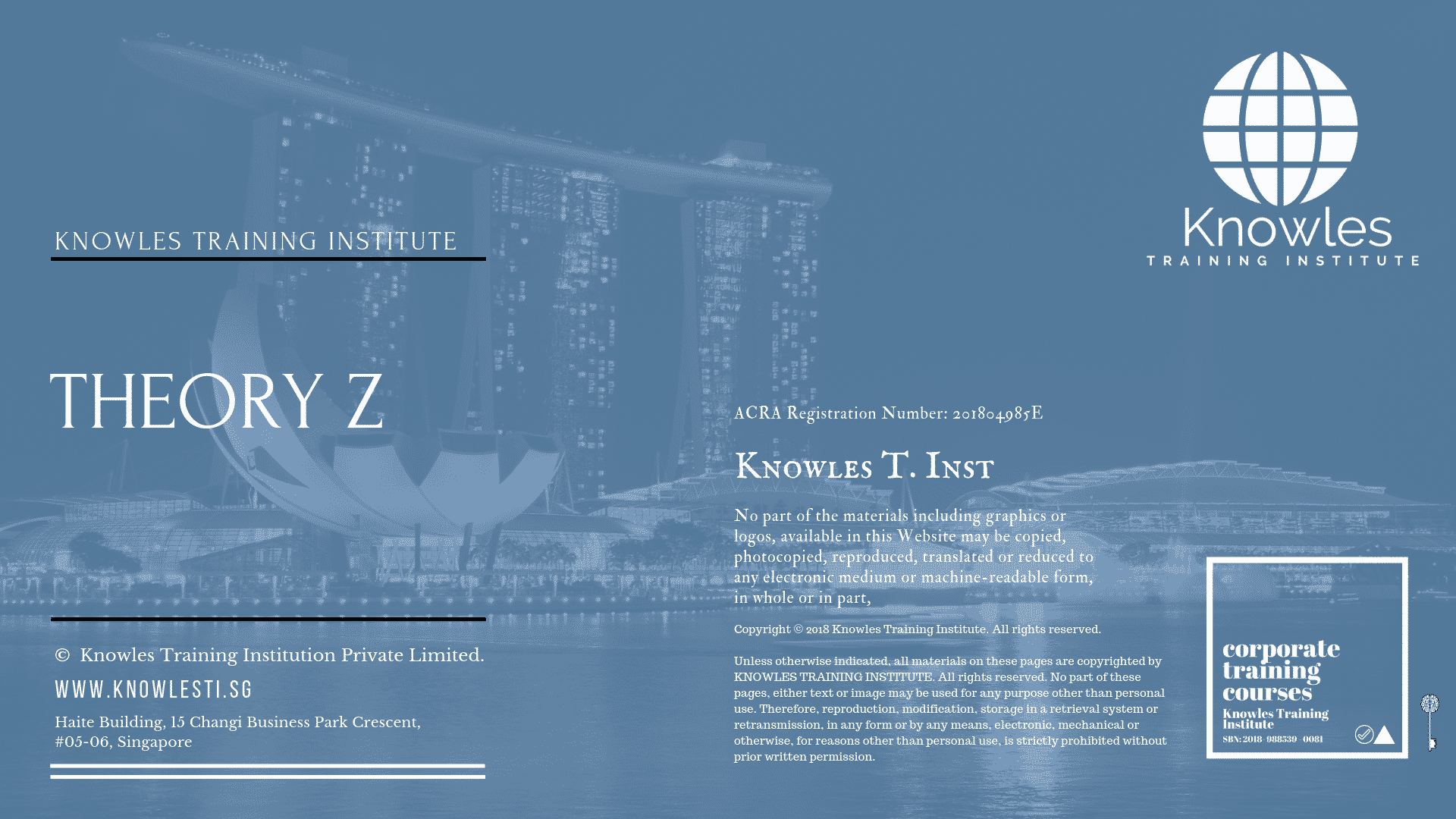 About This Theory Z Training Course
Theory Z Training Course In Singapore
Inspired by McGregor's Theory X and Theory Y, William Ouchi, who has Japanese blood, suggested that the Western practices in business could benefit more from the Japanese ways. His thoughts were published in his book in 1981 entitled "Theory Z: How American Business Can Meet The Japanese Challenge".
Who Should Attend This Theory Z Workshop
This time management workshop is ideal for anyone who would like to gain a strong grasp and improve their time management.
All Staff Within An Organisation
Group Size For This Theory Z Training Program
The ideal group size for this time management course is:
Course Duration For This Theory Z Skills Course
The duration of this time management workshop is 2 full days. Knowles Training Institute will also be able to contextualised this workshop according to different durations; 3 full days, 1 day, half day, 90 minutes and 60 minutes.
Below is the list of course benefits of our time management course
Reduced employee turnover, increased commitment, improved morale and job satisfaction, and drastic increases in productivity
Employeeshave the opportunity to fully develop their careers at one company
Employeeswill use Theory Z to "bring up," train, and develop other employees in a similar fashion
Employees develop a sense of order, discipline, and a moral obligation to work hard
Common cultural values should promote greater organizational commitment among employees
Encourages moderate specialization like the job descriptions of employees are flexible as the management believes that given relevant training, an employee will be able to adapt to a new job role
Employees have a say in the decision making process as it impacts them in the long-term
Ensure greater commitment and help achieve individual and organizational goals
Employees yearn to learn from each other and focus on building cooperative relationships with their peers
Workers have a greater understanding of their role in an organization and how they can help it reach its goals and are more participative
Describes the main advantages, drawbacks, success factors and case evidence from some of the market leaders
Emphasizes a strong company philosophy, a distinct corporate culture, long-range development and employment, consensual decision-making, and moderately specialized career paths
Theory Z Course Objectives
Below is the list of course objectives of our time management course
Learn about William Ouchi's Theory Z and how it can be used as a management tool in the workplace
Helps develop a more dedicated, loyal, and permanent workforce, which benefits the company
Exhibit a strong, homogeneous set of cultural values that are similar to clancultures
Emphasize complete socializationof members to achieve congruence of individual and group goals
Retain some elements of bureaucratic hierarchies, such as formal authority relationships, performance evaluation, and some work specialization
Promotes stability in the organization and job security among employees
Emphasizes communication, collaboration, and consensus in decision making in the workplace
Rely on informal methods of control, but does measure performance through formal mechanisms
Achieve benefits both in terms of employee satisfaction, motivation, and commitment as well as in terms of financial performance
Deals with organizational culture, quality that shows how employees view their management their set of beliefs, values and principles
Ensures that everyone contributes to the successful accomplishment of organizational goals
Have a high level of confidence in its workers and the workers need to be highly knowledgeable and competent in order to contribute effectively
Course Content For This Theory Z Training Course
Below is the list of course content of our time management training course
Stresses the need to help workers become generalists, rather than specialists
Views job rotations and continual training as a means of increasing employees' knowledge of the company and its processes while building a variety of skills and abilities
Assumptions
Employees seek to build cooperative and intimate working relationships with their coworkers and have a strong desire for affiliation
Assumes that workers expect reciprocity and support from the company
Employees value a working environment in which things like family, culture, and traditions are considered to be just as important as the work itself
Components for Theory Z to work
The company philosophy and culture need to be understood and embodied by all employees
The organization and management team need to have measures and programs in place to develop employees
Employees are encouraged and expected to take part in organizational decisions
Because employees have a greater responsibility in making decisions and understand all aspects of the organization, they ought to be generalists
The organization shows sincere concern for the health and happiness of its employees and their families
Employees are empowered to perform tasks the way they see fit, and management is quite hands-off
The organization recognizes the individual contributions but always within the context of the team as a whole
Theory Z Value Added Materials
Each participant will receive the following materials for the time management course
Time Management Learner's Guide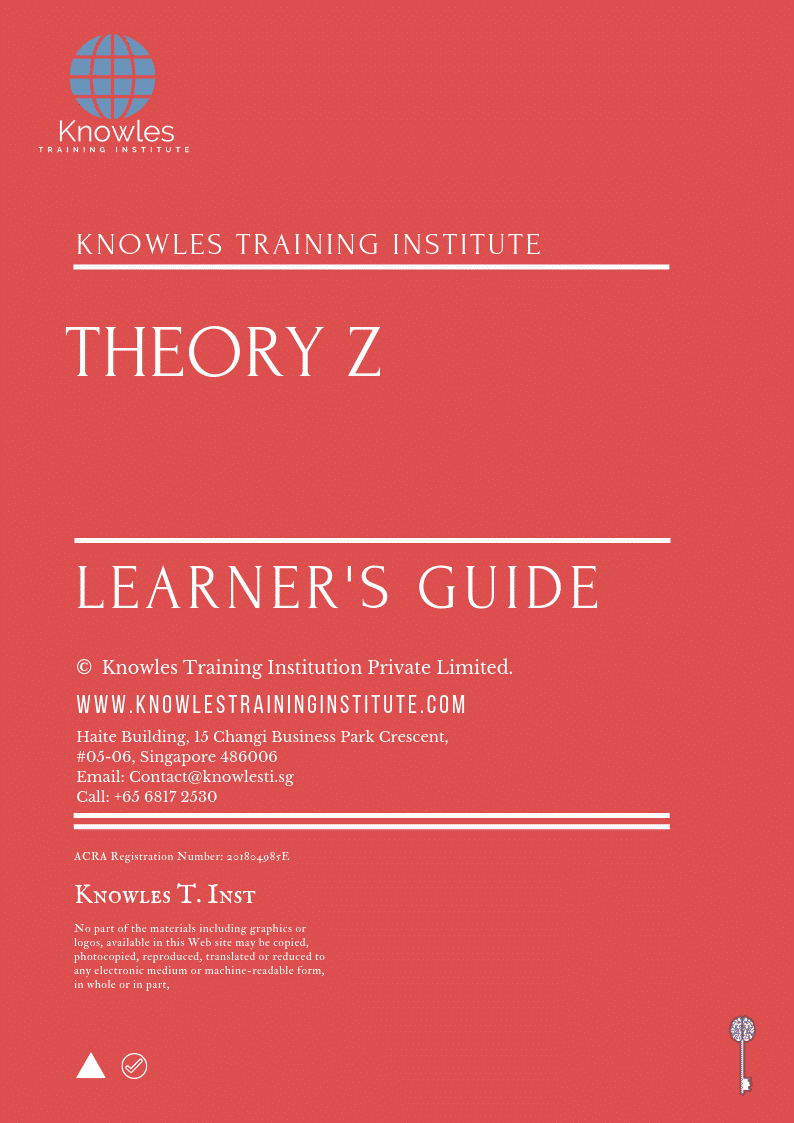 Time Management Key Takeaways Notes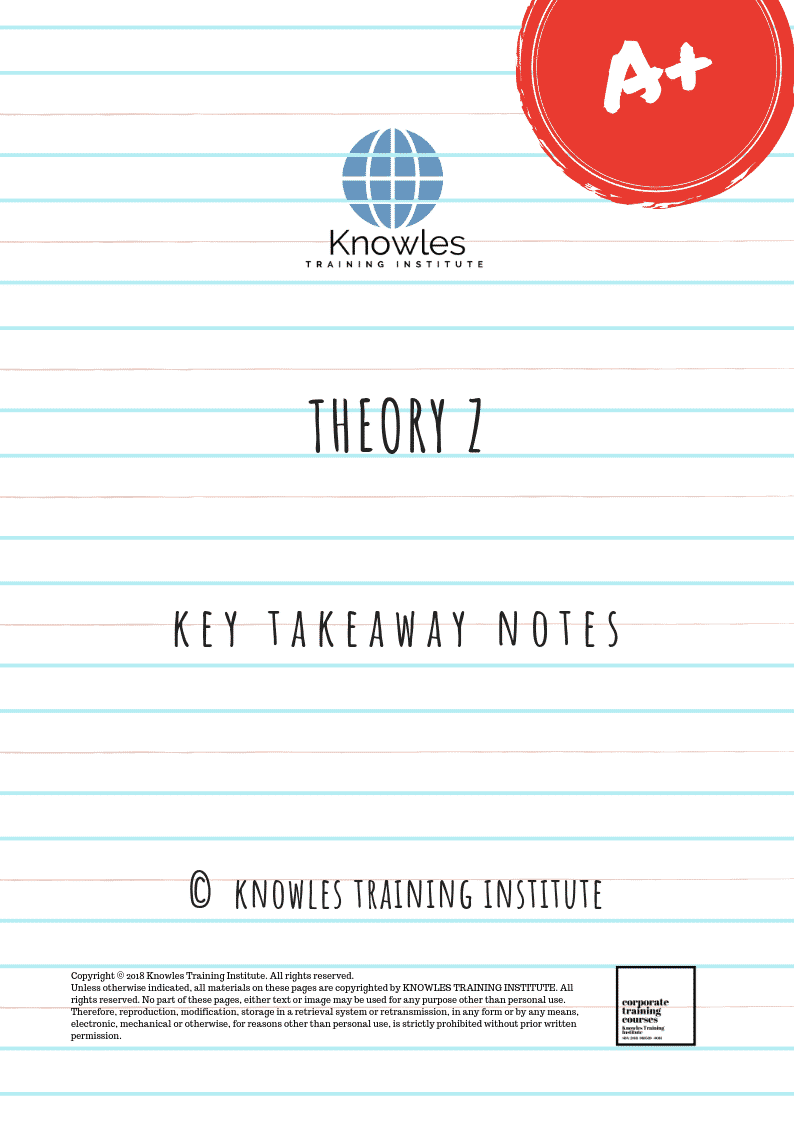 Time Management Essentials Ebook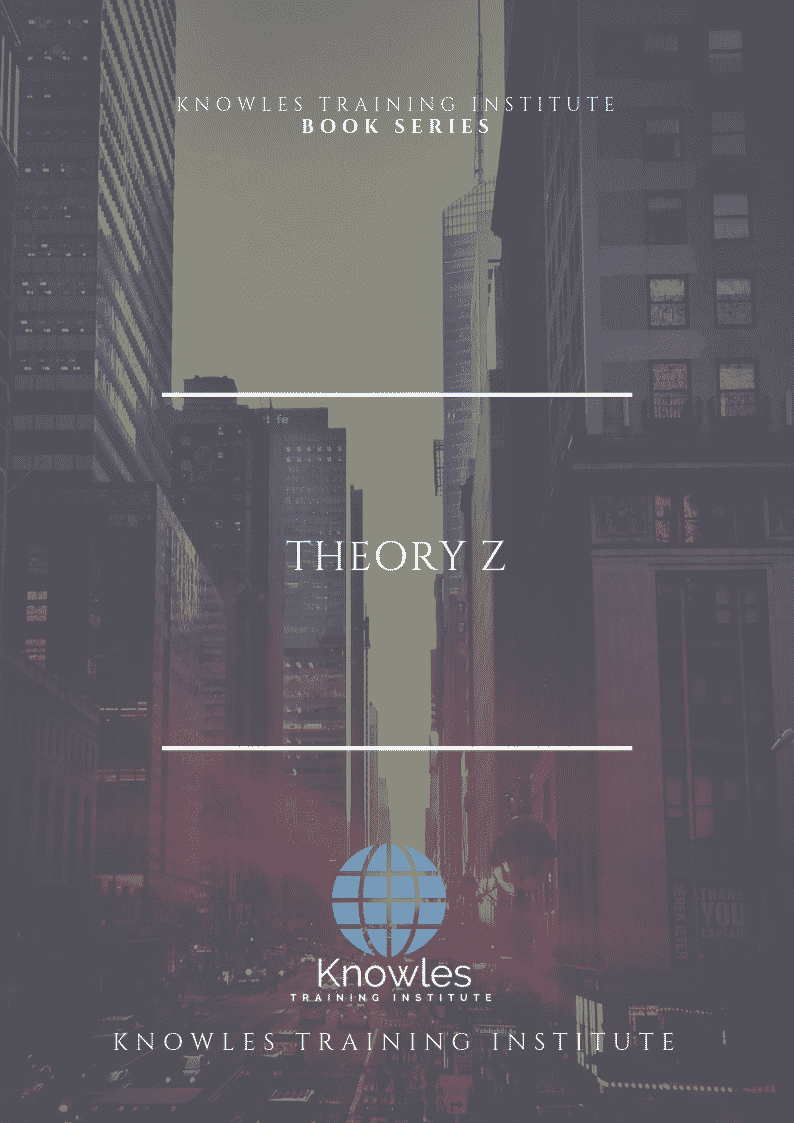 Time Management Course Handouts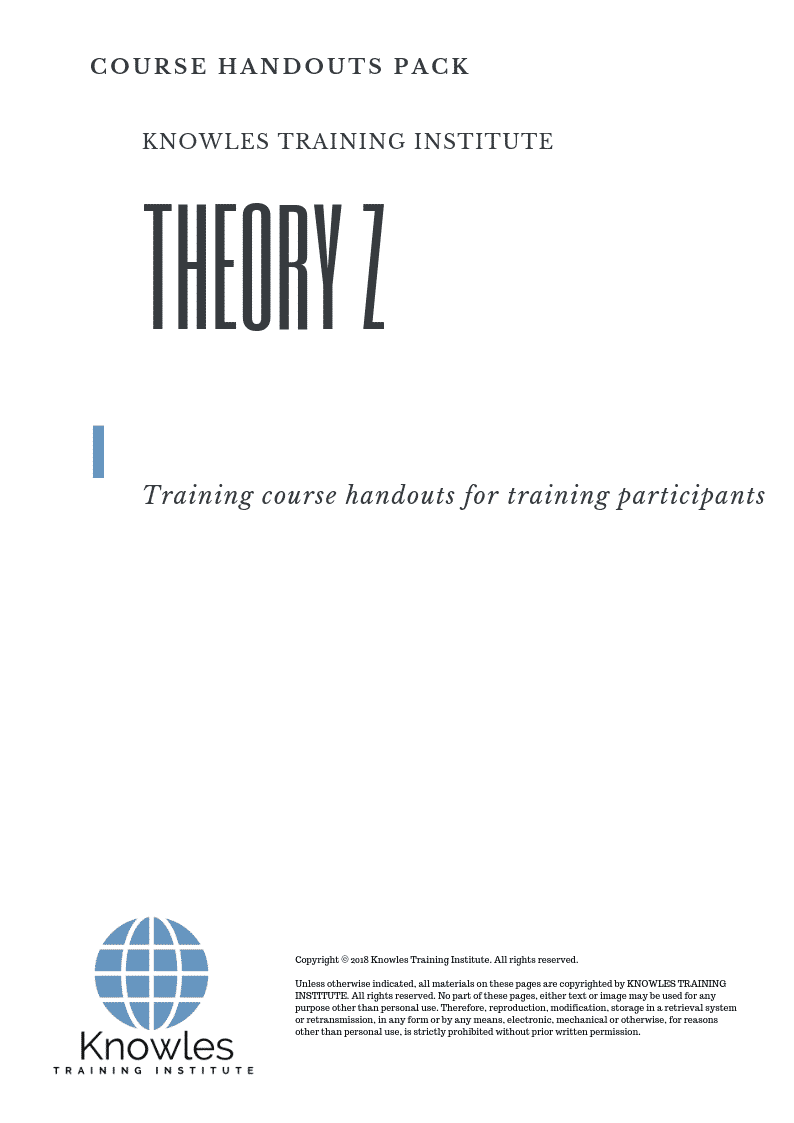 Time Management 30-Day Action Plan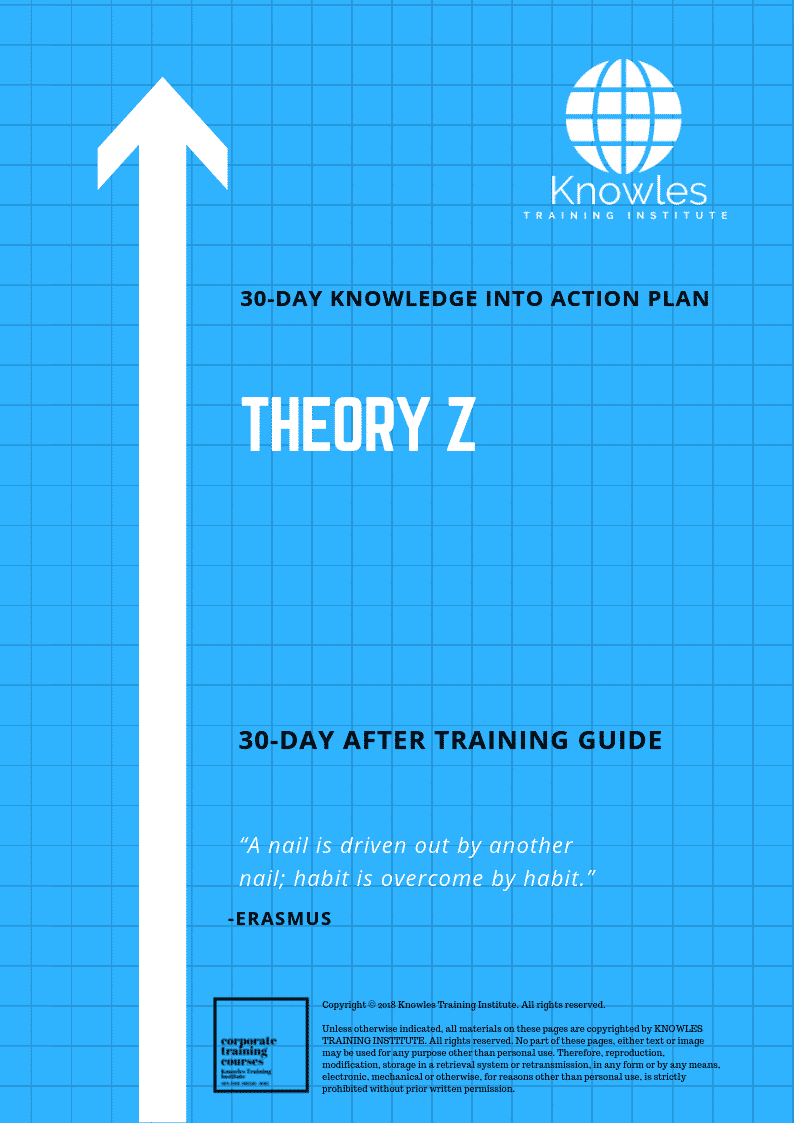 Time Management MindMaps Pack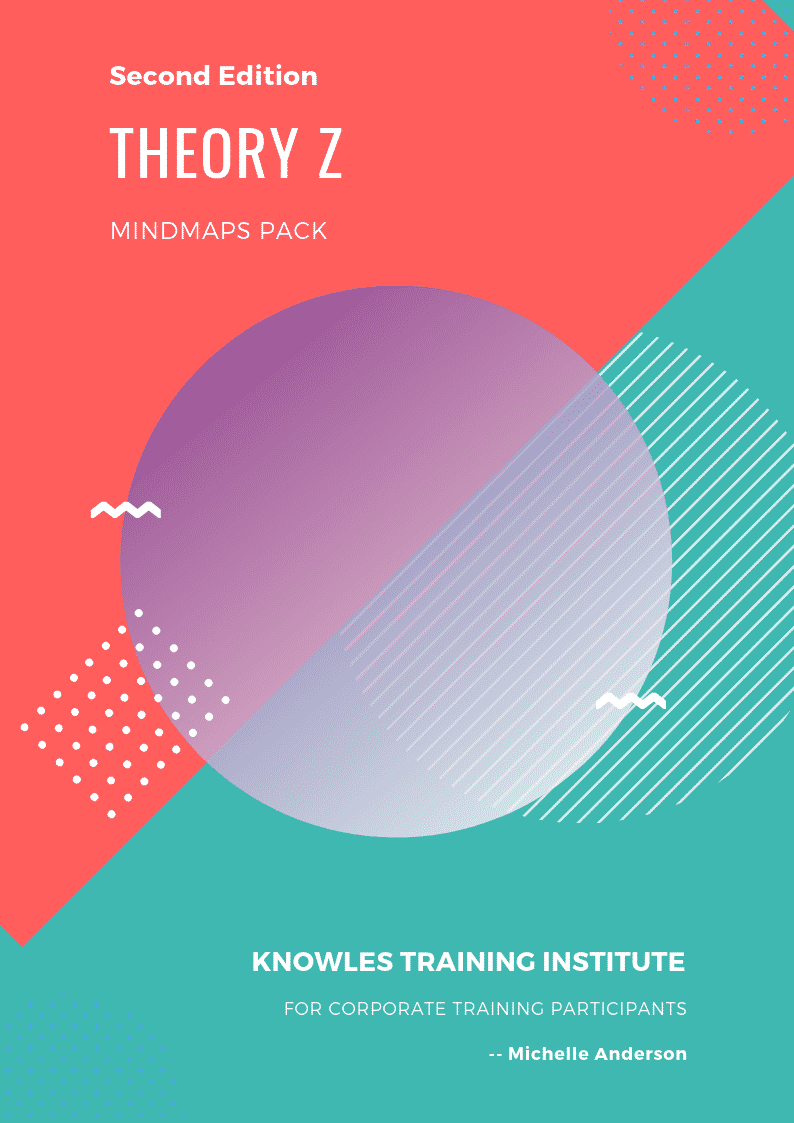 Time Management PPT Slides Used During Course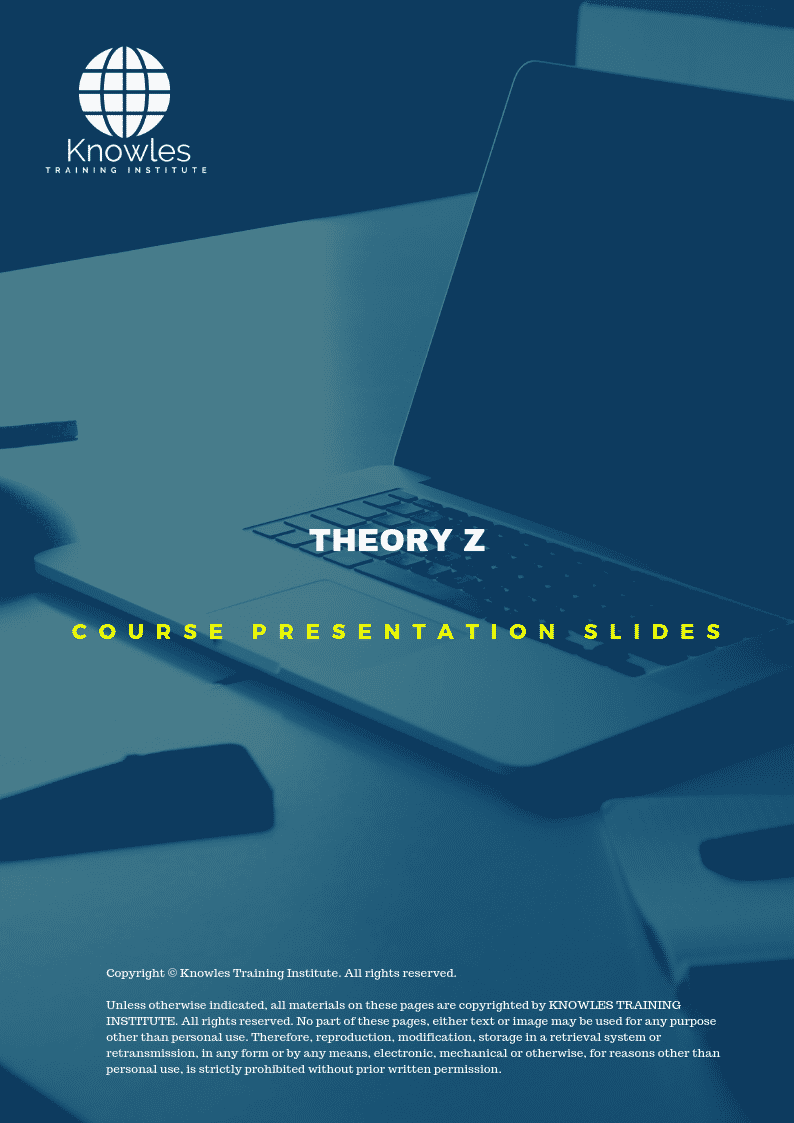 Time Management Long-Term Memory Flashcards Pack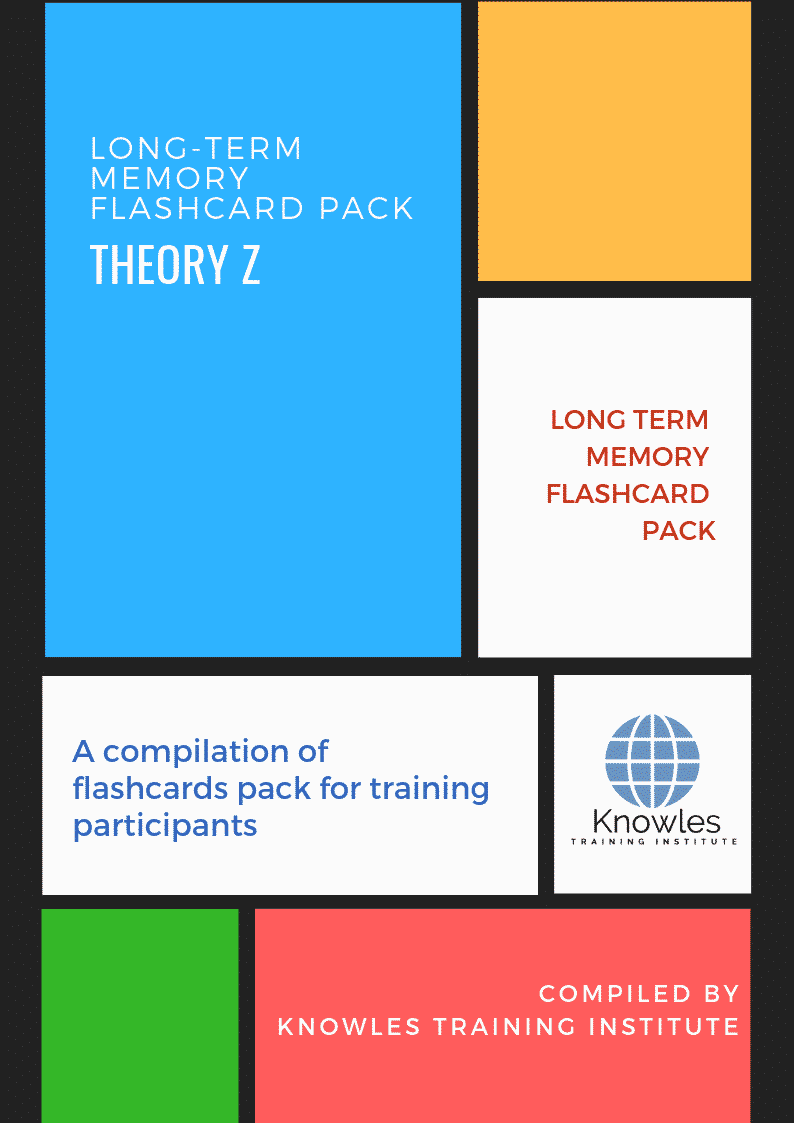 Time Management E-Learning Course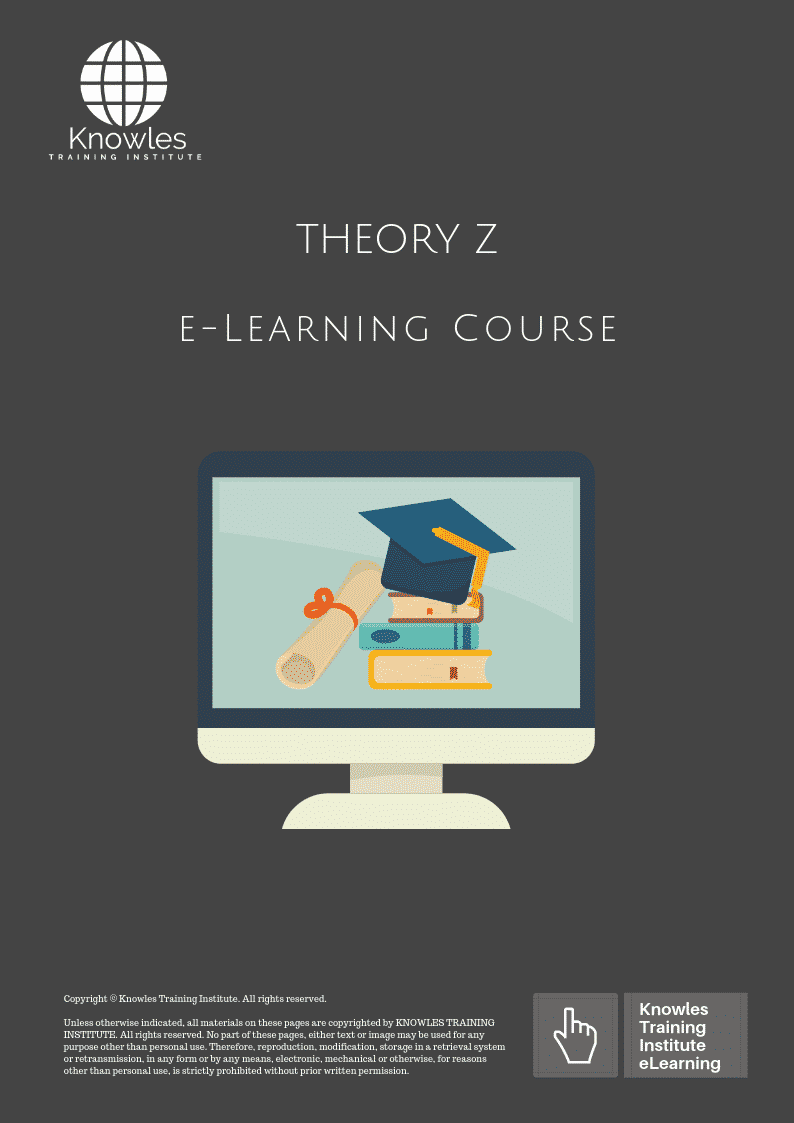 Time Management Online Video Course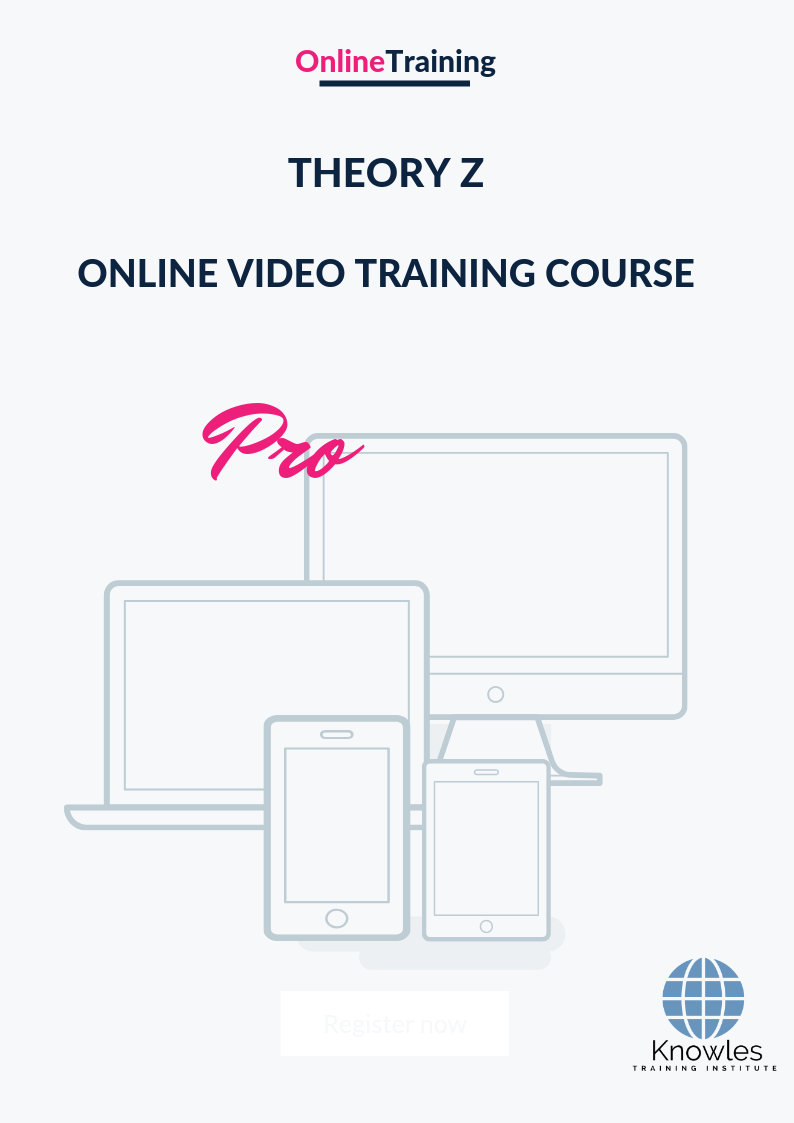 Time Management Essentials Audiobook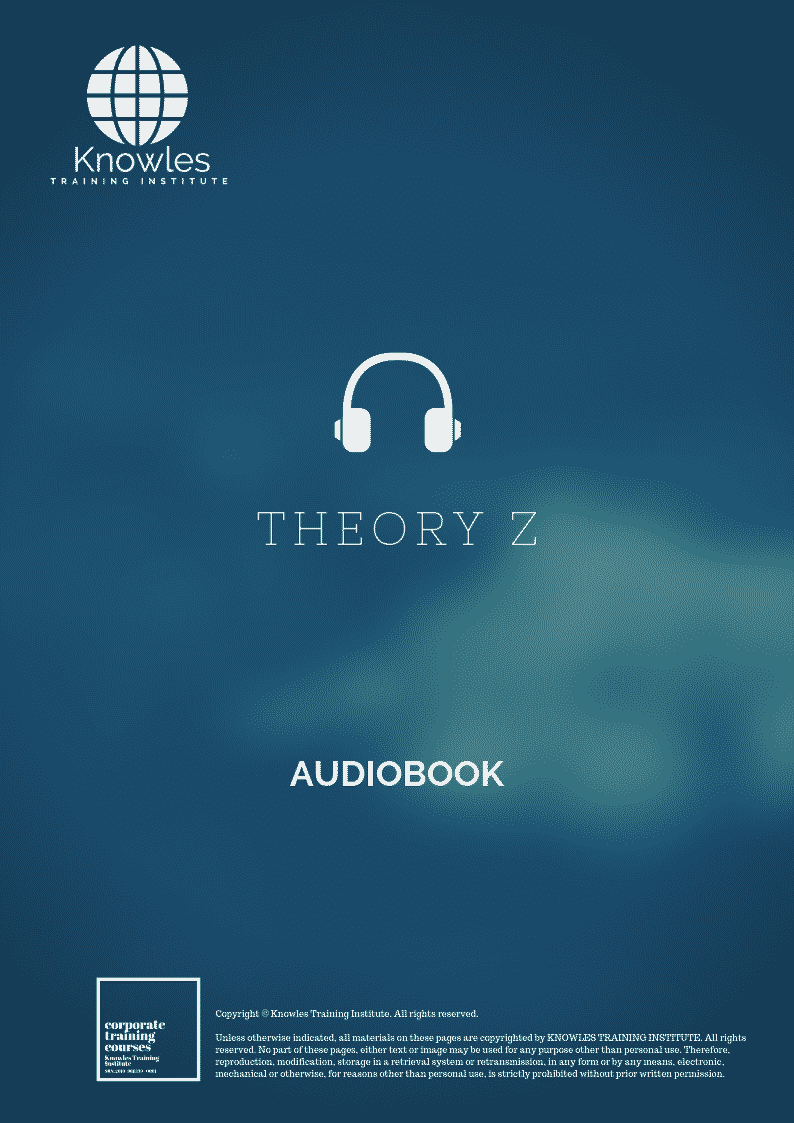 Time Management Infographics Pack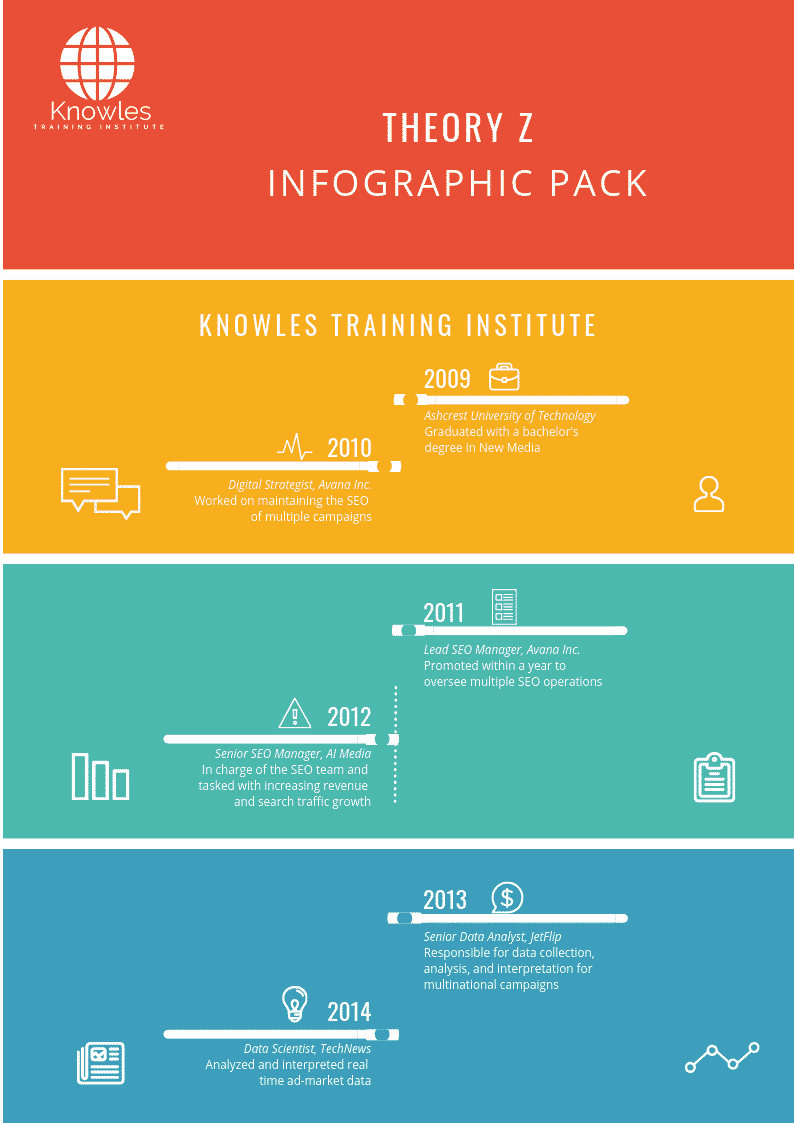 Each course participant will receive a certification of training completion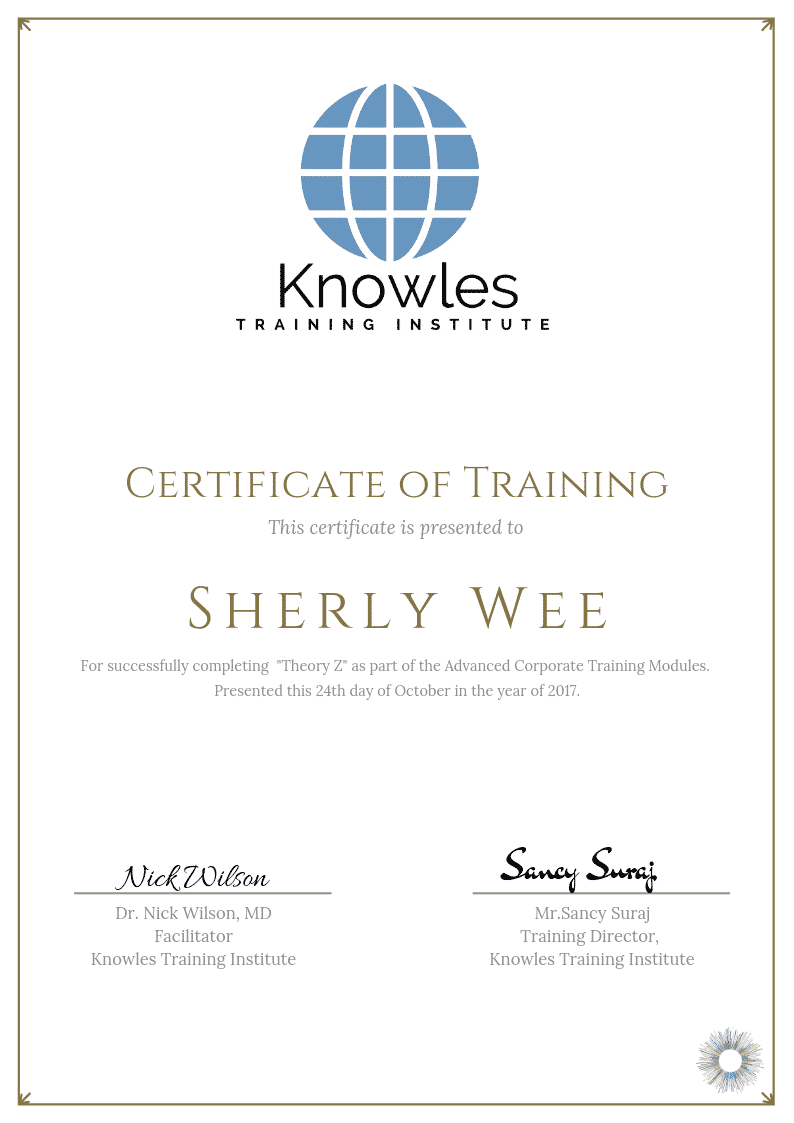 There are 3 pricing options available for this time management training course. Course participants not in Singapore may choose to sign up for our online time management training course.
2-Full Day Course
Learner's Guide
Course Handouts
—
—
—
—
—
—
—
—
—
—
Premium 2-Full Day Course
Learner's Guide
Course Handouts
PPT Slides Used During Training Course
Long-Term Memory Flashcards Guide TM
1 Year Access to Online Training Video Course (*Worth S$589.97)
Contact Your Trainer: 90-Day Post Course Help (*Worth S$89.97)
Key Learning Takeaway Notes (*Worth S$18.97)
Audio Book (*Worth S$18.97)
eBook (*Worth S$14.97)
Course Infographics Pack (*Worth S$11.97)
Course Mind Maps (*Worth S$8.97)
30-Day Action Plan
Course Discounts, Fundings & Subsidies
We have the following  discounts, fundings & subsidies for this time management training course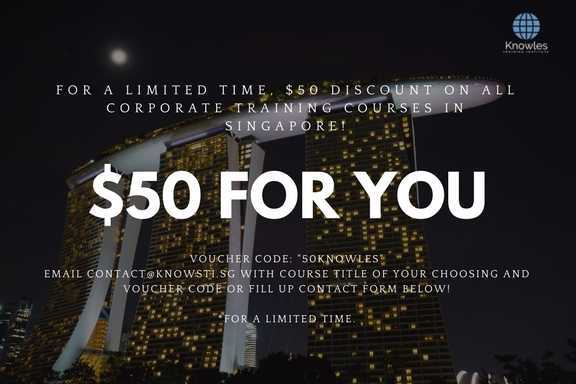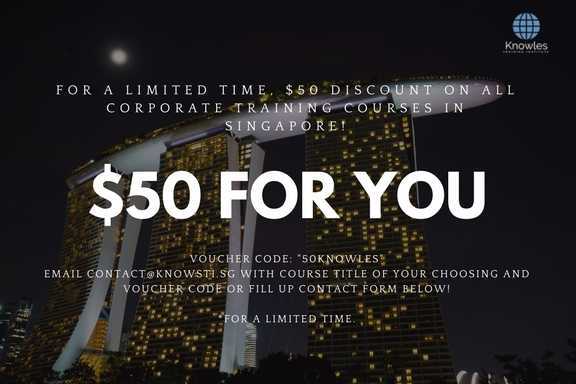 Upcoming Theory Z Training Course Schedule
Contact us for the latest time management course schedules:
Phone: +65 6817 2530
Email: contact@knowlesti.com
Message:
Download Theory Z Course Brochure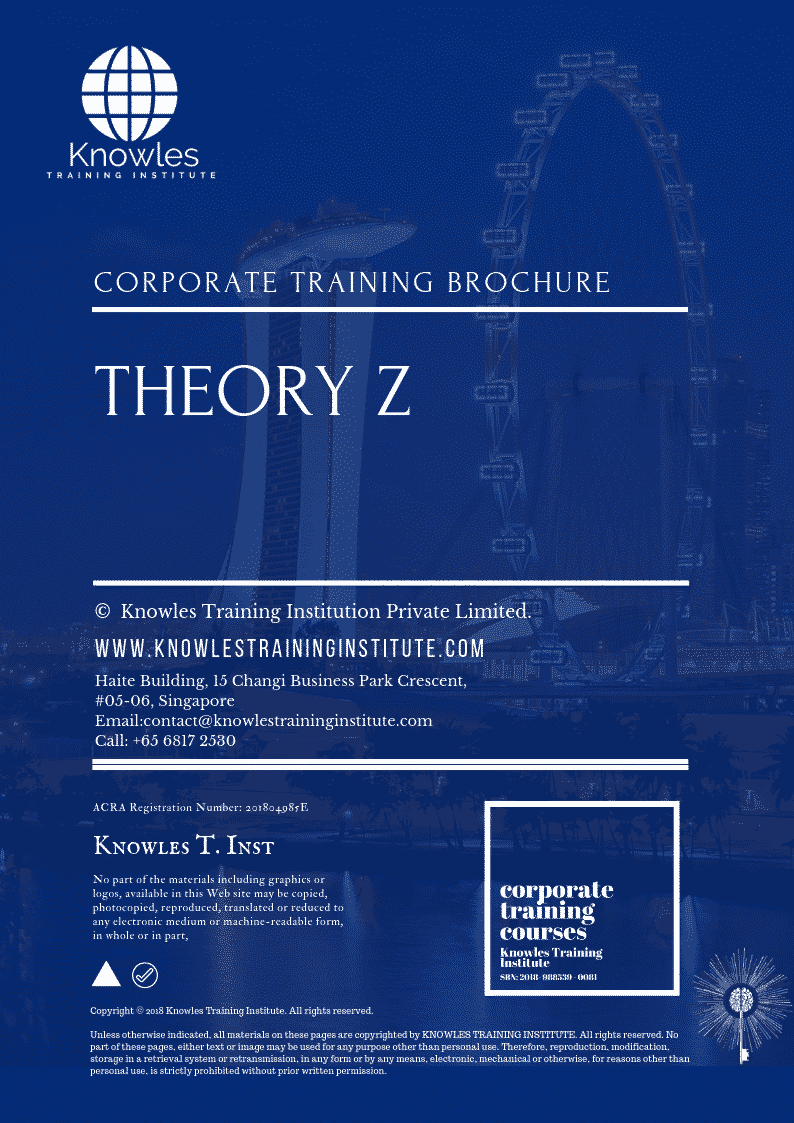 Request for this time management course brochure. Fill up the short information below and we will send it to you right away!
Post Training Support: A vast majority of training does not have any effect beyond 120 days. To work, training has to have a strong pre- and post-training component. Post-training reinforcement helps individuals to recall the understanding and ask questions.

Blended Learning: Learning does not occur in the classroom. Virtually everybody prefers distinct ways of learning. Successful learning should have a multi-channel, multi-modal strategy.

We Understand The Industry: We've got a profound comprehension of the business, business design, challenges, strategy and the that our participants are in and have designed the courseware to cater to their professional needs.

Course Content: Knowles Training Institute's material is relevant, of high quality and provide specific learning results. Participants will leave the training course feeling as they have gained a strong understanding and will also be in a position to execute what they have learned sensibly.

Course Development — The workshop modules follow a systematic and logical arrangement. This structure helps to ensure that the course material allows the facilitators to deliver the course in a logical arrangement. Consider the subjects as building bricks into learning, our facilitators slowly build towards a comprehensive picture of this entire topic.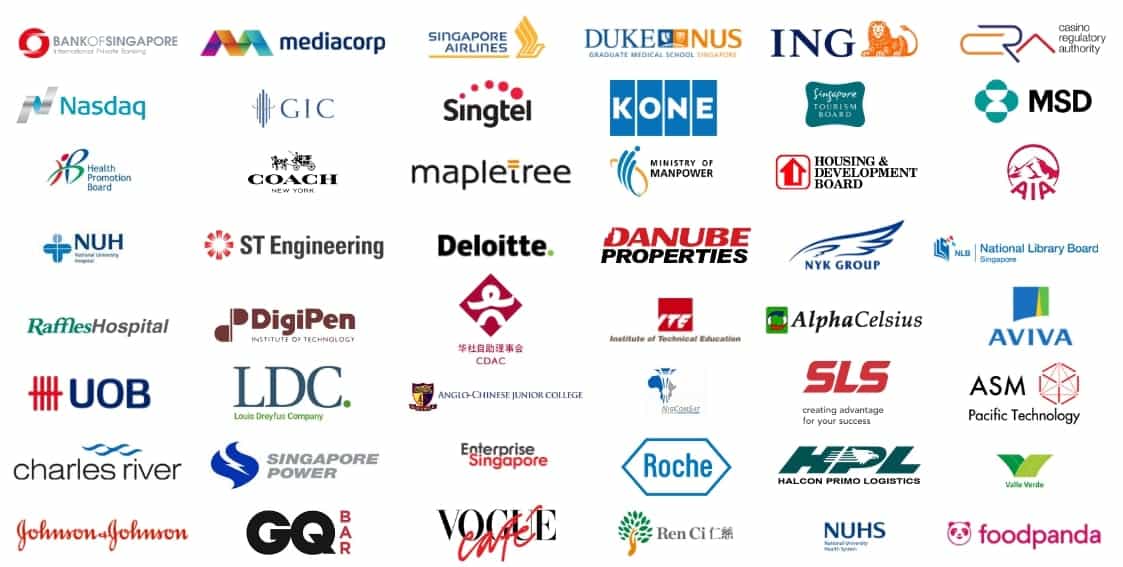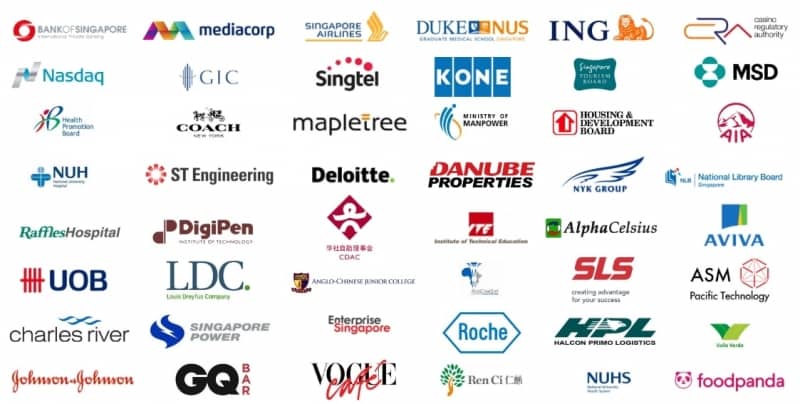 Fill up the form and we will get back to you in less than 1 working day.
Alternatively, give us a call to have one of our training consultants contact you. Our corporate training courses can be contextualised to meet your organisation's training needs. Leverage on our large pool of professional trainers and consultants for your organisation's training needs.
Office Address: Knowles Training Institute, 7 Temasek Boulevard, #12-07, Suntec Tower One, Singapore 038987
Office Phone: +65 6935 7406
Email: contact@knowlesti.sg
We Guarantee 100% Privacy. We Respect Your Privacy. Your Information Will Never Be Shared.
Register Now
Register For This Time Management Course Now!
Time Management course, workshop, training, class, seminar, talk, program, programme, activity, lecture. Time Management courses, workshops, classes, seminars, talks, programs, programmes, activities, lectures in Singapore. Time Management improvement tips, Time Management techniques, improve Time Management, improve Time Management games, Time Management improvement exercises, improve Time Management power, how to have good Time Management, how to have good Time Management in studying, how to build up your Time Management, how to improve Time Management how to improve Time Management course in Singapore. Enhance, boost, build up, enlarge, heighten Time Management course in Singapore. Increase, intensify, raise, reinforce, strengthen Time Management. Upgrade, amplify, boom, elevate, exaggerate, magnify, grow, gain Time Management. Develop Time Management, multiple, power up, beef up, bolster, establish, extend Time Management. Invigorate, restore, step up, toughen, empower, fortify, regenerate Time Management. Rejuvenate, renew, escalate, expand, maximize Time Management. Powerful, mighty, impressive, competent, great, excellent, exceptional Time Management in Singapore. Superb Time Management. Super, superior, strong, solid, active Time Management training courses and workshops in Singapore. Time Management enhancement, booster, building up, enlargement, heightening, increment, strengthening, amplification. Time Management magnification, growth, development, power, empowerment, regeneration. Time Management rejuvenation, development, escalation, expansion. Time Management maximization, power training courses & workshops in Singapore.