The Thrifty Manager Course in Singapore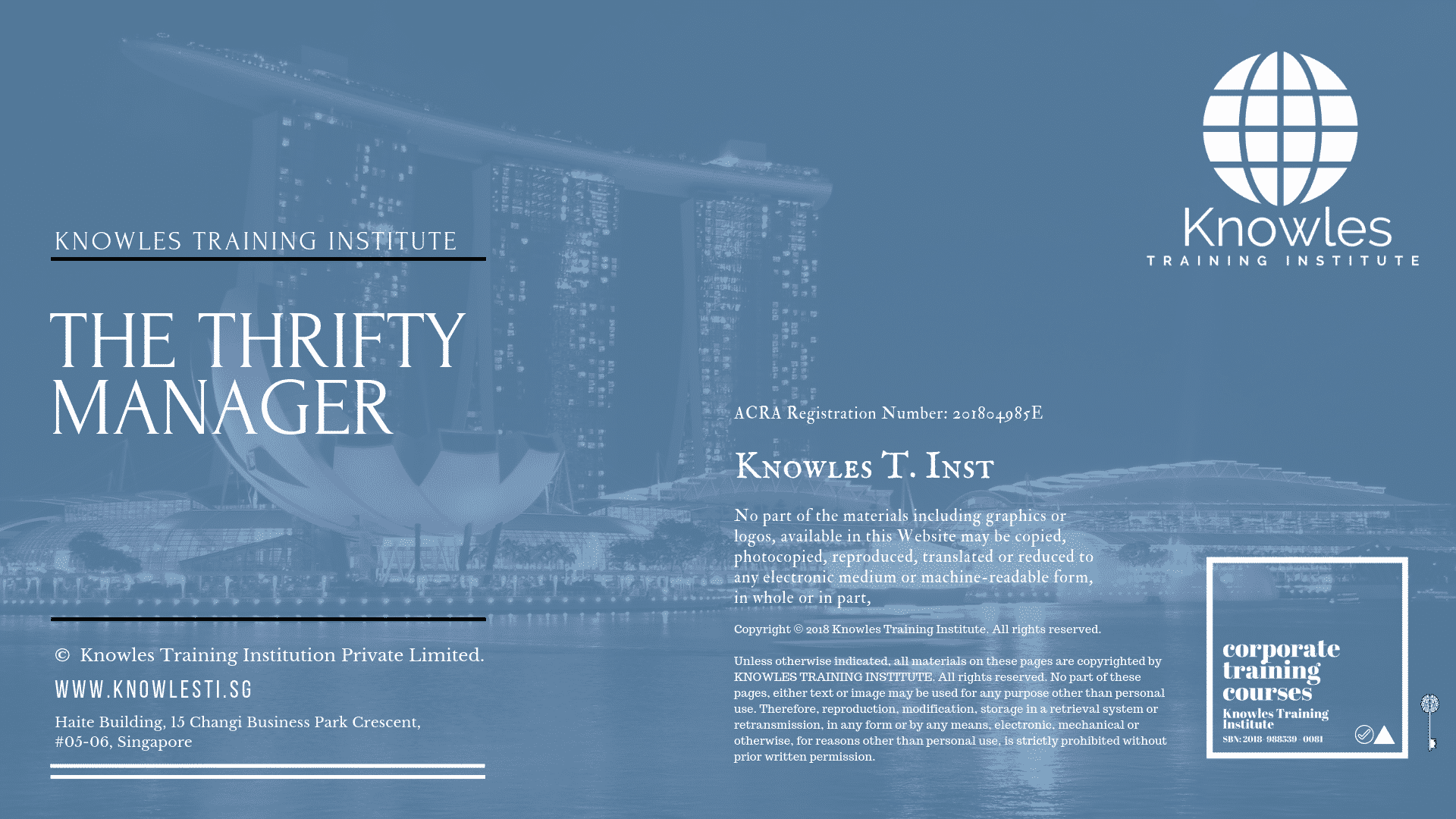 The Thrifty Manager Course in Singapore
A financially secure business reached its current state because of managing finances well and being frugal in its resources. The act of being thrifty is a proactive way of seeing to a company's financial future, instilling a sense of responsibility to every employee, and urging them to be creative and sustainable at the same time.
This The Thrifty Manager workshop is ideal for anyone who would like to gain a strong grasp and improve their The Thrifty Manager.
All Staff Within An Organisation
The ideal group size for this The Thrifty Manager course is:
Course Duration
The duration of this The Thrifty Manager workshop is 2 full days. Knowles Training Institute will also be able to contextualised this workshop according to different durations; 3 full days, 1 day, half day, 90 minutes and 60 minutes.
Below is the list of course benefits of our The Thrifty Manager course
Careful preservation of cash and conservative personal finance as essential to survival
Motivate employees at every level to get creative and invent frugal and sustainable ways to deliver significantly more value to all stakeholders
Reduce the problems of brand dilution while ensuring greater market coverage
Help reduce any internal resistance based on the fear of cannibalization
Align their sales force's incentive systems with the corporate strategy of doing more with less
Less chance that you will have to shave costs by other means, such a salary freezes and perk cutbacks
Can offer an incentive plan that rewards its people for ideas and actions that lead to cost reductions
Know that a purchase is unnecessary or you will need an item for one occasion only, you find ways not to spend as much as possible
Builds a sense of responsibility and independence and gives you a good reputation too as you have no cases of bad debts
Being thrift means bigger saving, which can give your extra mileage for the long run for your company
Being frugal means you have money saved for it and knowing you can take care of any problem that may arise is a great feeling
Instead of worrying over finances, you are now taking action to change them
Below is the list of course objectives of our The Thrifty Manager course
Learn how to be a thrifty manager and cut costs the smart way in the workplace
Look at some easy ways to cut your budget, and offer some suggestions to get you started
Gain an appreciation for simplicity, conservation and a resistance to waste
Find creative ways to do more with less by motivating their employees to improve manufacturingand distribution processes
Create and sustain a frugal culture in their organization that espouses ''doing more with less'' as its core value
Recycle, reuse, and repurpose whenever feasible because by going greener, costs get leaner
Get the best value for a low cost and spending less on the non-essentials
Consider what situations would be catastrophic to your business and protect yourself with adequate insurance
Learn the fundamentals of good money management, budgeting, and you may even pay off some debt along the way
Learn the difference between being cheap and being thrifty and know what's best for your company
Enjoying and savoring what you have and getting value out of your time and the things you own
Focus your energy and time on the areas of finance that will make the biggest difference in your bank account
Below is the list of course content of our The Thrifty Manager training course
Establish the essentials to, identify the things your department/company absolutely cannot survive without
Identify the "luxuries" and look at what's left from the things you have identified that you couldn't live without
Review your 'maybe' items, these are the things you are not so sure about to keep spending money on or identify as a 'luxury'
Make your office/workplace more eco-friendly as this is often a great way to save money
Use less costly supplies and instead of buying expensive brands, switch to ones that are economical
Cross-train your staff where they can learn the skills of a job function different to their own
Negotiate with your suppliers and secure discounts for early payment or large-quantity purchases
Buy less expensive equipment and vehicles and purchase cheaper and more fuel-efficient models
Take advantage of modern technology like making and receiving business calls and messages on the internet
Get bids on all of your services and shop around for the best prices on everything you need to purchase
Tell your team what is going on as they probably don't want information kept from them
Realize that your team members are a valuable resource and that you can ask them to come up with their own cost-reducing suggestions
Each participant will receive the following materials for the The Thrifty Manager course
The Thrifty Manager Learner's Guide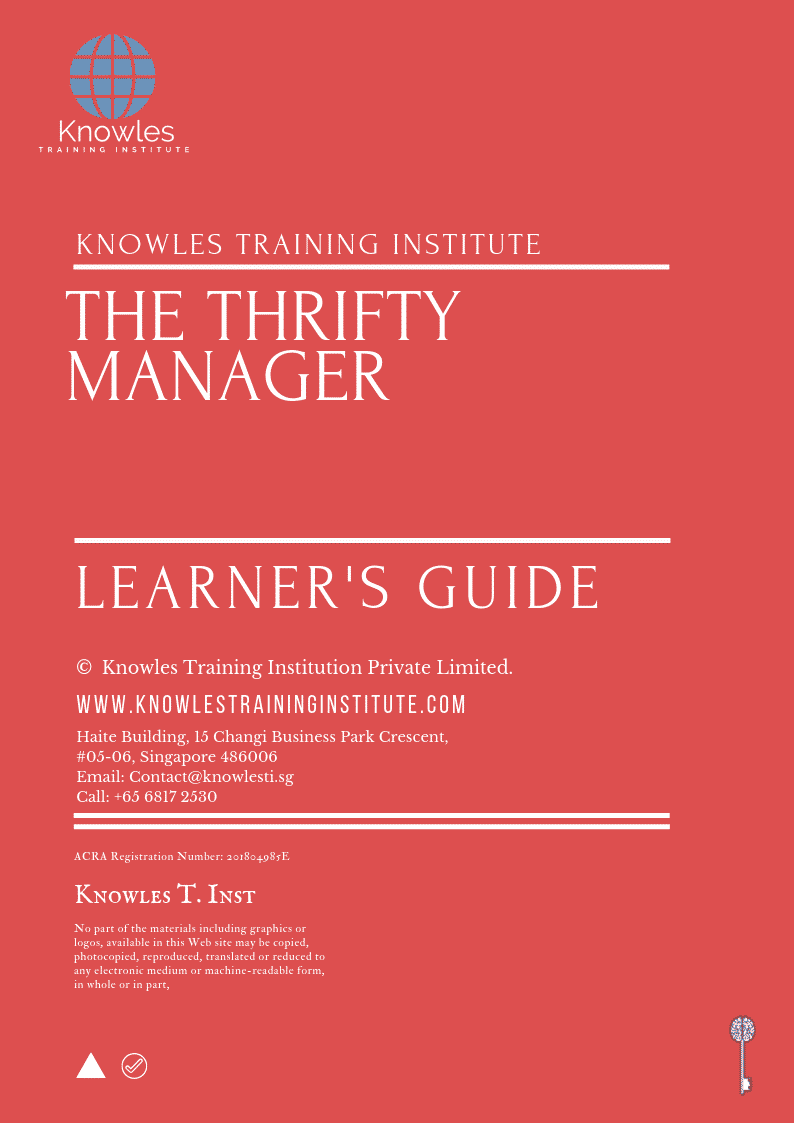 The Thrifty Manager Key Takeaways Notes
The Thrifty Manager Essentials Ebook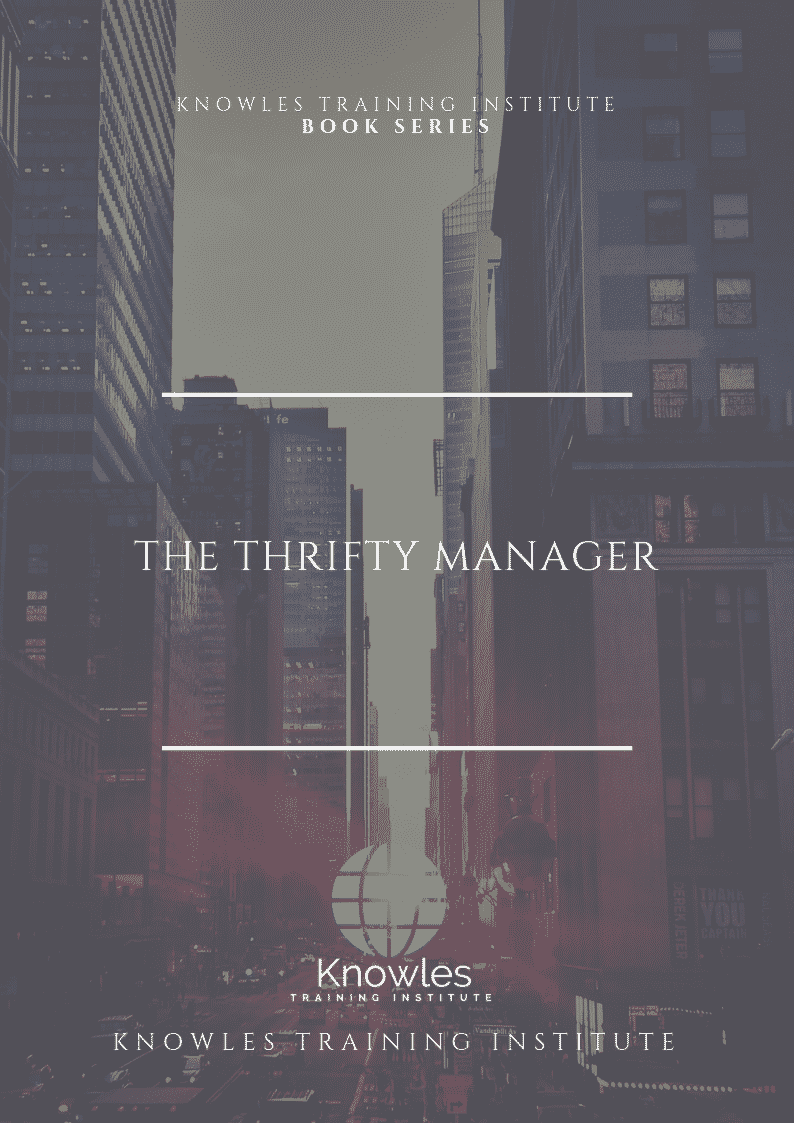 The Thrifty Manager Course Handouts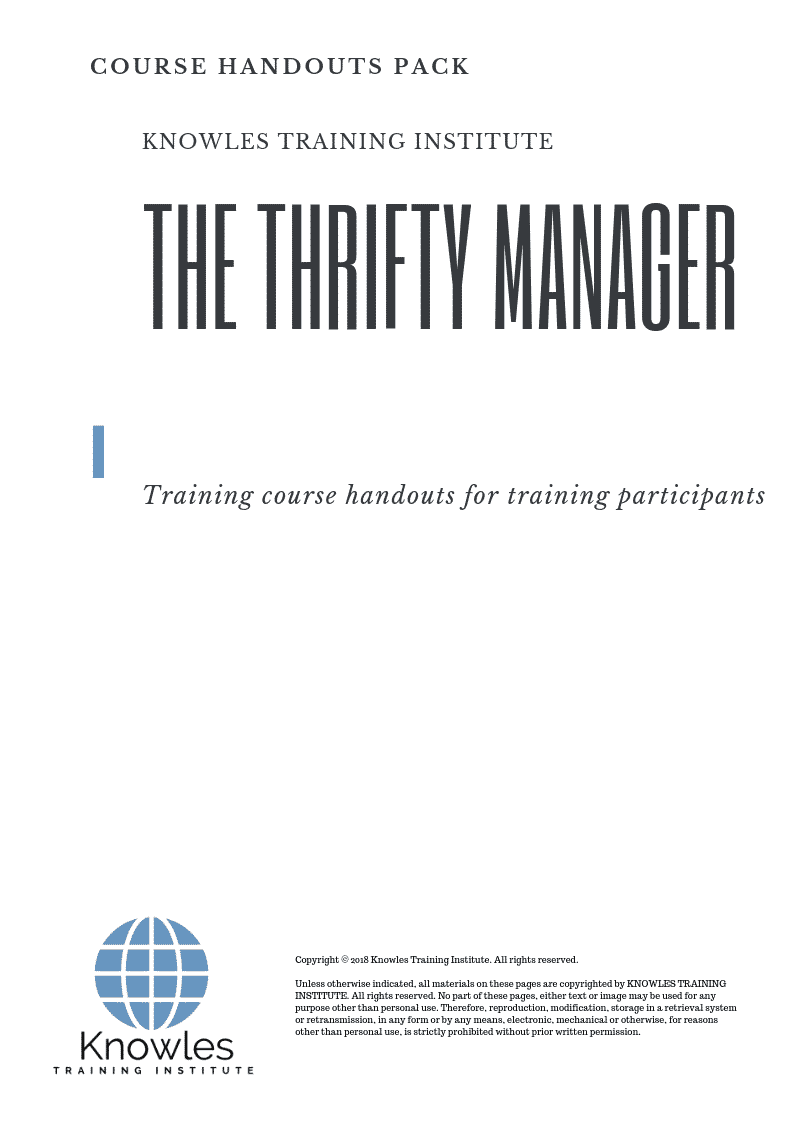 The Thrifty Manager 30-Day Action Plan
The Thrifty Manager MindMaps Pack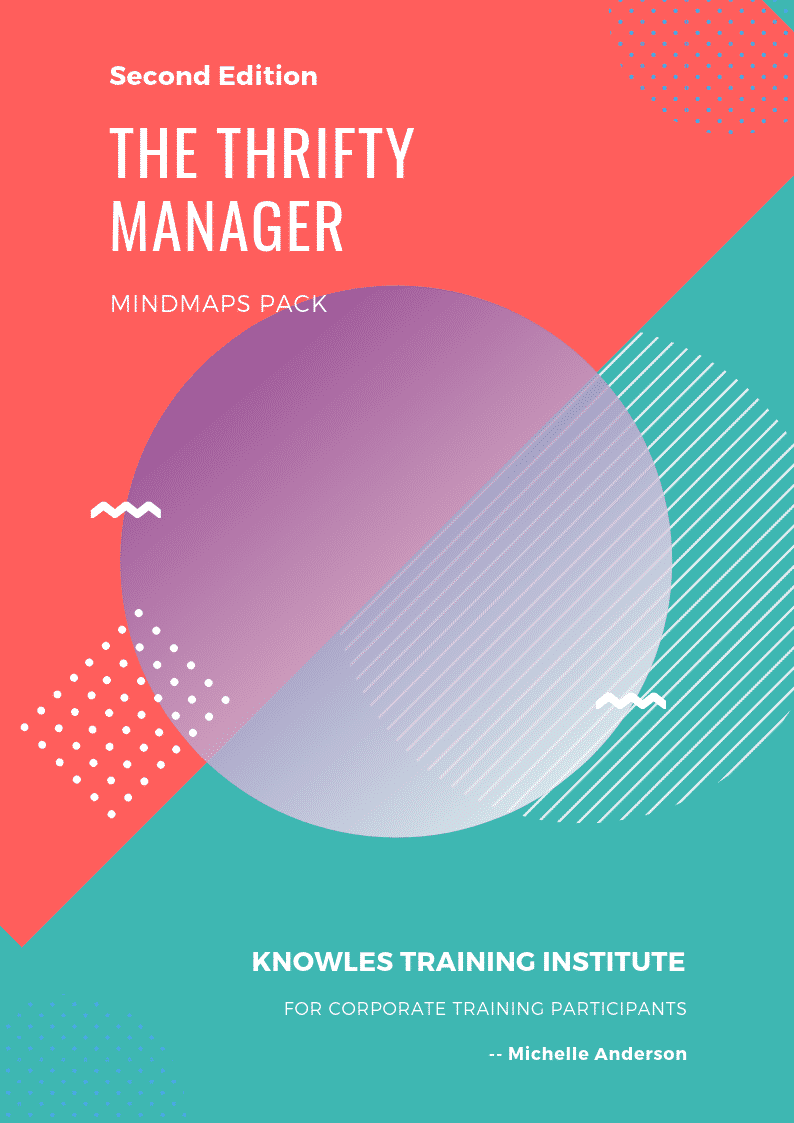 The Thrifty Manager PPT Slides Used During Course
The Thrifty Manager Long-Term Memory Flashcards Pack
The Thrifty Manager E-Learning Course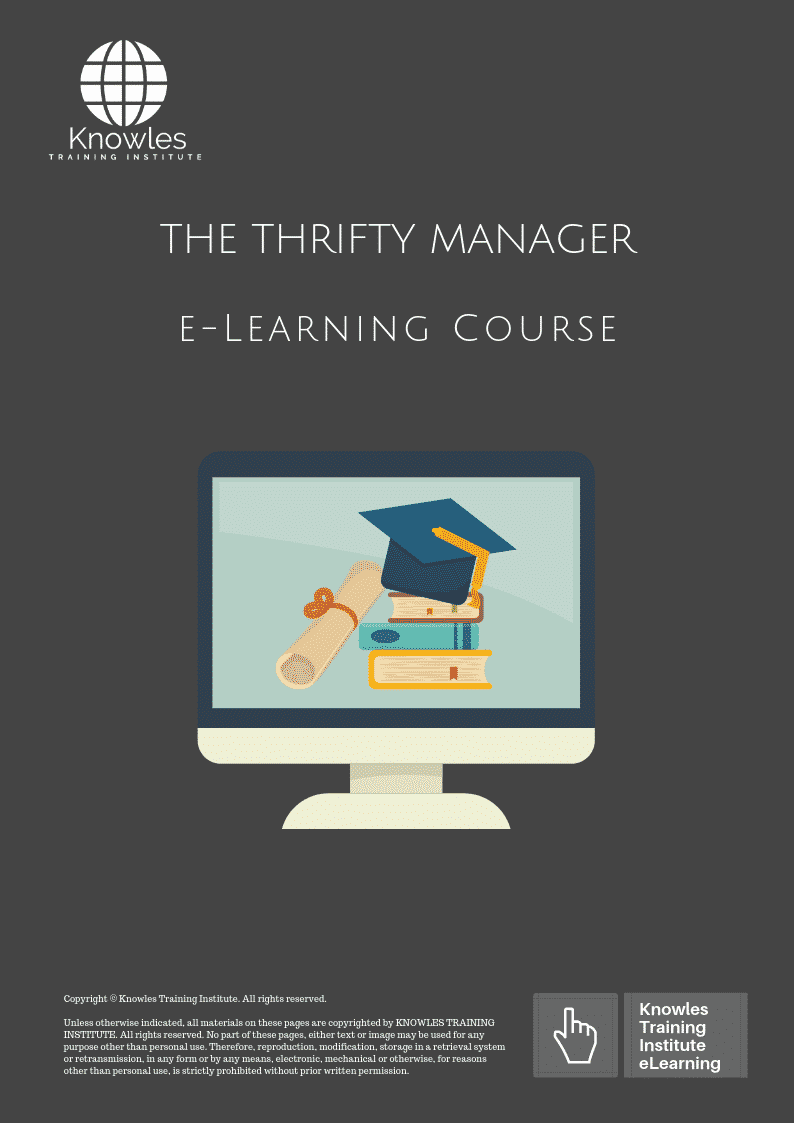 The Thrifty Manager Online Video Course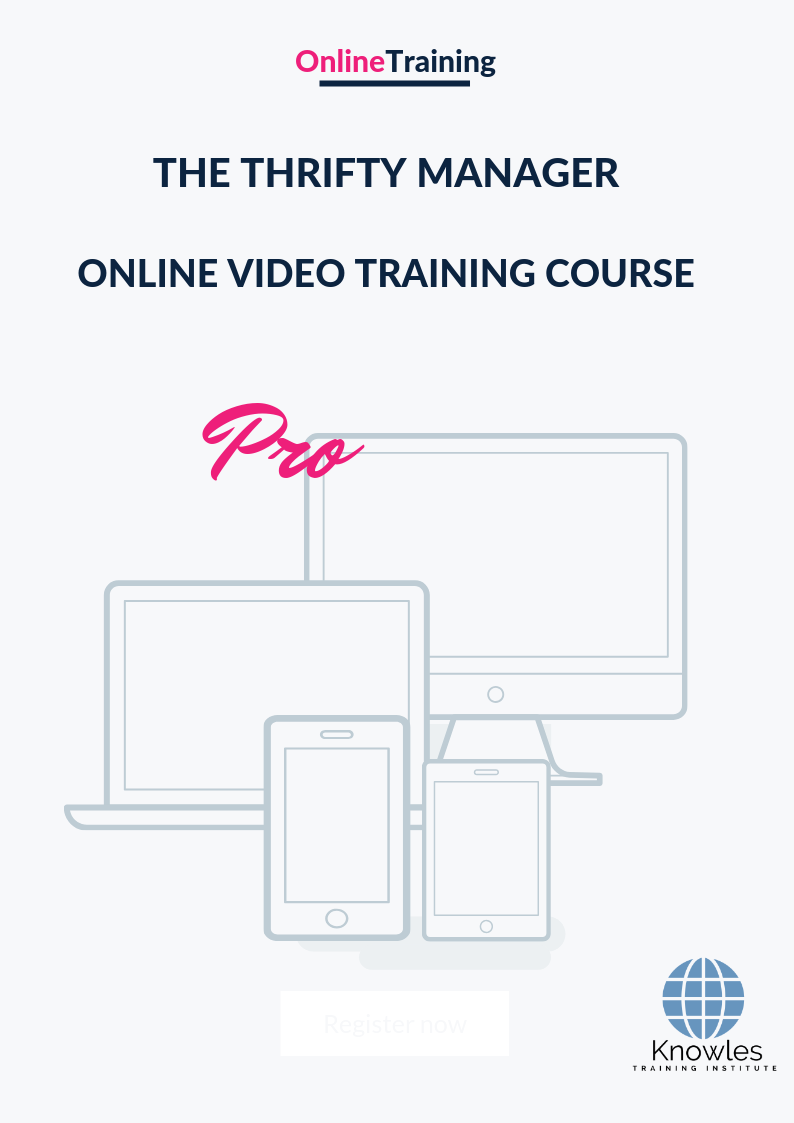 The Thrifty Manager Essentials Audiobook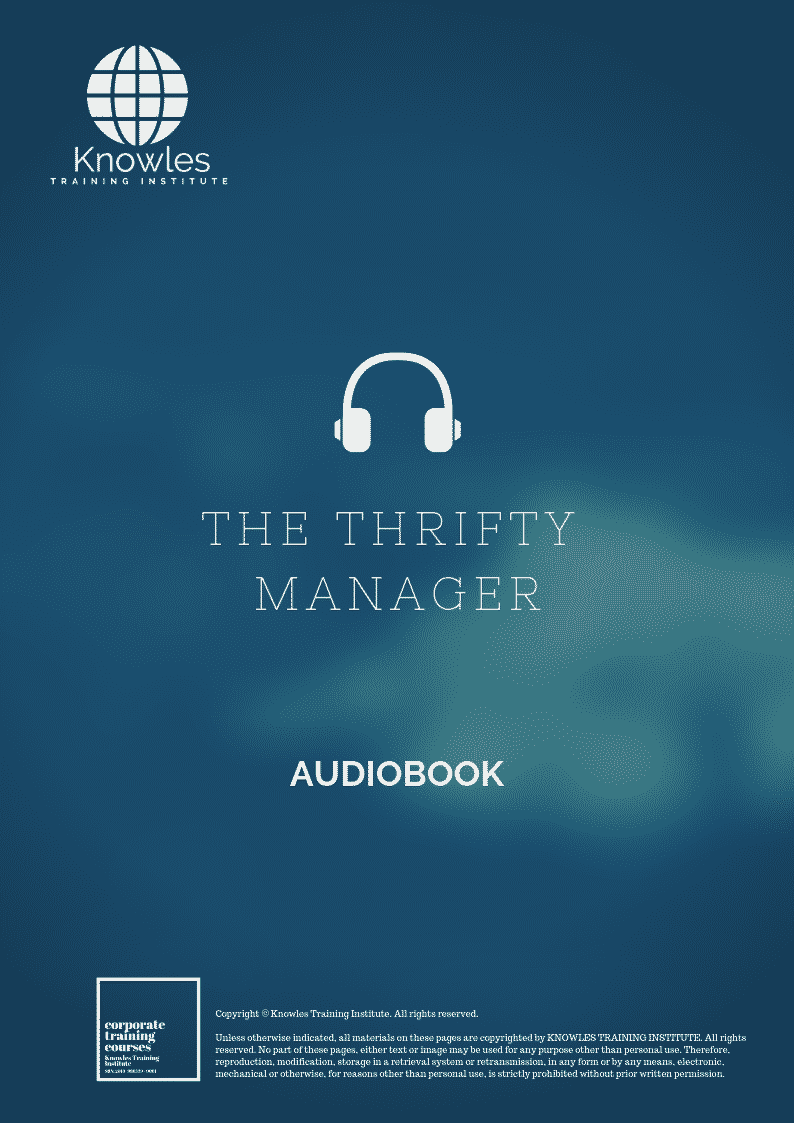 The Thrifty Manager Infographics Pack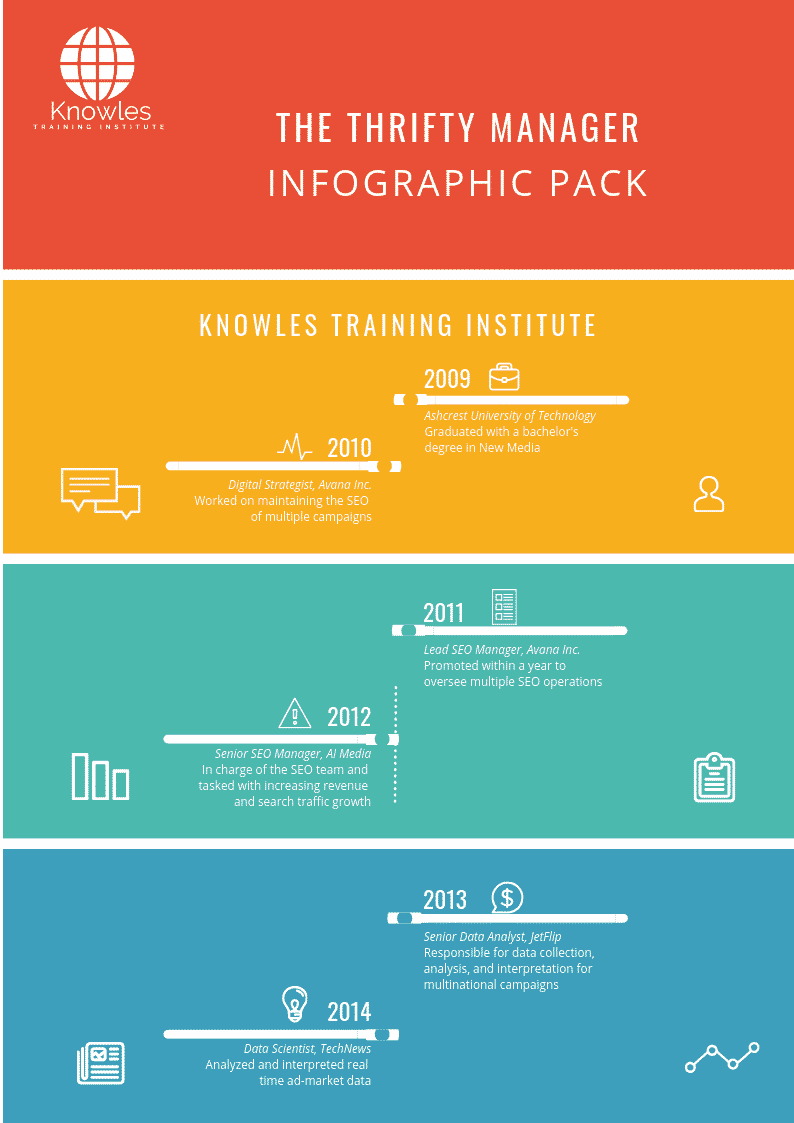 Each course participant will receive a certification of training completion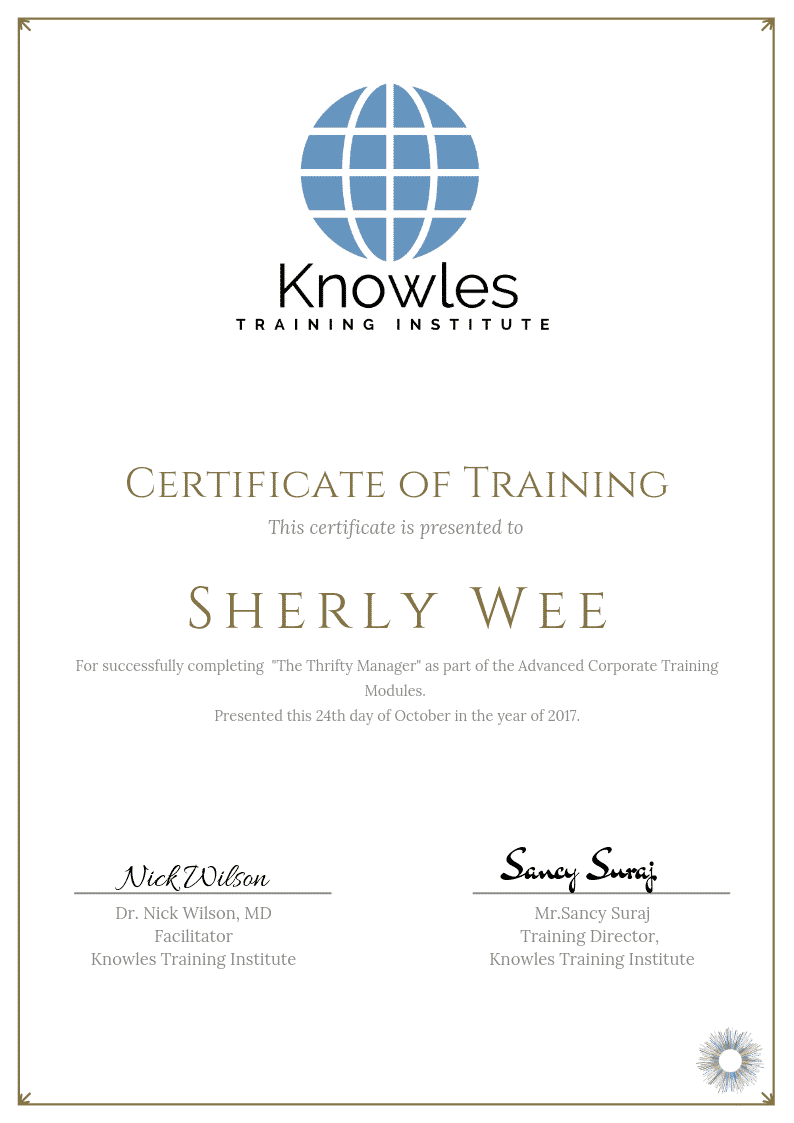 There are 3 pricing options available for this The Thrifty Manager training course. Course participants not in Singapore may choose to sign up for our online The Thrifty Manager training course.
2-Full Day Course
Learner's Guide
Course Handouts
—
—
—
—
—
—
—
—
—
—
Premium 2-Full Day Course
Learner's Guide
Course Handouts
PPT Slides Used During Training Course
Long-Term Memory Flashcards Guide TM
1 Year Access to Online Training Video Course (*Worth S$589.97)
Contact Your Trainer: 90-Day Post Course Help (*Worth S$89.97)
Key Learning Takeaway Notes (*Worth S$18.97)
Audio Book (*Worth S$18.97)
eBook (*Worth S$14.97)
Course Infographics Pack (*Worth S$11.97)
Course Mind Maps (*Worth S$8.97)
30-Day Action Plan
Course Discounts, Fundings & Subsidies
We have the following  discounts, fundings & subsidies for this The Thrifty Manager training course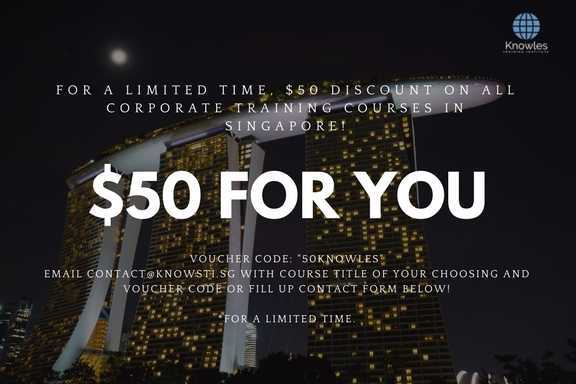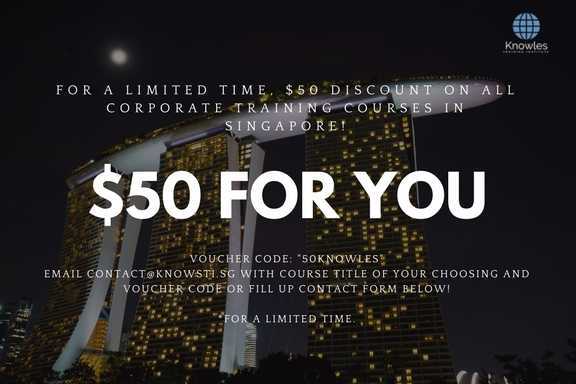 Contact us for the latest The Thrifty Manager course schedules:
Phone: +65 6817 2530
Email: contact@knowlesti.com
Message: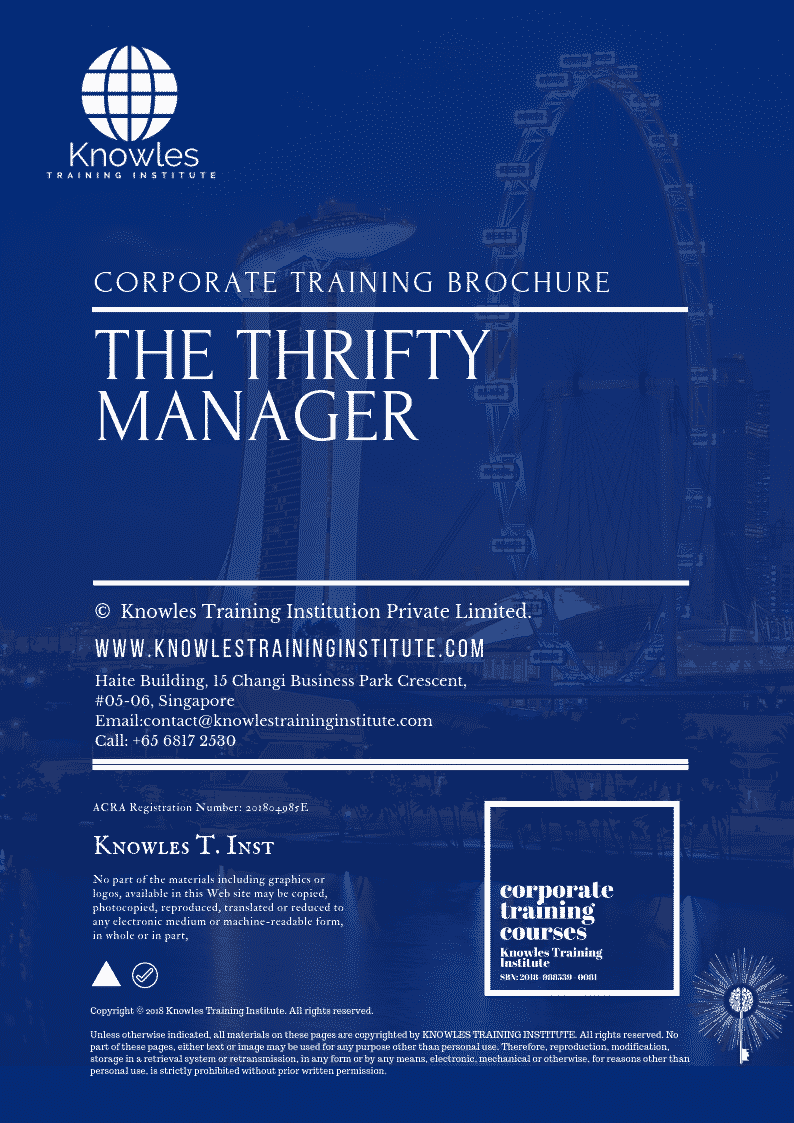 Request for this The Thrifty Manager course brochure. Fill up the short information below and we will send it to you right away!
Why Register For This Training Course?
Post Training Support: A vast majority of training does not have any effect beyond 120 days. To work, training has to have a strong pre- and post-training component. Post-training reinforcement helps individuals to recall the understanding and ask questions.

Blended Learning: Learning does not occur in the classroom. Virtually everybody prefers distinct ways of learning. Successful learning should have a multi-channel, multi-modal strategy.

We Understand The Industry: We've got a profound comprehension of the business, business design, challenges, strategy and the that our participants are in and have designed the courseware to cater to their professional needs.

Course Content: Knowles Training Institute's material is relevant, of high quality and provide specific learning results. Participants will leave the training course feeling as they have gained a strong understanding and will also be in a position to execute what they have learned sensibly.

Course Development — The workshop modules follow a systematic and logical arrangement. This structure helps to ensure that the course material allows the facilitators to deliver the course in a logical arrangement. Consider the subjects as building bricks into learning, our facilitators slowly build towards a comprehensive picture of this entire topic.

Fill up the form and we will get back to you in less than 1 working day.
Alternatively, give us a call to have one of our training consultants contact you. Our corporate training courses can be contextualised to meet your organisation's training needs. Leverage on our large pool of professional trainers and consultants for your organisation's training needs.
Office Address: Knowles Training Institute, 138 Robinson Road, #28-03, Oxley Tower, Singapore 068906
Office Phone: +65 6935 7406
Email: contact@knowlesti.sg
We Guarantee 100% Privacy. We Respect Your Privacy. Your Information Will Never Be Shared.
Register Now
Register For This The Thrifty Manager Course Now!
The Thrifty Manager course, workshop, training, class, seminar, talk, program, programme, activity, lecture. The Thrifty Manager courses, workshops, classes, seminars, talks, programs, programmes, activities, lectures in Singapore. The Thrifty Manager improvement tips, The Thrifty Manager techniques, improve The Thrifty Manager, improve The Thrifty Manager games, The Thrifty Manager improvement exercises, improve The Thrifty Manager power, how to have good The Thrifty Manager, how to have good The Thrifty Manager in studying, how to build up your The Thrifty Manager, how to improve The Thrifty Manager how to improve The Thrifty Manager course in Singapore. Enhance, boost, build up, enlarge, heighten The Thrifty Manager course in Singapore. Increase, intensify, raise, reinforce, strengthen The Thrifty Manager. Upgrade, amplify, boom, elevate, exaggerate, magnify, grow, gain The Thrifty Manager. Develop The Thrifty Manager, multiple, power up, beef up, bolster, establish, extend The Thrifty Manager. Invigorate, restore, step up, toughen, empower, fortify, regenerate The Thrifty Manager. Rejuvenate, renew, escalate, expand, maximize The Thrifty Manager. Powerful, mighty, impressive, competent, great, excellent, exceptional The Thrifty Manager in Singapore. Superb The Thrifty Manager. Super, superior, strong, solid, active The Thrifty Manager training courses and workshops in Singapore. The Thrifty Manager enhancement, booster, building up, enlargement, heightening, increment, strengthening, amplification. The Thrifty Manager magnification, growth, development, power, empowerment, regeneration. The Thrifty Manager rejuvenation, development, escalation, expansion. The Thrifty Manager maximization, power training courses & workshops in Singapore.