Logical Thinking Skills Course in Singapore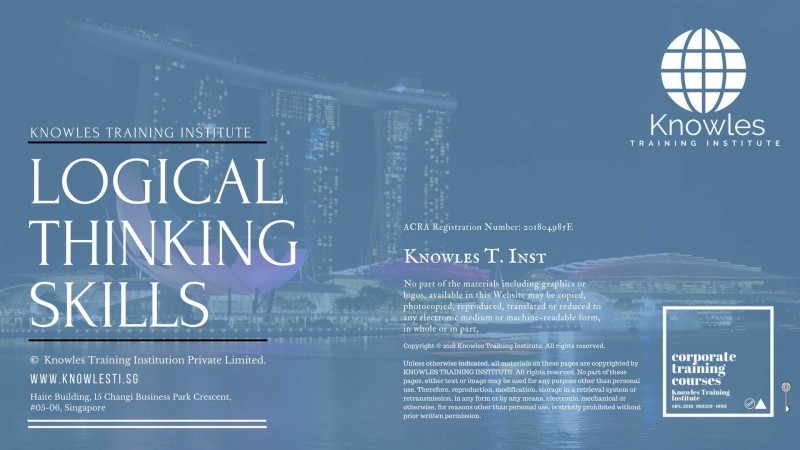 Logical Thinking Skills Course in Singapore
Logical Thinking is the ability to process data in a disciplined manner. It is, solely, using logic when analyzing information gathered for a situation or problem to come up with a valid solution. Logical thinkers can justify references, data, methodologies, actions, and, results based on facts, standards, and, procedures.
Thinkers don't go with hunches or use intuition alone. These are useful in making links to various data but are still subject to scrutinization. Strategies are developed to prove or disprove hypotheses, intuitive notions, and, wild guesses which will all later make up the final solution.
The term "logic" comes from the Greek word "logos" which means to reason or giving something meaning. Aristotle is the father of logic, and, is known as The Greatest Greek Philosopher. He has made various contributions to philosophy, mathematics, metaphysics, physics, biology, botany, politics, ethics, agriculture, medicine, dance, and, theatre. He was the first to introduce a formalized system of logic. To prove the structure of an argument is valid, and if, the premise is true, then the conclusion can, also, be considered to be true.
With Critical Thinking, we learn to question data if they are valid or not. The evidence is needed to criticize the data before incorporating in any given situation. The result of critical thinking is then correlated logically using the idea of premise and conclusion. We can, logically, link two statements together without seeking the validity of the content or the use of critical thinking.
Logical thinking is, exceedingly, important for vocational or personal situations. In the office, it is more valuable for employees to make decisions based on facts rather than emotion and prejudice. It is, also, quicker for employees to complete and continue projects regardless of the minor failures encountered. This course will assist in honing the logical thinking process of individuals for use not only in the office environment but in any aspect of their life.
This Logical Thinking Skills workshop is ideal for anyone who would like to gain a strong grasp and improve their Logical Thinking Skills.
All Staff Within An Organisation
The ideal group size for this Logical Thinking Skills course is:
Course Duration
The duration of this Logical Thinking Skills workshop is 2 full days. Knowles Training Institute will also be able to contextualised this workshop according to different durations; 3 full days, 1 day, half day, 90 minutes and 60 minutes.
Below is the list of course benefits of our Logical Thinking Skills course
Promote open-mindedness of employees or individuals.
Improve resilience of employees or individuals in doing projects or solving problems.
Develop skills in analysis and data segregation.
Enable employees or individuals to manage emotional stress relating to failures or errors encountered.
Improve employee or individuals' morale and sense of positivity.
Reduce unnecessary stress and pressure on employees or individuals through proper discernment of priorities and responsibilities.
Improve train of thought to get the jobs done.
Improve social interactions through a logical understanding of individual perspective.
Below is the list of course objectives of our Logical Thinking Skills course
Identify illogical worries that occupy the mind.
Determine non-value adding work using logical thinking.
Handle stress better through the use of logic.
Defend ideas and solutions using logical thinking.
Classify data for the project and problem-solving tasks.
Prioritize essential and critical tasks for projects and issues.
Demonstrate professionalism and proper judgment in endeavors.
Eliminate non-value adding activities in daily routines and habits.
Evaluate existing procedures and standards to take out illogical activities.
Interact with colleagues to get a better grasp of different logical perspectives.
Adapt to different logical perspectives among colleagues.
Confirm illogical activities, tasks, concepts with the right people to clear out misunderstandings.
Below is the list of course content of our Logical Thinking Skills course
What is Logical Thinking?
What is the difference between Critical Thinking and Logical Thinking?
The Importance of Logical Thinking in the Workplace.
What are the different types of Logic?
How to discern illogical worries from productive ones?
How to properly segregate project and problem-solving data?
Logic Puzzles.
The world's hardest logic puzzle ever!
Group Interaction to discuss a puzzle or problem using logical thinking.
Debate on the results of the group interaction with other groups.
Each participant will receive the following materials for the Logical Thinking Skills course
Logical Thinking Skills Learner's Guide
Logical Thinking Skills Key Takeaways Notes
Logical Thinking Skills Essentials Ebook
Logical Thinking Skills Course Handouts
Logical Thinking Skills 30-Day Action Plan
Logical Thinking Skills MindMaps Pack
Logical Thinking Skills PPT Slides Used During Course
Logical Thinking Skills Long-Term Memory Flashcards Pack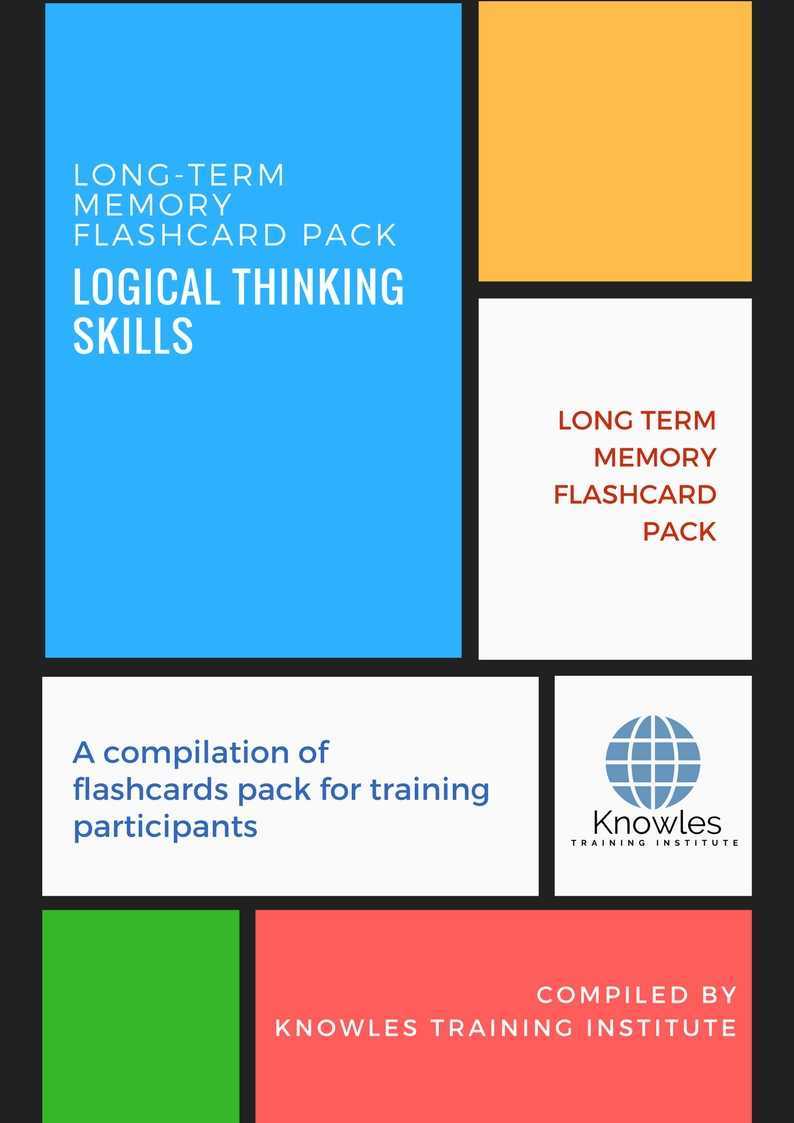 Logical Thinking Skills E-Learning Course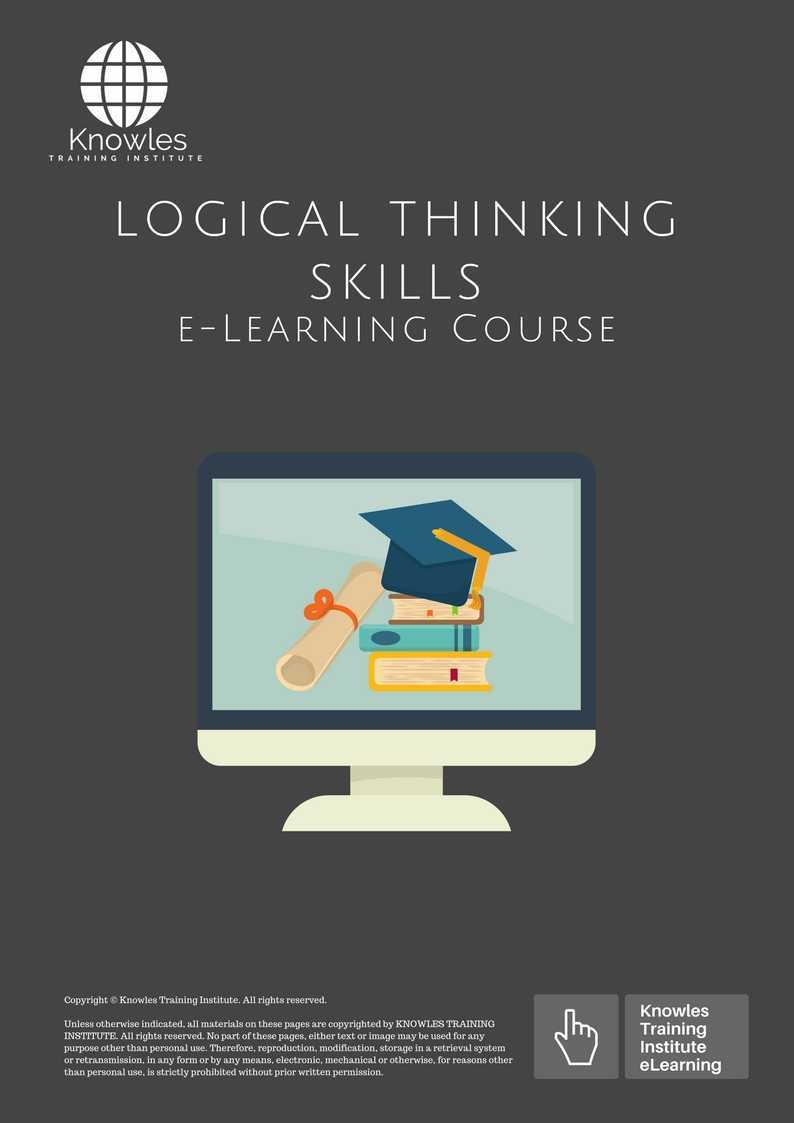 Logical Thinking Skills Online Video Course
Logical Thinking Skills Essentials Audiobook
Logical Thinking Skills Infographics Pack
Each course participant will receive a certification of training completion
There are 3 pricing options available for this Logical Thinking Skills training course. Course participants not in Singapore may choose to sign up for our online Logical Thinking Skills training course.
2-Full Day Course
Learner's Guide
Course Handouts
—
—
—
—
—
—
—
—
—
—
Premium 2-Full Day Course
Learner's Guide
Course Handouts
PPT Slides Used During Training Course
Long-Term Memory Flashcards Guide TM
1 Year Access to Online Training Video Course (*Worth S$589.97)
Contact Your Trainer: 90-Day Post Course Help (*Worth S$89.97)
Key Learning Takeaway Notes (*Worth S$18.97)
Audio Book (*Worth S$18.97)
eBook (*Worth S$14.97)
Course Infographics Pack (*Worth S$11.97)
Course Mind Maps (*Worth S$8.97)
30-Day Action Plan
*Online Version
1 Year E-learning Access
*Only Available For Certain Courses
Course Discounts, Fundings & Subsidies
We have the following  discounts, fundings & subsidies for this Logical Thinking Skills training course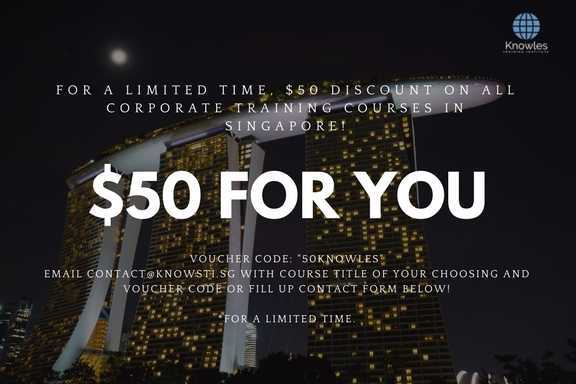 Our Trainers are Subject Matter Experts
Contact us for the latest Logical Thinking Skills course schedules:
Phone: +65 6817 2530
Email: contact@knowlesti.com
Message:
Request for this Logical Thinking Skills course brochure. Fill up the short information below and we will send it to you right away!
KTI Training Methodology ™
Why Register For This Training Course?
Post Training Support: A vast majority of training does not have any effect beyond 120 days. To work, training has to have a strong pre- and post-training component. Post-training reinforcement helps individuals to recall the understanding and ask questions.

Blended Learning: Learning does not occur in the classroom. Virtually everybody prefers distinct ways of learning. Successful learning should have a multi-channel, multi-modal strategy.

We Understand The Industry: We've got a profound comprehension of the business, business design, challenges, strategy and the that our participants are in and have designed the courseware to cater to their professional needs.

Course Content: Knowles Training Institute's material is relevant, of high quality and provide specific learning results. Participants will leave the training course feeling as they have gained a strong understanding and will also be in a position to execute what they have learned sensibly.

Course Development — The workshop modules follow a systematic and logical arrangement. This structure helps to ensure that the course material allows the facilitators to deliver the course in a logical arrangement. Consider the subjects as building bricks into learning, our facilitators slowly build towards a comprehensive picture of this entire topic.

Fill up the form and we will get back to you in less than 1 working day.
Alternatively, give us a call to have one of our training consultants contact you. Our corporate training courses can be contextualised to meet your organisation's training needs. Leverage on our large pool of professional trainers and consultants for your organisation's training needs.
Office Address: Knowles Training Institute, 138 Robinson Road, #28-03, Oxley Tower, Singapore 068906
Office Phone: +65 6935 7406
Email: contact@knowlesti.sg
Register Now
Register For This Logical Thinking Skills Course Now!
Logical Thinking Skills course, workshop, training, class, seminar, talk, program, programme, activity, lecture. Logical Thinking Skills courses, workshops, classes, seminars, talks, programs, programmes, activities, lectures in Singapore. Logical Thinking Skills improvement tips, Logical Thinking Skills techniques, improve Logical Thinking Skills, improve Logical Thinking Skills games, Logical Thinking Skills improvement exercises, improve Logical Thinking Skills power, how to have good Logical Thinking Skills, how to have good Logical Thinking Skills in studying, how to build up your Logical Thinking Skills, how to improve Logical Thinking Skills how to improve Logical Thinking Skills course in Singapore. Enhance, boost, build up, enlarge, heighten Logical Thinking Skills course in Singapore. Increase, intensify, raise, reinforce, strengthen Logical Thinking Skills. Upgrade, amplify, boom, elevate, exaggerate, magnify, grow, gain Logical Thinking Skills. Develop Logical Thinking Skills, multiple, power up, beef up, bolster, establish, extend Logical Thinking Skills. Invigorate, restore, step up, toughen, empower, fortify, regenerate Logical Thinking Skills. Rejuvenate, renew, escalate, expand, maximize Logical Thinking Skills. Powerful, mighty, impressive, competent, great, excellent, exceptional Logical Thinking Skills in Singapore. Superb Logical Thinking Skills. Super, superior, strong, solid, active Logical Thinking Skills training courses and workshops in Singapore. Logical Thinking Skills enhancement, booster, building up, enlargement, heightening, increment, strengthening, amplification. Logical Thinking Skills magnification, growth, development, power, empowerment, regeneration. Logical Thinking Skills rejuvenation, development, escalation, expansion. Logical Thinking Skills maximization, power training courses & workshops in Singapore.