Expectancy Theory Course in Singapore
About This Expectancy Theory Training Course
Expectancy Theory Course in Singapore
Victor Vroom's expectancy theory is a study on how motivation is a huge factor in achieving goals. People are more inclined to work hard if they have very big desires for the reward. This theory has been useful in strategizing rewards and incentives programs for employees who really deserve them.
Who Should Attend This Expectancy Theory Workshop
This Expectancy Theory workshop is ideal for anyone who would like to gain a strong grasp and improve their Expectancy Theory.
All Staff Within An Organisation
Group Size For This Expectancy Theory Training Program
The ideal group size for this Expectancy Theory course is:
Course Duration For This Expectancy Theory Skills Course
The duration of this Expectancy Theory workshop is 2 full days. Knowles Training Institute will also be able to contextualised this workshop according to different durations; 3 full days, 1 day, half day, 90 minutes and 60 minutes.
Expectancy Theory Course Benefits
Below is the list of course benefits of our Expectancy Theory course
Create a motivational force that makes employees act in ways that bring pleasure and avoid pain
Indicate and predict job satisfaction, occupational choice and effort expended at work
Emphasize associations people make towards expected outcomes and the reactions associated with it
Point out the contribution employees make towards expected outcomes
Apply theory in the workplace
Predict that employees in an organization will be motivated when they believe putting in more effort will yield better job performance
Provide an explanation of why individuals choose one behavioral option over others
Provide leaders with a foundation on which to build a better understanding of ways to motivate subordinates
Help explain why a person performs at a particular level and what to do to motivate them to do better
Emphasize individual perceptions of the environment and subsequent interactions arising as a consequence of personal expectations
Increased effort would lead to increased performance
Evaluate the motivational force of the different behavioral options based on the individual's own perception of the probability of attaining his desired outcome
Expectancy Theory Course Objectives
Below is the list of course objectives of our Expectancy Theory course
Define Expectancy Theory and its impact in the workplace and the employees working in it
Discuss how the theory deals with motivation and management and how to apply it in the workplace
Know how to apply theory in the workplace effectively for efficiency and better results for the jobs
Realize that an employee's performance is based on individual factors
Managers must discover what employees value
Management must discover what resources, training, or supervision employees need
Management must ensure promises of rewards are fulfilled
Apply theory to any situation where someone does something because they expect a certain outcome
Compare theory to other motivation theories
Take into account individual perceptions of employees
Use systems that tie rewards very closely to performance
Managers should engage in training to improve their capabilities
Course Content For This Expectancy Theory Training Course
Below is the list of course content of our Expectancy Theory training course
What is the Expectancy Theory and what are its roles and uses in the workplace?
Individual Factors that affect employee's performance include personality, skills, knowledge, experience and abilities
Motivation = Value x Expectancy, According to expectancy-valuetheory, behavior is a function of the expectancies one has and the value of the goal toward which one is working
Basis of Expectancy Theory
Value is the regard that something is held to deserve; the importance, worth, or usefulness of something
Expectancy is the state of thinking or hoping that something, especially something pleasant, will happen or be the case
Instrumentality is the fact or quality of serving as an instrument or means to an end
Individuals' Motivations:
Positive correlation between efforts and performance and the benefits of the coexistence of the two
Favorable performance will result in a desirable reward and employees would work harder to get a reward of some sort at the end of the job
Reward will satisfy an important need because most of the time reward comes in the form of salary and salary pays for our dues and bills
The Law of Effectis a psychological principlewhich states that "responses that produce a satisfying effectin a particular situation become more likely to occur again in that situation
Examples of how the Expectancy Theory could be applied in the workplace
Application and observance of theory in all aspects of employment relationship
Expectancy Theory Value Added Materials
Each participant will receive the following materials for the Expectancy Theory course
Expectancy Theory Learner's Guide
Expectancy Theory Key Takeaways Notes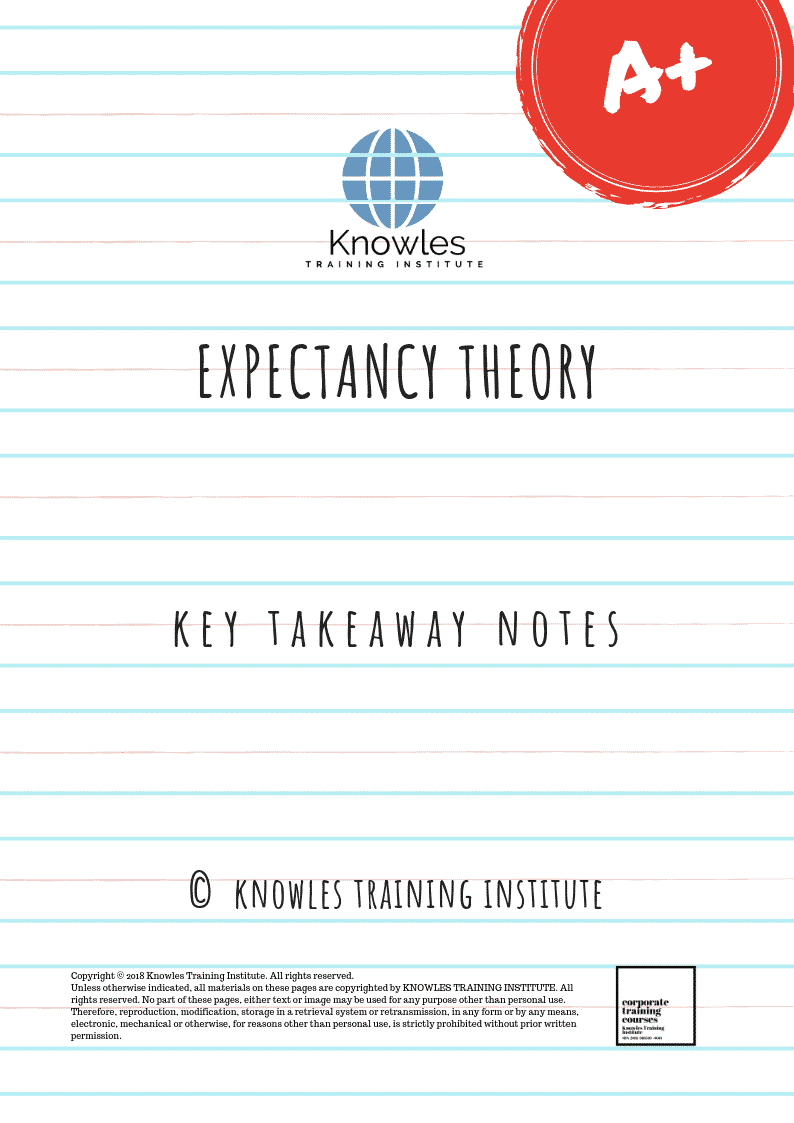 Expectancy Theory Essentials Ebook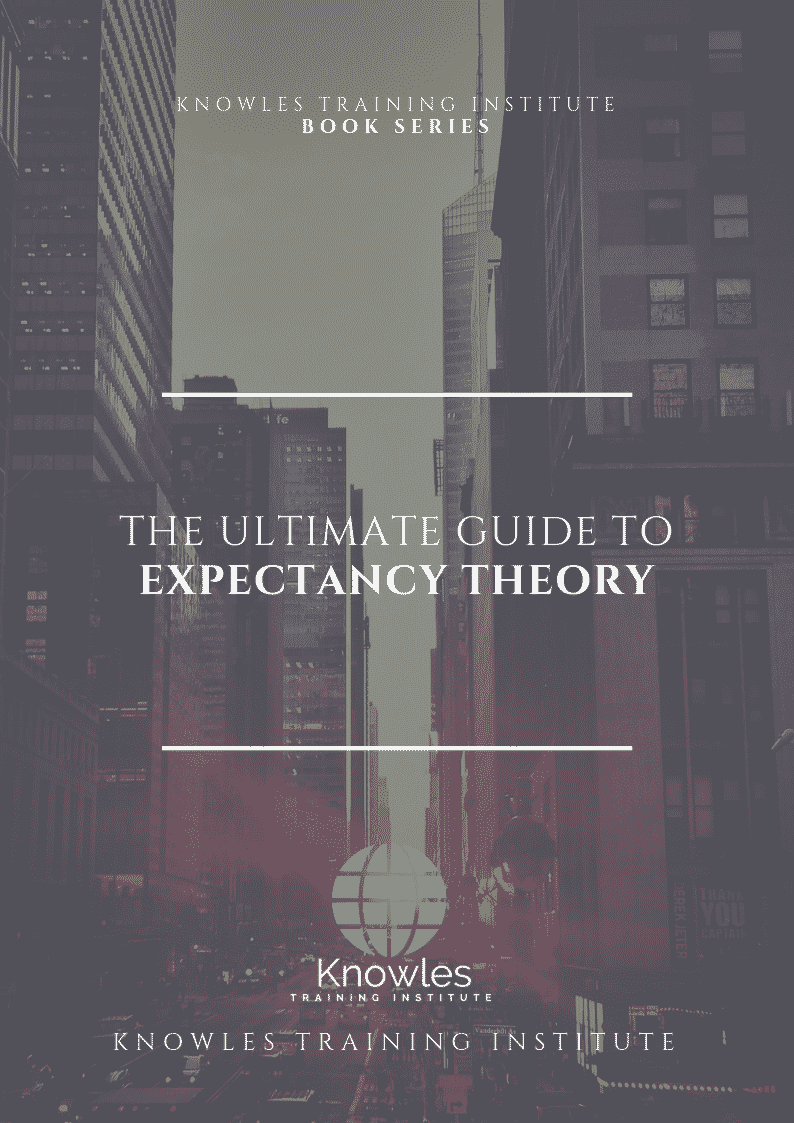 Expectancy Theory Course Handouts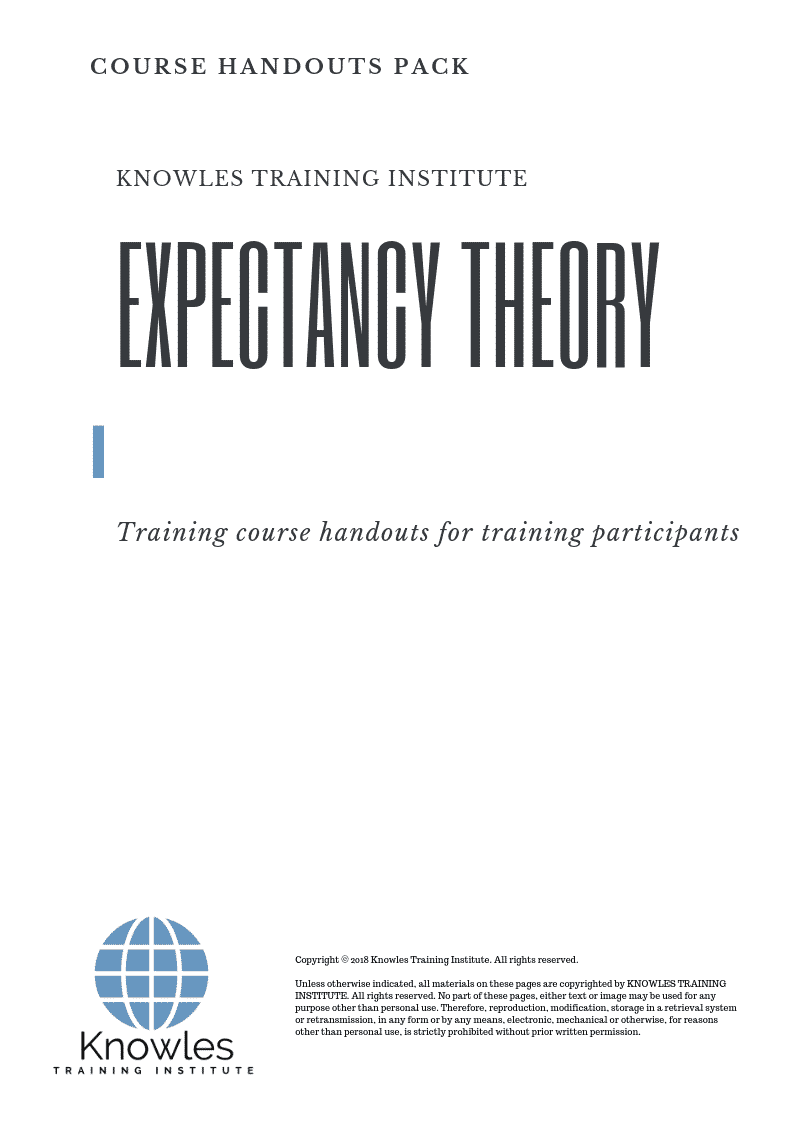 Expectancy Theory 30-Day Action Plan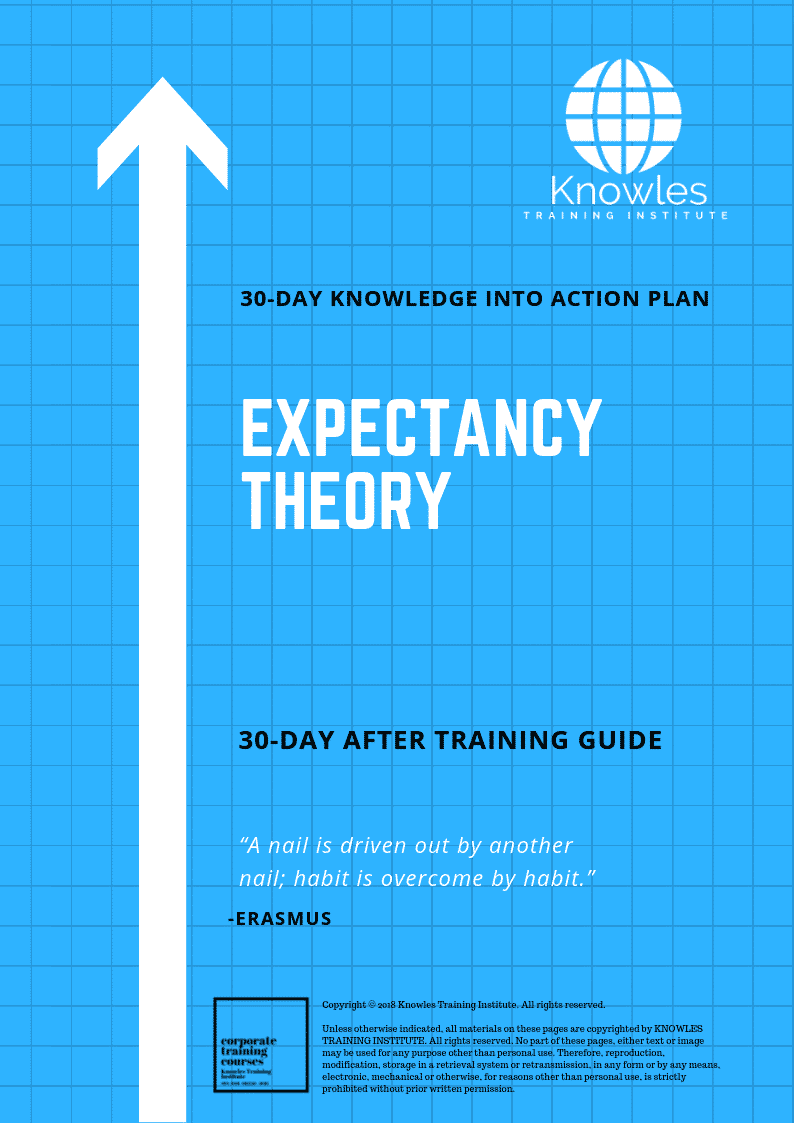 Expectancy Theory MindMaps Pack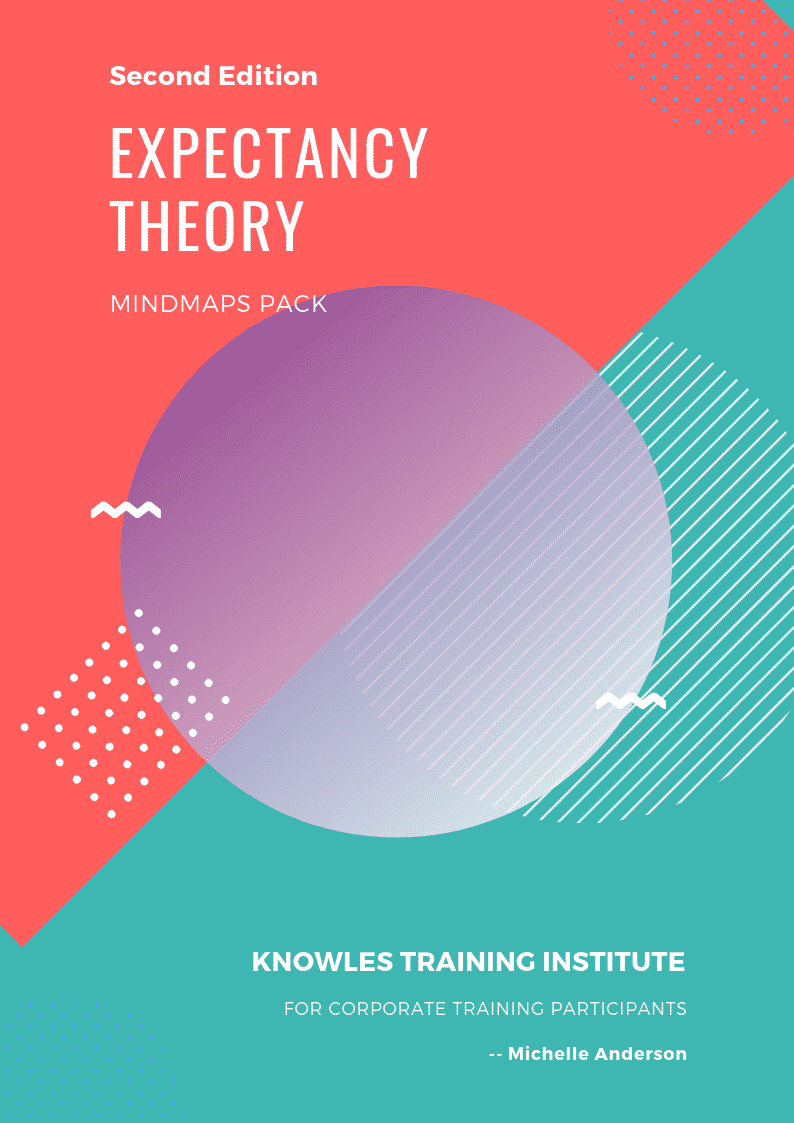 Expectancy Theory PPT Slides Used During Course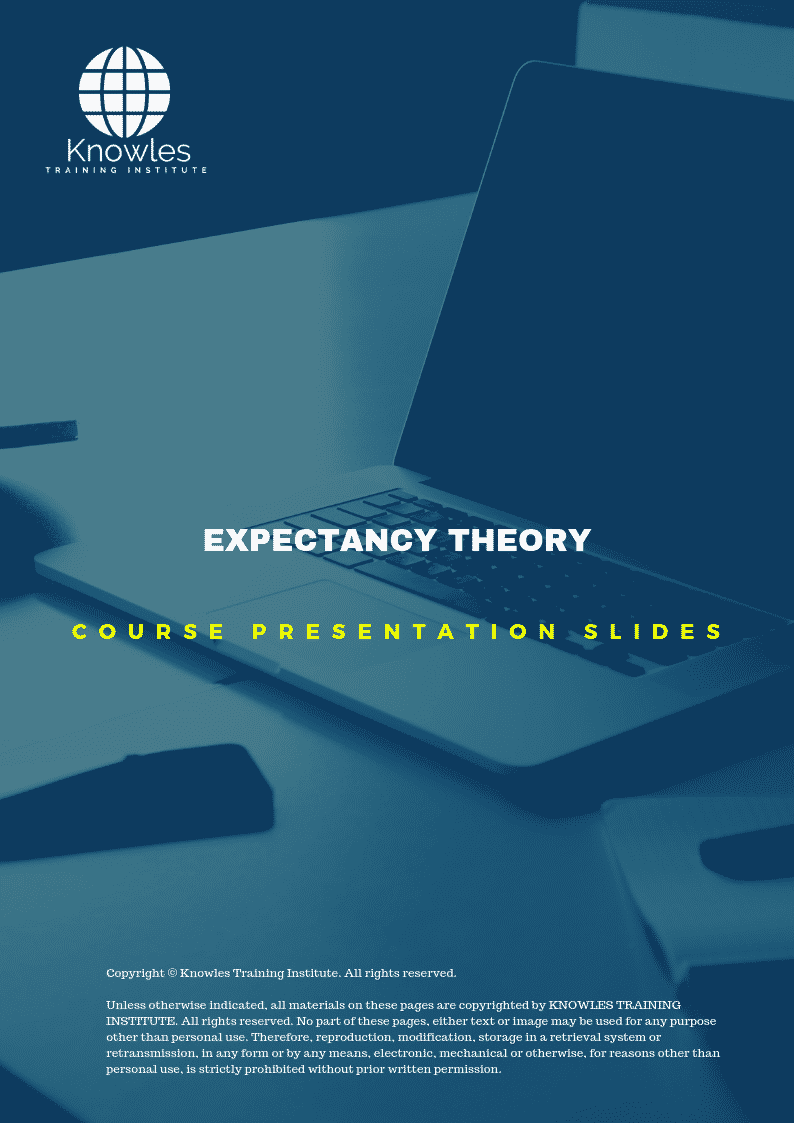 Expectancy Theory Long-Term Memory Flashcards Pack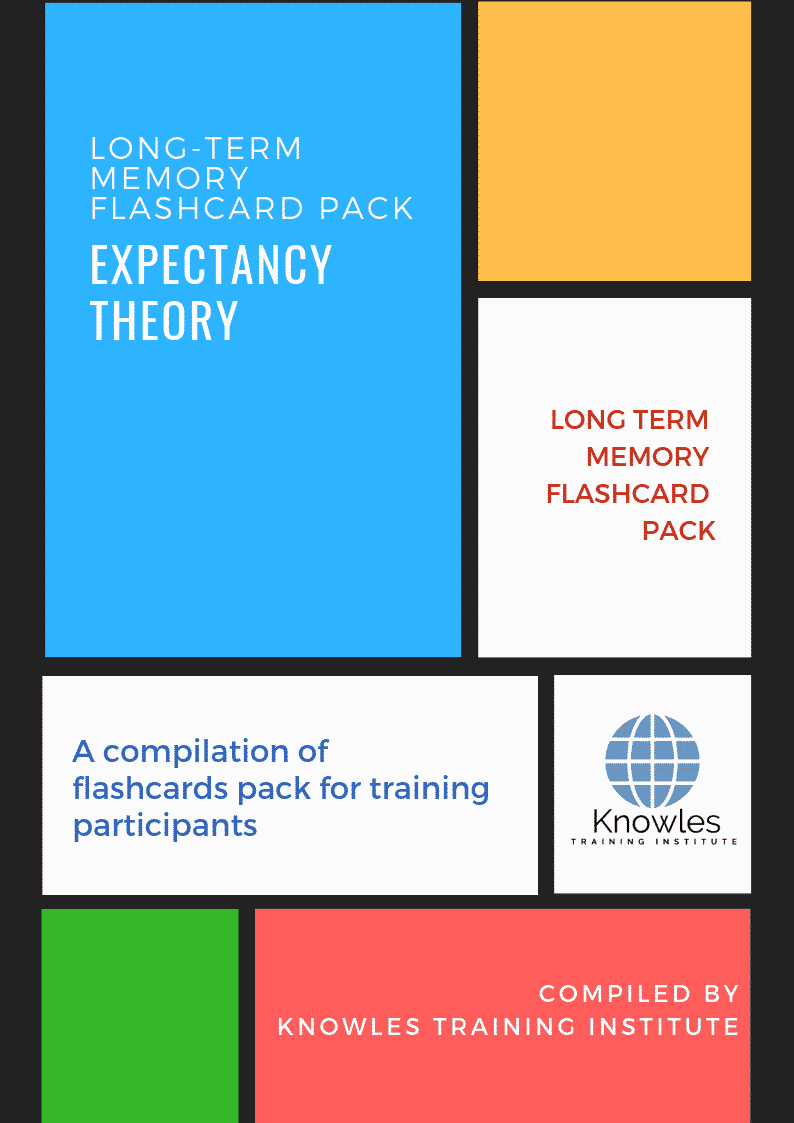 Expectancy Theory E-Learning Course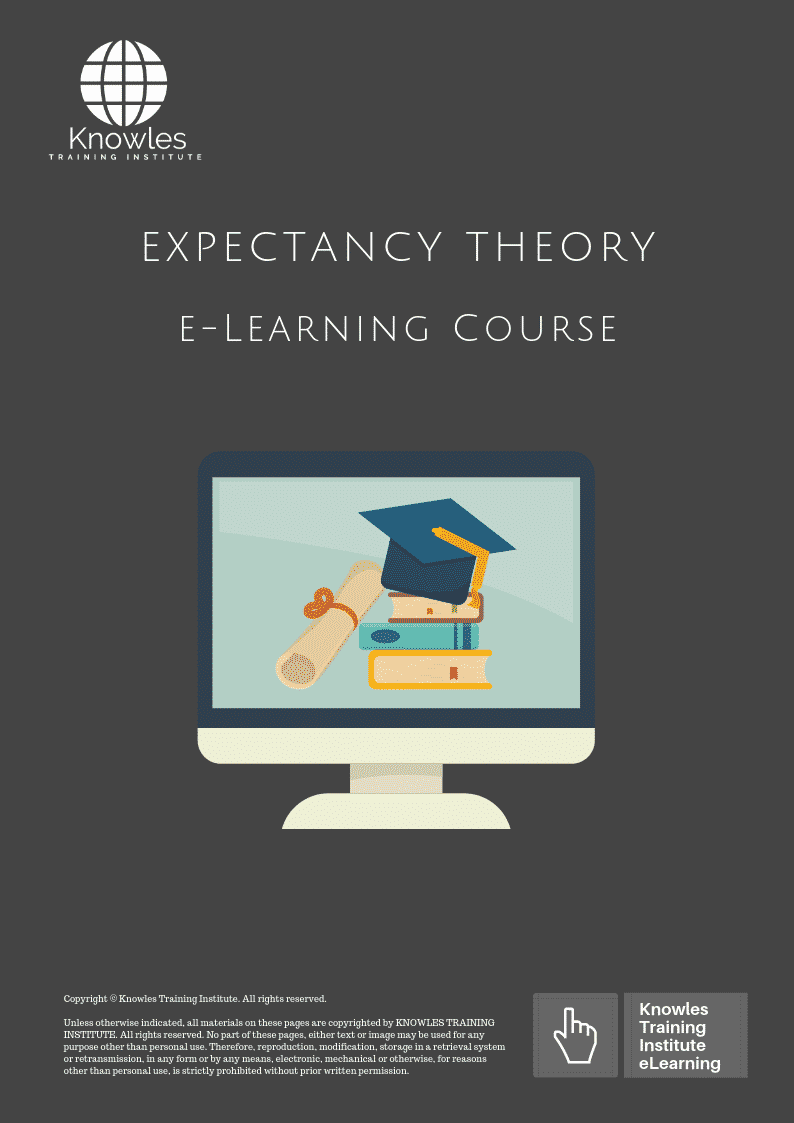 Expectancy Theory Online Video Course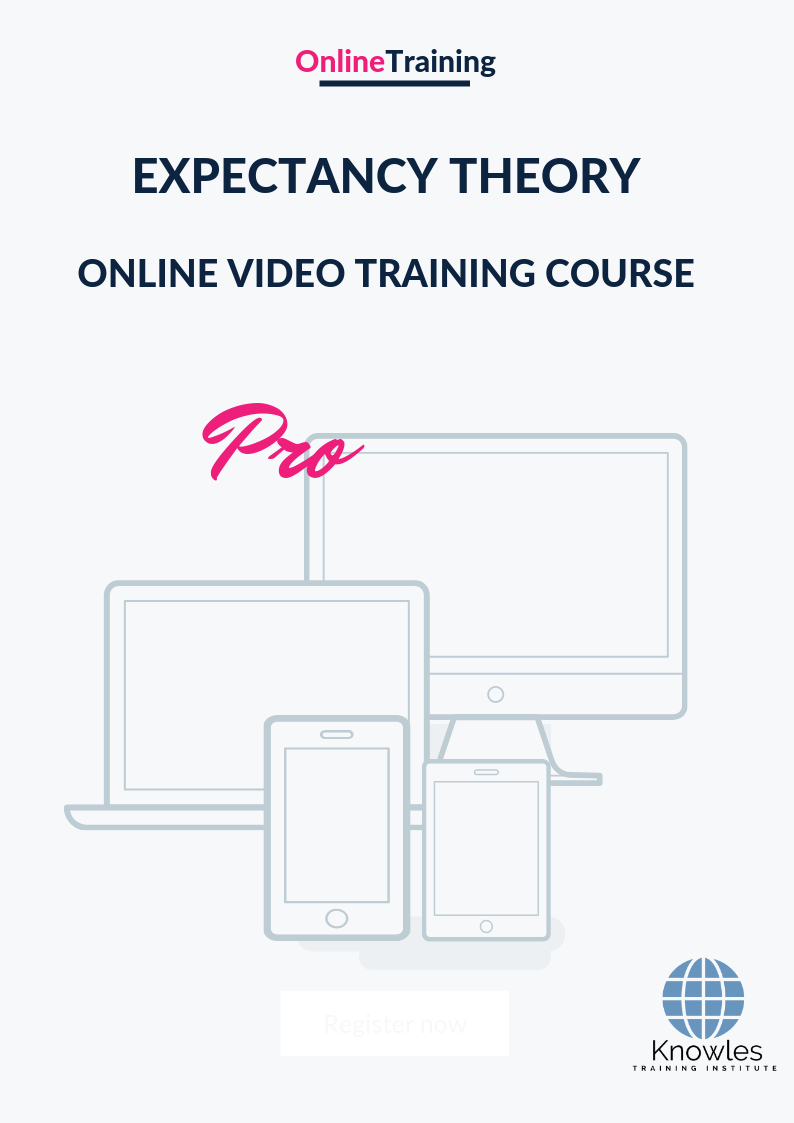 Expectancy Theory Essentials Audiobook
Expectancy Theory Infographics Pack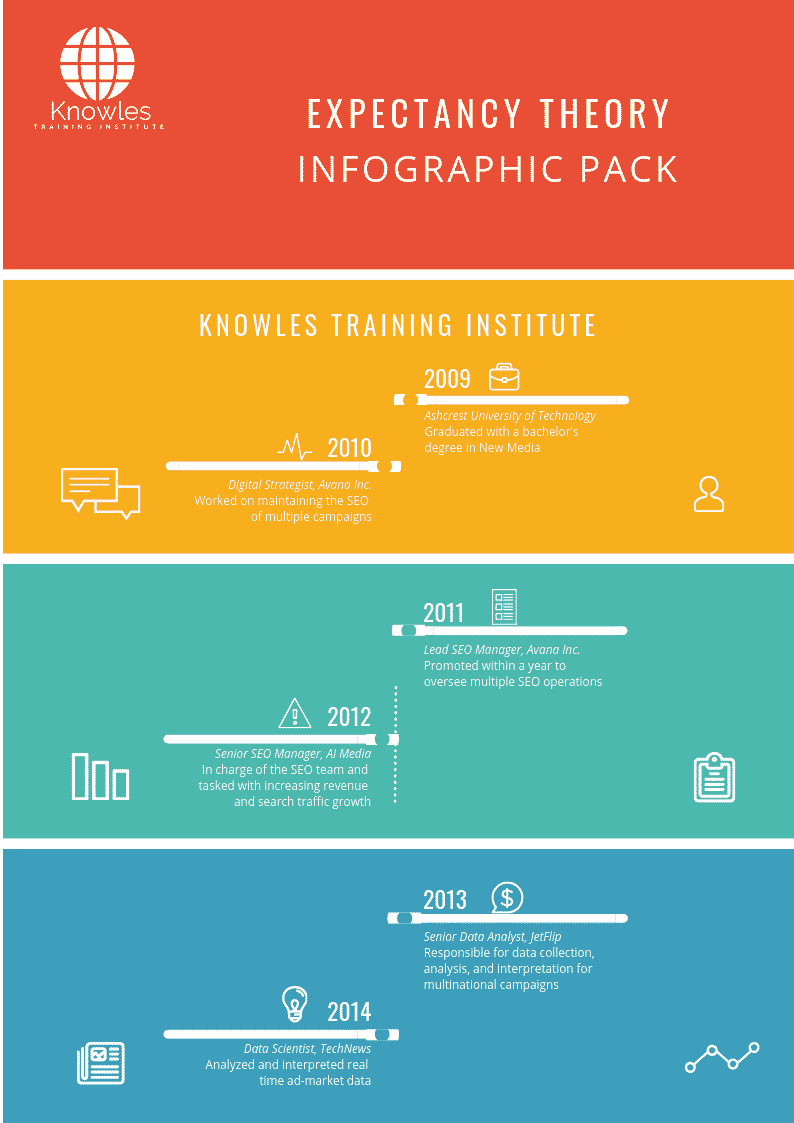 Expectancy Theory Certification
Each course participant will receive a certification of training completion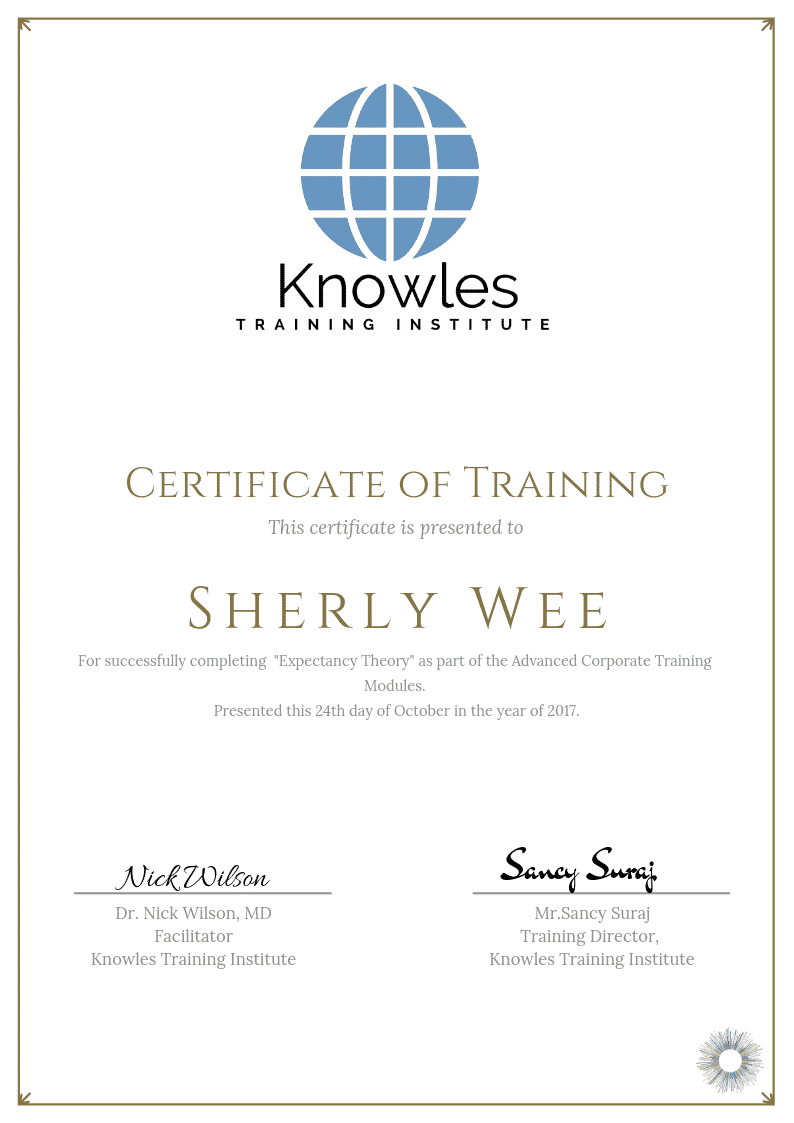 There are 3 pricing options available for this Expectancy Theory training course. Course participants not in Singapore may choose to sign up for our online Expectancy Theory training course.
2-Full Day Course
Learner's Guide
Course Handouts
—
—
—
—
—
—
—
—
—
—
Premium 2-Full Day Course
Learner's Guide
Course Handouts
PPT Slides Used During Training Course
Long-Term Memory Flashcards Guide TM
1 Year Access to Online Training Video Course (*Worth S$589.97)
Contact Your Trainer: 90-Day Post Course Help (*Worth S$89.97)
Key Learning Takeaway Notes (*Worth S$18.97)
Audio Book (*Worth S$18.97)
eBook (*Worth S$14.97)
Course Infographics Pack (*Worth S$11.97)
Course Mind Maps (*Worth S$8.97)
30-Day Action Plan
Course Discounts, Fundings & Subsidies
We have the following  discounts, fundings & subsidies for this Expectancy Theory training course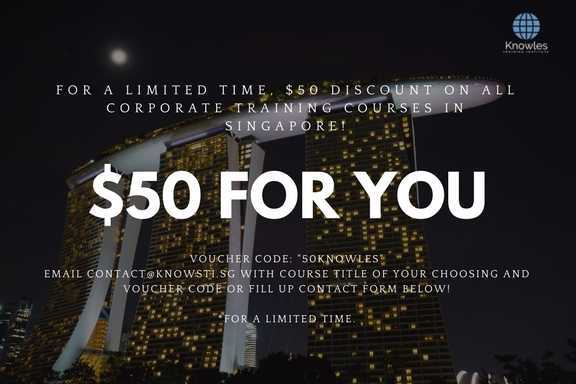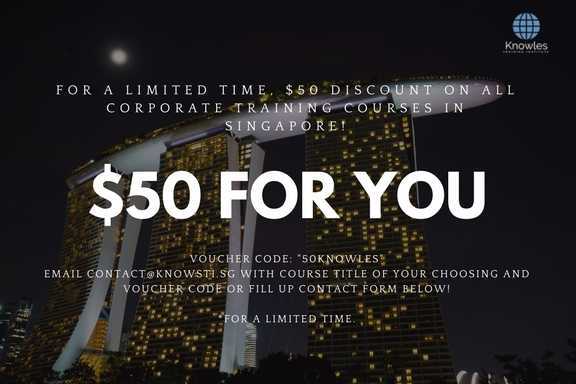 Upcoming Expectancy Theory Training Course Schedule
Contact us for the latest Expectancy Theory course schedules:
Phone: +65 6817 2530
Email: contact@knowlesti.com
Message:
Download Expectancy Theory Course Brochure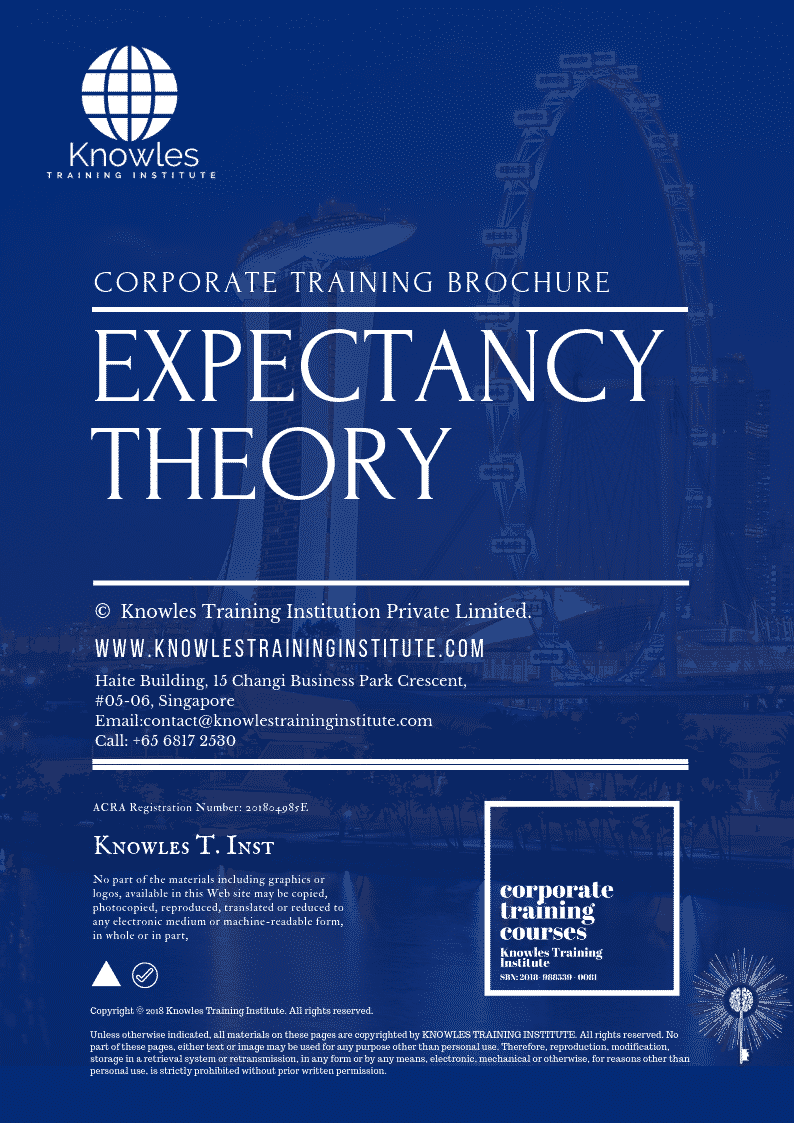 Request for this Expectancy Theory course brochure. Fill up the short information below and we will send it to you right away!
Why Register For This Training Course?
Post Training Support: A vast majority of training does not have any effect beyond 120 days. To work, training has to have a strong pre- and post-training component. Post-training reinforcement helps individuals to recall the understanding and ask questions.

Blended Learning: Learning does not occur in the classroom. Virtually everybody prefers distinct ways of learning. Successful learning should have a multi-channel, multi-modal strategy.

We Understand The Industry: We've got a profound comprehension of the business, business design, challenges, strategy and the that our participants are in and have designed the courseware to cater to their professional needs.

Course Content: Knowles Training Institute's material is relevant, of high quality and provide specific learning results. Participants will leave the training course feeling as they have gained a strong understanding and will also be in a position to execute what they have learned sensibly.

Course Development — The workshop modules follow a systematic and logical arrangement. This structure helps to ensure that the course material allows the facilitators to deliver the course in a logical arrangement. Consider the subjects as building bricks into learning, our facilitators slowly build towards a comprehensive picture of this entire topic.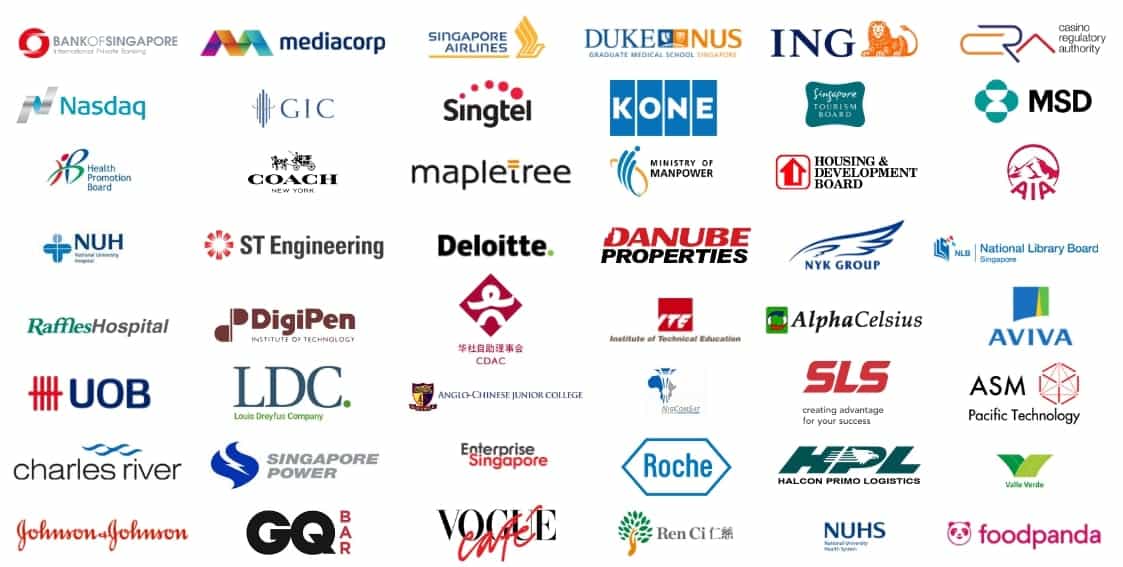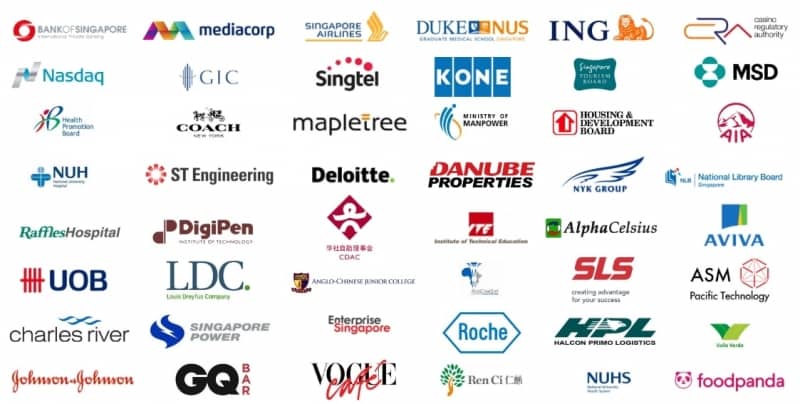 Fill up the form and we will get back to you in less than 1 working day.
Alternatively, give us a call to have one of our training consultants contact you. Our corporate training courses can be contextualised to meet your organisation's training needs. Leverage on our large pool of professional trainers and consultants for your organisation's training needs.
Office Address: Knowles Training Institute, 138 Robinson Road, #28-03, Oxley Tower, Singapore 068906
Office Phone: +65 6935 7406
Email: contact@knowlesti.sg
We Guarantee 100% Privacy. We Respect Your Privacy. Your Information Will Never Be Shared.
Register Now
Register For This Expectancy Theory Course Now!
Expectancy Theory course, workshop, training, class, seminar, talk, program, programme, activity, lecture. Expectancy Theory courses, workshops, classes, seminars, talks, programs, programmes, activities, lectures in Singapore. Expectancy Theory improvement tips, Expectancy Theory techniques, improve Expectancy Theory, improve Expectancy Theory games, Expectancy Theory improvement exercises, improve Expectancy Theory power, how to have good Expectancy Theory, how to have good Expectancy Theory in studying, how to build up your Expectancy Theory, how to improve Expectancy Theory how to improve Expectancy Theory course in Singapore. Enhance, boost, build up, enlarge, heighten Expectancy Theory course in Singapore. Increase, intensify, raise, reinforce, strengthen Expectancy Theory. Upgrade, amplify, boom, elevate, exaggerate, magnify, grow, gain Expectancy Theory. Develop Expectancy Theory, multiple, power up, beef up, bolster, establish, extend Expectancy Theory. Invigorate, restore, step up, toughen, empower, fortify, regenerate Expectancy Theory. Rejuvenate, renew, escalate, expand, maximize Expectancy Theory. Powerful, mighty, impressive, competent, great, excellent, exceptional Expectancy Theory in Singapore. Superb Expectancy Theory. Super, superior, strong, solid, active Expectancy Theory training courses and workshops in Singapore. Expectancy Theory enhancement, booster, building up, enlargement, heightening, increment, strengthening, amplification. Expectancy Theory magnification, growth, development, power, empowerment, regeneration. Expectancy Theory rejuvenation, development, escalation, expansion. Expectancy Theory maximization, power training courses & workshops in Singapore.